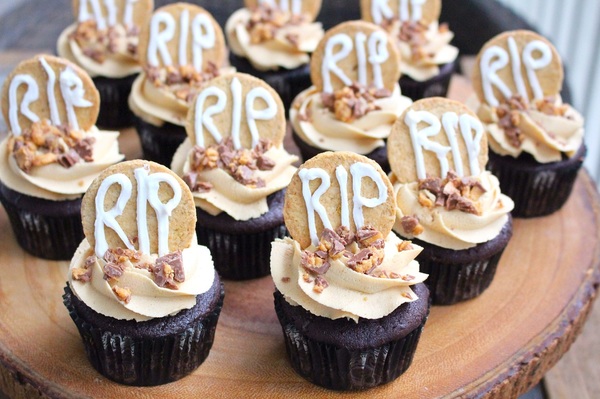 Happy Halloween eve lovelies!
I hope you are all enjoying your Friday evening and that you have mega awesome plans for the Halloween weekend!
I made these cupcakes for a birthday order today and I just had to bang out this recipe post for you because they were just too darn cute not to – especially because Halloween is tomorrow and these would make the perfect Halloween dessert addition to any upcoming Halloween events you might have happening this weekend.
Cole and I will be starting off the weekend at the Farmers Market tomorrow, serving up some Halloween themed goodies and then on Sunday we have a whole lot of nothing planned. That's right – nothing! haha. It's supposed to be a pretty rainy Vancouver weekend, so we both agreed that we would love nothing more than to snuggle up at home with Katniss and watch creepy movies on Netflix in honour of Halloween. Not going to lie, I am pretty stoked about this 😀
So what are these spookly little cupcake beauties anyway? Well let's just say they were inspired by a couple of my favourite Halloween treats…. Snickers, and Reeses peanut butter cups – mhhmmmm. I could eat those little bundles of chocolatey, caramely, peanut buttery joy allllll day long.
So if you are like me and have a bit of a Reeses peanut butter cup or snickers obsession – you have come to the right place. Just imagine if these delicious little chocolate bars were packed into a moist chocolate cake, topped with a smooth peanut butter frosting and decorated with a spooky theme …. are you drooling yet?
I'm calling these tasty little guys Peanut Butter Chocolate Bar Halloween Cupcakes and oh boy oh boy – these just might take the cake as my new favourite cupcake. I mean how could they not be? I stuffed each little cake with a dollop of homemade caramel sauce a Reese's peanut butter cup, and then well…. the peanut butter frosting just speaks for itself.
So let's keep this one short today lovelies – here is the recipe and I hope you enjoy <3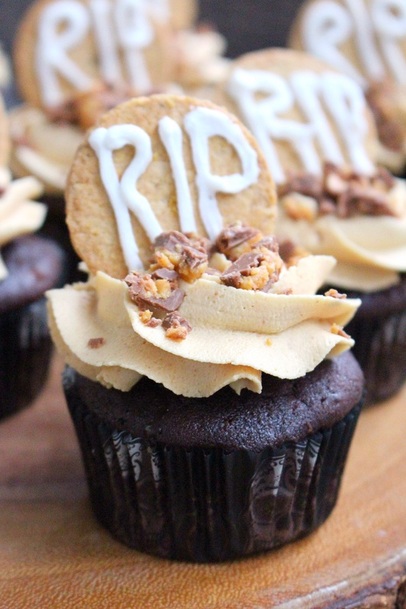 Peanut Butter Chocolate Bar Cupcakes
Makes: 24 Cupcakes
Ingredients
Chocolate Cupcakes
1 cup butter, softened
1 cup brown sugar
1 cup granulated sugar
4 eggs
1 1/2 tsp vanilla
2 cups freshly brewed coffee
1/2 cup buttermilk
1 cup cocoa powder
2 3/4 cups all purpose flour
2 tsp baking soda
1/2 tsp baking powder
salt
Peanut Butter Frosting
3/4 cup butter, softened
3/4 cup smooth peanut butter
1 tbsp molasses
1 tsp vanilla
1/2 tsp cinnamon
4 cups icing sugar
2-3 tbsp. of heavy cream
Caramel Sauce
1 1/2 cups granulated sugar
1/3 cup water
2/3 cup heavy cream
1/4 cup butter, cubed
1 tsp salt
Assembly
28 mini Reese's peanut butter cups
24 round peanut butter wafers
White icing (I used store bought)
Directions

Caramel Sauce
In a heavy bottomed sauce pan, over medium high heat, whisk together the sugar and water. Bring to a boil and allow to bubble without stirring until the sugar dissolves and turns a golden amber colour. Remove from heat and slowly whisk in the heavy cream in a slow steady stream – be careful of the steam. Stir in the cubes of butter, one at a time until combined; set aside to cool slightly.
Chocolate Cupcakes
Preheat oven to 350 degrees and line 2 cupcake pans with liners. Set aside.
In a small mixing bowl, combine fresh coffee, buttermilk and cocoa powder. Whisk together until the cocoa powder is completely combined; Set aside.
In a large mixing bowl, cream together your butter and sugars until pale and fluffy. Add in the eggs, one at a time, being sure to scrape down the sides of the bowl after each addition. Mix in vanilla and beat until smooth and fluffy.
In a small mixing bowl, whisk together flour, baking soda, baking powder and salt until combined. Add 1/3 of the flour mixture to your batter and mix on low until batter comes together – scrape down the sides of the bowl. Next add in half of the coffee mixture and continue to mix on low until coming together. Scrape down the sides of the bowl and add another 1/3 of the flour mixture, followed by the remaining half of the coffee mixture. Add the final 1/3 of the flour and mix on low until batter is smooth and there are no lumps, being careful not to over mix.
Spoon batter into prepared cupcake pans, filling each liner up about 3/4 of the way.  Bake in preheated oven for about 18-20 minutes or until the tops of the cupcakes spring back to the touch.
Remove from oven and allow to cool completely before frosting.
Peanut Butter Frosting
While your cupcakes are cooling, prepare your frosting.
In a large mixing bowl cream together butter and peanut butter until completely smooth. Mix in molasses,  vanilla, cinnamon and 2 tbsp of heavy cream. Add in the icing sugar 1 cup at a time until smooth. Beat on high for 2-3 minutes until smooth and fluffy. If the icing is too stiff, add the additional 1 tbsp of heavy cream to smooth it out.
Assembly
Using the store bought white icing, pipe RIP or BOO or whatever you like onto each of your peanut butter wafers. Set aside. Chop up 4 of the mini Reese's peanut butter cups finely with a sharp knife and set aside.
Once your cupcakes are cool, use a sharp paring knife to cut out little cones from each cupcake – set them aside. Spoon about 1 tsp of the caramel sauce into each cupcake hole and place 1 mini Reese's peanut butter cup in the center – gently press down. Place the tops of the cupcakes and pipe your peanut butter frosting on top.
Now place your prepared little RIP cookie tombstones towards the back of your cupcake top, gently pressing into the icing. Take your chopped up peanut butter cups and sprinkle the chunks in front of the cookie tombstones (so that it kind of looks like dirt).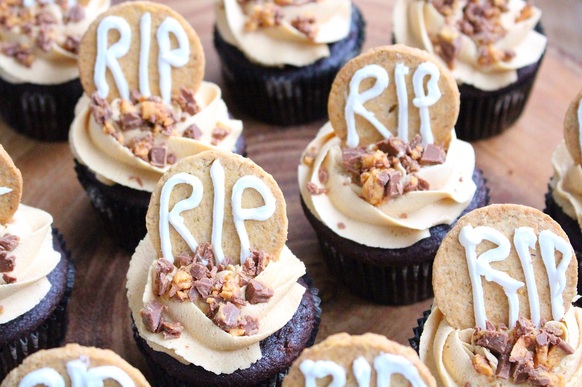 So these cupcakes are a little bit more labour intensive because of the Halloween decoration, but honestly how cute are they!? Not to mention they are so, sooo delicious – seriously… try to eat just one.
That's all I have for you today peeps! I would love to hear how yours turn out!
Happy Halloween Baking!!
<3 KP