If you were to ever ask me what my favourite donut is – I would tell you that it's hands down an Apple Fritter. No if's, and's or but's about it. I will never, EVER say no to an apple fritter. Doesn't matter what the circumstance, if there is an apple fritter up for grabs, I am game. Like even if I just ate an entire turkey, with a side of mashed potatoes and gravy, and was deep in a food coma… I would still have room for an apple fritter.

So just when I thought that my deep seeded love for apple fritters couldn't get any stronger – I proved myself wrong when I made a homemade batch for the very first time.
Now I say this without any kind of embellishment or exaggeration – If Cole had not been there to also eat the donuts, I would have eaten the entire batch of 16 donuts. No jokes. Dead serious over here. There is actually nothing quite like a homemade apple fritter. Especially when they are still warm and the glaze has barely set on the donut…
Excuse me while I clean the drool of my keyboard…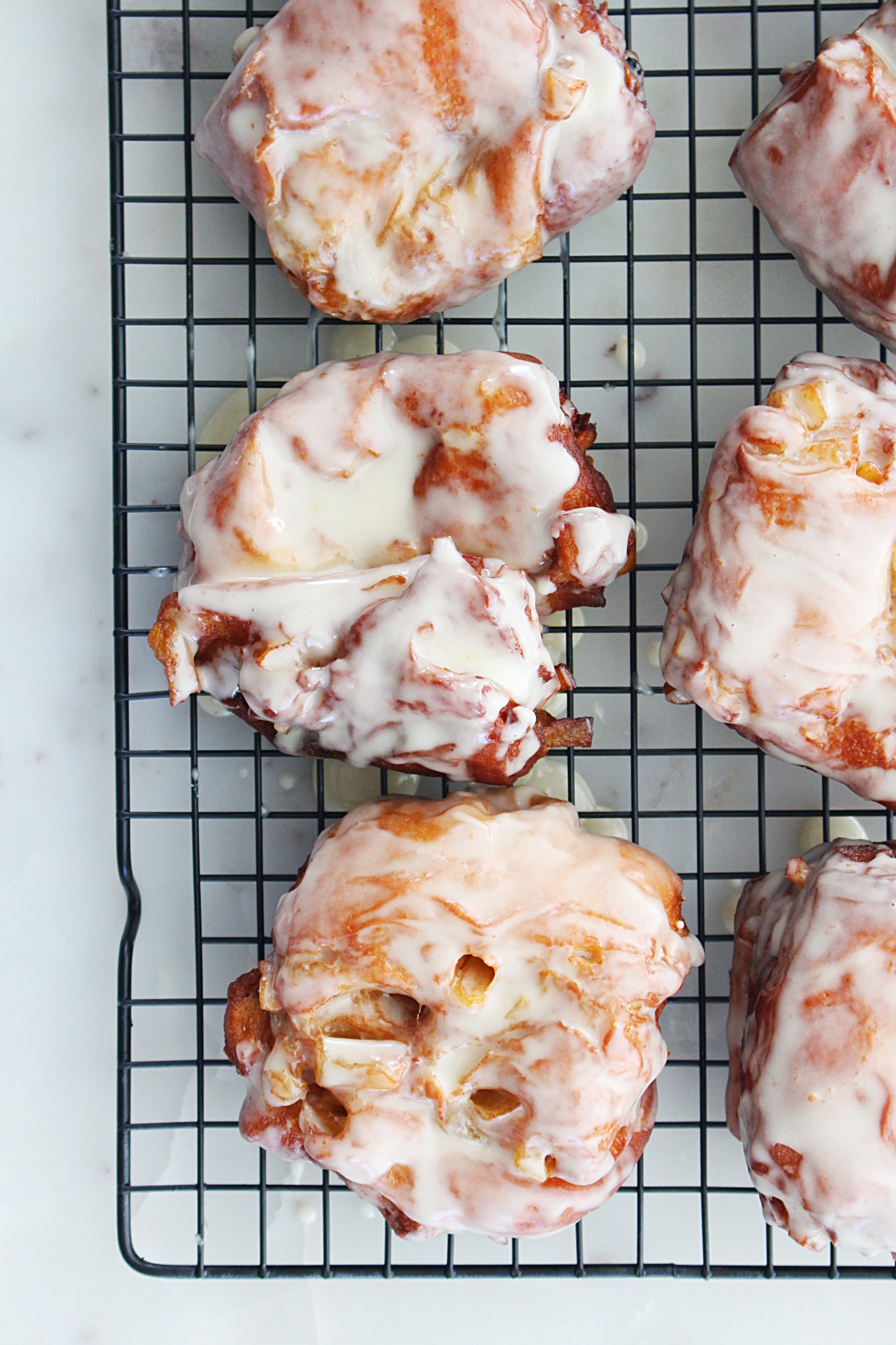 I'm honestly at a loss for words about these donuts you guys. They are so incredibly fluffy and tender with the most amazing flavour. The apples are warmly spiced and the maple apple cider glaze just takes them to a whole new level. So I'm not going to torture you anymore.
The recipe for these donuts has finally arrived & you need to make em' happen! Happy fritter making!
KP xoxo
Apple Fritters with Maple Cider Glaze
**Recipe adapted from thekitchn
Things you need…
Fritter Dough
1 pckg instant yeast
1/2 cup whole milk, warmed
1/3 cup granulated sugar
1/3 cup butter, softened
2 eggs, room temp
3 cups all purpose flour
1/2 tsp vanilla
1 tsp cinnamon
1/4 tsp nutmeg
pinch of salt
Apple Filling
5 large granny smith apples, chopped
1/3 cup brown sugar
3 tbsp butter
1 tbsp lemon juice
2 tsp cinnamon
1/4 tsp nutmeg
1/4 tsp ginger
pinch of cloves
Maple Apple Cider Glaze
1/3 cup apple cider
3 1/2 cups icing sugar
2 tbsp maple syrup
1 tsp vanilla
pinch of cinnamon
How to make…
Donut Dough
In the bowl of a stand mixer fitted with the dough hook attachment, combine the warm milk, 1 tbsp of the sugar, and the yeast and allow to stand for 5-10 minutes or until frothy.
Next add in your eggs, vanilla, remaining sugar and turn the mixer onto low to begin to combine. Add in your room temperature butter in chunks to allow it to get evenly distributed in the mixture.
Next add in 1 cup of the flour, the cinnamon, nutmeg and salt, and continue to work the mixture on low until all of the flour is combined. Add in the remaining 2 1/4 cups of flour – one at a time, allowing the flour to incorporate after each addition.
Once all your flour is incorporated, set the mixer to high and allow the hook to work the dough for about 5 minutes – you want the dough to appear smooth and elastic. If after a few minutes your dough is a bit wet and sticking to the bottom of the bowl, add in an additional tbsp of flour at a time until this stops, adding up to an additional 1/4 cup of flour only.
Remove the dough from the bowl and turn it out onto a lightly floured work surface, and knead the dough with your hands for another few minutes, and shape it into a ball.
Butter your bowl and return the ball of dough to the bowl. Cover it with plastic wrap and set it in a warm place to rise for about 1 1/2 – 2 hours or until it has doubled in size.
Apple Filling
While your fritter dough is rising, prepare your apple filling.
In a medium sized saucepan, heat the butter over medium heat to melt. Add in the chopped apples, lemon juice, brown sugar, cinnamon, nutmeg, ginger and cloves. Allow the apples to cook over medium heat until tender and caramelized – this should take about 5-7 minutes. Remove from heat and set aside to cool completely to room temperature while your fitter dough rises.
Once your dough has risen punch it down and add in your apple filling to the bowl. Gently knead the apple filling into the dough to evenly distribute it throughout the dough.
Turn the dough out onto a lightly floured work surface and use a rolling pin to roll the dough out into a 1 inch thick rectangle. Depending on how large you want your fritters, begin to cut them into squares. I usually get about 16-18 squares. Gently shape the dough squares into more of a ball shape and set them onto a parchment lined baking sheet. Cover with a dry tea towel and set in a warm place to rise for an additional 30-45 minutes.
Meanwhile, heat a few inches of oil in a pan to 350 degrees & have a wire rack ready next to your pot with paper towel underneath. Once your fritters have risen for a second time, place 2-3 into the pot at a time and fry for about 45-60 seconds on each side or until they are a nice golden brown. Use a slotted spoon to remove the fritters from the oil, allowing excess oil to drain back into the pot and set on the wire rack to cool. Repeat this process with the remaining fritters.
Maple Apple Cider Glaze
In a bowl, whisk together apple cider, maple syrup, vanilla and cinnamon. Add in icing sugar 1 cup at a time and whisk until smooth.
Dunk the donuts into the glaze, and let any excess drip off the donuts. Set onto a wire rack with parchment paper underneath and allow the donut glaze to set for 5-10 minutes. Enjoy!