*This post was sponsored by Tre Stelle. However, all opinions and stories are 100% my own.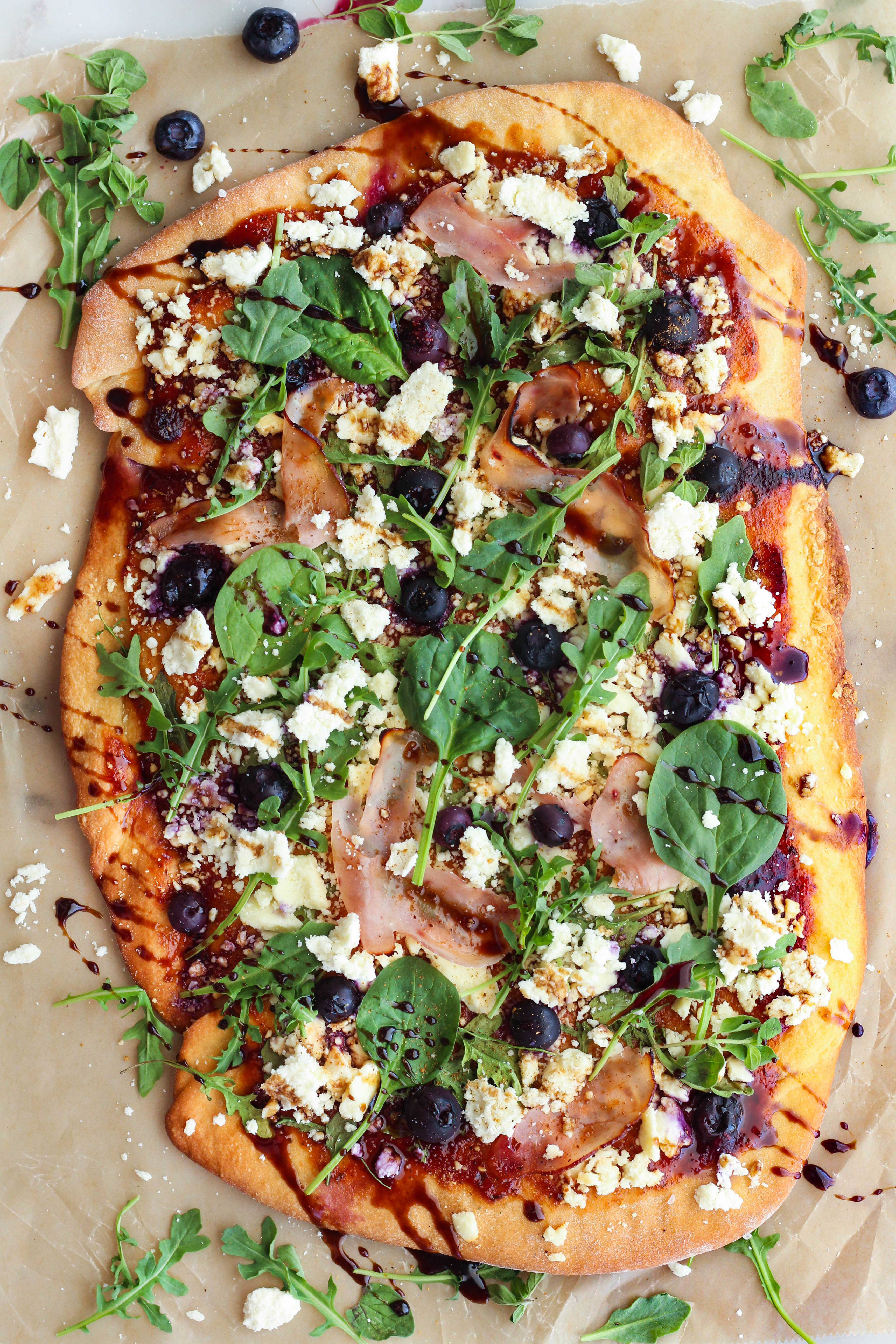 Can we just talk about cheese for a minute? I am a lover of all things cheese.
If there was one thing that I could not live without on a daily basis, it would have to be cheese in some shape or form. Put a sprinkle of cheese on just about anything, and I will be a happy gal.
I could seriously talk about my love affair with cheese all day long – but I won't… okay maybe just a little… 😀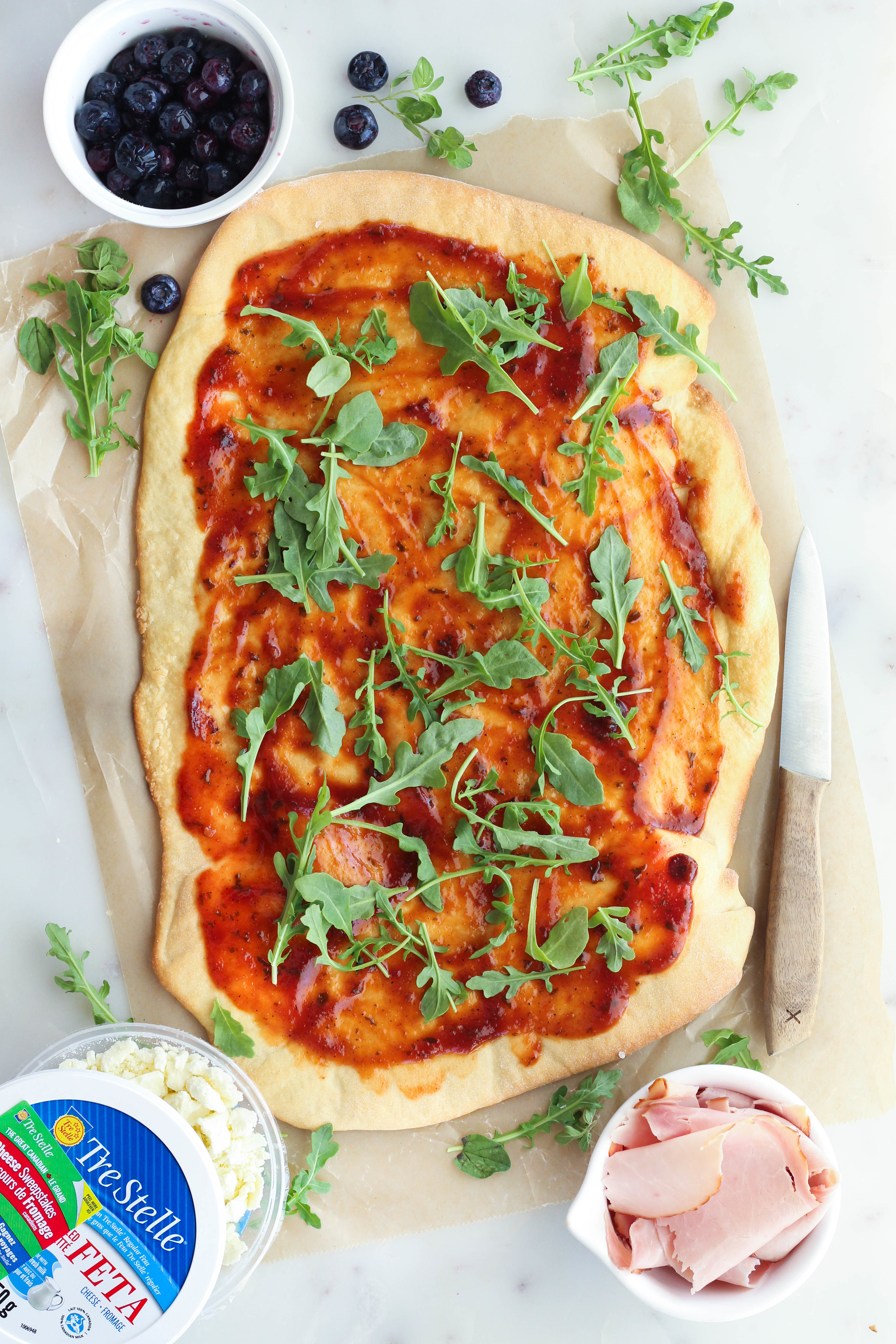 What's your favourite cheese? Cheddar? Cream cheese? Mascarpone? Bocconcini? As a lover of all cheeses, it's hard for me to pick just one as my favourite; but without question somewhere at the top of my cheese list is Feta cheese. I love it so much that most of the time I am content to just eat it straight from the package. I'm hooked on its creamy texture and tangy flavour.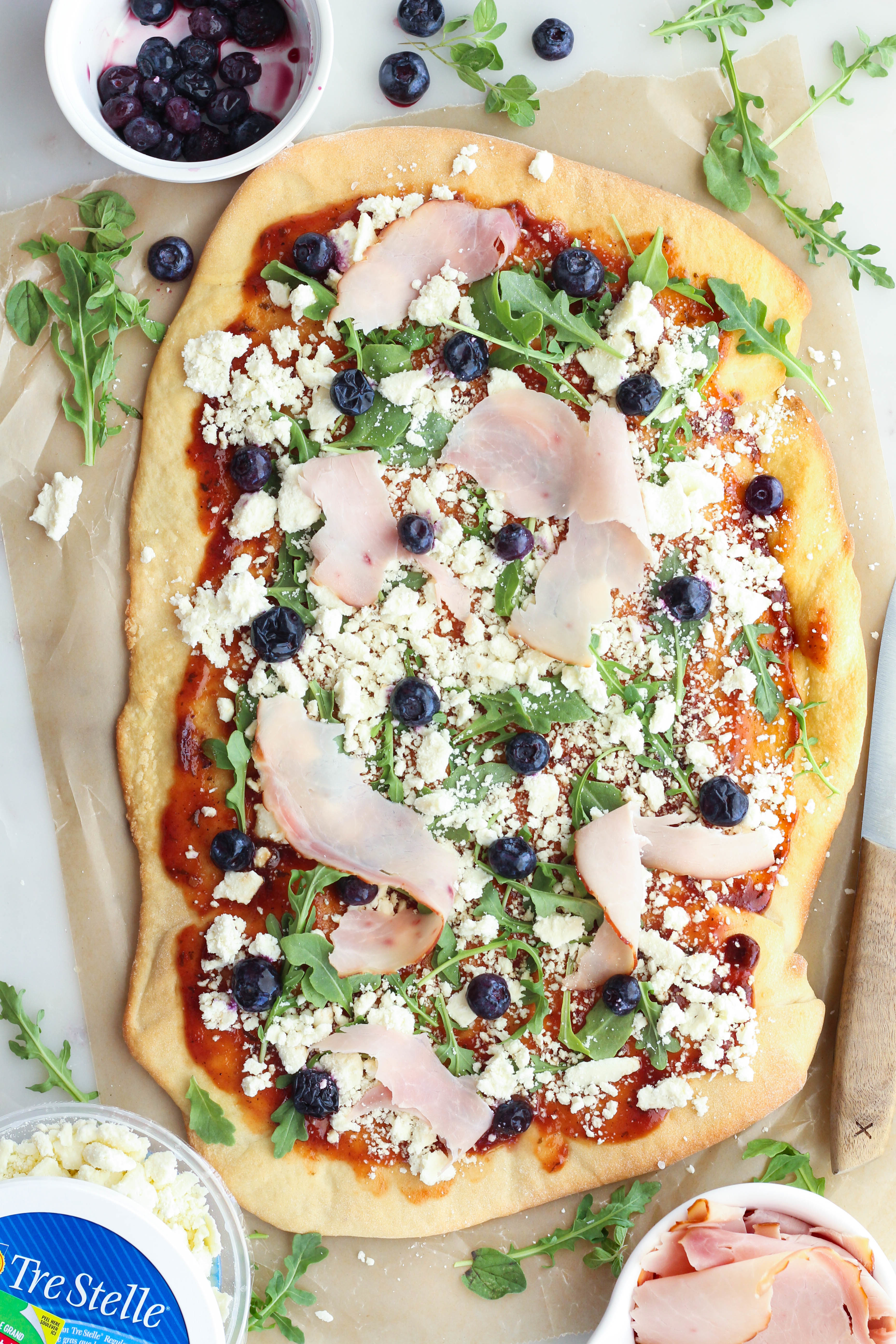 Another reason I love Feta cheese so much is because it is so versatile. You can truly add it to just about anything and it will taste delicious. Sprinkle it on a spinach salad; use it to make a creamy dip; stuff it in chicken; add it to a spinach wrap; mix up a pasta salad; the possibilities with Feta are truly endless (and always tasty.)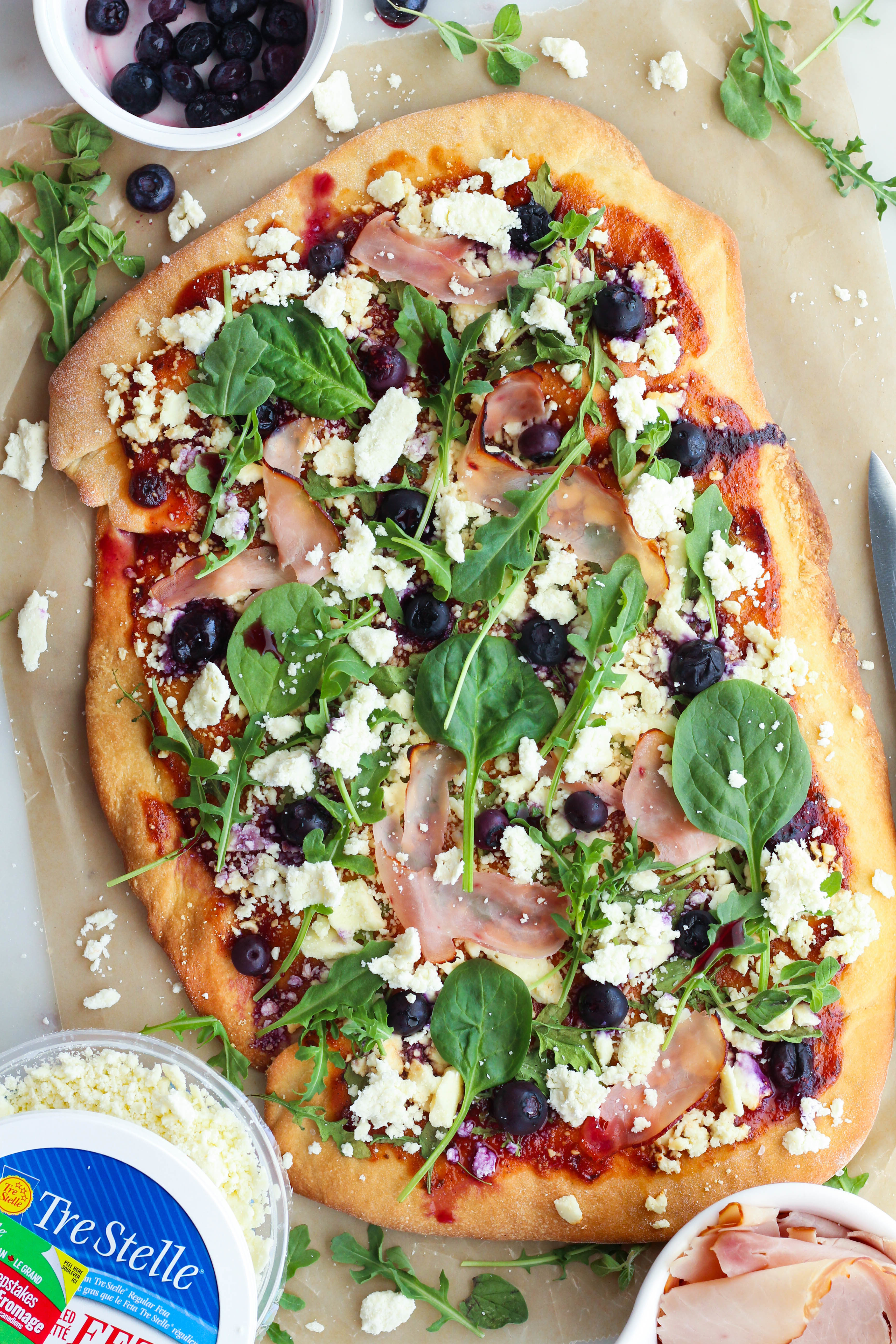 There are so many things to love about Feta, but I think what I love the most about it, its ability to bring together sweet and savoury flavours in perfect harmony. My personal favourite way to enjoy Feta cheese is with fresh summer berries and leafy greens.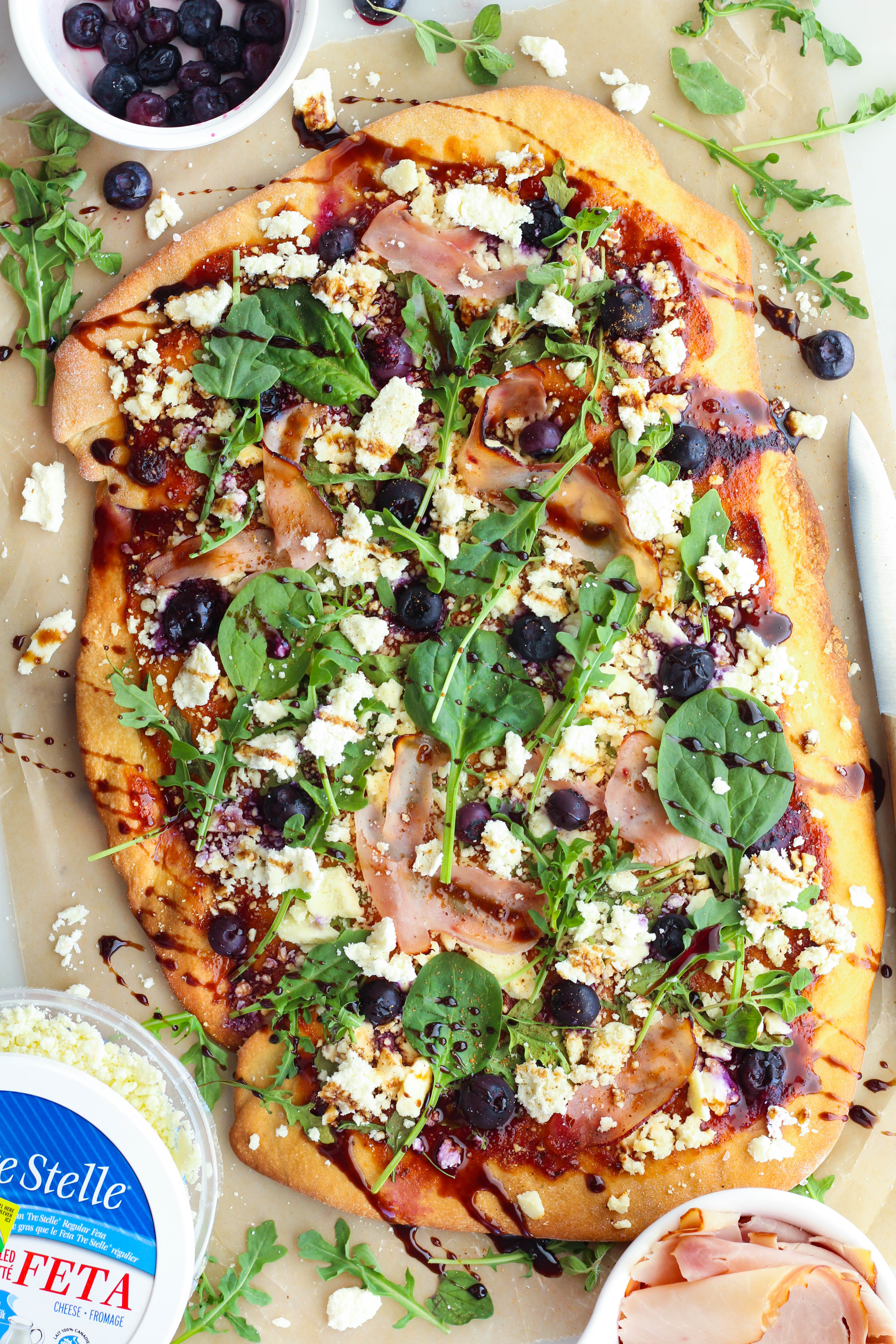 So naturally when Tre Stelle reached out to me to partner up on a recipe featuring their delicious Feta cheese, I could not have been more excited! Oh and did I mention, that right now Tre Stelle is running an amazing Summer Sweepstakes for when you purchase Tre Stelle Feta or Bocconcini!? Just another amazing reason to eat alllll the Feta cheese this Summer, amiright!?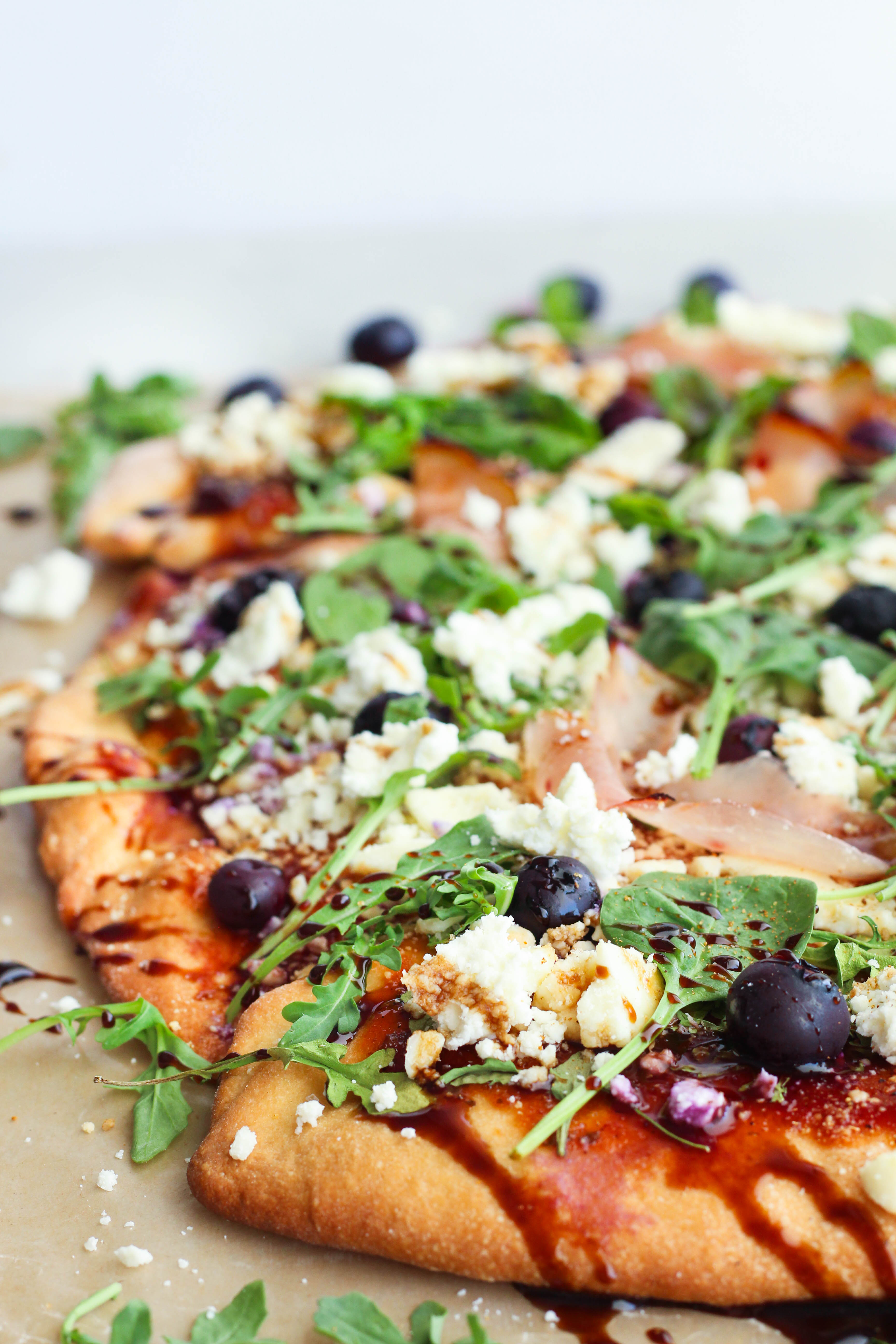 This flatbread is basically a culmination of all the things that I love most in in life; Bread, Feta cheese, BBQ sauce, fresh summer produce, and honey balsamic vinegar. So basically this is the flatbread of my dreams, and if you are a lover of the above mentioned things, then it could be the flatbread of your dreams too!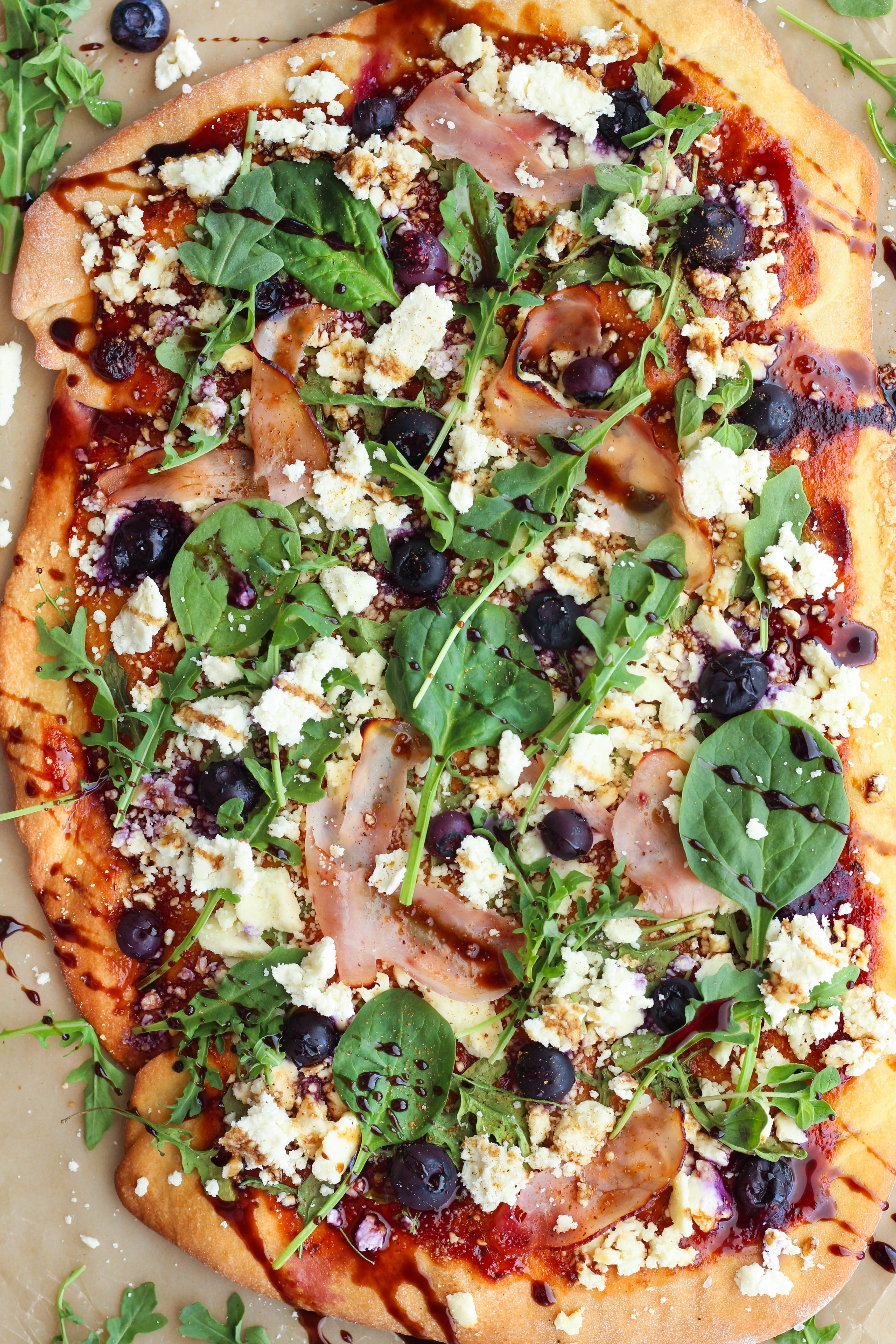 As I said before; I love a recipe that brings together sweet and savory flavours, and this flatbread does just that. You get a savory bite from the BBQ sauce, the peppery arugula and the salty Feta; but then you get a burst of juicy sweetness from the fresh blueberries and the sweet honey balsamic. This flavour combination is dynamite and I could seriously eat this flatbread all summer long.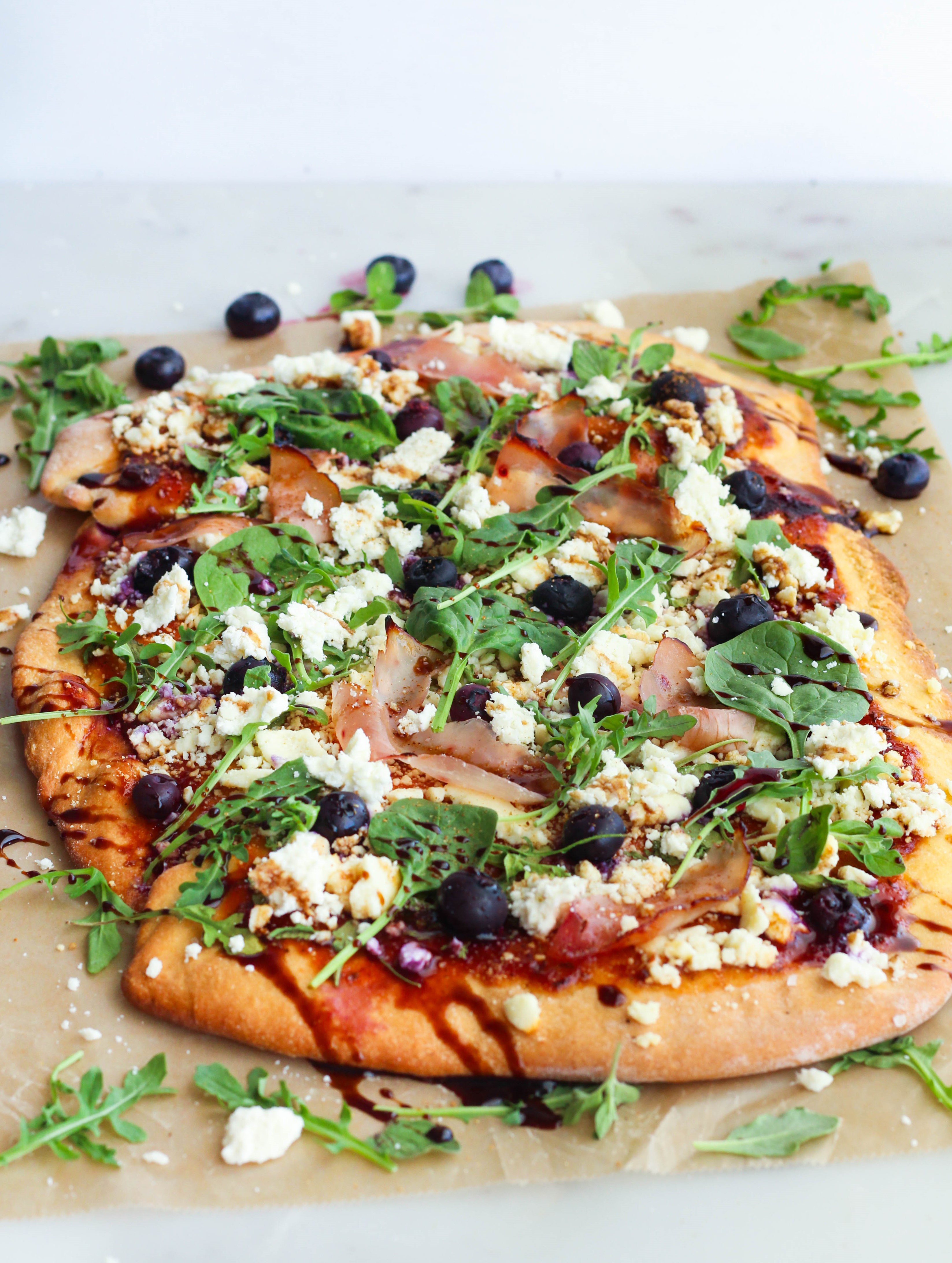 So here is the recipe lovelies & I hope you enjoy it as much as I did!
And don't forget that when you purchase Tre Stelle Feta or Bocconcini you will find a code where you can then go onto the Tre Stelle website, and enter the code for a chance to win 1 of 150 cooking appliance prizes or 1 of 3 grand prize trips to the Tre Stelle Niagara Cooking School! The Great Canadian Cheese Sweepstakes runs from June 15-August 31 so you have lots of time to try out new, cheesy and delicious recipes all Summer long!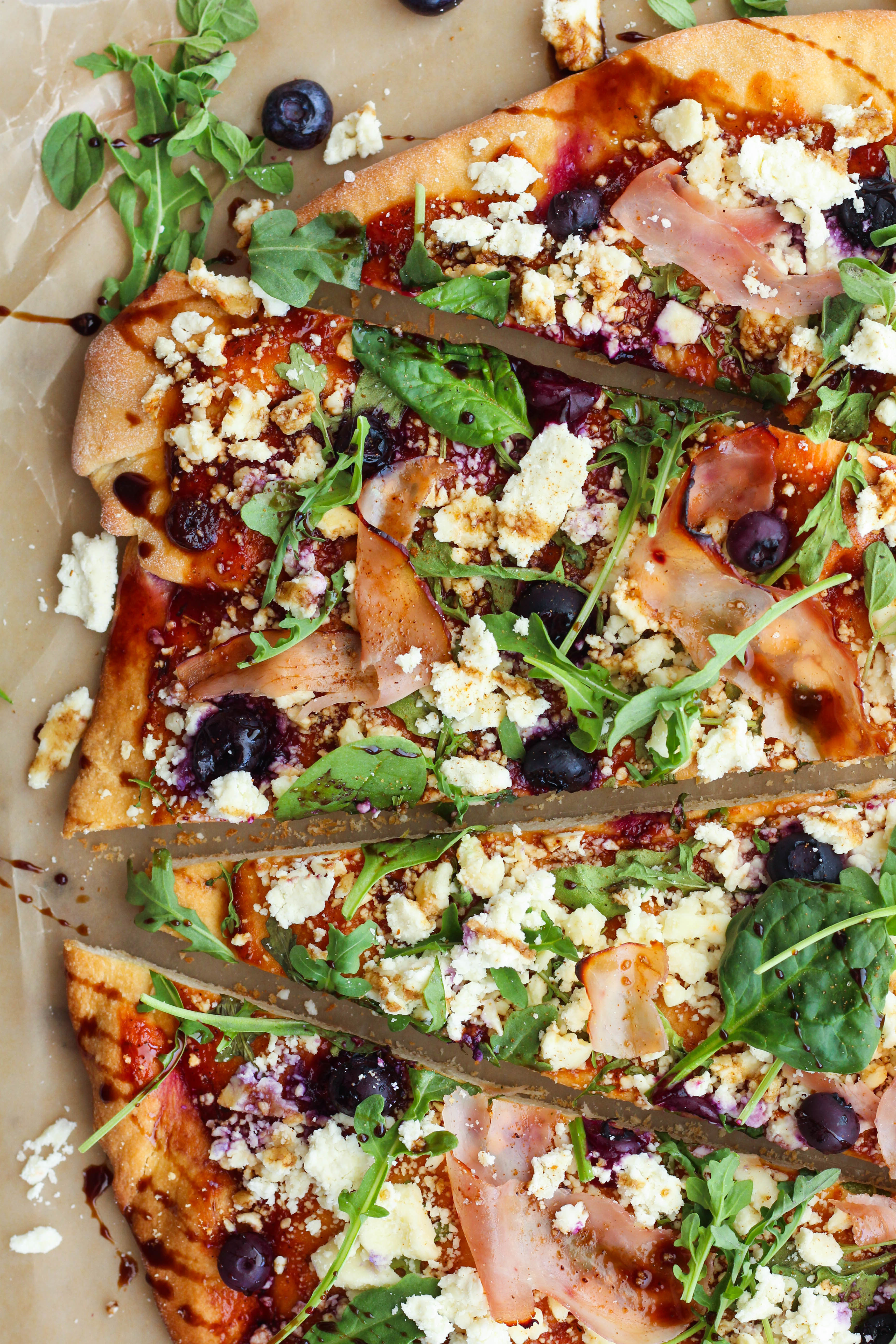 BBQ Feta & Blueberry Flatbread with Honey Balsamic
Makes 2 medium flatbreads
Things you need…
Homemade Flatbread
1 cup milk, warm
¼ cup olive oil
1 tbsp granulated sugar
1 pckg active yeast
1 tsp salt
2 ¼ – 2 ½ cups all purpose flour
Toppings (for each flatbread)
3-4 tbsp sweet BBQ Sauce
1 package of Tre Stelle Feta
Handful of fresh arugula
Handful of fresh blueberries
A few slices of Honey Roasted Ham
A few sprigs of fresh oregano
Salt & Pepper to taste
Drizzle of honey balsamic (recipe below)
Honey Balsamic
2 tbsp balsamic vinegar
2 tbsp honey
How to make…
Homemade Flatbread
In the bowl of a stand mixer, stir together your warm milk, sugar and yeast. Set aside to proof for 5-10 minutes. When you come back your mixture should be frothy.
Add 2 ¼ cups of flour, salt and olive oil to the bowl and set your stand mixer to low and allow it to mix until the dough starts to come together. Turn mixer to medium high and allow it to knead the dough for 4-5 minutes or until the dough is smooth and elastic.
Remove the dough from the bowl and lightly grease the bowl with olive oil. Set dough back in the bowl and cover with plastic wrap or a dry tea towel. Set in a warm place to rise for about 1 hour or until doubled in size.
Honey Balsamic
Whisk balsamic vinegar and honey together until combined. Set aside.
Assembly
Preheat oven to 400F & line two baking sheets with parchment paper.
When dough has risen, punch it down and turn it out onto a lightly floured surface. Divide dough into two equal portions and roll each out into ¼ inch thickness. Whatever shape you prefer – I just made mine oblong.
Set the flatbreads onto two separate parchment lined baking sheets. Set in the oven to bake for 5 minutes. Check on your flatbreads and switch their rack positions. If you notice any large bubbles in your flatbreads, poke them with a sharp knife. Allow them to bake for another 5-7 minutes or until they are just getting golden around the edges.
Remove from the oven and spread BBQ sauce leaving a 1 inch border. Sprinkle with a small handful of arugula. Sprinkle with a generous amount of Tre Stelle Feta Crumbles to cover. Add a few slices of honey roasted ham, sprinkle with blueberries,  and salt & pepper to taste.
Place back in the oven to bake for another 8-10 minutes or until the edges are golden brown. Remove from oven, top with a bit more fresh arugula, Feta and drizzle with honey balsamic. Slice and enjoy!