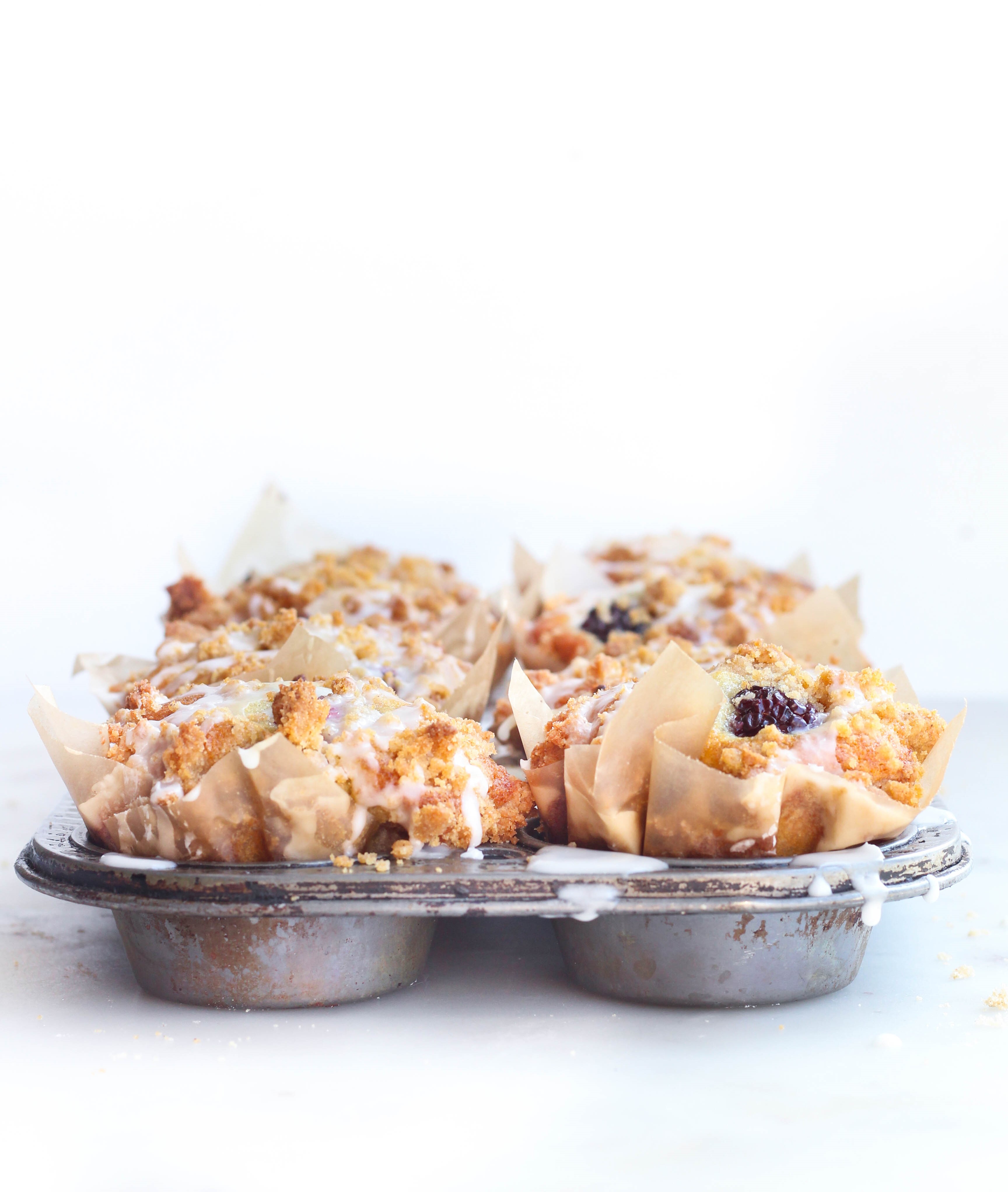 I don't know about you guys, but I absolutely love a good crumb muffin; Whether it's an old fashioned cinnamon crumb muffin, or one that's been loaded with juicy seasonal fruit – I am always game to devour one.
Shop this post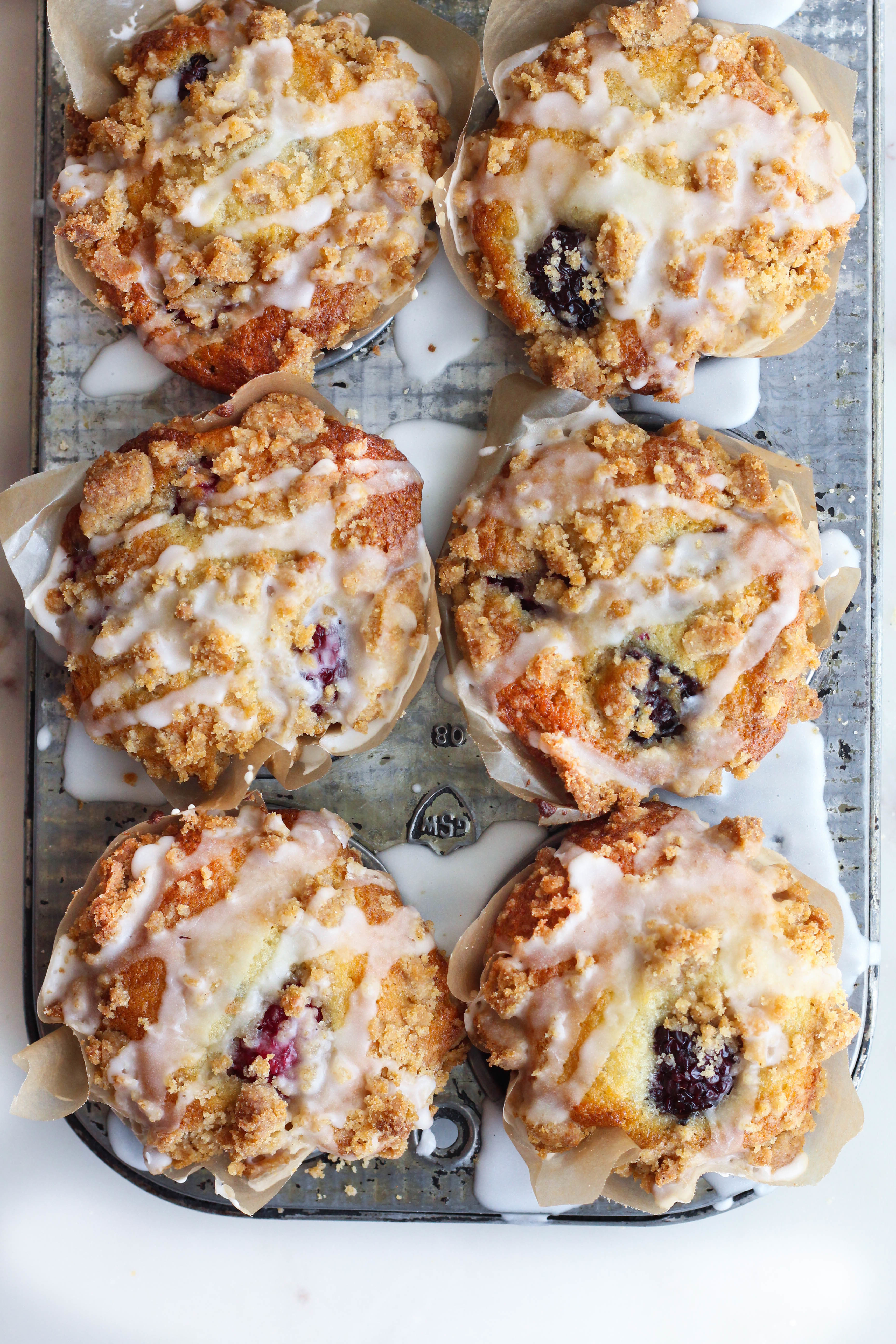 I think the fact that pretty much anytime of day is a socially acceptable time to eat muffins, is why I love them so much. You can enjoy one with your morning coffee; you can eat one with your lunch; you could pick one up for an afternoon snack; or if you're like me, you can eat one warmed up with a giant scoop of vanilla ice cream on top for dessert…
Yup, I went there. Ice cream + warm muffin = amazing and If you haven't yet tried muffins with ice cream, you really need to add that to the top of your list of things to do. Why? Because life is just too short to not be eating ice cream on top of your muffins. 'Nough said…
The Tree Island Greek Yogurt in these muffins makes them unbelievably tender and moist, and what's even more amazing is that they stay that way for days after you bake them. No hard, little rock muffins are happening around here.
Not to mention, they are topped with a buttery crumble, which let's face it – everything is better with buttery crumble on top.
These muffins are a definite must try while all of the summer berries re in season! Here is the recipe lovelies and I hope you enjoy!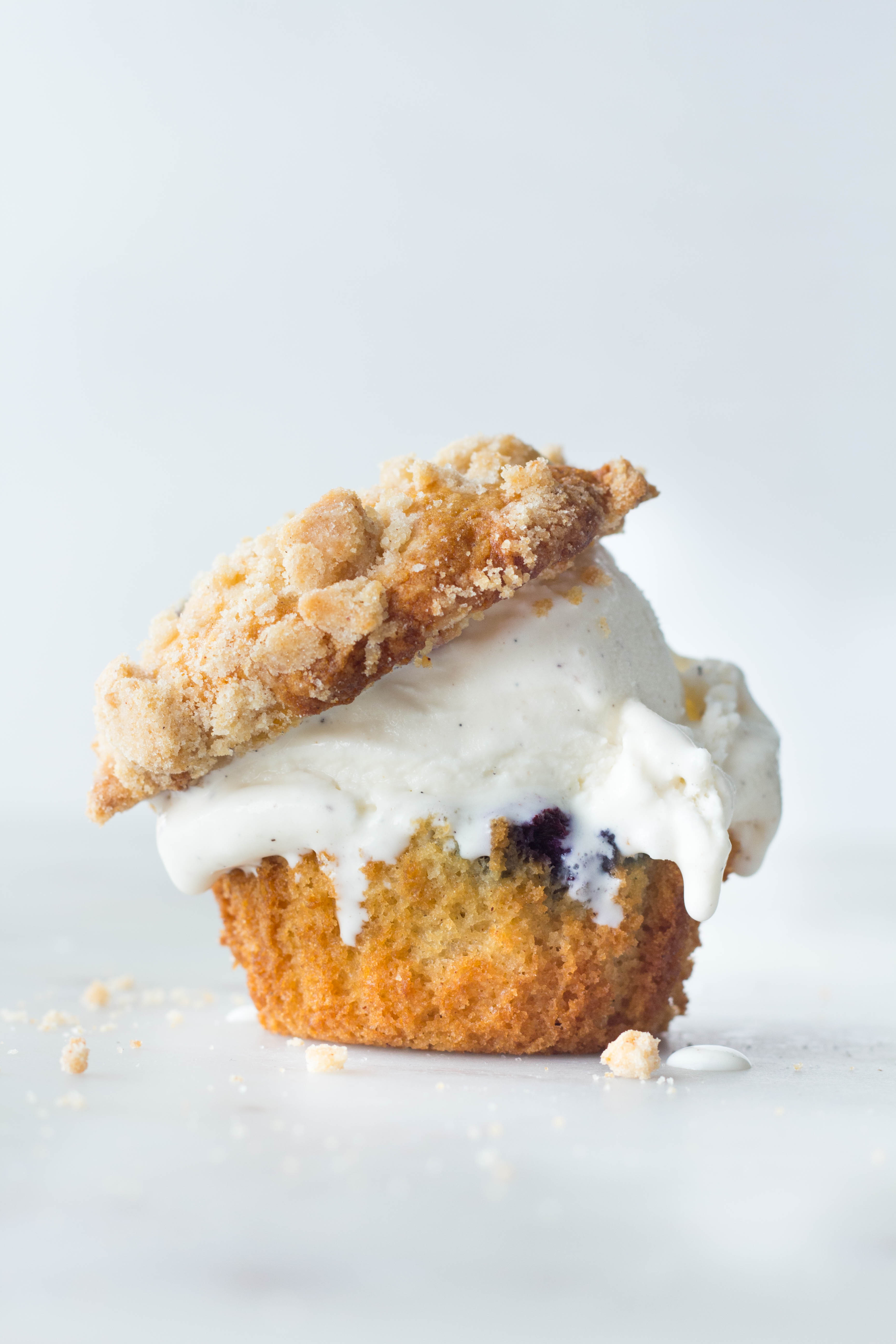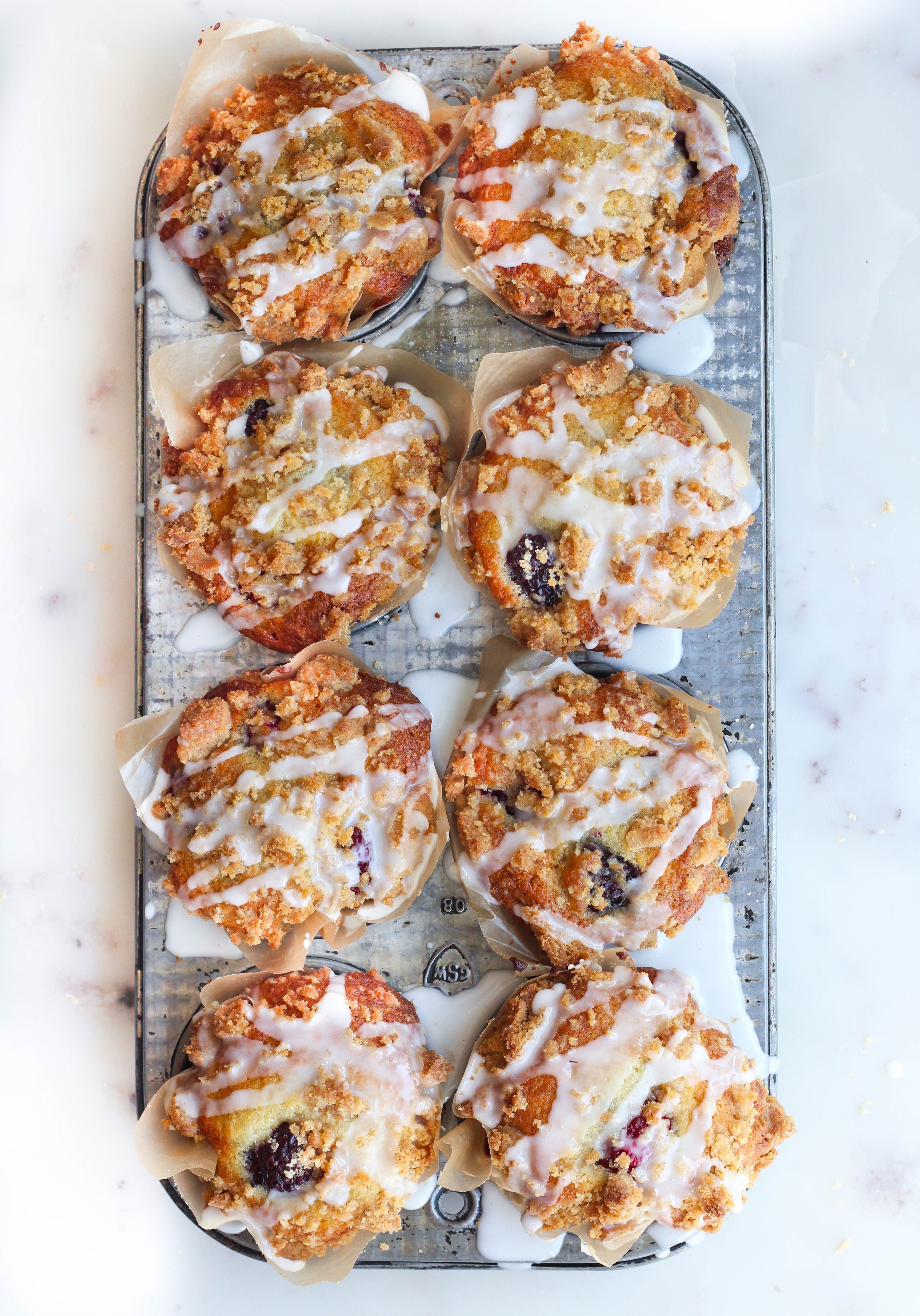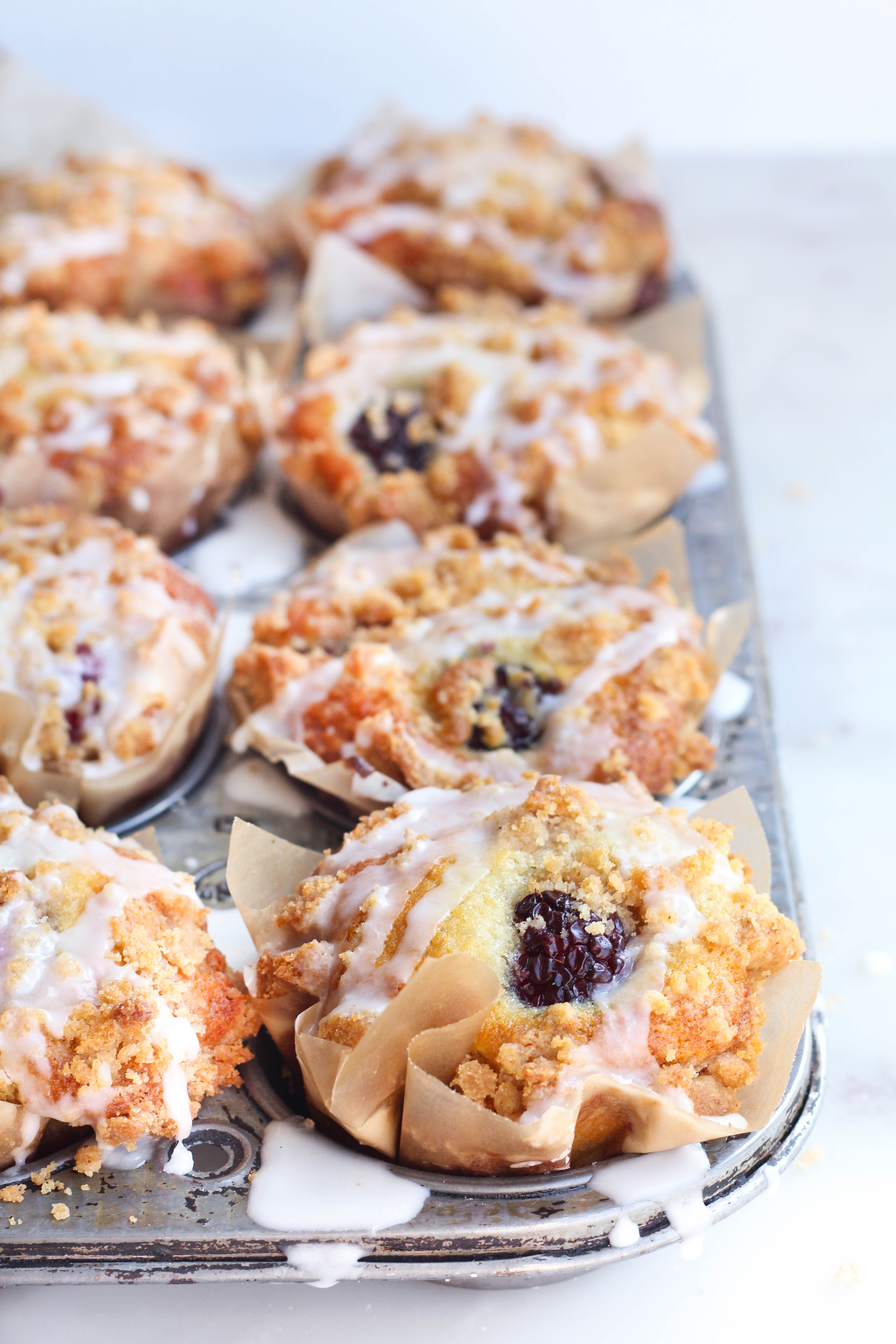 Blackberry Greek Yogurt Coffee Cake Muffins
Makes 12 large Muffins or 18 medium muffins
Things you need…
Muffins
2 cups all purpose flour
¾ cup brown sugar
½ cup granulated sugar
½ tbsp baking powder
1 tsp baking soda
½ tsp salt
¼ tsp cinnamon
1 package Tree Island Plain Greek Yogurt (about 1 ½ cups)
3/4 cup butter, melted
2 eggs
2 tsp pure vanilla extract
1 tsp fresh lemon zest
¾ cup fresh blackberries (or blueberries), dusted with flour
Crumble
3/4 cups all purpose flour
½ cup brown sugar
3.4 tsp Cinnamon
pinch of nutmeg
¼ cup Butter, melted
Vanilla Greek Yogurt Glaze (optional)
1 cup icing sugar
1 tbsp water
1 tbsp Greek Yogurt
A couple drops of pure vanilla extract
How to make…
Preheat oven to 375F degrees & line 2 muffin pans with cupcake liners; 6 per tin and spreading them out across the tins. This will help your muffins rise nicely.
Make your crumble; In a medium bowl, whisk together flour, sugar, cinnamon and nutmeg. Pour in melted butter and mix with a spoon until a crumbly mixture forms. Set aside.
Make your muffins; In a large bowl, whisk together flour, sugars, baking soda, baking powder, salt and cinnamon until combined. Make a well in the center of the dry ingredients and set aside.
In a medium bowl, whisk together greek yogurt, eggs, vanilla and lemon zest until combined. Pour in melted butter and whisk until smooth. Pour wet ingredients into the well of the dry ingredients. Use a spatula to gently fold the wet ingredients into the dry until just starting to come together. Add in blackberries and fold them in until everything is just combined. It is okay if there are still a few streaks of flour.
Tip: be careful not to overmix your muffin batter, as this can result in tough muffins.
Scoop muffin batter into prepared cupcake liners, filling just below the top. Sprinkle the tops of each muffin with a generous amount of prepared crumble to cover the batter.
Place both racks in the oven to bake for 16-20 minutes or until the muffins are golden brown and the tops spring back to the touch.
Remove from oven and allow to cool for a few minutes.
Meanwhile, whisk together all of the ingredients for your glaze until smooth. Drizzle the glaze over the tops of the muffins, and let it set for another few minutes before serving.
Enjoy!