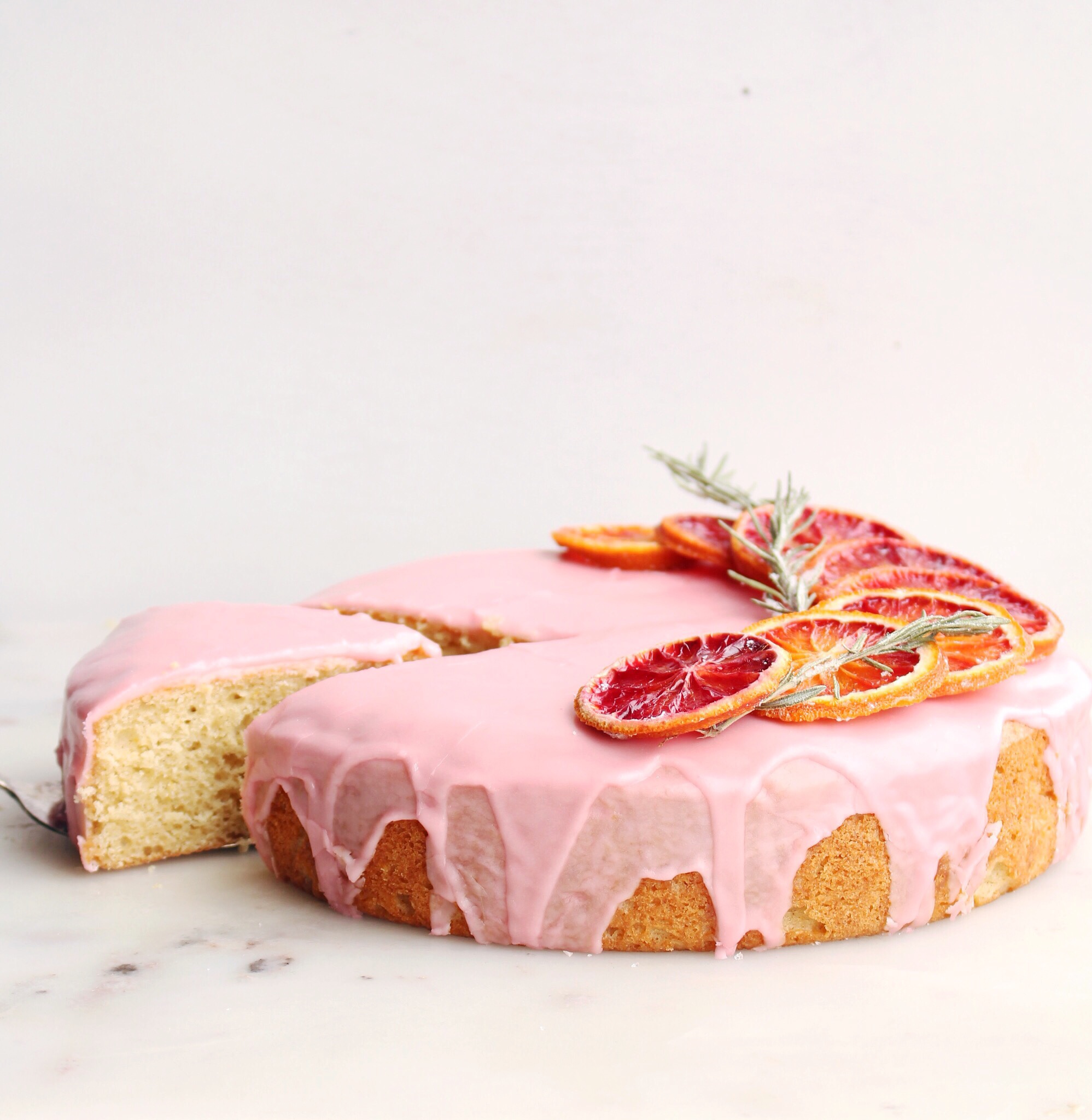 Happy 2017 friends! How is everybody doing? I feel like I have been completely MIA lately. You guys keep asking so nicely for recipes and I keep failing to post them. I'm sorry! 
I know I'm the worst, but I'm trying to redeem myself here with this one because you guys …this cake. I am at a loss for words because seriously… This. Cake. I'm in love with it.
Ever since blood oranges started showing up in my market I have been telling myself I need to baking something with these colourful beauties & I finally got around to it this past weekend.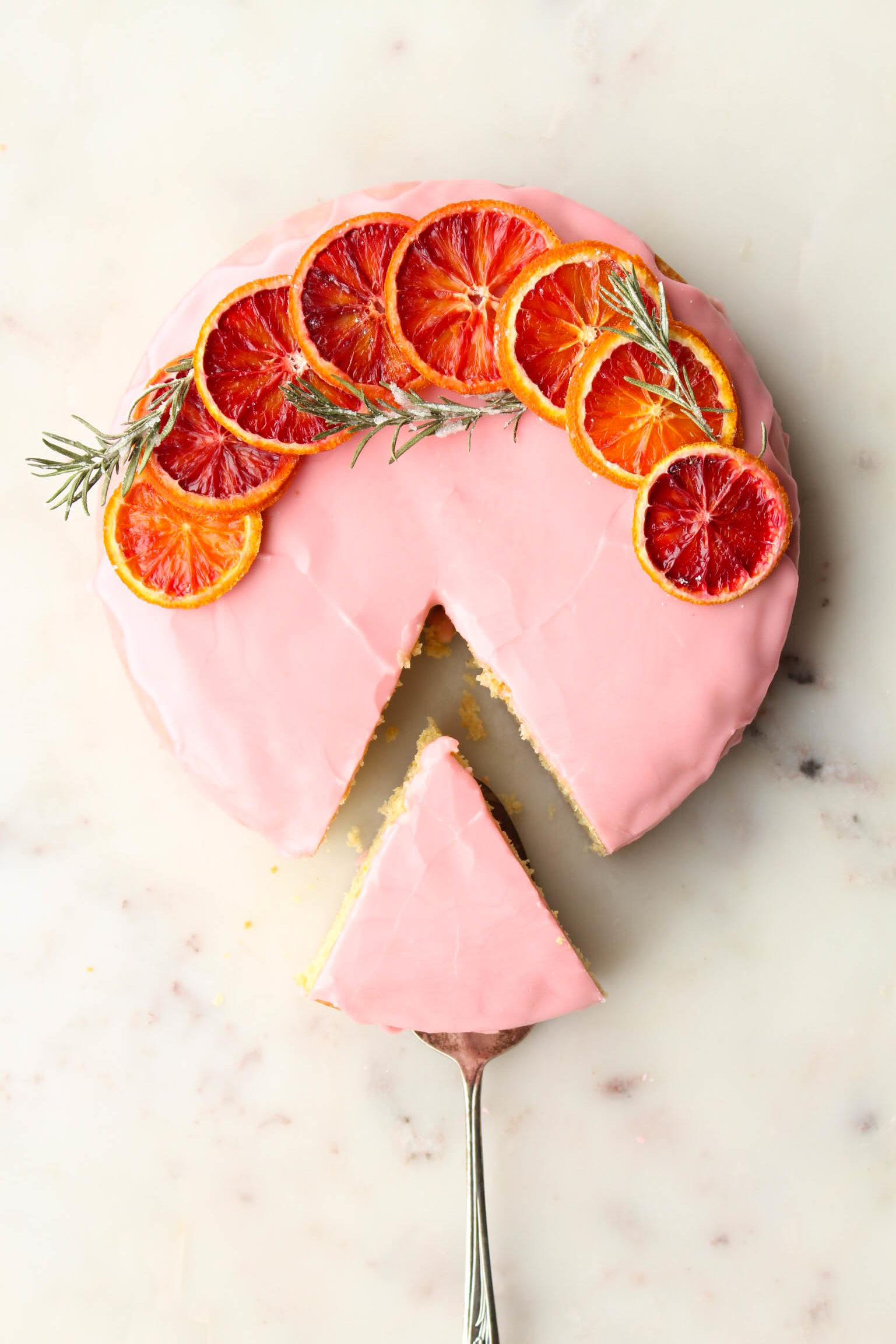 The natural colour of the glaze on this cake is honestly enough to make me weak in the knees. I couldn't get over it when I whisked it up earlier this week, and clearly I'm still not over it.
I feel like this glaze deserves to have a love song written about it, but if there is one thing I learned in my middle school years – back when I was convinced that I should definitely one day be a singer/songwriter (okay, embarrassing) – It's that I should definitely not be allowed to write songs. Like ever.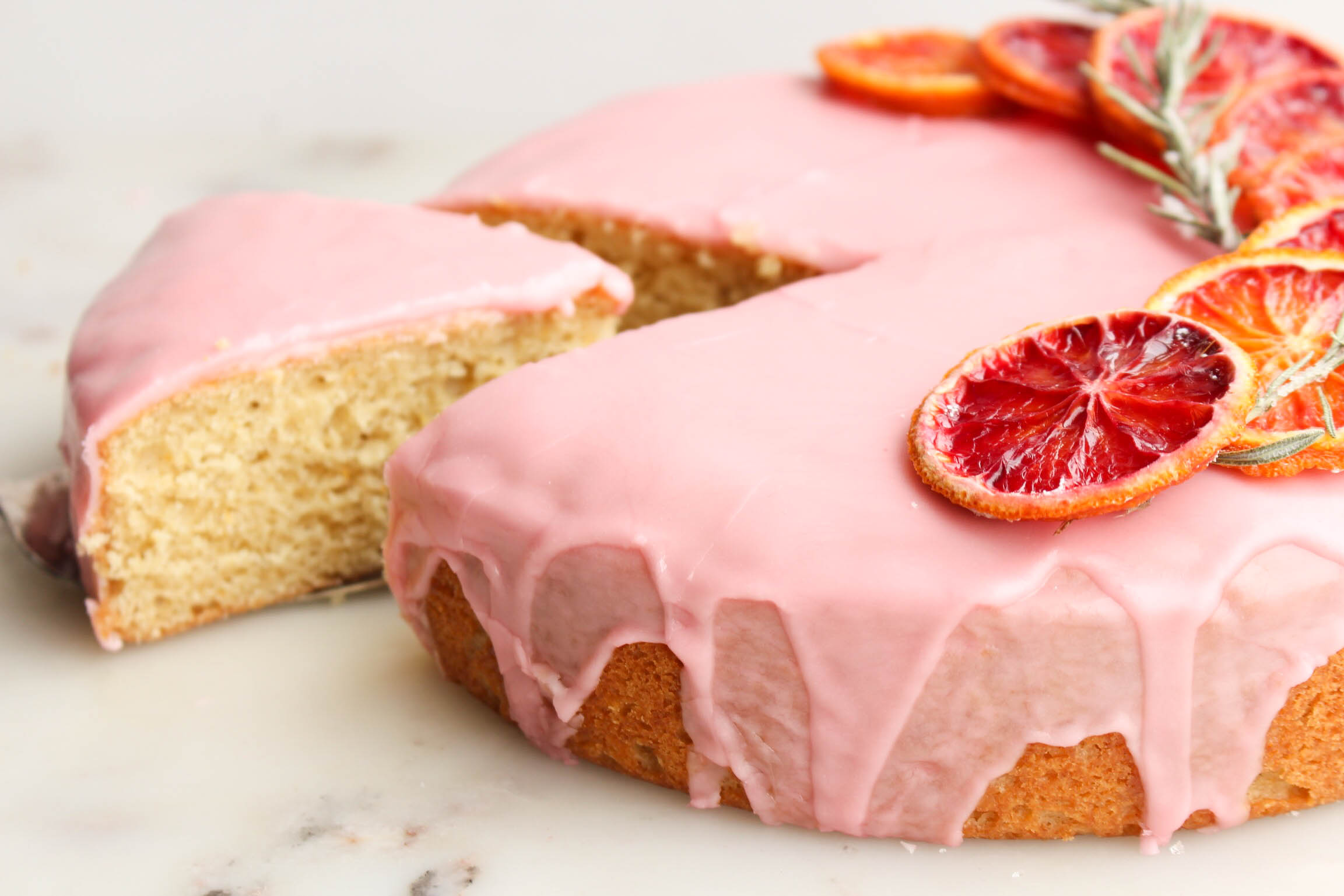 So instead of write a terrible love song – I will just tell you straight up that this cake is citrus cake dreams are made of. The cake itself is soooo fluffy and moist – like it's kind of ridiculous how fluffy and moist it is. The flavour of the blood orange combined with that hint of cardamom is such a fantastic pairing I pretty much think it's now necessary for me to make orange cardamom EVERYTHING.  
Oh, and that Blood Orange Glaze… well I think we already know how I feel about that. But just in case you need a little more detail on how amazing it is; Let me just tell you one last thing. After I poured the glaze over the cake, naturally there was some that ran over the edges and dripped through the wire cooling rack onto a piece of parchment paper. Now normally I would just discard these glaze drips – but in this case I couldn't even fathom that thought and I felt it 100% necessary to take a spoon to those little puddles of blood orange glaze goodness, and eat it just like that… Yup. That definitely happened.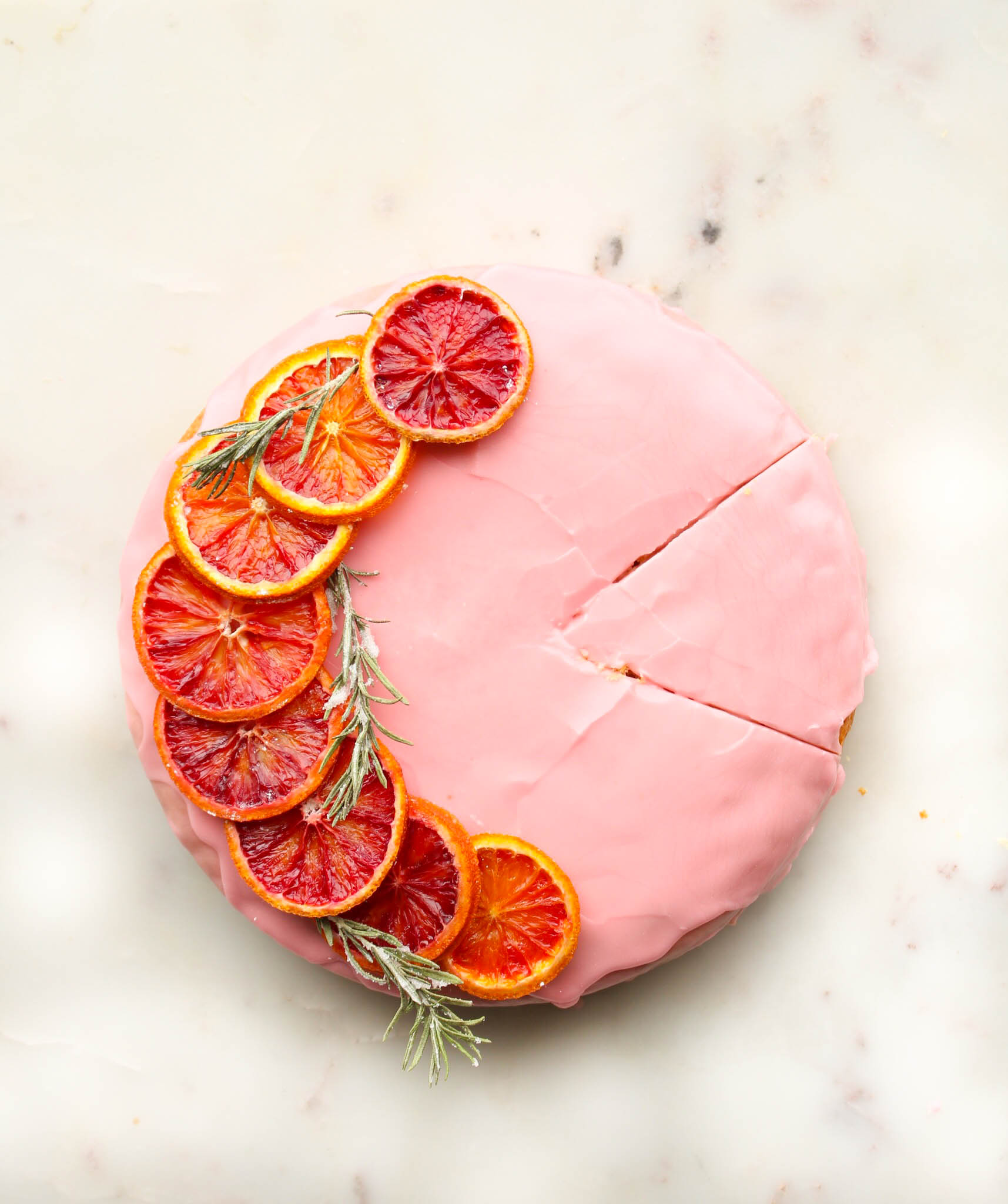 So the only thing I have left to say, is go pick up some blood oranges stat, and make this cake. Even if you are not a spice or cardamom kind of person & you just make this cake sans cardamom – it is still absolutely incredible.
Happy baking beautiful people!
KP xoxo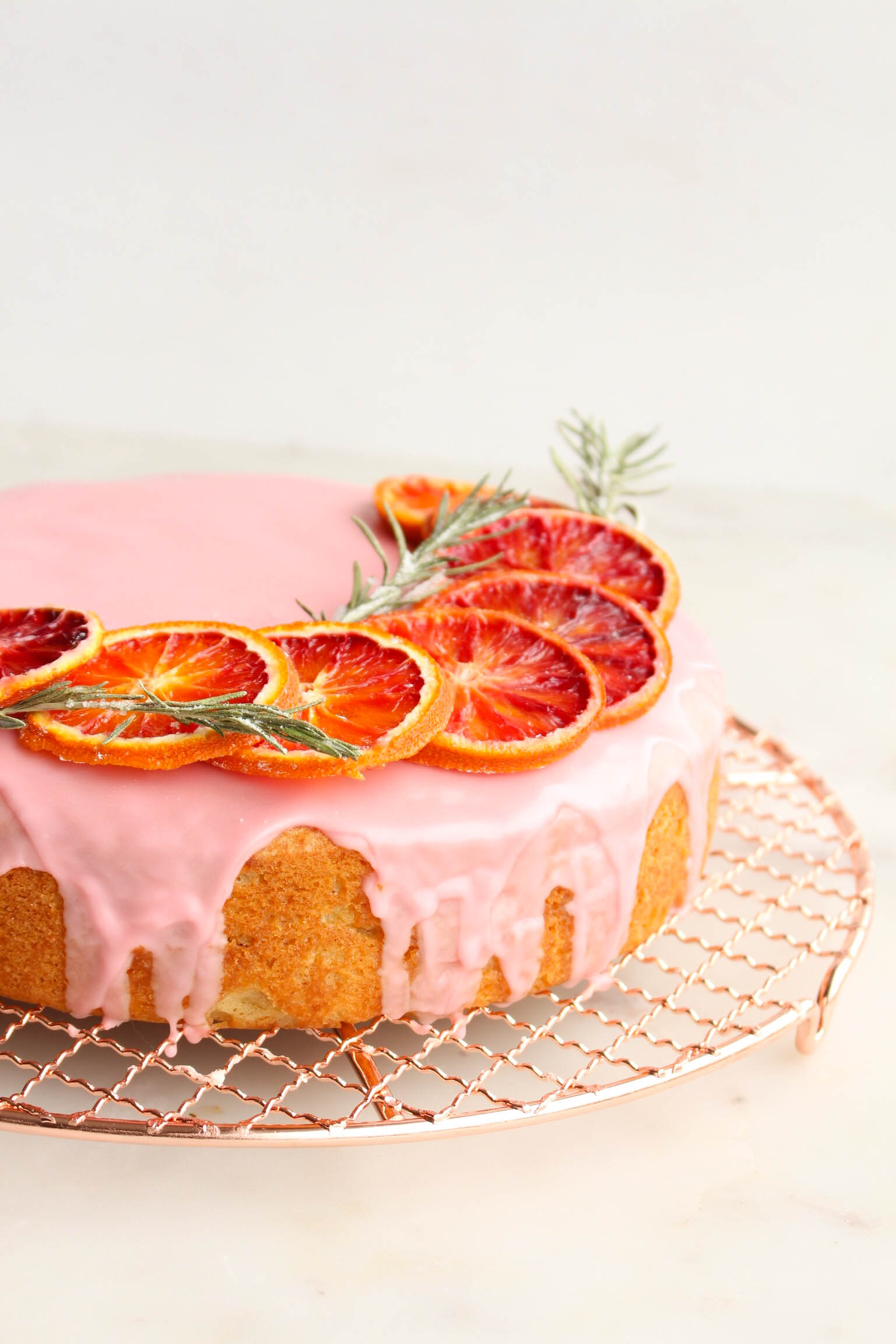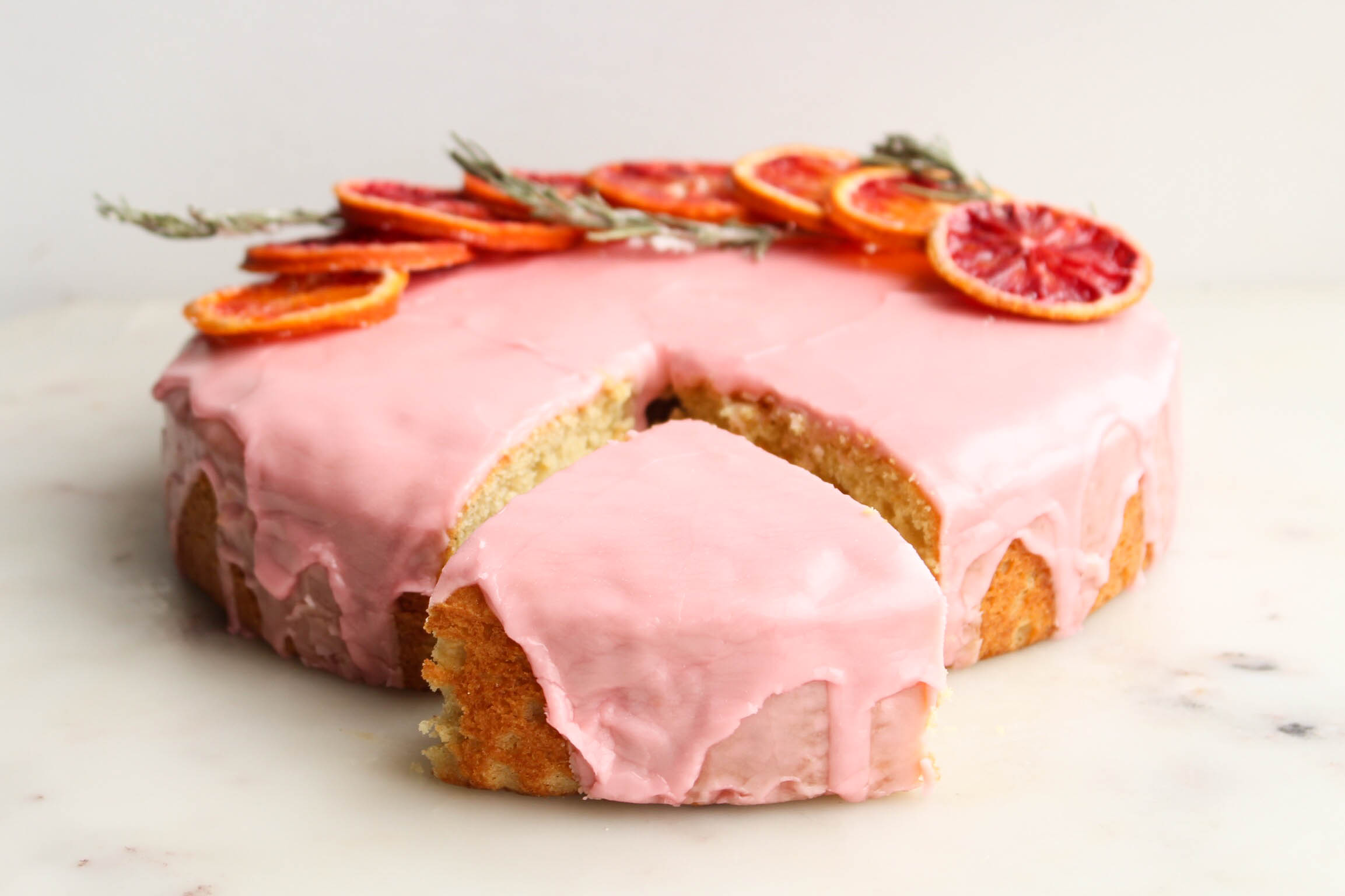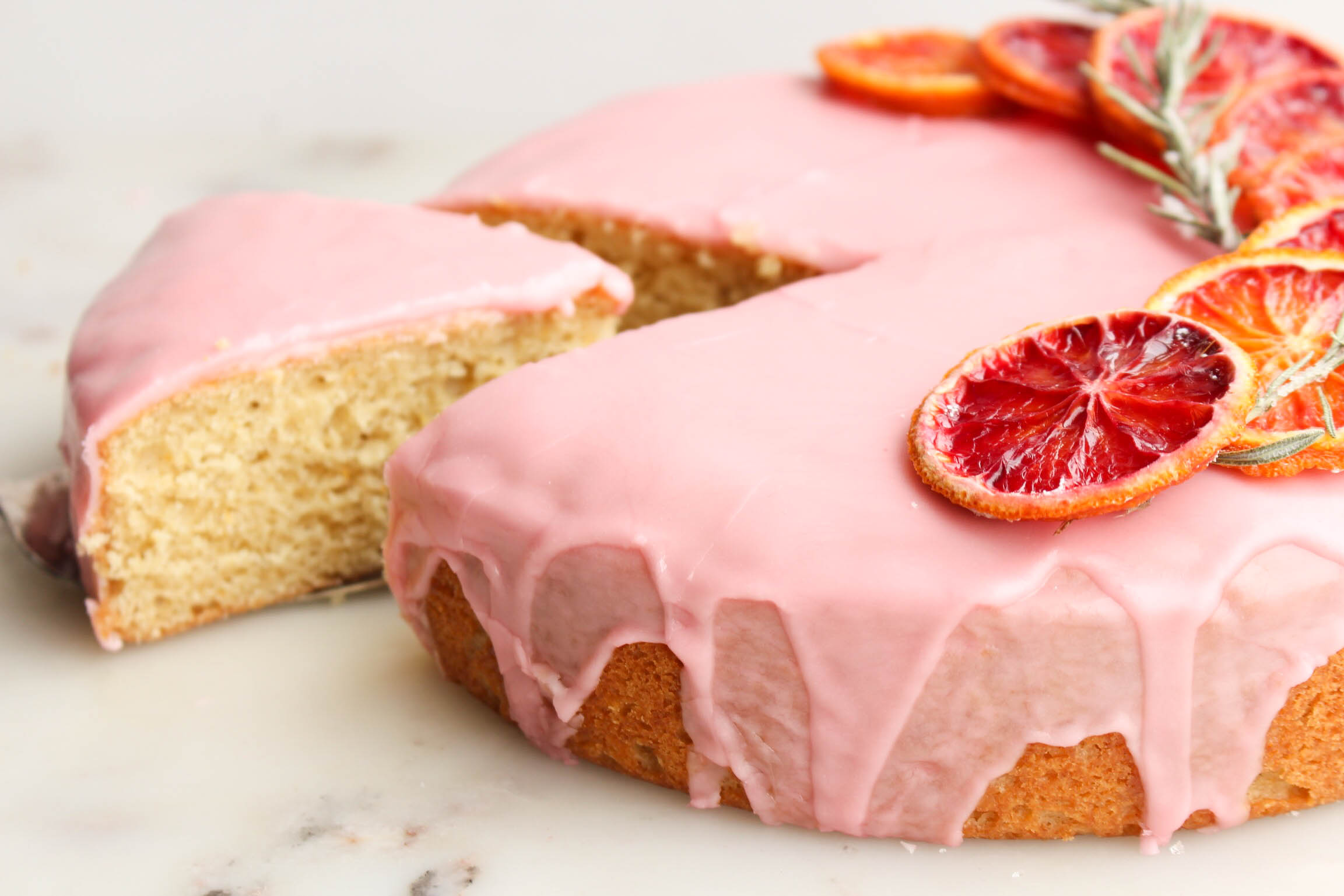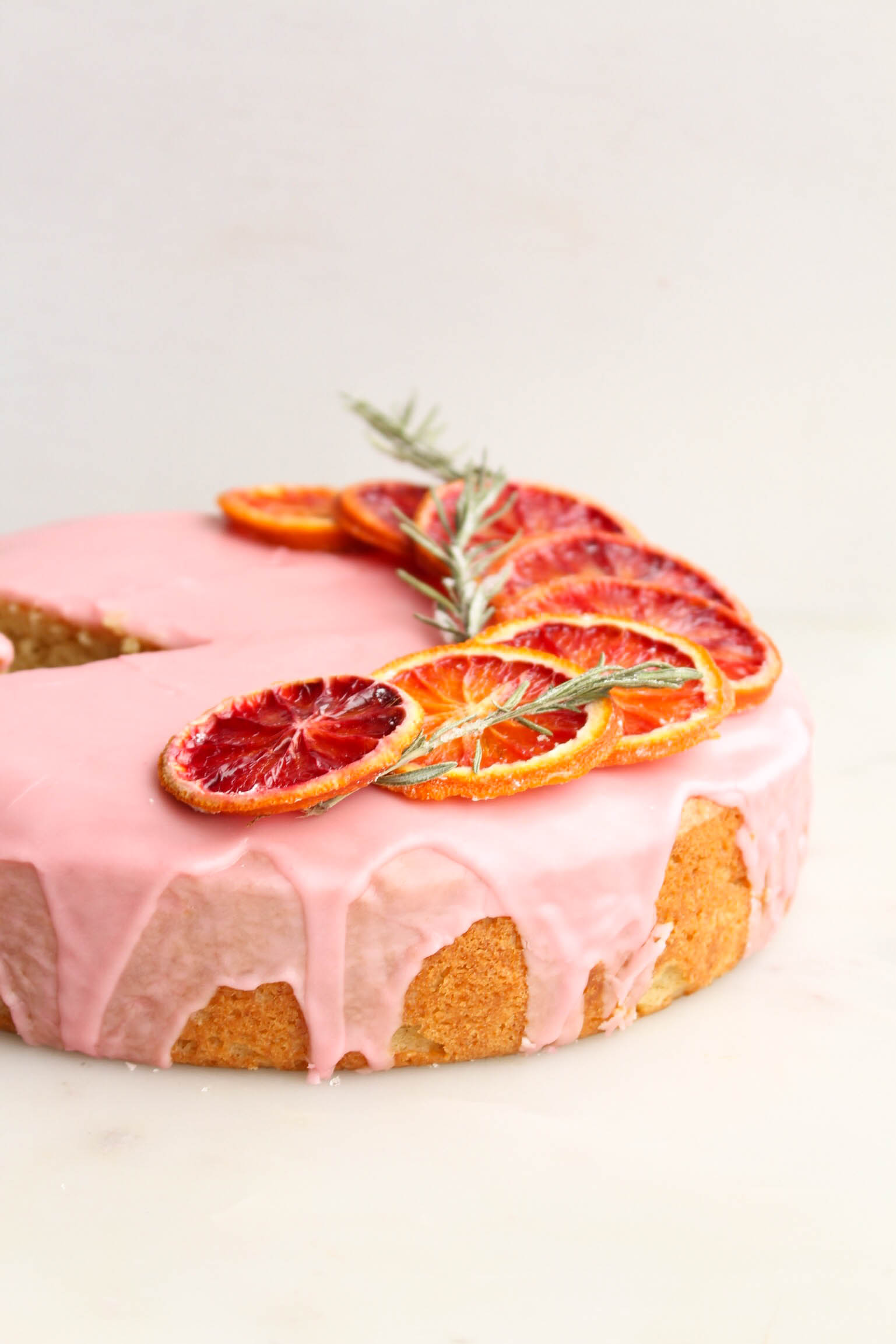 Blood Orange Cardamom Cake
Cake
1/2 cup butter, softened
1/2 cup granulated sugar
1/2 cup brown sugar
zest of one blood orange (about 1 1/2 tbsp)
2 tbsp blood orange juice
2 eggs
1 tsp vanilla
1 cup sour cream
1 1/2 cups all purpose flour
2 tsp baking powder
1/2 tsp baking soda
1/2 – 1 tsp cardamom (depending on how spicy you want the cake, I usually use 3/4 tsp)
1/4 tsp cinnamon
1/4 tsp salt
Blood Orange Glaze
Juice of 1 blood orange (minus the 2 tbsp you use for the cake)
a few drops vanilla extract
1 1/2 – 2 cups Icing Sugar (approx – add more as needed)
How to make…
Pre-heat oven to 350 degrees and grease a 10 inch cake pan.
In a large mixing bowl, cream together butter, sugars and orange zest until pale and fluffy. Add in eggs, one at a time, beating well after each addition. Scrape down the sides of your bowl and add vanilla extract and orange juice. Beat until fluffy; 1-2 minutes.
Whisk together flour, salt, baking soda, baking powder, cinnamon and cardamom to combine. Add in 1/3 of the flour mixture to the wet ingredients and mix on low to just combine. Add in 1/2 of the sour cream and mix until just combined. Repeat this process with the remaining flour and sour cream ending with the last 1/3 of flour mixture. Scrape down the sides of the bowl and beat on low speed until there are no lumps in your batter, but don't over-mix.
Pour batter into prepared cake pan and place on the center rack of your oven to bake for 35-45 minutes or until the center of the cake is set to the touch or a skewer comes out clean when inserted in the center. Remove from oven and allow to cool for 20 minutes in the pan before turning out onto a wire rack and allowing to cool completely to room temperature.
Meanwhile prepare your glaze. Whisk together orange juice, vanilla and icing sugar until smooth and creamy. You want it to be a thick, yet pourable consistency. Once your cake is cooled completely pour glaze on the top of the cake and allow glaze to drip over the edges. Decorate with dried blood orange slices and sugared rosemary (if desired) enjoy!
To Make Sugared Rosemary 
Dip fresh rosemary sprigs into a cup with water. Drip off excess and set on a parchment lined baking sheet. Generously sprinkle the wet rosemary sprigs with sugar, flip them over and repeat. Allow to dry for about an hour or more.
Dried Blood Oranges
Preheat oven to 220F degrees and line a baking sheet with parchment paper.
Thinly slice 1-2 blood oranges (depending on how many slices you want) and lay them on the parchment paper. Generously dust each slice with icing sugar, flip and repeat. Bake for about 2- 2 1/2 hours or until dried out. Remove from the oven and allow to cool completely before decorating your cake.