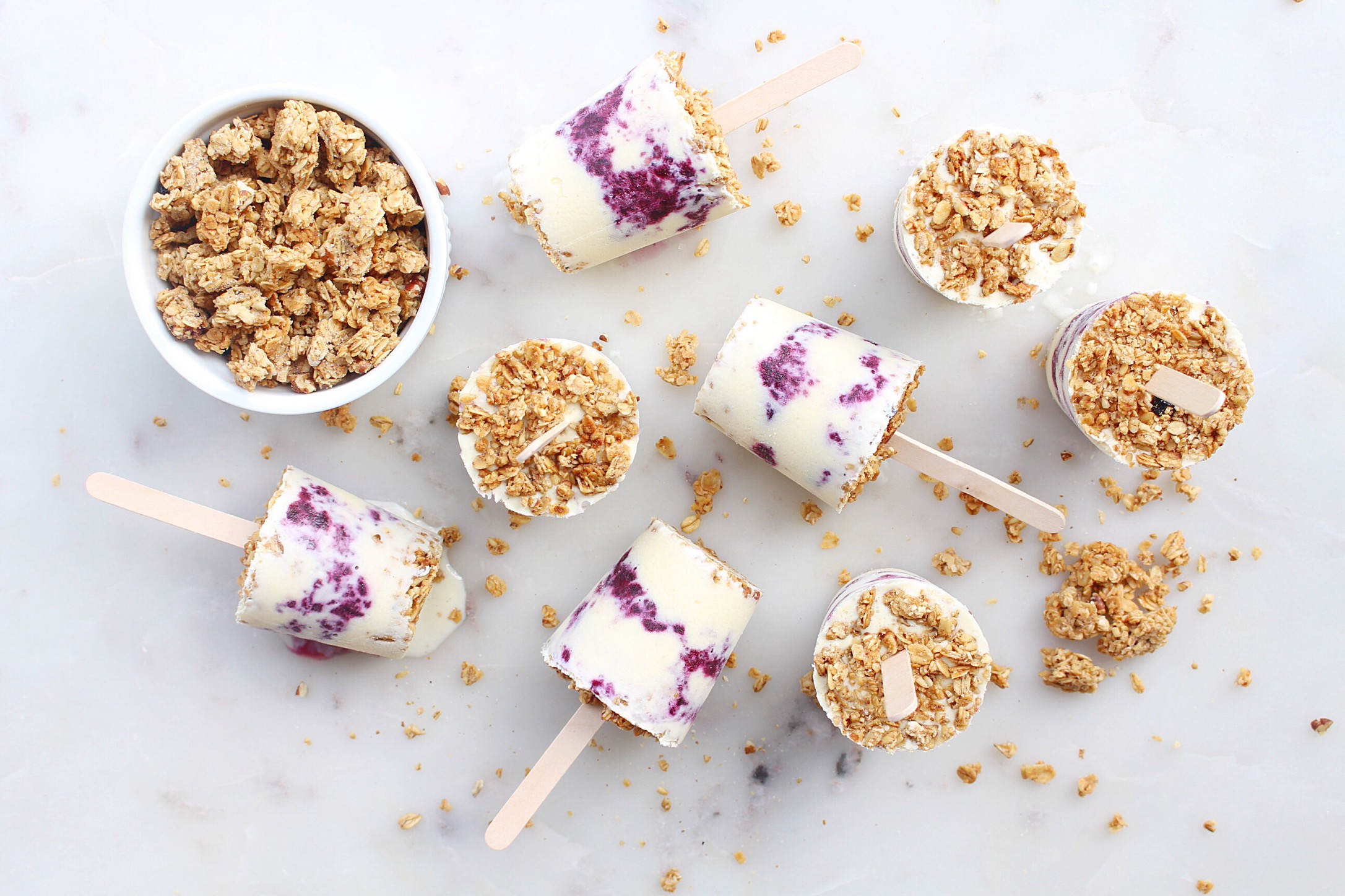 Happy Friday peeps!!
Who else is saying a big "Heck Yes!" to this weekend? I am so ready for it! Mostly because I'm just super over-excited for the activity I have planned for my Saturday – aka my very first Wedding Dress appointment!!! Eeeepss! I'm so excited you guys!
Also it's officially the first week of Summer, so you know I couldn't just leave you guys hanging without hookin' you up with a killer Ice Cream recipe to celebrate, right!?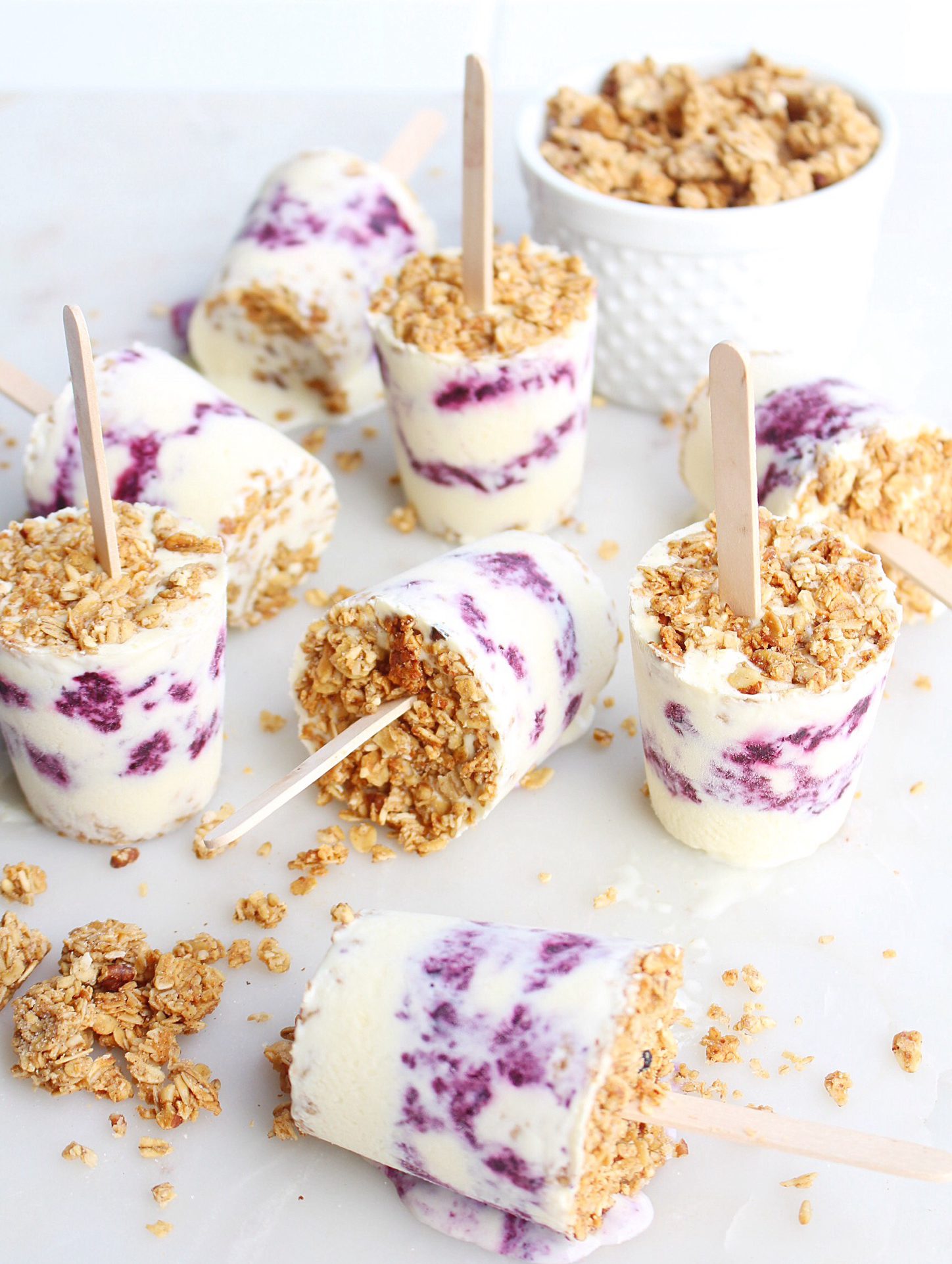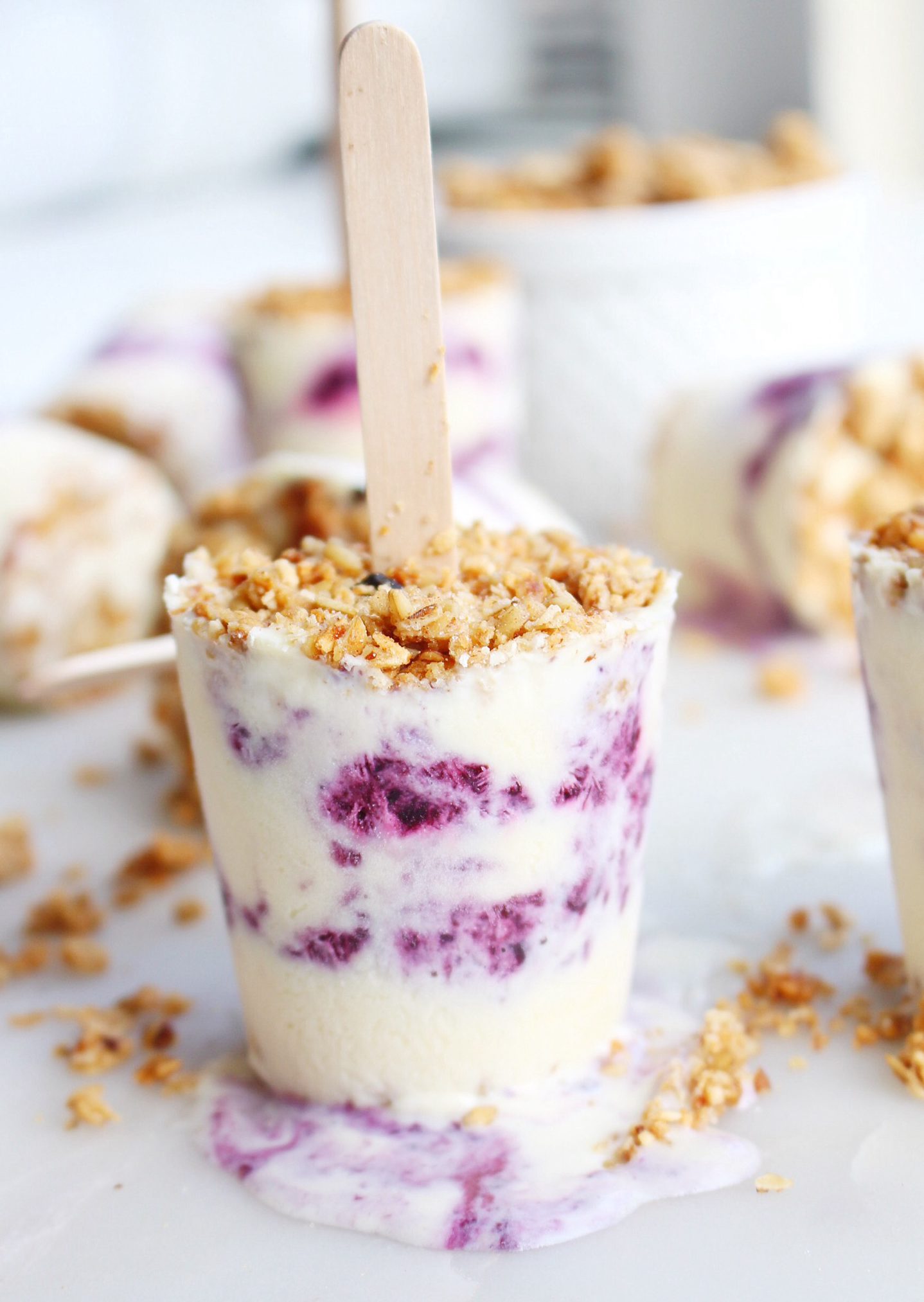 So I have to confess you guys… I'm super excited about this bridal appointment, but at the same time I'm kind of nervous about the whole thing… is that weird? I don't really know why I'm nervous – I guess it's just because I have all these random thoughts running through my brain like… What if none of the dresses look good on me? What if the style I thought I really wanted doesn't actually look right on me? What if the dress I want doesn't actually exist? What if I drive my bridal consultant crazy? What if i'm having one of those days where I can't help but pick apart every body insecurity I have ever had when I look in the mirror? 
I know these are all suuuper stupid things to be worried about, but sometimes no matter what I do I can't help but have these ridiculous thoughts plague my brain. Anyways I'm more excited than I am nervous so let's just roll with that shall we!? My appointment is at Union Bridal in Vancouver & I cannot wait! The dresses they carry are absolutely stunning, unique and exactly what I picture myself wearing on my wedding day. So just the idea of getting to go there is giving me all the feels right now!
I will give you guys a fun little update on how the appointment went in the next couple of weeks <3 <3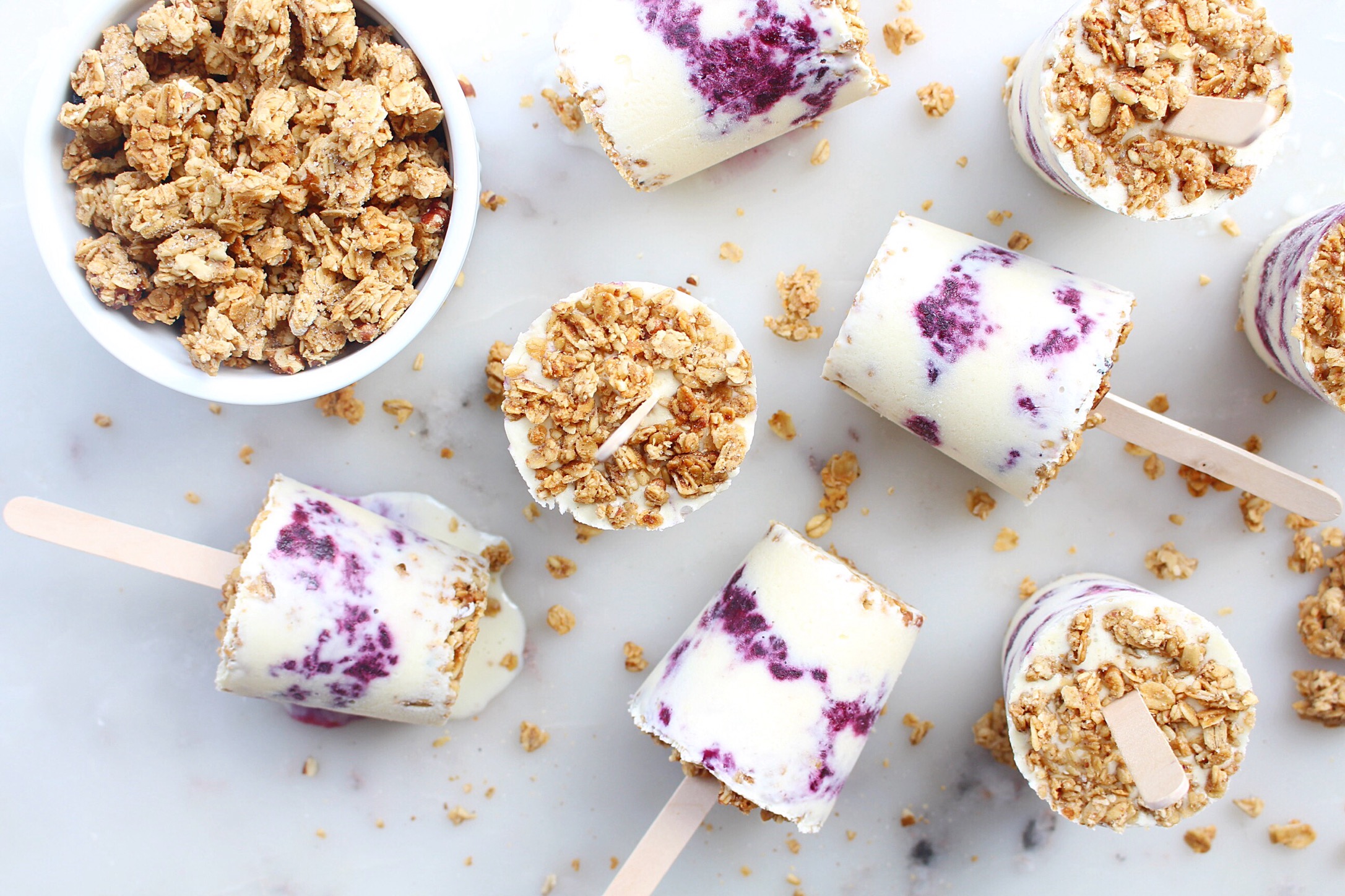 But in the meantime…. we should probably get back to the important stuff right? Like these Blueberry Cheesecake & Granola Ice Cream Pops… because yeah, these happened & it was pretty much the best thing to happen ever.
Seriously you guys, words cannot describe the deliciousness of these Ice Cream Pops. If you like blueberries, cheesecake, ice cream & granola, just try to imagine putting all four of those amazing things together, and what that would be like… now multiply that amazingness by about one hundred, and you will almost be at the delicious level of these Ice Cream Pops. 😛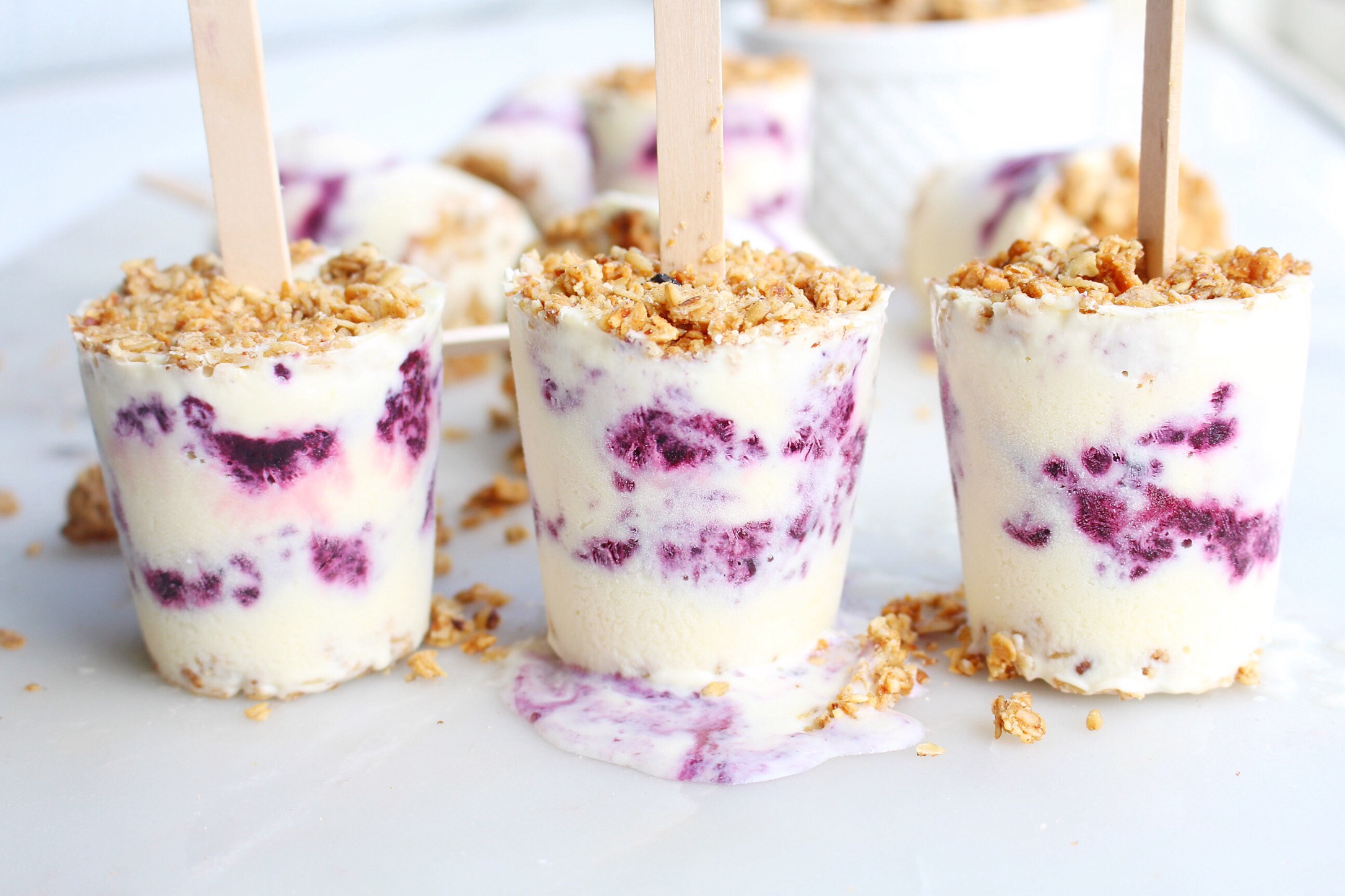 Seriously you guys, I can't even over-exaggerate how good these are! The ice cream is so soft and creamy, the cheesecake flavour mixed with the sweet blueberries is to die for & the granola adds the most amazing buttery crunch…. you won't be able to resist.
In short; your summer would be incomplete without these Ice Cream Pops – so I'm going to have to request that you keep them stocked in your fridge at all times. You can be sure that's what I'll be doing 😀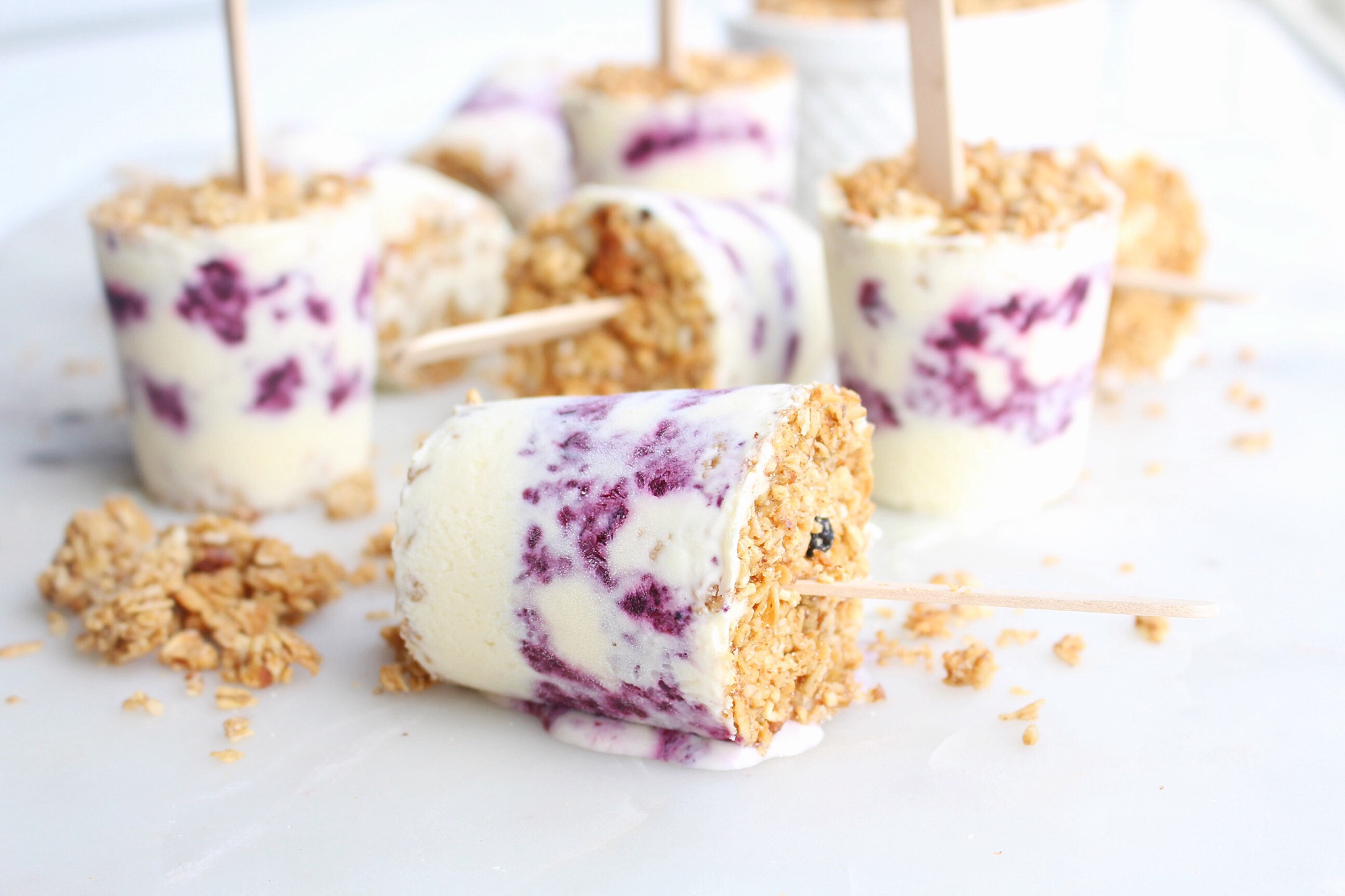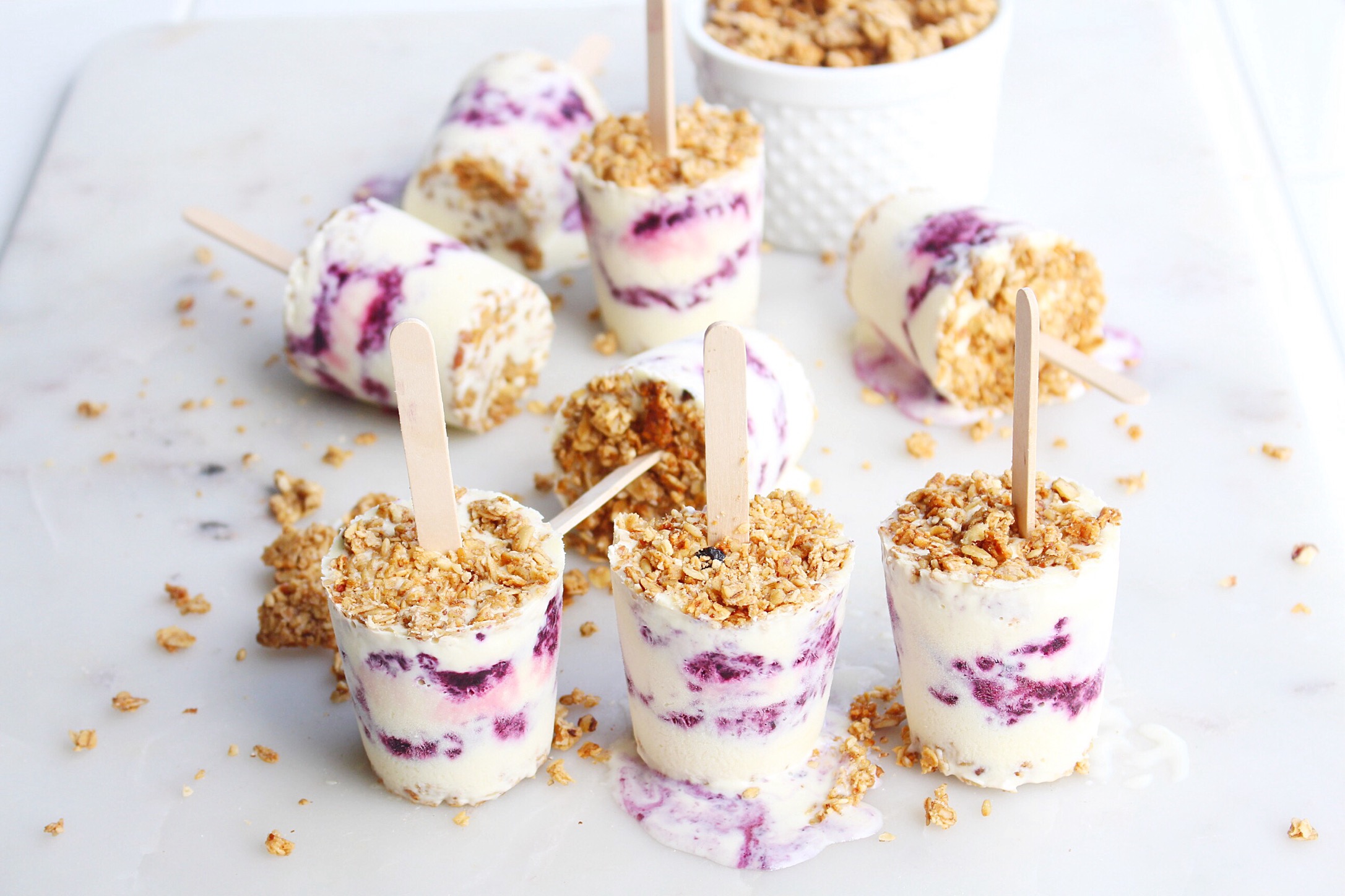 So less talky, more recipe right? Here it is lovelies & I hope you enjoy!
Blueberry Cheesecake & Granola Ice Cream Pops
Makes: 9 pops
Things you need… 
Ice Cream
3 cups Whipping Cream (You could also use 1 1/2 cups Whipping Cream and 1 1/2 cups Whole Milk)
2/3 cup Granulated Sugar
5 Egg Yolks
1 tsp Vanilla
1 tsp lemon zest
1 (8oz) package of Cream Cheese, at room temperature
1 cup Granola, homemade or store bought
1 jar blueberry jam
How to make…
Cheesecake Ice Cream
In a medium heat-proof glass bowl, beat the package of cream cheese until fluffy and there are no lumps.
In a medium heat proof glass bowl, whisk together the egg yolks; set aside.
In a medium saucepan over medium-high heat, combine the cream, lemon zest and the granulated sugar. Stir the mixture until it just starts to bubble around the edges and then reduce to a medium heat.
Pour 1/4 of the hot cream into the beaten egg mixture, whisking constantly to temper the eggs. Slowly add another 1/4 cup of the hot cream to the egg mixture, whisking constantly. Add the egg mixture into the remaining hot cream in your sauce pan and place over medium heat.
Stir the egg & cream mixture with a heat proof spatula until it starts to thicken – this should take about 10 minutes. To test if your cream is thick enough, run your finger along the back of the spatula – if there is a trail left by your finger, the cream is ready to remove from the heat.
Pour the now custard mixture through a fine mesh strainer into the heat proof bowl with the cream cheese. Using a whisk, beat the mixture until it is smooth. Place the bowl into an ice water bath, stirring occasionally to cool. Once the custard has cooled to room temperature place in the refrigerator to chill over night or for at least 6 hours.
Once the custard has chilled, stir in the vanilla bean paste or vanilla. Pour the mixture into your ice cream maker and churn according to your manufacturers instructions. I have the Kitchenaid Ice Cream maker attachment and I churned my ice cream for about 25 minutes.
Assembly
Now you are ready to start filling your pops. First, spoon about 1 tbsp of the granola into the bottom of your paper cup. Next, spoon a heaping tbsp of the cheesecake ice cream into the bottom of on top of the granola; use a spoon to smooth to the edges of the cup.
Next, a heaping tsp of the blueberry jam on top of the cheesecake ice cream layer and use a spoon to smooth it over top. Next sprinkle another 1 heaping tsp of the granola mixture over top of the layer of blueberry jam and gently press the granola into the jam. Next, spoon another layer of the cheesecake ice cream, followed by one more layer of the blueberry jam.
Finally, add a final layer of the cheesecake ice cream, and sprinkle another tbsp of granola on top to finish. Use your fingers to gently press the granola into the ice cream a bit to ensure that it freezes and sticks to the ice cream.
Once your pops are assembled, place them into an 8×8 inch baking pan and place in the freezer to firm up for a couple of hours. When you are ready to serve them, simply cut a small slit with scissors in the paper cups & begin to peel away the paper cup & enjoy!
Happy ice cream pop making lovelies!
KP xoxo