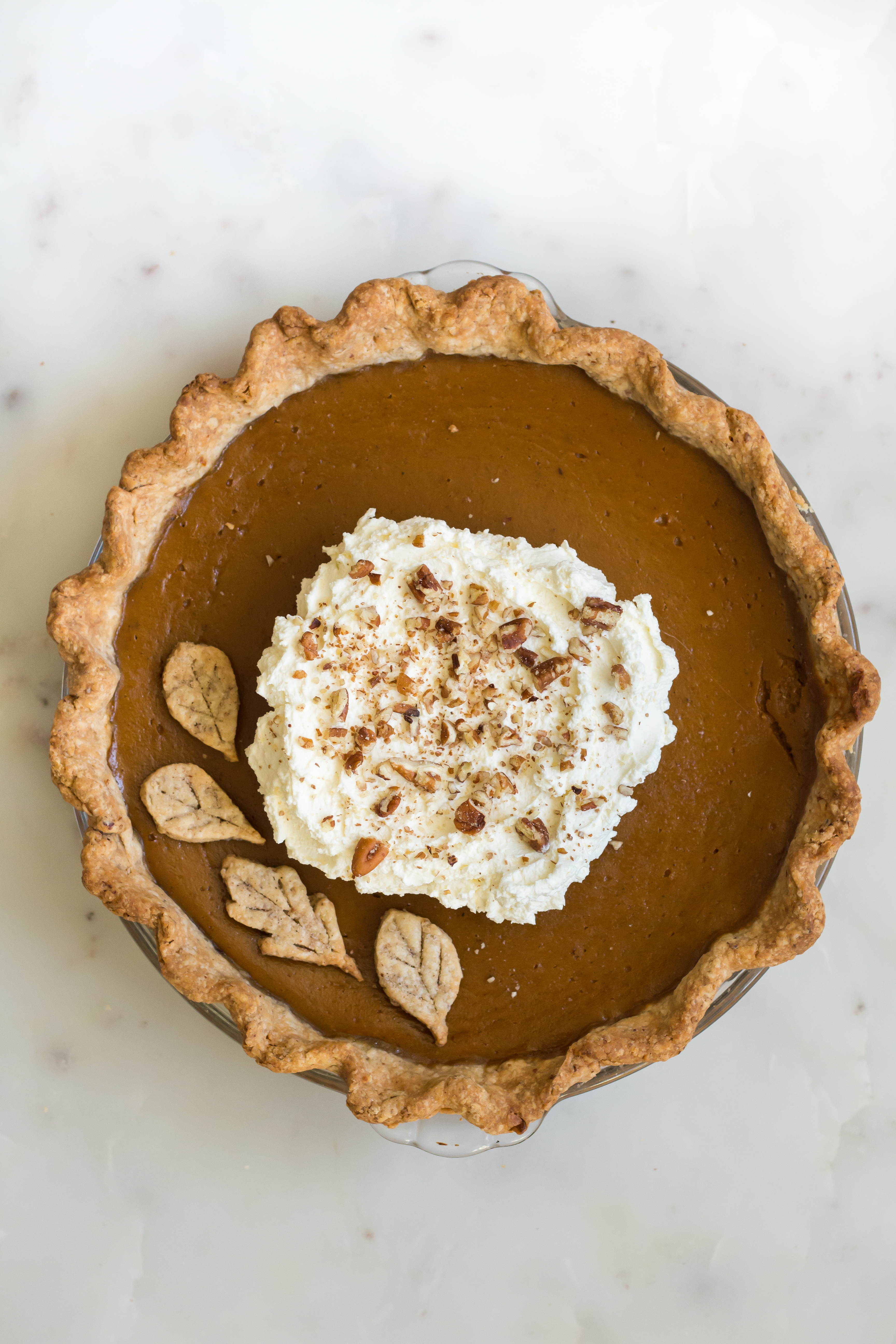 Have you ever had sweet potato pie? Sometimes when I mention sweet potato pie to people they look at me like I'm some sort of crazy person and say things like "sweet potato in a dessert!?" To that all I have to say is; Hell YES sweet potato in a dessert!
But I also have to clarify that when I say "sweet potato" what I really mean is yam. Because when you go to a typical grocery store yams are labelled as the ones with an orange interior (and this is what you want for this recipe), while sweet potatoes have a white interiors (not what you want for this recipe.)
I'm not sure why we as a culture decided to collectively confuse ourselves by swapping the names around when it comes to things like "sweet potato fries" or  "sweet potato casserole" or "sweet potato pie" But let's be honest saying "Yam Pie"just doesn't have the same effect… amiright?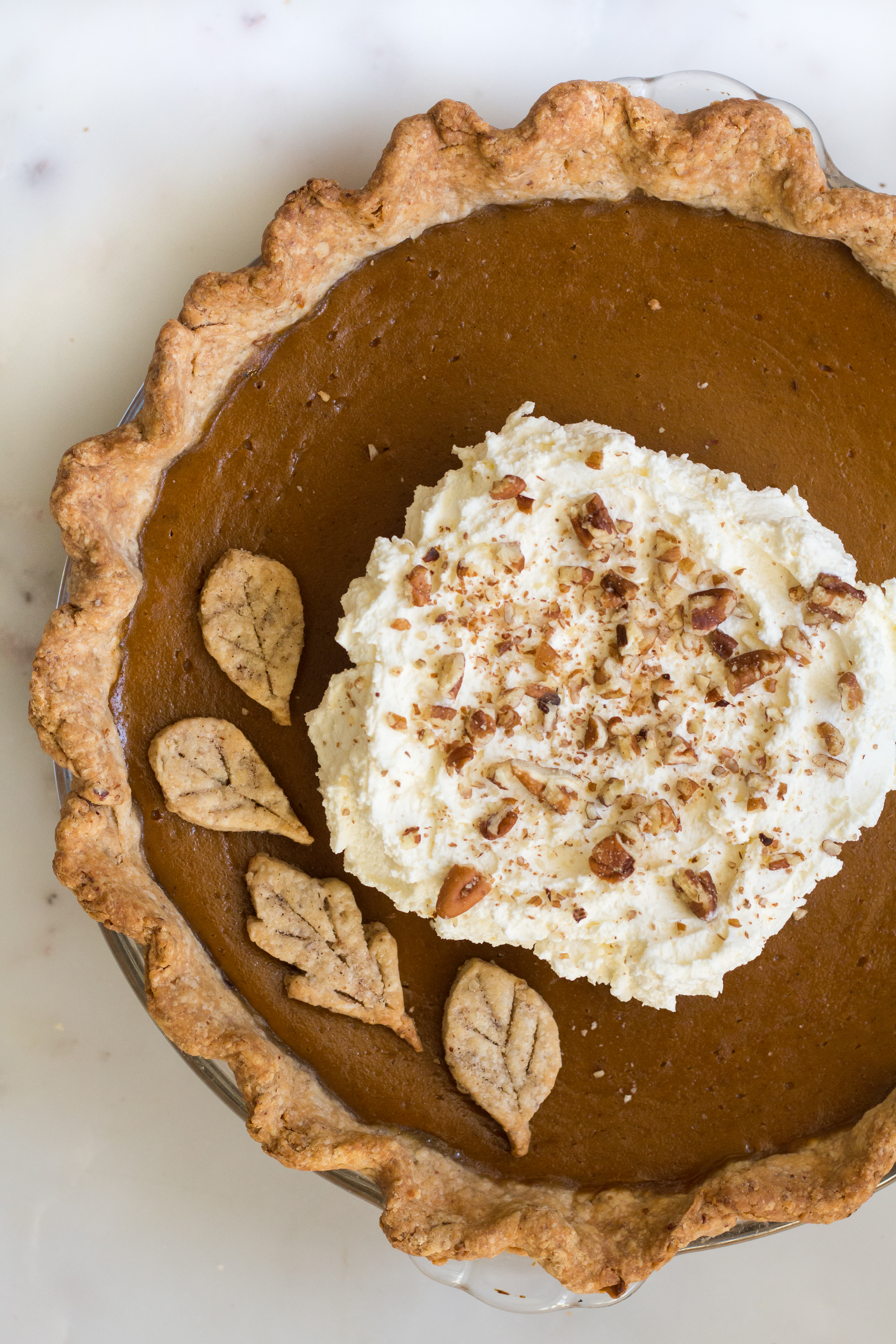 This pie is everything I love about Fall all wrapped up into one delicious package. Flaky toasted pecan pie crust envelopes a velvety sweet potato filling that is perfectly spiced with hints of caramelly deliciousness.  Move over Pumpkin Pie, because Sweet Potato Pie might just be my new favorite. That being said, if you aren't a sweet potato fan, this pie would also be delicious if you swapped in pumpkin puree.
Here is the recipe friends & I hope you enjoy.
Happy Baking!
KP xoxo
Brown Butter Sweet Potato Pie
Makes 1 Large Pie
Things you need…
Whole Wheat Toasted Pecan Crust
1/2 cup all purpose flour
3/4 cup whole wheat flour
1/2 cup toasted pecans, ground
2 tbsp brown sugar
1/2 cup very cold unsalted butter, cubed
1/4 cup ice water
1 tbsp sour cream
pinch of cinnamon
1/2 tsp salt
Brown Butter Sweet Potato Filling
1 cup brown sugar
5 tbsp unsalted butter, browned
2 tbsp water
3/4 cup heavy cream
1 can (about 1 1/2 cups) Sweet Potato puree
3 eggs
1 tsp vanilla
1 tbsp all purpose flour
1 tsp cinnamon
1/2 tsp nutmeg
1 tsp ginger
1/8 tsp cloves
shake of pepper
1/2 tsp salt
​
How to make…
Pie Crust
In a liquid measuring cup, stir together water and sour cream – place in fridge until ready to use.
In a large bowl whisk together all purpose flour, whole wheat flour, ground toasted pecans, brown sugar, cinnamon and salt until combined. Add the cold, cubed butter to the flour and gently toss with your hands to coat each piece. Using your fingers or a pastry cutter, work the butter into the flour mixture until pea sized chunks of butter remain, with a remaining few larger pieces about the size of almonds.
Remove your water from the freezer and drizzle over the dry ingredients. Use a fork to gently fold the water into the flour mixture until a shaggy ragged dough forms. Turn the dough out onto a cool surface (lightly floured if you need it) and shape the dough into a disk. Wrap with plastic wrap and place in the refrigerator to chill for at least 1 hour or chill overnight.
Once your dough has chilled, remove it from the fridge and turn it out onto a cool floured surface. Use a rolling pin to roll the dough into a 11-12 inch circle about 1/4 inch in thickness. Place dough into a pie plate and gently press into the edges. Cut off any excess, leaving about a 1 inch overhang. Tuck the rough edges under and use flute the edges as desired. Place prepared pie shell in the fridge until ready to fill.
Filling
Meanwhile, prepare your pumpkin pie filling. Preheat oven to 375 degrees.
First prepare your browned butter caramel. Place your butter into a sauce pan over medium heat to melt. Once melted, kick the heat up to medium high and cook until fragrant and golden brown; making sure to swirl the butter around in the sauce pan to ensure even browning. Once your butter is browned, whisk in the brown sugar and the water. Allow this to bubble and caramelize for about 5 minutes, and then slowly stir in heavy cream until combined. Allow to cook for another minute, remove from heat and set aside to cool slightly.
In a separate bowl, whisk together eggs, sweet potato puree and vanilla until combined; Add dry ingredients and whisk until well combined and there are no lumps. Pour in brown butter caramel mixture and whisk until completely combined.
Pour pumpkin filling into prepared pie shell and bake in the bottom third of your oven for 15 minutes; reduce oven heat to 350F and bake for an additional 30-35 minutes or until the pie has puffed up, edges are set and the center is set with just a slight jiggle.
Allow to cool completely before serving – at least 3 hours. Keep refrigerated until ready to serve. Serve with a healthy dollop of  freshly whipped cream.