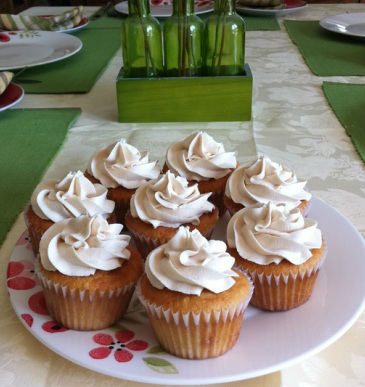 These cupcakes make for such a delicious treat to bring along to any party – recipe below <3
Things you need… 
Cupcakes
3 cups all purpose flour
2 tsp baking powder
1 tsp baking soda
1/4 tsp salt
1 cup butter, at room temperature
2 1/4 cups packed brown sugar
4 eggs, at room temperature
2 tsp vanilla
1 1/4 cup buttermilk
Caramel Buttercream
3/4 cup butter, at room temperature
3 cups icing sugar
1/4 cup caramel (homemade or store bought… I used homemade)
1 tsp vanilla
Homemade Caramel Sauce
1/4 cup brown sugar
2 tbsp butter
1/4 cup heavy cream
1 tsp vanilla
Pinch of salt
How to make… 
Cupcakes
Preheat oven to 325F and line two muffin pans.
In a bowl combine flour, baking powder, baking soda and salt.
In a mixing bowl cream together butter and brown sugar until light and fluffy. Add eggs one at a time. Mix in vanilla. Add flour mixture alternately with buttermilk
Scoop batter into cupcake liners, filling 3/4 up.
Bake for 20-25 minutes or until a tooth pick comes out clean.
Allow to cool and frost with Caramel Butter cream, Cream Cheese Frosting, Cinnamon Vanilla Butter cream.
Caramel Buttercream
Place the room temperature butter into a mixing bowl and cream the butter with your mixer for a minute.
Slowly add in the icing sugar to avoid an icing sugar cloud in your kitchen until combined.
Add in the caramel sauce (homemade or store bought) and vanilla and mix on medium speed until well combined. (I usually like to give my frosting a good whipping to make it light and fluffy!)
Use a plastic piping bag and your favorite icing tip to frost the cupcakes. Spoon the icing into the piping bag and twist the end to avoid icing spilling out the back. Get a comfortable grip on the piping bag and squeeze lightly onto the cupcake. Move in a circular motion around the cupcake top and once you have made a full circle move up on top of the frosting and pipe your peak.
If you so desire, make some extra caramel sauce and drizzle on top of your icing!
Homemade Caramel Sauce 
In a medium saucepan combine brown sugar and butter and cook over medium-high heat. Bring to a boil without stirring and let boil until it turns a nice amber colour. Remove the pan from the heat and slowly add in the heavy cream stirring constantly. Stir in vanilla and then let cool for 20 minutes. (You can always double this recipe and just store in a container for future use)