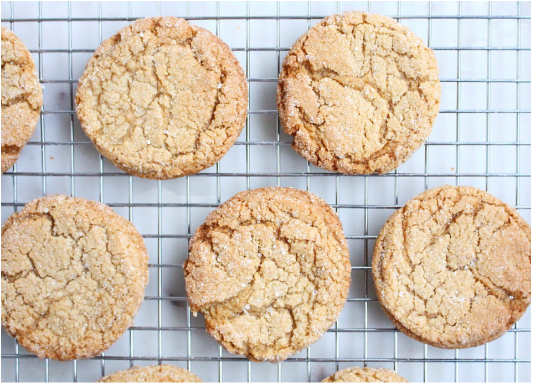 Happy Friday eve peeps!
Is that a thing – Friday eve? If not it really should be because hot damn – I get so excited on Thursday nights! Just knowing that there is just one more day until the weekend gets me positively giddy. Especially when you have one of those weeks where you are just hit with so many different things you think your head might be on the verge of exploding. Such was the case for me this week so forgive me if you find my excitement for Thursday evenings to be a little bit odd, because I'm feeling a little bit loopy after this week.
But not to worry lovelies because even when we have crazy weeks, we will always have the comforts of cookies to ease our troubled minds. There really is just something so special and comforting about a batch of warm, homemade cookies sitting on the kitchen counter isn't there? The sight of homemade cookies just floods me with memories of my childhood, and coming home to the smell of freshly baked cookies on a chilly fall evening after school and having my mum greet us with a plate of chewy cookies and warm cups of hot chocolate.
Today was one of our famously wet and dreary days here in Vancouver – so after a very wet, long drive home, I was feeling like freshly baked cookies and a cup of piping hot chocolate would be just what the doctor ordered. So I wasted absolutely no time, dropping my wet clothes and hopping into the kitchen to whip up a batch of one of my favourite cookie recipes of all time – these Brown Sugar and Spice Cookies.
This is such a simple, simple recipe to whip up! It seriously takes no time at all before you have these beauties baking in the oven, and then it's just a matter of waiting ten minutes for them to bake up into golden brown, chewy, crackly topped, cookie perfection.
These cookies will take you no more than 10 minutes to mix up, yet despite how easy they are to make – they are seriously delicious. This is my go-to recipe when I want to bake a batch of cookies that I am sure that everybody will love. They are so flavourful from the brown sugar, with a perfect hint of spice and  they are super chewy on the inside while still having a crisp exterior. AKA – cookie perfection.
Not to mention their crackly tops make them totally irresistible so not only do they make for a delicious snack, but they are also the perfect cookie to package up and give to your friends as a little homemade gift this holiday season.  This is definitely a recipe to have on hand for all of your holiday baking needs – so here it is lovelies!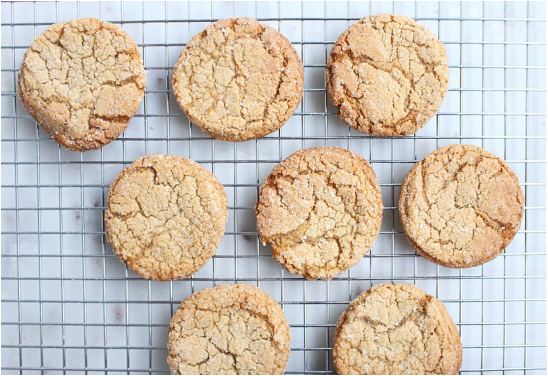 Brown Sugar and Spice Cookies
Makes: 30 Cookies
Things you need…
2/3 cup of butter, softened
1 cup dark brown sugar
1/2 cup light brown sugar
1 egg
1 egg yolk
1 1/2 tsp vanilla
2 cups all purpose flour
1/2 tsp baking soda
1/4 tsp baking powder
1/2 tsp salt
3/4 tsp cinnamon
1/8 tsp nutmeg
1/8 tsp ginger
pinch of cloves
Cinnamon Sugar
1/4 cup granulated sugar
1/4 cup brown sugar
1 tsp cinnamon
How to make… 
Preheat oven to 350 degrees and line baking sheets with parchment paper.
In a small mixing bowl, whisk together flour, baking soda, baking powder, salt, cinnamon, nutmeg, ginger and cloves until combined; set aside.
In the bowl of a stand mixer fitted with the paddle attachment, cream together the butter and sugars until pale and fluffy, scraping down the sides of the bowl a few times. Add egg and egg yolk and beat until fluffy. Add in vanilla and beat to combine. Add dry ingredients to wet ingredients in two batches, beating on low speed until completely combined.
For the cinnamon sugar: In a small bowl, whisk together the granulated sugar, brown sugar and cinnamon. Set aside.
Spoon about 1 tbsp of batter for each cookie onto the prepared cookie sheets. Roll the cookie dough balls in the cinnamon sugar mixture to completely coat. Set them back on the baking sheet.
At this stage you can either bake off all the cookies at once or you can choose to freeze some of your dough and bake it off at a later date depending on how many cookies you want to eat 😛
Bake the cookies for 9-11 minutes or until the edges are golden brown and the tops of crackled. Remove from oven and allow to cool for a few minutes before diving in – that is if you can wait that long… I can usually wait all of about 30 seconds 😀
So there you have it – probably one of my favourite cookie recipes of all time. This is a family classic and even though they are so simple, people are always super excited when a plate of these little guys comes out. So take this recipe and share it with your loved ones this holiday season – I would love to hear what you think.
Happy Baking <3
KP xoxo