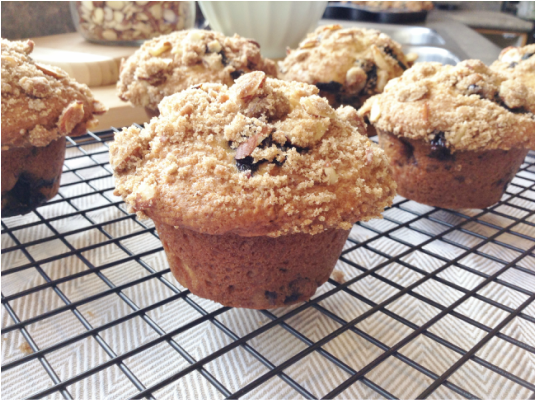 Alright, so it is officially blueberry season and it seems like everywhere I go there are blueberries just begging for me to take them home and bake them into something delicious! The amount of fresh fruit in my house right now is bordering on insane but I just can help myself! All of the local berries have finally started to show up at my produce store and it is all just too scrumptious to pass up! I see a flat of deep blue blueberries and I think "Yes, I NEED these!" Hence the cornucopias amount of blueberries on my counter right now. My boyfriend was beginning to get a little bit worried about exactly what I was going to do with such a large amount pf blueberries, but he needn't worry (silly man) – I had big plans for those blueberries!

A random interesting personal fact about me, is that my tastebuds have an interesting relationship with blueberries and it can basically be summed up, dare I say it,  as a "love/hate relationship". People think that I'm crazy, but I'm actually not a raw blueberry fan – in other words I am not the kind of person who enjoys just eating a nice handful of fresh, ripe blueberries on their own. That being said, (and I know this sounds absolutely ridiculous,) but I absolutely LOVE blueberries when they have been baked to gooey perfection in my oven in the form of a pie, muffin, loaf, cake… etc…  or if they have been cooked with sugar into a sticky blueberry sauce or jam. YUMMM!
On a quick side note, now that we're on the subject of jam, I have to confess that this is one of the few things I have not tried to make on my own from scratch – CRAZINESS I know! The whole sterilizing of the jars in order to prevent botulism is a touch worrisome to me, (and by a touch worrisome I mean it terrifies me,) but I think that this will be the year that I actually cook up a few batches of homemade jam, (swoon,) and Blueberry Jam will definitely be at the top of my list of jams to make. Only last year did I discover that blueberry jam actually existed (again with the craziness, I know,) and thus I discovered that I absolutely LOVE blueberry jam. However, only certain brands of blueberry jam make the cut for me, so I would love to be able to make my own just how I like it.
Alas, today is not about jam, (although it would go nicely with these muffins) so for now you will have to stay tuned for this future baking / cooking adventure!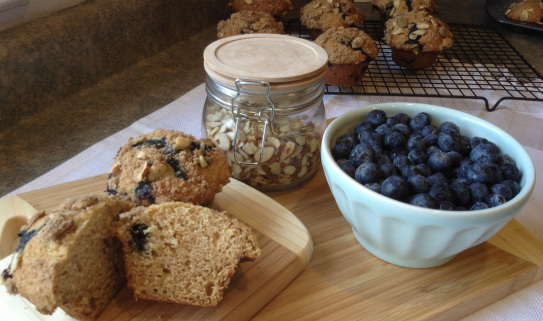 Now, back to these blueberry muffins….
So because I am not a raw blueberry fan, basically blueberry season means one thing and one thing only to me, and that is BAKING! There are just too many delicious blueberry baked goods and so little time in the blueberry season!. I make a point to bake as many blueberry goodies that I can throughout the month of June so I  can be sure I am taking full advantage of these fantastic little berries while they are still with us in all their glory.  First up this season was was my Blueberry-Lemon Loaf, which had a light, lemony, fruity taste, and was the perfect way for me to kick off my summer blueberry baking list. So next up, I had to make one of my all time favourite blueberry baked goods, which is none other than… Blueberry Muffins!
Muffins in general are pretty much my biggest sweet spot when it comes to baked goods, but Blueberry Muffins are my absolute fav and this recipe is absolutely perfect! I really can't say enough about how fabulous these muffins always turn out! They rise up beautifully into fantastically large, Bakery-Style muffins, they are golden brown on the outside but tender and soft on the inside, they are not too dense, not too sweet (but are sweet enough,) they have a nice hint of citrus from the orange zest in the recipe… Honestly, what more could you ask for? I can think of only one thing… what about topping these perfect muffins off with a warm, buttery streusel topping??? Oh yes, I had to go there!
So look no further for this amazing recipe friends, and be sure to whip up a batch of these before blueberry season is over!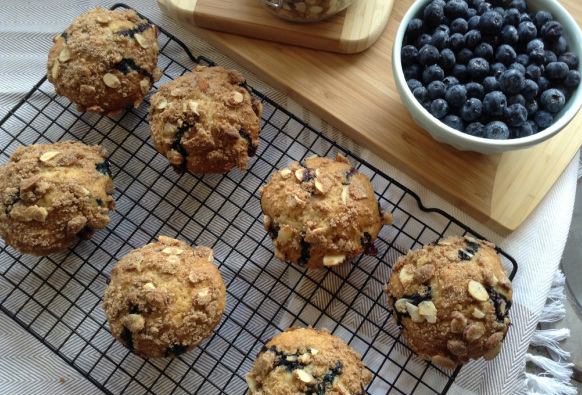 BUTTERMILK BLUEBERRY MUFFINS
Things you need… 
Blueberry Muffins
3 cups Flour, sifted
2 tsp Baking Soda
1 tsp Baking Powder
1/2 tsp Salt
Pinch of Nutmeg
1 1/2 cups Brown Sugar
1 3/4 cups Buttermilk, at room temperature
1/3 cup Butter, melted
2 Eggs
2 tsp Vanilla
3/4 tsp Orange Zest
1 3/4 cups Fresh Blueberries
Streusel Topping
3 tbsp Dark Brown Sugar
3 tbsp sliced Almonds
3 tbsp Rolled Oats
2 tbsp flour
Pinch of Nutmeg
4 tbsp butter, at room temperature
How to make… 
Streusel Topping
Prepare your streusel first so that it is ready to go when your batter is mixed.
In a small mixing bowl, mix together brown sugar, flour, almonds, rolled oats & nutmeg. Cut in the butter with your fingers (or a pastry cutter) until the mixture is crumbly and the chunks of butter are about the size of peas. Set aside.
Blueberry Muffins
Preheat oven to 375 degrees and grease 1 full 12 muffin pan and 1/2 of another muffin pan for a total of 18 muffins. (That is approximately how many muffins this recipe makes depending on how big you like your muffins – I like mine BIG so I usually fill about 16)
In a large mixing bowl, whisk together flour, baking soda, baking powder, salt and pinch of nutmeg and make a well in the middle of the bowl – set aside.
In a small mixing bowl, whisk together eggs, buttermilk, vanilla and lemon zest. Slowly add melted butter, whisking constantly as you add. Mix until combined. Pour wet ingredients into the well of the dry ingredients and with a spatula begin to fold the wet ingredients into the dry ingredients. When the batter starts to come together add the blueberries and mix until batter is just combined. It is okay to still have a few small bits of  flour that have not been incorporated as this will keep the muffins airy. Do not over mix!
Using an ice cream scoop, drop the batter into prepared muffin pans. I fill my muffin pans right up to the top with batter because I like them to be nice and big, but if you prefer a smaller muffin, just fill them 3/4 full.
Top off any muffins with a couple extra blueberries if they look like they need it. Finally, top your muffins with the streusel topping, covering the top of each muffin fully.
Bake for 20-25 minutes or until the tops are golden brown and spring back when you top them with your finger.
Allow to cool for at least 15 minutes before you remove them from the pan.
**This recipe is adapted from The Complete Canadian Living Baking Guidebook **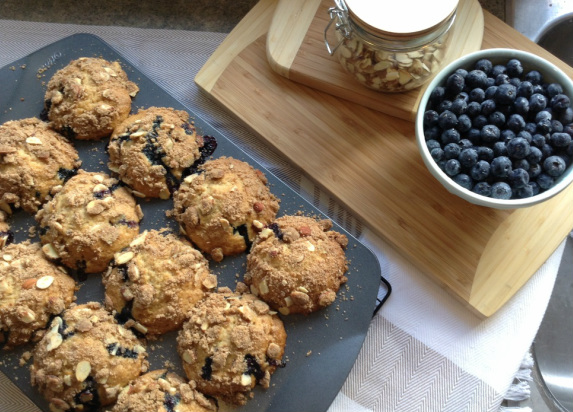 I know sometimes finding a good muffin recipe can be a very challenging and sometimes even a heartbreaking experience. Either your muffins don't rise how you wanted them to or they are far too dense (like little rocks) or they go the opposite way and are too cakey or they are too sweet or not sweet enough… Gah! The list goes on and on, and I have personally survived all of these said muffin disasters myself. I have definitely had some depressing moments in my kitchen when it comes to past muffin flops – I won't say that I cried over these disasters (there were definitely times that I cried) but it is okay! We learn from our mistakes right?
This recipe is adapted from one of my favourite baking cook books of all time… The Complete Canadian Living Baking Guidebook. There are such great recipes and instructions for those of you who are new to baking! There is a glossary of baking terms, which is super helpful, they go into detail about the numerous methods behind specific baked goods, (breads, cakes, cookies, etc.) there are lots of beautiful pictures, and best of all the recipes are all fantastic!
Throughout the years, I have found that you can always trust a Canadian Living recipe to be a good one. You will notice that Canadian Living likes to note that their recipes are "tested until perfect", and I honestly believe that this is true – I have never had a Canadian Living recipe steer me wrong. With all of the recipes available online these days, it can be quite overwhelming and difficult to know which recipes are actually, for lack of a better word,  good – especially if you are not a frequent baker. So when you are in doubt, head to the Canadian Living website and have a look at their recipes or if you are like me and still like to collect hard copies of recipes, head to your local book store and pick up the The Complete Canadian Living Baking Guidebook or the latest issue of their fabulous magazine and get your foodie on! Guaranteed the many Canadian Living resources will have what you are looking for and SO much more!
I have tried a lot of muffin recipes in order to get to this perfect recipe and I promise you that this muffin recipe is a NO FAIL recipe, and it will become your go to Blueberry Muffin recipe from now on. And why stop at blueberry? You can use this recipe as a base for all of your future muffin creations by simply swapping out a few ingredients. For instance you can swap the orange zest for cinnamon and swap out the blueberries for chocolate chips and voila – Chocolate Chip Muffins! It really is that simple!
Thanks so much for checking out this post and this recipe and remember, after you bake be sure to share, eat and repeat!
KP xoxo