Generally I am not a person who claims to know a lot about life. In fact if you asked me for advice about any particular subject in life, I would probably tell you that I am not the best person to ask. I'm twenty-six years old and I feel like I am in a constant state of learning when it comes to the everyday ups and downs of life. I make mistakes, and my mind feels like it's changing all the time; So for the most part I am careful about making statements about what "I know" to be true in life.
That being said, if there was one thing I think I can say that I know for sure in this life, it's that no matter what the situation, a freshly baked muffin always makes me feel a whole lot better. Do you feel the same way? Or maybe in your case it's not a muffin – maybe it's a chocolate chip cookie or a buttery scone or a slice of banana bread or a bowl of pasta.
Whatever the dish may be, I truly believe that when good food is prepared with love from the heart, it has the power to make the world feel a whole lot better; Even when we are feeling our most vulnerable or defeated. Do you guys feel the same way?
Shop this post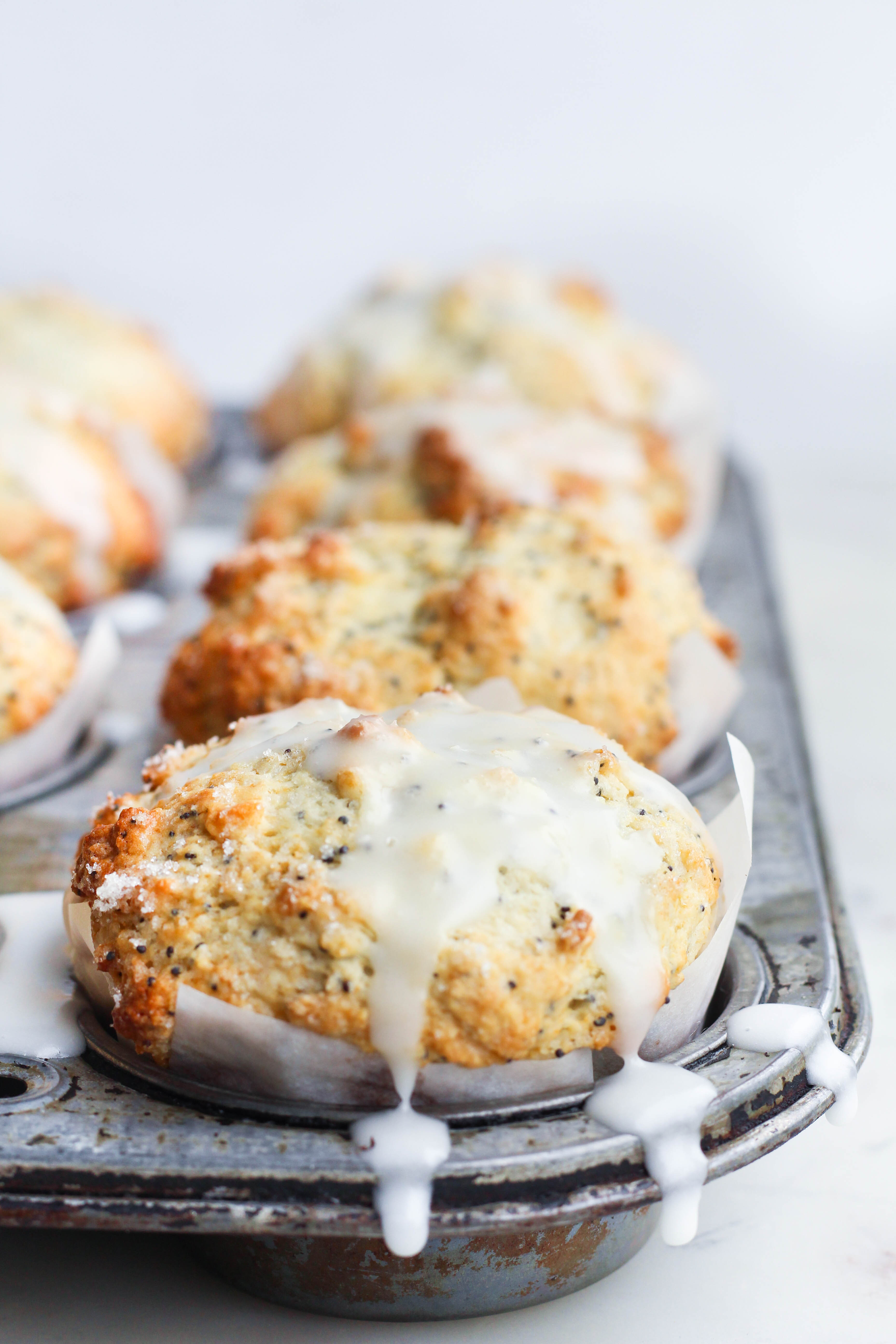 So why am I rambling on like this? Well I thought today I might share a little story…
A few days ago I was feeling a little bit blue, so I thought to myself… "What can I do to lift my spirits?" Naturally the first thing that came to mind was to bake something. I have said it before, and I will say it again; baking it my solace.  It's where I find shelter from the rain and light during a dark day.
But what to bake? For whatever reason the idea of pulling out my mixer seemed like an unattainable task. So I knew it had to be something quick and easy, but still with an end result that would leave me feeling accomplished. A batch of muffins is what came to mind.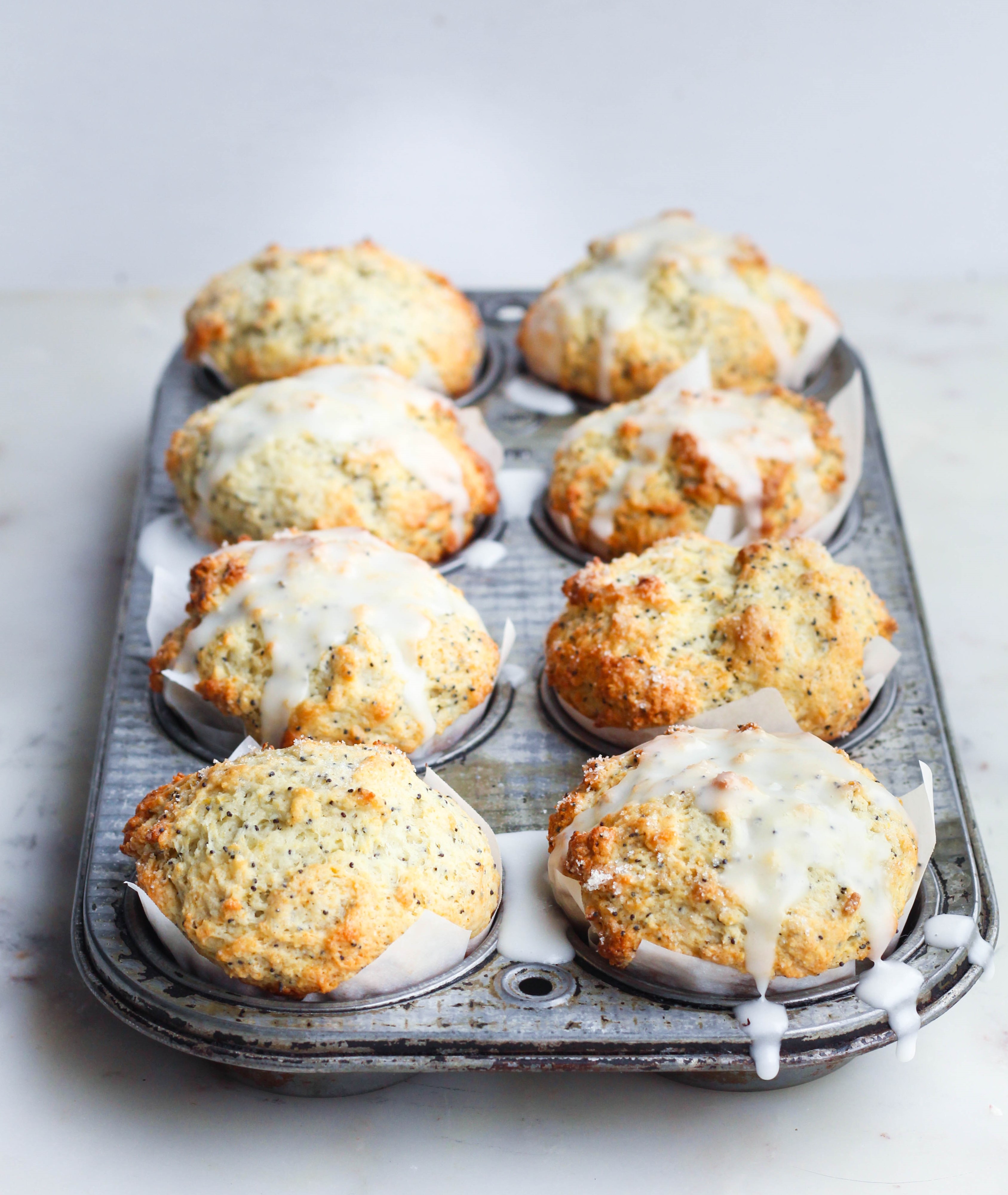 I have always appreciated the simplicity of a batch of homemade muffins. Even when I am feeling all kinds of ridiculous (and completely unwarranted) amounts of lazy; the idea of just dumping all of my ingredients into one big bowl and giving it a quick stir with a wooden spoon to make a delicious batter always feels like a conquerable task.
I had a handful of lemons and a half a carton of Buttermilk that was on it's last few days; both ingredients eagerly awaiting me to do something with them; So Lemon Poppy Seed Muffins it was.
It took me no more than ten minutes to get my muffin batter into my tin and before I knew it my muffins were in the oven baking away.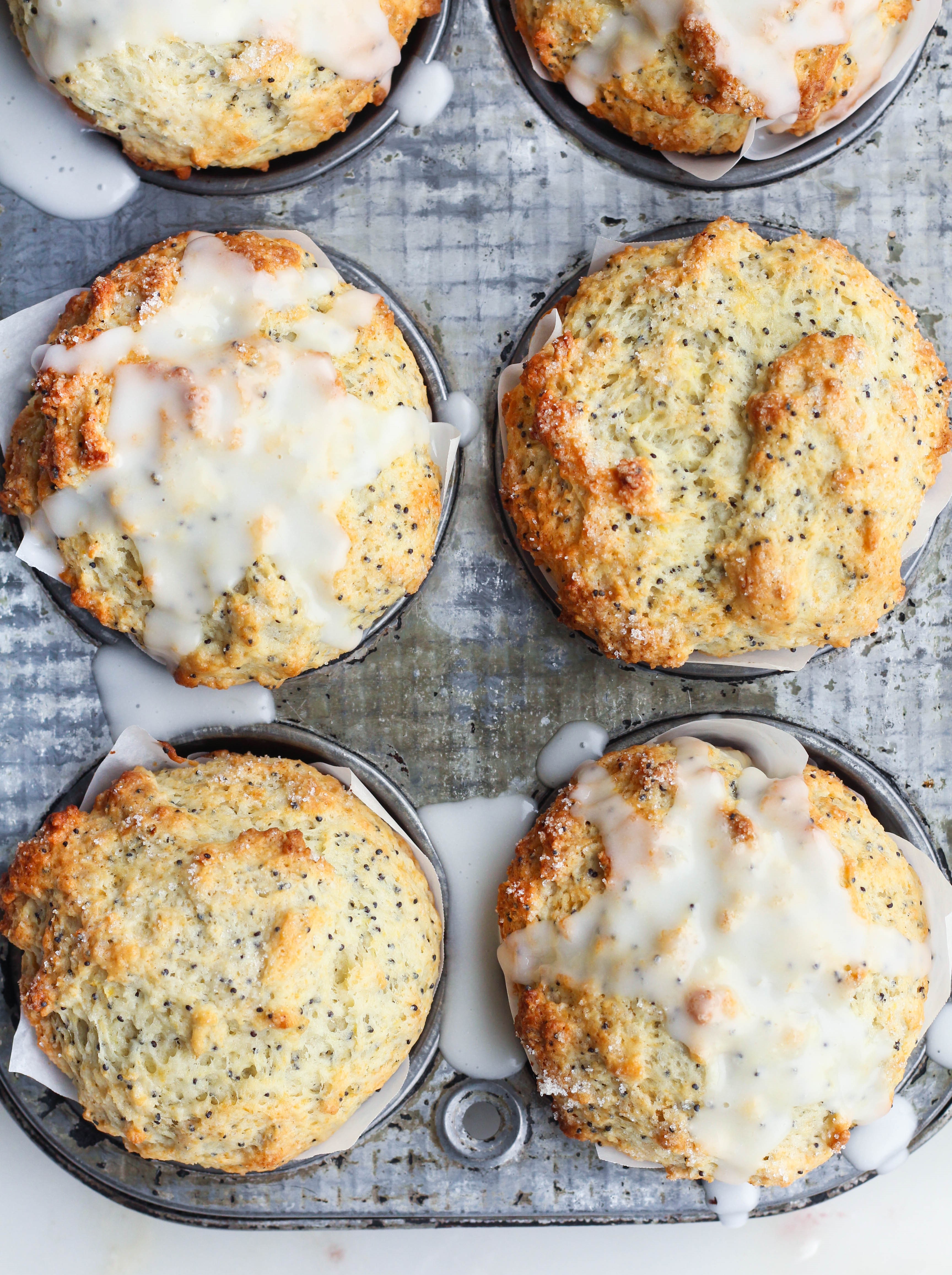 Once I finished tidying up my mess, it seemed like there was nothing to do but wait for the muffins. I am not a patient person; Certainly not when it comes to waiting for delicious baked goods…
I still had some lemon juice leftover, so I made the executive decision that a sweet lemon glaze to finish off these muffins was definitely in order. If there is one other thing that I think I know in this life, it's that you can never really go wrong with a good glaze…
By this time my kitchen was thick with the aroma of lemon and cakey muffins. Even just the sight of their puffy, golden muffin tops when I pulled them from the oven was enough to send me straight to cloud nine. I set them on a cooling rack and dredged them all with a healthy spoonful of lemon glaze, before waiting another tortuous five minutes to finally taste one.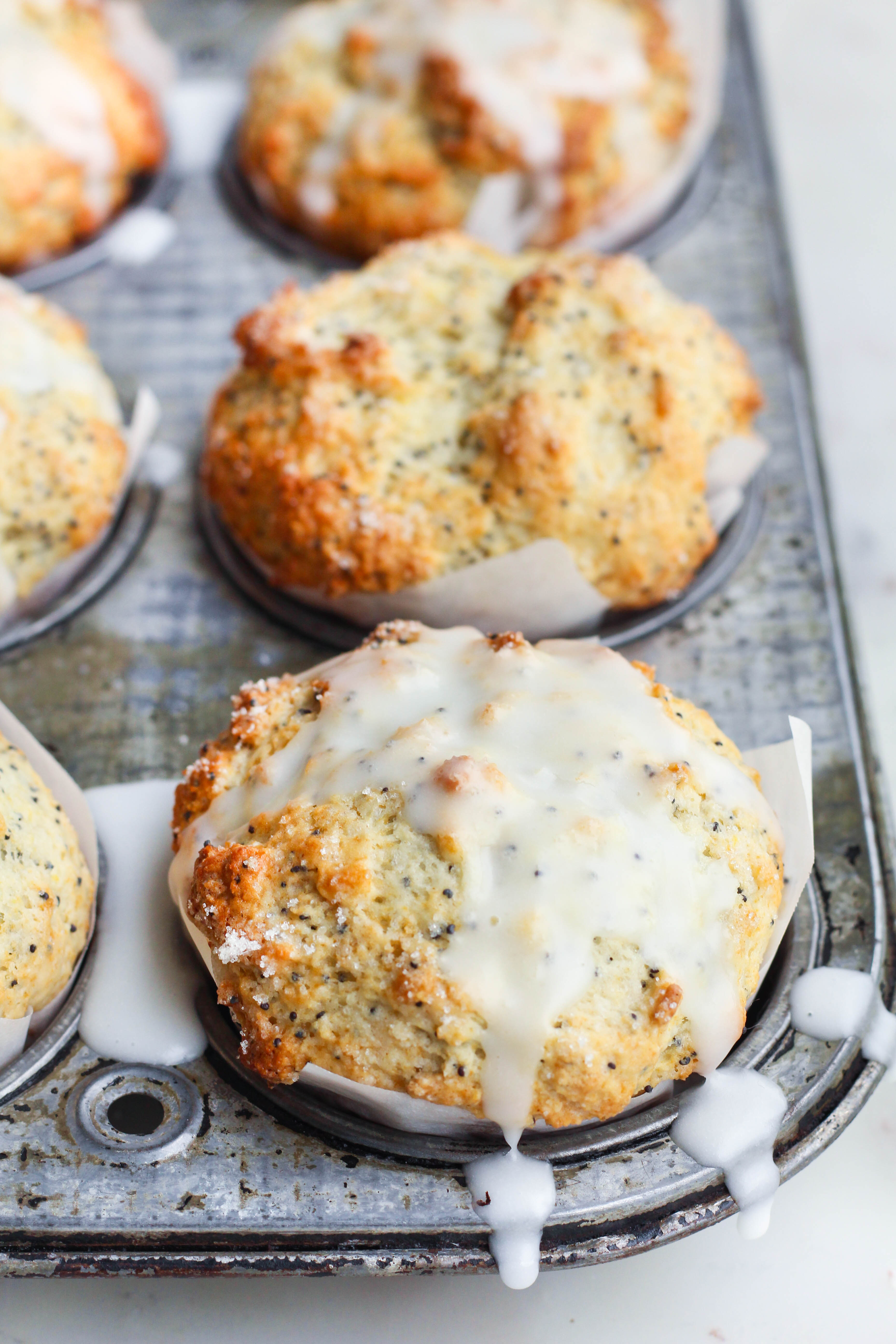 When I finally couldn't stand it any longer I selected the largest muffin from the tin, unwrapped it and took it with me, along with a mug of hot tea and my latest issue of Canadian Living Magazine to enjoy at my dining room table.
I savoured every last crumb of that muffin because in that moment it felt like it was just about the best thing I had ever tasted.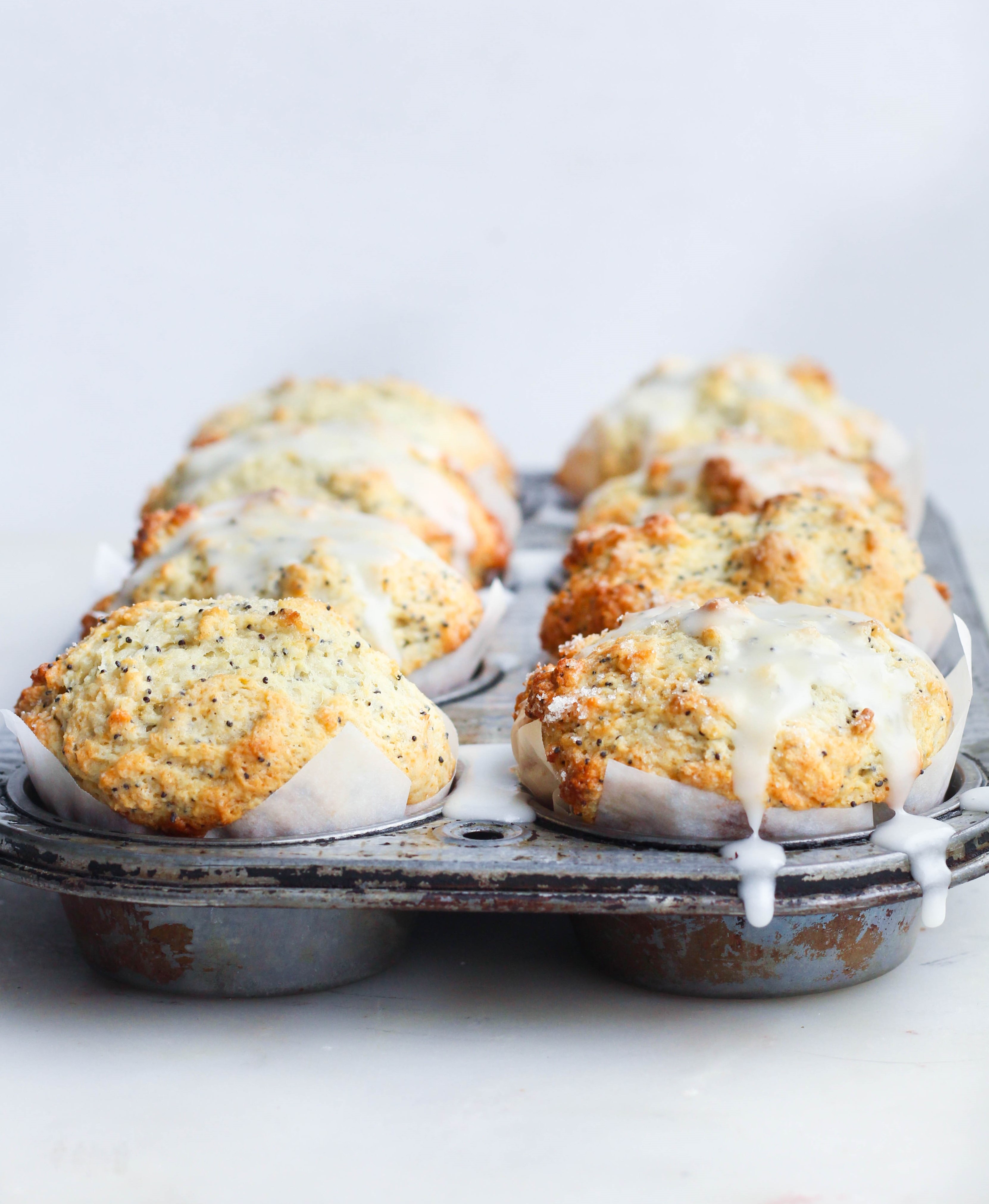 So I guess this is my very long winded way of telling you all that if there is one thing that I wish for you all to take away from my recipes;  it would be to experience joy while you bake them.
Sometimes baking gets a reputation of being so precise and stressful; but I hope that my recipes can inspire you all to find the peace and lighthearted pleasure that can come from baking a simple batch of muffins.
Even if you mess up and you forget to add the baking powder, and your muffins don't rise (I have done this countless times) despite not looking as pretty as you may have wanted them to, chances are, your muffins will still taste delicious and at the end of the day, that's all that matters. You created something with your own two hands, and there is something so incredibly precious about that… at least there is to me.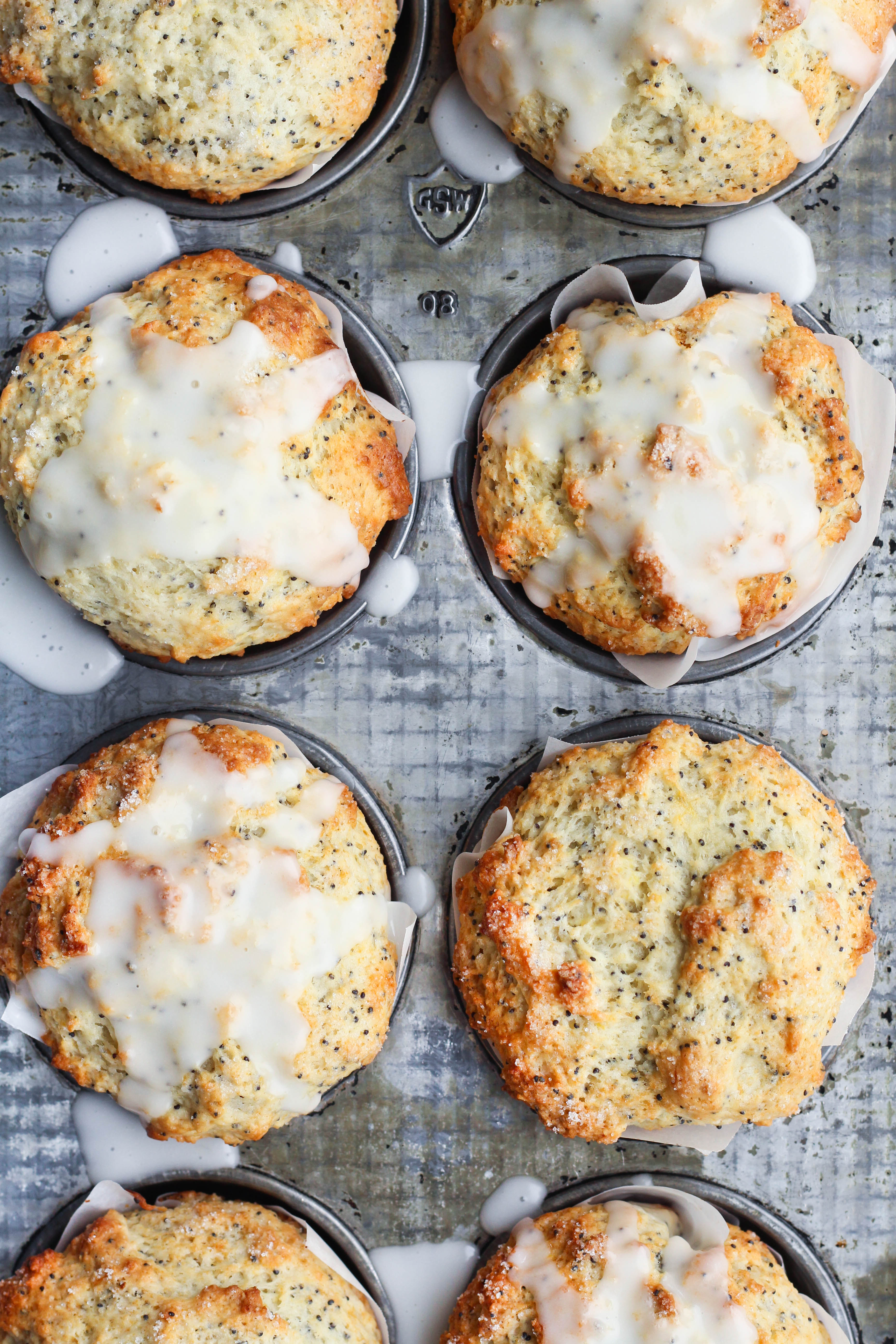 These muffins are a ray of sunshine, absolutely perfect for a rainy spring or summer day when you need a little bit of extra comfort. Perfectly lemony and a little bit sweet if you add the glaze.
I hope you all enjoy them as much as I did <3
Happy baking
KP xoxo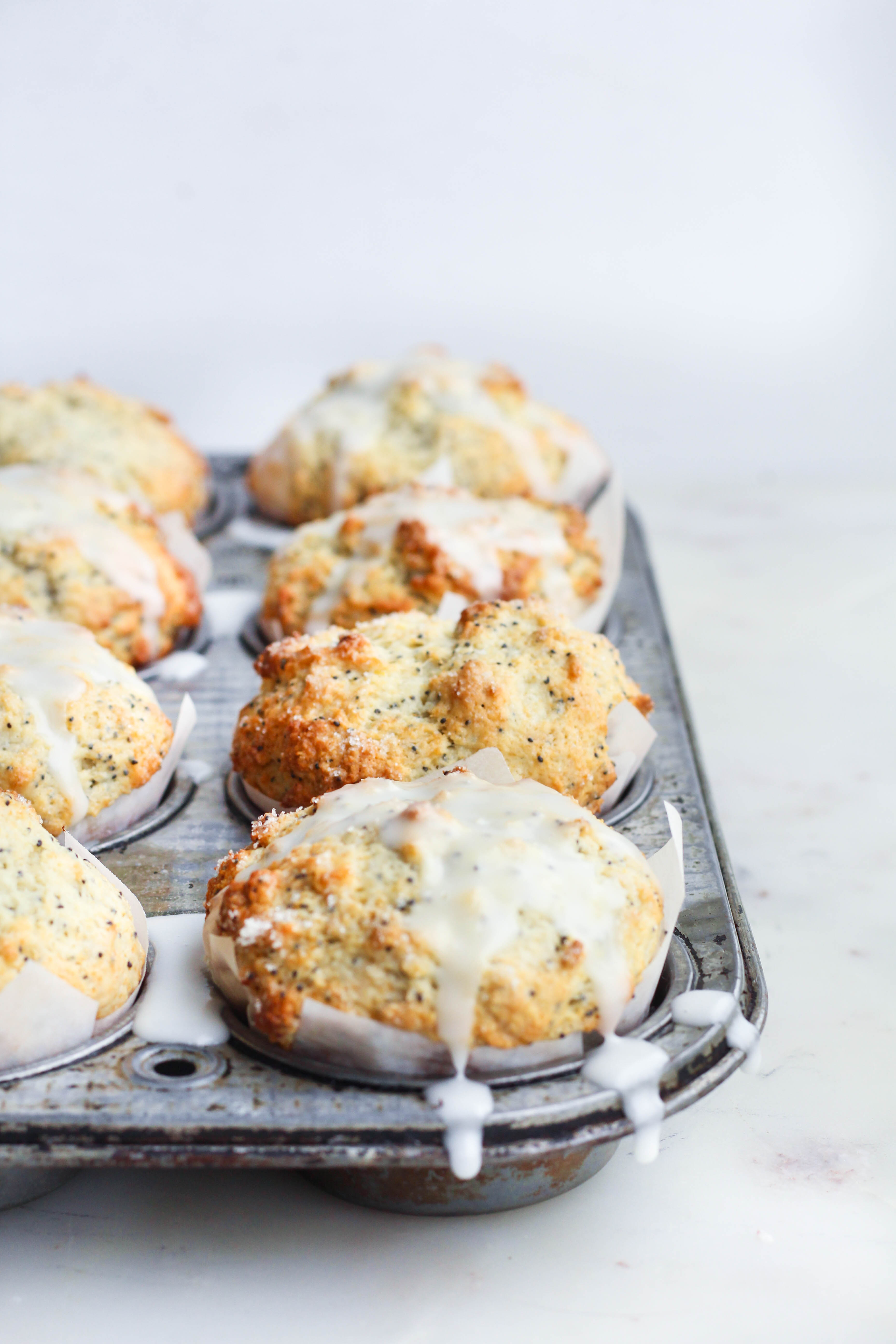 Buttermilk Lemon Poppy Seed Muffins
Makes: 8 medium muffins
Things you need…
Muffins
1 2/3 cups all purpose flour
3/4 granulated sugar
1/2 tbsp baking powder
1/4 tsp baking soda
1/4 tsp salt
2 tbsp poppy seeds
3/4 cups buttermilk
1/4 cup lemon juice
1/3 cup butter, melted
1 egg, beaten
1 tsp vanilla
zest of one large lemon (about 1 tbsp)
Lemon Glaze
3 – 4 tbsp lemon juice
1 – 1 1/2 cups icing sugar
drop of vanilla extract
How to make…
Preheat oven to 375F and line a muffin tin with 8 muffin liners (try to spread them out among the pan as this will allow for better circulation while baking)
In a large bowl, whisk together flour, sugar, baking soda, baking powder, salt and poppy seeds until evenly combined. Make a well in the center and set aside.
In a medium bowl, whisk together buttermilk, lemon juice, egg, vanilla, lemon zest until combined. Add in the melted butter and whisk until combined. Pour wet ingredients into the well of the dry ingredients and use a spatula to gently fold the wet ingredients into the dry until just combined. It's okay to have a few streaks of flour still remaining.
Scoop batter into your prepared muffin tin and fill right to the top of the muffin liner. Place on the top rack of your oven (to get those nice golden brow
n tops) and bake for 18-20 minutes or until the top springs back to the touch.
Remove from oven and set the pan on a cooling rack while you prepare the glaze.
For the glaze, simply whisk 3 tbsp of lemon juice with the icing sugar until smooth. If your glaze is too thin, add in additional icing sugar 1 tbsp at a time until it thickens. Alternatively, if your glaze is too thick, add in more lemon juice 1 tbsp at a time to thin. You want it to be a creamy pourable consistency.
Spoon glaze over the top of the warm muffins and allow to sit for a few minutes before digging in. Enjoy!