A few weeks ago I posted a recipe for this Carrot Cake Loaf and so many of you sent me pictures telling how much you enjoyed it, which always makes my day when you guys do that  <3 <3 <3
In particular one of my idols on instagram @jspiesy sent photos of her delicious take on my recipe which included a cream cheese filling and a nutty oat streusel on top… Can you say YUM!?
Seriously though upon looking at her photo I was pretty much foaming at the mouth…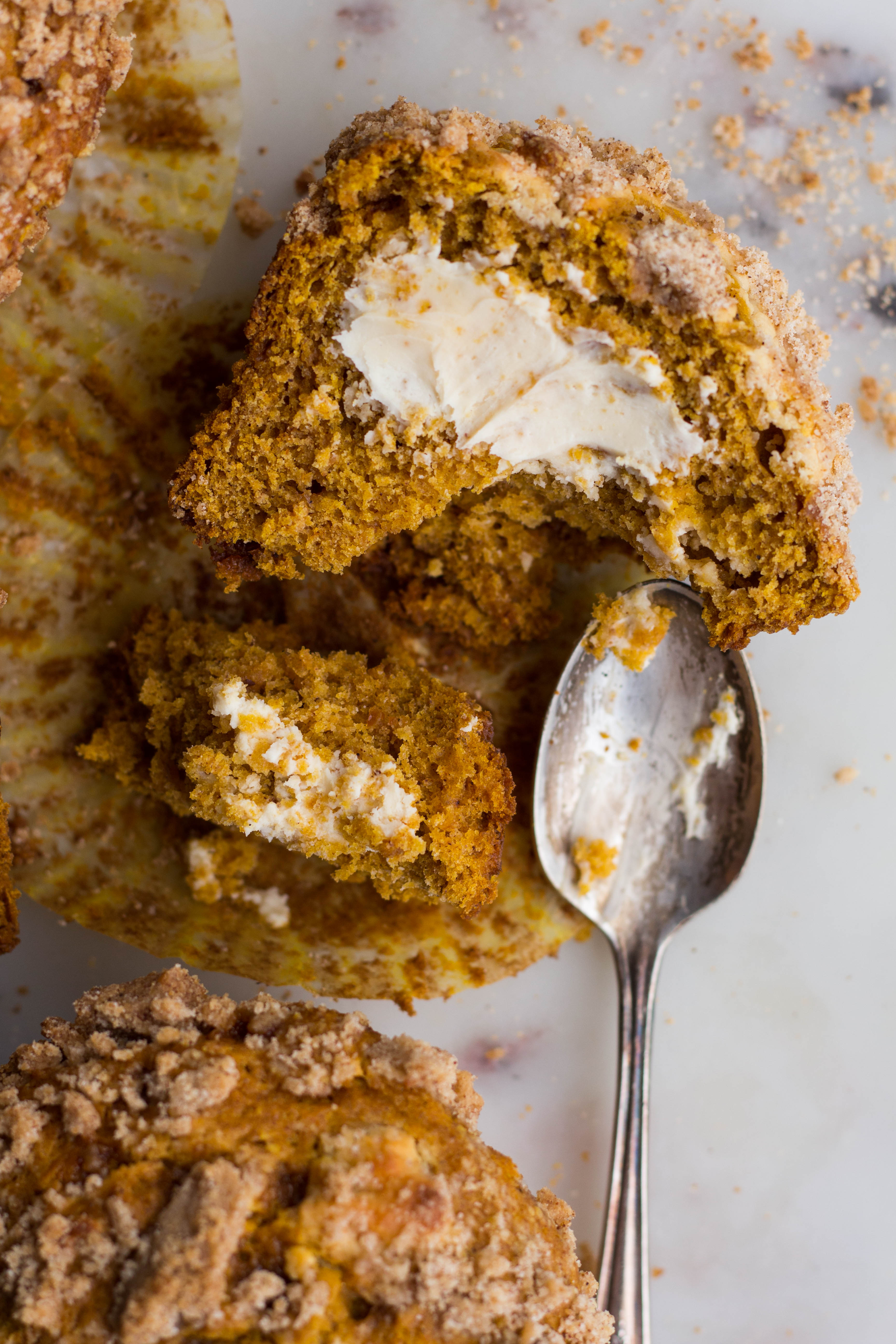 So it was totally her inspiration that lead me to make these Caramel Cream Cheese Pumpkin Spice Latte Streusel Muffins. I know, I know it's a total mouthful, but it's a damn delicious mouthful if I do say so myself.
I kind of threw these muffins together on a frantic and very hungry whim that ensued after looking at @jspiesy's loaf, and I really wasn't sure how they were going to turn out; But the baking gods must have been on my side that day, because they turned out to be dang pretty irresistible.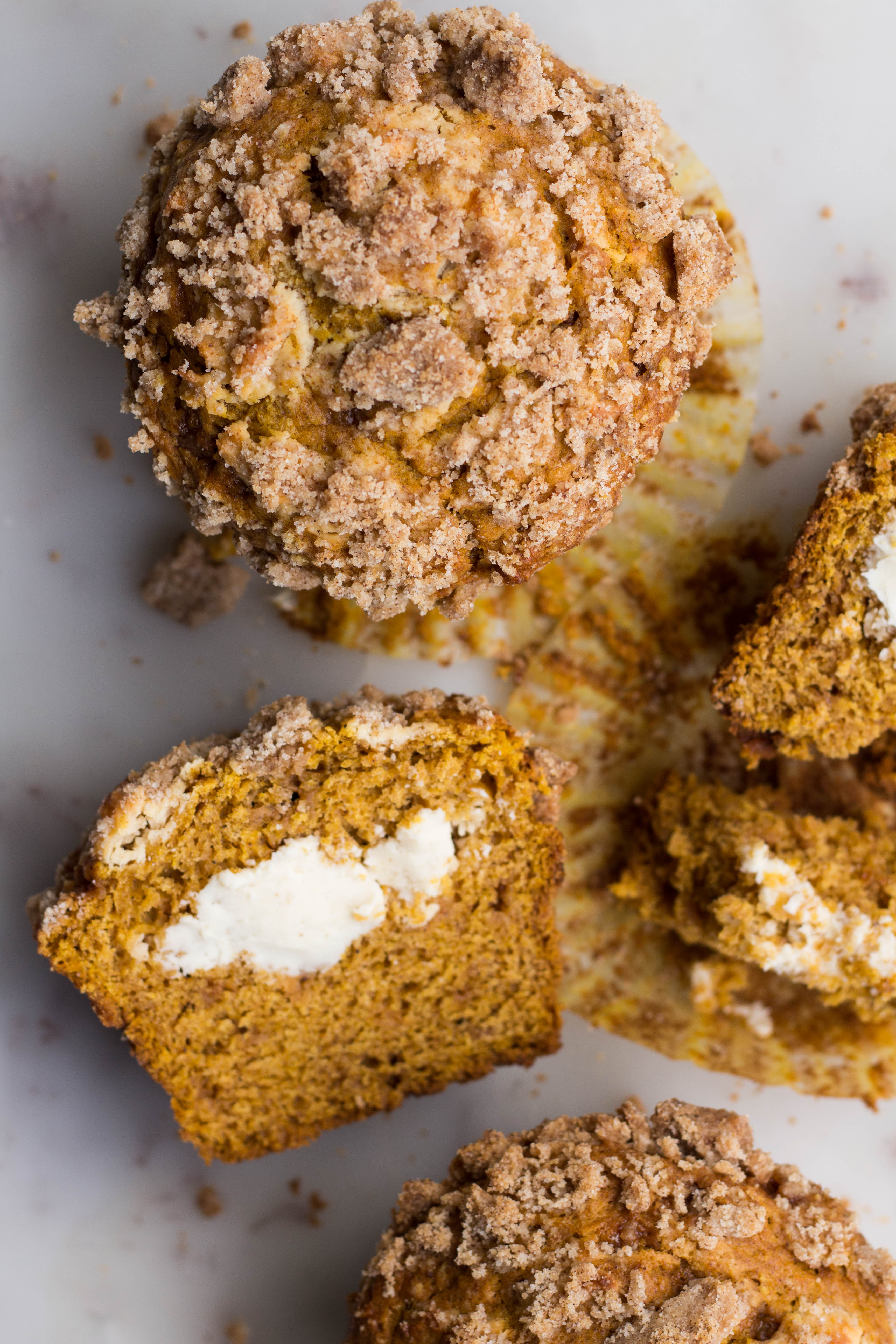 Everything from the moist, pumpkin spice muffins (which are also loaded with toffee bits), to the slightly sweet caramel cream cheese filling, to the buttery espresso streusel… I can't even…
Basically these muffins bring together all of my favourite things in life; pumpkin spice, cream cheese and espresso. I mean just add a cup of hot coffee (or your favourite hot bevy of choice) and what else could a girl ask for?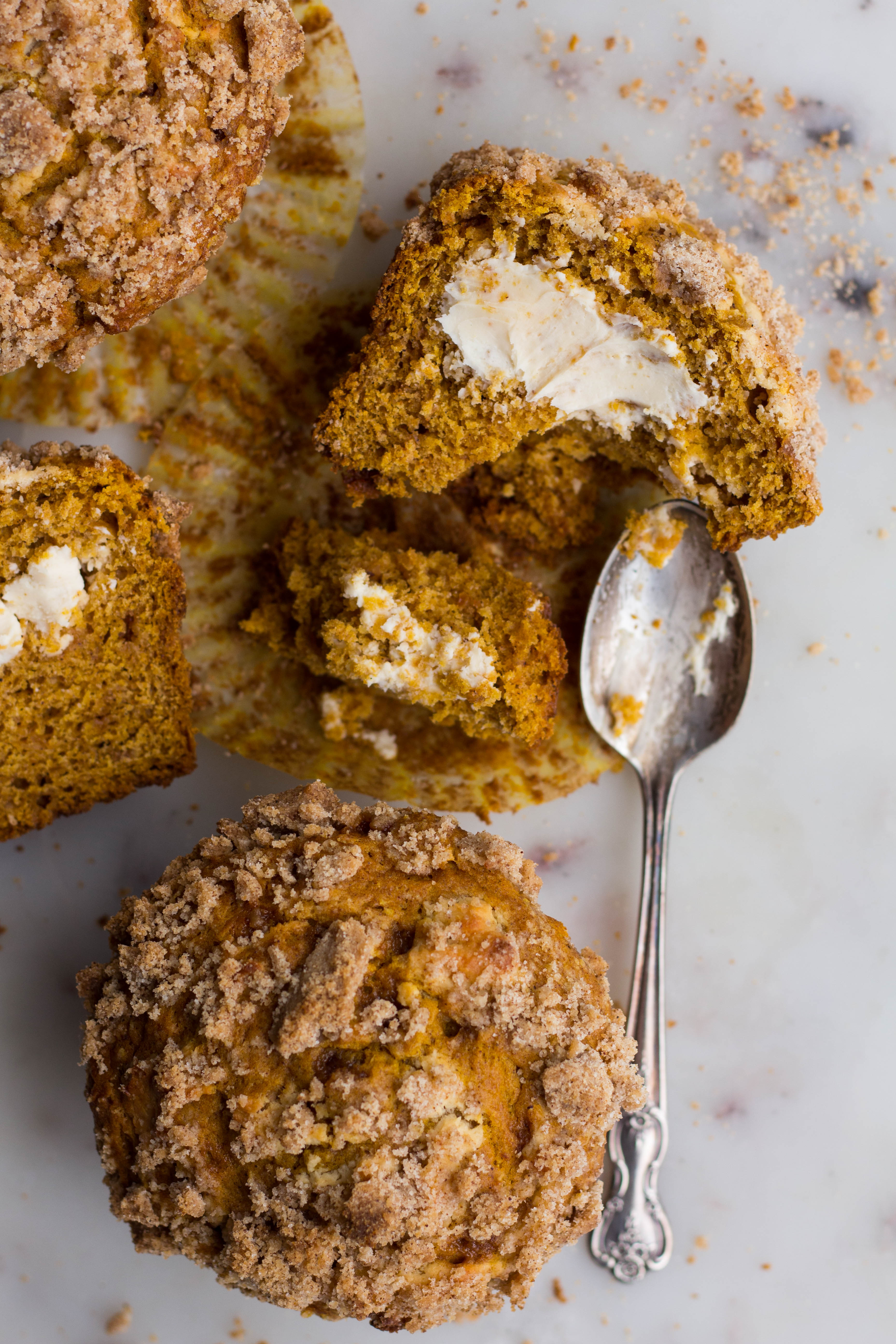 Before I send all of you wonderful people off with the recipe, I just want to take a quick minute to thank you all from the bottom of my heart for reading my blogs, and welcoming me into you homes by trying out my recipes.
There is truly not a day that goes by that I don't think about how amazing you all are, how lucky I am, and how incredibly thankful I am to have you all sending me love and encouragement to keep doing what I love most. You all inspire me everyday to keep exploring and trying new things, and these muffins are a true testament to that.
Thank you all so much for popping by to spend a little time with me, and happy baking <3
KP xoxo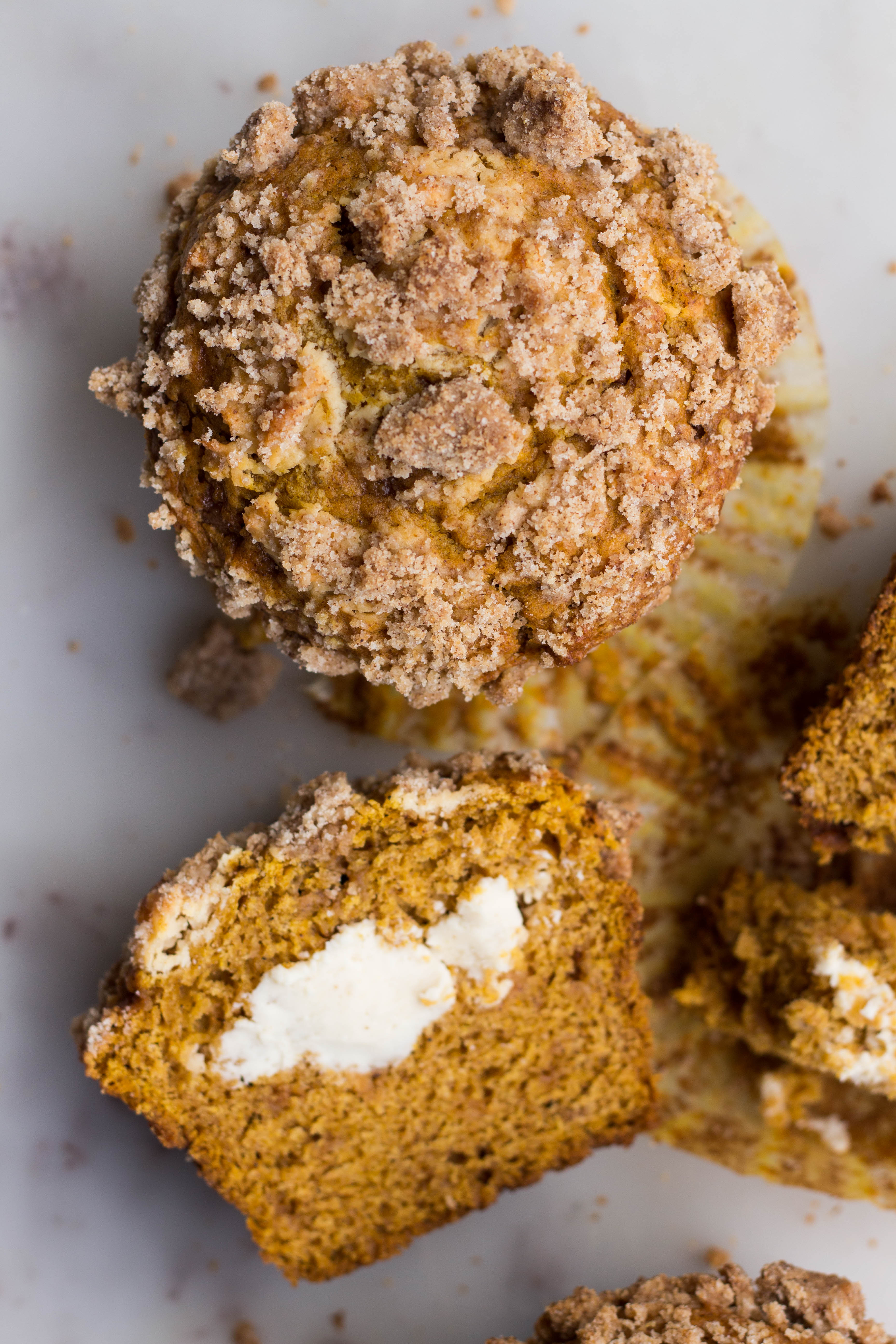 Caramel Cream Cheese Pumpkin Spice Streusel Muffins
Jumbo Pumpkin Spice Muffins
Makes 6 jumbo muffins or 12 standard muffins
Things you need…
Muffins
2 cups all purpose flour
1/2 tbsp baking powder
1 tsp baking soda
1 1/2 tsp cinnamon
1/2 tsp nutmeg
1/2 tsp ginger
1/8 tsp cloves
pinch of salt
1 cup brown sugar
3/4 cup butter, melted
1/2 cup buttermilk
1 cup pumpkin puree
2 eggs
1 1/2 tsp vanilla
1/2 cup toffee bits (Optional)
Caramel Cream Cheese Filling
1/2 pckg cream cheese, at room temp
2 tbsp caramel sauce (or you could subsitute maple syrup)
1 tbsp brown sugar
1/4 tsp baking powder
Espresso Streusel
3/4 cups all purpose flour
1/2 cup brown sugar
1/2 tsp cinnamon
1 tbsp espresso (optional)
1/4 cup melted butter
How to make…
Muffins
Pre-heat oven to 400F degrees & line a jumbo muffin tin with paper liners or just grease the cups with butter or oil.
In a large bowl, whisk together flour, brown sugar, baking soda, baking powder, cinnamon, nutmeg, ginger, cloves and salt. In a separate bowl, whisk together melted butter, buttermilk, pumpkin puree, eggs and vanilla. Make a well in the center of the dry ingredients and pour the wet ingredients into the well. Use a spatula to gently fold the wet ingredients into the dry until starting to come together. Add in toffee bits and continue to fold until the batter has just come together. It's okay if there are still a few streaks of flour.
Caramel Cream Cheese Filling
In a small bowl, beat together cream cheese, caramel sauce, brown sugar and baking powder until creamy and there are no lumps. Set aside
Espresso Streusel
In a medium bowl, whisk together flour, brown sugar, cinnamon and espresso until combined. Stir in melted butter until a crumbly mixture forms.
Assembly
Use a scoop to drop the batter into your prepared muffin tin, filling them about half way up. Use the back of a spoon to make a bit of a well in the center of the muffin batter.
Drop a heaping tbsp of the cream cheese mixture on top of the muffin batter, using the back of the spoon again to flatten it out a bit. Top the muffins with more batter. You will fill each muffin right up to the top and probably have them heaping over a bit – this is what you want.
Sprinkle the streusel over top of each muffin, covering completely. You will probably have some extra streusel if you are making the 6 jumbo muffins.
Place the muffins in the center of your oven to bake for about 20-24 minutes or until the tops are golden brown and spring back to a light touch.
Remove pan from the oven and set on a rack to cool for at least 5-10 minutes before digging in. Enjoy!