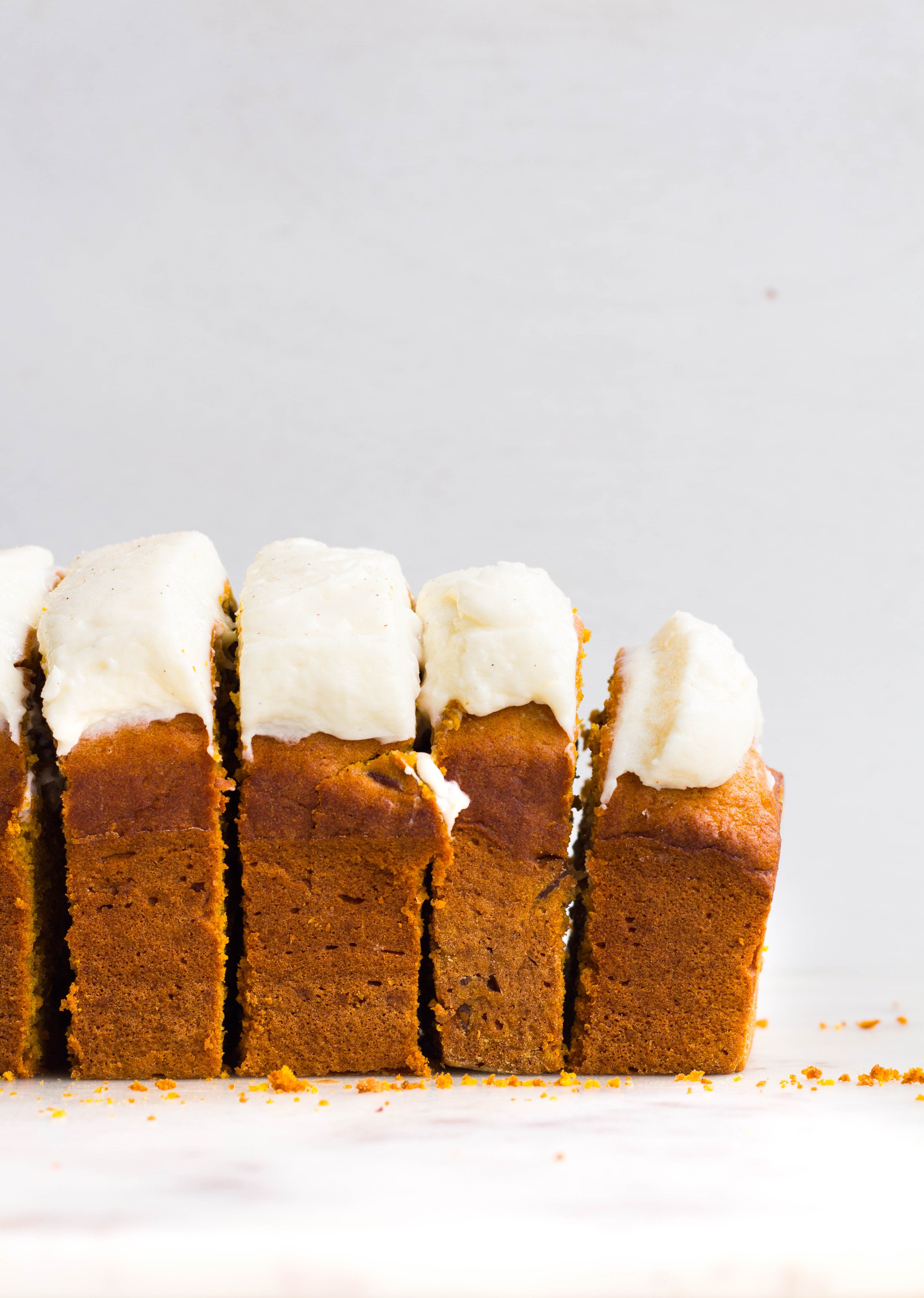 My Dad doesn't have much of a sweet tooth. I got my obsession for baked goodies from my mum and my mum only.
As such he rarely requests baking – in fact he rarely even eats dessert at all. So when he does I get a little giddy and waste no time jumping at the opportunity to bake him a little something delicious.
Such was the case the other day when I got a text from him saying, and I quote… "I think I could go for a slice of Carrot Cake topped with an inch thick of Cream Cheese Frosting right about now…" My Dad may not share my love for baked goodies, but if there is one thing we can agree on, it's that cream cheese frosting is pretty much the best thing in the whole entire world.
Shop this post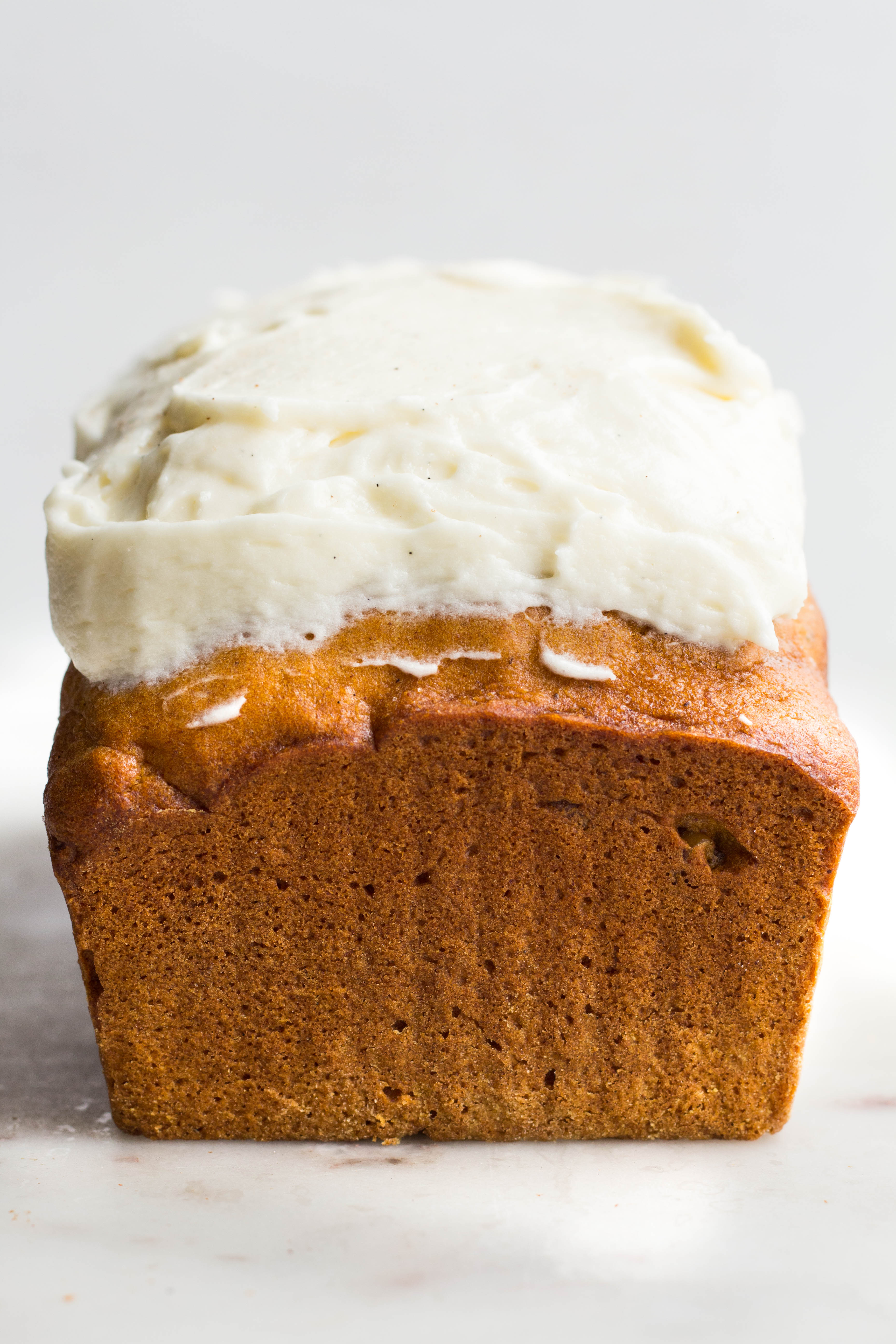 Needless to say the next morning I was in the kitchen throwing together a random recipe for a carrot loaf cake that I would of course top with a big glob of cream cheese frosting for my dear papa.
I say "throwing together a random recipe" because that is exactly what it was. When I put my pans in the oven I really had no idea if they were even going to turn out. But the baking gods were on my side that day, because these carrot loaf cakes turned out amazing!
Super moist, flavourful and had the most incredible rise I have ever managed to achieve on a loaf  cake – I usually struggle hard with flat or sunken loaves – So the fact that this one rose sky high was pretty damn exciting.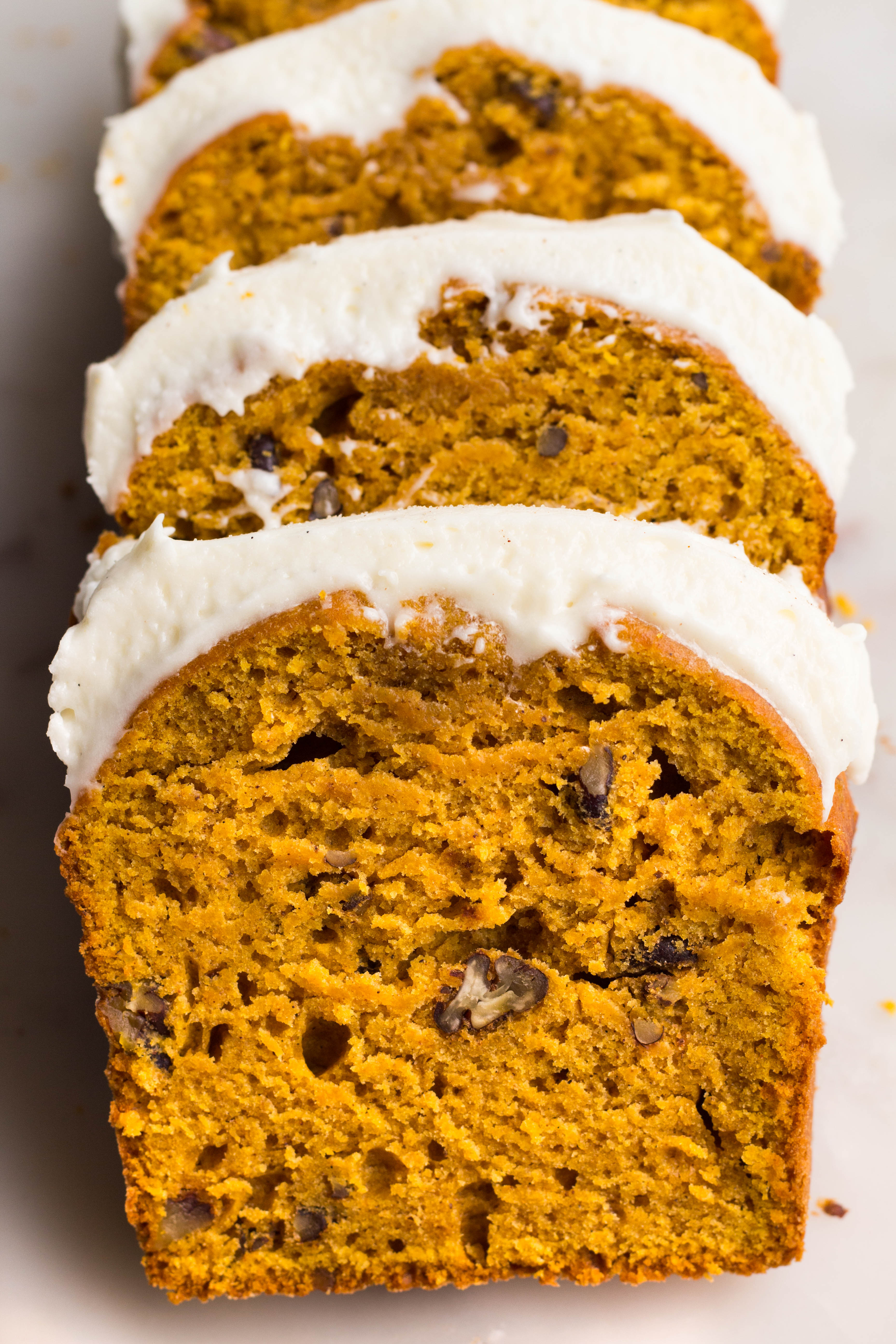 The coconut oil gives these cakes a beautiful flavour that pairs with the carrot and the subtle spices wonderfully.
This is also a big recipe, and makes enough batter for two loaves – which I love because it means that I can keep one at the house and share the other with friends / family / colleagues. Or you could simply pop one into the freezer after you bake it to save for another week.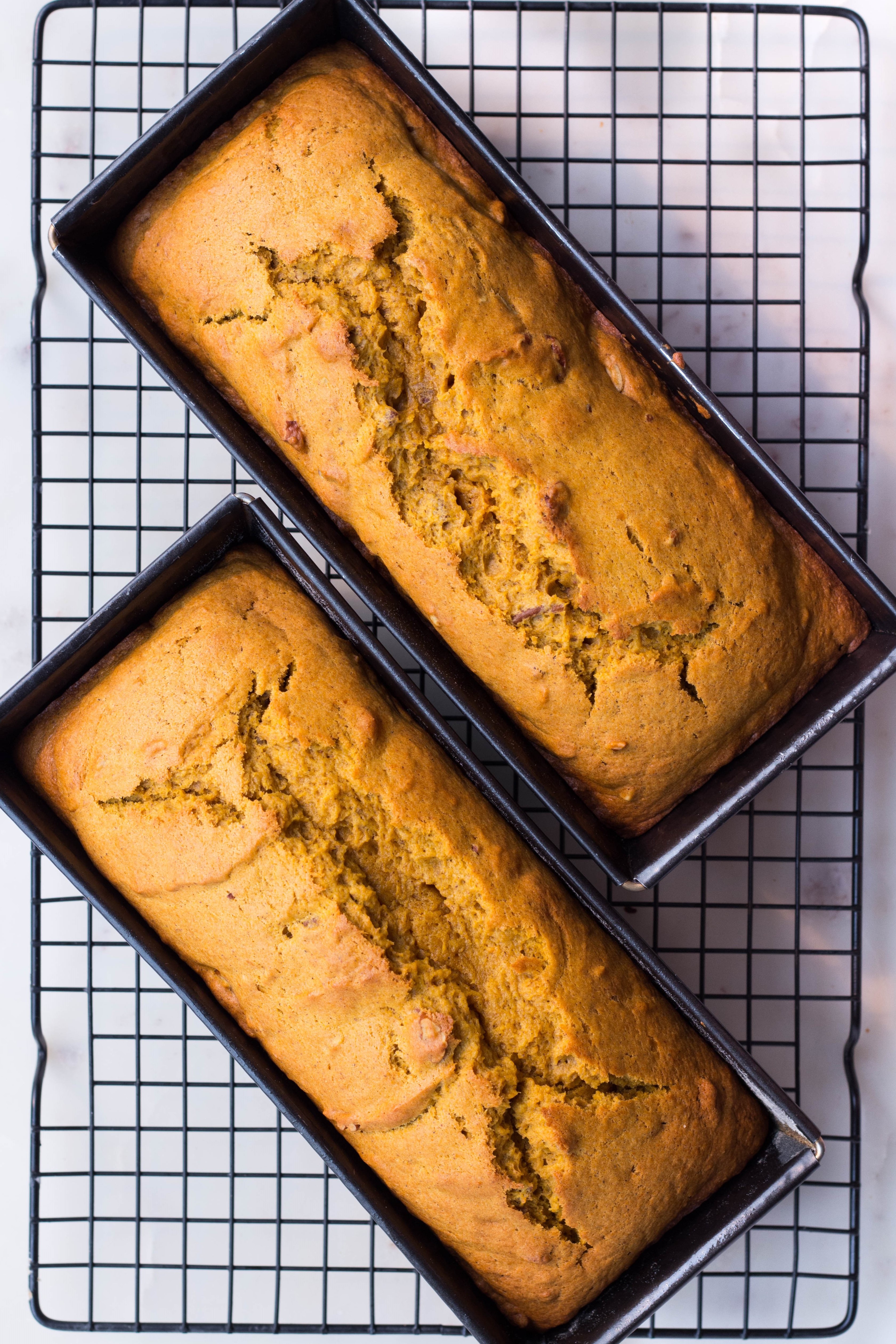 One thing to note before I send you off with the recipe is that most carrot cake recipes call for simply using grated uncooked carrot. However, in this recipe I used cooked carrot puree. My mum has always made carrot cakes this way, and I swear by her technique. It takes a little bit of extra time, but the end result is well worth it.
Here is the recipe lovelies & happy baking!
KP xoxo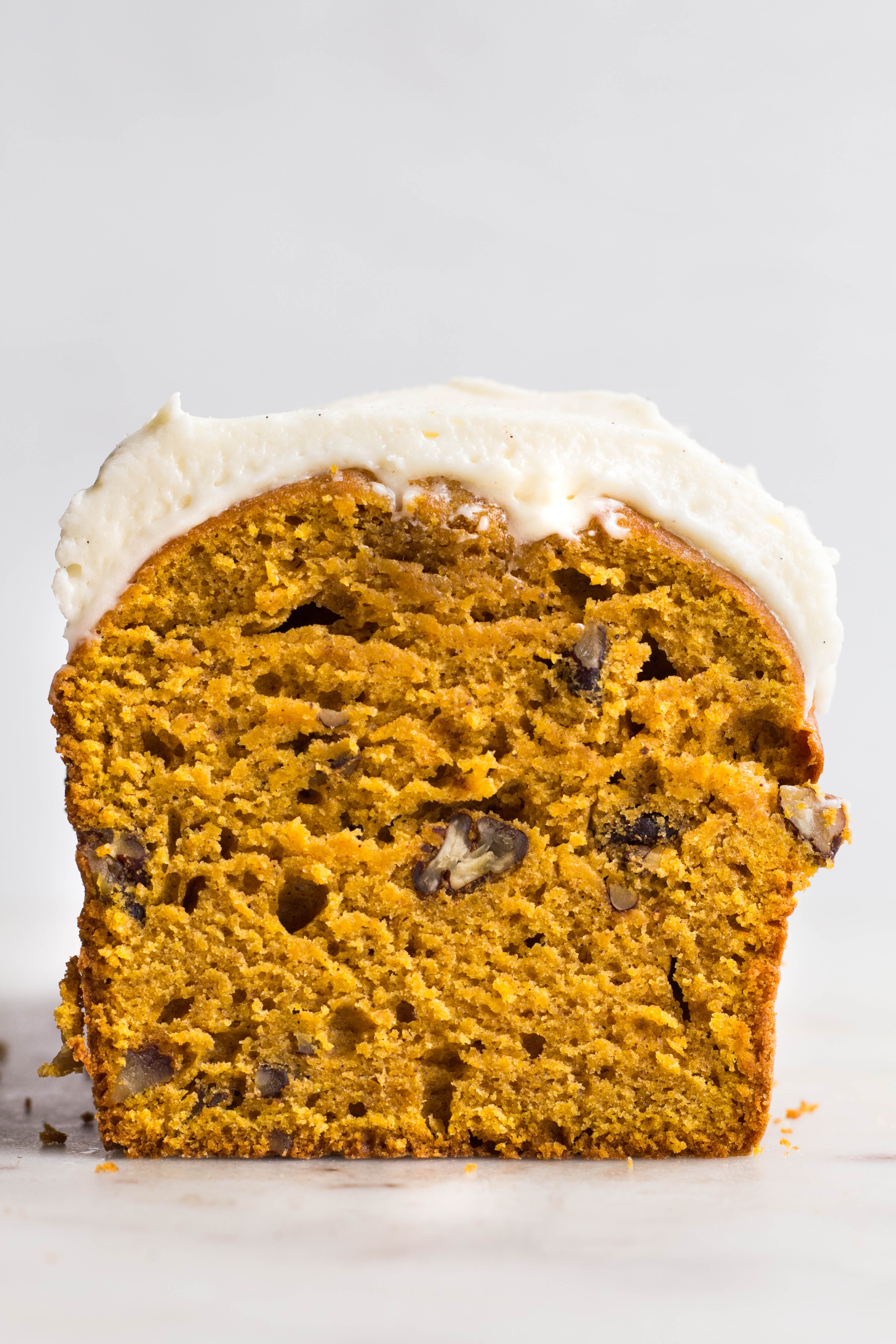 Carrot Loaf with Cream Cheese Frosting
Makes 2 loaves
Things you need…
Carrot Cake
1/2 cup butter, softened
1/2 cup coconut oil, melted
1 1/2 cups brown sugar
1/2 cup granulated sugar
4 eggs
2 tsp orange zest
3 tsp vanilla
2 cups carrot puree (I steam mine until cooked and then puree them in a blender)
1/2 cup buttermilk
4 cups all purpose flour
1 1/2 tsp baking powder
1 tsp baking soda
3 tsp cinnamon
1 tsp ginger
1/4 tsp nutmeg
1/8 tsp cloves
1/2 tsp salt
1 cup toasted pecans (optional)
1 cup raisins (optional)
Cream Cheese Frosting
1/2 package cream cheese, softened
1/4 cup butter
1 tsp vanilla bean paste
3 cups icing sugar
How to make…
Carrot Cakes
Preheat oven to 325F degrees. Butter & flour two standard loaf pans and set aside.
In the bowl of a stand mixer fitted with the paddle attachment, cream together the butter, brown sugar, granulated sugar and orange zest until the mixture is for about 3-4 minutes, scraping down the sides of the bowl occasionally with a spatula.
Add eggs in one at a time, beating on low between each addition to combine. Scrape down the sides of your bowl with a spatula and add in the vanilla. Turn the mixer to high and beat until the batter is creamy – about 1 minute.
Next, whisk together the carrot puree, coconut oil and buttermilk. In a separate bowl, whisk together the flour, baking soda, baking powder, cinnamon, ginger, nutmeg, cloves and salt.
Add 1/3 of the dry ingredients to the bowl of the stand mixer and turn the mixer onto low to beat until just combined. Next pour in half of the carrot &buttermilk mixture; turn the mixer to low again and beat until just combined. Repeat this process two more times with the remaining dry and wet ingredients ending with the dry ingredients. Scrape down the sides of your bowl and beat the batter on low until it is smooth, but do not over mix.
Remove the bowl from the stand mixer and use a spatula to gently fold in the toasted pecans and raisins (if you are using). Distribute batter between the two pans and spread the batter to the outer edges of the pan.
Place in the center rack of your oven to bake for 45-55 minutes or until the center of each cake is set. Insert a skewer into the center of each cake – your cake is done when just a few moist crumbs cling to the skewer.
Remove from the oven and allow to cool completely to room temperature before frosting.
Cream Cheese Frosting
In the bowl of a stand mixer fitted with the whip attachment, cream together the butter and cream cheese until smooth and there are no lumps. Scrape down the sides of your bowl with a spatula and begin adding in the icing sugar 1 cup at a time, beating on low speed between each addition to ensure icing sugar doesn't go flying everywhere. Once all of your icing sugar has been incorporated, add the vanilla and turn the mixer to high to beat for 3-4 minutes or until the icing is white and fluffy.
Once your cakes are cooled, distribute the frosting evenly between each cake and use a knife or an offset spatula to spread the icing over top of each of the cakes. Slice and enjoy!