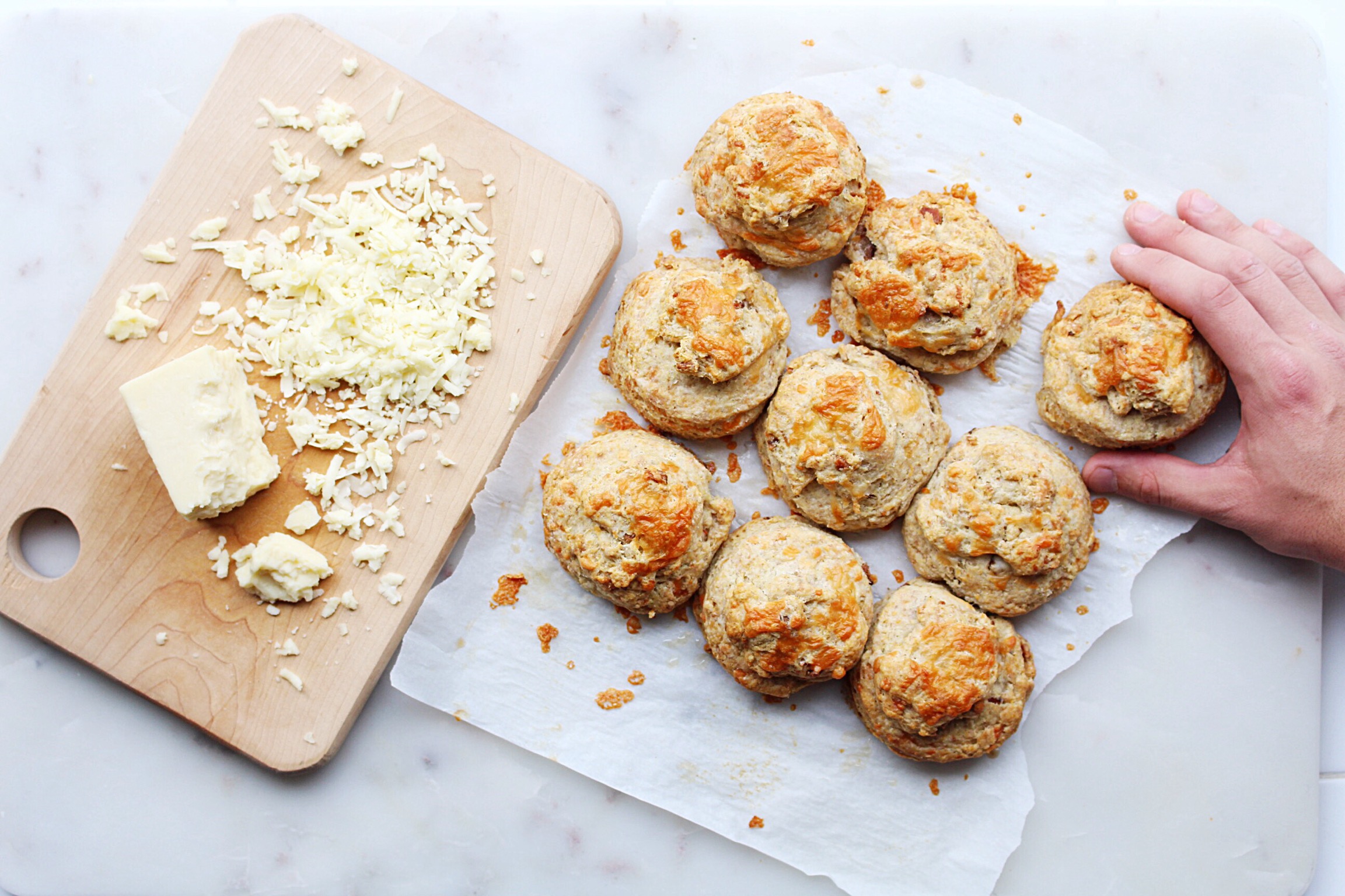 You guys; Bacon. Cheddar. Biscuits. Honestly, are there any three words that sing together more harmoniously?  I really have no words to describe them, except to say that these biscuits are literally life & you need to make em' happen.
So, I don't know about you guys, but as the weather starts to get a little bit more chilly, my body goes into hungry bear mode & I start to crave allllll of the comfort foods; So these extra cheesy, buttery, bacon(y?) biscuits were the result of all of my ridiculous hungry cravings. I have no regrets.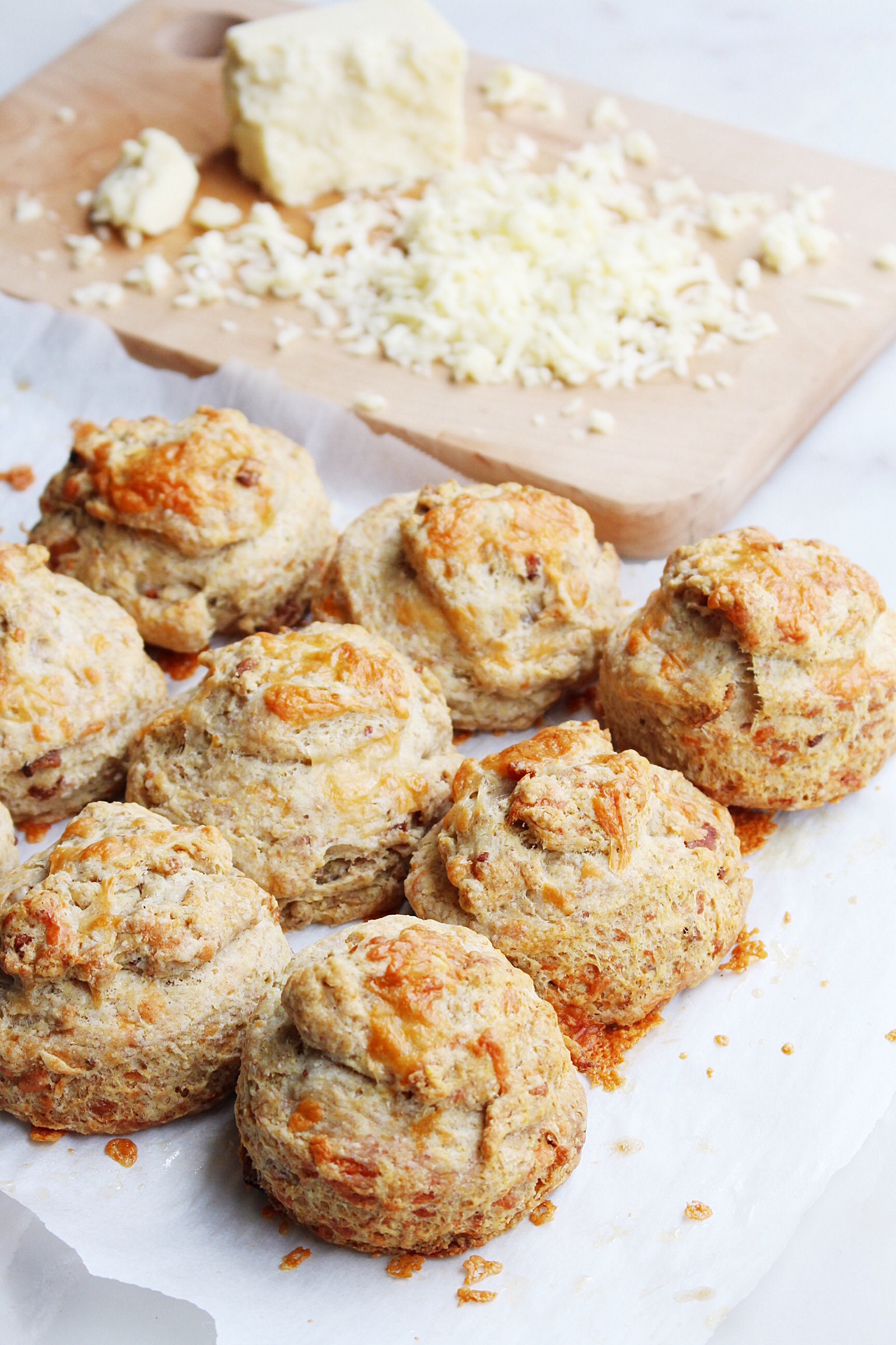 This recipe made 9 biscuits so logically if Cole and I each had 2, that would then leave us with 5 at our disposal- and since my parents recently moved just 5 minutes up the road I thought it might be nice if we took a few biscuits for them to have for the weekend. Nice idea right? Well… let's just say after tasting one of these biscuits, Cole didn't share my enthusiasm for sharing with my parents; he wanted the biscuits for himself. I don't blame him – he was just saying out loud all of the things that I was thinking.
Long story short – we both ate two more biscuits, split a third & left my parents with just 2 leftover biscuits…….. Hey, it was better than nothing right? Okay, fine not really.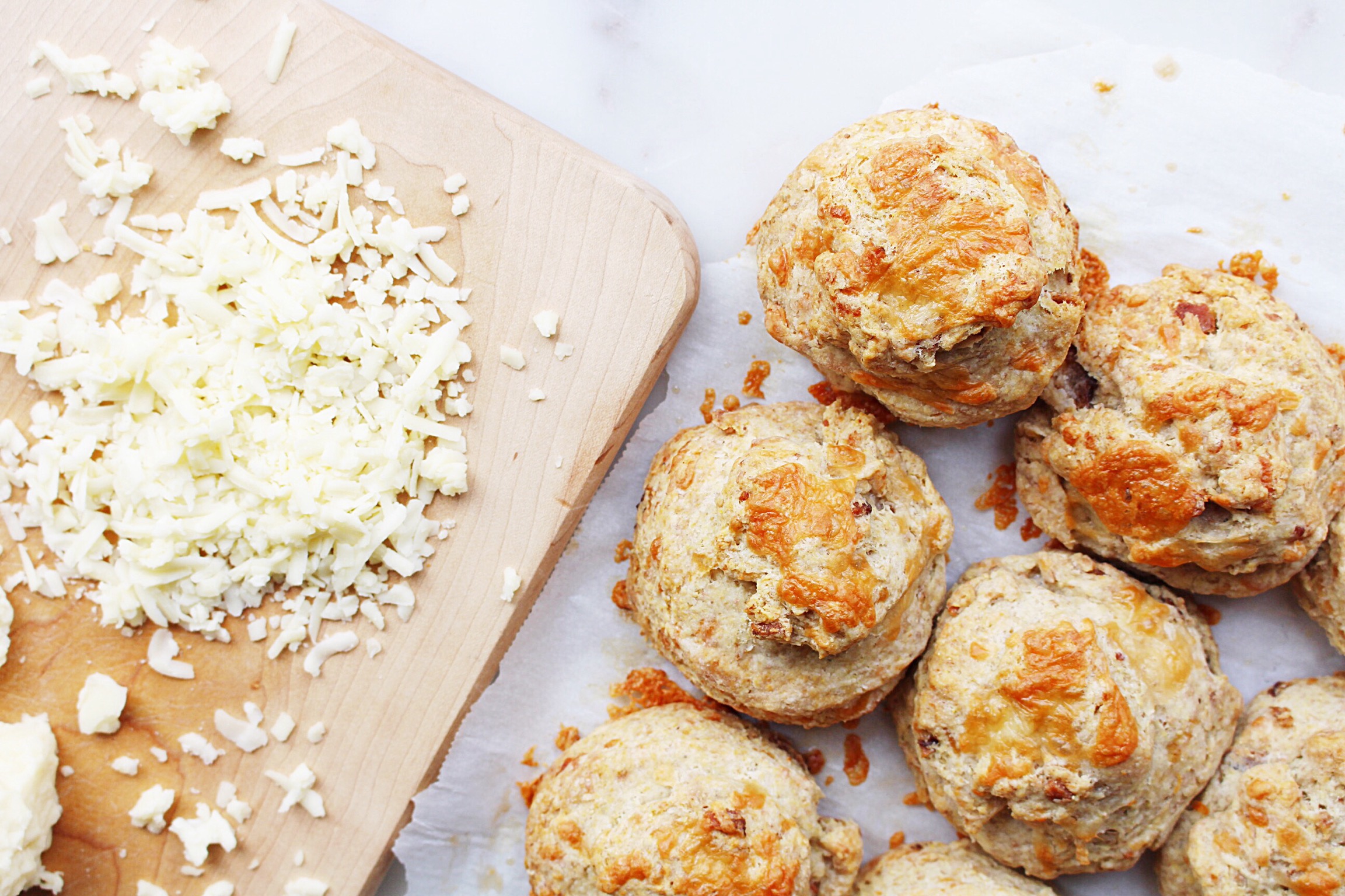 I love adding a little bit of whole wheat flour, cornmeal and brown sugar to my biscuits. The wholewheat flour and cornmeal bring so much flavour to the table, while the brown sugar just balances all of the savoury components out perfectly – especially in this case where our biscuits are totally loaded with sharp cheddar and bacon.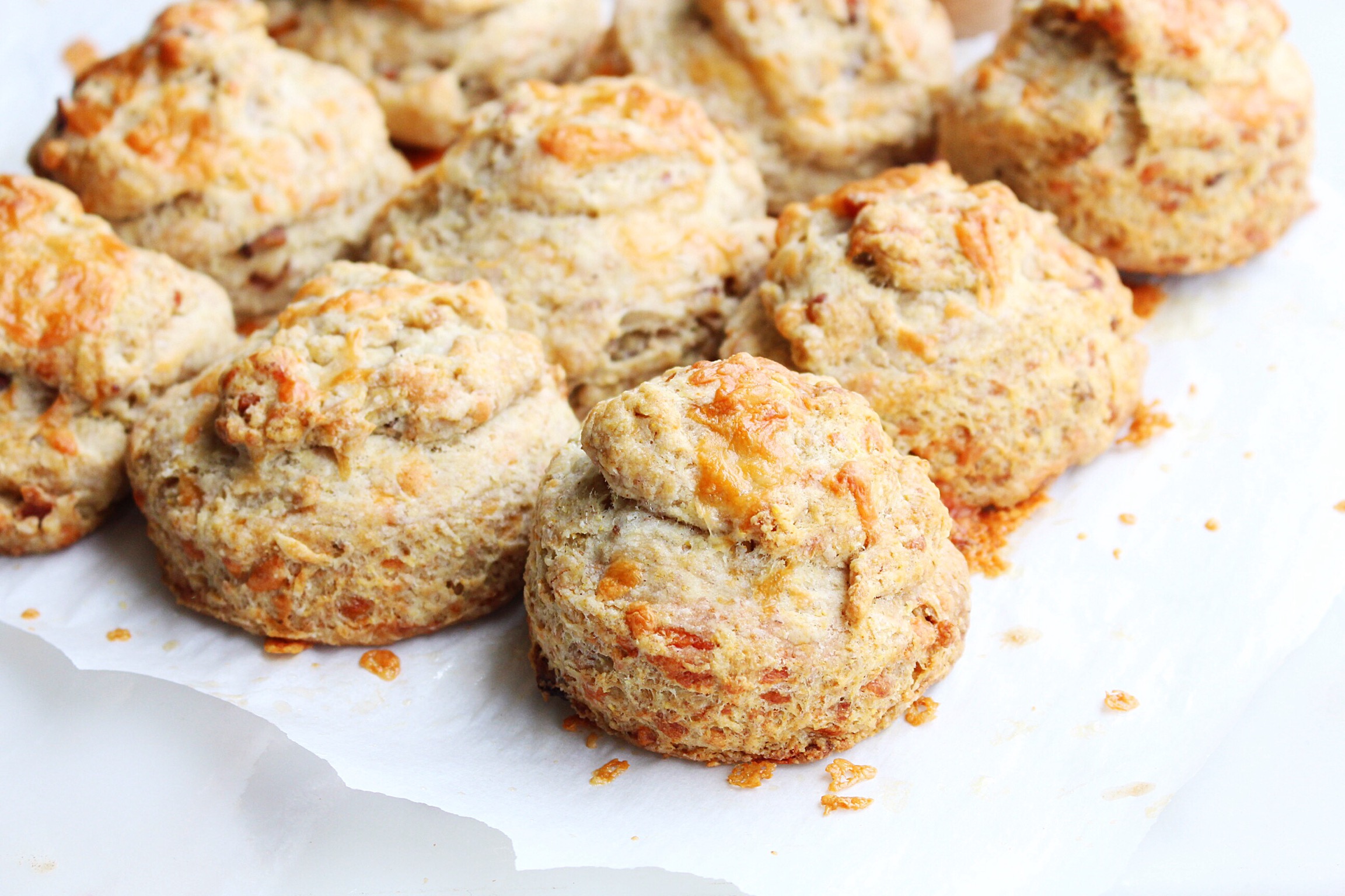 These biscuits don't have an overwhelming amount of bacon stuffed in their cheesy insides – I only used about 1/4 of a cup because I didn't want the bacon to distract from just how amazing all the other components of the biscuit are. However, if you are a lover of all things bacon & want to up the anti on these biscuits ever more, I welcome you to add a little extra – or you know… a lot extra. Just do whatever your little heart desires, because heck – you're the one who's gunna be eating them right? Right.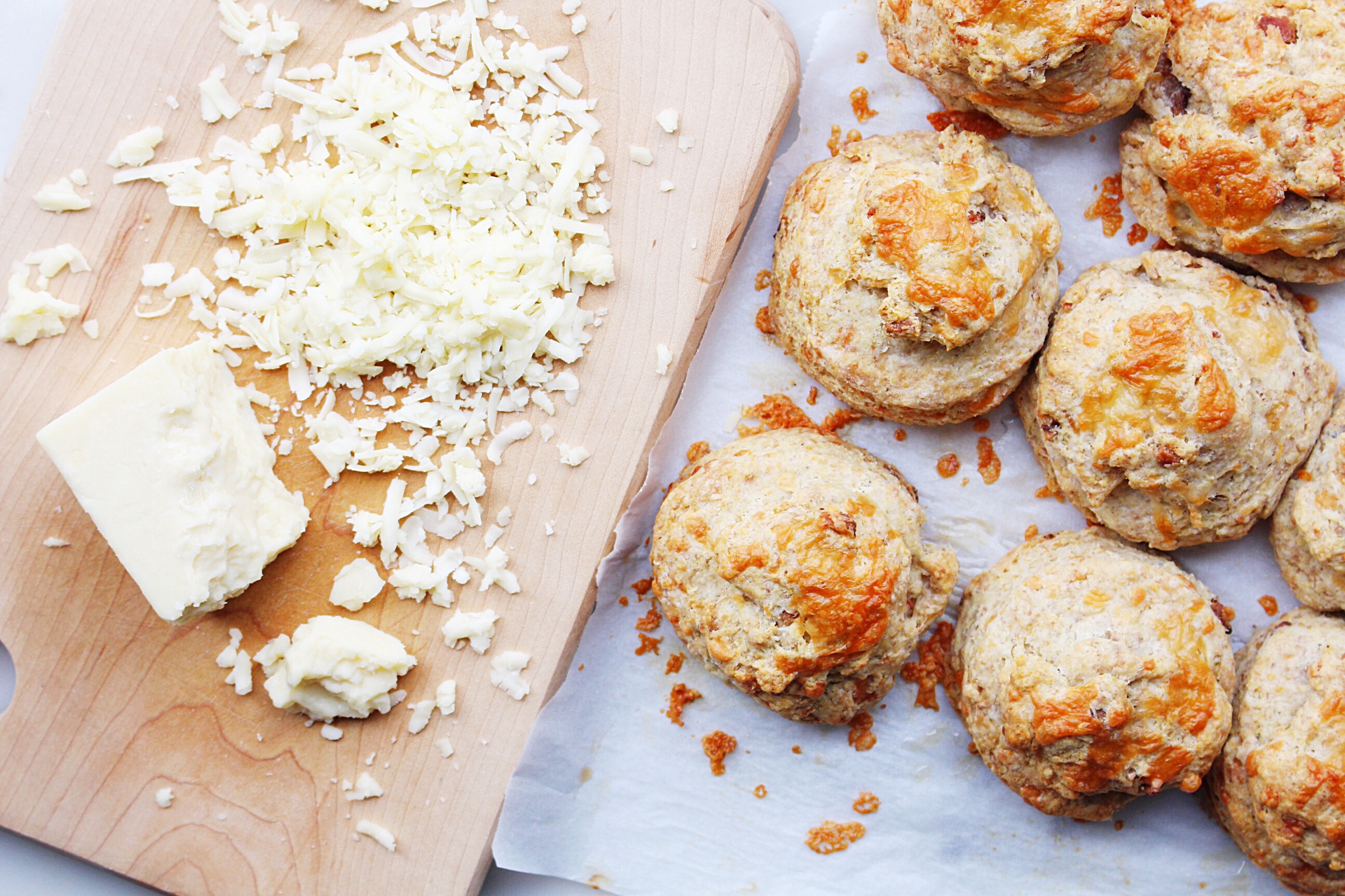 Seriously, that crispy golden cheese though……………..
So yeah, just a final warning before I set you up with the recipe; if you're planning on sharing these with family & friends – it might be wise to make a double batch, because once you give one a taste… you might just be a little less inclined to spread the biscuit love 😉
Cheddar Bacon Biscuits
Things you need…
1 1/2 cups all purpose flour
1 cup whole wheat flour
2 tbsp cornmeal
2 tbsp brown sugar
1 tbsp baking powder
1 tsp baking soda
1 tsp pepper
2/3 cup butter, cubed
1/2 cup buttermilk
1/2 cup heavy cream
1 cup cheddar cheese, grated and chilled (+more for baking)
1/4 cup cooked double smoked bacon, chopped
How to make…
Cook your bacon until crisp, remove from fat & allow to cool completely. Chop into fine bits & set aside. Keep your grated cheddar cheese in the fridge until ready to use.
Preheat oven to 375 F degrees is you are using a convection oven and 400F degrees if you are using a standard oven.
In a large mixing bowl, whisk together all purpose flour, whole wheat flour, cornmeal, brown sugar, baking powder, baking soda and pepper until combined. Add in the cold cubed butter and gently toss to coat all the pieces in the flour mixture. Using a pastry cutter or your fingers, work the butter into the dry ingredients until pea sized bits remain. Add in the chilled grated cheddar cheese and cooled bacon bits and gently toss to evenly distribute.
Whisk together buttermilk & heavy cream and drizzle over the dry ingredients. Use a fork or a spatula to gently toss the wet ingredients with the dry until a ragged dough forms. Turn dough out onto a lightly floured work surface and fold the dough over on itself 4-5 times to create those flaky biscuit layers.
Roll or pat the dough out to 1 inch thickness & use a biscuit cutter to cut as many biscuits the first time round as you can. Gently press the scraps together to cut any additional biscuits. You should end up with about 8 or 9 biscuits.
Place biscuits onto a baking sheet,  brush the tops with melted butter & sprinkle with some extra cheese. Bake for 20-25 minutes or until the biscuits are golden brown in colour. Remove from oven and allow to cool for a few minutes before serving. Serve just as they are, or cut them open & slather them with butter… or you know with more bacon and more cheese – cuz more bacon and more cheese is always a good idea.
Happy Baking!
KP xoxo