Happy Friday peeps!
I feel like I have been so MIA lately, so I have to apologize to you all. It seems like my recipe posts have been so few and far between over the past couple of months, and I really have no good excuse except to say that it has been a busy summer.
Not to mention I have been guilty one too many times of digging into all my summer baked goods before I get the chance to snap some good pictures to share with you guys……. I honestly can't tell you how many times that's happened this summer. Let us not speak of it & let me try to make up my lack of recipes with this pan of deliciousness instead 😀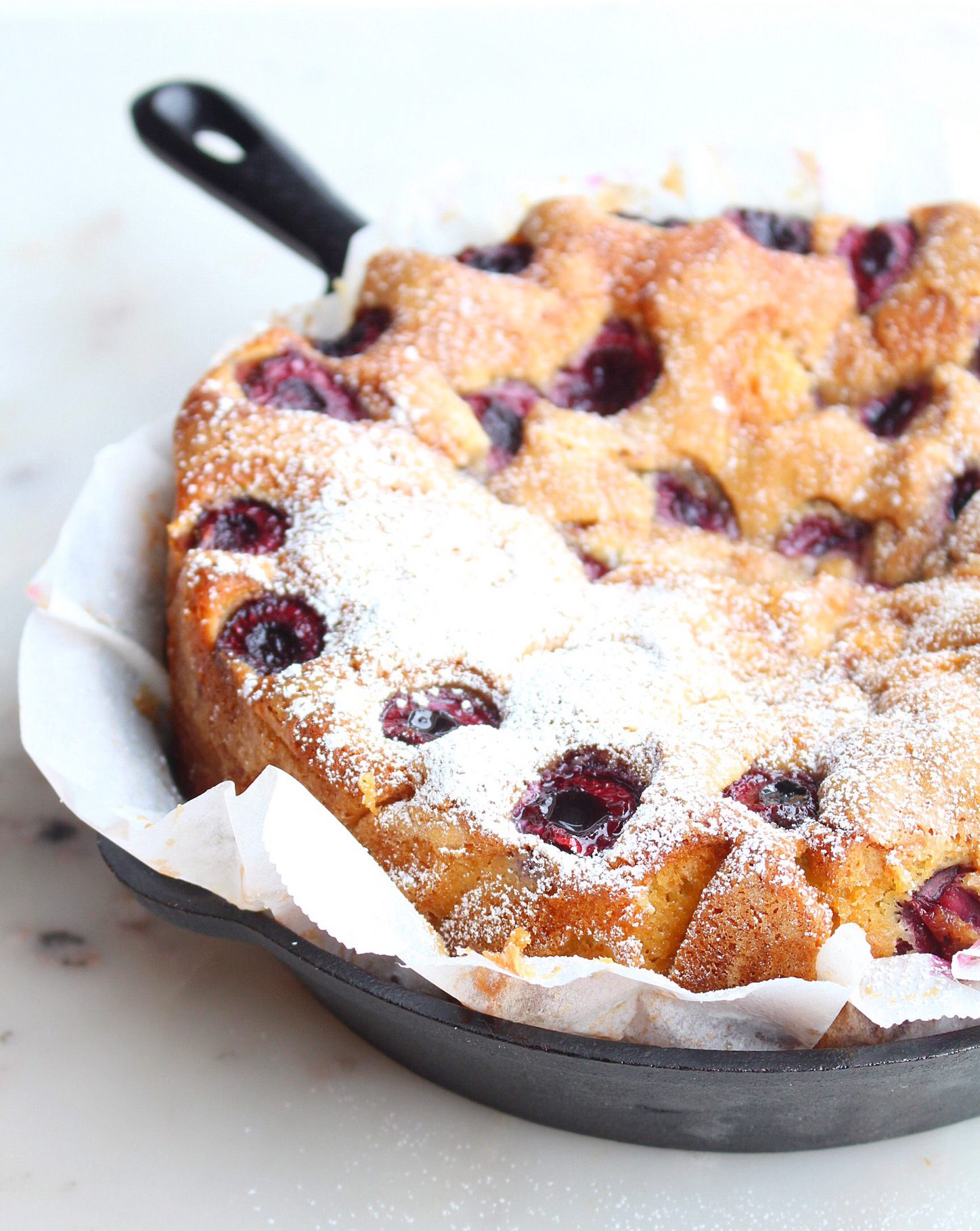 So a few weeks ago Cole & I managed to get away for a short vacation up to the Okanagan. It was a such an amazing trip, filled with unplanned adventures & a whole lot of nothing, which could not have been more wonderful. We finally had time to put our daily responsibilities on hold, shut off our phones, e-mails, and everything else, so that we had the opportunity to really spend quality time & check in with one another, without our minds being elsewhere. It was a really nice feeling. Do you ever just wish
Any-hoooo, while we were up there, I managed to get my hands on some of the last of the Okanagan Cherries & after eating about half of my haul on the drive home, I somehow found the strength to restrain myself and save some for some baking adventures when I got home.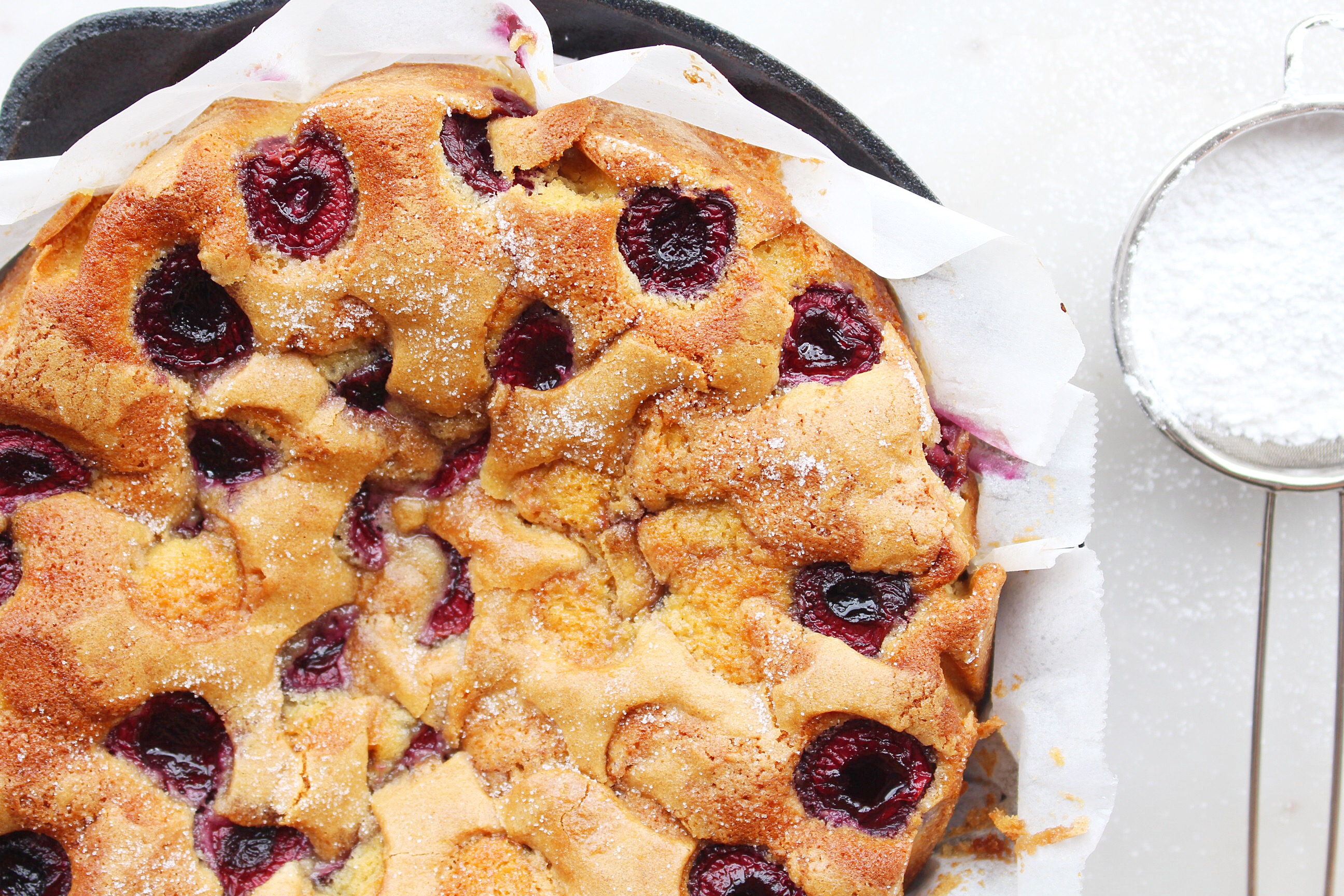 Now I don't know about you, but I am totally obsessed with the combination of Cherry & Almond; the two flavours were just made for each other and when baked together into a tender, moist vanilla cake….. it's just heaven on earth; So needless to say, I wasted no time baking up a recipe which took advantage of one of my all-time favourite flavour combos, in the form of this Cherry Almond Cake.
I just love this cake – even without the cherries or the almond flavour it is just damn delicious. It is my go to cake recipe & is amazing with any other summer fruit. It's the most flavourful, moist, tender cake & everything you want in a light summery cake. So if you're not a huge cherry fan, just swap them out for some fresh nectarines, peaches, apricots or plums & it will be equally as incredible.
And if you're like me, and LOVE any kind of stone fruit – I would recommend trying out all five of the above listed suggestions, because they are all unbelievably divine.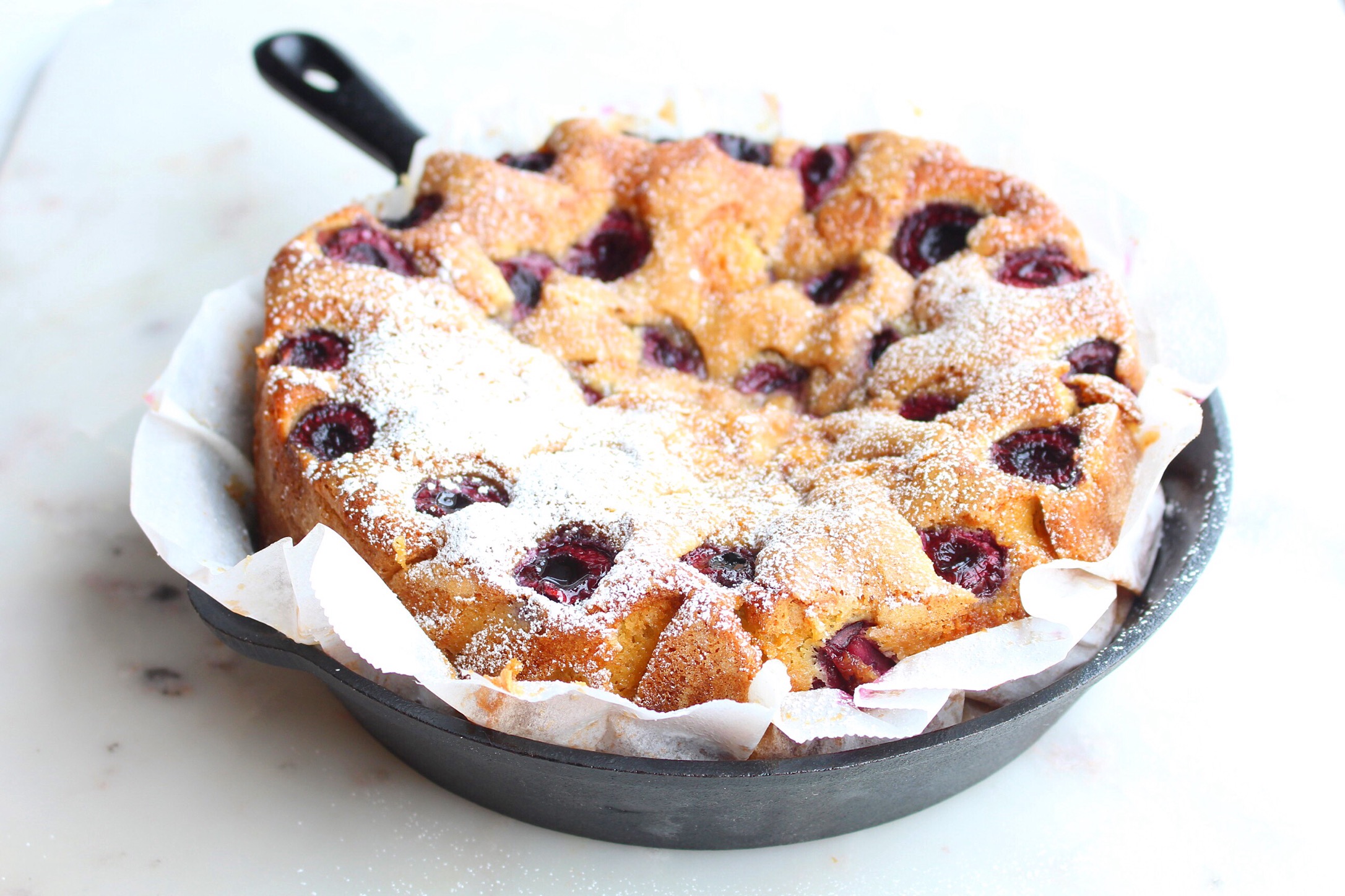 This honestly such  a simple cake to whip up on a whim – it takes no time at all & it really is no fuss. You simple mix, throw it in the oven and serve it with a dusting of icing sugar. So when you're in a pinch and need a last minute dessert for a summer BBQ or party – this is your go to.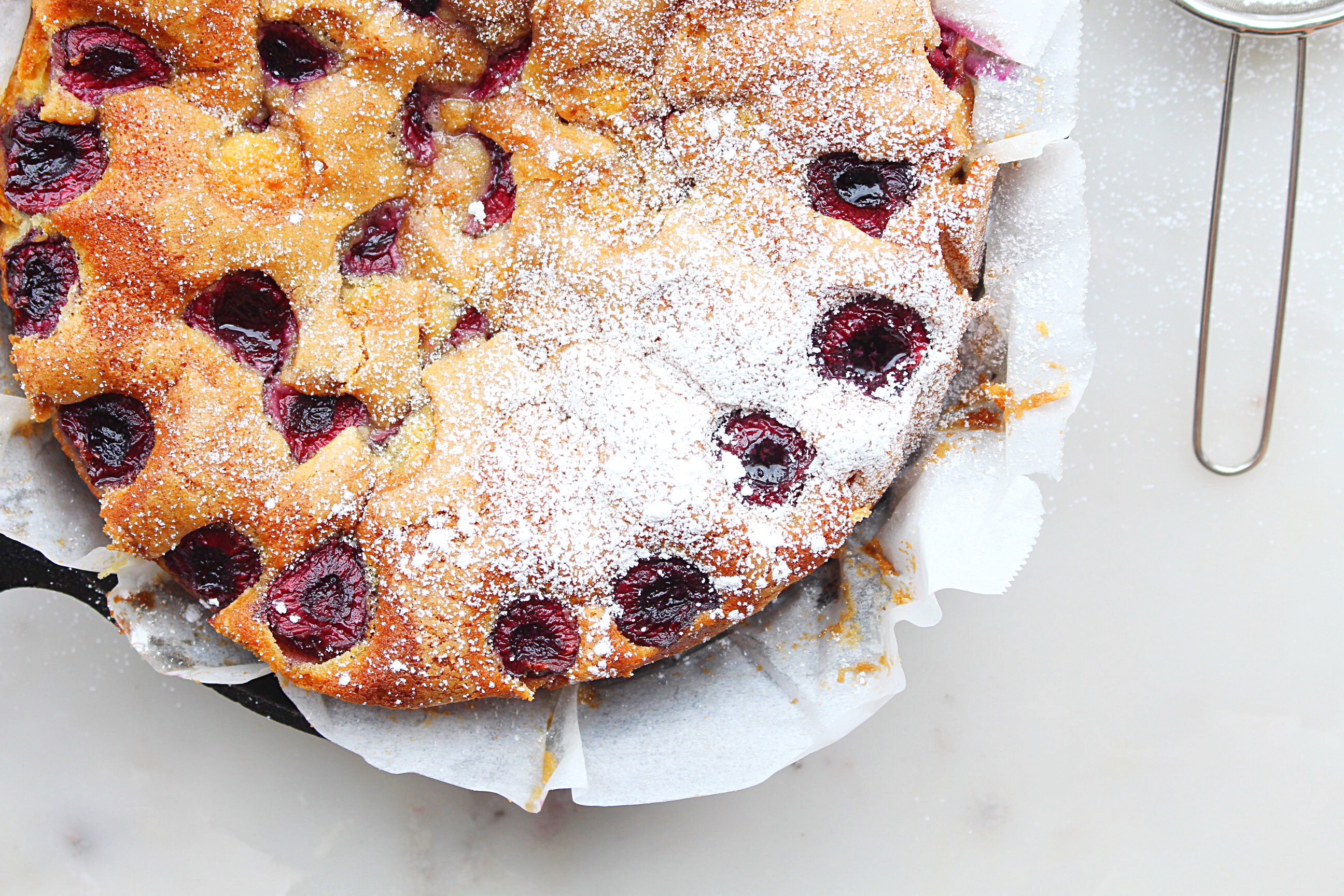 Not to mention it's frigen unreal if you serve it with a scoop of vanilla ice cream or freshly whipped cream…..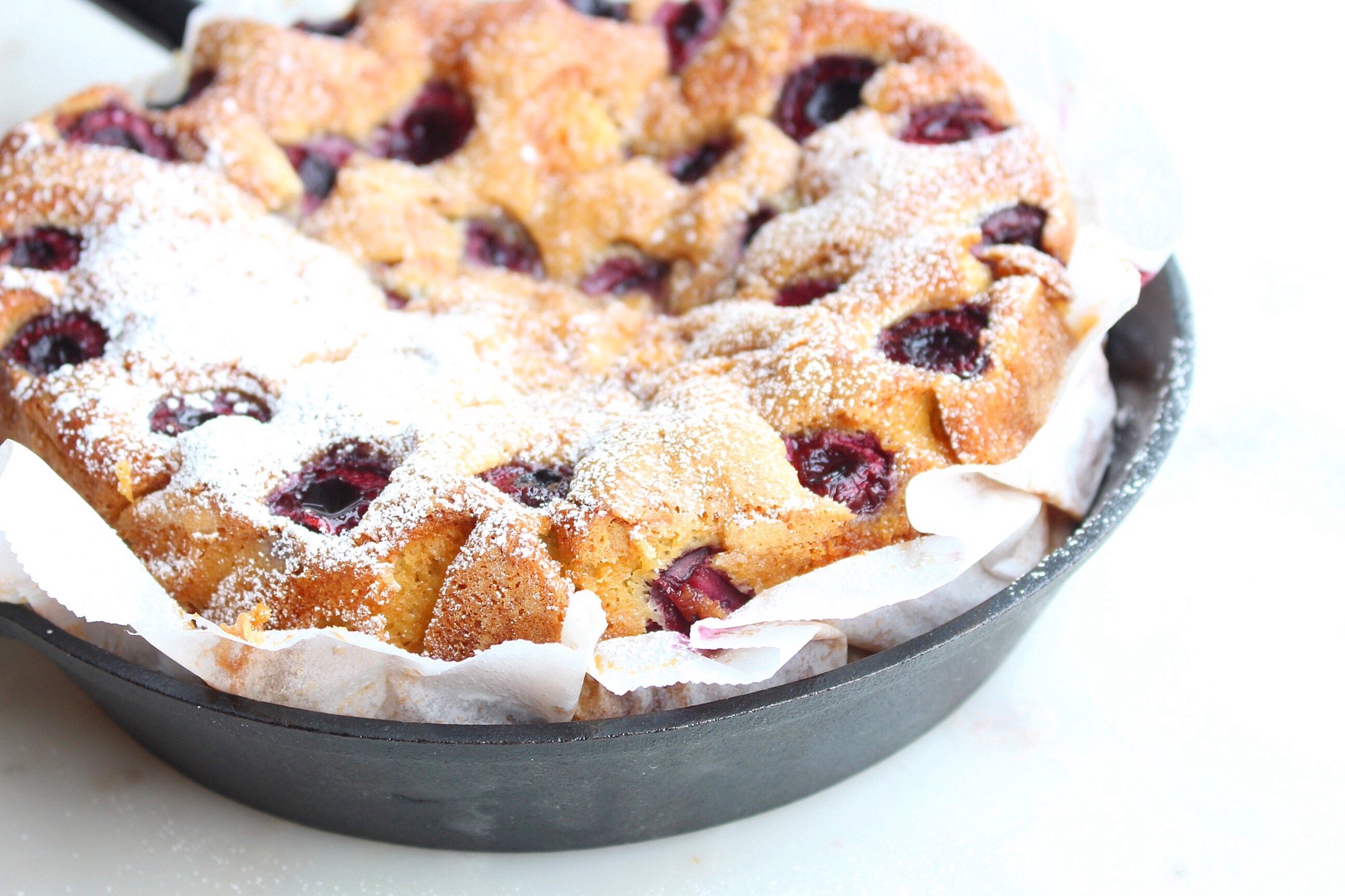 Alright I'm officially done talking this cake up, because you pretty much just need to bake it & find out for yourself 🙂
So here is the recipe babes – try it out this weekend & I hope you enjoy <3 <3
Cherry Almond Cake
Things you need…
3/4 cup butter, softened
3/4 cup granulated sugar
1/2 cup brown sugar
3 eggs
1 tsp almond extract
1/2 tsp vanilla
3/4 cup sour cream
1 3/4 cup all purpose flour
1 tsp baking powder
1/2 tsp baking soda
1/4 tsp cinnamon
pinch of salt
1 cup cherries,(approx) pitted & halved
Icing Sugar to serve (optional )
Whipped Cream or Vanilla Ice Cream to serve (optional – but highly recommended)
How to make…
Preheat your oven to 350F degrees & grease a 10 inch cake pan with removable bottom; set aside.
In a large mixing bowl, cream together your butter & sugar with an electric mixer on high until fluffy. Add in the eggs one at a time, beating well between each addition. Scrape down the sides of your bowl and add in the almond extract & vanilla; beat until combined & batter is pale and fluffy.
In a small bowl, whisk together flour, baking powder, baking soda, salt & cinnamon. Add in 1/2 of the flour mixture to your batter and beat on low until just combined. Add in your sour cream and beat on low to just combine. Add in remaining flour and beat until smooth.
Pour batter into prepared cake pan, and use a spatula to smooth to the outer edges of the pan. Starting in the middle, begin placing the cherries, cut side up, on the top of your cake. Once the cherries are arranged, sprinkle your cake with a bit of sugar and place in the center of your oven to bake for 50-55 minutes or until the top is golden and the center is firm.
Remove from the oven and allow to cool. Dust with icing sugar to serve & enjoy!
Happy Baking! <3 <3
KP xoxo