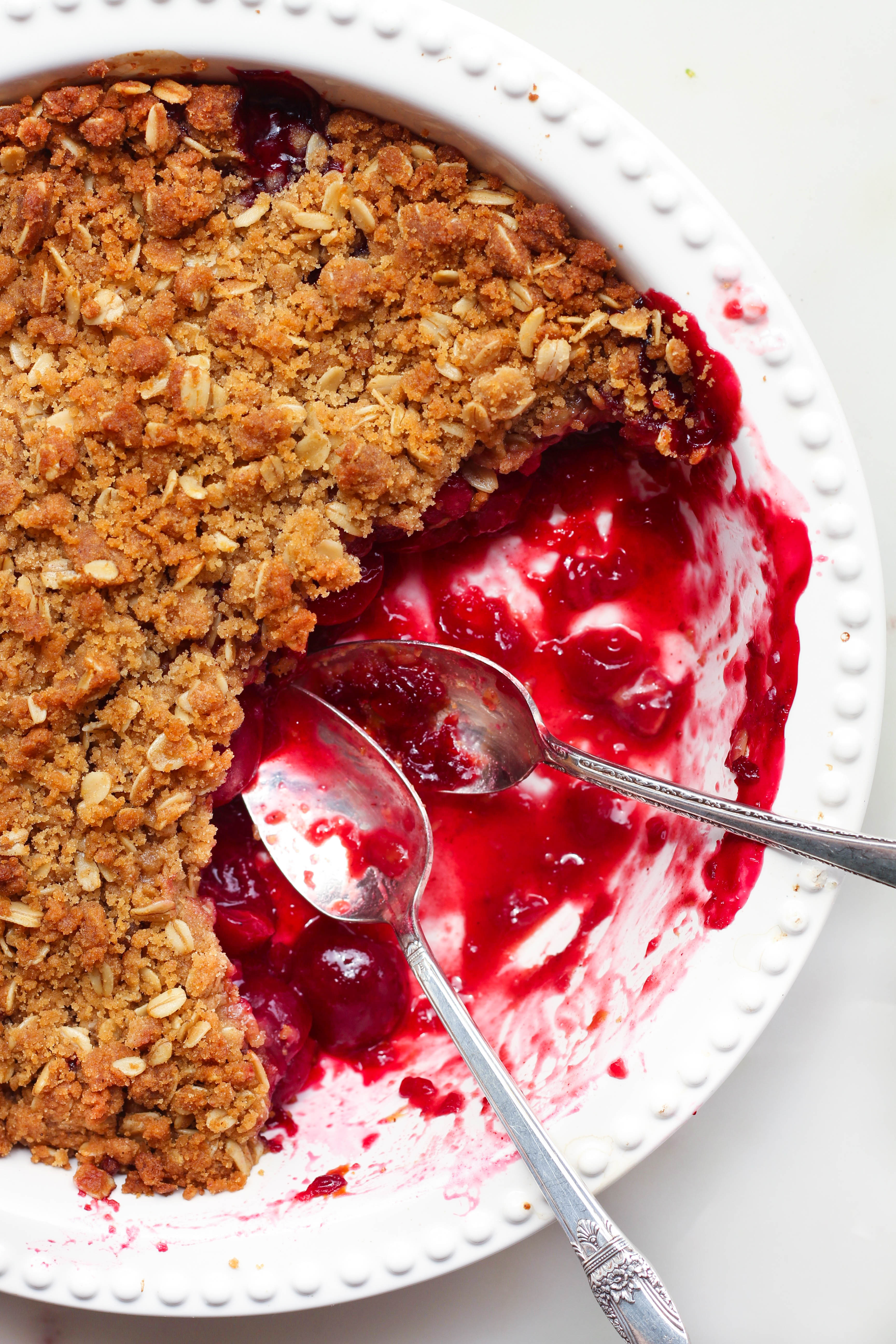 It's cherry season!!! Who else is just wayyyy too excited about this? Has anybody had the chance to go cherry picking yet? I haven't yet, but I have been grabbing fresh local cherries from the market every time I see them. I just can't get enough.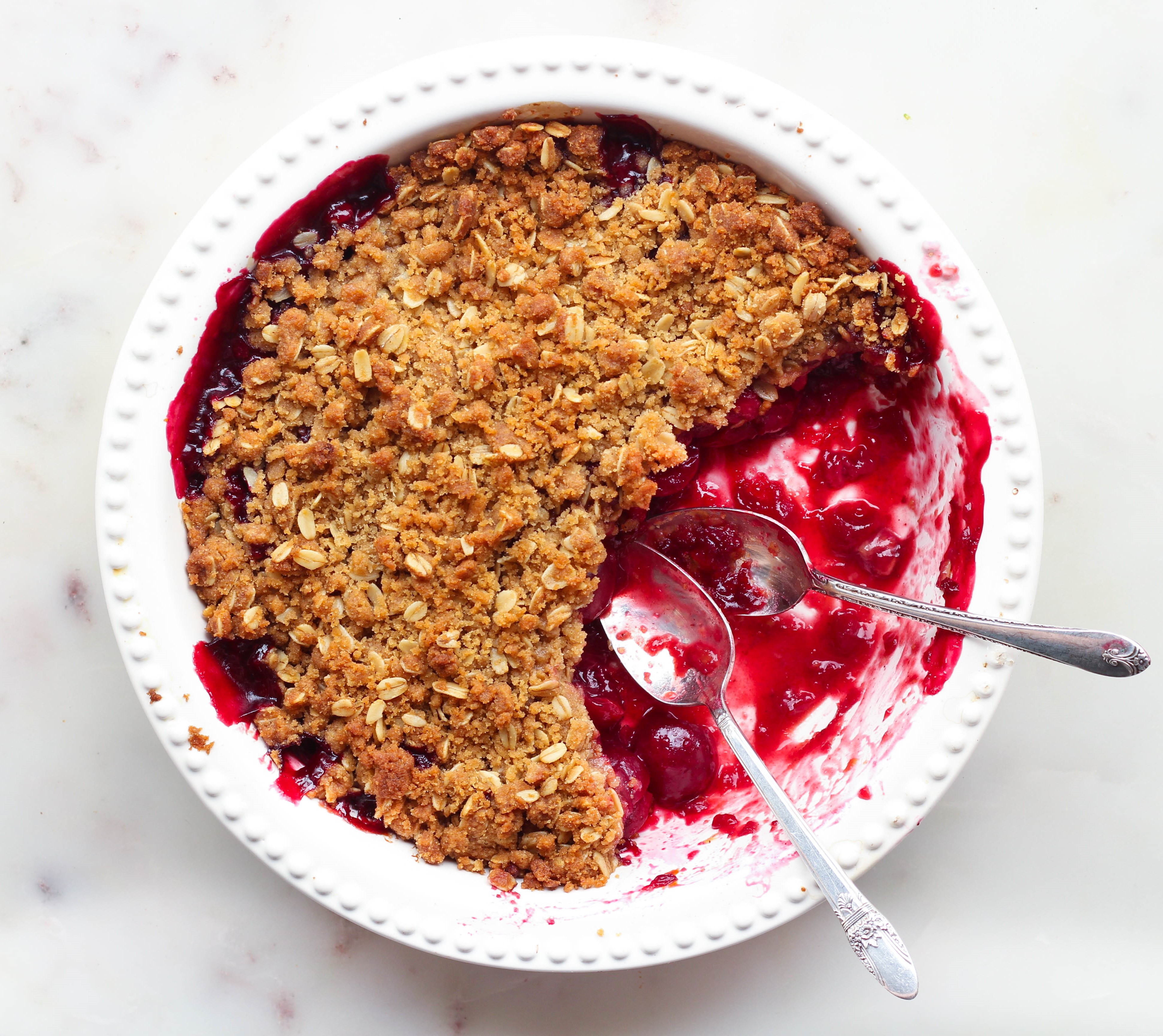 Cherries are one of my favourite Summer tree fruits to bake with, and are definitely my favourite fruit to eat straight from the market. Truth be told, I love them so much that I usually devour every last one before I even have the chance to bake with them.
So the last time I went to the market I made sure to pick up more cherries than any one human being could possibly consume and decided that a cherry crisp was in order.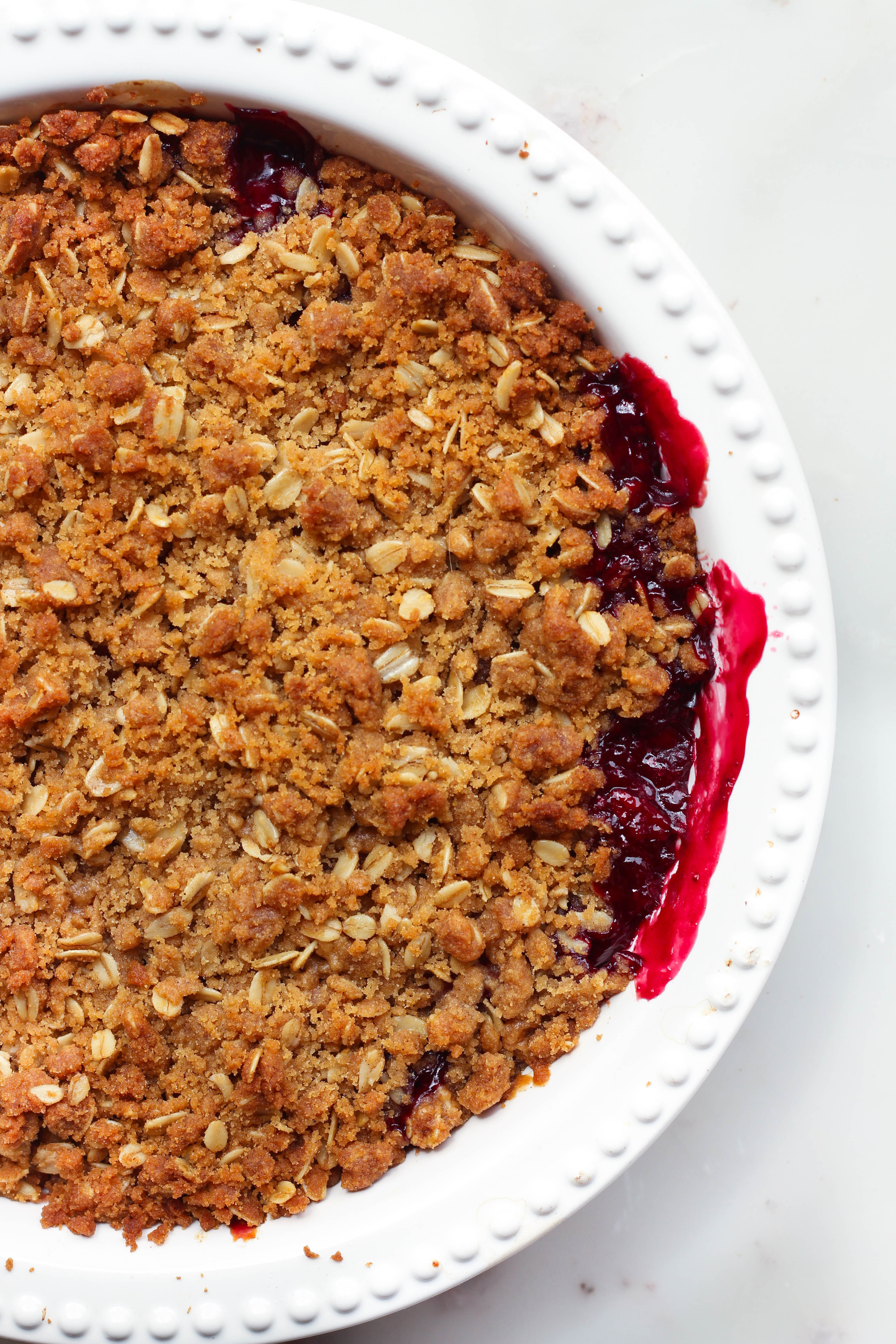 If you are looking for a quick & easy Summer dessert; Crisps are a perfect no-fuss way to use up fresh Summer fruits. They require no special equipment, you can have it oven ready in minutes, and you can basically eat it straight from the oven.
I can't count how many times I have quickly thrown a crisp in the oven before a family dinner when I am strapped for time, only to have it turn out to be just about the best thing ever hot from the oven with a scoop of vanilla ice cream. Dessert doesn't get much easier and delicious than that.
To be completely honest I usually totally wing my crisps. I usually adjust the sugar depending on the sweetness of the fruit and add in little pops of spice or liqueur depending on what I am craving that day.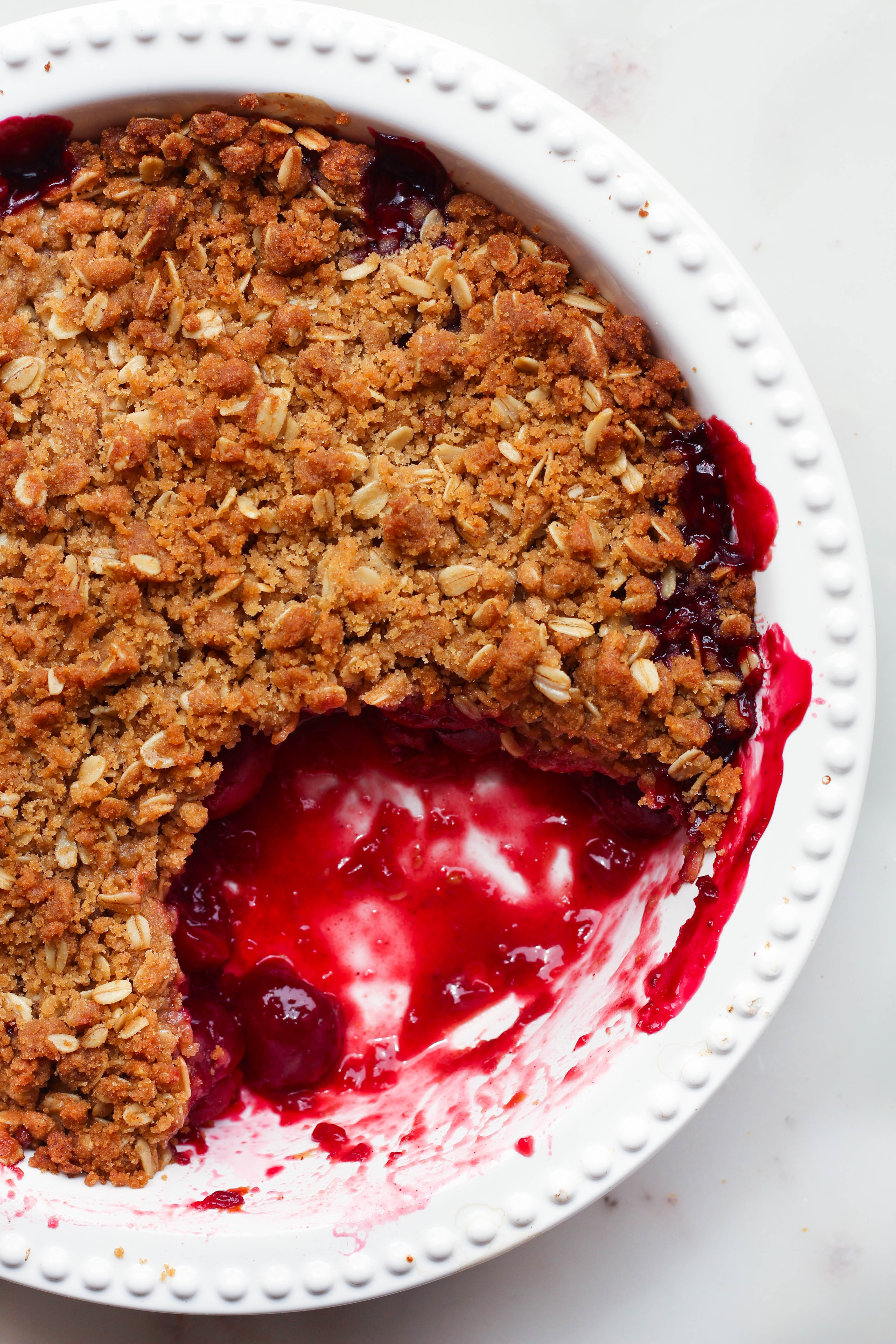 The day I made this crumble was a bit of a gloomy summer morning and I was craving a bit of comfort and spice. I added a bit of cinnamon and ginger to my filling and fell in love with the flavour combo, so I just had to share it with you all.
I hope you all get out and do some cherry picking this weekend and use some of your bounty to whip up this easy cherry crisp!
Happy cherry baking!
KP xoxo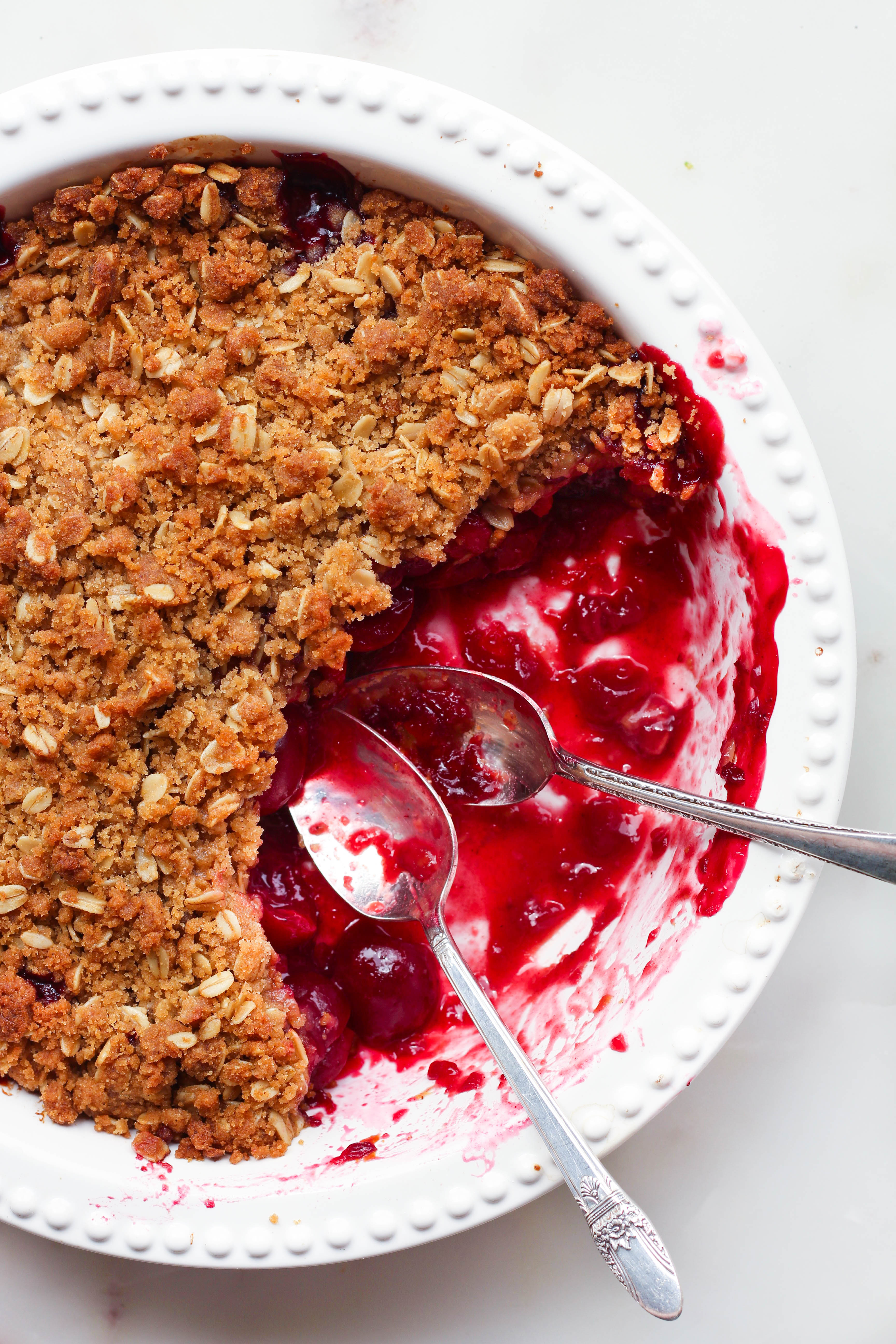 Cherry Crisp
Things you need…
Filling
3 heaping cups fresh cherries, pitted
1 heaping cup fresh strawberries, sliced
1 tbsp lemon juice
1/4 cup brown sugar
1/2 tsp cinnamon
1/8 tsp ginger
1/8 tsp nutmeg
1/2 tsp vanilla
1 1/2 tbsp cornstarch
Crisp
1/2 cup rolled oats
2/3 cup all purpose flour
1/2 cup brown sugar
3/4 tsp cinnamon
pinch of salt
1/3 cup room temp butter, cut into cubes
How to make…
Preheat oven to 350F degrees and grease a pie dish with butter.
Filling
In a large bowl, toss all of the ingredients for the filling together until everything is evenly coated. Set aside. Pour into prepared pie dish.
Crisp
In a medium bowl, whisk together flour, brown sugar, oats, salt and cinnamon until combined. Add in the cubes of butter and begin to work the butter into the flour mixture by rubbing it in between your fingers until the butter is worked in and crumbly mixture forms. Sprinkle over top of the cherry filling.
Bake in the bottom third of your oven for about 35-40 minutes or until the crisp topping is golden and the cherry filling is bubbling around the edges.
Serve warm with a scoop of vanilla ice cream or whipped cream. Enjoy!