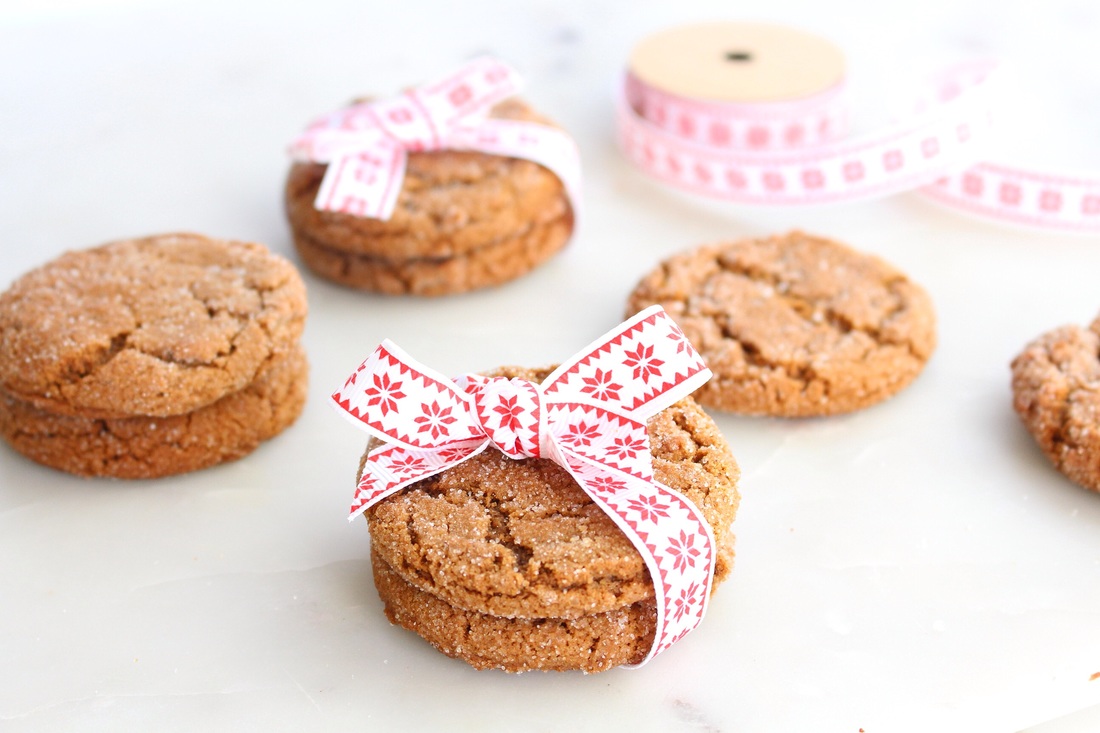 I'm not sure if there is anything better than receiving a cookie gram as a Christmas gift from a friend.
When in doubt about what to give my lovely friends for Christmas, homemade cookies are always my go to gift. Not only because cookies look adorable as sin when they are stacked and wrapped up with a little Christmas ribbon, but also because they are just little bundles of homemade deliciousness that I know everybody is sure to love.
Oh and did I mention that this little gift is completely budget friendly? So even if you are like me and made a pact with your friends not to spend any money on each other for Christmas…. little packages of cookies like these are totally a-okay (says me) 😀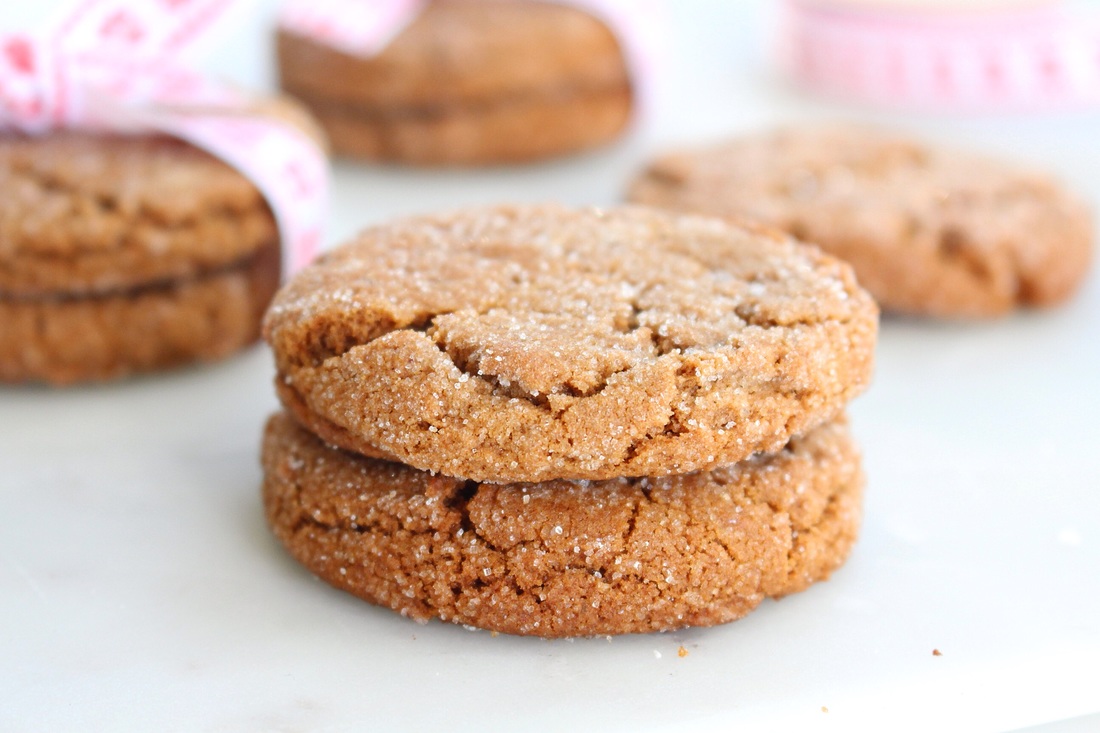 So if you are trying to think of last minute presents (without breaking the bank.)for your friends, family or hostess, why not try whipping up a batch of cookies to spread a little holiday cheer?
My favourite recipe to use when creating little cookie gram packages, is my recipe for Chewy Ginger Molasses Cookies. This is a completely fool proof recipe that comes out absolutely perfect every time. Not only are these cookies perfectly spiced and amazingly chewy, but they also have the most adorable crackly tops (which make them all the more pretty if you package them up)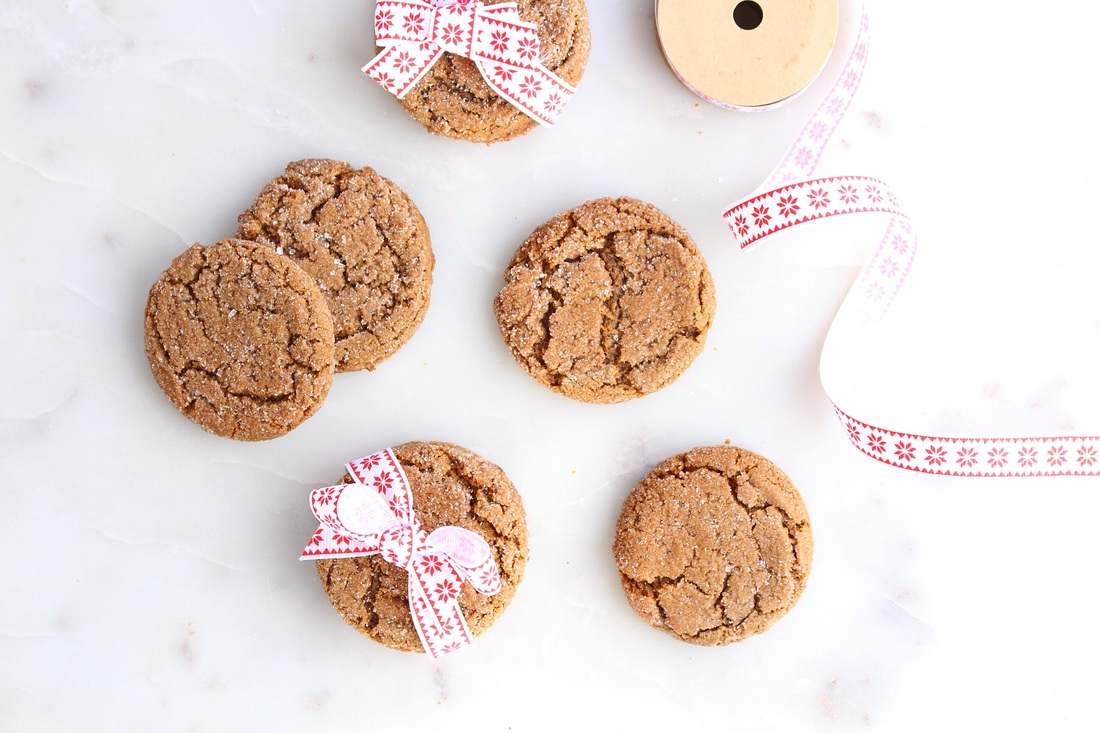 Now let me preface this recipe by saying that I am a girl who likes her ginger cookies nice and chewy with a nice, subtle balance of spice. Simply put – Although I love ginger, I prefer not to bite into a ginger cookie and as though I now have a mouth full of ginger root. So these cookies have a nice mild ginger flavour that is enhanced by the complimenting spices of cinnamon, nutmeg and cloves.
Additionally you might notice the little addition of cocoa powder to this recipe…. Now before you go thinking that I have made a mistake in the recipe ingredients – let me explain. Cocoa and ginger go swimmingly together…… okay so that wasn't much of an explanation but I swear its all you need ;D Just trust me on this one. Not only will the cocoa help to keep your cookies a deep golden brown colour, but it will also make them taste incredible. You won't even be able to tell it's chocolate – you will just be in love with the flavour.
So if this sounds like a ginger cookie recipe you can get on board with… scroll down for the recipe and I hope you enjoy lovelies <3<3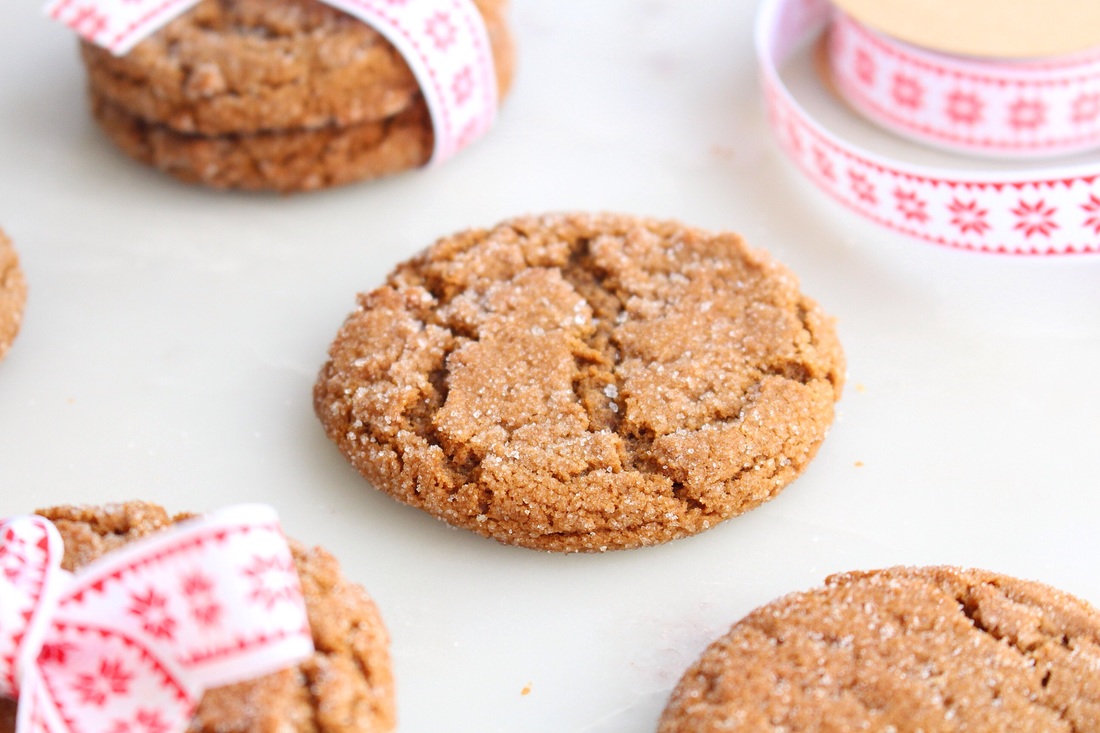 Things you need… 
3/4 cup butter, softened
1/2 cup brown sugar
1/2 cup granulated sugar
1/4 cup fancy molasses
1 egg
2 tsp vanilla
2 1/4 cup all purpose flour
1 tbsp cocoa powder
2 tsp baking soda
1 tsp ginger
1/4 tsp nutmeg
1 tsp cinnamon
1/8  tsp cloves
1/2 tsp salt
1/2 cup granulated sugar (for rolling)
How to make… 
Preheat your oven to 350 degrees (convection if possible) and line 2 cookie sheets with parchment paper; Set aside.
In a large bowl, beat together butter, granulated sugar and brown sugar with an electric mixer until pale and fluffy. Beat in eggs, molasses and vanilla until just combined.
In a separate bowl, whisk together flour, cocoa powder, baking soda, ginger, nutmeg, cinnamon, cloves and salt. add in three stages to wet ingredients beating on low until well combined.
Spoon 1 tbsp of dough out onto prepared baking sheets, fitting 12 to a sheet. Roll dough balls in granulated sugar to completely coat and set back on the baking sheet.
Bake in preheated oven for 9-11 minutes or until tops are crackly, edges are golden and beginning to firm to the touch. Remove from oven and allow to cool for at least 10 minutes before serving.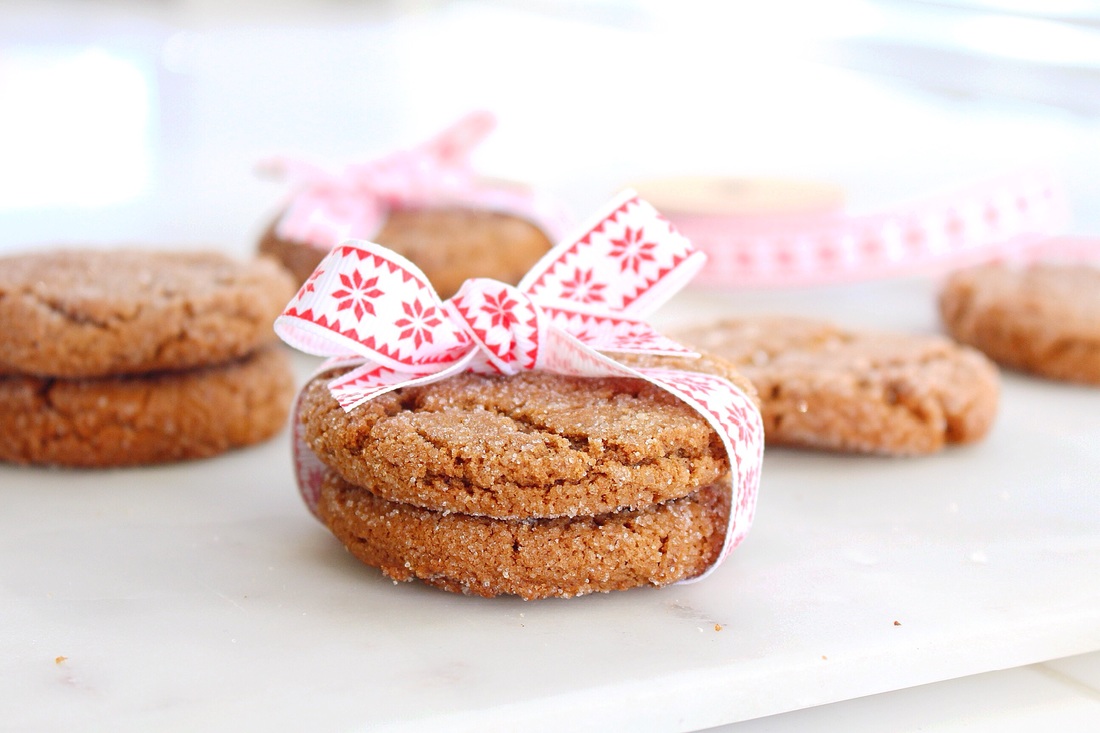 Now if you possess the will power to send these little gems away as cookie grams to your friends & loved ones, just package them up however you please. I like to keep it simple and typically just use little plastic bags that you can pick up at Michaels, and I finish them off with a little Christmas ribbon, which you can grab while you are at Michaels 😉
Thanks for popping by everybody and have a lovely weekend!
Happy Holiday Baking
​KP <3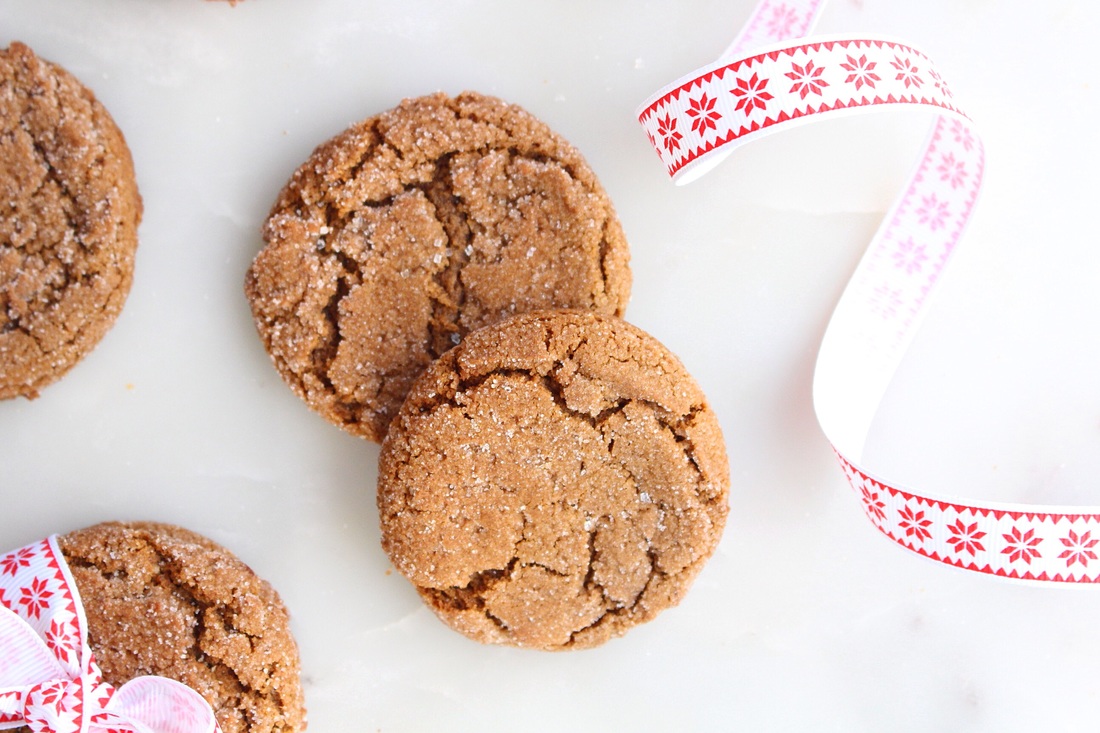 ​