Happy Friday friends!
I think we can all agree it's been a bit of a whirlwind of a week, what with the results of the American Presidential Election weighing heavy peoples shoulders.
Canadian or not, the truth is that the results have left me absolutely shaken and quite honestly a bit speechless. Being a Canadian, I can't say that I know how this must feel for all of you who were wishing with all of your hearts for a different outcome; All I can think to say is to repeat one of my favourite quotes, because I think is very fitting for today…  "There is a crack in everything. That's how the light gets in." – Leanord Cohen.
To all of my American friends who wanted a different outcome; I just want to say that I deeply feel for your feelings of confusion, sadness, frustration and even anger. You are entitled to these feelings and you should embrace them. Use them to fuel your fire to make the world a better place, because you can make a difference.
So all I hope this weekend is that we can all find a little joy in the simple things in life. Whether it be cuddling up on the couch to watch a comforting movie; basking in the beauty of the leaves as they fall from the trees; getting an unexpected hug from a loved one; or maybe just baking a simple batch of cookies. Because let's face it –  Sometimes you just need a good cookie – amiright?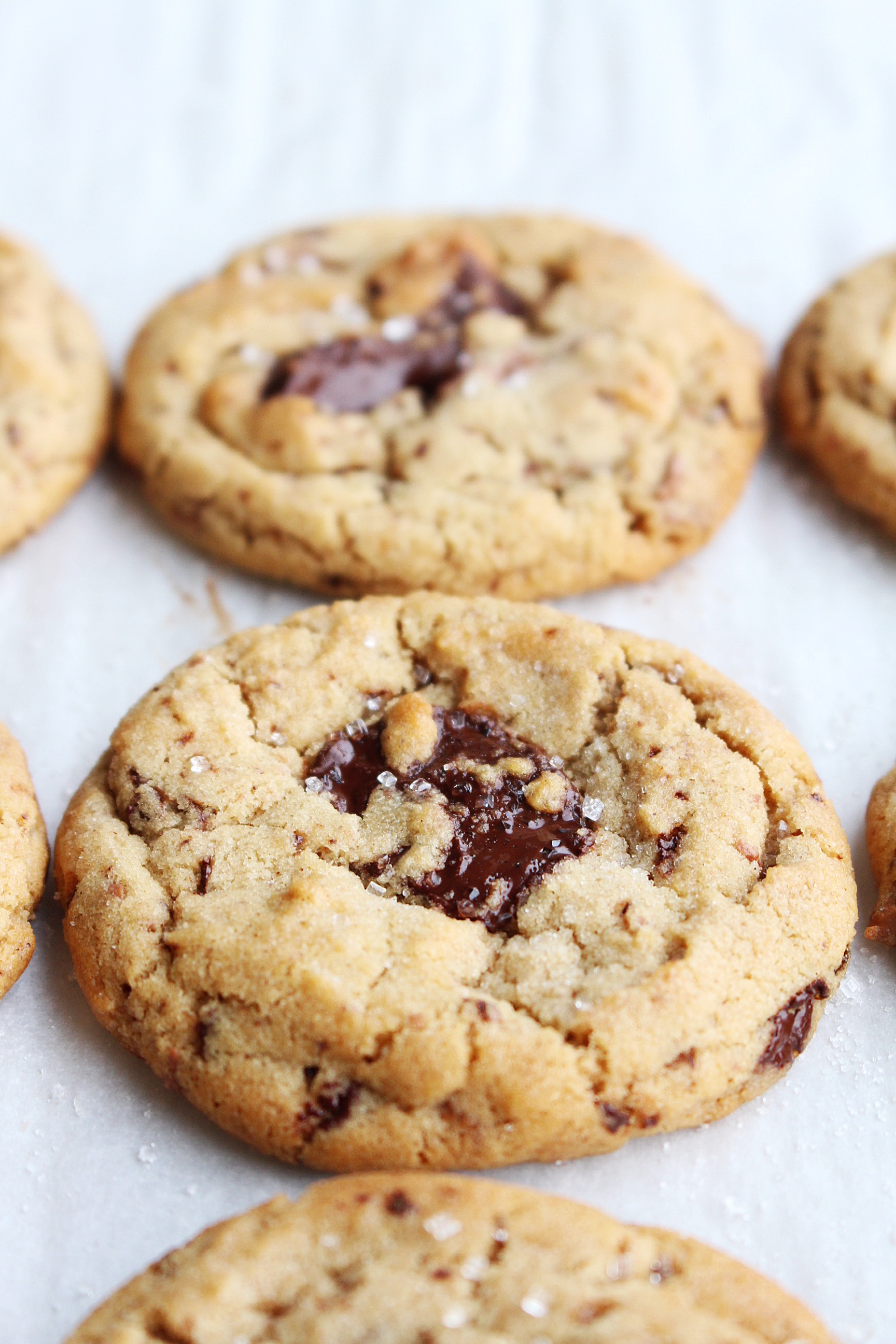 In times of uncertainty, you can always find me in my kitchen with my recipe books in a mess across the counter, with the oven on, my mixer running, a spatula in one hand and ingredients for me to snack on in the other. So needless to say that is where you will find me this weekend. And this weekend – I'll be bakin' cookies! These Chewy Peanut Butter Chocolate Chunk Cookies to be more precise – because they are the bomb & so simple to make.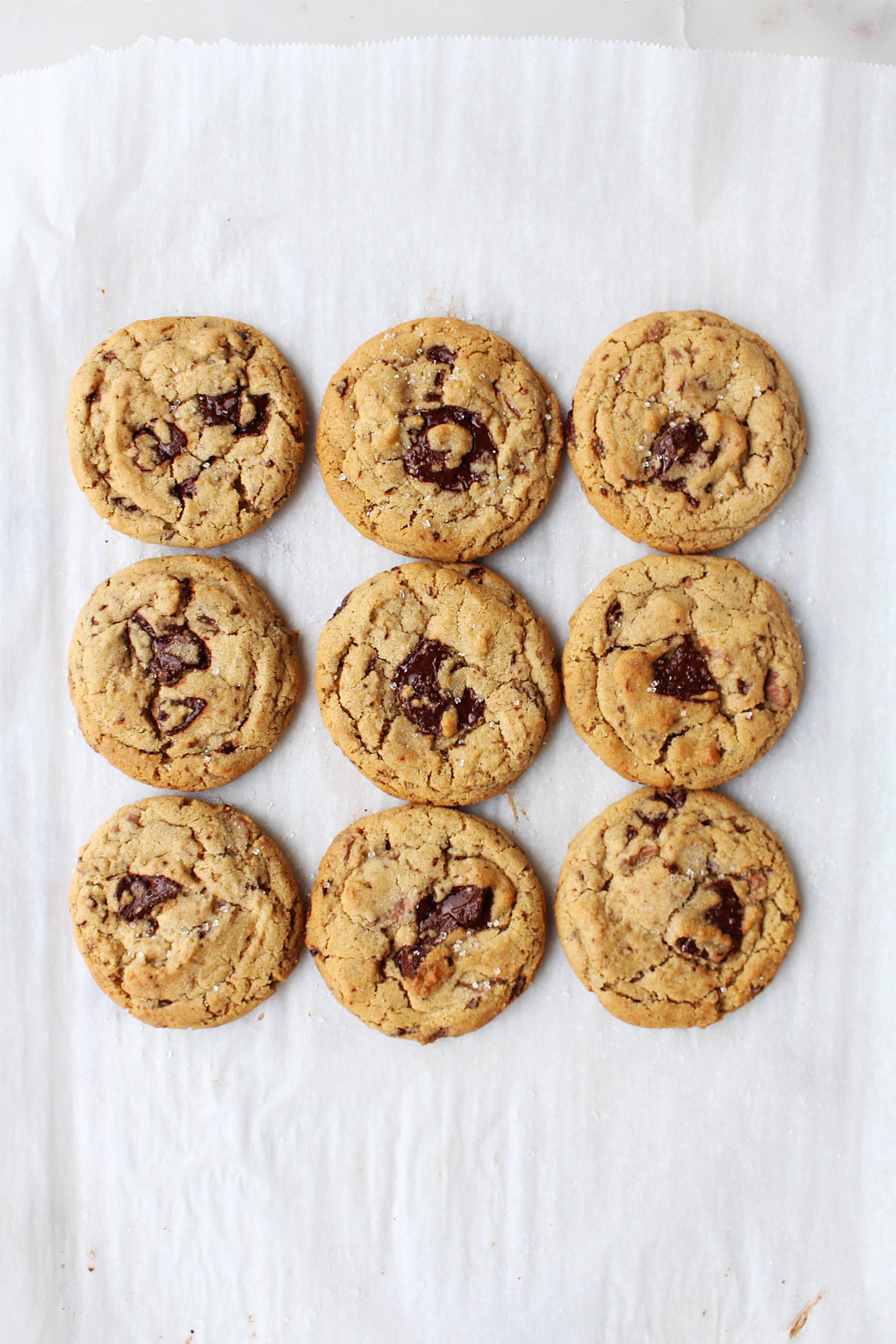 I absolutely adore this recipe because the cookies have just the perfect harmony of flavours. You get the flavour of peanut butter coming through, without it being overwhelming – and let's face it, when you pair peanut butter with dark and milk chocolate…. you just can't go wrong. There is a hint of cinnamon in this recipe that pairs with the peanut butter and the chocolate amazingly & the cookies have the perfect chewy center with crisp golden edges that are just downright irresistible.
Not to mention these cookies always come out with the most gorgeous crinkly, crackle tops you ever did see; And being that I am a girl who likes to eat with her eyes, you just know this little detail gets me ridiculously over-excited.
So scroll down for the recipe & bake up some cookie joy this weekend lovelies. Happy baking!
KP xoxo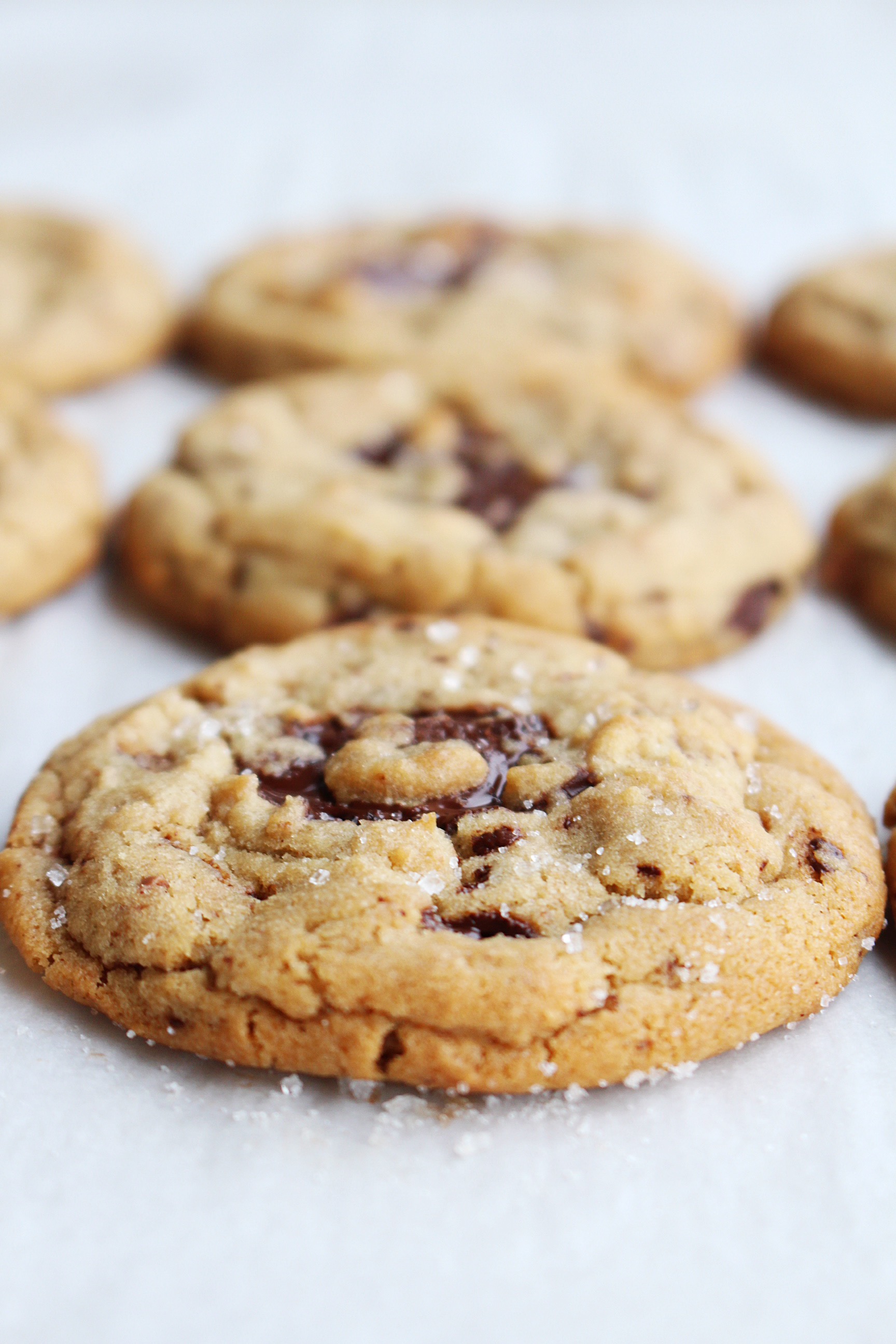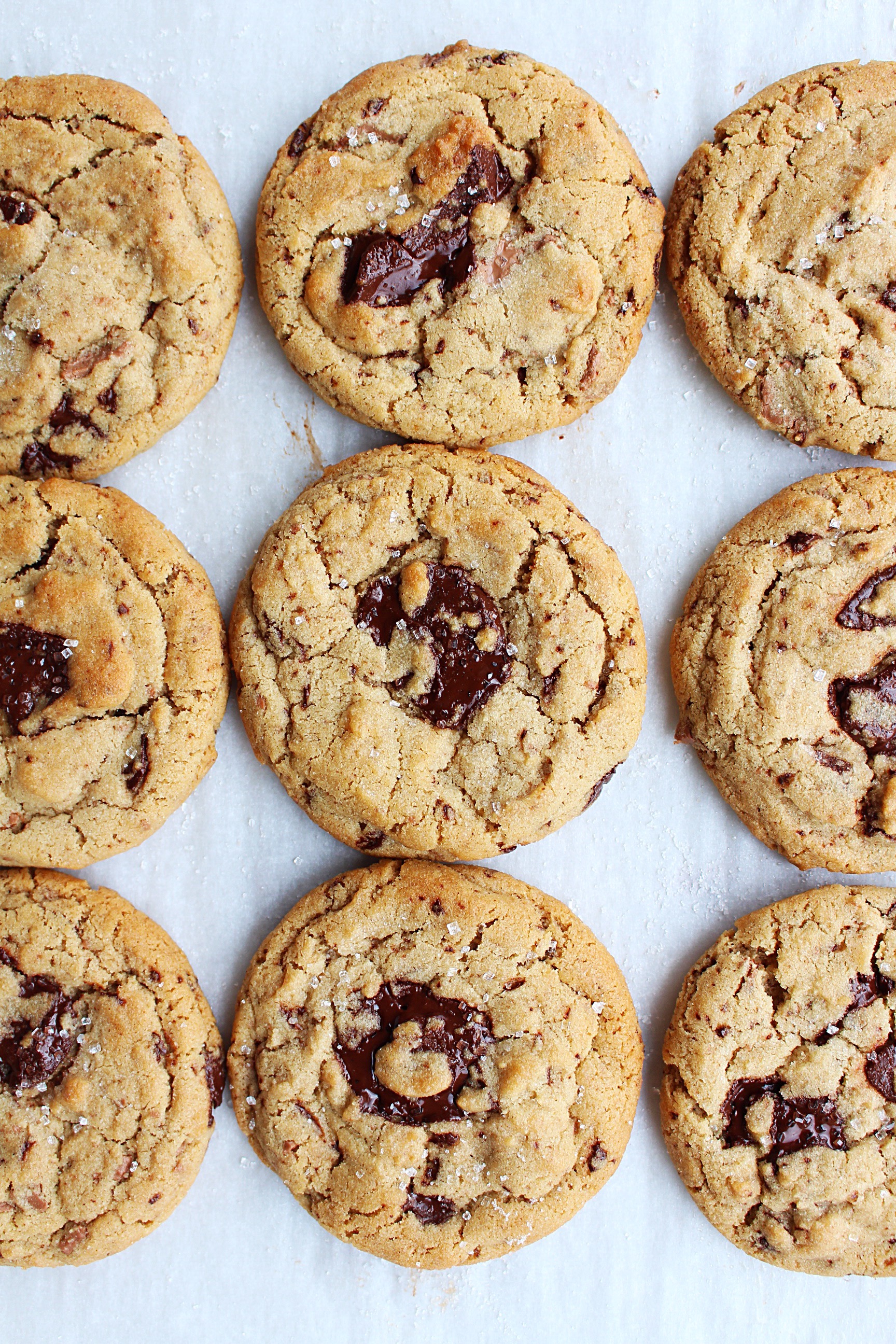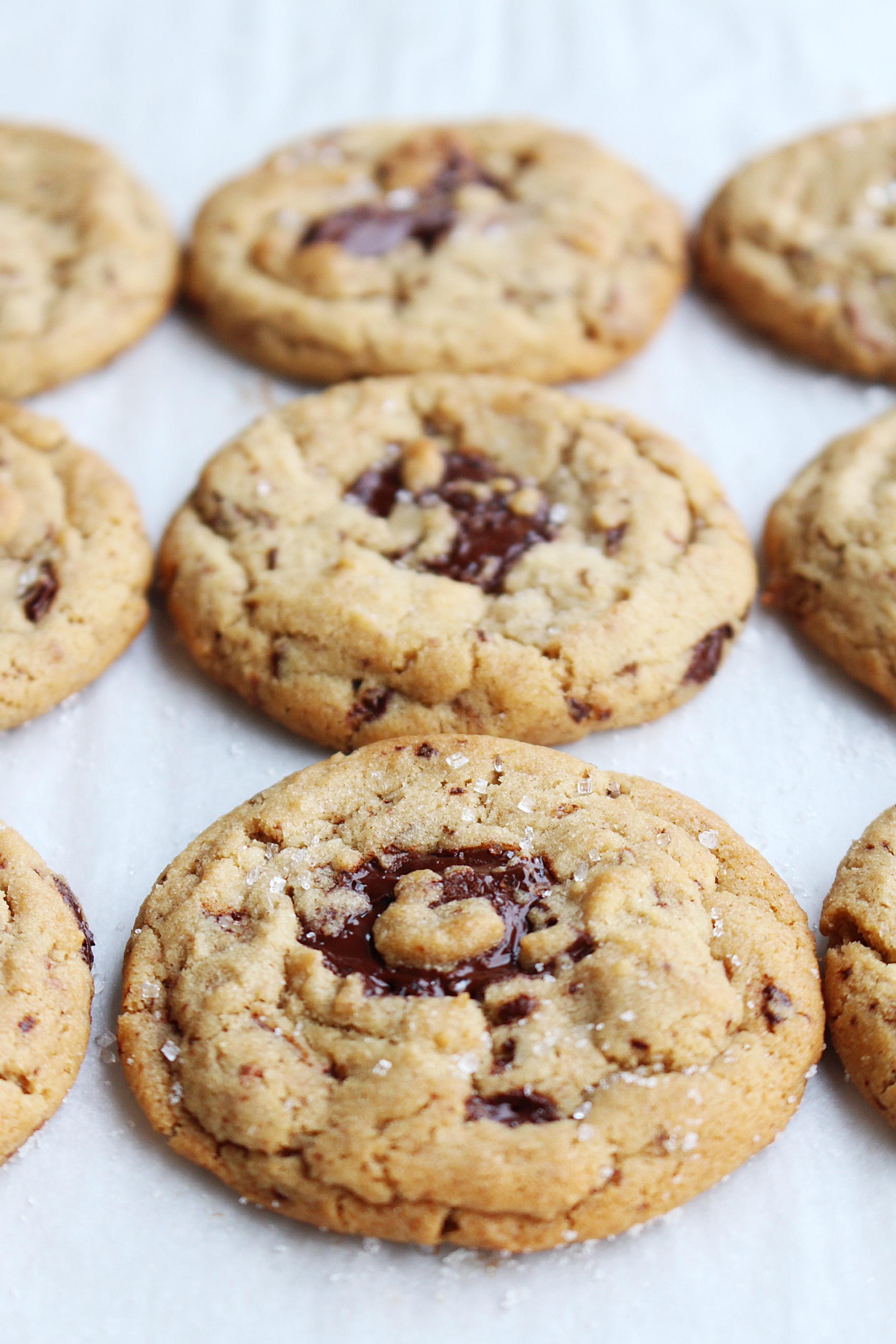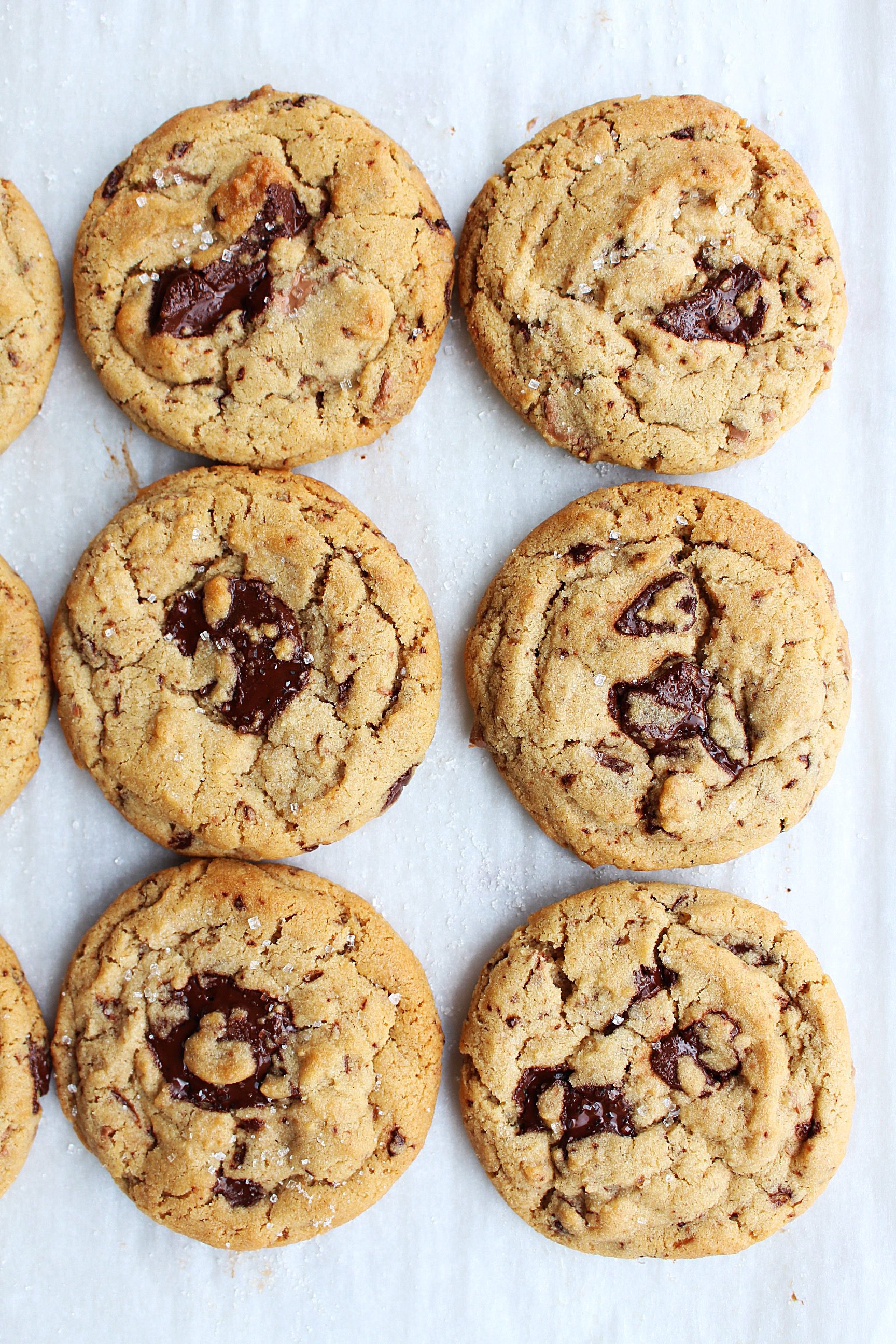 Chewy Peanut Butter Chocolate Chunk Cookies
Things you need…
1 cup butter, softened
2/3 cup peanut butter
1 1/2 dark brown sugar
1/2 cup granulated sugar
2 tsp vanilla
2 eggs
2 1/2 cups all purpose flour
1 tsp baking soda
1 tsp baking powder
1 tsp cornstarch
3/4 tsp cinnamon
1/4 tsp salt
1 cup milk chocolate, chopped
1 cup dark chocolate, chopped
How to make…
Preheat your oven to 350 degrees (convection if possible) and line a couple cookie pans with parchment paper  – depending on how much of the cookie dough you want to bake off right away.
In the bowl of a stand mixer fitted with the paddle attachment, cream together the butter and peanut butter until creamy. Mix in the dark brown sugar and granulated sugar; beat until pale and fluffy. Scrape down the sides of the bowl add the eggs and vanilla beat until fluffy.
In a small bowl, whisk together flours, baking soda, baking powder, corn starch, cinnamon and salt. Add in two additions to the wet ingredients, beating on low speed until completely combined. The batter may seem a bit soft, but don't worry – this is what you want. Add in the milk and dark chocolate chunks; mix on low until evenly distributed.
Using a cookie scoop or two teaspoons, scoop your batter out into about 1 tbsp portions out onto your baking sheets leaving about 2 inches between each cookie. I usually put no more than 12 onto each tray. Set your cookie sheets in the freezer for a quick 15 minutes to set up a bit – If you have the time. If not then just proceed to baking them.  I just find that setting them in the freezer for a few minutes helps to give them those gorgeous crackly tops.
Sprinkle the tops with some coarse sugar, and set in the center rack of your oven to bake  for about 10-12 minutes or until the tops are beginning to crackle and the edges are golden brown.
Remove from the oven and allow to cool for at least five minutes before digging in… that is if you can…. 😀
Happy cookie baking!