I strongly believe that life is just better with chocolate cake…
Even if you are having on of those hellish days that doesn't even seem like it could be real; I firmly believe that a good chocolate cake has the power to turn even the worst of days around. Because at the end of the day, there really is nothing like slicing into a moist chocolate cake en-robed in silky, fudgey frosting.
Such are the moments that I daydream about…

This chocolate cake was no accident. I made it for one purpose only; to cheer myself up, and it worked like a charm. I'm not ashamed to admit I get my kicks from chocolate cake. I could feel myself growing stronger and happier with each and every bite.
What can I say? Sometimes you just need chocolate cake.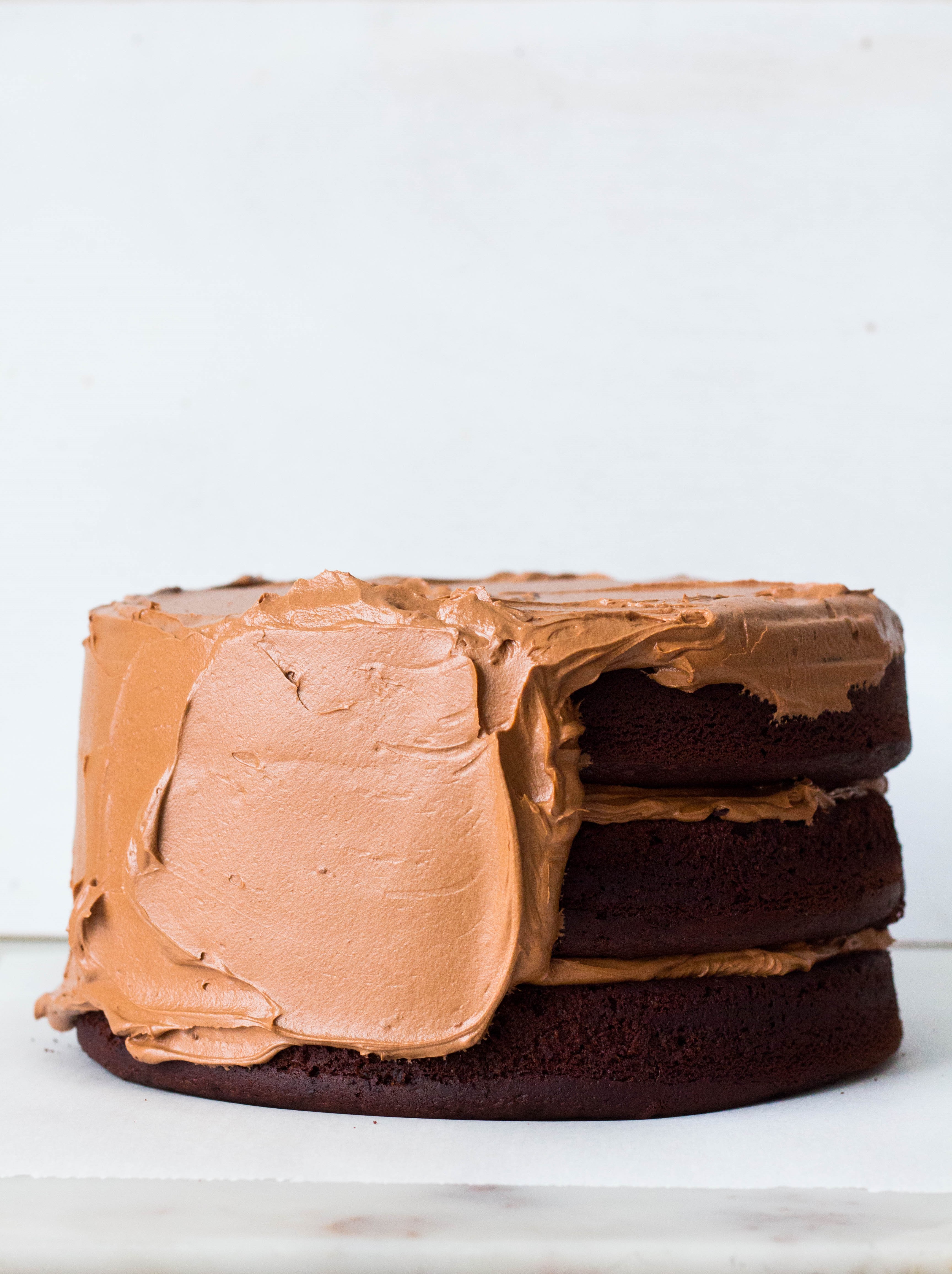 This the buttermilk makes this cake is ridiculously moist and as for that fudge frosting… let's just say that given the opportunity, I would happily swim in a vat of it. No hesitation.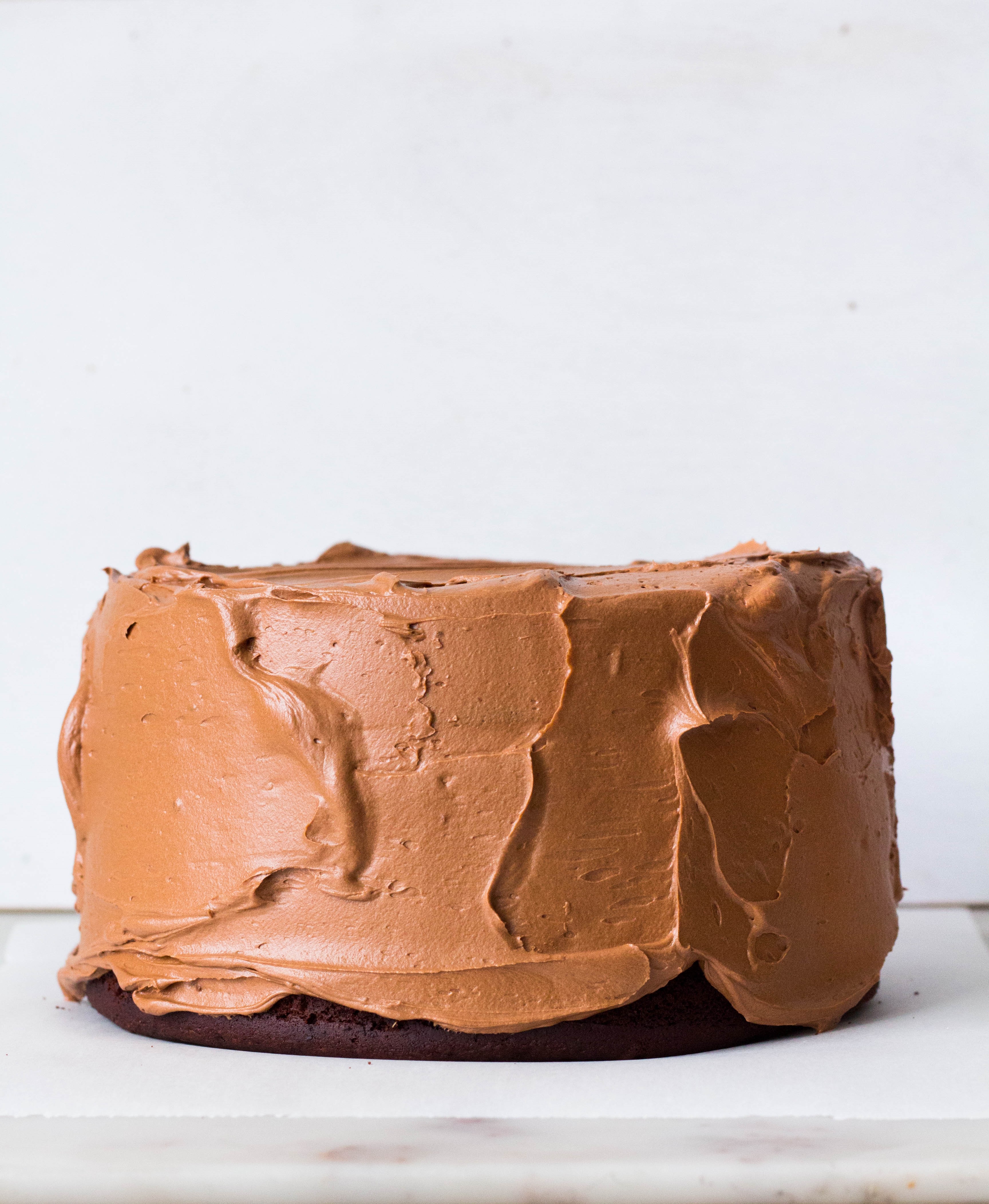 There is a hint of almond in the cake, but not overwhelmingly so. I sometimes find almond extract can be a touch overpowering,so I tend to aim for a more subtle flavour.  However, if you love almond, you could certainly up the anti with a heavier dosage of almond extract.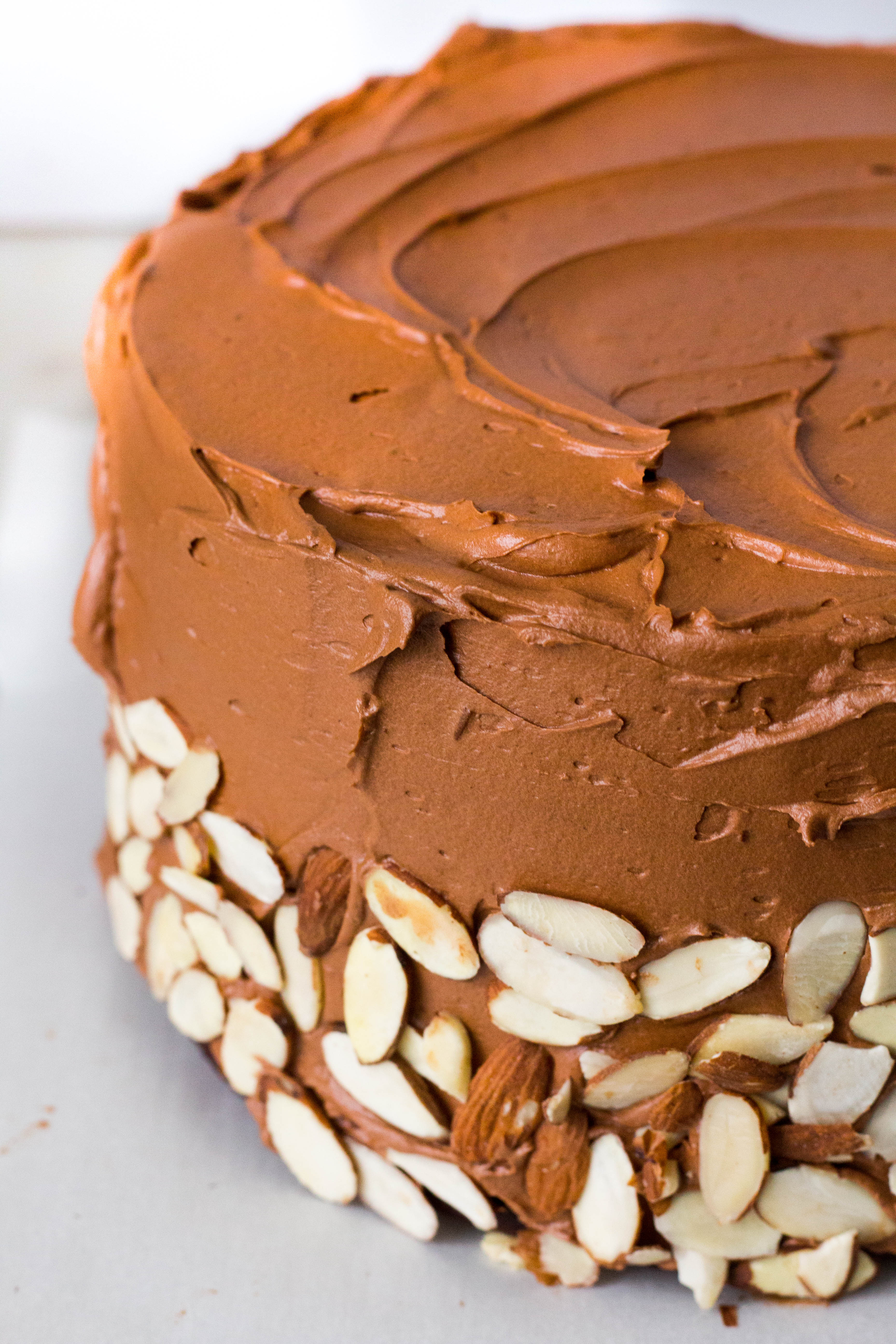 This cake is three layers of chocolate decadence, so it is perfect for a celebration. Invite it to your next party and you will not be disappointed.
Happy baking!
KP xoxo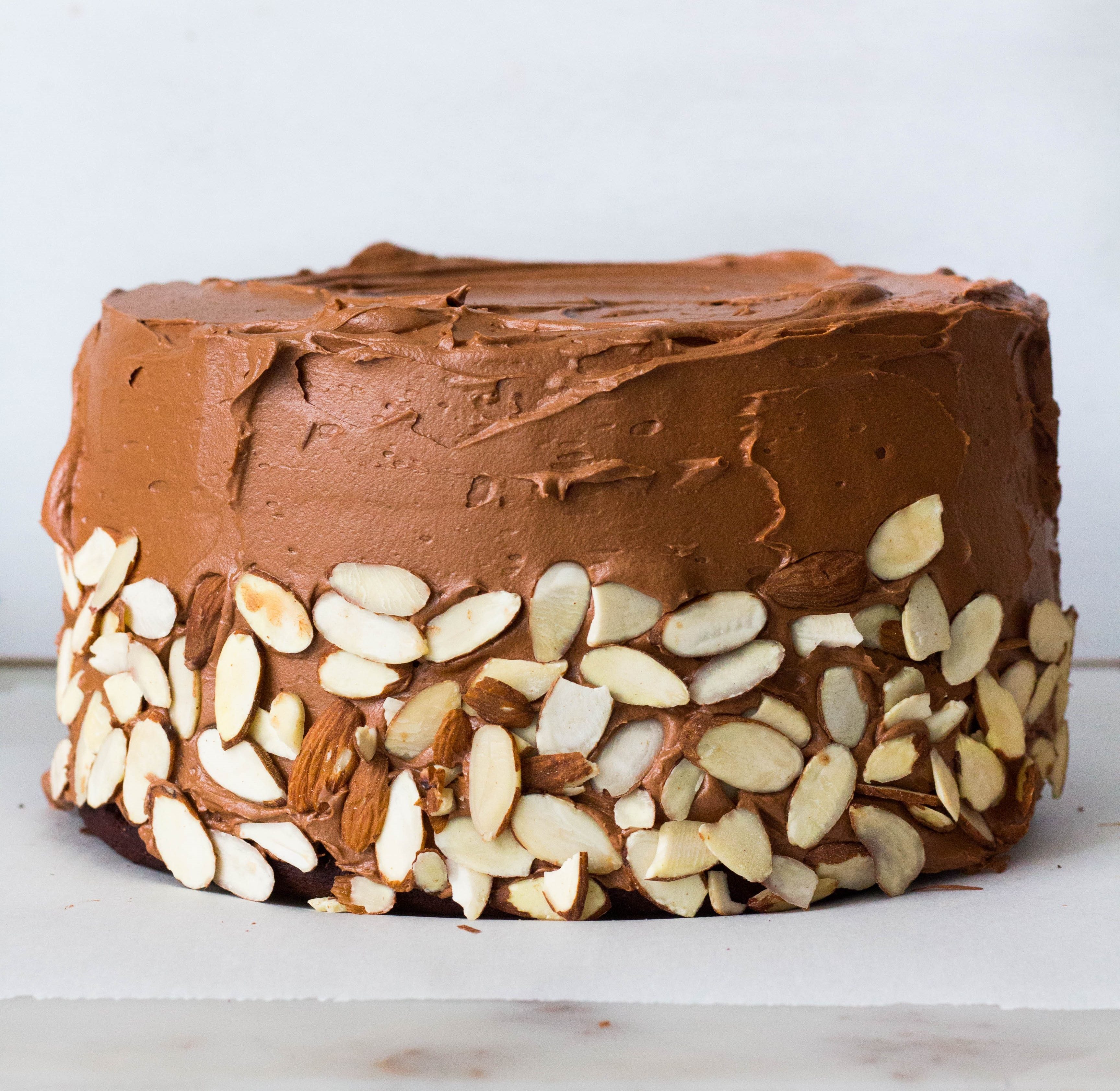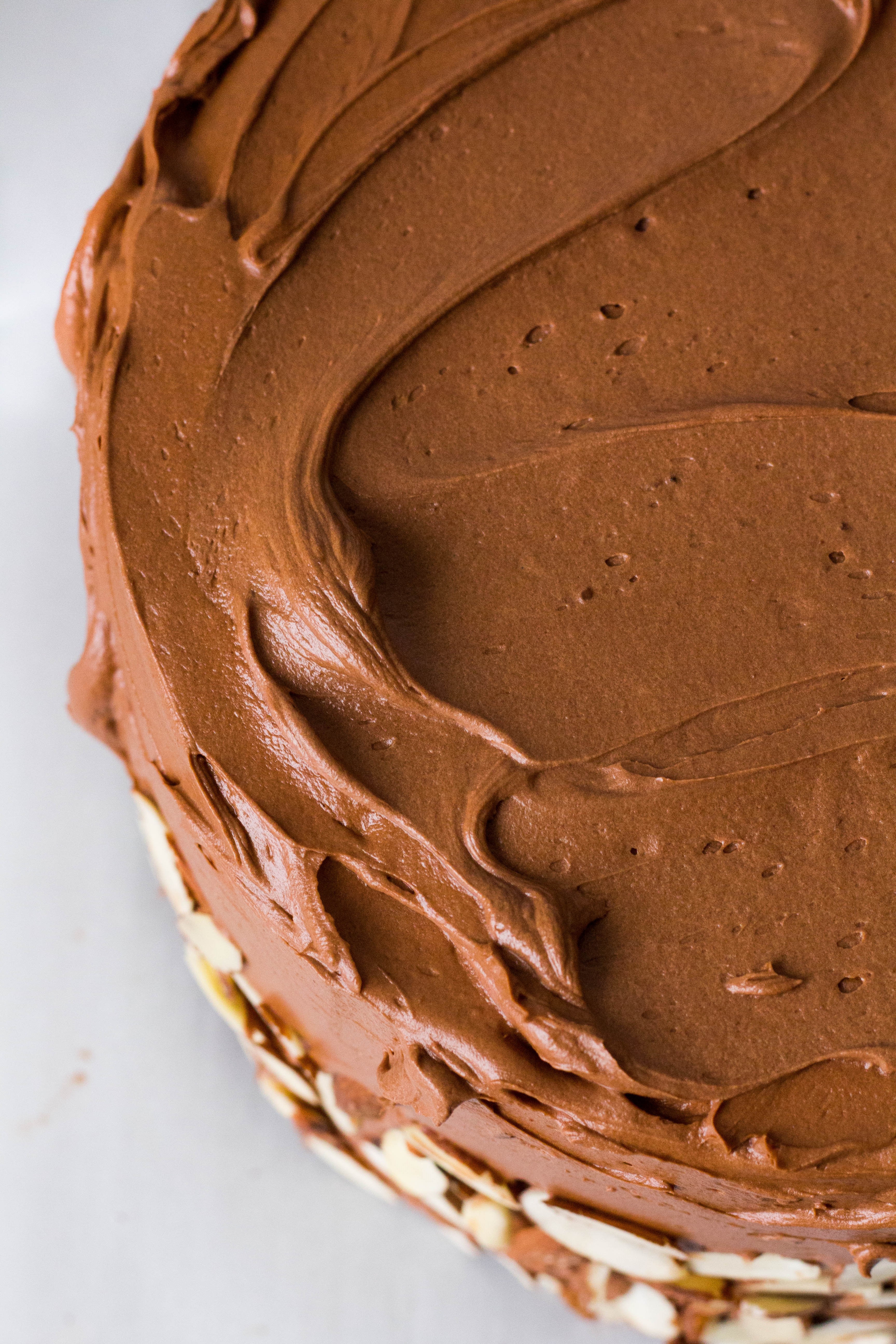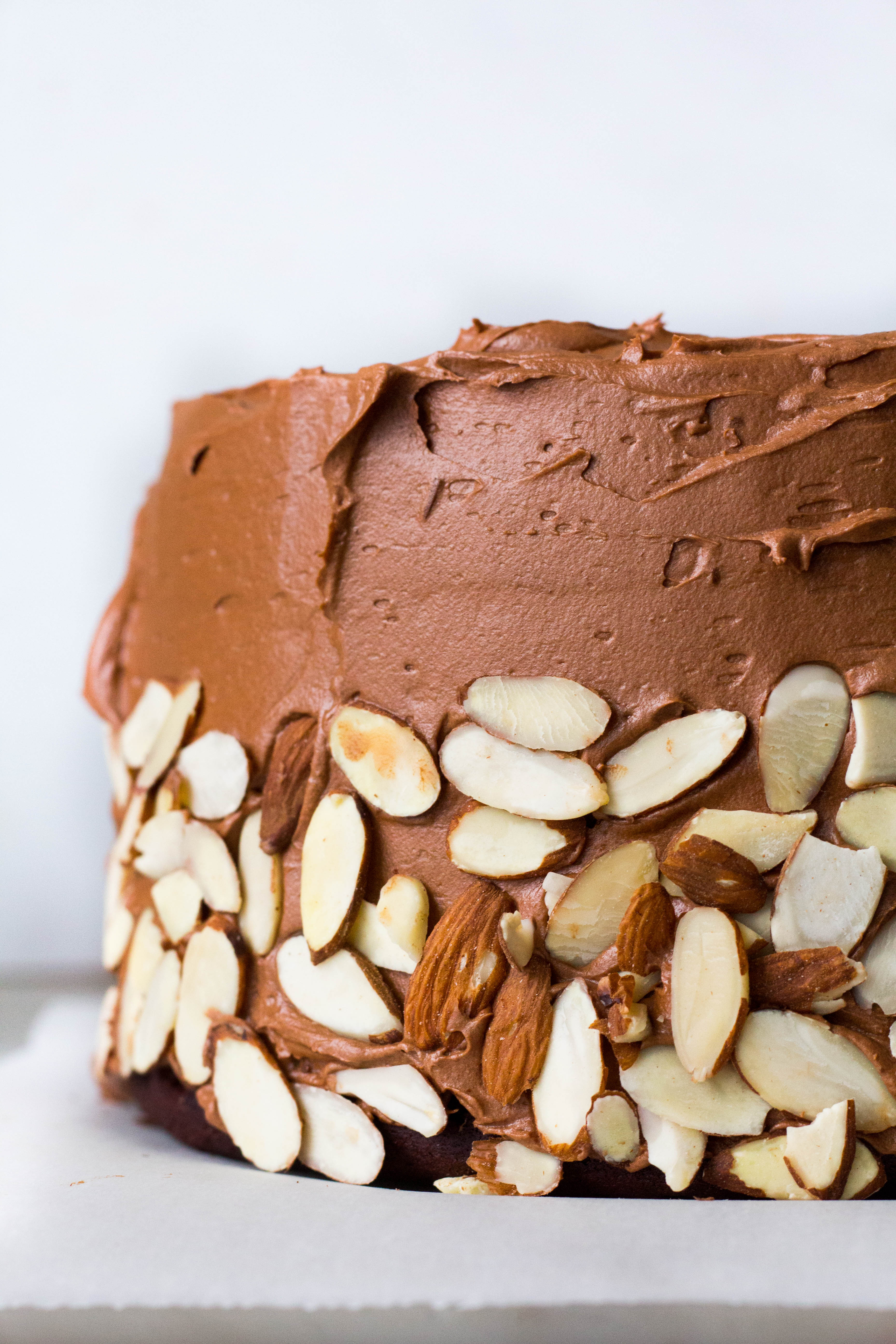 Buttermilk Chocolate Almond Cake with Dark Chocolate Fudge Frosting
Things you need…
Chocolate Layer Cake
1 cup unsalted butter, softened
1 cup brown sugar
1 cup granulated sugar
4 eggs, room temp
1 tsp pure vanilla extract
1/2 tsp pure almond extract (if you like a strong almond flavour, you could up this to 1 tsp)
1 cup hot coffee
1 1/2 cups buttermilk
2 cups all purpose flour 3/4 cup almond flour (I used Bob's Red Mill)
1 cup cocoa powder
2 tsp baking powder
1 tsp baking soda
1 tsp salt
Dark Chocolate Fudge Frosting
1 cup butter, softened
1 1/2 cup powdered sugar
1/2 tsp espresso powder
1 tbsp heavy cream
1 tsp vanilla
6 oz dark chocolate, melted
How to make…
Chocolate Layer Cake
Preheat oven to 350 degrees. Grease 3 8 inch round cake pans with butter and dust with cocoa powder; Set aside.
In a small mixing bowl, combine fresh coffee and cocoa powder. Whisk together until the cocoa powder is completely combined. Whisk in the buttermilk and set aside.
In a large mixing bowl, cream together butter and sugars until pale and fluffy – about 5 minutes. Add in the eggs, one at a time, being sure to scrape down the sides of the bowl after each addition. Mix in vanilla and almond extract; beat until smooth and fluffy.
In a small mixing bowl, whisk together flour, almond flour, baking soda, baking powder and salt until combined. Add 1/3 of the flour mixture to your batter and mix on low until batter comes together – scrape down the sides of the bowl. Next add in half of the coffee mixture and continue to mix on low until coming together. Scrape down the sides of the bowl and add another 1/3 of the flour mixture, followed by the remaining half of the coffee mixture. Add the final 1/3 of the flour and mix on low until batter is smooth and there are no lumps, being careful not to over mix.
Distribute batter evenly among the prepared cake pans. Bake in preheated oven for about 25-30 minutes or until the tops of the cakes spring back to the touch.
Remove from oven and allow to cool in the pans for 20 minutes before turning them out onto a wire rack and allowing to cool completely before frosting.
Chocolate Fudge Frosting
Finely chop the dark chocolate and place in a medium sized heat proof bowl. Melt in your microwave in 30 second intervals. This usually takes about 1 minute 30 seconds for me. Stir gently with a spatula until smooth. Set aside to cool to room temperature – at least 20 minutes. If you do not allow your chocolate to cool sufficiently, it will melt your frosting.
Once your chocolate is cooled, continue with frosting. Start by beating the softened butter in a large bowl for 3 minutes. Add powdered sugar, vanilla, heavy cream and espresso powder. Beat until creamy – about 2 minutes. Add in melted chocolate and beat until combined.
Assembly
Place the bottom layer of your cake (top down) onto the plate you plan to serve the cake on. Dollop about 1/3 cup of the frosting on top and spread evenly to the outer edges. Place the second layer (top down) on top of the layer of frosting and dollop another 1/3 cup of frosting on top; spread evenly to the outer edges. Place the final layer (top down) on top of the second layer of frosting. Frost the top and outer edges of the cake generously.
Garnish the bottom of the cake with toasted sliced almonds (if desired) and allow the cake to set for 15 minutes at room temperature before slicing.
Enjoy!