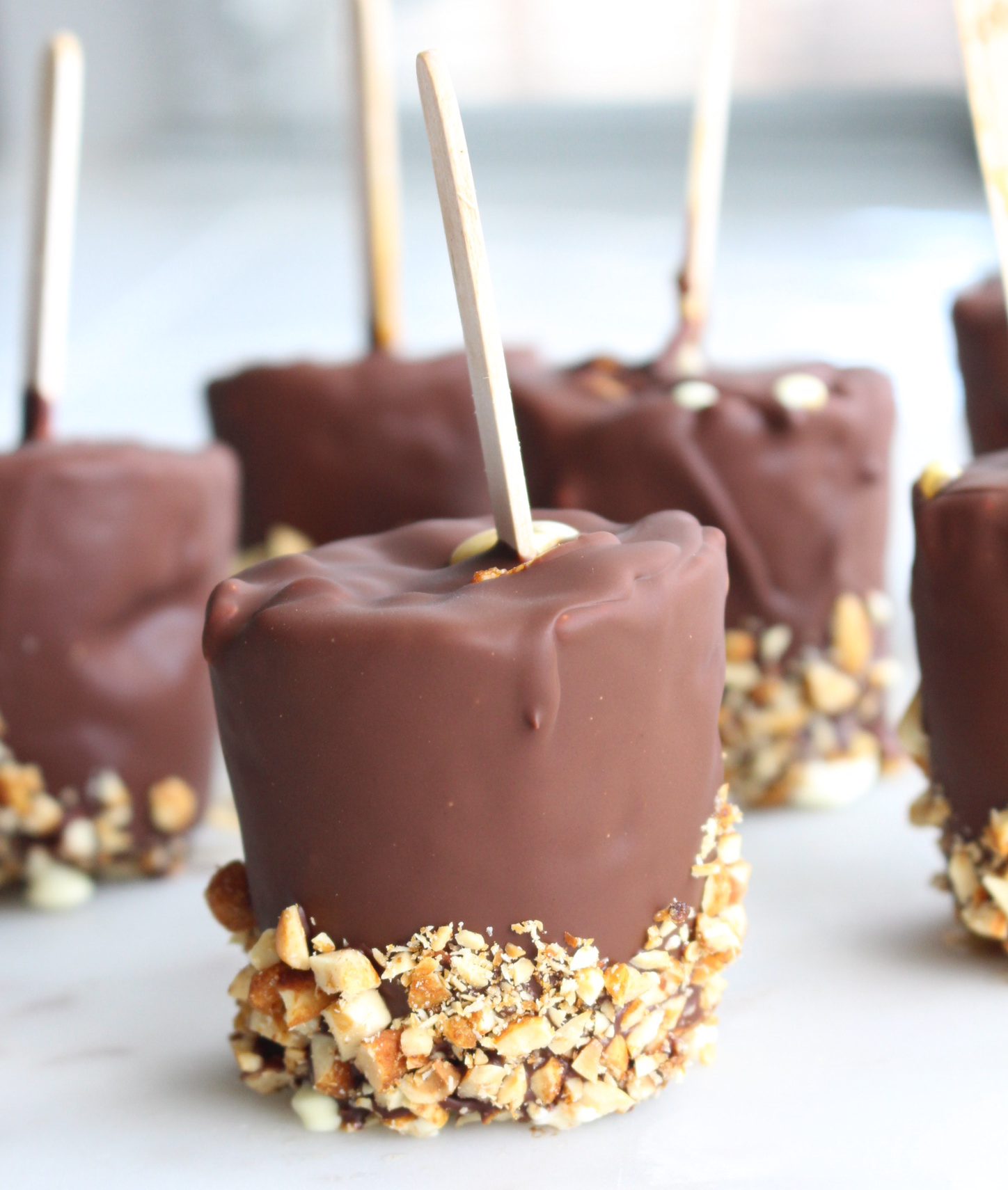 Happy Monday lovelies!
I hope you all had an awesome start to your week, but if by chance your Monday was a little lackluster thus far, then I am so glad you popped by – you know why!?  Because the recipe for these Chocolate Cake & Honey Roasted Peanut Covered Ice Cream Bars is going to change your life. For reals. So even if you had kind of a sh***y Monday, it's okay, because these homemade ice cream bars are going to make everything all better.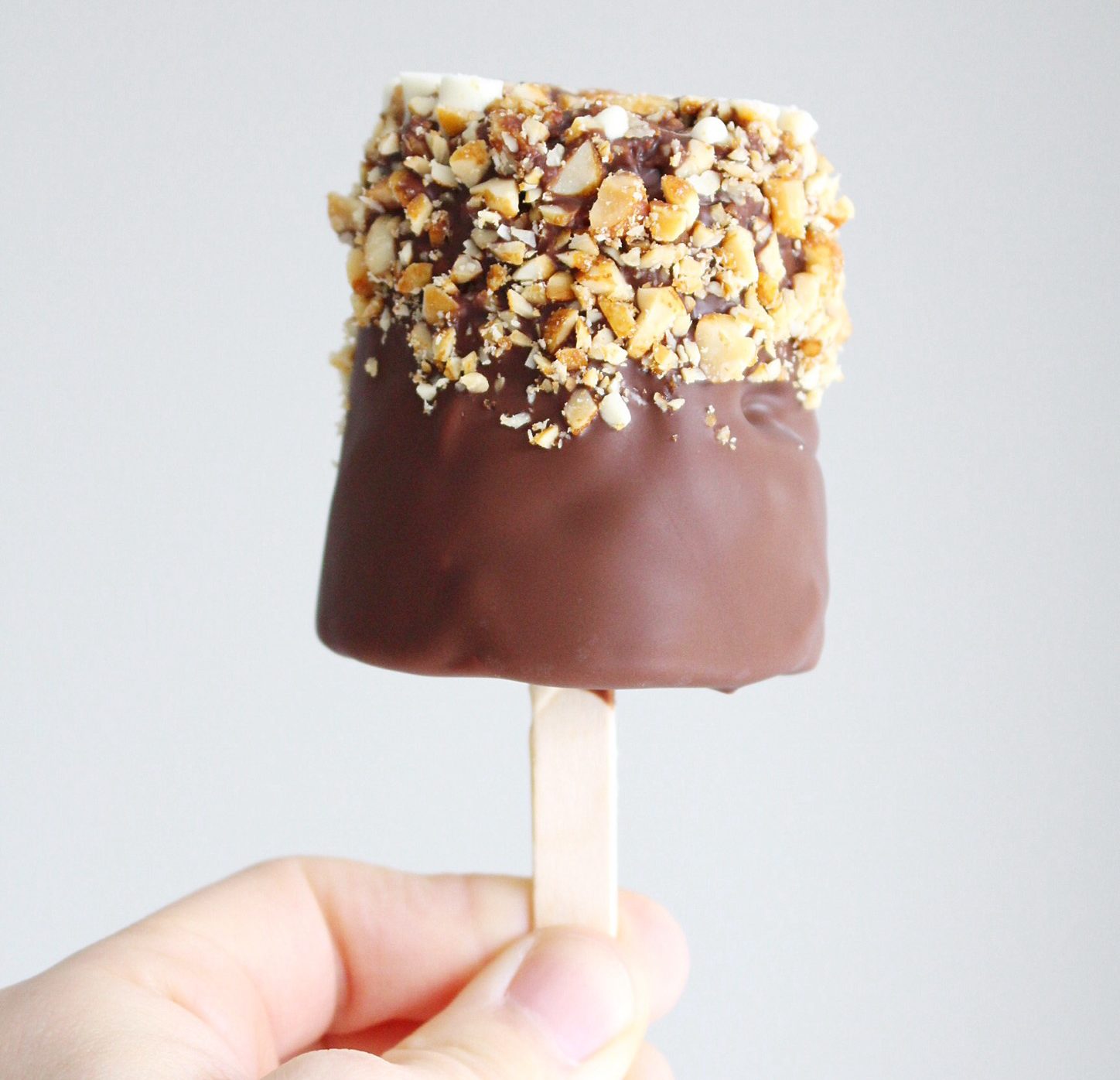 I whipped these up on a whim last weekend for a last minute birthday dessert for Cole's cousin, and everybody loved them so much I just had to share the recipe! Not only are these ice cream bars just down right delicious (and SO much better than store bought) – but they are also SO easy to make!
One of the nice things about baking all the time, is that I always find myself with random extra leftovers that I can throw together to create something new and delicious. Such was the case with these ice cream bars. I needed to whip up a dessert in a flash, but I also really wanted to incorporate leftover homemade chocolate cake, caramel, and fudge sauce I had from a previous baking adventure earlier that week.
At first I thought I might make an ice cream cake, but ever since I made those White Chocolate Raspberry Cheesecake Pops a few weeks ago – I have pretty much been obsessed with making homemade popsicles;  Thus these amazing homemade chocolate ice cream bars were born. I took inspiration from one of my favourite Dairy Queen treats – the Buster Bar… mhmmmm. Who else seriously loves Buster Bars? Well then this homemade version is going to rock your world.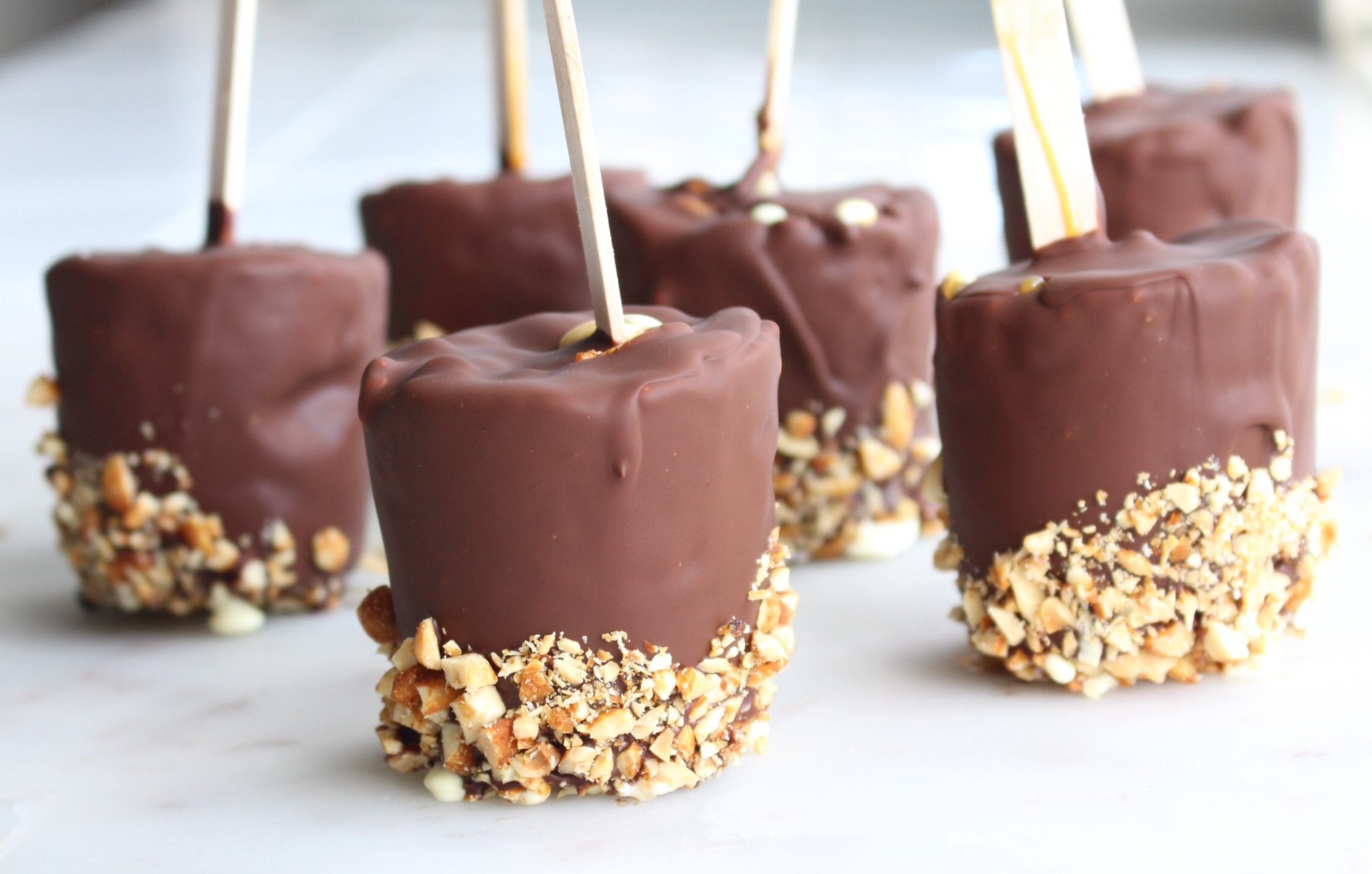 To be honest, I guess I have to use the term "homemade" fairly loosely here, because even though I used up leftovers of homemade ingredients for these suckers, they can just as easily be made with store bought caramel sauce, fudge sauce and chocolate cakes to make them even simpler! Regardless of whether you use homemade ingredients or store bought, they will still be to die for – don't you worry.
I honestly don't know what else to tell you about these puppies, except that they are damn delicious and you need to make em' happen! With that said – prepare for your life to be changed in 3…. 2…. 1….
Chocolate & Honey Roasted Peanut Covered Ice Cream Bars
Makes: 10 Ice Cream Bars
Things you need… 
8 x small paper cups
8 x Popsicle sticks
Ice Cream Bars
1 tub vanilla ice cream
1/2 cup hot fudge sauce (homemade or store bought)
1/2 cup caramel sauce (homemade or store bought)
1 cup chocolate cake or brownie chunks (leftover homemade or storebought)
2 cups honey roasted peanuts
Chocolate Coating
2 cups dark chocolate, finely chopped
6 tbsp coconut oil
How to make…
In a large mixing bowl, beat the vanilla ice cream with an electric mixer until smooth and creamy.
Now you are ready to start filling your pops. First, spoon about 1 heaping tbsp of the vanilla ice cream into the bottom of each paper cup; use a spoon to smooth to the edges of the cup. Next, spoon 1 tsp of hot fudge sauce onto the ice cream; swirl the fudge into the ice cream a little bit. Next sprinkle with chocolate cake chunks. Next, top the chocolate cake layer off with another heaping tbsp of vanilla ice cream; again using your spoon to smooth the mixture to the edge of the paper cups.
At this point your cups should be almost full, so you want to add a tsp of the caramel sauce on top of the last ice cream layer; swirl the caramel into the ice cream a little bit. Finally, evenly distribute a layer of honey roasted peanuts over top to cover the caramel.Once your pops are assembled, place a popsicle stick into the center, just about 3/4 of the way into the cup & place them onto a baking pan that has been lined with parchment paper and set in the freezer to firm up for 5-6 hours (or overnight).
Dark Chocolate & Honey Roasted Peanut Coating
Once your pops have had a chance to freeze for 6 hours or overnight – you are ready to dunk them in all that dark chocolate goodness!
In a tall heatproof glass, microwave the dark chocolate and coconut oil together to melt and whisk until smooth. Set aside to cool to room temperature – this usually takes about 30 minutes or so. While you're waiting, chop up your remaining peanuts and place in a bowl that will be good for dipping.
Once the chocolate coating has cooled, you are ready to start dipping! Working with one ice cream bar at a time remove the pop from the freezer and then from the paper cup. Cut a small slit into the top of each cup and gently peel away the paper cup. Again working with one pop at a time, dip the whole ice cream bar into the chocolate and allow any excess to drizzle off (use your finger to gently wipe any excess if necessary)
Once coated, and excess has run off a bit, dip the bar into the chopped peanuts. I only dipped half, but you can definitely dip the whole thing if you want! Once coated in the peanuts, set the ice cream bar back onto the parchment lined tray in the freezer and repeat the process with the remaining bars.
***Tip: The chocolate with harden fairly quickly so you want to try your best to dip into the peanuts quickly so it will stick to the chocolate coating nicely.
Once all your pops have been dipped, place back in the freezer for 15 minutes or until ready to serve. Enjoy!
Happy Ice Cream Bar making {and eating} lovelies! <3 <3