You guys… I have just four words for you. Chocolate. Chip. Snack. Cake. I honestly don't know what else to say – other than you need this cake in your life. The flavours are so simple & it's so easy to make, but it's probably one of my all-time favourite cakes. Honestly, to say that I love this cake with all my heart, would be an understatement.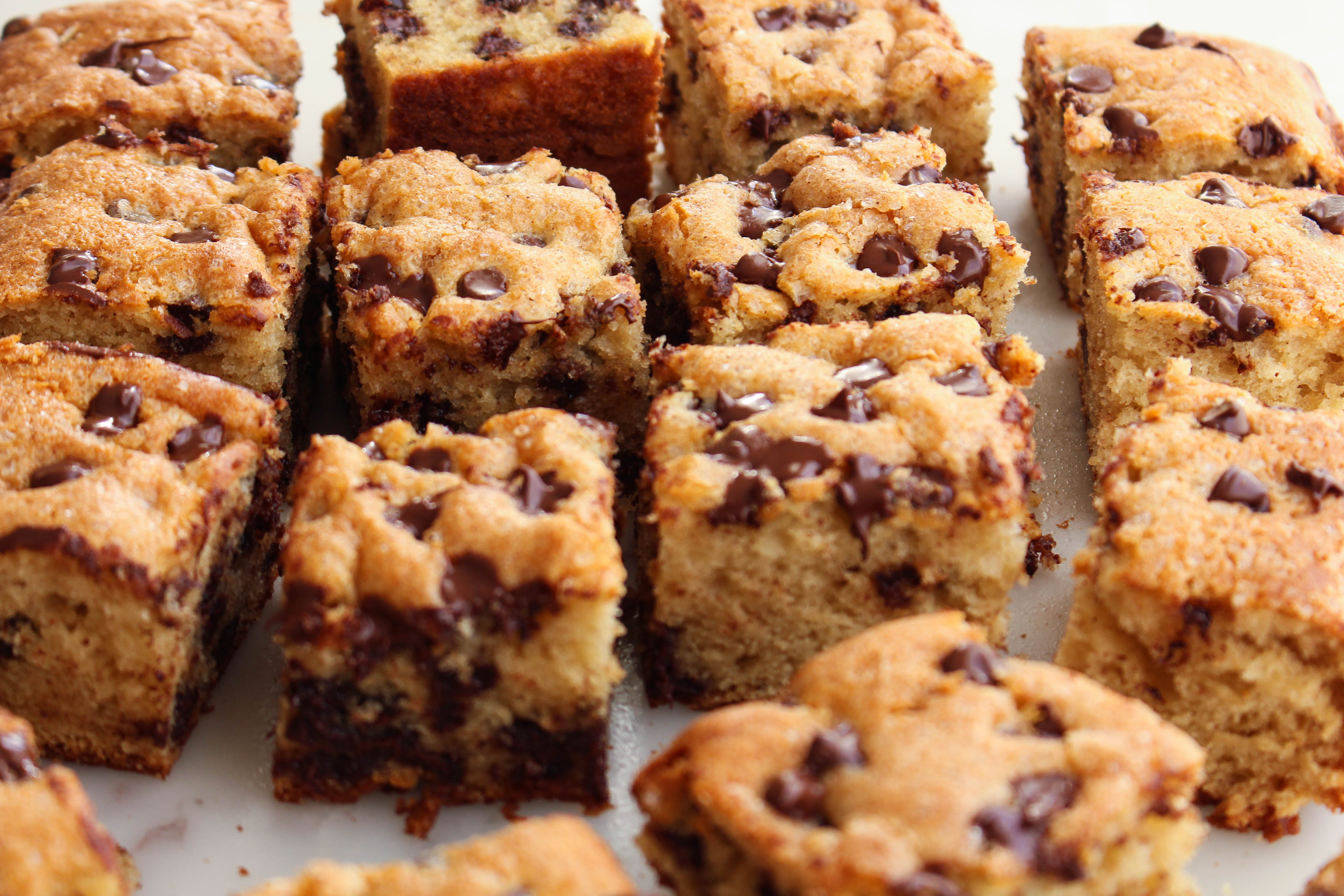 This recipe is based on the recipe my mom frequently baked for my brothers and I when we were little. No matter how much she baked it, it seemed like we could never get enough of this cake. There was nothing more exciting than when we opened up our lunch boxes to find a little slice.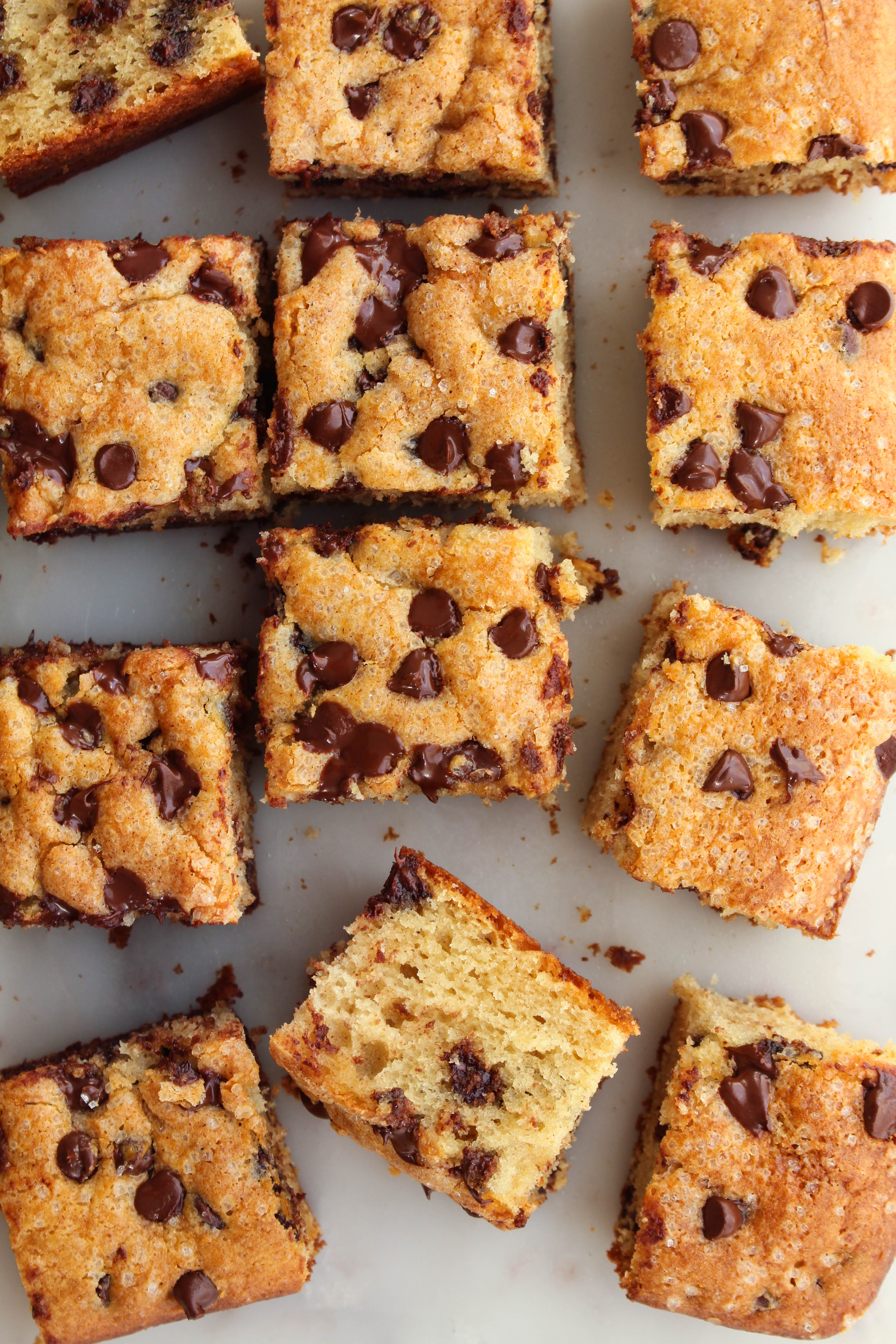 The cake itself is so soft, fluffy and moist, so when you throw in a whole whack of melty chocolate chips… it pretty much becomes downright irresistible – especially when you eat it warm.
I hadn't made this cake in years, but for some reason I have been baking up a whole bunch of nostalgia lately and was seriously craving a slice of this heavenly cake. When I pulled it out of the oven I knew I wouldn't have the patience to wait longer than five minutes to dig right in while it was all hot and melty from the oven. The cake was literally steaming as I cut into it, and in that moment it was just about the best thing on earth.

Oh and did I mention that this cake is also topped w/ a light vanilla glaze, which just makes it all the more irresistible? Yup. This cake is literally EVERYTHING.
I'll say it again – you need this cake in your life. It's like a big hug of warm chocolatey comfort & who doesn't want that? Scroll down for the recipe lovelies & have a beautiful weekend!
Happy baking!
KP xoxo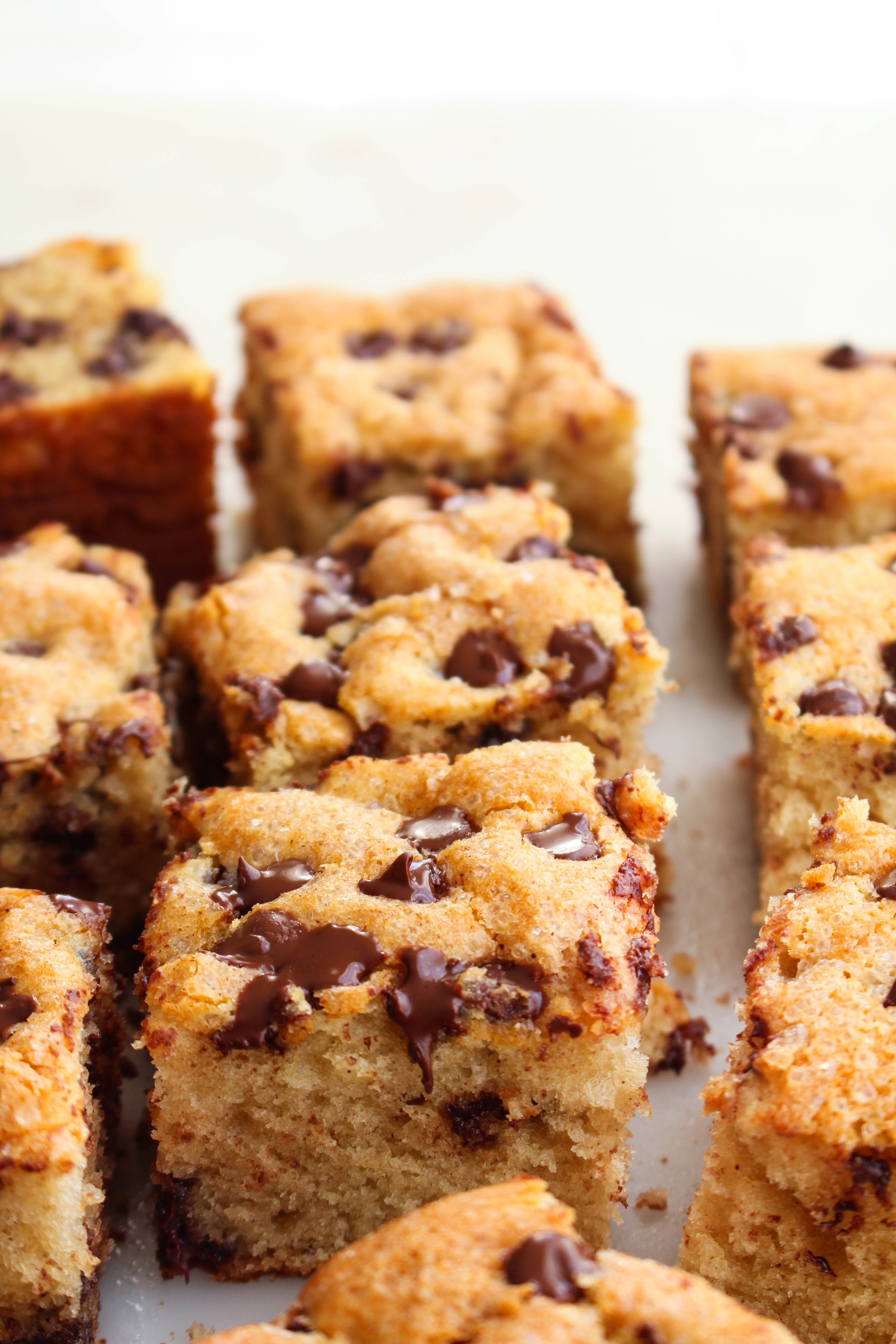 Chocolate Chip Snack Cake
Things you need…
Cake
1/2 cup butter, softened
1/2 cup granulated sugar
1/2 cup brown sugar
2 eggs
1 1/2 tsp vanilla
1 1/2 cups all purpose flour
1/2 tsp baking soda
2 tsp baking powder
1/2 tsp cinnamon
1/4 tsp salt
1 cup sour cream
1 cup chocolate chips
Vanilla Glaze
3/4 cup icing sugar
1-2 tbsp milk or water
a couple drops of vanilla
How to make…
Preheat your oven to 350 degrees and grease a 8×8 inch square baking pan.
In a large mixing bowl, cream together butter and sugars with an electric mixer until pale and fluffy. Add in eggs one at a time, beating well and scraping down the sides of the bowl between each addition. Once all the eggs have been added, beat on high until fluffy. Beat in vanilla.
In a small mixing bowl, whisk together flour, baking soda, baking powder, cinnamon and salt. Add 1/3 of the dry ingredients to the wet ingredients and mix on low until just combined. Add in 1/2 of the sour cream and mix until just combined. Add another 1/3 of the dry ingredients and mix on low to just combine. Add in remaining sour cream and mix to just combine. Scrape down the sides of your bowl & add the last of the remaining dry ingredients and beat on low just until there are no lumps in your batter, being careful not to over-mix.
With a spatula fold in 3/4 cup of the chocolate chips. Pour batter into prepared cake pan & top cake with the remaining 1/4 cup of chocolate chips. Bake for 30-40 minutes or until the top is light golden brown and the center of the cake springs back to the touch. Remove from the oven and set on a wire rack to cool.
Whisk together icing sugar and water until smooth. You want a fairly runny, pourable consistency, so add more water or icing sugar to achieve that. Pour the glaze over top of the cake and allow it to set while the cake cools a bit.
Now normally I can wait no longer than about five or ten minutes before digging into this cake, because it is absolutely heavenly when served warm. But you can certainly allow it to cool completely and it will still be incredibly delicious!
Enjoy!