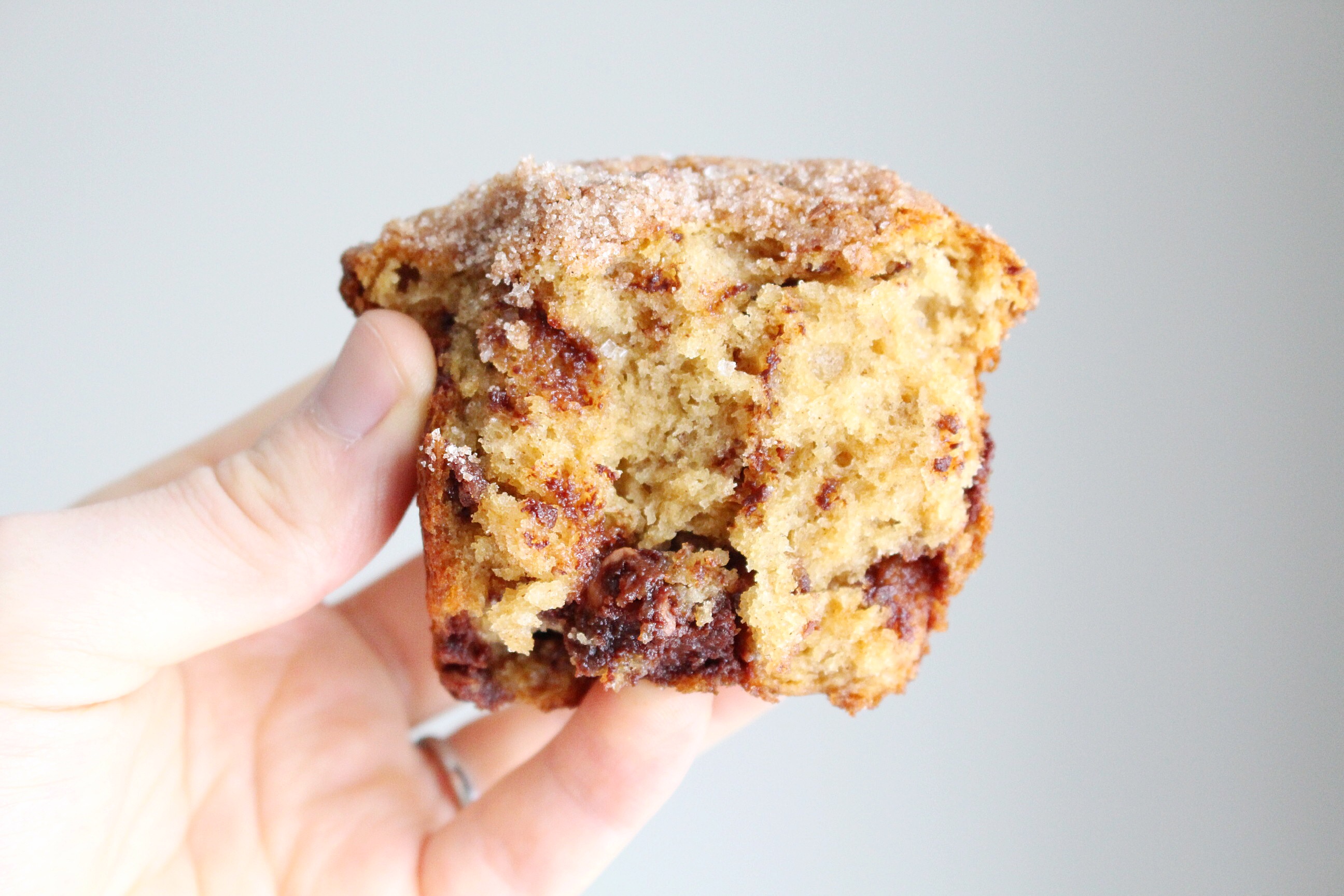 I have a serious soft spot in my heart for a good, classic chocolate chip muffin. Just the thought of sitting down with a warm, chocolate chip muffin and an ice cold glass of milk gets me all warm and fuzzy inside.
I guess chocolate chip muffins just have a way of bringing back happy childhood memories for me because when my brothers and I were still little, and my mom had to bring us along with her to the mall, she would always reward us with a special treat at the end of our trip if we were well behaved while she did her shopping. The kind of treat would change depending on which mall we happened to be in on a given day, but there was one mall close to home that used to have the most amazing muffin shop in the food court that she would often take us to.
I just remember walking through the mall while my mom did her shopping and being able to smell the scent of freshly baked muffins throughout the mall. It was pure, sweet torture – but also the perfect motivation for us to be good little children while she shopped.
When she was finally done with her errands, we would walk up to this little muffin shop and I can just remember drooling over their display case that was full of every kind of muffin you could ever imagine; blueberry muffins, carrot muffins, raspberry muffins, apricot jam muffins, bran muffins, double chocolate muffins, banana muffins, and of course all of us kids most favourite muffin flavour… chocolate chip.
My mom would buy exactly 2 of the muffins, along with a little carton of cold milk, and she would sit all five of us and a handful of napkins down on a bench so that we could share and feast on the chocolate chip muffin goodness.
My oldest brother and I were all about the muffin tops, while my other two brothers always wanted the muffin bottoms, so that's how we would divvy up the muffins – and my mom would just sneak a few little bites from each of us whenever she had the chance to get a couple fingers in. I swear every time we went those muffins were fresh from the oven, because I just remember that they were always warm, and the chocolate chips would still be gooey in the centre.
So by the end of it, our faces and fingers would be absolutely covered with chocolate chip smears and muffin crumbs… we were a mess, but it was the absolute best kind of mess.
So now whenever I have a chocolate chip muffin I can't help but be reminded of those special trips to the mall with my mom and my brothers, and sharing the best chocolate chip muffins on the planet.
I don't even remember what the muffin shop was called, and sadly it's no longer in the mall, but I swear those muffins were epic. They had the most amazing, crisp muffin tops and the most tender centre, and amazing chocolate chip flavour; We could never get enough of those muffins.
Suffice to say, every time I taste a chocolate chip muffin, I can't help but compare it to those of this said muffin shop. Now it might be my memory romanticizing the taste of those muffins, but I can honestly say that I have never come across another bake ship muffin that tastes as good as the ones from my childhood muffin shop – and my brothers always say the same thing.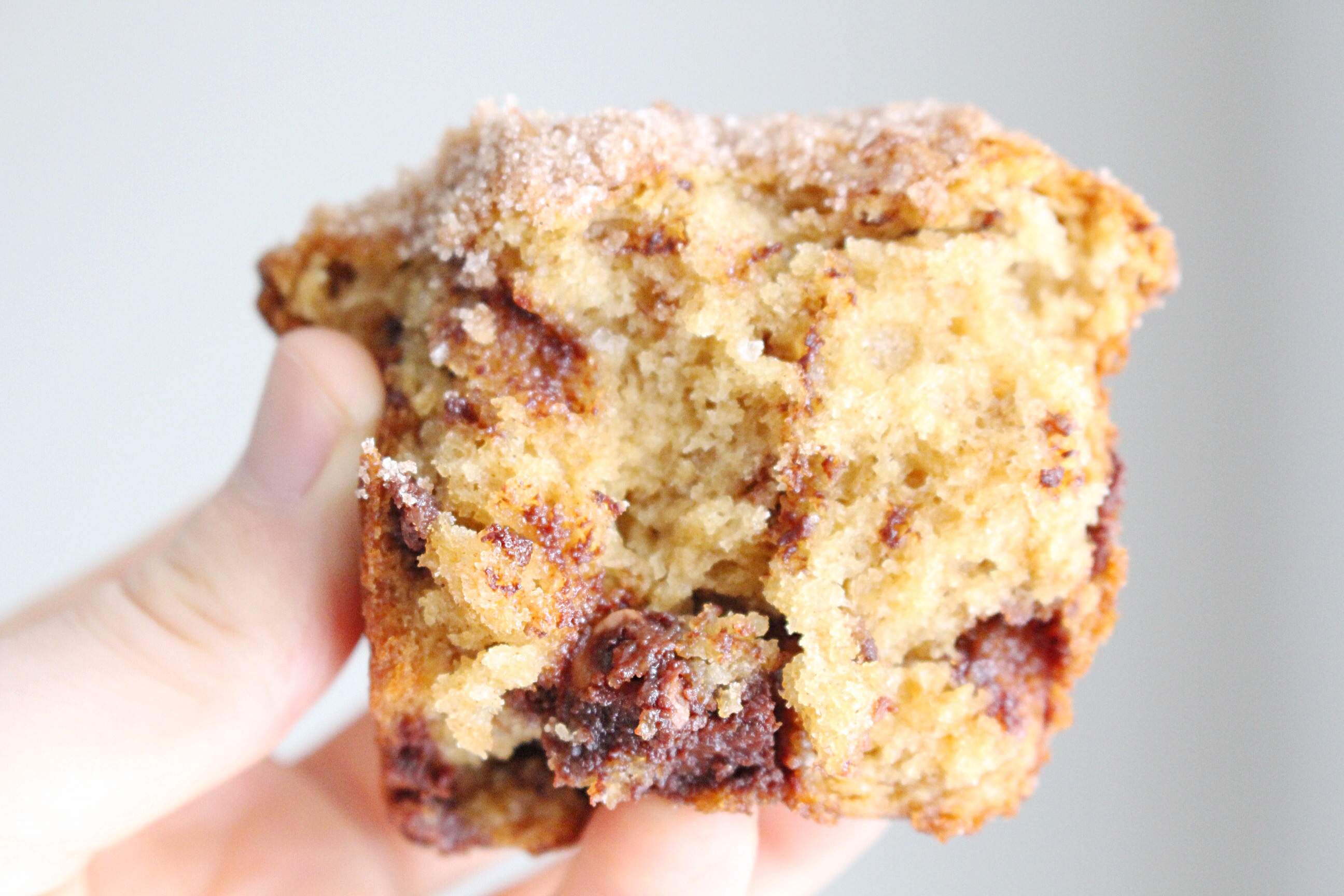 So over the years, I have kind of made it my mission to come up with my own homemade version to recreate the muffins from the bake shop that no longer exists. I would be completely lying if I said this was an easy task, because to be honest It has taken years of recipe testing and many, many chocolate chip muffin failures for me to finally create a recipe that I love.
Who would have thought creating something as simple as a good chocolate chip muffin recipe would be so hard??? I know I sure didn't – but it really took a long time for me to find that perfect combination of ingredients to achieve a nice flavourful chocolate chip muffin that has not only a nice crisp muffin top, but also a perfect, tender centre.
So if you have had similar frustrations with your search for the perfect chocolate chip muffin recipe, then I am SO super excited to share this one with you today, because this one is a real winner.
The real flavour secret to these muffins has to be the cinnamon in the batter, and the cinnamon sugar topping, so make sure you don't skip these ingredients. Don't be worried about the cinnamon being over powering in the batter because it's not at all – it just gives the muffins an incredible hint of flavour.
Now although I still don't think they trump the muffins in the muffin shop – I think they are pretty darn close, and they are definitely D-licious. So here is the recipe lovelies and I hope you enjoy <3 <3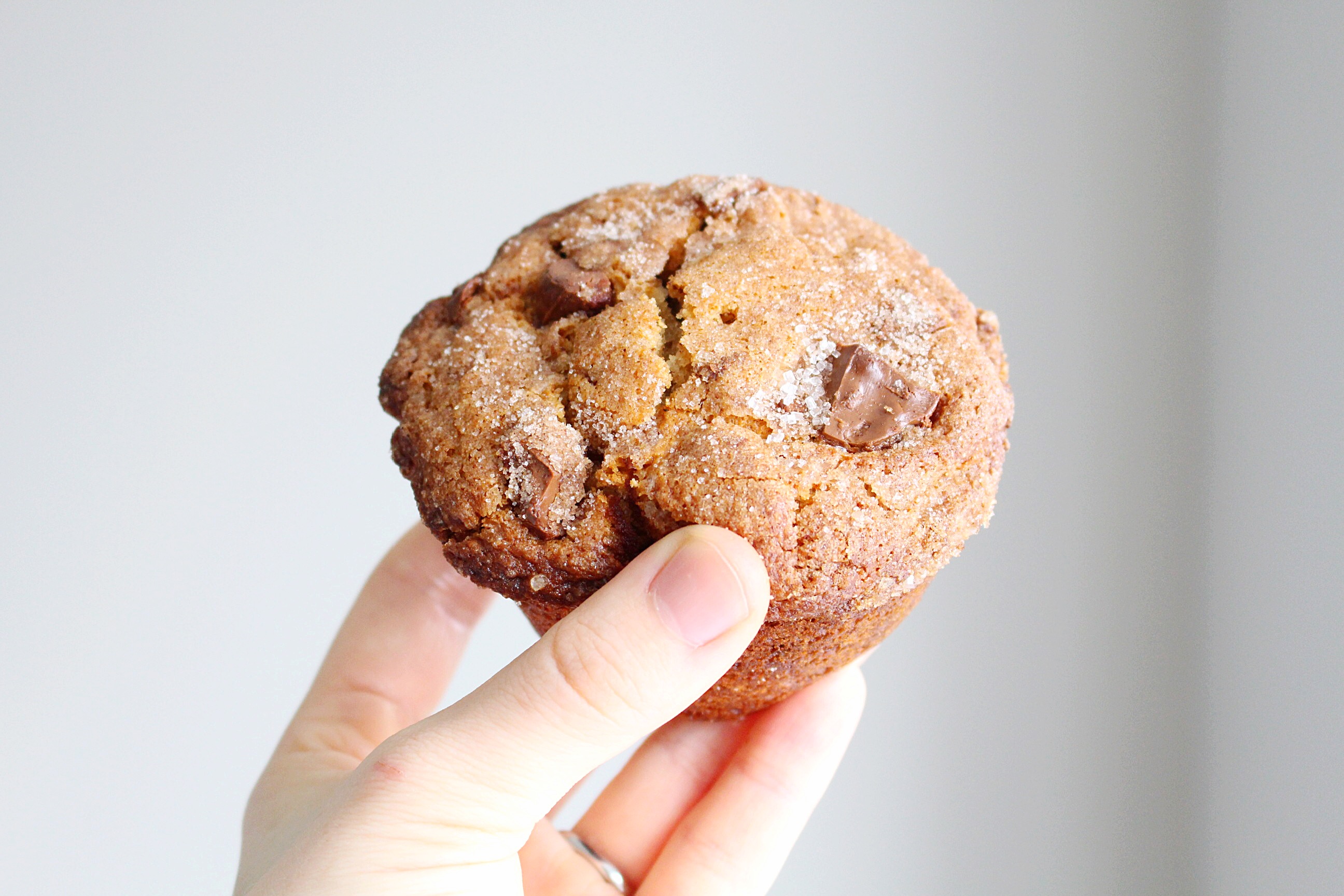 Dark Chocolate Chunk Muffins
Makes: 12-16 muffins
Things you need…
2 1/4 cups all purpose flour
1 1/4 cup brown sugar
1 tsp cinnamon
pinch of nutmeg
1/2 tbsp baking powder
1 tsp baking soda
pinch of salt
3/4 cup butter, melted
2 eggs
1 1/2 cups buttermilk
2 tsp vanilla
1 1/4 cups chocolate chunks
Cinnamon sugar topping
3 tbsp granulated sugar
1 tsp cinnamon
How to make…
Preheat your oven to 375 degrees convection or 400 degrees regular. Grease a 12 cup muffin tin or line with parchment paper liners.
In a small bowl whisk together the ingredients for the cinnamon sugar topping until combined; set aside.
In a large bowl, whisk together the flour, brown sugar, cinnamon, nutmeg, salt, baking powder and baking soda; Make a well in the centre of the dry ingredients and set aside.
In a separate bowl, whisk together the buttermilk, eggs and vanilla until combined. Next lowly pour in the melted butter and whisk to combine. Pour the wet ingredients in to the well of the dry ingredients and use a spatula to gently fold the ingredients together. Once the mixture is just starting to come together, add in the chocolate chunks and mix gently to distribute, being careful not to over mix as this can lead to tough muffins. If you still have streaks of floury bits in your batter – this is the perfect consistency.
Scoop batter into prepared muffin cups, filling each about 3/4 full. Sprinkle the muffins with prepared cinnamon sugar topping and place in the oven to bake for 20-25 minutes or until the tops are golden brown and the tops of the muffins spring back to your touch.
Remove from the oven and allow to cool for 10 minutes before serving.
Happy Baking lovelies!
KP xoxo