Is it just me or is there just something so hypnotizing about roll cakes? Whenever I make one, I find myself leering at it like a total weirdo… does anybody else have this problem? There is really something about these cakes that just makes you want a slice – no matter what time of day. Roll cake for breakfast? Heck yes!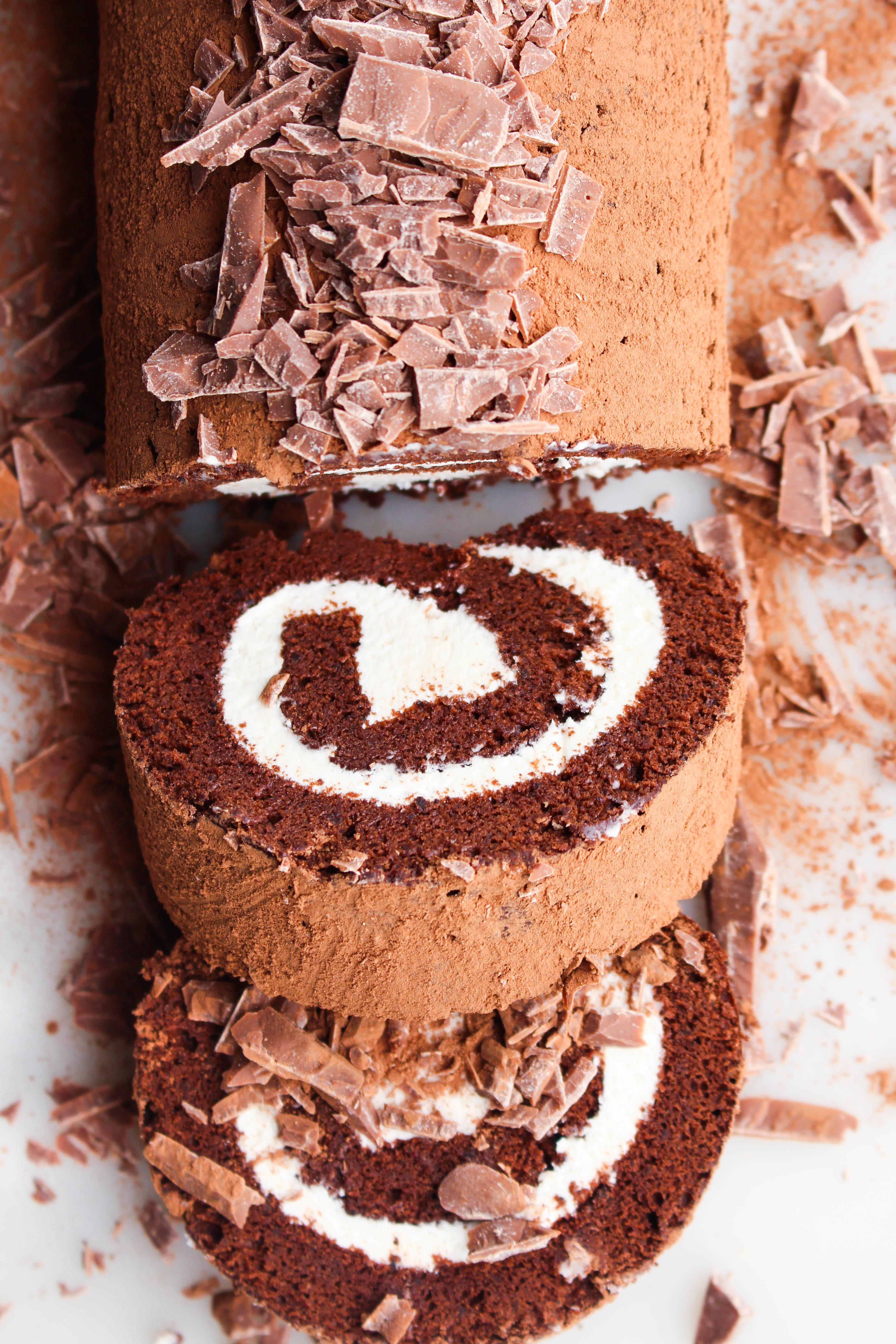 Truth be told making roll cakes used to intimidate the heck out of me  – mostly because I was always worried about whether or not my cake was going to break when it came time to roll it up. Raise your hand if you have been there too ?
So my life was pretty much changed forever when a friend of mine introduced me to what she referred to as "the roll cake tea towel trick." Which pretty much guarantees a perfect roll every time. Say whatttt!???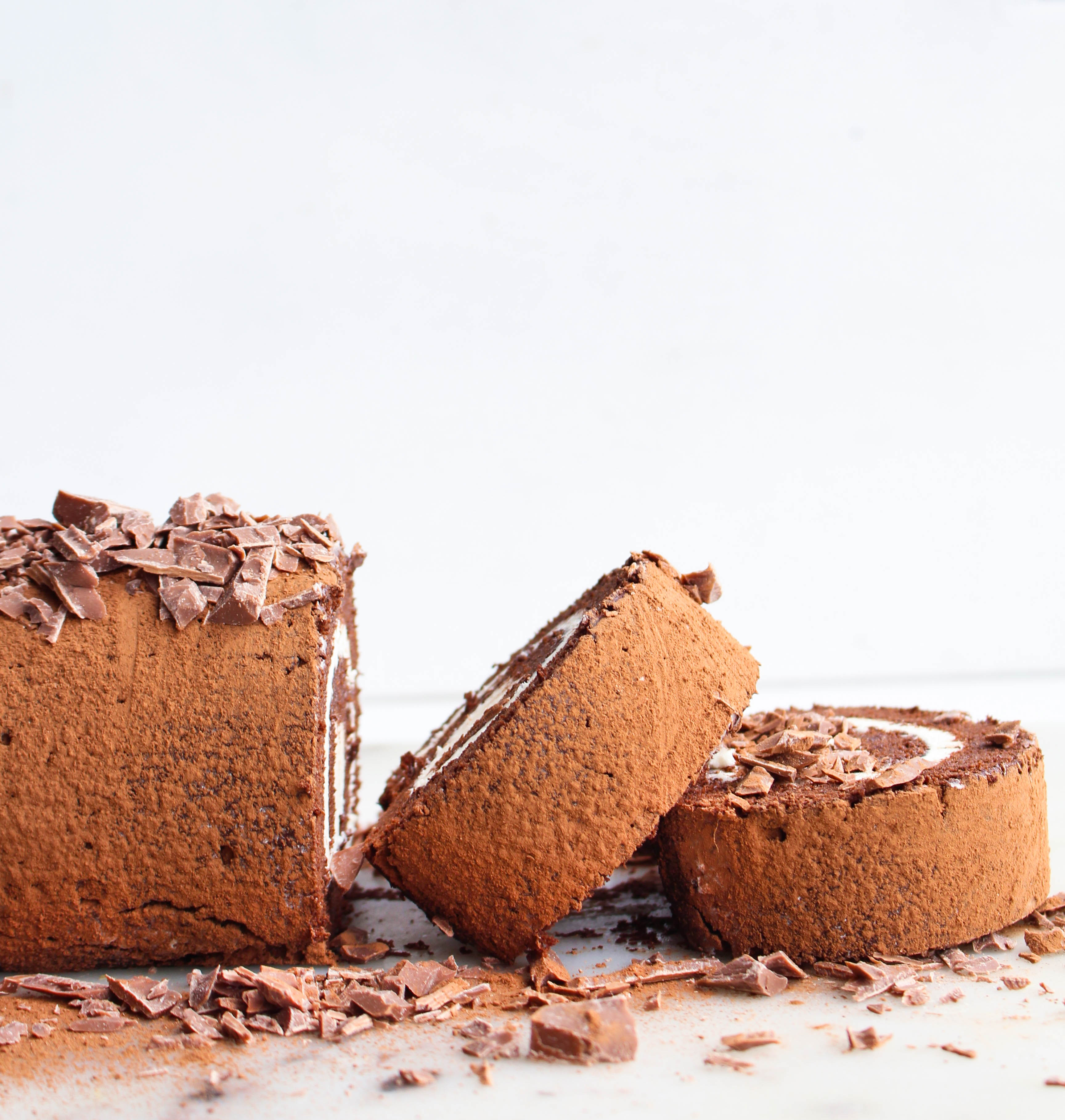 Apparently to everybody but me, this trick is basically common baking knowledge – but even though I am the last person to know, I am a happy camper because this trick has literally changed my roll cake life. So if you are like me, and don't have this little trick in your back pocket yet, be sure to read my recipe instructions for pretty much the most helpful baking tip ever!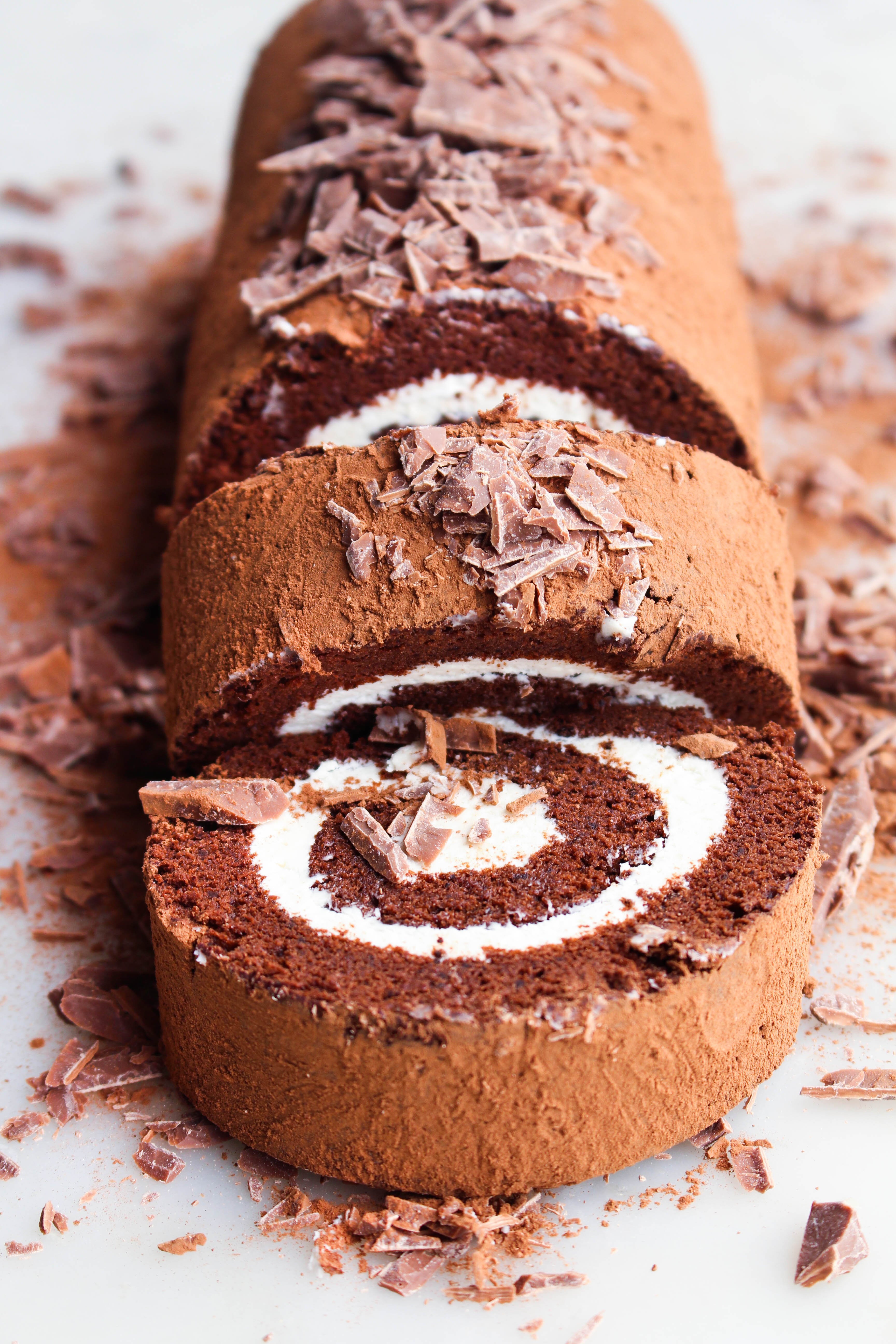 I am smitten with this roll cake you guys. The cake itself is fluffy and moist, and when paired with fluffy marshmallow fluff filling it's just downright irresistible. I love making these when I need dessert for a crowd.
I can't wait any longer to share this with you all so let's just get right to it shall we!
Happy baking!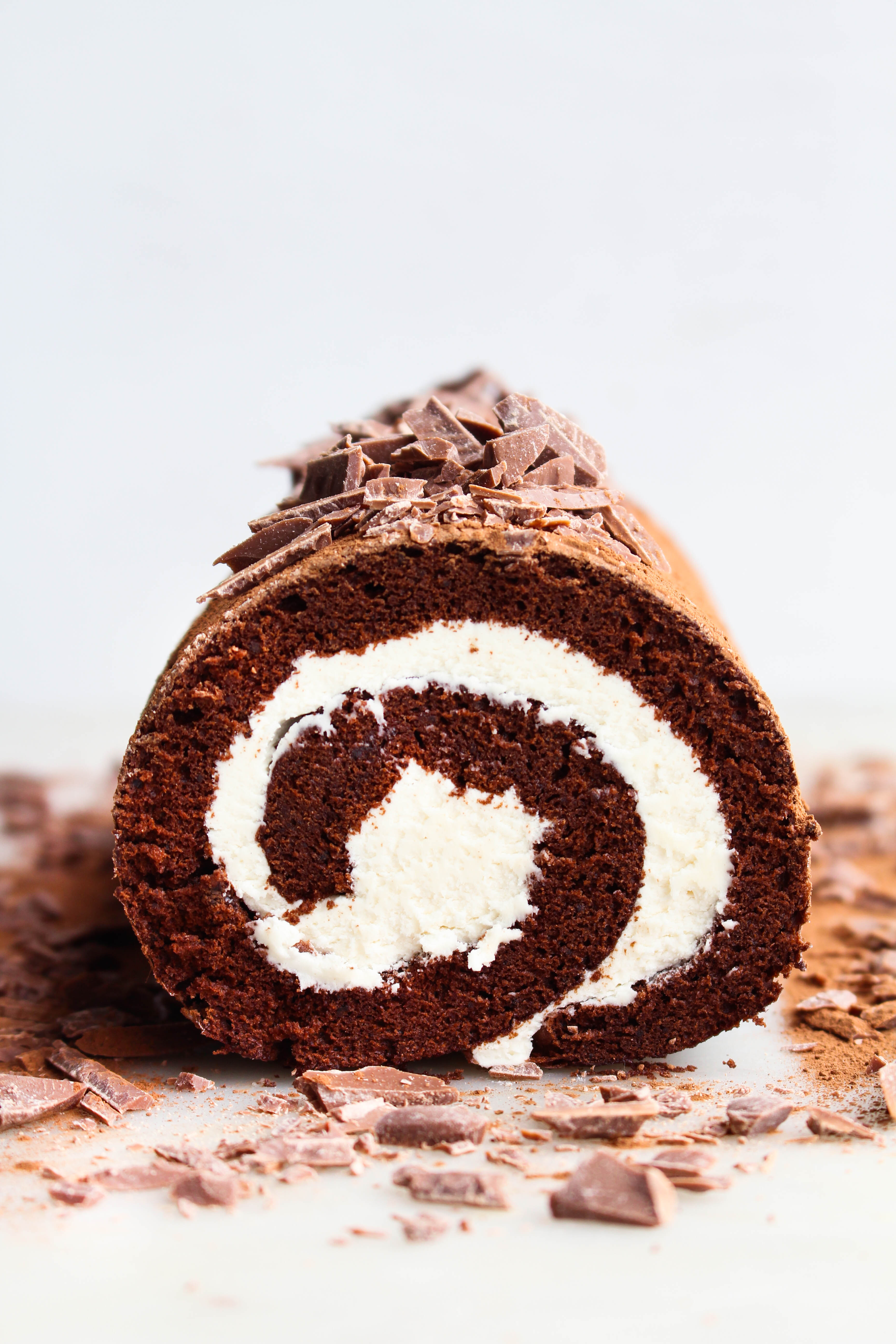 Chocolate Roll Cake with Marshmallow Fluff Filling
Serves 8-10
Things you need…
Chocolate Cake
3/4 cups cake & pastry flour
1 tsp baking powder
1/2 tsp salt
1/2 cup granulated sugar
1/4 cup brown sugar
1/4 cup strongly brewed coffee, hot
1/2 cup cocoa powder
1/4 cup unsalted butter, melted
1 1/2 tsp vanilla
4 egg yolks
6 egg whites, whipped to stiff peaks
Marshmallow Fluff Frosting
1/2 cup salted butter, softened
2 cups icing sugar
2 tsp vanilla
1 cup marshmallow fluff
Optional Decorations:
Cocoa powder, for dusting
milk chocolate, chopped
How to make…
Chocolate Cake
Pre-heat your oven to 350F & grease and line a 10×17 inch baking pan with parchment paper – Try to use one with edges that are 1 inch high; Set aside.
In a small bowl, whisk together hot coffee, melted butter,  cocoa powder, and vanilla. Set aside.
Sift together pastry flour, salt and baking soda. Set aside.
Next whip your 6 egg whites on high until stiff peaks form; set aside.
In a large bowl, use an electric mixer to cream together the 4 egg yolks with the sugars until pale and creamy. Add in cocoa mixture and beat until combined. Add in your flour mixture and beat until just combined.
Next fold in your egg whites; Start with about 1 cup of the whipped egg whites and gently fold them in with your spatula until almost combined. Add in the remaining egg whites and gently fold them in until combined.
Pour cake batter into prepared baking pan. Bake on the center rack of your oven for about 15-17 minutes or until the center of the cake springs back to your touch. (This usually just takes 15 minutes in my oven) Remove the pan from the oven and set on a cooling rack for a minute.
Meanwhile, take a clean, thin tea towel and dust it with cocoa powder (preferably one you don't mind getting messy). While your cake is still hot from the oven, turn your cake out onto the cocoa powder dusted tea towel. Remove the parchment paper. Working lengthwise, gently roll the cake up into the tea towel (I know this sounds crazy, but this will help enure your cake doesn't crack later on) Once your cake is rolled up in the towel, allow it to cool completely to room temperature rolled up like this before filling.
Marshmallow Fluff Frosting
Once your cake is cooled, make your frosting.
In a large bowl, beat the butter until smooth. Add in icing sugar 1 cup at a time, beating on low speed until combined. Once the icing sugar is incorporated, add in the vanilla and marshmallow fluff. Beat on high for 2-3 minutes or until mixture is pale and fluffy, scraping down the sides of your bowl every so often. Set aside until ready to assemble your cake.
Assembly
Gently unroll the cake from the tea towel.
Use an offset spatula to spread the marshmallow fluff frosting on to the cake, (about 1/2 inch thick even layer of frosting) you may have some extra. Make sure you leave about a 1/2 inch border unfrosted around the edge of the cake.
Gently roll the cake back up tightly (without the towel). Gently lift the cake onto the dish you wish to serve it on and cover with plastic wrap. Refrigerate for 20 minutes or so before serving (this will help you to get nice, clean slices when you are ready to serve).
Enjoy!