Do we ever really need a reason to make donuts? I feel like not. Especially when they are in the form of these Coconut Raspberry Donuts. Regardless of the time or day or whether or not you have a donut worthy occasion – you should feel free to make these donuts whenever your heart desires.
For me donuts are pretty much always on my mind, but when my pals over at Albion Fit kindly reminded me that National Donut Day is upon us next week – I basically felt that it was my duty to make these donuts happen… for the sake of National Donut Day of course 😉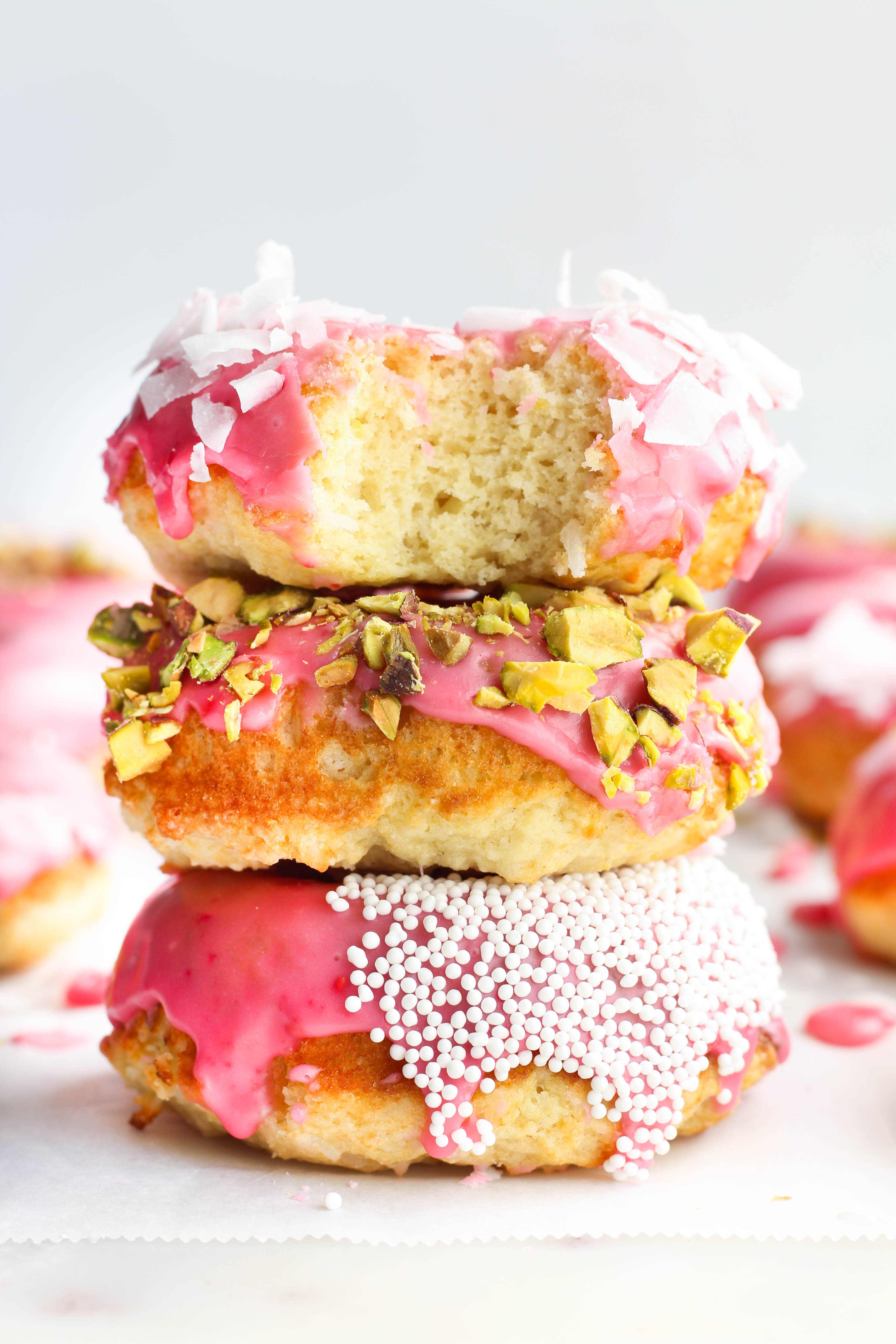 But seriously you guys, these donuts though….
They are a super moist, fluffy cake donut topped with a tangy raspberry glaze and they are going to change your life. I made the batter using  coconut flour and shredded coconut so that you really get a delicious hit of coconut flavour when you take a bite.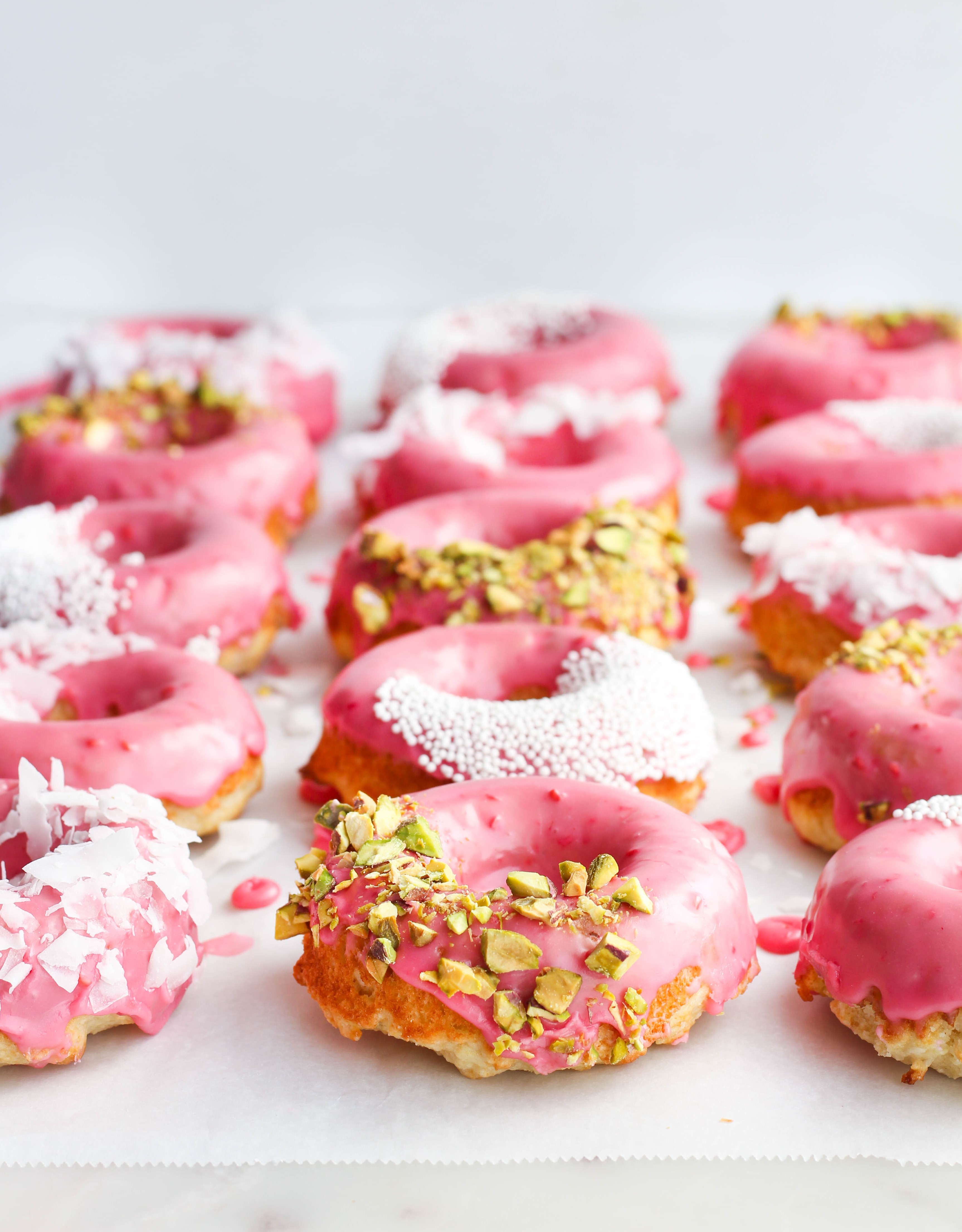 I had some fun playing around with the toppings because hey… they were pink donuts and I felt like making them pretty 😀 I used pistachios, sprinkles and flaked coconut, but you can feel free to use whatever toppings you like most.
So without further explanation as to why… I think you should make these donuts.
Oh and ladies – because summer is right around the corner (and because these swims are to die for) I think you should check out Albion Fit! Seriously, they have the most adorable swimsuits, and you just can't miss them. I am the proud owner of four of their swimsuits now and I have to tell you that I just LOVE them. The quality is amazing and the fit of all of them is amazing! They hug your curves in all the right places and will make you feel fabulous this summer!
Plus, because they rock, Albion Fit is giving you all 15% off when you use the promo code SWEETSIMPLE15 Yessssss!
And in case you are curious – Here are links to few of the swims I picked up & and loving for this summer!
The Waikiki One-Piece Swimsuit
The Day Tripper One-Piece Cut Out Suit
Peachy Keen Switchback Swim Crop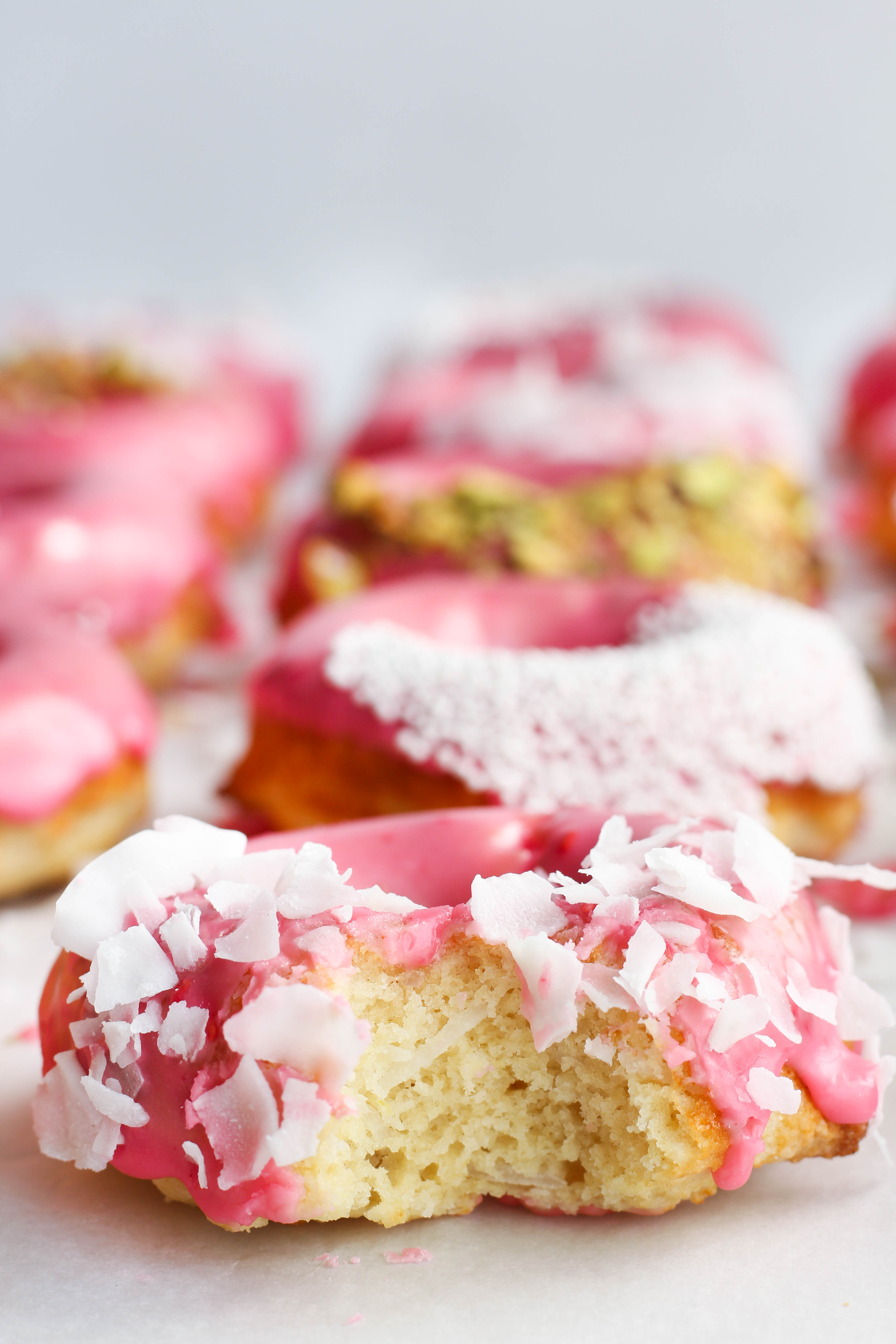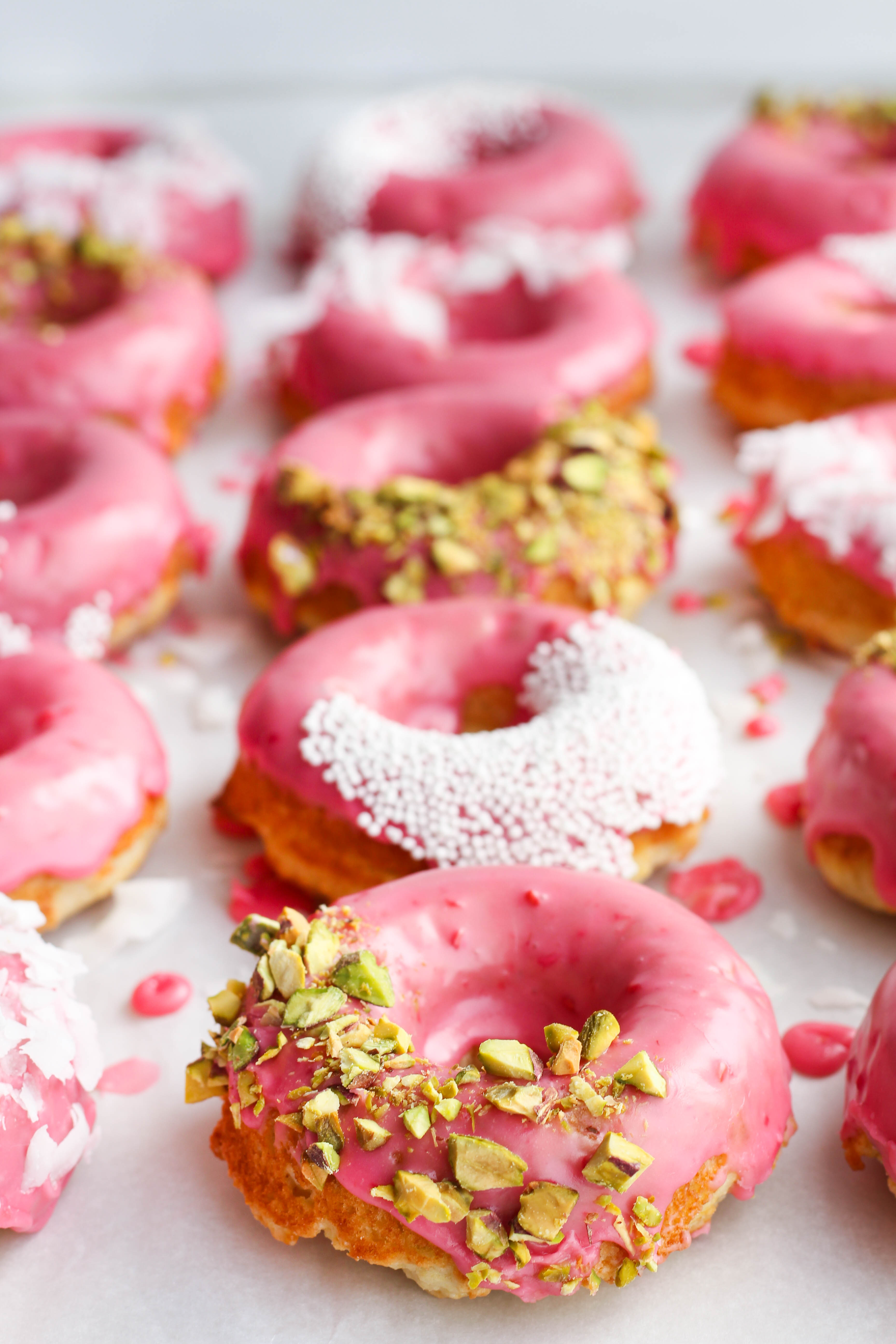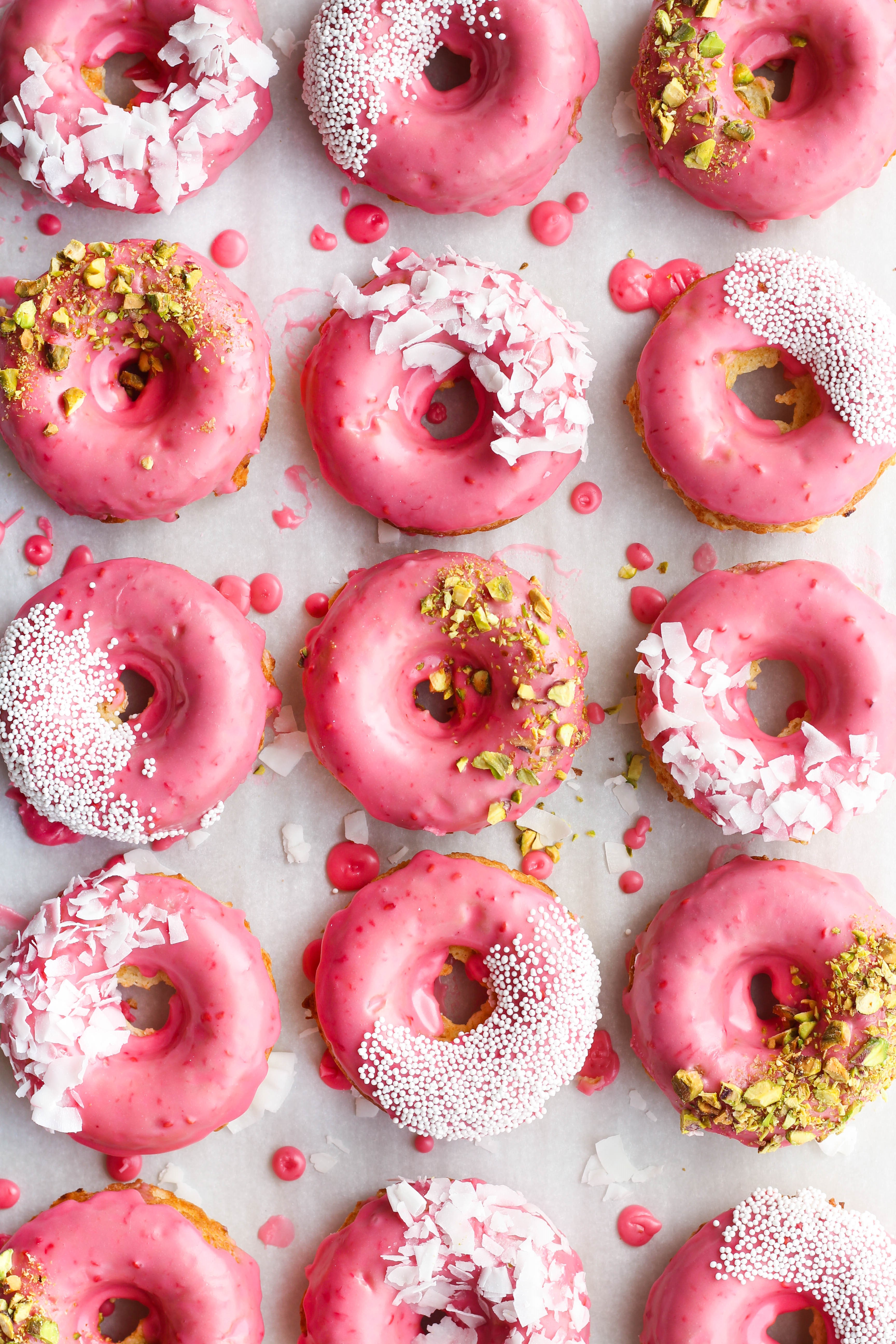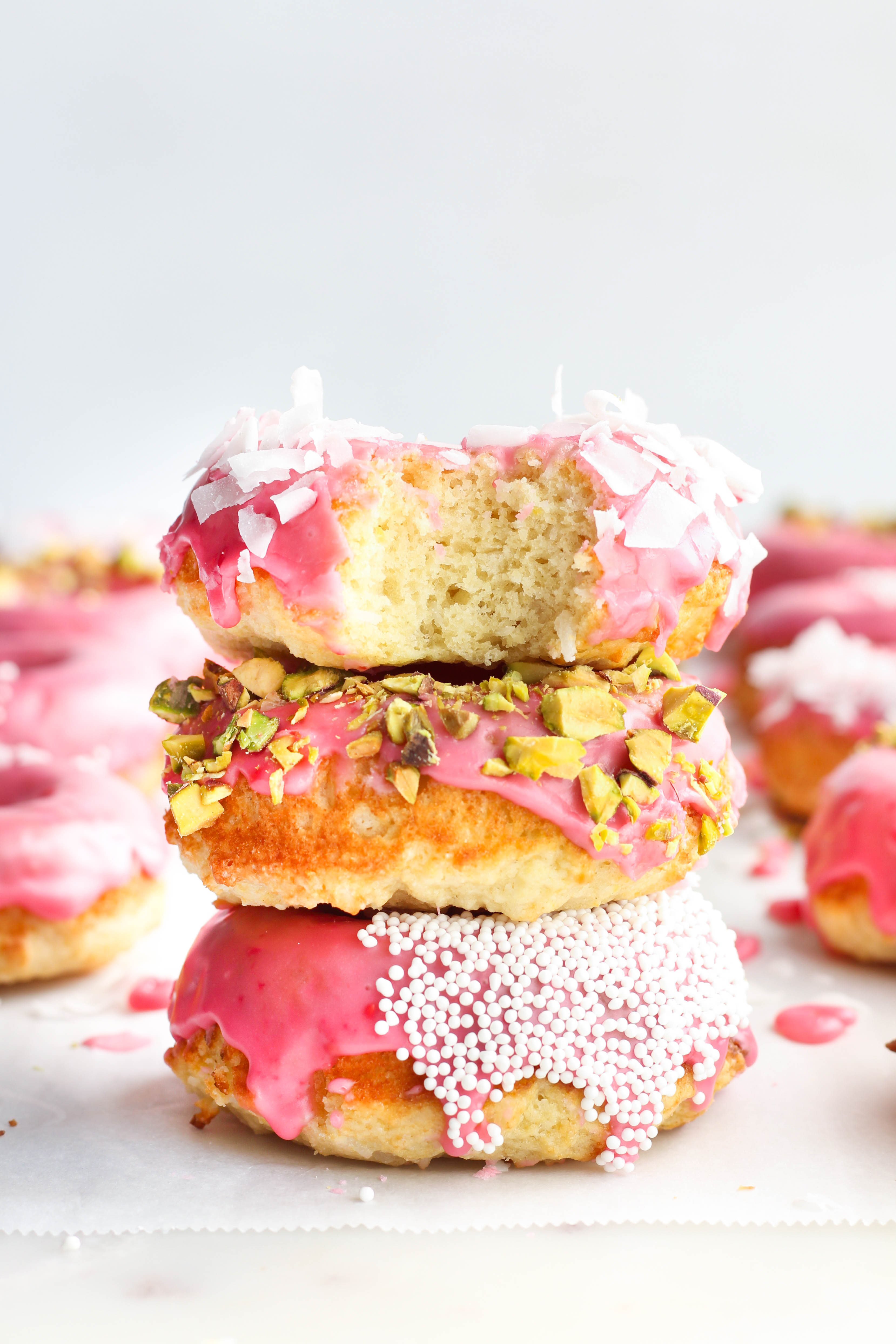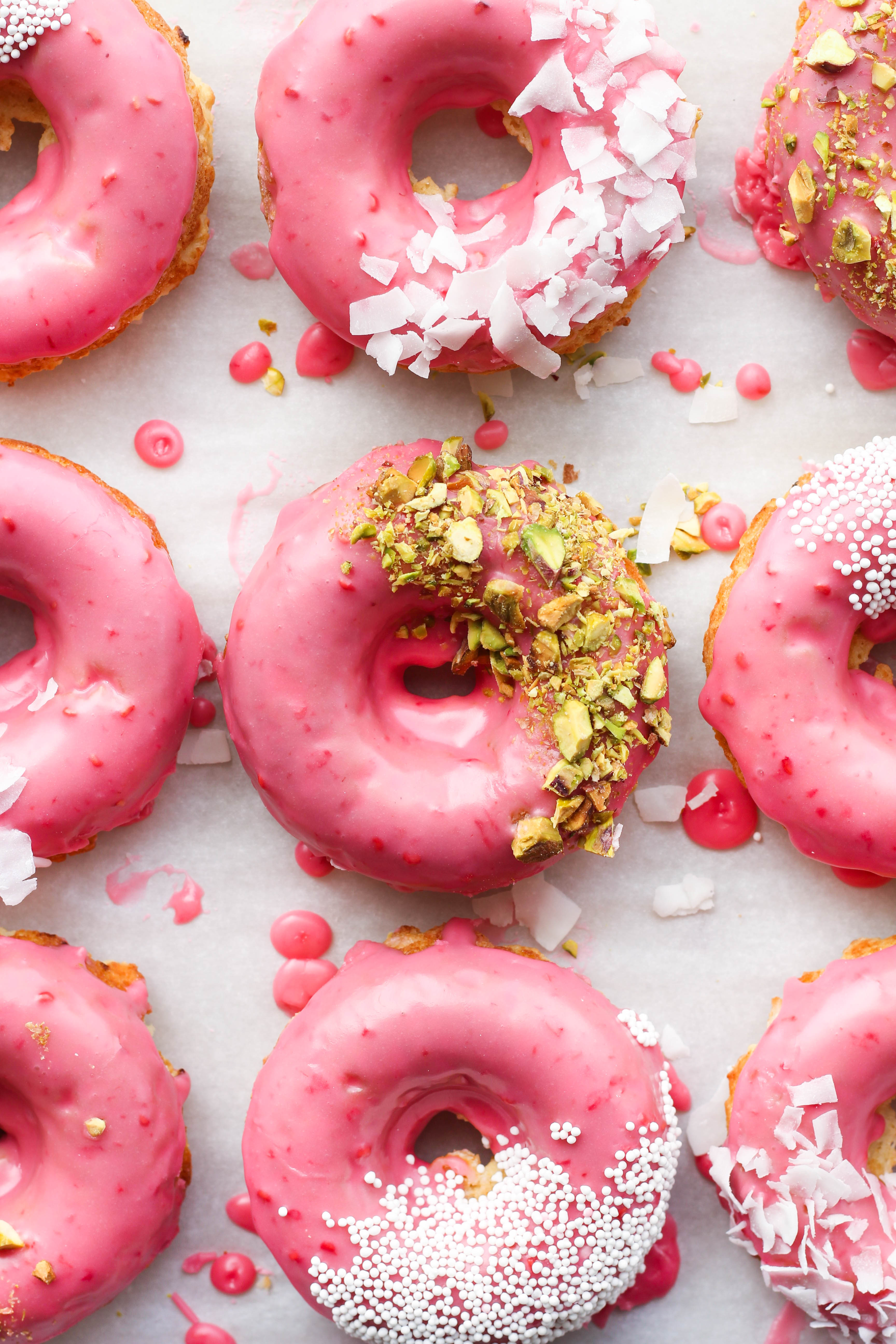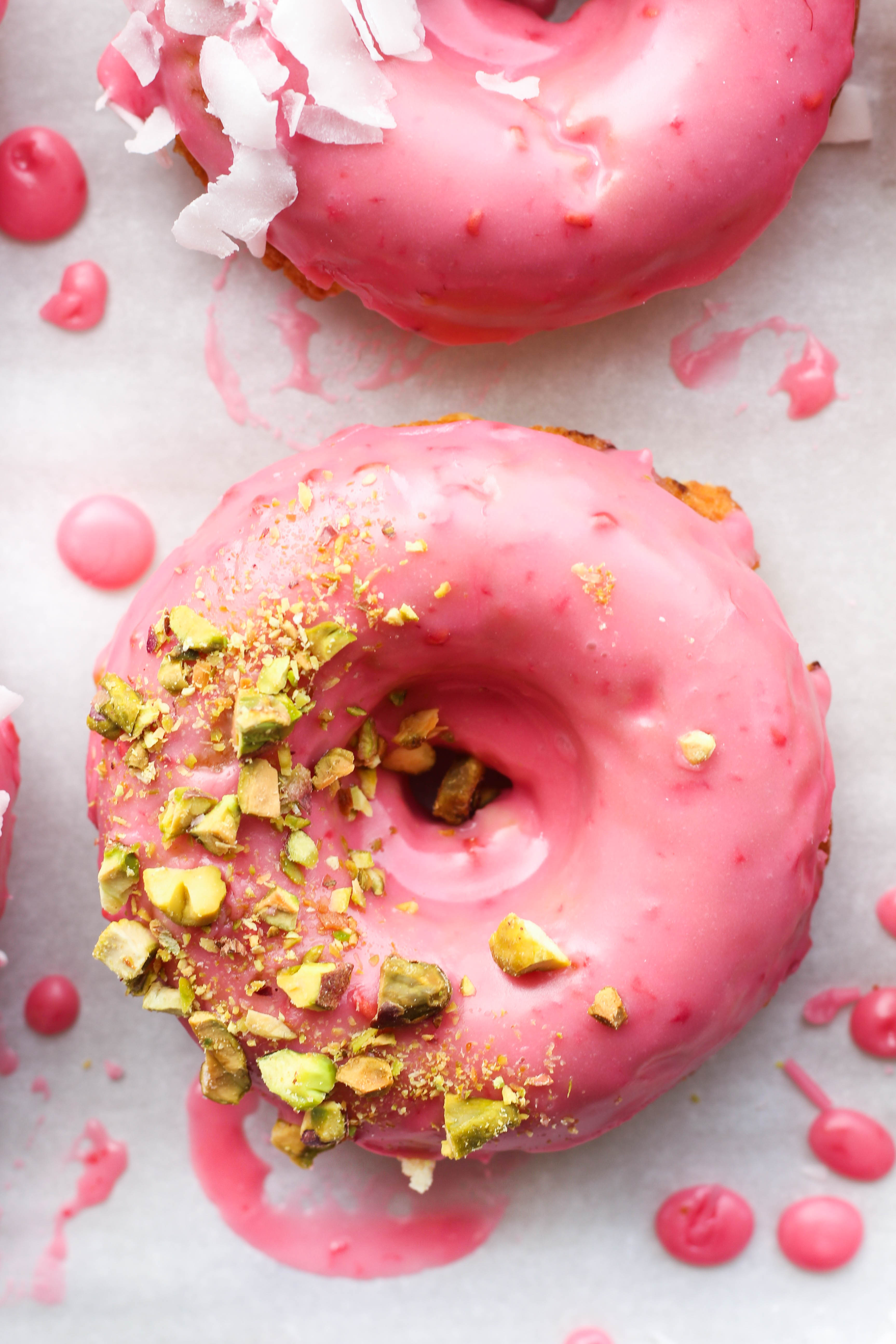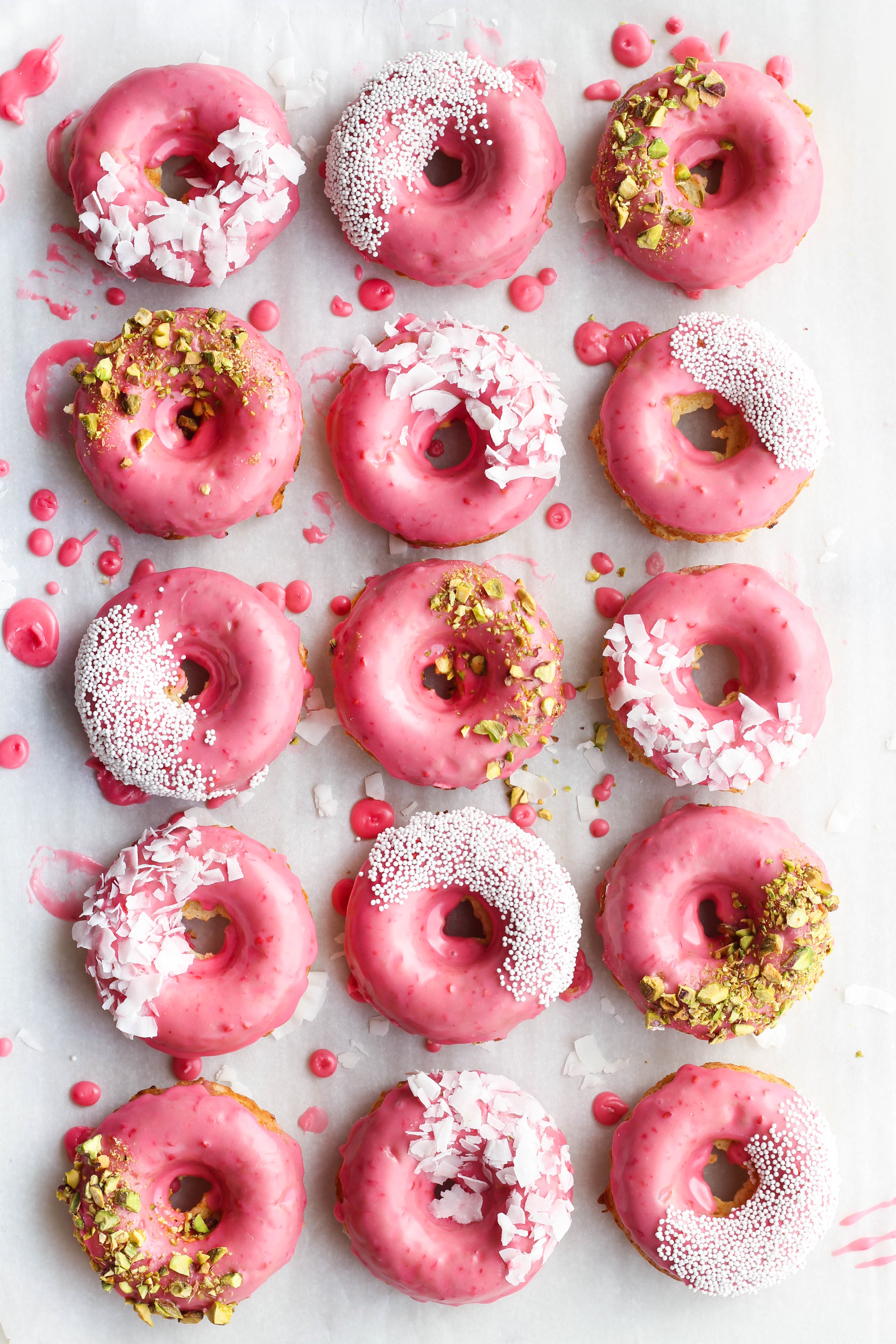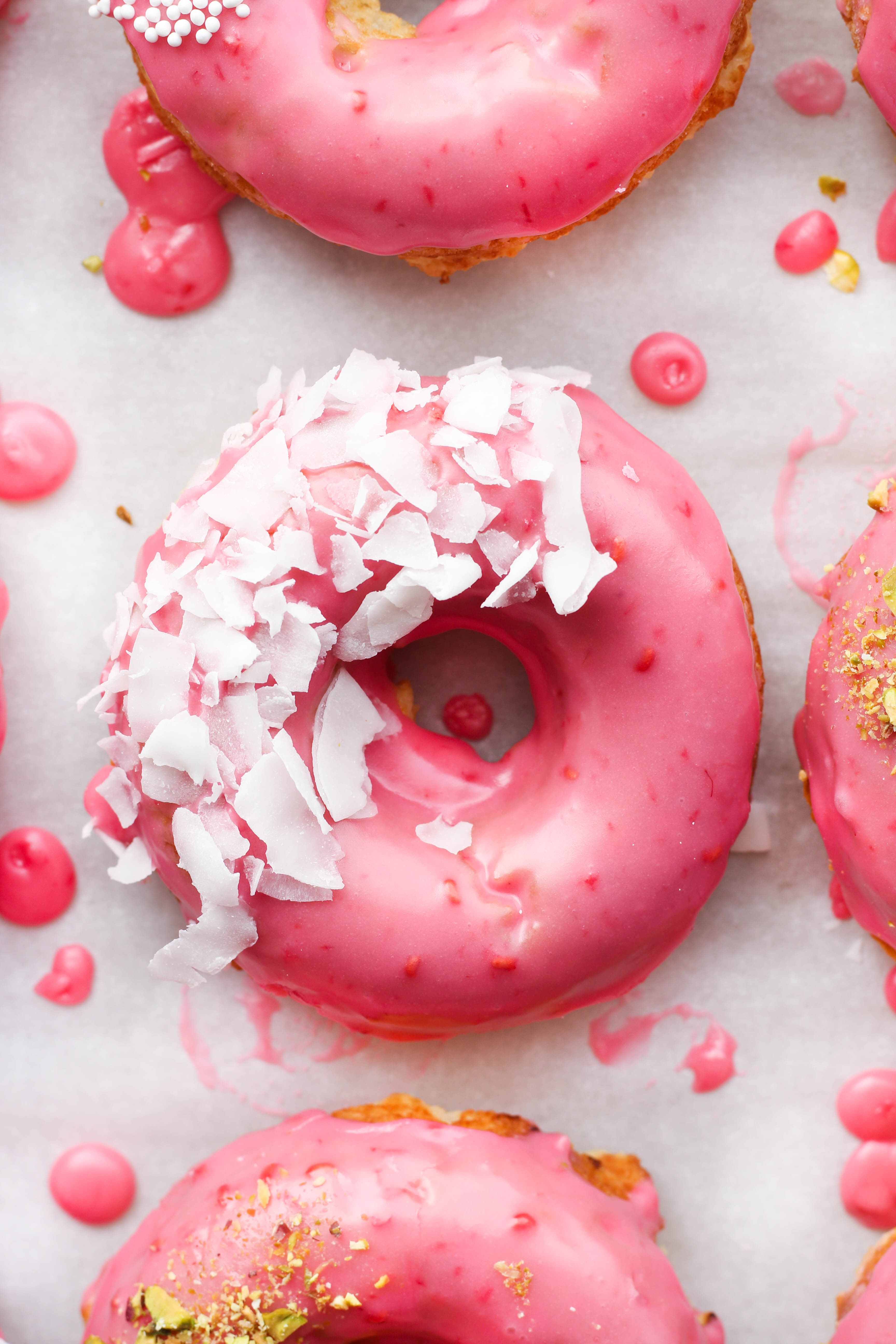 Coconut Raspberry Donuts
Makes 18 donuts
Things you need…
1 3/4 cups all purpose flour
1/4 cup coconut flour
1/2 cup shredded cocount, unsweetened
2 tsp baking powder
1/2 tsp baking soda
1/4 tsp salt
2 eggs
1 cup granulated sugar
1 cup buttermilk
1/3 cup butter, melted
1 1/2 tsp pure vanilla extract
1 tsp lemon zest
Raspberry Glaze
2 1/2 cups icing sugar
1 tbsp lemon juice
2-3 tbsp warm water
1 tbsp raspberry puree
1 tbsp corn syrup
1/4 tsp vanilla extract
Decoration (Optional)
White Sprinkles
Coconut Flakes
Pistachios, chopped
How to make…
Baked Coconut Donuts
Preheat your oven to 375 degrees and lightly grease with butter. Set aside.
In a large bowl, whisk together flour, coconut flour, baking soda, baking powder, salt, shredded coconut and granulated sugar. Make a well in the center of the dry ingredients & set aside.
In another bowl, whisk together buttermilk, vanilla, lemon zest and eggs until well combined. Slowly whisk in melted butter until combined. Pour into the well of the dry ingredients and gently fold the wet ingredients into the dry until the dough has just come together – it is okay if there are still a few floury streaks.
Scoop batter into a piping bag and cut about a 1 inch opening off of your piping bag. Pipe the batter into the donut pans filling about 3/4 of the way full.
Place your donuts in the oven to bake for about 10-11 minutes or until the edges are a light golden brown. Remove from the oven and set on a wire rack to cool for a few minutes before turning them out on the wire rack to cool completely to room temperature before glazing
Raspberry Glaze
In a large bowl, whisk together icing sugar, lemon juice and 2 tbsp of the warm water until smooth. Whisk in corn syrup, vanilla and raspberry puree until well combined. You want your glaze to be a nice thick, yet pourable consistency. If it is a bit too stiff add in another tbsp of warm water – if it is too runny, add in more icing sugar 1 – 2 tbsp at a time until desired consistency is achieved.
Once donuts are completely cool, dip the smooth bottoms of the donuts (the side that was inside the pan) into the glaze, and use your finger to gently run off any excess. Place back on the cooling rack to set.
If you are using sprinkles or coconut to decorate your donuts, you want to sprinkle them on while the glaze is still wet so that they will stick. Fill bowls with your desired toppings and dip half (or all) of the donut top into the topping. Allow the donuts to set for a good 10 minutes before digging in.
Enjoy!