Fact; I have been promising many of you this recipe for wayyyy too long now. So first of all – I need to say thank you to you all for waiting so patiently for me to get my act together; and second of all – your patience was worth it, because this recipe is pretty dang tasty.
These Dark Chocolate Puffed Quinoa Bars are my definition of the perfect snack;
Sweet
Salty
Crunchy
Chocolatey
Chock full of healthy goodies
Seriously, what's not to love?
Shop this post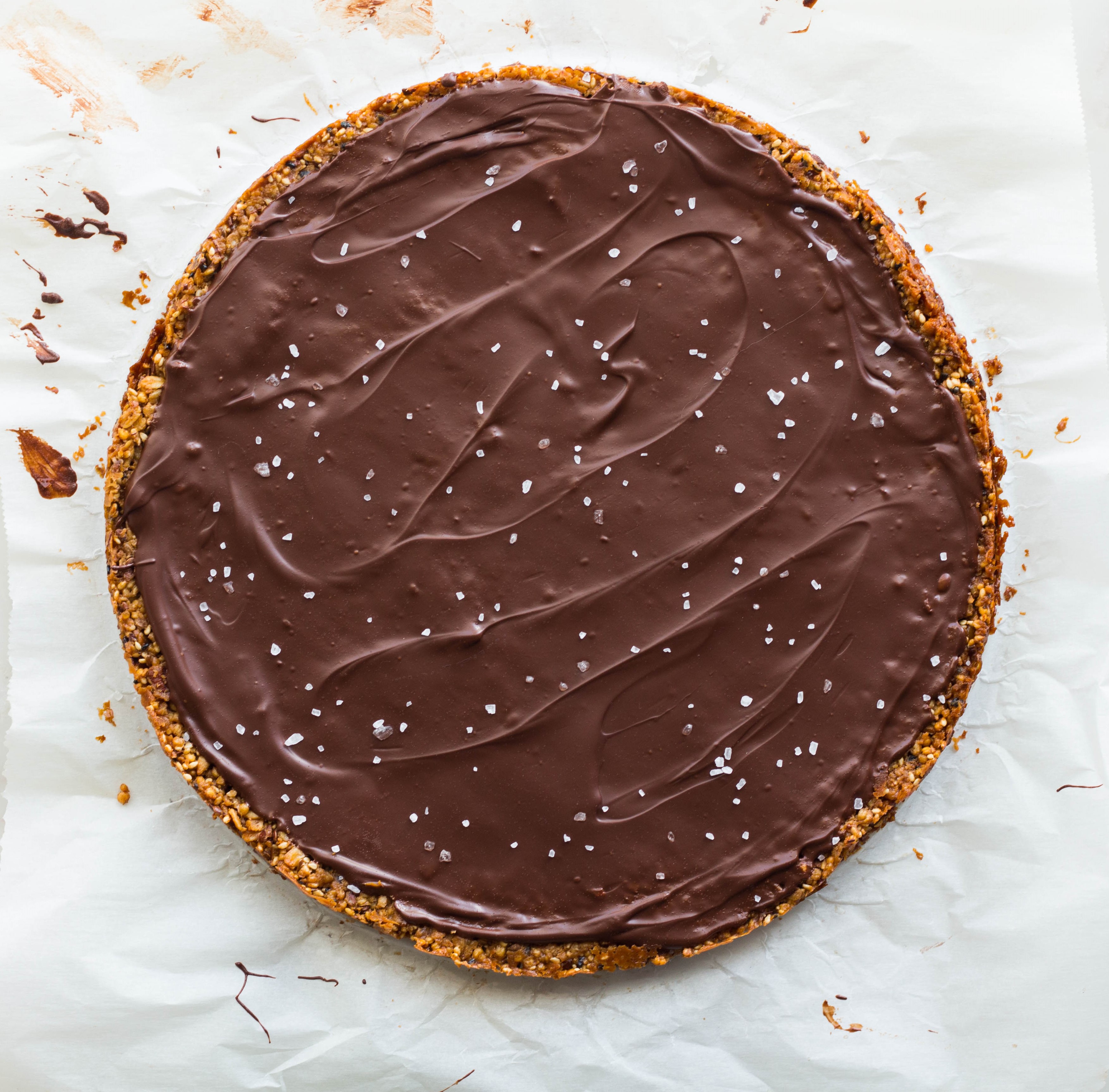 It took me a couple rounds of recipe testing to get these bars just right. The first couple times I found they were a bit more chewy than what I wanted.
So these are a nice crunchy bar with just a bit of chew. The edges are crisp and caramelized, while the interior is just a bit chewy. And if you are a sweet & salty kind of person like myself, then you are going to love these bars.

Not to mention this is super easy to throw together on a Sunday, so that you can enjoy them as a snack all week long.
It's hot as heck right now in Vancouver so I have been keeping mine in the fridge, but during colder months these would easily store in your pantry. So what are you waiting for? Scroll down for the recipe and enjoy!
Happy baking!
KP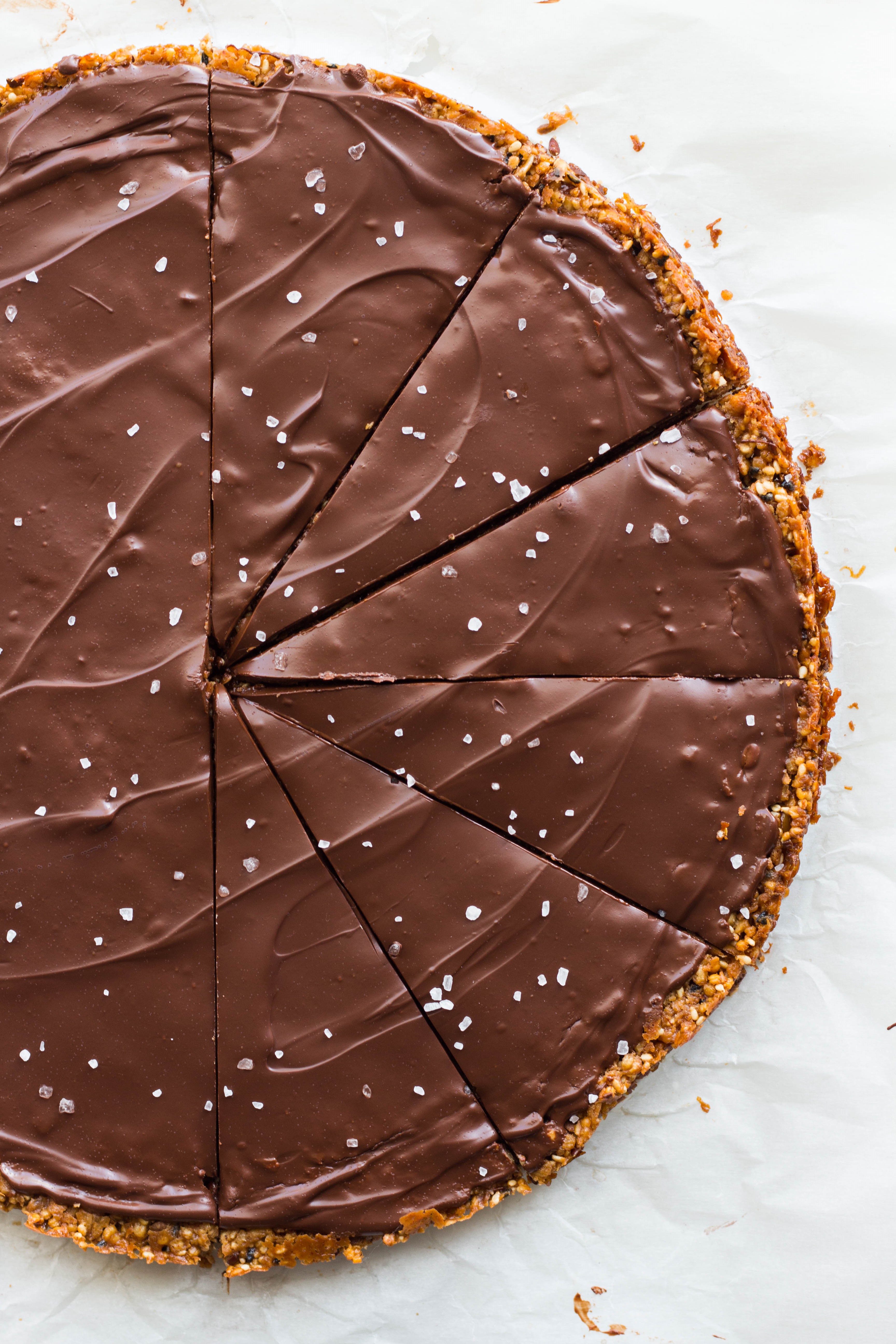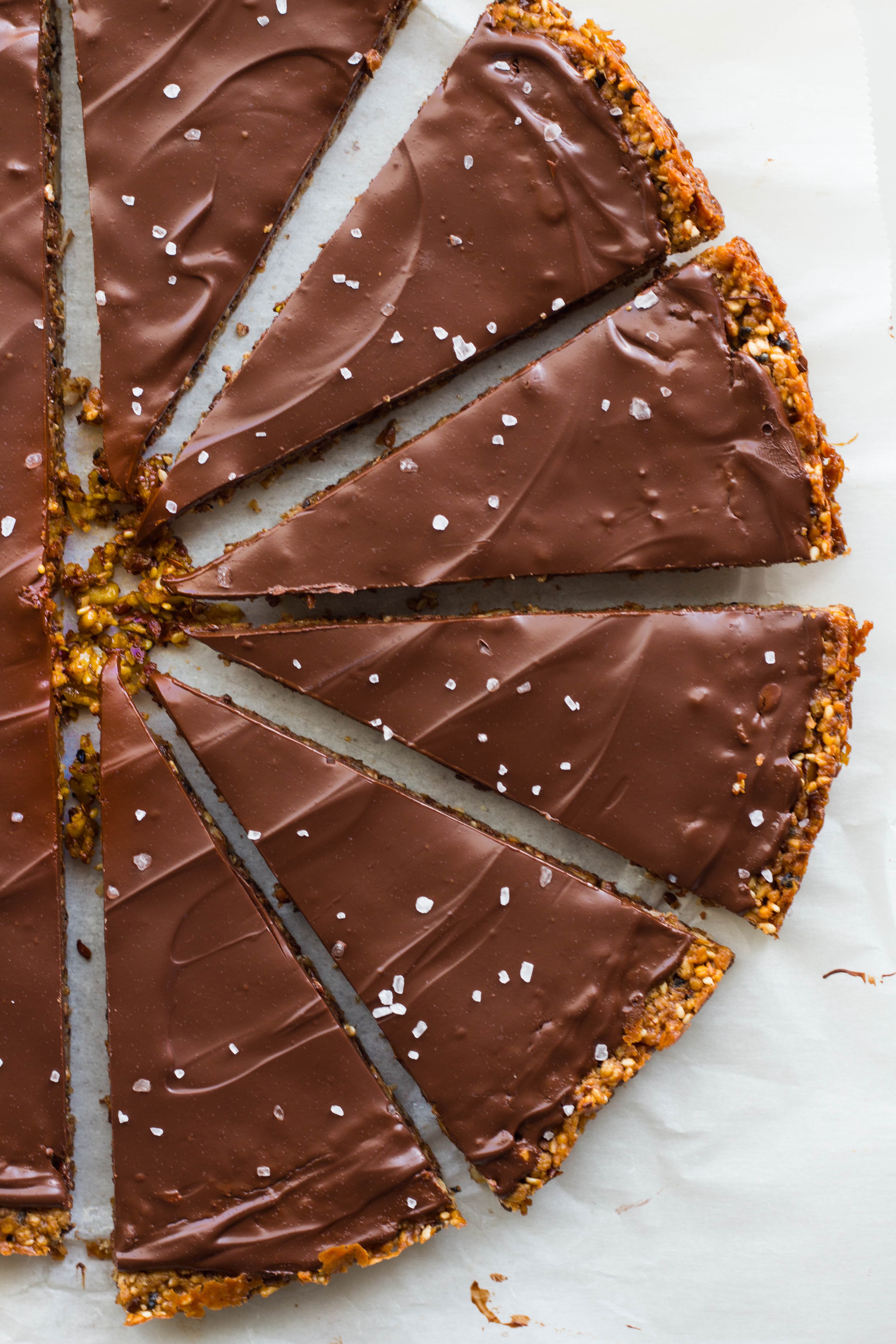 Dark Chocolate Puffed Quinoa Bars
Things you need…
1 cup puffed quinoa
1/2 cup sesame seeds
1 tbsp black sesame seeds
3 tbsp flax seeds
2 tbsp brown sugar
1/2 cup old fashioned oats
1/2 cup sunflower seeds
3/4 cup pecans, finely chopped
1/4 tsp salt
1/2 tsp cinnamon
3/4 cup maple syrup
1/4 cup almond butter
4 tbsp coconut oil
1 tsp pure vanilla extract
5 oz good quality dark chocolate, melted
coarse salt for sprinkling
How to make…
Preheat oven to 325F degrees. Line a 10 inch round spring-form pan with parchment paper; set aside. Note – If you don't have a round spring form pan, you could also just use a cookie sheet lined with parchment.
In a large bowl combine quinoa, sesame seeds, flax seeds, brown sugar, oats, sunflower seeds and pecans. Stir to combine all of the ingredients and set aside.
In a small saucepan over low heat, melt together the maple syrup, almond butter, coconut oil, vanilla, cinnamon and salt until smooth and combined. Pour into the large bowl of dry ingredients and stir with a spatula or a wooden spoon to evenly coat the mixture.
Spread the mixture into your prepared baking pan and press it down firmly with your fingers or with the bottom of a cup so it is nice and tightly packed to the bottom and outer edges of the pan.
Place in the pre-heated oven and bake for 25-30 minutes minutes until it is a nice golden brown and fragrant. The edges might look a bit more brown than the center but this is good, it just means the edges are caramelizing into crunchy, flavourful goodness.
Remove from the oven and allow to cool for five minutes in the pan, before removing the spring form siding and lifting the parchment carefully onto a large cooling rack for the bars to cool completely to room temperature. The bars will seem a bit soft when you remove them from the pan, but they will firm up and get crunchy as they cool.
Once cooled, melt your chocolate in a small saucepan over low heat until smooth. Pour over the bars and use an offset spatula to smooth the chocolate to the outer edges. Sprinkle with some coarse salt (optional) and set the bars in the fridge for twenty minutes to set the chocolate. Once set, use a sharp knife to cut the bar into wedges. Enjoy!
Store in an airtight container the fridge for up to two weeks.