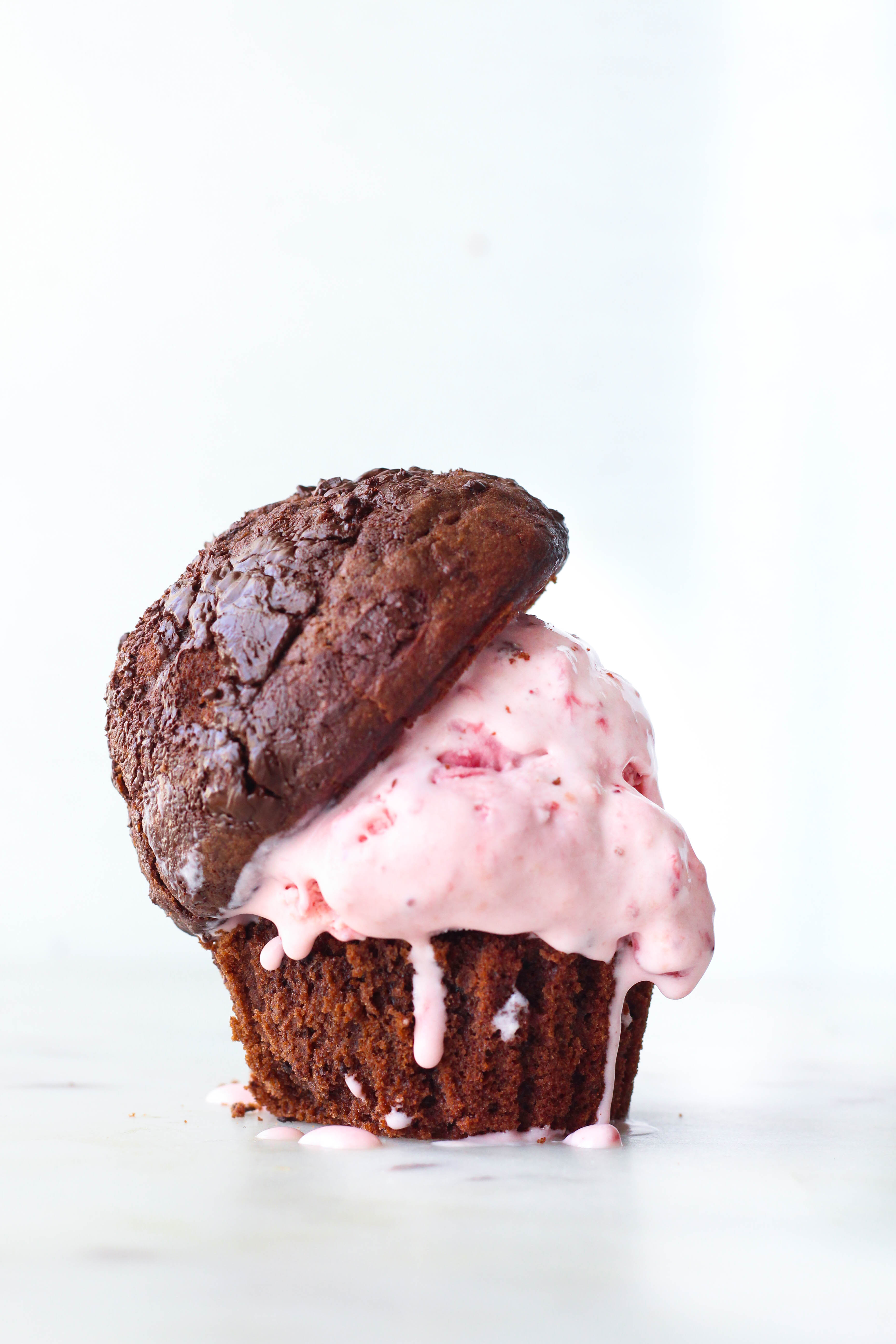 Soooo this happened… I don't really know how it happened… but it happened, and I am definitely not sorry.
At first, I was just planning on posting this No Churn Strawberry Ice Cream for you guys… but then I made a batch of double chocolate muffins  (because it was the middle of the week and I needed chocolate), and just as I was about to stuff my face with a muffin, I had a thought… warm Chocolate Muffin + melty Strawberry Ice Cream? YUP!
Shop this post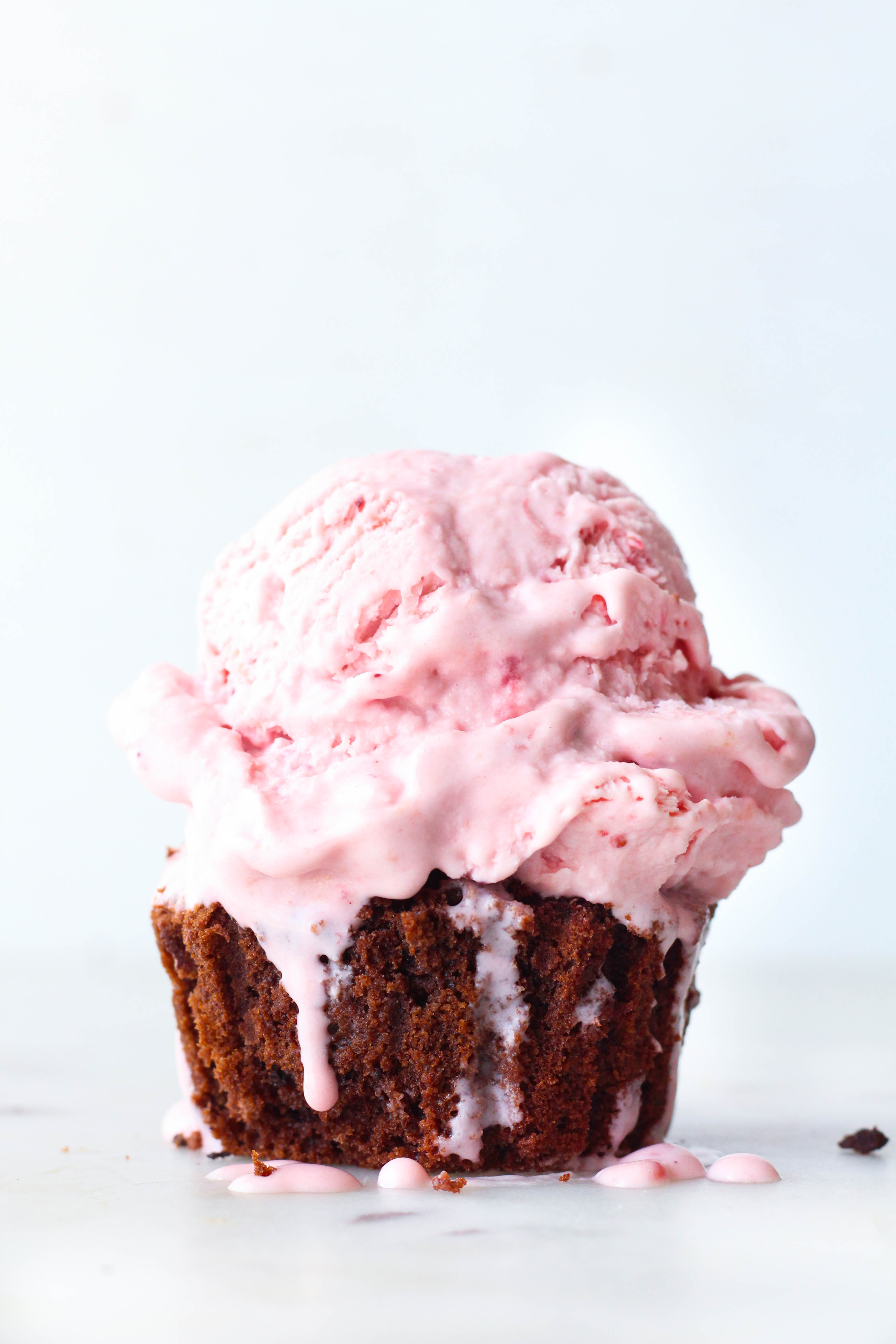 This strawberry ice cream is no-churn so it whips up in a flash, and is sooo creamy. You could totally just eat this ice cream on its own, but I mean why would you do that when you could eat it with a warm, chocolately muffin instead?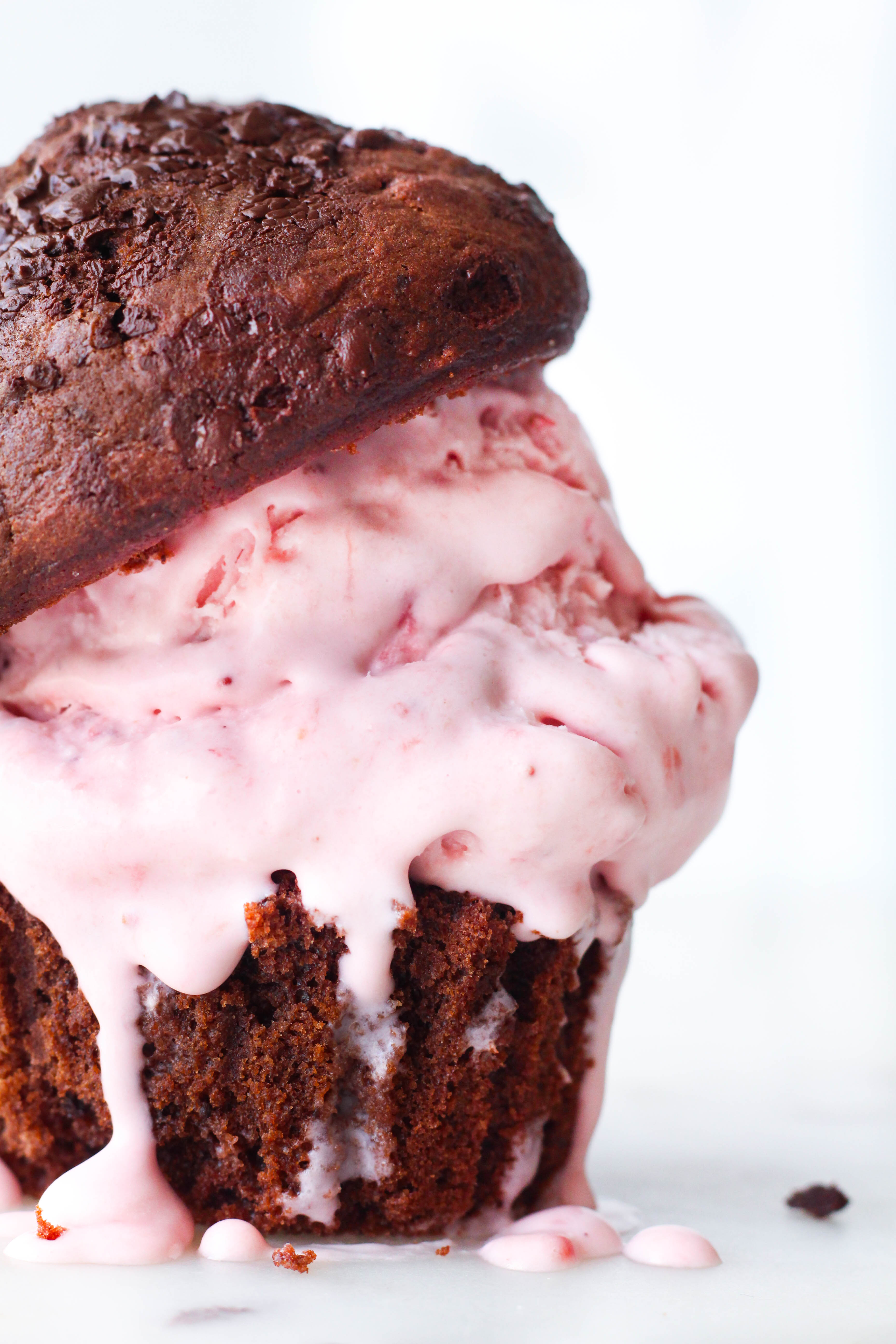 These muffins are so moist, fudgy, and loaded with milk chocolate goodness. Also, can we just talk about the muffin tops on these muffins for a second? They are so delightfully puffy I might just die! In my world there are few things more exciting than a good muffin top, so I practically jumped for joy when these came out of the oven.
You need this in your life. I don't know if I will ever eat a chocolate muffin without a scoop of ice cream again…

Double Chocolate Muffins with No Churn Strawberry Ice Cream
Things you need…
No-Churn Strawberry Ice Cream
2 cups whipping cream
1 can sweetened condensed milk
4 oz cream cheese
1 tsp pure vanilla extract
1/4 tsp salt
3 cups strawberries, sliced
1-2 tbsp brown sugar (depending on how sweet your strawberries are)
1 tsp lemon zest
Double Chocolate Muffins
Makes 12 large muffins
2 1/4 cups all purpose flour
1/2 cup cocoa powder
1 tsp baking soda
1 tsp baking powder
1/2 tsp salt
1/4 tsp cinnamon
3/4 cup brown sugar
1/2 cup granulated sugar
3/4 cup butter, melted
2 eggs
1/2 cup strongly brewed coffee
1 cup buttermilk
2 tsp pure vanilla extract
1 cup milk chocolate chunks
How to make…
No Churn Strawberry Ice Cream
First, add your strawberries, lemon zest and brown sugar to a heavy bottomed sauce pan over medium-high heat. Cook until the strawberries are cooked down to a sauce and just a few fleshy chunks remain. Pour mixture into a heat proof bowl and cover with plastic wrap. Set in the fridge to cool completely.
In a small bowl, beat the cream cheese until smooth and there are no lumps. Scrape down the sides of your bowl and then add in the condensed milk, cooled strawberry sauce and salt. Beat until smooth. Set aside.
In a large bowl, whipping cream and vanilla on high and whip until stiff peaks form; about 3-4 minutes.
Add about 3/4 cup of the whipped cream to the the strawberry & condensed milk mixture and fold it together until smooth. Add the rest of the whipped cream and fold it together until combined and no streaks of whipped cream remain.
Pour into a 9 inch loaf pan or a deep 10 inch cake pan. Set in the freezer for about 6 hours to firm.
Double Chocolate Muffins
Pre heat oven to 375F degrees. Line two muffin tins with 6 cupcake liners each. Spreading the batter out amongst two pans instead of all in one will help them to rise nicely.
In a large bowl, whisk together, flour, cocoa powder, sugars, baking soda, baking powder, salt and cinnamon. Make a well in the center of the dry ingredients and set aside.
In a medium bowl, whisk together buttermilk, coffee, vanilla, and eggs until smooth. Slowly stir in the butter and mix until well incorporated. Pour the wet ingredients into the dry and use a spatula to gently fold the wet ingredients into the dry until just starting to come together. Add in the chocolate chunks and stir until just combined, being careful not to over mix your batter. It's okay if you still have a few flour streaks.
Scoop batter into the prepared muffin liners and fill all the way to the top. Bake for 16-18 minutes or until the tops spring back to the touch.
Remove from oven and set the pan on a cooling rack for 10 minutes.
While your muffin is still warm, carefully remove the top with your fingers or a knife and place a generous scoop of the strawberry ice cream on top of the base. Place the muffin top on top of the ice cream and enjoy!