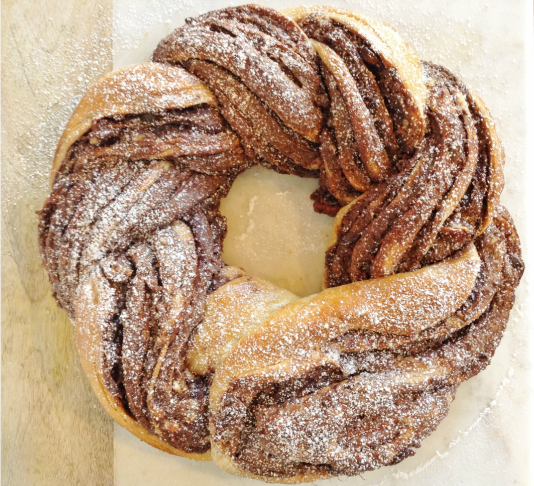 Good morning everybody!
Alright so it may not be morning where you are in the world – but because today's post features possibly the most amazing bread that is to be consumed as a breakfast treat, I thought it only made sense to hail the morning! This is definitely a recipe that you will want to get up out of bed for in the morning! This is the kind of recipe that I gladly get up out of bed at 7am on a Saturday morning to put together for Cole and I's weekend brunch. Now if the title of this post and the picture above of this amazing bread isn't enough for you to understand why the hell I would be happily getting out of bed at 7am on a Saturday… please allow me to elaborate.

First of all – you should know that I am a morning person… so honestly waking up at 7am on a Saturday morning is fairly standard for me. that being said, Cole is not so keen on me hopping out of bed at the crack of dawn on Saturdays because weekends are when we can enjoy some lazy time and catch up on all of the cuddling we are deprived of during the work week. However, when I tell him I am getting up to make this Nutella Bread… he is usually a little more okay with letting me head to the kitchen while he stays in bed for a little sleep in 😉
Second of all – the recipe for this sweet roll dough was modified from one of my favourite cookbooks The Complete Canadian Living Cookbook and it is the perfect combination of flaky and fluffy in a sweet yeast dough. And let's be real, who can resist the smell of a sweet yeast dough filling your house as it bakes deliciously away in the oven in the morning??? Who I ask you! Who can resist that smell??
Thirdly – There is freshly ground espresso baked into the center of this delicious bread and in the morning, there are few things more terrific than the smell of freshly ground coffee or espresso. So when your breakfast has the goodness of caffeine baked right in… what more could you ask for?
Last, but certainly not least – That delicious, fluffy bread is stuffed with the amazingness that is Nutella… I mean seriously need I say more??? Nutella is basically just chocolately, hazelnutty, happiness packaged into a jar – am I right? My life was forever changed the day that I first discovered Nutella – it was quite possibly one of the best days of my life. I'm sure most of you are on the exact same page as me with that one. I mean honestly, I am completely content with just sitting down on the couch with a jar of Nutella and a spoon and calling that breakfast. However, for the mornings where I am feeling like I should perhaps be a little bit more civilized... there is always this recipe for an Espresso & Pecan Nutella Twist.
So enough babble… and more Nutella am I right?? Here is it ladies and gent's  – consider your life changed…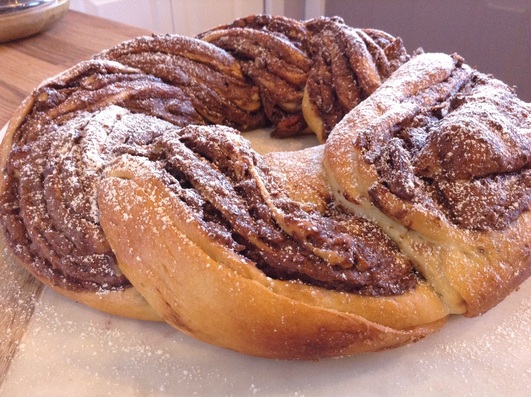 Espresso-Nutella & Pecan Sweet Bread
Things you need…
Sweet Bread
1 package instant or active dry yeast
2 tbsp granulated sugar
3/4 cup whole milk, lukewarm
1 large egg
2 tbsp butter, melted and cooled
2 1/4 cups all-purpose flour
1/2 teaspoon salt
Espresso Nutella Filling
1 cup Nutella
1/2 cup ground chocolate covered espresso beans
1/2 cup toasted pecans
Egg wash
1 large egg
1 tbsp melted butter
1 tbsp sugar
2 tbsp icing sugar, for dusting
How to make… 
Toasted Pecans & Coconut
Preheat oven to 300 degrees; spread pecans and coconut out on a pan that has been lined with parchment.
Bake for 5-6 minutes or until the pecans are fragrant and slightly browned. Keep a close eye on them because they can burn very quickly.
Sweet Dough
In a medium bowl, stir together the yeast, sugar, and milk.  Allow to sit for 10 minutes, until foamy. Whisk in the egg and melted butter.
In a large bowl, whisk together the flour and salt.  Pour the milk mixture over the dry ingredients and stir together until a ragged dough forms. Turn dough out onto a lightly floured surface and knead for 5 minutes, or until the dough is smooth and elastic.  Shape into a ball and place in a large, greased bowl.  Cover loosely with plastic wrap and allow to rise for 1 hour to 1.5 hours, or until doubled in size.
Preheat the oven to 375 degrees F, and grease a 10-inch spring-form pan.
Place the risen dough onto a lightly floured surface and knead twice.  Roll the dough into a 18×12 inch rectangular.  Warm Nutella in the microwave for about 25 seconds so that it can be easily spread. Using an offset spatula, spread the Nutella over the prepared dough, leaving a 1-inch or so border around the sides.  Evenly distribute the ground chocolate covered espresso beans and the toasted pecans over top of the Nutella.
Tightly roll the dough into a log shape and pinch the seam closed and place the seam side down.  Tuck the ends of the log underneath to close the ends so that the Nutella wont spill out.  With a sharp knife, cut the log in half down its middle, leaving 1 inch of the edge of one end uncut for stability.
Turn the cut seams of each strand so that they are facing upwards and braid the two pieces by gently lifting the left strand over the right strand; repeat this motion until you reach the end and press the two ends together to seal.
Join together the two ends  of the braid together to form a circular wreath shape, and press the ends together to seal.  Gently lift the wreath into the prepared spring-form pan and cover with plastic wrap; allow to rise for an additional 30 minutes.
Brush the dough with the egg wash, sprinkle with sugar and bake for 20-25 minutes or until the bread is a nice golden brown in colour.
Allow to cool for 30 minutes before dusting with powdered sugar. Serve warm or cooled completely – let's be honest either way it is delicious!
There it is – a recipe for a sweet bread that is guaranteed to have you addicted! Don't say I didn't warn you – this one will disappear from your breakfast table in no time and I'm sure it will become a recipe that your family is begging for each and every weekend! I mean honestly, creamy nutella wrapped up in a flaky and fluffy bread with a hint of espresso and crunchy pecans baked right in… who could resist? I know I sure cant 😉
The great thing about yeast dough recipes is that you can get super creative with your bread design! Just because I featured a wreath twist here on my blog, certainly doesn't mean this is the only way to enjoy this amazing nutella bread! Create your own shape based on the occasion you are baking for!  In a previous experimentation  with this bread, I simply rolled the dough up into a log and cut out mini buns that could be fit into a muffin pan and baked them like that. Another time, I made several individual twists.  If I am baking this bread for a Sunday brunch, I like to make the large wreath twist featured in my photos, just because it makes for an absolutely beautiful centerpiece on the dining room table.  However, if I am baking the bread for snacking, I like to go the route of the smaller individual twists because they work great as an on-the-go treat.
Each and every ingredient in this spectacular bread just works perfectly together to create the ultimate weekend breakfast! The warm, yeasty bread pairs with the Nutella perfectly, while the ground espresso beans work to balance out the sweetness of the Nutella, and the toasted pecans just add that missing crunch to the fluffy bread. Mhmmm – this one is a must try!
So please give this recipe a try and let me know how you styled your bread! I would love to see the results!
Happy Baking everybody!
KP xoxo