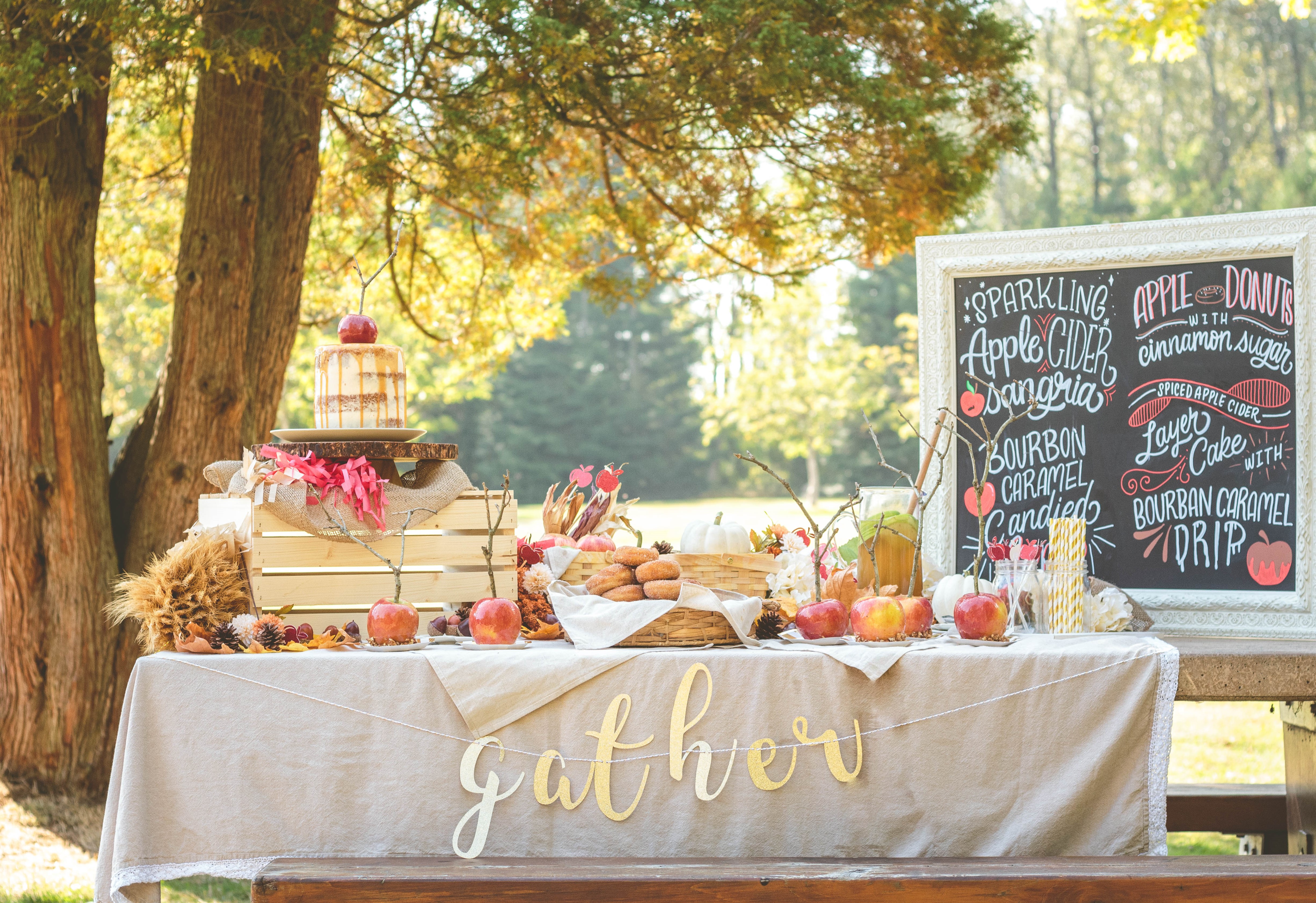 Happy Fall!
Okay so I might be a little late to the Fall party this year, (considering last week was the first official day of Fall) but hey, better late than never right?
Besides, it was well worth being a little late because I celebrated these first few days of Fall by doing a collaboration on a Fall Apple Harvest inspired photo shoot with my friend Rosemary Lebarge ,  Paper and Parties, and Carly Fairbank.
We staged a little party in the park, and by the time it was all set up, I couldn't help but want to be a guest at our Apple Harvest Party.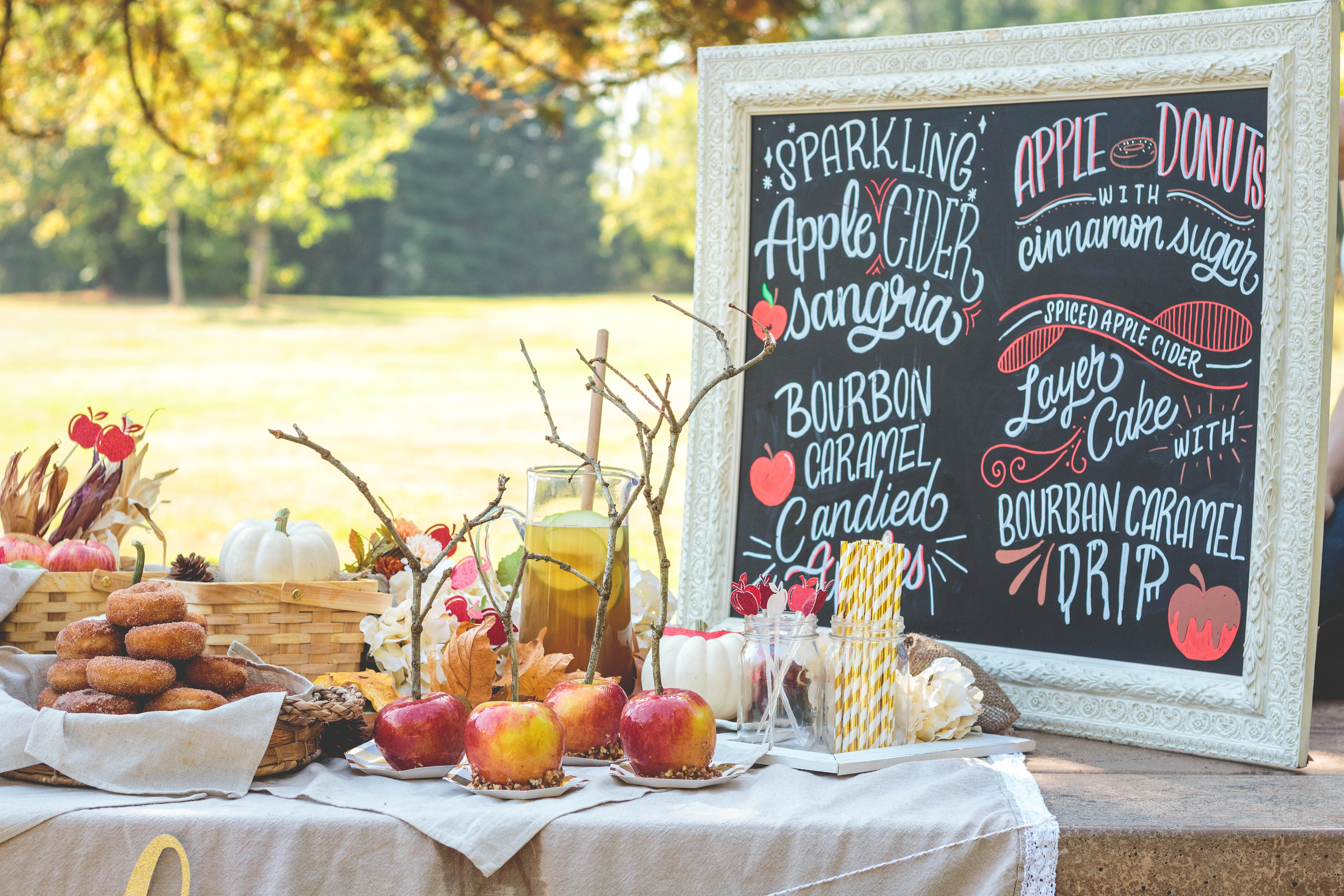 Our spread included a killer chalkboard menu courtesy of Carly, some festive party decor from Paper and Parties, a whole lot of fabulous styling from the incredible Rosemary and a few freshly baked goodies courtesy of yours truly.
This was such a fun shoot to do, and it has me itching to plan a Friendsgiving in the park this year… Who's in!? I'll bring the doughnuts 😀
Check out our photo shoot below and find the recipes for all of the tasty yummies I brought to the party as well.
Happy Fall'ing!
KP xoxo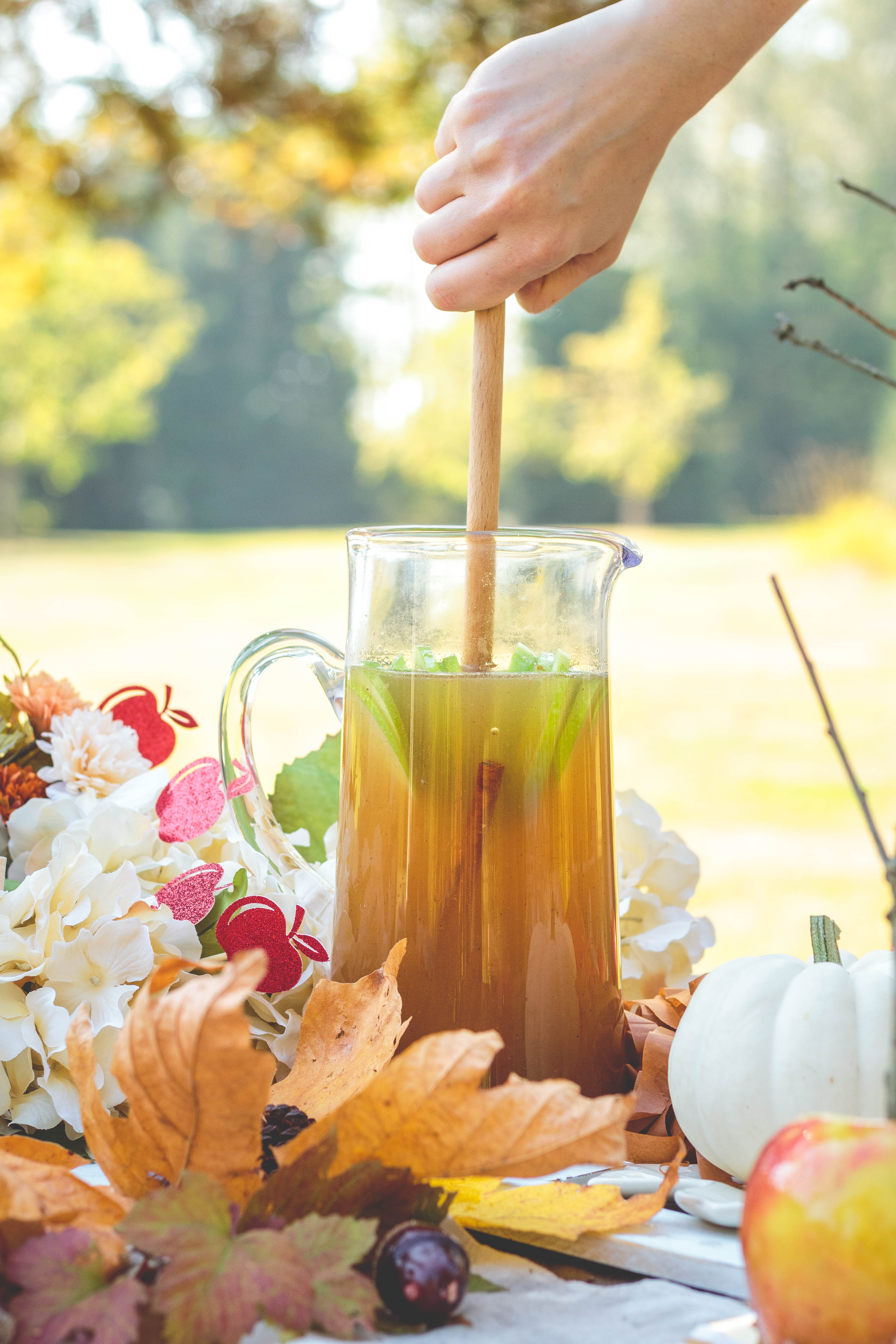 Mulled Apple Cider Sangria
YUP! You heard me right. You'll want to make a big batch of this stuff if you're bringing it to a party, because it will disappear quickly. 
Sangria
4 cups mulled apple cider (homemade recipe below)
1 bottle sparkling wine
1/4 cup bourbon
1 apple, sliced
3 cinnamon sticks
1 orange sliced
a few star anise pods (optional)
Pour apple cider, sparkling wine and bourbon into a large jug and stir. Add in sliced apple, cinnamon sticks and sliced orange for garnish. Stir again and enjoy.
Homemade Mulled Apple Cider
8 cups apple cider
1/4 maple syrup (or brown sugar or honey)
4 cinnamon sticks
1/2 tsp ginger
1/4 tsp cloves
1/2 orange sliced
1/2 lemon sliced
4 star anise pods (optional)
Place all ingredients into a large stock pot. Bring to a boil, reduce heat to medium low and simmer for 30 minutes. Strain into a large jug and enjoy warm, and use leftovers to make SANGRIA!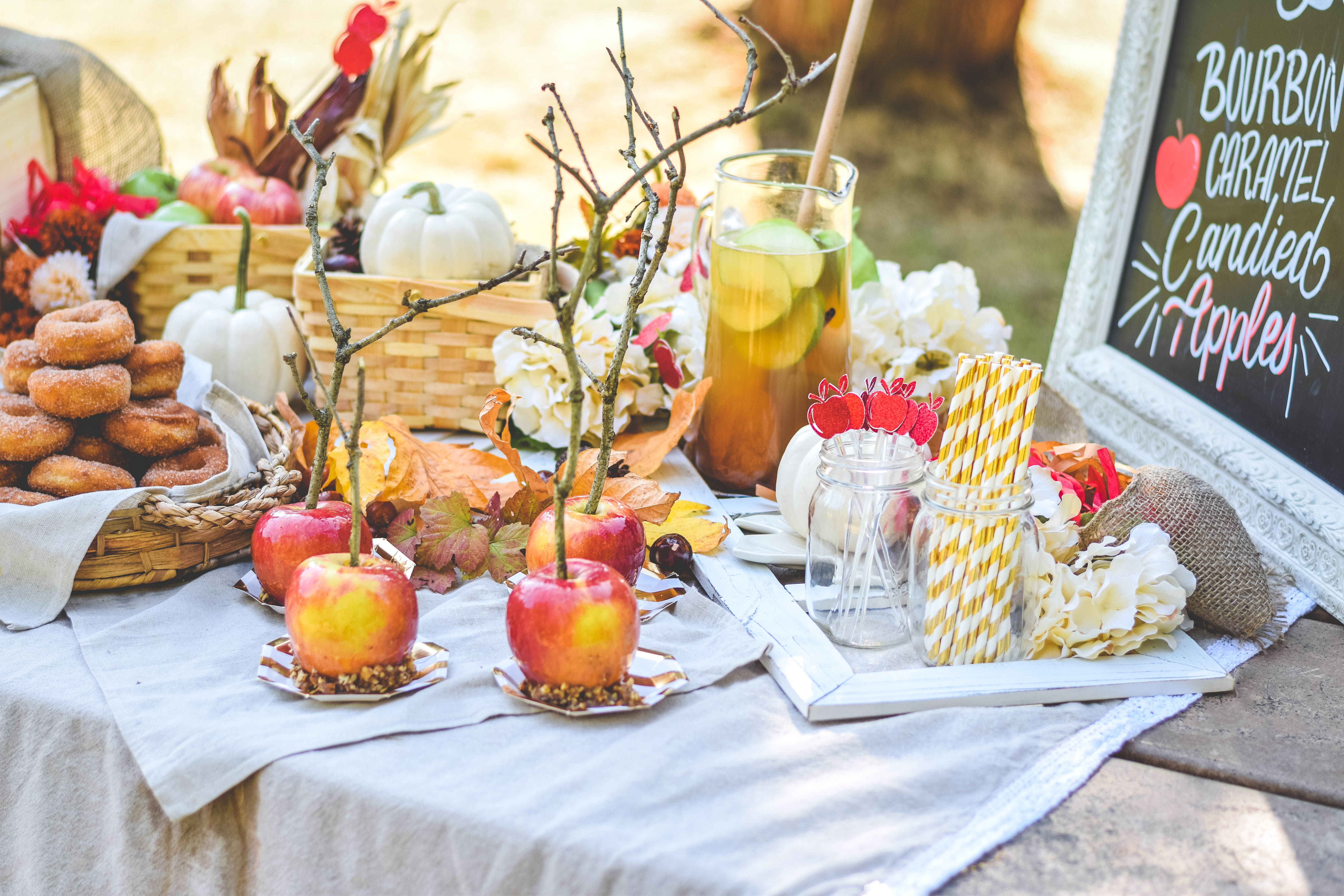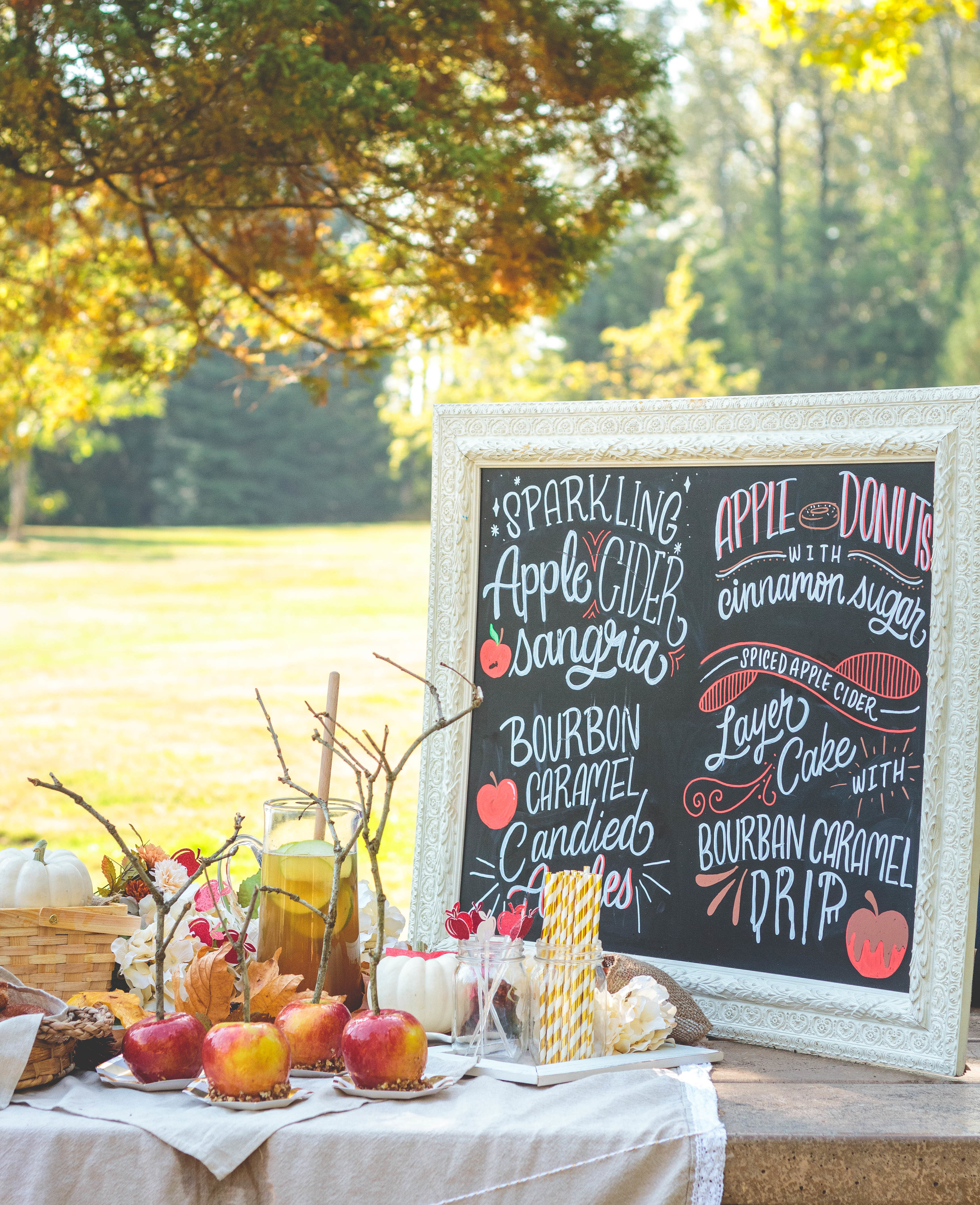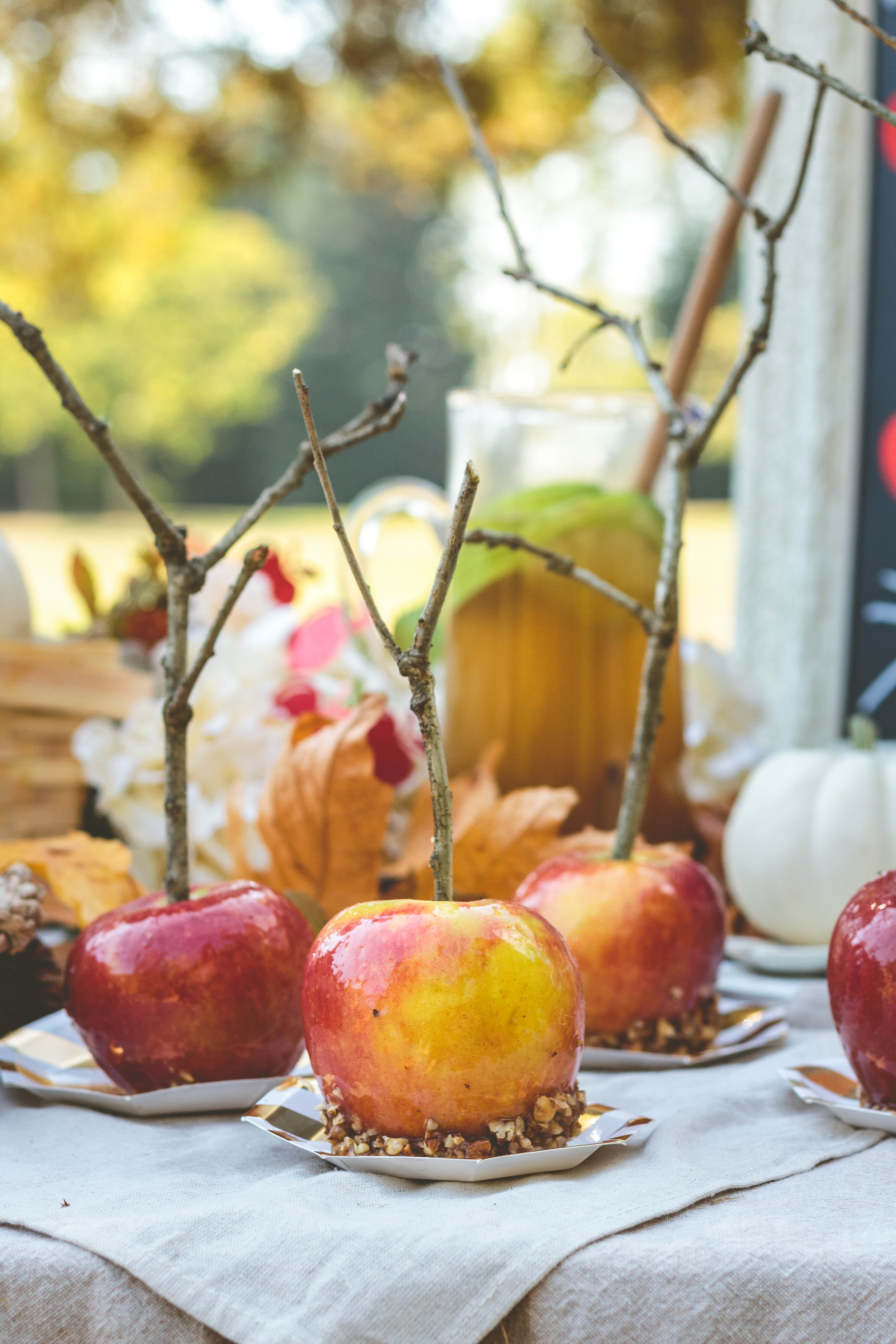 Mulled Apple Cider Caramel & Toasted Pecan Dipped Apples
So here's the deal; I could pretty much drink this caramel sauce straight up, but it tastes even better when it is coating a juicy apple and sprinkled with toasted pecans. I mean really how does one resist one of these?
Mulled Apple Cider Caramel
2 cups granulated sugar
1/2 cup corn syrup
5 tbsp butter
1/2 cup whipping cream
1/4 cup mulled apple cider (homemade recipe above)
1/2 tsp salt
Place sugar and corn syrup into a medium heavy bottomed saucepan over medium heat. Use a wooden spoon or a heatproof spatula to stir the sugar and corn syrup together.
Once the sugar dissolves and begins to boil, allow it to boil undisturbed until it reaches a light, golden brown colour. Immediately remove from heat and stir in butter, then stir in heavy cream, mulled apple cider and salt, stirring constantly until your mixture stops bubbling and is smooth.
Return pot to the stove over medium-low heat and heat for another 2 minutes or so. Immediately remove from heat and allow to cool for a few minutes until the caramel has thickened enough to stick to your apples – I usually wait about 5-10 minutes. If your caramel becomes too thick to dip, you can always return it to the stove and heat over a low heat until desired consistency is achieved.
Assembly
6 large twigs, cleaned (or popsicle sticks)
6 Apples
1 cup toasted pecans, finely chopped
Wash and remove the stems from your apples. Insert a twig (or popsicle stick) into the top of each of your apples. Dip your apples into the caramel one at a time and swirl them around to evenly coat. Allow any excess to drip off of the apples, use your finger to take any large amounts off if necessary.
Next roll the apples one by one into the chopped pecans. Set them on a parchment baking sheet to set for twenty minutes before enjoying.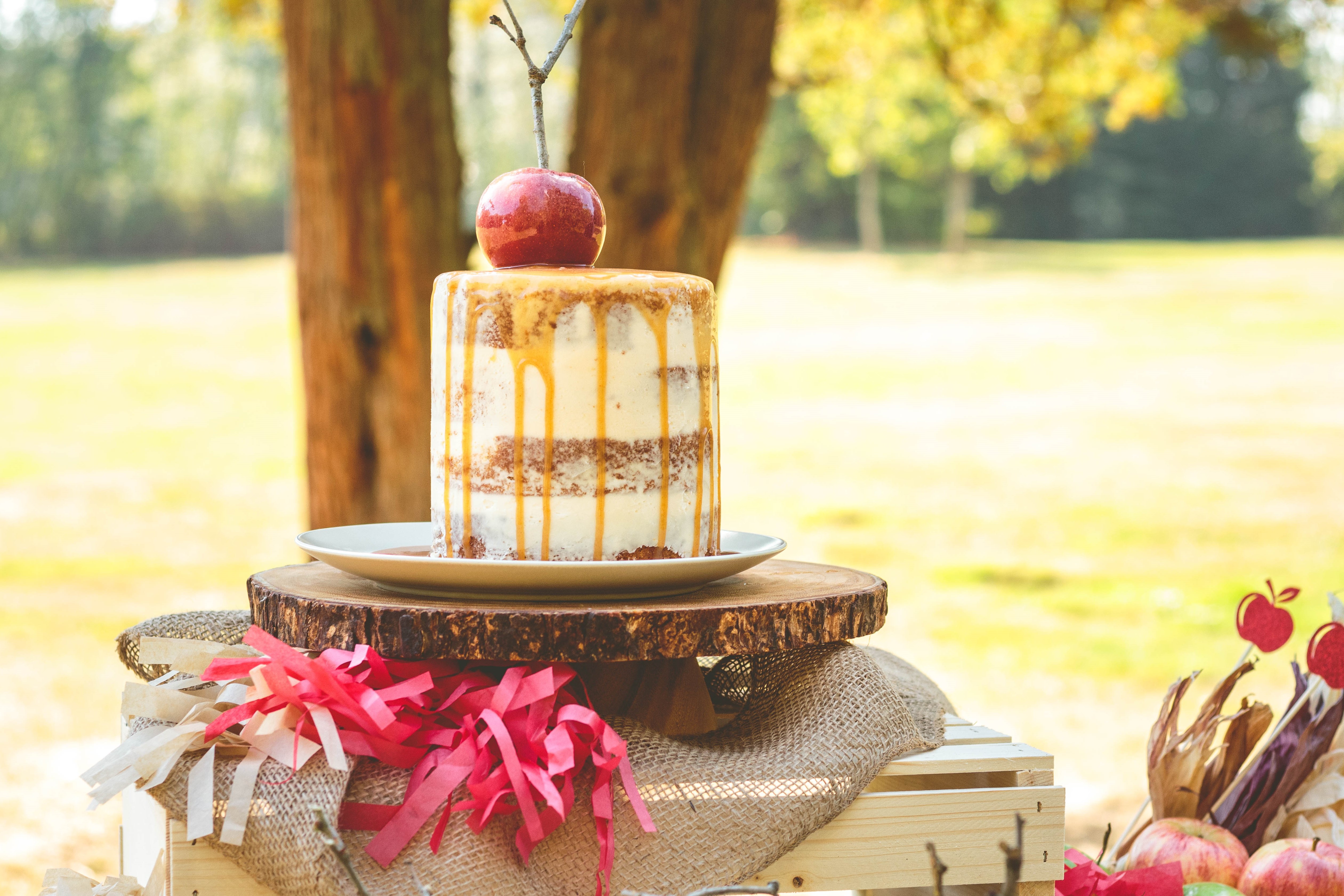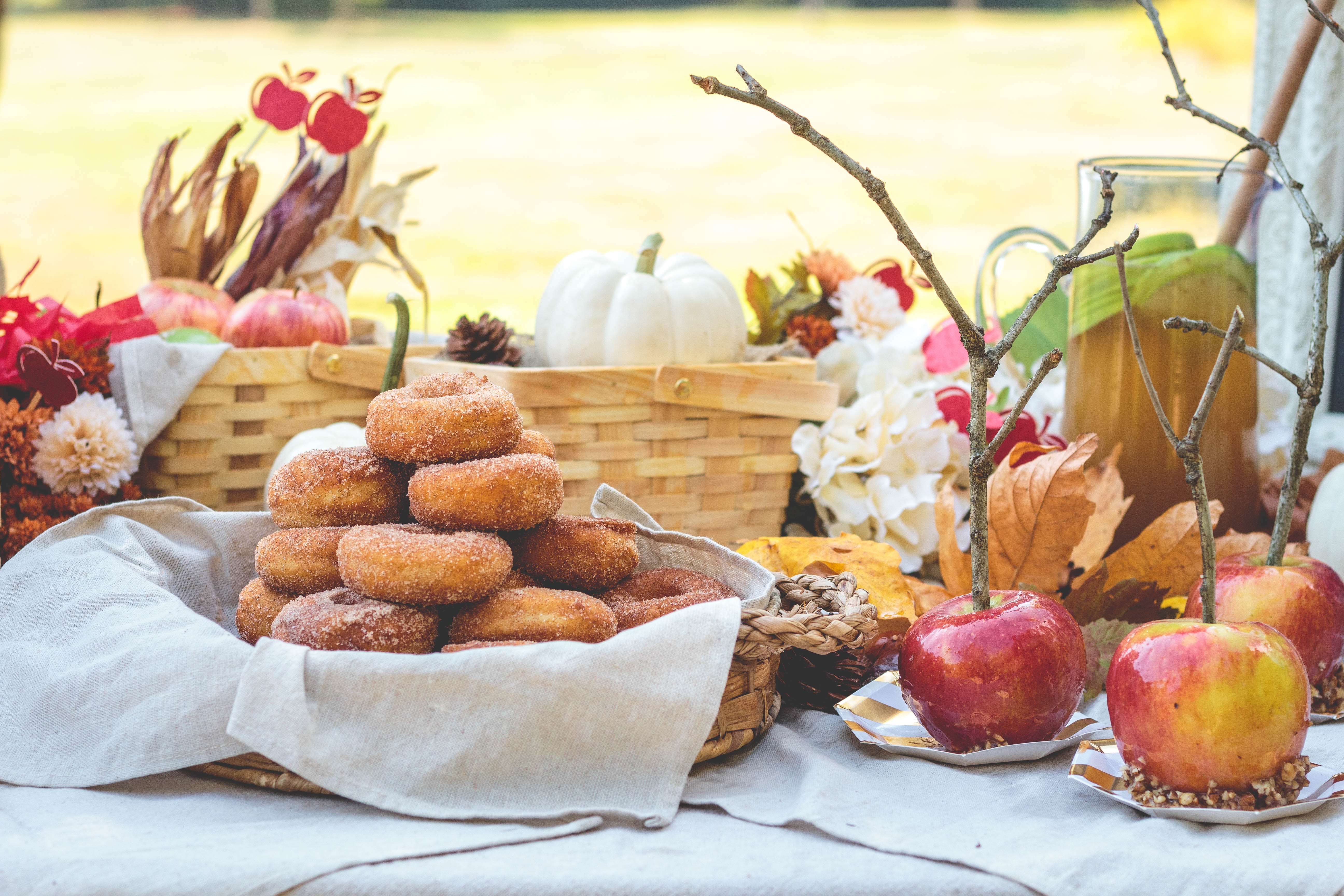 Cinnamon Sugar Mulled Apple Cider Doughnuts 
For these doughnuts I used my recipe for Perfect Yeast Doughnuts, and simply replaced 1/2 of the whole milk with mulled apple cider and rolled them in cinnamon sugar after frying.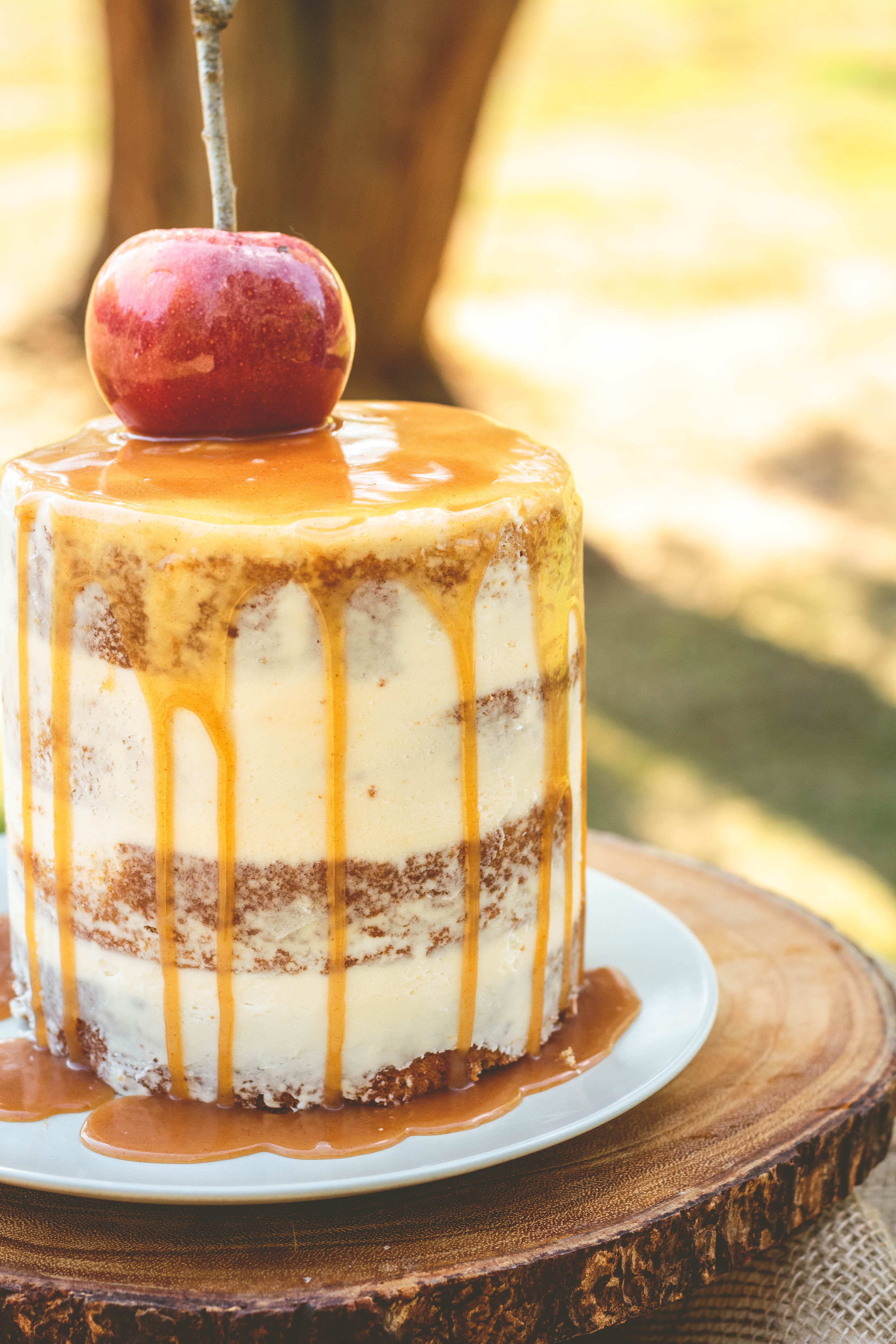 Mulled Apple Cider Caramel Dip Cake
This cake is the new love of my life. Even just the mulled apple cider cake on it's own is unbelievably delicious. So naturally when topped with caramel buttercream and mulled apple cider caramel… this cake is just downright irresistible. 
Mulled Apple Cider Cake
1 cup unsalted butter, softened
1 cup granulated sugar
1 cup brown sugar
2 tsp vanilla
4 eggs, room temp
3/4 cups buttermilk
3/4 cups mulled apple cider (homemade recipe above)
3 cups all purpose flour
1 tsp baking soda
1 tsp baking powder
1 tsp cinnamon
1/2 tsp ginger
1/4 tsp nutmeg
1/8 tsp cloves
1 tsp salt
Preheat oven to 325 degrees; grease & flour either two 9″ cake pans; set aside.
In a large mixing bowl, cream together butter and sugars with an electric mixer until pale and fluffy, scraping down the sides of the bowl every so often to evenly beat the batter. Add in the eggs one at a time, beating well after each addition and scraping down the sides of the bowl before adding another egg. Once all the eggs have been beaten in, add in the vanilla and beat on high for 1 minute.
Stir together buttermilk and mulled apple cider; Set aside.
In a small mixing bowl, sift together flour, baking soda, baking powder, spices and salt. Add 1/3 of the flour mix to the batter and beat on low to just combine; scrape down the sides of the bowl. Next add in 1/2 of the buttermilk/apple cider mixture and beat on low to just combine; scrape down the sides of your bowl. Add another 1/3 of the flour mixture, mixing on low and then add the remaining 1/2 of the buttermilk and beat to just combine. Scrape down the sides of the bowl and add in the last 1/3 of the flour mixer and beat on low until there are no lumps in the batter, being careful not to over mix your batter.
Evenly distribute the batter among your prepared cake pans.
** Tip: Wrap each pan with a strip of damp tea towel (The width of your strip should be cut to about the height of your cake pan and long enough to wrap around your pan with a couple inches to spare.) Use a safety pin to hold them in place. This will prevent doming and give you nice flat cakes that are perfect for layering.
Bake the cakes for 30-35 minutes or until the tops are golden brown minutes or until the tops are a golden colour and a toothpick inserted in the center of the cake comes out clean.
Remove from the oven and allow to cool for 20 minutes in the pans. Remove from pans and allow to completely to room temperature. Meanwhile, prepare your frosting.
Caramel Buttercream
3/4 cup butter, softened
3 cups icing sugar
2 tsp vanilla
1/4 cup mulled apple cider caramel (recipe above)
1/4 tsp salt
In the bowl of a stand mixer fitted with the paddle attachment, beat butter until smooth. Add in the icing sugar 1 cup at a time, beating until smooth in between each addition. Add in caramel, vanilla and salt; beat on high for 4-5 minutes until frosting is very smooth and fluffy.
Assembly
Once the cakes are cooled, you can begin to assemble your layer cake.
Set your first cake layer onto the dish you want to serve it on. Dollop about 1/2 cup of icing onto the first cake layer and spread evenly to the outer edges. Drizzle some of the caramel over top and place the second layer of cake on top. Frost the outside of the cake with the caramel buttercream and set in the fridge to chill for 20 minutes.
Once your cake has chilled, pour about 1/2 cup of caramel over top and use an off set spatula or a knife to spread it to the edges and create a few drips. Set back in the fridge to set for about 20 minutes. Remove from fridge 10 minutes before you want to serve.
Enjoy!