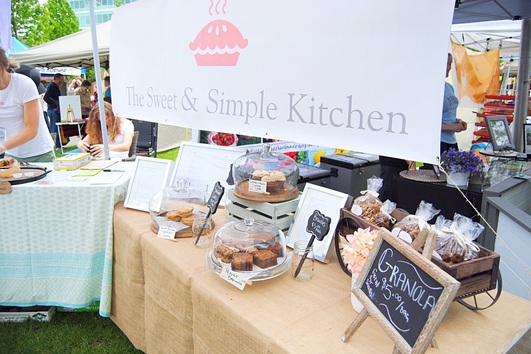 Morning everybody! So I am officially the giddiest girl on earth right now for three reasons:
Reason number 1. Last weekend was a long weekend. I am so happy that I came in to work this morning with it feeling like a Monday when it is already Tuesday—only 4 more days until next weekend. Wahoo!
Reason number 2. Not only was the weather gorgeous over the long weekend, but it is supposed to continue to be gorgeously sunny, with temperatures reported to be in the high twenties for the rest of the week. Honestly, it's amazing how a little sunshine can boost my mood.
Reason number 3. This past Saturday we had our grand opening at the Haney Farmers Market and it went so well that I have been riding on the residual high from the success for the last 3 days.
It was a wonderful experience, and I have been dying to tell you all about it…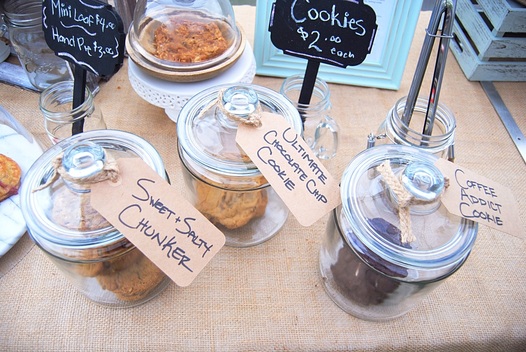 Oh my goodness, there is so much to tell you that I honestly don't even know where to begin! I guess I will start with some of the pre-market prep that I was running around like a crazy woman until the very last minute in order to prepare. Seriously – it was crazy! It's times like that when I really have to take a step back and ask myself… "Am I a procrastinator???"  You see, normally if somebody was to ask me that question, I would scoff and firmly respond "Of course I am not a procrastinator! In fact, I am the exact opposite of a procrastinator!" However, after this week, which seemed to consist of me getting things done at the very last possible moment, I think that it might be time for me to admit that I might just be a little bit of a procrastinator…. But, shhh! Don't tell Cole I said that 😛
So one of the many things that I found myself searching for at the last minute last week was display containers for all of my baked goodies. One of the regulations at the Haney Farmers Market is that all prepared food must be pre-packaged, covered with a lid or behind a sneeze guard. Because I didn't want to pre-package all of my items, I had to get a bit creative with my display. I loved the idea of displaying my cookies in glass cookie jars and having my sandwich cookies, coffee cakes, brownies and bars on display in cake stands with glass domes. Not only do the glass container displays mean that people passing through can see our products well, but I also thought that they were super cute to look at.
Now as pretty as our glass displays were, there were some items that I didn't want to cover because they keep their quality much better when they are in open air. For that reason, I wanted to get a nice sneeze guard. However, after learning that it would cost about $500, I realized that this wasn't an option for me. One of the many amazing things about Cole is that he is oh-so-handy—he was able to come up with a DIY sneeze guard that was not only adorable, but ended up costing us nothing at all. Did I mention that I may have waited till the last possible minute to ask him to build this sneeze guard? As in, he literally built it the night before the market ?? Yeah… I'm not a procrastinator…. 😀
We used an IKEA glass cabinet door that we had left over from a previous project in our house when we were deciding between using regular or glass doors. Somehow, we never got around to returning the glass one. It was just sitting in our garage doing nothing until my brilliant boyfriend came up with the idea of fastening a metal bracket to the back so that it could stand up on an angle and be a makeshift sneeze guard for our booth! Is he a genius? Am I the luckiest girl in the world? I think so. 😀
You can see the result of our DIY sneeze guard in the picture below, but the picture really doesn't do it justice. It's one of the nicest sneeze guards I have ever seen, and it fit perfectly with the rustic, DIY theme of our market set up. We had so many comments on it throughout the day!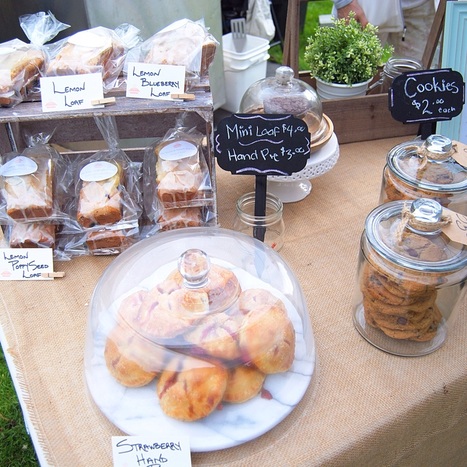 Okay, so I feel like I am making this day seem like it was easy to pull off, but I just need to quickly clear the air and let you in on a few of the mini—well, if I am being totally honest, I should say the large—meltdowns I had the night before and the morning of the market. Oh the drama!
Meltdown # 1 – Mini Lemon Loaf Disaster: 
Cole and I recently bought a new oven with a convection feature. I love convection ovens! They produce the most incredible results with muffins, cookies and scones because the convection always achieves the crispy outside desired in these baked goods, while still maintaining a soft, moist inside. Sometimes I can't remember cookies without my convection oven, and honestly, I just don't want to.
Needless to say, I am obsessed with my convection oven. I use it every chance I get. Unfortunately, this is exactly what led to farmers market meltdown # 1. While I was baking everything in a mad rush, I forgot to switch my oven from convection to regular bake when I put in my first round of lemon mini loaves. Because my lemon loaf has a much more delicate batter, it does not do well with convection. The convection fan blew the tops of my mini loaves to the side and made them look all wonky, and much less cute than I had been envisioning them.
So after crying (yes, literally crying) to myself about the tragedy of these not-so-pretty mini loaves, and convincing myself that the entire day would be completely ruined because I would only have half as many mini loaves to sell, Cole came into the kitchen to see what the fuss was about. He, of course, he had no idea what I was so upset about because, according to him, the mini loaves looked great and he wanted to eat them all. He thought I was completely overreacting, being way too hard on myself, and nobody else would see what I was seeing. So after much convincing, he persuaded me to just package them up and sell them.
As usual, he was right. There was not one mini loaf left at the end of the day. So yes… I may have overreacted a little bit.
Meltdown # 2 – Oatmeal Toffee Cookies Disaster:
Meltdown # 2 came half-an-hour before I needed to leave for the market. Cole was already at the park setting up our tent and tables, but thank goodness Jamie was with me back at our house to save the day.
While I was baking off my jumbo cookies, everything was great: they were coming out the perfect size; they looked delicious; and they were baking perfectly… that is until I put the Oatmeal Toffee cookies in the oven. I had done test runs of all of my cookies when I prepared the batter days before and everything came out beautifully, but for some reason these cookies completely flopped. Three quarters of the way through their bake in the oven, they lost their integrity and morphed into one giant flat cookie on the pan. It was literally the ultimate cookie nightmare!
Usually this cookie morphing nonsense occurs when you have too much butter and not enough flour in your batter, but my test run with these cookies a few days before had been perfect, so I still have no idea what happened. To me, it was the world's way of warning me that this whole farmers market thing was going to be a disaster and that I should just throw in the towel now.
I pulled the cookie mess out of the oven and proceeded to stare blankly at the pan, my heart completely broken over my fallen cookies. Now it was Jamie's turn to snap me out of it. She cut off a chunk of the sheet of cookie, told me it tasted delicious, and to cut the cookies apart and sell them as planned. She said she thought they still looked good and that I should just bring them along anyway.
I did, and as much as it pains me to admit this… the Oatmeal Toffee Cookies were the third item we sold out of. People absolutely loved them. Jamie… I apologize that you had to endure a meltdown that was clearly completely unnecessary. You are the best friend ever and I officially owe you big time!
So yeah…. clearly I am not a girl who can keep her cool at all times, but hey I think every girl is entitled to a few good meltdowns every now and again. No judgement!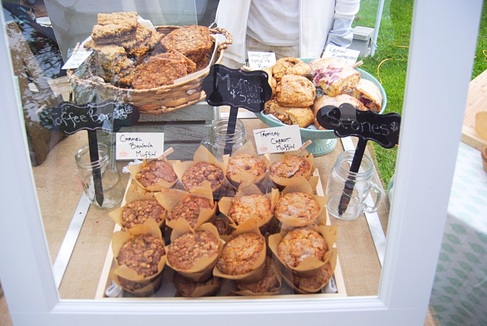 Yup! I know what you're thinking…. that you want to hear less about the tales of my endless meltdowns and more about the goods that we had for sale at the market—am I right?
Now before I regale you with descriptions of all the delicious treats we had, I have to give a shout out to my girl Jamie who was the designated photographer for the day! Courtesy of Jamie and her wonderful Nikon Camera, I actually have some decent photos for you today! Yayyyyy! I mean don't get me wrong, I love my iPad, and for the purposes of taking decent food pictures, it gets the job done… sort of. However, there really is no comparison to the pictures that Jamie was able to take of all the goodies on Saturday! It's amazing what a good photographer, a quality camera and some natural light can produce!
So enough gibber jabber – here are a few close ups of the deliciousness we were selling!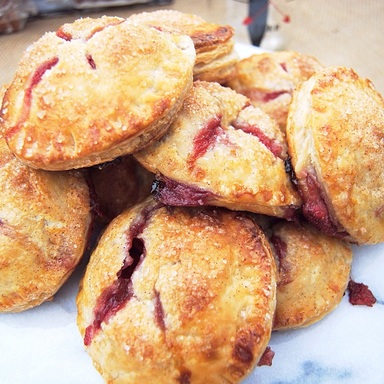 These were our Strawberry Hand Pies! Delicious, flaky pastry wrapped around a subtly spiced, fresh strawberry filling…. these babies didn't last long! Next week I think I will make some apple too!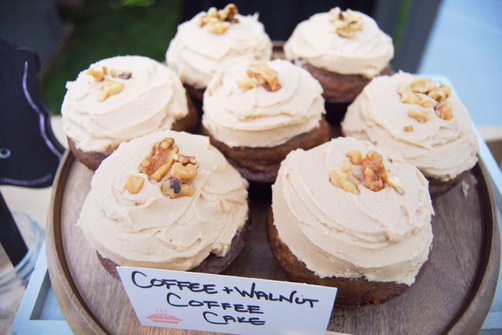 These are our Coffee and Walnut Coffee Cakes. These sweet, coffee infused, moist cakes are topped off with whipped coffee butter cream. They are absolutely to die for and they pair perfectly with your afternoon latte!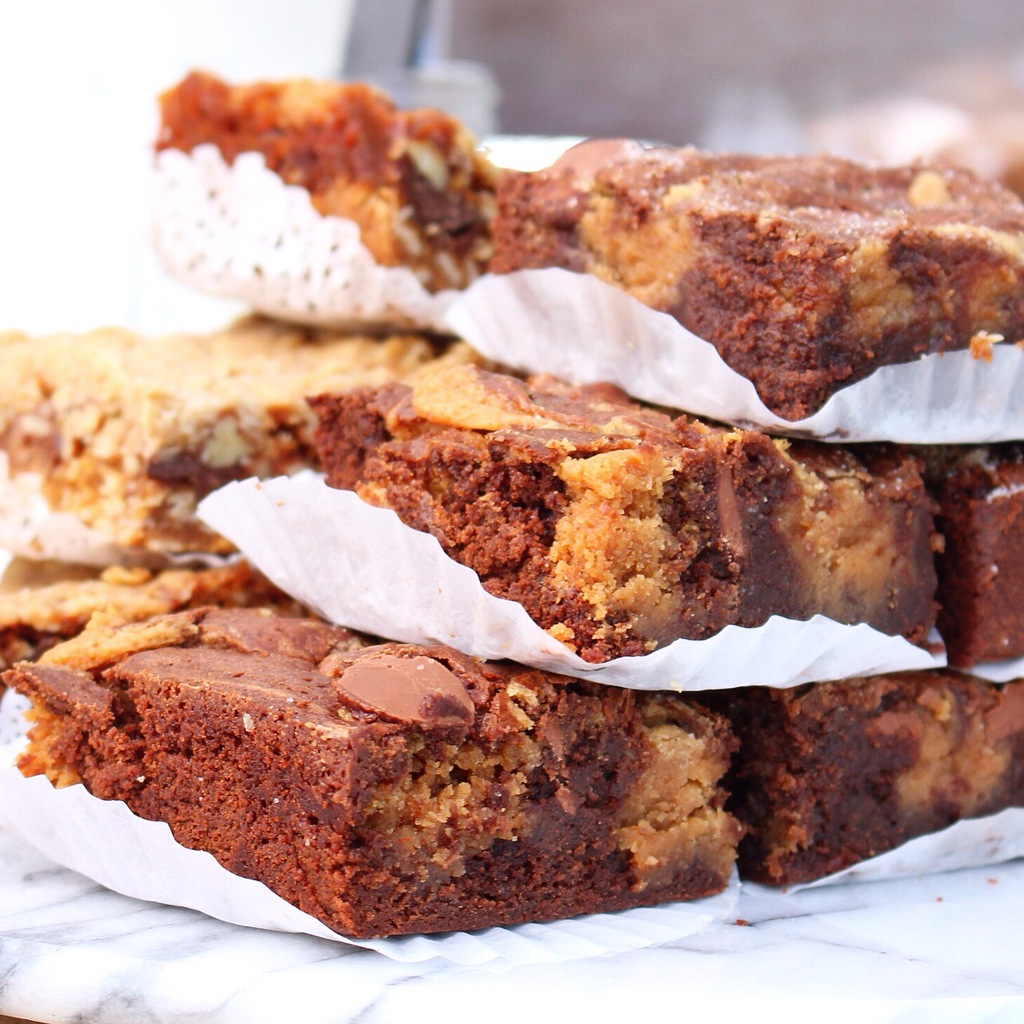 Did someone say brownie???
We were selling extra-large squares of Oatmeal Brownies and Peanut Butter Swirl Brownies. We received many comments on how thick and delicious these were. Next week, the Peanut Butter Swirl Brownie will be making a triumphant return and it will be showcased alongside a new Salted Caramel Blondie. Mmmmmm!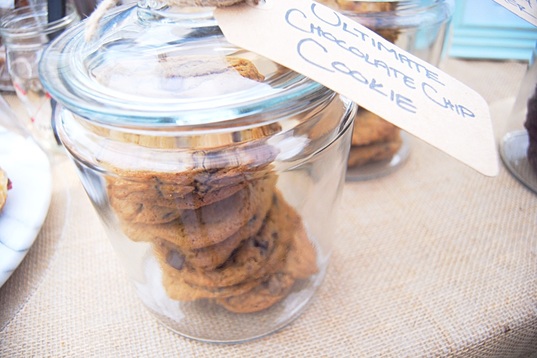 And of course… We had to have cookies! I mean come on, who can resist a nice, big, chewy cookie??? Clearly not many people because we sold every last one!
We had classic Chocolate Chip Cookies, Coffee Addict Cookies, Sweet & Salty Chunker Cookies and the infamous Oatmeal Toffee cookie. All the little tykes that passed through couldn't seem to keep their hands out of the cookie jars. 😀
Those are just a few of the goodies we had to offer, but we had so much more! Next week I am planning on changing a couple items up and adding some new items to try! You know how much I love to try new recipes so one thing I can promise you is that our booth will never be exactly the same from one week to the next. I will keep the top sellers stocked, but I want to keep it interesting so that you never get bored with out selections! So please come back and check out out new items this coming Saturday May 23!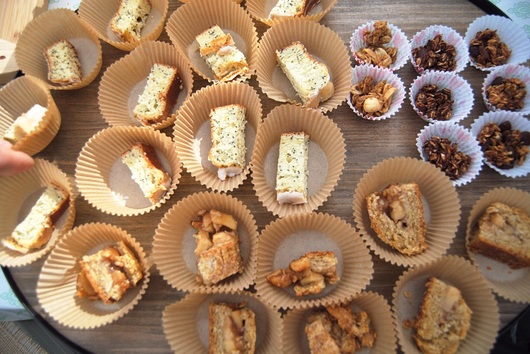 Looking back on this fantastic day, if there is one thing that I learned from my market experience this Saturday it's that free samples truly are the way to people's hearts. 😀 As you can see, we were sampling very large portions of our treats and encouraging everyone who passed by to have a taste. After trying a piece of our Whole Wheat Apple Pie Biscuit, one woman said, "That is a very effective sales technique!" I couldn't agree with her more because not only did she purchase a biscuit for herself, but after she left our booth was swarmed with buyers!
The first to sell out was our Apple Pie Biscuit, followed closely by our Brownie Sandwich Cookie and the Oatmeal-Toffee Cookie, and then the Lemon Raspberry Scone.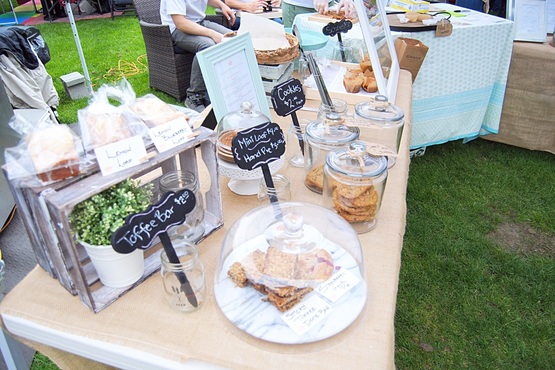 Initially, I thought that having Cole, Cole's mom, Jamie, my mom and me at the market was going to be more people than necessary to run the booth, but as people kept coming in to buy treats, I quickly realized that having 5 helpers was entirely necessary because we were all bagging up treats like mad. By closing of the Farmers Market at 2:00pm, we had sold out of everything except a couple of muffins and two bags of granola!
Even these remaining goodies didn't last long because "Cheeses Crust," the funniest grilled cheese food truck owner, who had chatted us up all day, came by at about 1:45 to suggest we make a bit of a trade. In exchange for the muffins and granola, Cheeses prepared four fresh bacon & grilled cheese sandwiches for us to share amongst ourselves. Mmmm, I have to say that the combination of the crispy bacon and the melted cheese was the perfect way to end our day. Delicious!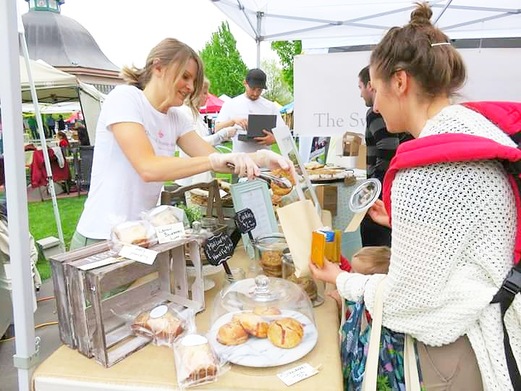 I could not be any happier with how the day went. I came to the market with very modest expectations for how my first time was going to go. I still cannot believe that we sold out! I mean, of course my goal for heading into these farmers markets was to sell as much product as possible, but I never thought that I would sell out on the first day. In fact, I came to the market on Saturday morning thinking I had baked wayyyyyy too much, and that I would return home with an outrageous number of leftovers that I would have no idea what to do with… besides eating them all myself, of course. I really am still in shock!
I'm trying to manage my expectations for next time, because I don't want to operate under the assumption that every market will end up being as successful as this one, but I'm extremely excited for all of the upcoming markets and what the future could potentially hold for The Sweet and Simple Kitchen.
The prep-work for the next market this Saturday, May 23rd, has already begun. Thank goodness for the Victoria Day long weekend. It gave me the opportunity to spend an entire day in the kitchen coming up with some new ideas for this Saturday. If anyone reading lives in the area, please stop by. We will have plenty of free samples :D:D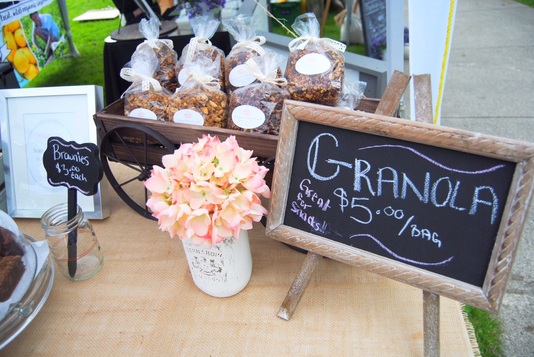 Now I couldn't possibly sign off today without giving a huge shout out to the amazing and wonderful people I have in my life who came out to support me this weekend. I had a great group of people there to help, and each person contributed something special to the overall experience.
First off, I have to thank everyone who came by for a taste and purchased a treat from the Sweet & Simple Kitchen. I really hope that you enjoyed your goodies!!!
Next, I must thank Cheeses, and the ladies from Z95.3, for welcoming us to the market. Cheeses was the first vendor to come over to introduce himself and made us feel so welcome to the market. I can't wait to see you at the next one Cheeses!
The ladies from Z95.3 and I bonded over a shared intense and unrelenting love of peanut butter. In true PB-addict fashion, they bought one of our peanut butter sandwich cookies and proceeded to give me a shout out on their Instagram. Thanks, ladies!
Next, I must thank my girl Jamie, who witnessed a few of my last minute meltdowns. It takes a special person to calm me down and pick me up when I am feeling like a complete disaster—like Saturday morning—but somehow Jamie managed to do it. Jamie has incredible marketing skills and was also the mastermind behind all of the adorable little display tags and chalkboard signs that you can see in the pictures above. Girl, without your printing skills this booth wouldn't have looked half as cute as it did. Jamie, you are the best friend that a girl could ask for and I don't know where I would be without you. You da best!
Another person I want to thank is Cole's mom. She suggested I sell my baking at local farmers markets. She has been persuading me to pursue my passion for years now and I don't know if I would have had the courage to do any of this without her encouragement. Thank you for all of your inspiration over the years, and for coming to my first market to help out with everything. I am so lucky to have you in my life.
Of course, I must thank my wonderful, wonderful mummy for her constant love and support in everything that I do in life. Thank you for booking time off work to help with my first market, and for promoting me and my baking to every customer who walked through our booth—in true motherly fashion. After serving customers in the deli for years, my mom knows how to work a customer. Thank you for being there at the beginning of the day so that I could get in a nice, big mummy hug before the craziness started. I don't think that there will ever be a day when I don't need your hugs to comfort me, so thank you for always being there to dish them out. I love you with all of my heart. <3
Last, but certainly not least, I have to thank my boyfriend, Cole. He helped with everything: setting up the tent and the tables for our booth; managing the cash box and customer payments; and building a custom DIY sneeze guard. He was the most loving and patient boyfriend to me even when I was having my worst last-minute baking meltdowns. Cole, you have the patience of a saint, and I couldn't have done this without your constant love, support and encouragement. I love you so much. <3
Happy Baking!
KP <3