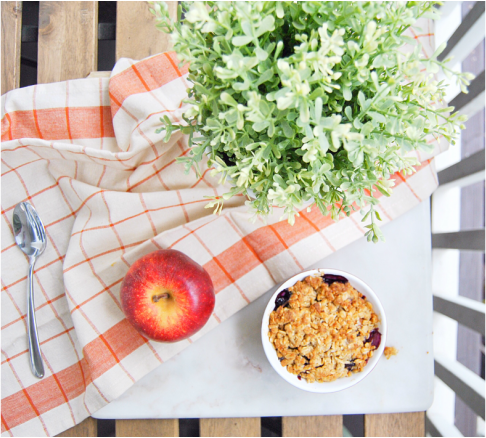 How many of you out there, who like me, are of the opinion that a day isn't complete unless it ends with a little bit of dessert? I don't know about you, but I can't seem to help myself when it comes to my dessert cravings after I have finished my dinner. It doesn't have to be a fancy dessert – just that little something sweet to satisfy my need for sugar before the day is through.
Like I said before,  my desserts do not need to be fancy – In fact, most nights I am perfectly content with calling a bowl of freshly sliced strawberries or a spoonful of chocolate almond butter my dessert for the evening. However, there are definitely days when I crave something a little bit more decadent for my weeknight dessert. My cravings for something a little bit more complex in the dessert department usually come at the end of a very long work day or as was the case yesterday… at the end of a very longgggg Monday. Yes, Mondays – I think you know what I mean…
So after Cole and I had finished eating a very healthy dinner of grilled chicken breast with broccoli & kale salads, I felt like we were extremely deserving of a delicious dessert to reward our healthy couple behaviour :p So while Cole was out in the garage working on his truck and various other man tasks, I was scanning through my pantry and fridge for some inspiration for the perfect surprise weeknight dessert for two.
Because I hadn't exactly followed through on my plans to go grocery shopping over the weekend my ingredient stock was a little low. I was fresh out of eggs and the only ingredients I had (besides dijon mustard and lots of carrots) was about 1/4 cup of butter and a few blueberries from a previous baking endevour. My first thought – I can work with this 😀 Immediately my mind got stuck on the idea of a fresh, warm blueberry crumble for Cole and I to share with a scoop of vanilla ice cream while sitting on the couch watching Lost on Netflix (because we are currently obsessed with that show.)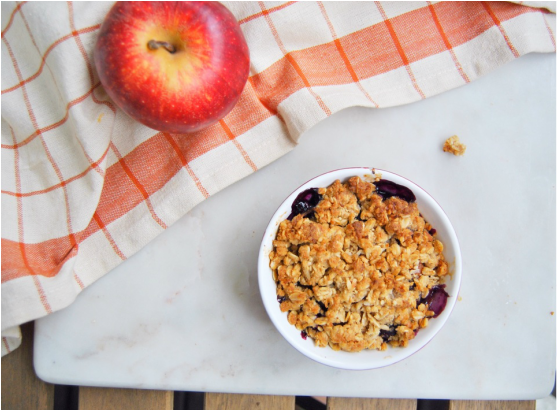 As I started to mix up my crumble, and wash my blueberries, it became very clear that although my intentions were good, I wouldn't have enough crumble or enough blueberries to make a whole blueberry crumble for us. So I took a quick scan of my fruit bowl…. 1 large orange, three browning bananas (which I am saving for banana bread so they must not be used,) 1 pineapple and aha – one granny smith apple!   I quickly chopped up the apple, mixed it together with my blueberries and luckily I had just enough filling and crumble for me to make 2 little Blueberry-Apple Crumbles in individual ramekins for Cole and I.
So as much as I had initially wanted to make a very large blueberry crumble for Cole and I to share, if I had actually had enough ingredients, it would have no doubt left us with a ton of leftover crumble. Now normally I am not opposed to the idea of leftovers, but because it is just Cole and I in a house where we are never short on cornucopias amounts of  baked goodies, sometimes it is nice to have just the right amount of  dessert for one serving. Who would have thought that my lack of ingredients would help me to create the perfect amount of dessert for two people? Hmm, this may be a good anti-leftover strategy – Note to self: Buy less food. 
Despite their miniature size, these crumbles turned out positively delicious! I personally love the combination of apples and blueberries as a crumble or pie filling so I was more than happy to mix them together for these crumbles. Because I like my crumbles to be subtly spiced and sweetened, I also added some brown sugar, cinnamon, ginger, orange zest and a touch of vanilla to my filling, just to add some flavour to make them a little extra special. The flavour pairings of ginger with blueberries and apple with cinnamon just came together in perfect harmony and created the most delicious crumble filling you could imagine. As for the addition of the oats and tapioca crystals, both of these ingredients help to keep your filling nice and thick, and gooey as opposed to your filling being very runny – and I like me a nice thick filling!
These really turned out to be the perfect weeknight dessert for two, so I was dying to share the recipe with you! You can whip these little crumbles up in under ten minutes up the next time you are craving a delicious dessert, but you find yourself with only a few ingredients to spare.
So here is the recipe and I hope you enjoy!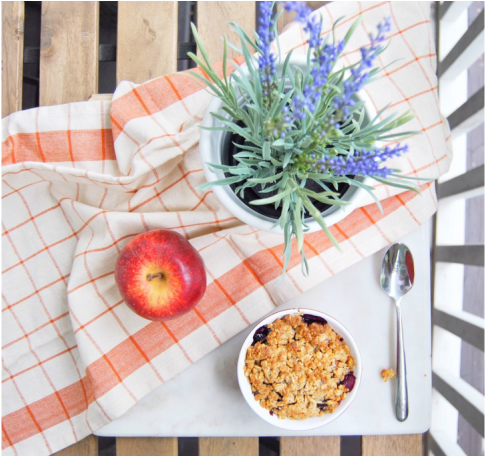 Individual Spiced Blueberry Apple Crumbles for Two
Makes: 2 Mini Crumbles
Things you need… 

Crumble
1/4 cup butter, room temp
1/4 cup brown sugar brown sugar
1/2 cup flour
1/4 cup rolled oats
2 tbsp shredded coconut
1 tsp cinnamon
Filling
1/2 cup blueberries
1/2 cup chopped apple
3 tbsp brown sugar
1/2 tsp orange or lemon zest
1/2 tsp cinnamon
1/4 tsp ginger
1/2 tsp vanilla
2 tbsp oats
1 tbsp tapioca crystals (or cornstarch)
How to make… 
Preheat your oven to 375 and grease 2 mini ramekins lightly with butter; set aside.
Crumble
In a small mixing bowl mix together flour, brown sugar, oats, coconut and cinnamon. Add the soft, room temperature butter and work it in with your fingers until the mixture starts to come together and a tick crumble begins to form. If your mixture is a bit too dry, you may need to add an additional tbsp of butter. Set crumble aside and prepare your filling.
Filling
In a medium mixing bowl, stir together blueberries, chopped apples, brown sugar, cinnamon, ginger vanilla, oats and tapioca crystals. Divide the mixture equally into the prepared ramekins. Sprinkle the crumble topping on top of the filling covering the fruit completely.
Bake for 15-18 minutes or until the tops of the crumbles are golden brown and fruit is bubbling through on the sides.
Remove from oven and allow to cool for 5 minutes before serving. Serve warm with vanilla ice cream or whipped cream. Mmmmmmm…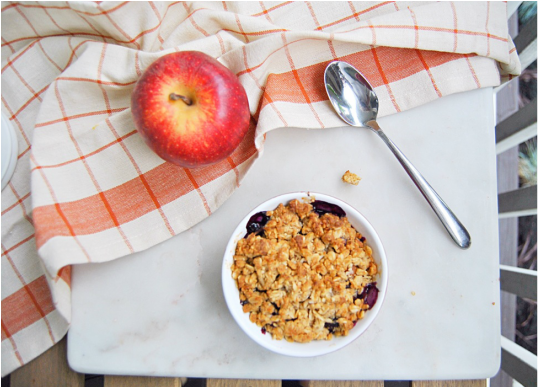 There you have it – the perfect summer dessert for two!
Cole was ecstatic when I brought his individual little crumble out to the garage. What can I say, the man loves a good fruit crumble. I used this piece of knowledge to my full advantage to lure him back into the house with the smell and baked apples and blueberries so that he would stop working on his truck and start watching some Lost with me instead :D.
I am a sneaky woman…. well, sort of – I think Cole only pretends to be fooled by my devilish schemes, when secretly he knows exactly what I am up to – I love him for pretending. I hope we always keep up this charade and I hope you enjoy these delicious little crumbles with someone special!
Happy Baking!<3
KP xoxo