Few things get me more excited than when I walk into a new bakery only to discover that among their line up of gorgeous baked goods, they have giant, chewy ginger cookies for sale.
That probably sounds a bit strange to a few of you – that I could get so excited over something as simple as a ginger cookie; But if there is one thing that I simply cannot resist in life, it's a good ginger cookie. No matter what the circumstance, if I sniff out a good ginger cookie in my travels, you better bet that I will be buying one – okay let's be real, I will most likely be buying two or three. I will never pass up a good, crackly ginger cookie. Who's with me on this?

I am definitely a big ginger cookie aficionado. I would even go as far as to say that they are my all time favourite cookie – when they are done right that is.
My perfect ginger cookie is not too sweet; full of warm spices – but is not too spicy; has crisp edges, but at the same time a ridiculously chewy inside; and finally has an irresistibly crackly top. Yup – get me a cup a tea and I could pretty much eat a whole tray of ginger cookies like that to myself in one sitting.

I made a batch of my favourite ginger cookies the other day and posted the photos to my instagram stories and a bunch of you went wild asking for the recipe, so I'm guessing many of you share my love for a good crackly ginger cookie.
So here I am today sharing my go to recipe for irresistibly giant, warm, crackly, chewy, ginger cookies, and I hope you all fall in love with it as much as my family and I have. This recipe has never failed me, and it has gotten me through some tough days. I hope you all enjoy and share a batch this fall with some loved ones. I promise you wont be disappointed.
Happy baking <3
KP xoxo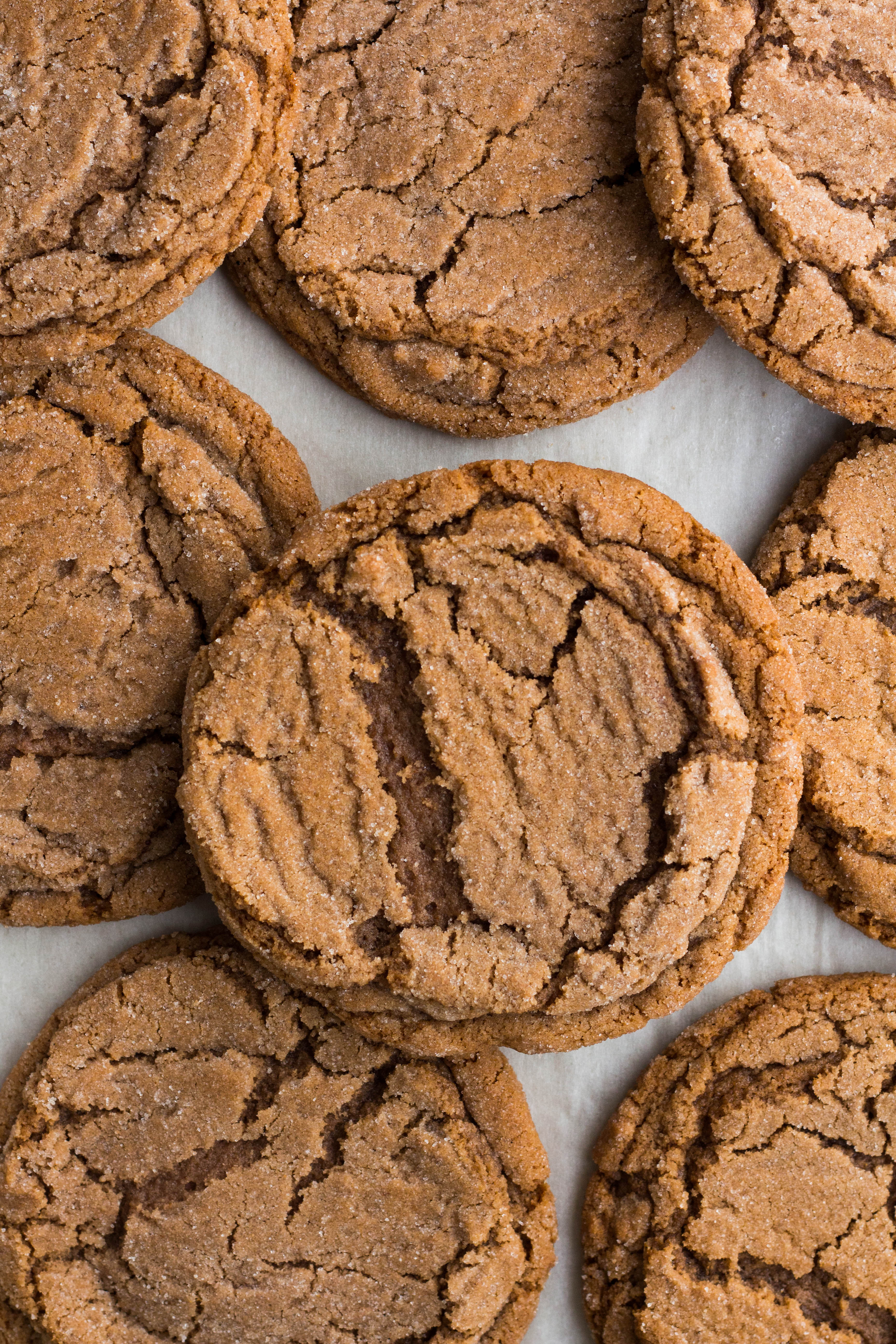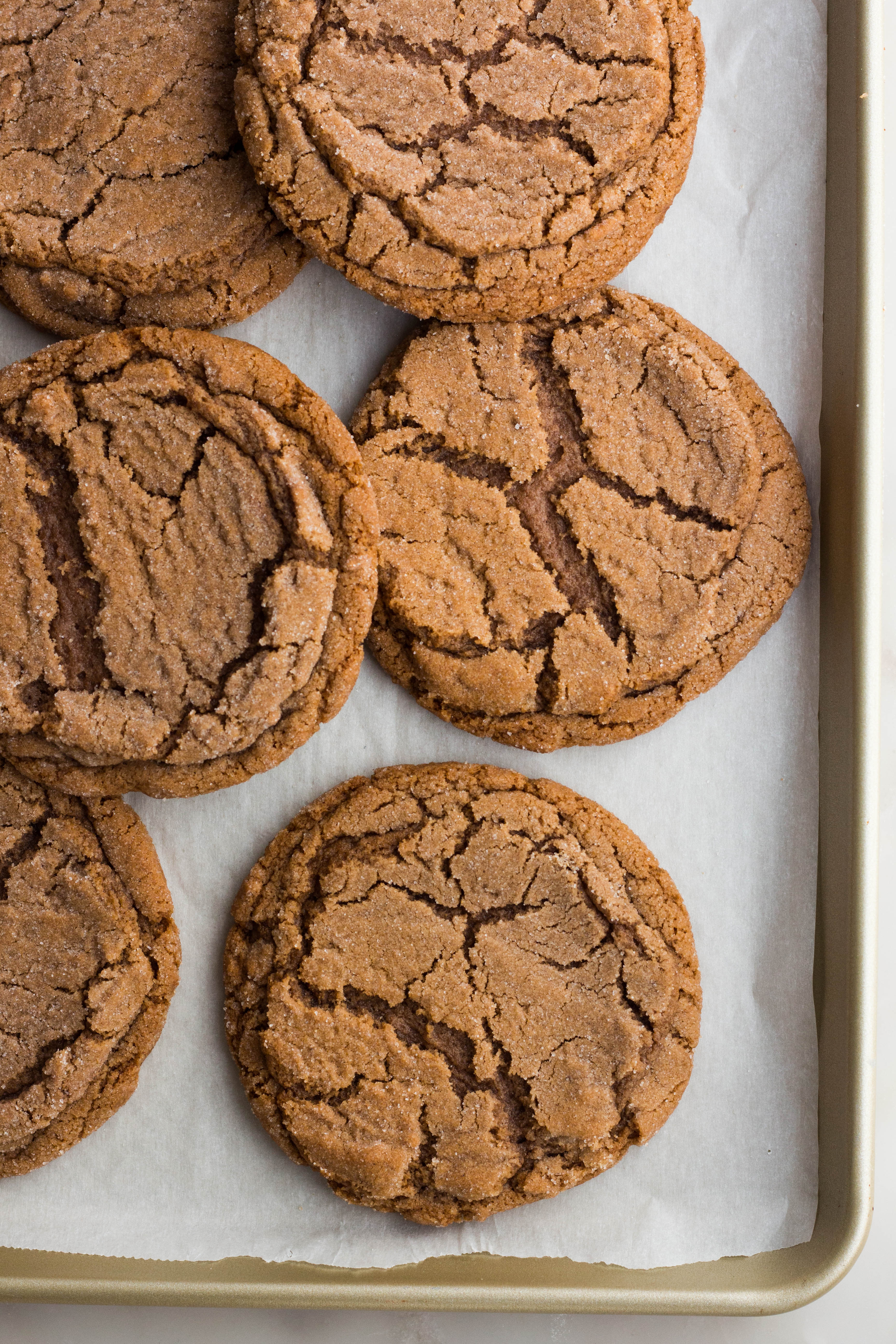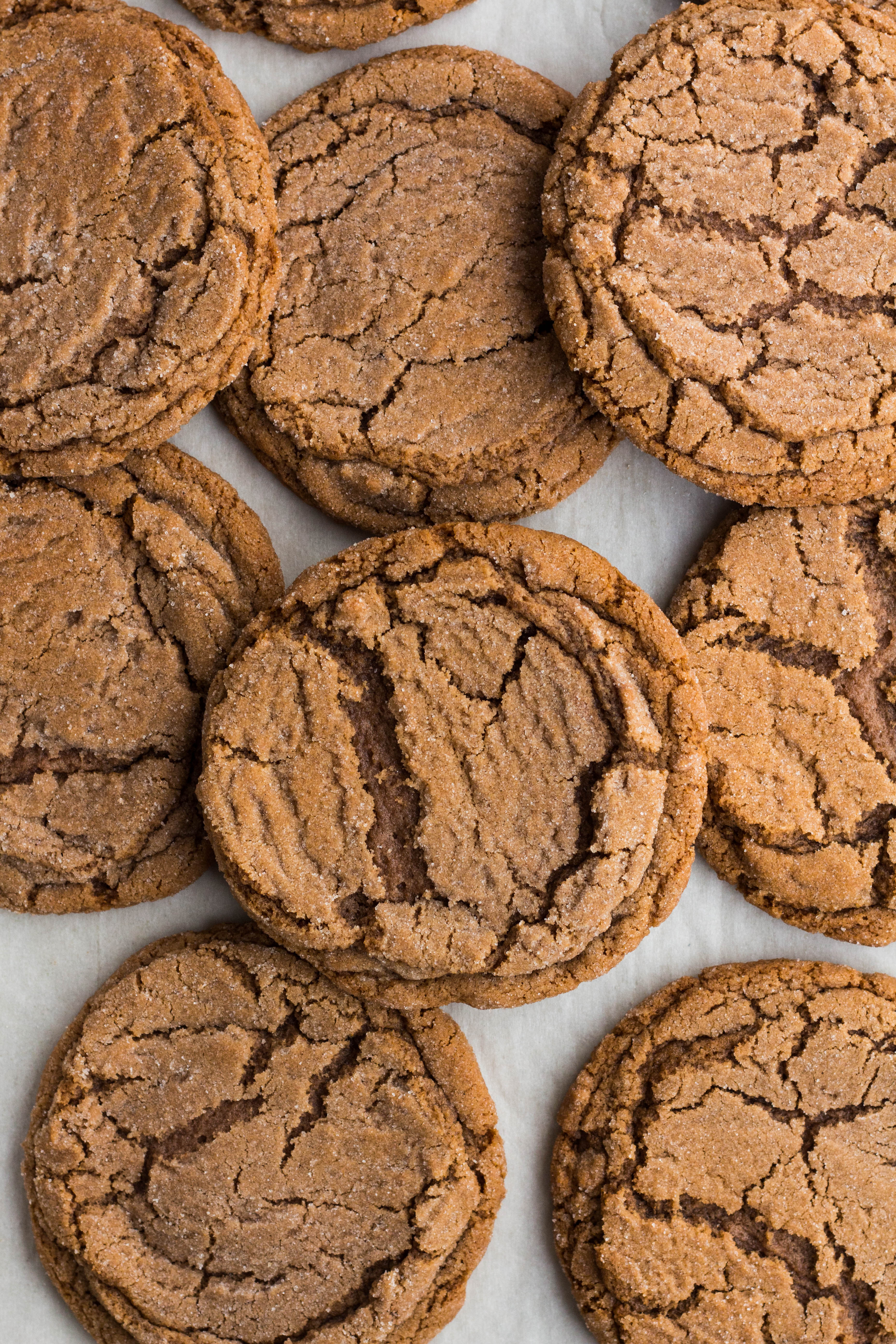 Jumbo Ginger Crackle Cookies
Makes 12 jumbo cookies (although you could make them smaller inside to get more cookies)
Things you need…
1 cup unsalted butter, room temperature
3/4 cup granulated sugar + extra for rolling
1 cup dark brown brown sugar ** (regular brown would work just fine as well if that's all you have on hand)
2 tbsp molasses
1 1/2 tsp pure vanilla extract
1 large egg
2 1/4 cups all purpose flour
3/4 tsp baking soda
1 tbsp cocoa powder
1 1/2 tsp ground ginger
1 tsp ground cinnamon
1/4 tsp ground nutmeg
1/8 tsp ground cloves
1 tsp salt
How to make…
Preheat your oven to 350 degrees (convection if possible) and line 2 cookie sheets with parchment paper; Set aside.
In a large bowl, beat together butter, granulated sugar and brown sugar with an electric mixer until pale and fluffy. Beat in eggs, molasses and vanilla until just combined.
In a separate bowl, whisk together flour, cocoa powder, baking soda, ginger, nutmeg, cinnamon, cloves and salt. Add dry ingredients in three stages to wet ingredients beating on low until well combined.
Spoon about 2 tbsp of dough out onto prepared baking sheets, fitting 6 to a sheet. Roll dough balls in a bowl of granulated sugar to completely coat and set back on the baking sheet.
Bake in preheated oven for 11-13 minutes or until tops are crackly, edges are golden and beginning to firm to the touch. Remove from oven and allow to cool for at least 5 minutes before enjoying.