Blackberry season is glorious. I love it so much because we have wild blackberries everywhere here, so whenever I have a hankering for blackberries, I can always count on being able to pick a bunch with my own two hands.
Blackberry bushes have taken over the back roads that are just s short walk away from our house, so when Cole and I head out for our evening walks in August, we are sure to grab a big bowl to carry along with us to fill with those juicy purple beauties. We make a game out of who can pick the most blackberries, and end up coming home with a full bowl in a matter of twenty minutes.
Usually we enjoy a fresh juicy handful with some vanilla ice cream, and then I freeze the rest for future baking adventures. They are an especially exciting freezer find during the fall and winter months long after all of the fresh summer berries have disappeared.
Shop this post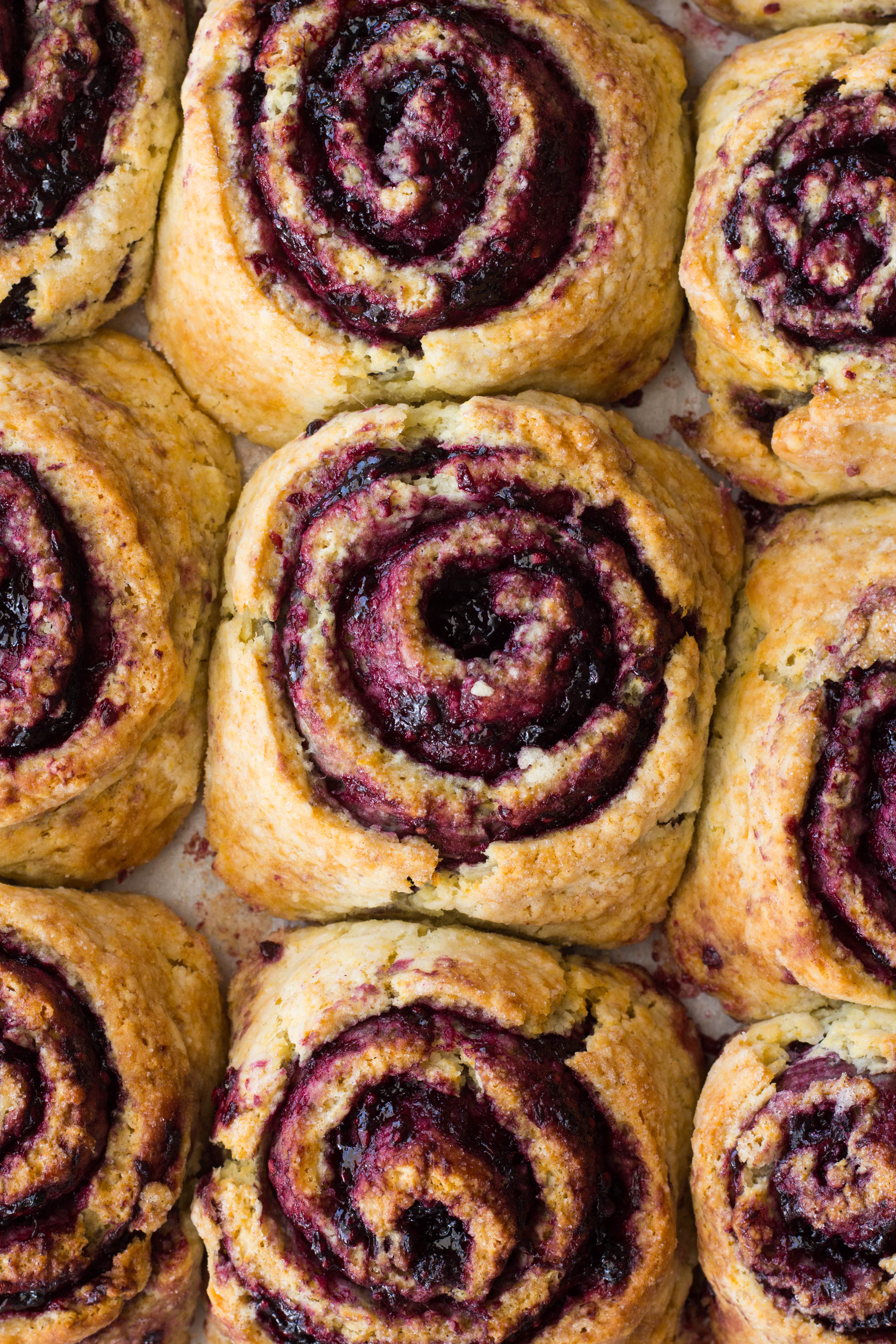 After picking a big bowl of fresh blackberries this past Saturday I had big plans for my Sunday morning to include a batch of Blackberry morning buns. I envisioned a fluffy, soft yeast dough wrapped around a sweet and slightly tart homemade blackberry jam. I could hardly wait to make them.
However when Sunday morning actually rolled around, I ended up sleeping in a bit (which I almost never do) and by the time I got up around 7:00 am, (yes this is sleeping in for me), I was too hungry and impatient to deal with waiting for the fluffy yeast dough of my dreams to rise; So I decided to make a cheater version of the morning buns I had envisioned using a quick biscuit dough instead.
The result? Two words; Life. Changing.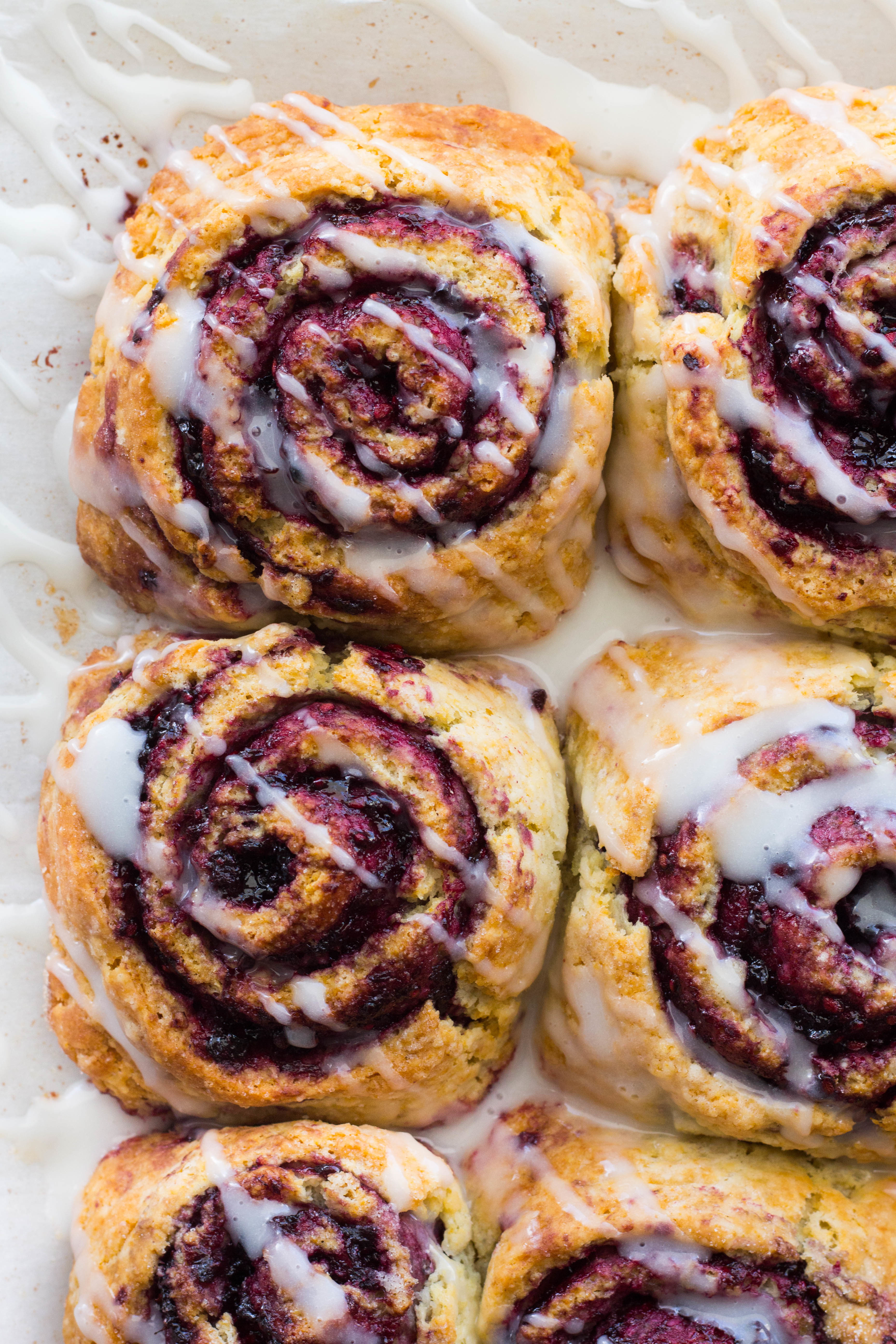 My mom would make these "lazy" biscuit cinnamon rolls for us when we were kids, but I haven't made them in years. I had forgotten how much I love them, not only because they take about 1/8 of the time of regular cinnamon buns, but mostly because they are just frigen delicious.
They buttery, tender biscuit dough paired perfectly with the sweet blackberry jam – because I mean really, who doesn't like biscuits with jam? And the Greek yogurt glaze was just the ultimate compliment to bring all of the other amazingness together.
Seriously, you have to try these before blackberry season is over. Here is the recipe lovelies and I hope you enjoy!
Happy baking!
KP xoxo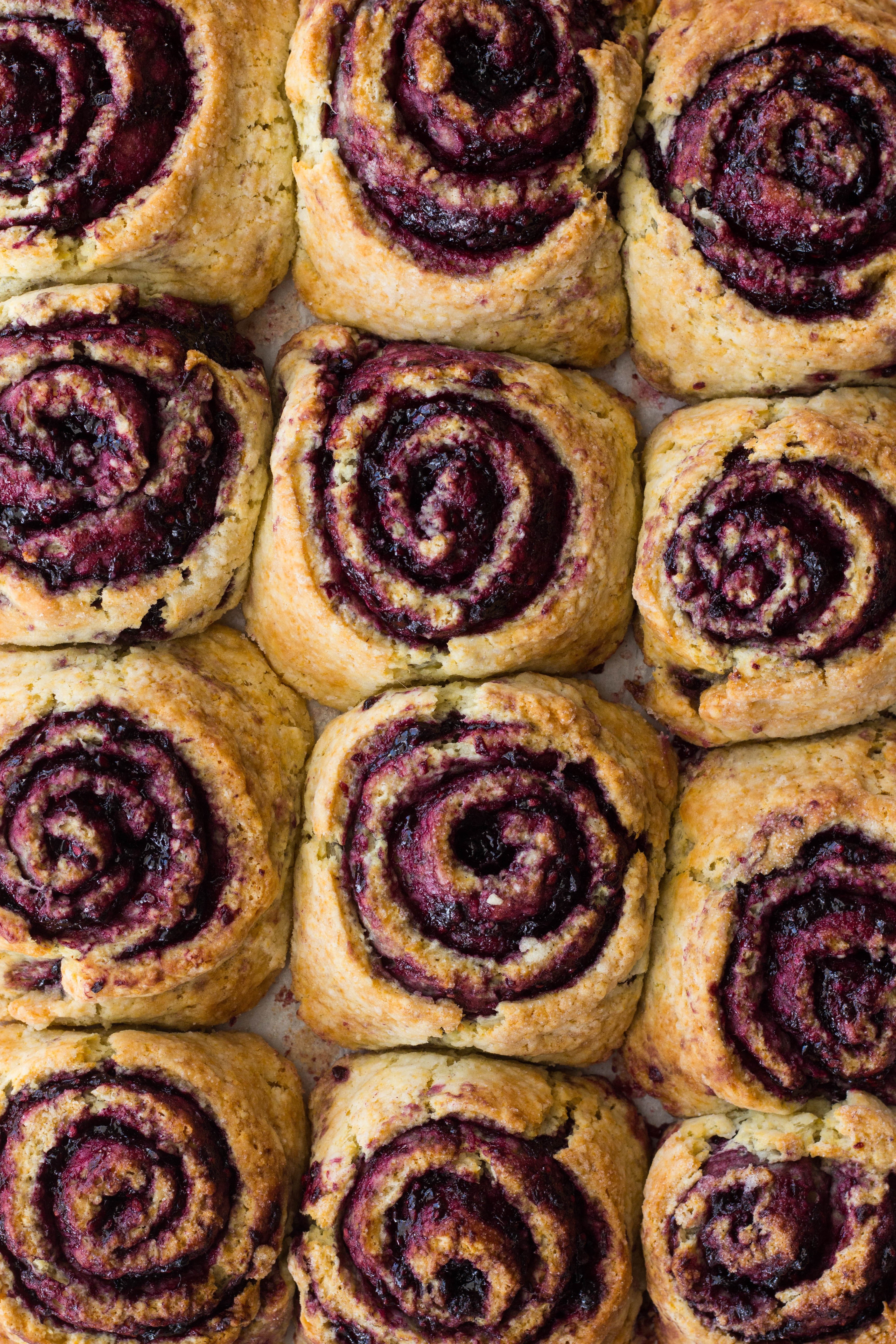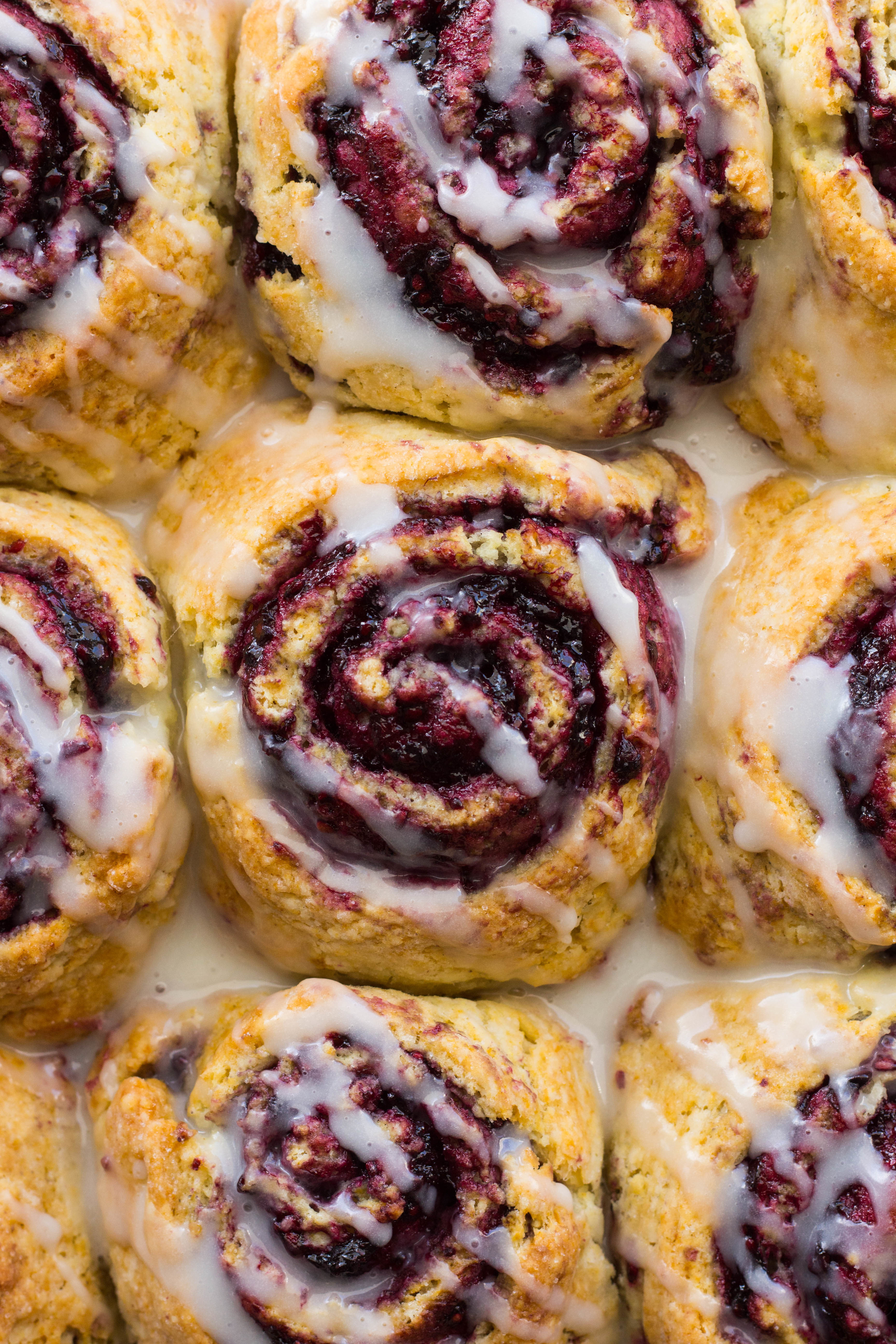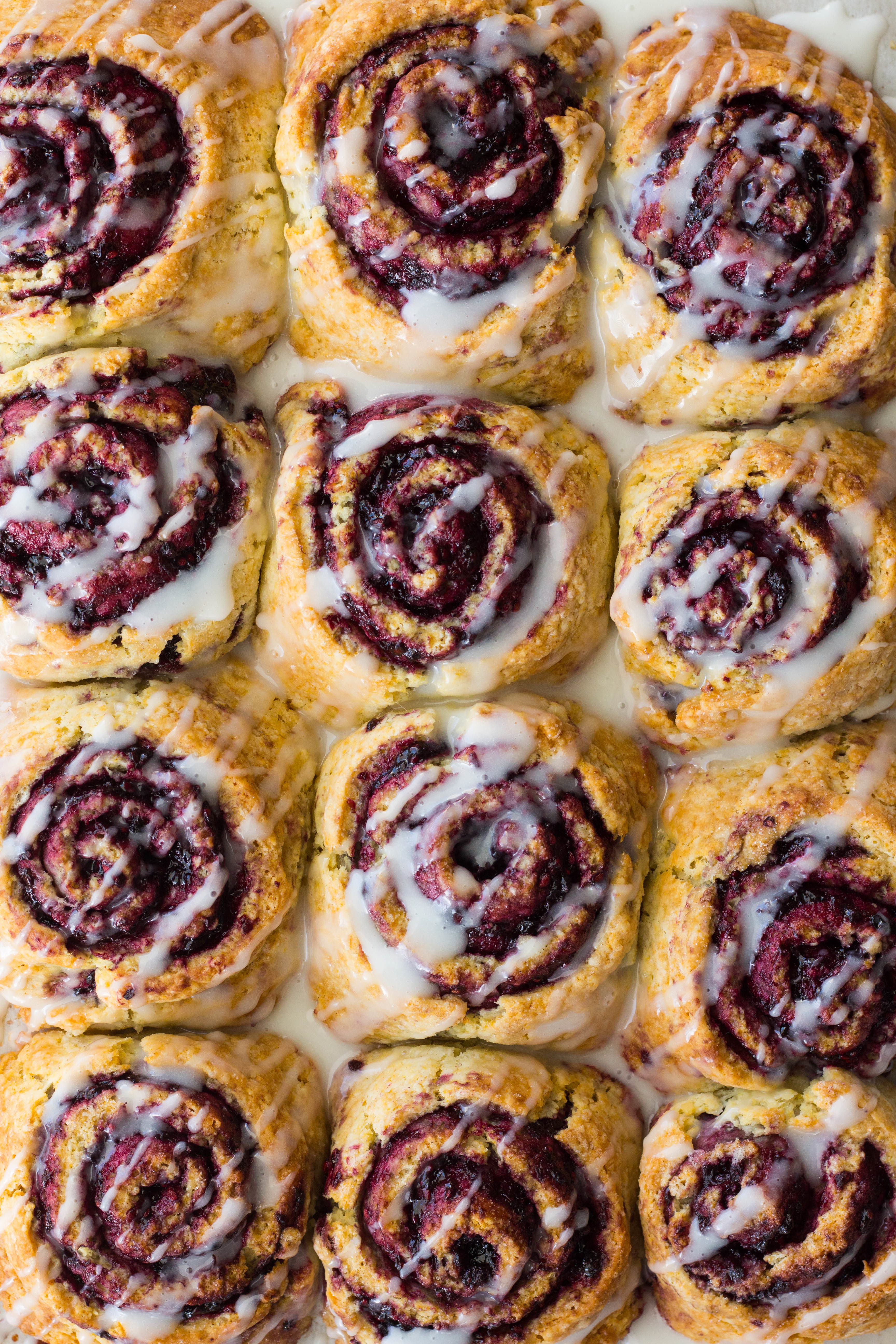 Lazy Blackberry Morning Buns
Things you need…
Biscuit Dough
2 1/4 cups all purpose flour
1 tbsp baking powder
1/2 tsp baking soda
1/2 tsp salt
1/3 cup granulated sugar
1/2 cup cold butter, cubed
1 cup buttermilk
1 tsp vanilla
1 tsp lemon zest
Filling
1/4 cup butter, softened
Quick Blackberry Jam (Recipe below)
Quick Blackberry Jam
2 cups fresh or frozen blackberries
1/4 cup brown sugar
Greek Yogurt Glaze
3 tbsp Greek Yogurt (full fat is best)
1 cup icing sugar
How to make…
Blackberry Jam
Make your blackberry jam first. I usually like to do this the night before.
In a medium sauce pan combine the blackberries and sugar over medium high heat and bring mixture to a boil. Reduce heat to medium and allow the blackberries to simmer until they are broken down and thickened – about 10 minutes. Remove from heat, pour into a heatproof bowl, cover with plastic wrap and set in the fridge to cool completely.
Biscuit Dough
In a large mixing bowl, whisk together flour, sugar, baking soda, baking powder, and salt until evenly combined.
Add in your cubes of cold butter and lightly toss to coat each of the butter cubes with the flour mixture. Begin working the butter into the dry ingredients with your fingers or with a pastry cutter until most of the butter chunks are the size of peas, with a few larger almond sized chunks.
Whisk together buttermilk and vanilla. Drizzle the wet ingredients over the dry ingredients and use a fork or spatula to gently fold the wet into the dry ingredients until a ragged dough forms.
Turn the ragged dough out onto a cool lightly flour work surface and dust with flour.  Gently shape the dough into a rough rectangle and fold the right half of the dough over onto the left half; repeat this process 4 more  times.
Assembly
Grease and line a 9×12 inch baking pan with parchment paper and pre heat your oven to 375F degrees.
Using a rolling pin, roll your dough out on a well floured surface into a rectangular shape to about 1/4 inch thickness. Spread the dough with the softened butter and then with the blackberry jam, leaving a 1 inch border along the bottom edge. Gently roll the dough up jelly-roll style and pinch the bottom edge shut.
Cut the log in half, and then cut each half in half again so you have four logs. Cut each log into three equal rolls, giving you a total of 12 rolls. Place the rolls into your prepared pan, leaving equal distance between all of the rolls and the edges of the pan.
Place on the center rack in your oven to bake for about 20-25 minutes or until the rolls are a light golden brown. Remove from oven and allow to cool for at least five minutes before glazing and enjoying.
Greek Yogurt Glaze
Whisk together the Greek yogurt and the icing sugar until smooth and creamy. Drizzle over buns and enjoy!