So if you follow me on Instagram, you will know that I fully ate three quarters of this cake all to myself. I went back for "just one more bite" about thirty times until the cake was just about gone, because I simply couldn't help myself…
Do I have regrets about demolishing a cake in the span of a half hour that could easily have feed ten people? No, because that's how good this cake is. It was absolutely worth every bite, and the subsequent trip to the gym the next morning for a gnarly work out sesh.
Shop this post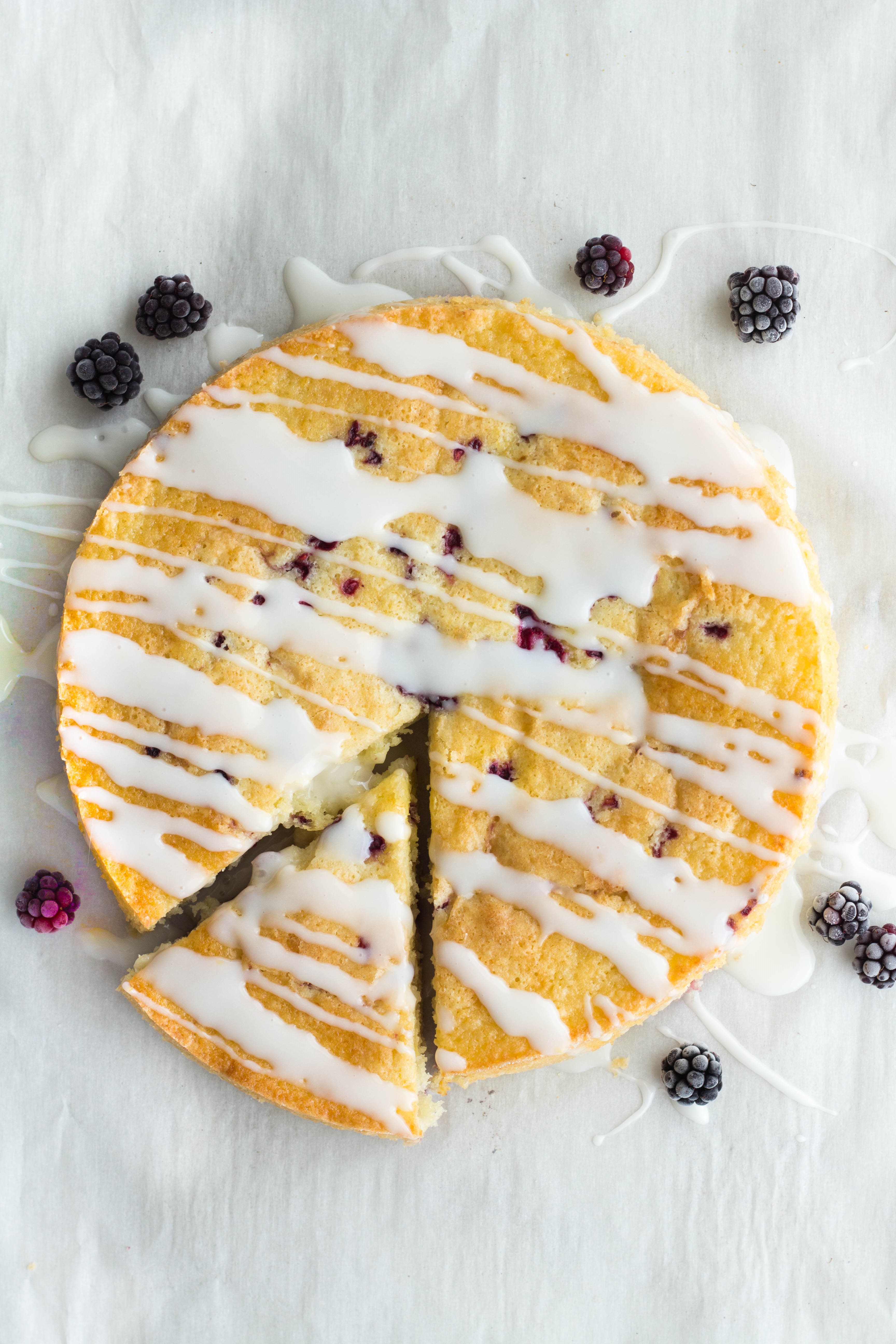 The flavour combination in the cake is seriously thebom.com. The scent of lemon with the olive oil, tart berries in combination with the sweet, tangy lemon graze… seriously you guys, this cake is literally EVERYTHING. I can truly say that I would happily eat a slice of this cake everyday and never tire of it.
Not to mention the olive oil in this cake, keeps it insanely moist for days after it's baked, so if you're not like me and can actually exercise some self control… you can enjoy this cake all week long. Bonus!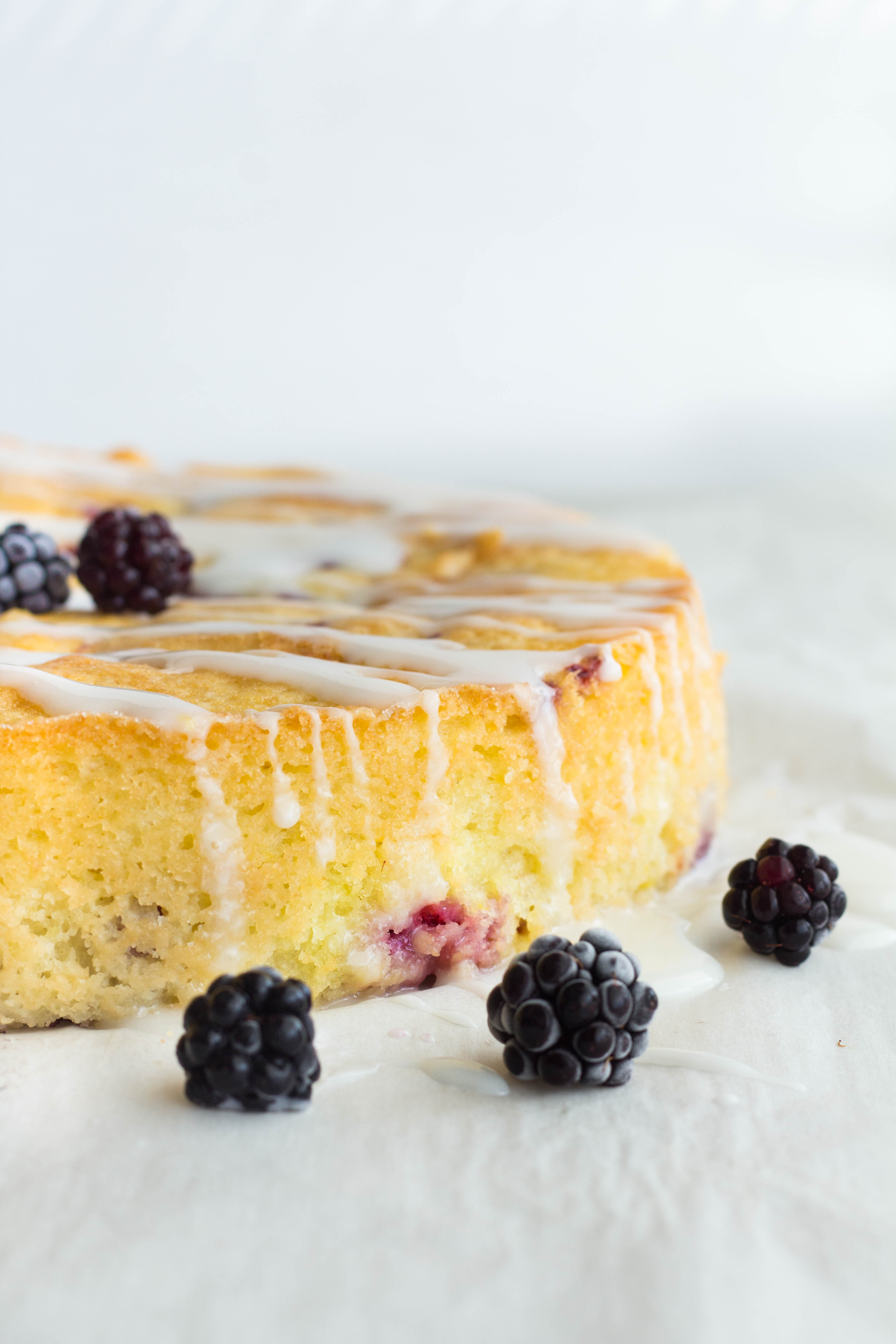 So I'm not going to chit chat too much more about it because, you need to make this cake… like ASAP. Immediately. Dooo it!
Happy Baking!
KP xoxo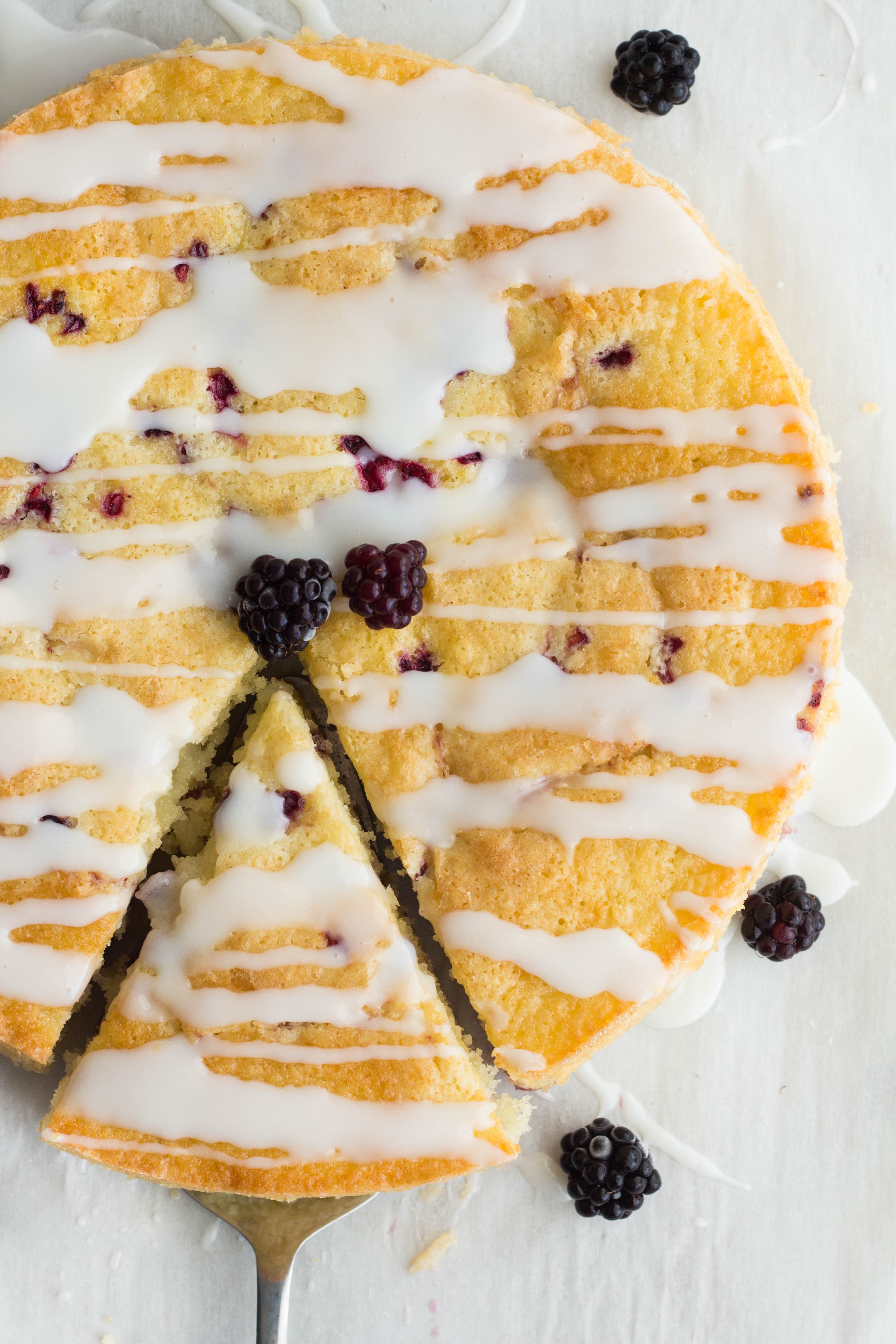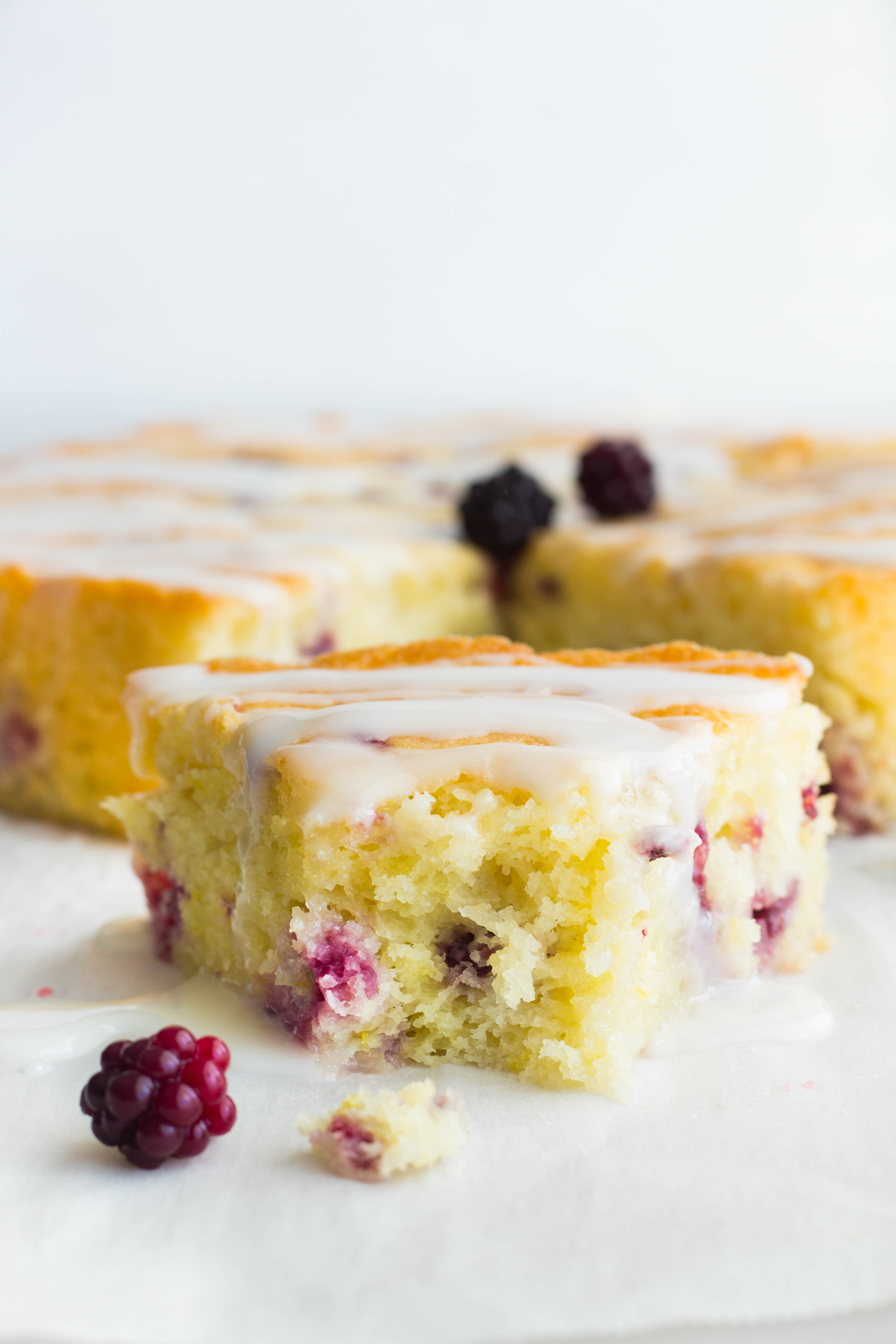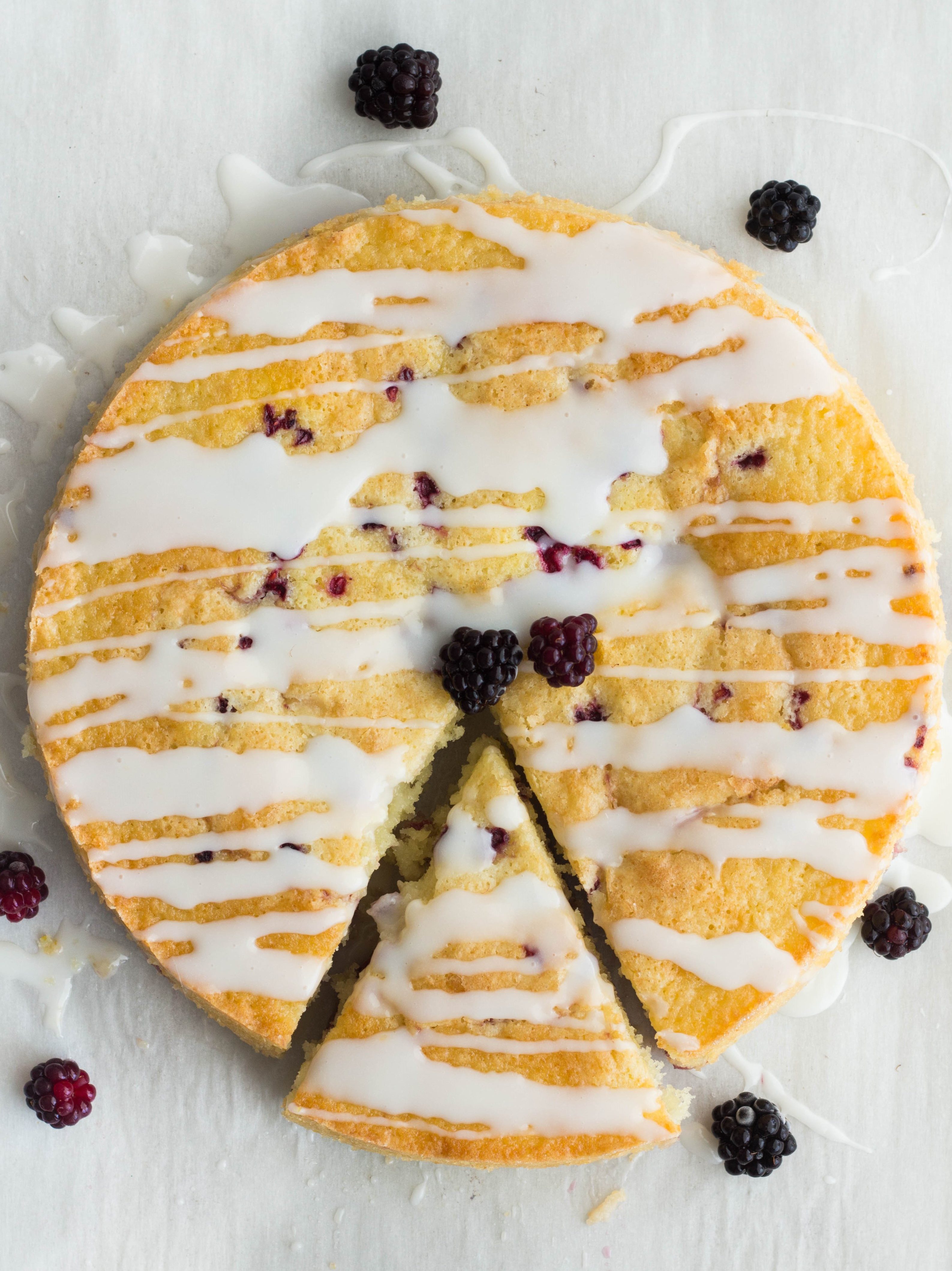 Lemon Berry Olive Oil Cake with Greek Yogurt Glaze
Things you need…
Berry Olive Oil Cake
1/3 cup olive oil
Juice & zest of 1 large lemon
1 tsp vanilla
2 eggs, room temp
1 cup sour cream (preferably full fat)
3/4 cup frozen mixed berries, smashed up a bit ** See Note (I used Raspberries & Blackberries)
1 1/2 cup all purpose flour
1 cup granulated sugar
2 tsp baking powder
1/2 tsp baking soda
1/2 tsp salt
Greek Yogurt Glaze
1/4 cup plain Greek yogurt
1 cup icing sugar
How to make…
Preheat oven to 350 degrees and grease a 10 inch round baking pan. Set aside.
In a large mixing bowl, whisk together flour, baking powder, baking soda and salt.  Make a well in the center and set aside.
In a medium bowl, whisk together olive oil, granulated sugar, eggs, lemon zest, lemon juice, sour cream and vanilla until smooth and everything is evenly combined. Pour the wet ingredients into the dry and use a spatula to fold the wet ingredients into the dry until it is combined and there are no lumps.
Pour half of the batter into prepared cake pan. Sprinkle half of your smashed up frozen berries over the top. Pour remaining batter on top and sprinkle the top with the remaining berries.
** Note: I like to smash up my frozen berries a bit because I find this helps create more of a fruity swirl throughout the whole cake rather than just having chunks of berries. However if you would prefer to just have your cake dotted with berries, you can simply add the berries whole.
Place on the center rack of your oven to bake for 40-45 minutes or until the top is golden and the center of the cake is set to the touch or a skewer comes out clean when inserted in the center.
While your cake bakes, prepare your glaze by simply whisking the icing sugar and the Greek yogurt together until smooth.
Remove from oven and allow to cool for 30 minutes before drizzling generously with Greek yogurt glaze. Enjoy!