Okay guys, let's get right down to the facts; daylight savings is here, it's officially Spring, so therefore; I am ready for Spring. Soooooo ready for Spring. Unfortunately Vancouver seems to have forgotten that it's supposed to be Spring, and has continued to be not only very cold, but also very wet (sigh).
Truth be told this cold rainy weather is very typical for this time of year here in Vancouver. So Naturally you would think I would be used to the rainy Vancouver Springs by now,  but for no good reason at all, every spring I get my hopes up thinking Spring somehow equals sunshine and it most definitely does not.
Alas, it will probably be another couple months before we see "Spring" weather here – but it's okay, because today I'm making my own sunshine with the help of a very big batch of pretty pink donuts &my new favorite Spring accessory.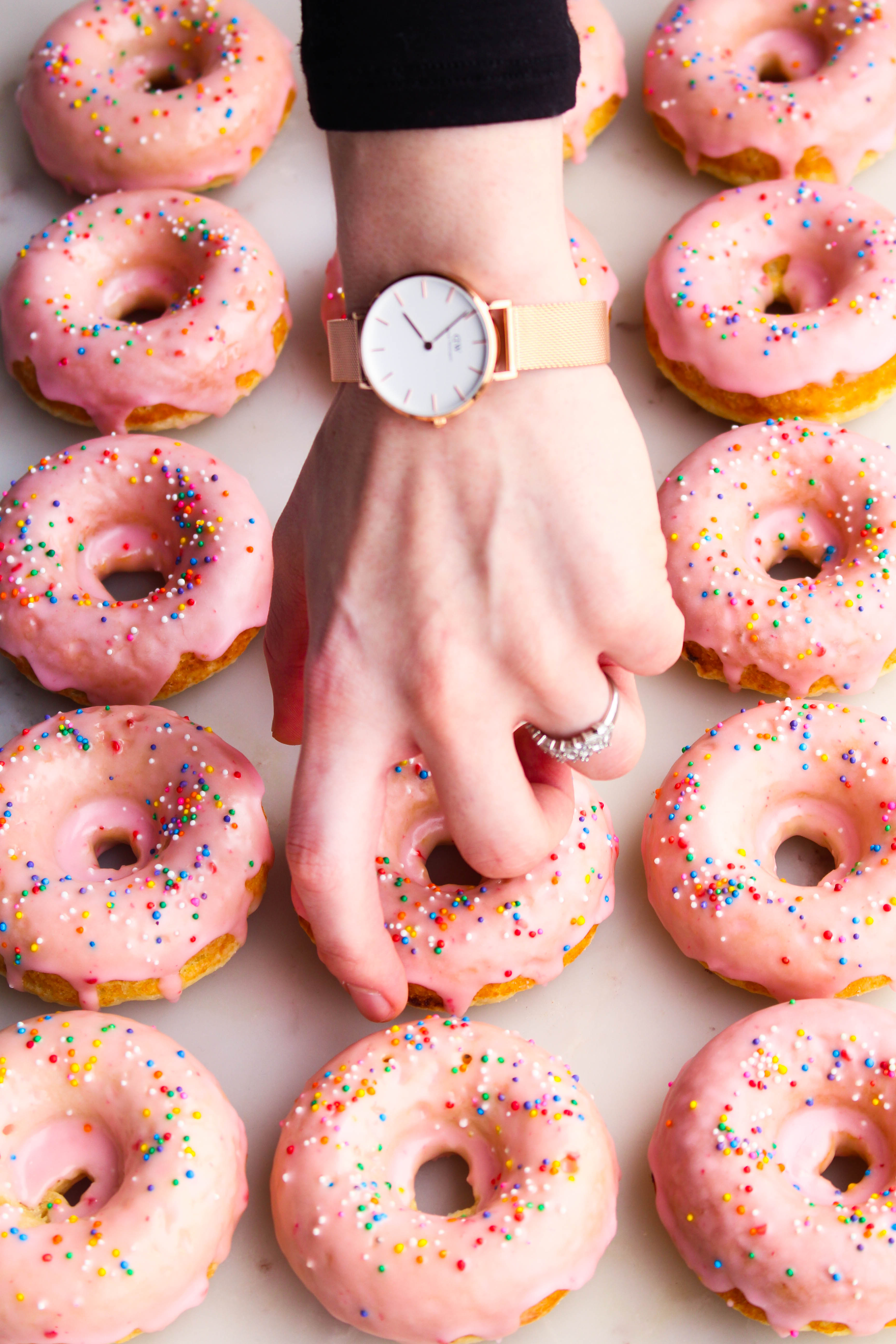 Now I don't know about you guys, but I am absolutely smitten w/ this "Classic Petite" by Daniel Wellington.  It's my new favourite accessory for Spring because I just love how it pairs with the pastel colours that inspire my fashion at this time of year (despite said lack of Spring-like weather).
On top of how beautiful the watch is, it's also the most comfortable watch I have ever owned. It's so light that I pretty much forget that I am wearing it. Bonus!
And guess what!? All of you beauties can browse their website to find your fav watch and receive a 15% discount just by using my CODE [sweetandsimple] until May 31, 2017! How amazing is that? My watch has the white face, but I do also love this one with the black face.
Honestly, I love this watch so much, that I would be seriously content to just stare at it all day long… maybe while eating a Lemon Raspberry Donut or two? (raises eyebrows). Can we just talk about these donuts for a minute?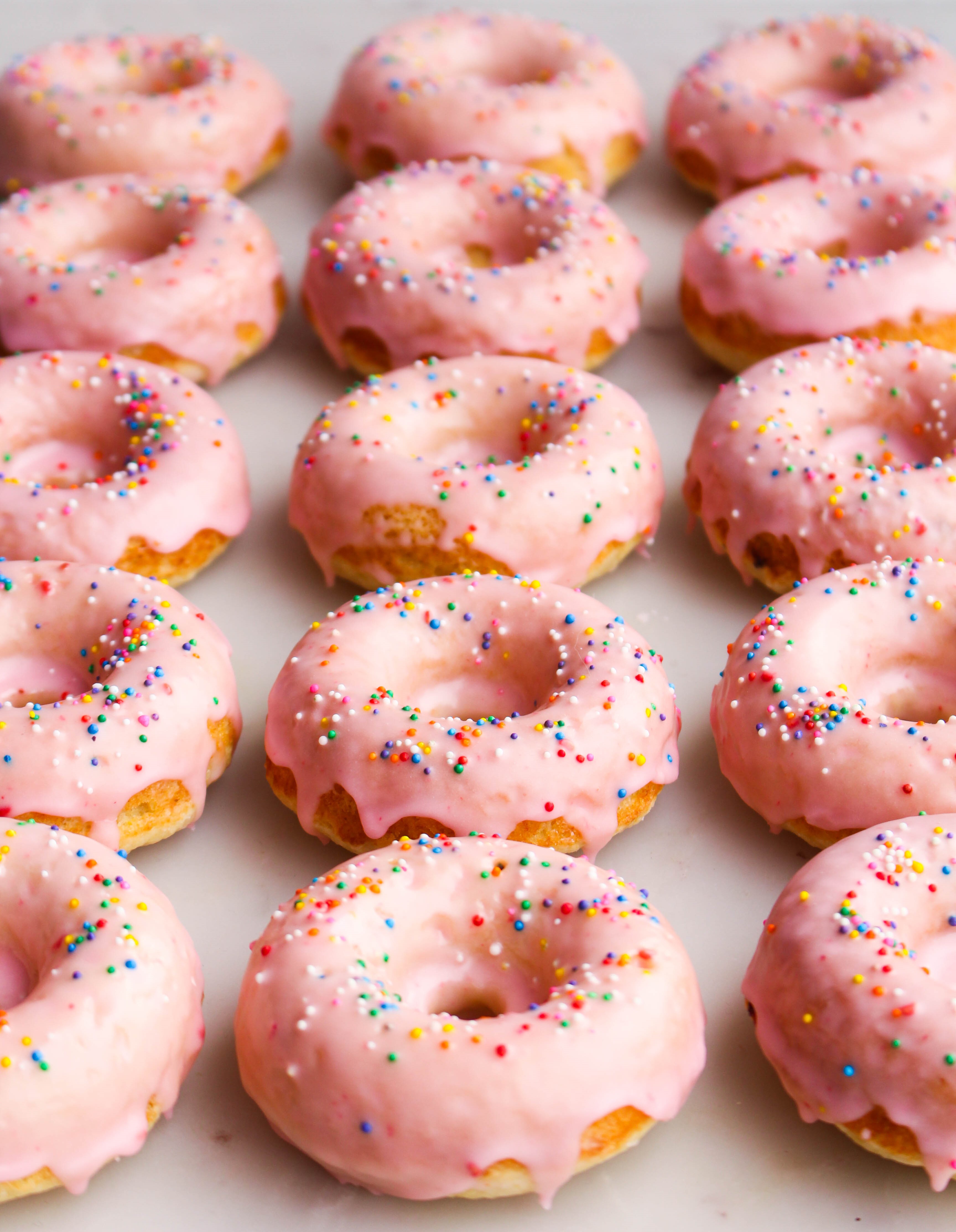 Lemon-Raspberry is probably one of my all-time favourite flavour combinations – especially as we move into Spring & Summer. It's such a light, tart, and refreshing pairing that I can never seem to get enough of.
Plus these donuts are baked – which means no fussing with hot oil, and because they are not fried, that also means that they are basically healthy donuts right??? I think so.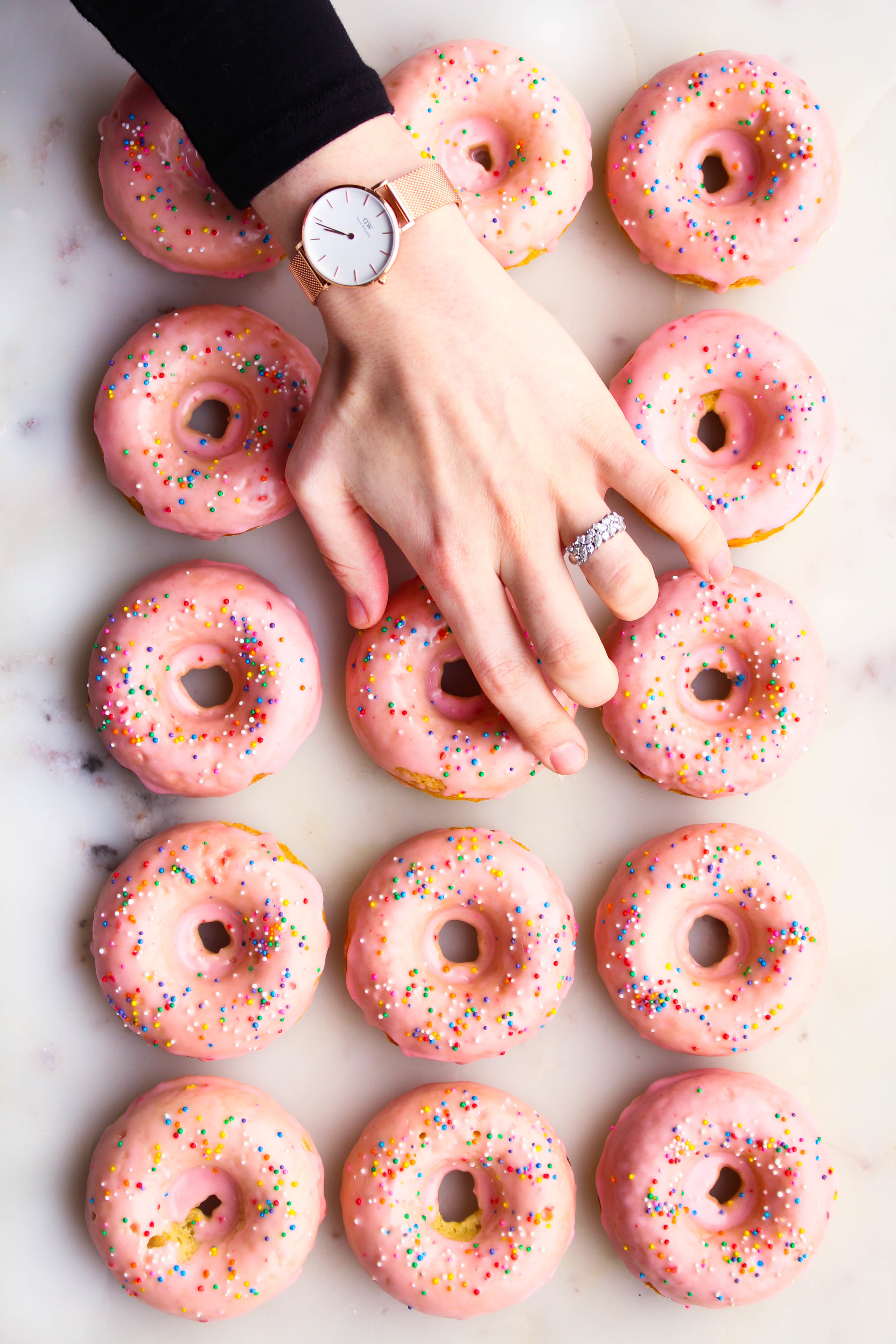 Healthy or not – these donuts are crazy good & you just have to give them a try. The donuts themselves are so fluffy and tender, and they pair absolutely perfectly with the sweet, tart lemon raspberry glaze. It's like biting into a little ring of heaven.
And as for the sprinkles… well sprinkles just make everything more fun, amiright?
So here is the recipe lovelies – I hope you enjoy & happy shopping!
KP xoxo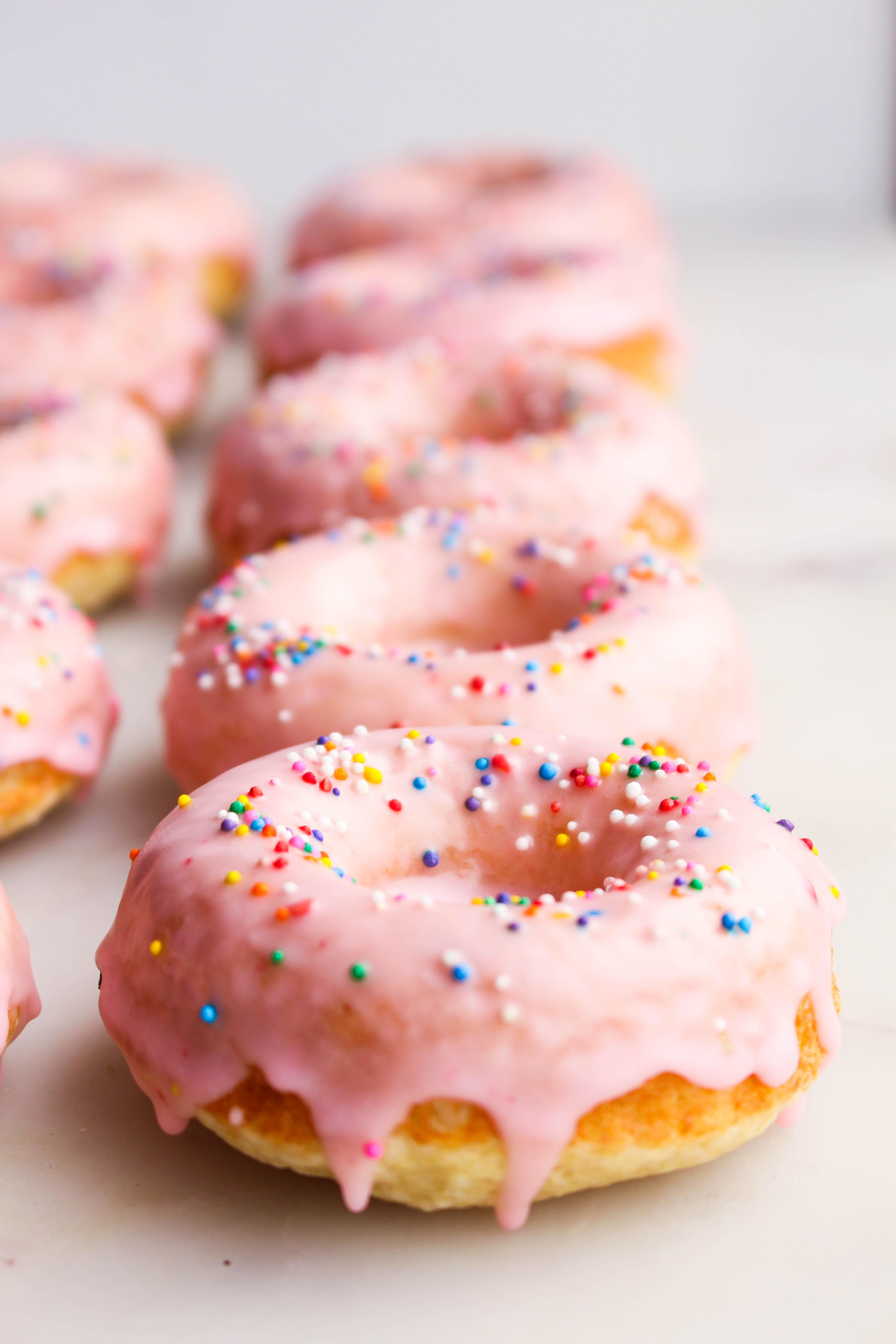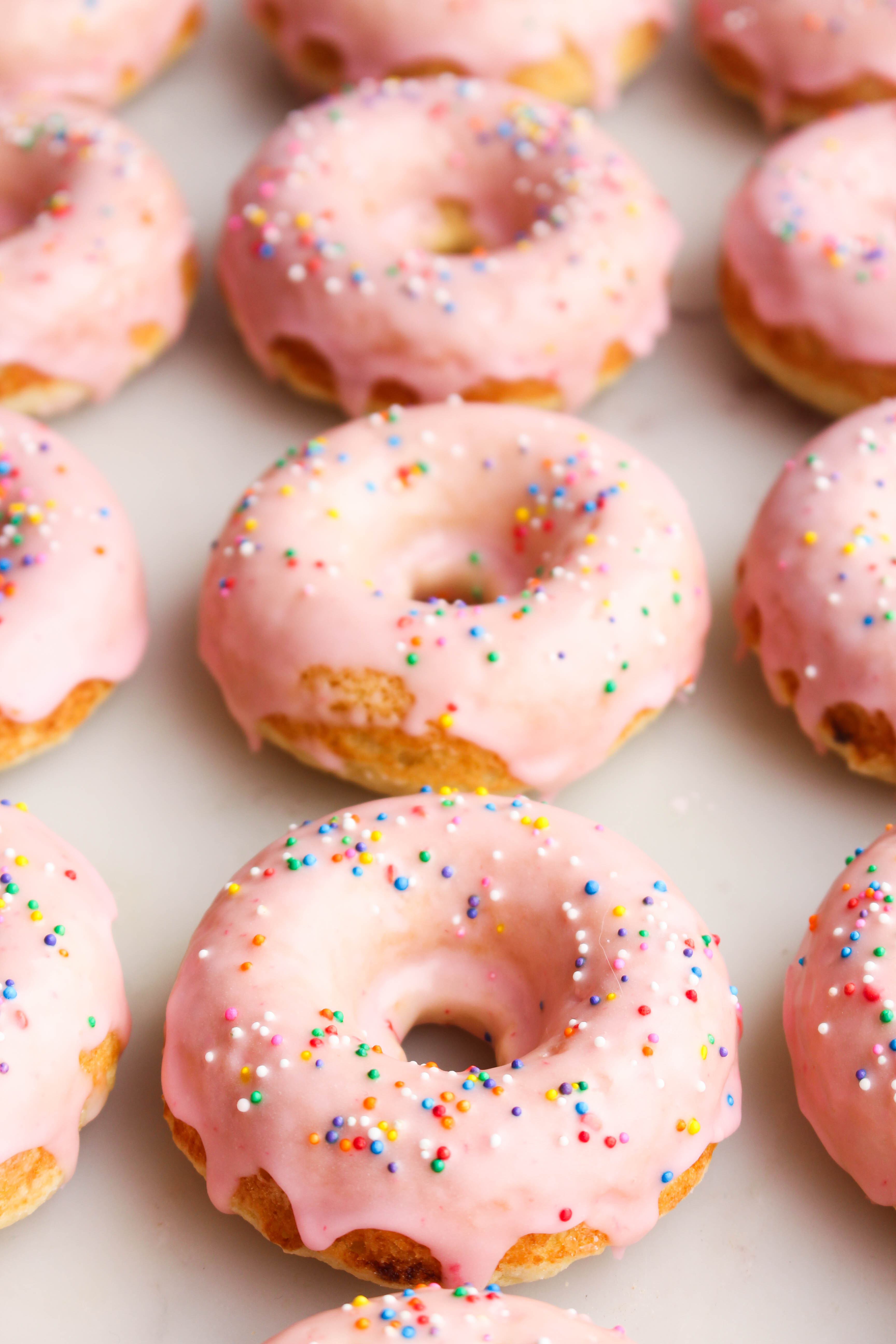 Lemon Raspberry Donuts
Makes 18 donuts
Things you need…
2 cups all purpose flour
2 tsp baking powder
1/2 tsp baking soda
1/4 tsp salt
2 eggs
1 cup granulated sugar
1 cup buttermilk
1/3 cup butter, melted
2 tsp pure vanilla extract
2 tbsp lemon zest
Sprinkles for decorating (optional)
Lemon Raspberry Glaze
3 1/2 cups icing sugar
2 tbsp lemon juice
2-3 tbsp warm water
1 tbsp raspberry puree
1/2 tbsp corn syrup
a couple drops pure vanilla extract
How to make…
Baked Lemon Donuts
Preheat your oven to 375 degrees and lightly grease with butter. Set aside.
In a large bowl, whisk together flour, baking soda, baking powder, salt and granulated sugar. Make a well in the center of the dry ingredients & set aside.
In another bowl, whisk together buttermilk, vanilla, lemon zest and eggs until well combined. Slowly whisk in melted butter until combined. Pour into the well of the dry ingredients and gently fold the wet ingredients into the dry until the dough has just come together – it is okay if there are still a few floury streaks.
Scoop batter into a piping bag and cut about a 1 inch opening off of your piping bag. Pipe the batter into the donut pans filling about 3/4 of the way full.
Place your donuts in the oven to bake for about 9-10 minutes or until the edges are a light golden brown. Remove from the oven and set on a wire rack to cool for a few minutes before turning them out on the wire rack to cool completely to room temperature before glazing
Lemon Raspberry Glaze
In a large bowl, whisk together icing sugar, lemon juice and 2 tbsp of the warm water until smooth. Whisk in corn syrup, vanilla and raspberry puree until well combined. You want your glaze to be a nice thick, yet pourable consistency. If it is a bit too stiff add in another tbsp of warm water – if it is too runny, add in more icing sugar 1 – 2 tbsp at a time until desired consistency is achieved.
Once donuts are completely cool, dip the smooth bottoms of the donuts (the side that was inside the pan) into the glaze, and use your finger to gently run off any excess. Place back on the cooling rack to set. If you are using sprinkles to decorate them, you want to sprinkle them on while the glaze is still wet so that they will stick. Allow the donuts to set for a good 15-20 minutes before digging in.
Enjoy!
Note * This post was sponsored by Daniel Wellington*