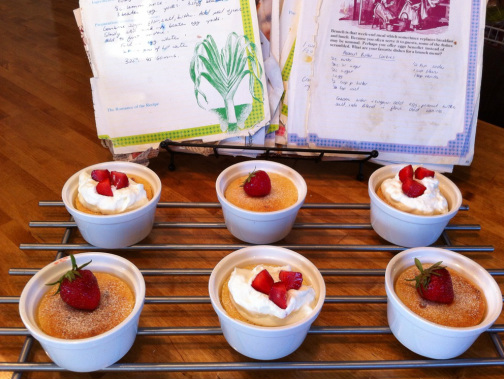 I will always cherish the relationship my Mom and I have because we have been lucky enough to be an extremely close Mother-Daughter pair. My Mom must be held accountable for the success of our relationship because she is the one who has always made it so easy to get along with her. Not only is she the most kind, understanding and loving Mother on the planet, but she has also always made it extremely easy for me to be open and honest with her about everything that is going on in my life. I am a very lucky girl to have her in my life.
Because we enjoy each others company so darn much, we make a point to schedule regular Mother-Daughter days, where we just spend the entire day together doing whatever it is that we feel like doing. It really doesn't matter what we do whether its baking, roaming the mall, going for a walk in West Vancouver, shopping at Whole Foods, going for lunch or just sitting on the couch watching Crazy Stupid Love, (we love this movie,) as long as we are together, we are happy.
Unfortunately with the chaos of our lives these past few months we haven't been able to have our usual days together and we have both been extremely distressed by this issue. So finally, this past weekend my Mom and I were able to coordinate one of our famous "Mother-Daughter Days," and it could not have been more perfect!
First of all, it was a gorgeously sunny & warm Saturday so most of our time could be spent outside enjoying the first day of Summer; Second of all, there was a one day sale on at our favourite clothing store RW&Co (40% off EVERYTHING); And finally, we managed to consume a cornucopias amount of food, which included, (but was not limited to,) a delicious homemade breakfast, lunch, dinner, and of course we finished off the day with an absolutely perfect homemade dessert. It was a gooood day! When my mother and I get together we always end up eating like this because she is the ultimate master in the kitchen – I may have a few skills when it comes to baking but when it comes to cooking something other than baked goods… let's just say I could use some work. My mother on the other hand has cooking and baking down pat and it is for this reason that I feel it is one hundred percent necessary to elaborate not only on the he details of this fine Mother-Daughter Day, but also on exactly what each of our amazing homemade meals consisted of.
It began with breakfast… and because I had a small package of blueberries (leftover from a weekly baking adventure with Blueberry Muffins,) we decided we should put them to good use in our meal that morning. So, in the interest of pretending to start our day out in a healthy manner we whipped up a batch of Whole Wheat Pancakes with Homemade Blueberry Sauce (complete with a dusting of icing sugar and a healthy dollop of whipping cream.) Have mercy – just thinking of the blueberry sauce is making me weak at the knees. There is nothing like homemade fruit sauces especially when they are made with fruit that is in its peak season. These pancakes were heavenly and I will have to make another batch so that I can share the recipe with you in a post.
After our more than satisfying breakfast we set out for the mall because there was a sale at our favourite store (RW&Co), and it was only on until 12:00pm. So we hurried to the mall double quick time to make sure we took full advantage of that. The store was of course insanely busy, being that it was full of hyper women on the hunt for gorgeous summer outfits, which thanks to the sale had been reduced to unbelievable prices, so really who could blame them? Anyways, we made it through the crazy rush and came out with some great summer looks that were definitely worth the chaos.
After the mall we went in search of a nice set of ramekins (as I had a delicious dessert idea brewing for later that evening that I thought would be perfect served in little individual ramekins,) but this proved to be an unexpectedly time consuming task. Why is it that when you are looking for something as seemingly simple as a set of ramekins that they are near impossible to find? My Mom and I had the hardest time actually finding a store that was carrying ramekins! It was absolute craziness because I know that pretty much every store we went to has had them in the past, but they were completely AWOL that day. Just when we were about to give up, we decided to look at Bowring, where thank goodness we found some beautiful crisp white ramekins and guess what…  they were on sale! YIPPEE!  Needless to say I was ecstatic about this little baking utensil purchase, but who wouldn't be? Look at how pretty!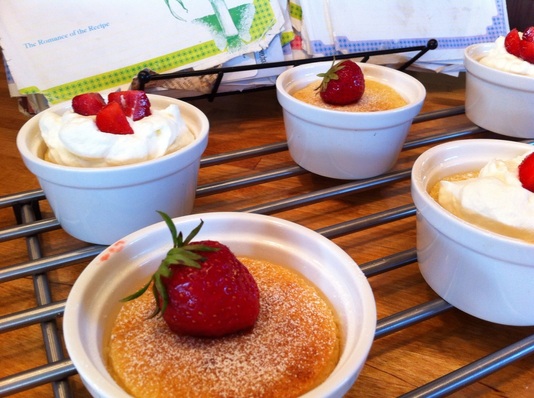 After all the searching for ramekins, we decided we were absolutely famished and headed home to have a quick lunch. My mom has always made the best lunches – I don't know what it is, but the woman has a way with making a quick lunch that is unique, fresh & delicious… and have I mentioned that she makes it look completely and utterly effortless? For example, our lunch consisted of a Brocoli & Kale Salad, which was complete with raw brocoli, slaw, kale, goat Cheese, shredded roasted chicken, dried cranberries, green apple, sliced almonds & a honey lemon dressing… SERIOUSLY? It was delicious – and the perfect light lunch for a sunny day. But of course what lunch is really complete without a little something sweet? (The answer to this question is obviously that no lunch is complete without a little something sweet,) so we finished our lunch off by sharing the last left over Blueberry Muffin.
Once we were finished stuffing ourselves with lunch, we were off to Art Knapps to pick up some plants for my mothers absolutely stunning garden. A few years ago my Mom & Dad put in a garden that spans the length of their large backyard and my Mom has done an absolutely amazing job of turning it into something of a backyard garden oasis. Clearly she is a woman of many talents, but when they made the garden a few years ago she honestly didn't know the first thing about gardening (and although she still claims that she doesn't) her garden is definitely something to gawk at.
Whenever I look at it, I am reminded of the book The Secret Garden, because it is what I would imagine that to look like. Some people might say it is a little bit hap hazard, as it doesn't really have any rhyme or reason to it, but does a garden really have to? My Moms garden basically looks like a wildflower garden with different flowers, bushes and trees all intermingling together in a very natural and organic way and I think that it is absolutely captivating just that way.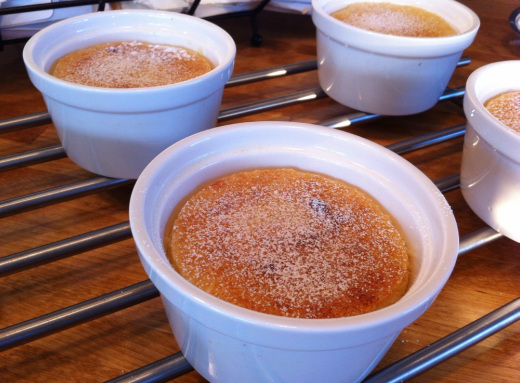 So we spent the remainder of the afternoon enjoying the sunshine while we intermittently tended to her garden, sipped iced teas in lounge chairs, and planned out our dinner menu.We just needed something small as it was just dinner for 3 (my parents and I) so we decided to keep it somewhat simple. After much deliberation, Pineapple Curry Chicken with Basmati Rice with a Roasted Sweet Potato, Asparagus and Red Pepper sweet salad was what we decided on… (right – keeping it simple) Like I said before, we ate like kings.
Suffice to say, dessert was the easiest part of our dinner menu. Earlier that morning I had already decided that this gorgeous first day of summer needed to be celebrated with a nice, light and fruity summer dessert (hence the purchase of the ramekins) and we decided that the best way to do this would be by making my late Grandmothers recipe for Lemon Sauce Pudding Cakes.
Now in case you are wondering exactly what a Lemon Sauce Pudding cake is… allow me to try and describe this divine little cake to you. This is an incredibly tender and light lemon cake that is set atop of a rich, thick lemon sauce that believe it or not is actually created while the cake bakes. Topped off with whipped cream and fresh, local strawberries (um, YUM), this cake is absolutely heavenly, not to mention it is the perfect summer dessert because it is light, tangy and can really be topped off with any of your favourite fruits of the Summer season. Have I got you drooling yet? Well come along with me as I am about to share the family recipe for these stunning little cakes.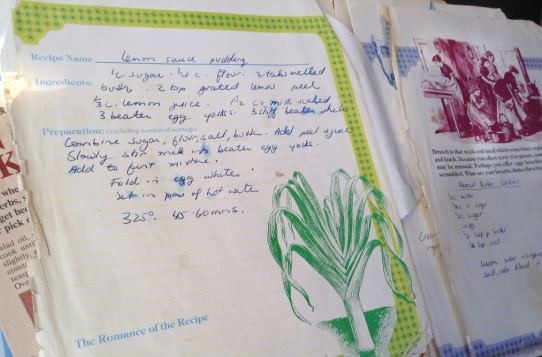 Above is a picture of my Mom's recipe book with the recipe for Lemon Sauce Pudding Cakes … now that is what I call a seriously loved recipe book! My Dad is constantly telling us to get a new recipe book to replace our old ones (which pretty much all look like this) but we just can't bring ourselves to do it. There are so many cherished, handwritten recipes from my Mom and my Grandmother in these books and they are just too precious to replace. I want to keep these books and pass them along to my daughter one day.
So here it is! My Mother and I's recipe for Lemon Sauce Pudding Cakes (courtesy of my Grandmother) and I hope you enjoy!
Things you need…
Lemon Sauce Pudding Cakes
1/4 cup flour
1 cup granulated sugar
2 tsp lemon zest
1/3 cup lemon juice
3 eggs, separated
2 tbsp butter, melted
1 1/2 cups whole milk
1 tsp vanilla
Fresh berries for topping (optional)
Whipped Cream
1 1/2 cups whipping cream
4 tsp granulated sugar
1/2 tsp vanilla
How to make… 
Lemon Sauce Pudding Cakes
Preheat oven to 325 degrees. Lightly grease 6 ramekins with butter and place inside of a 9 x 14 inch rectangle pan. (See the picture above for a nice visual)
In a large mixing bowl, mix together flour, salt and sugar until combined. Add in melted butter and mix until combined. Add in lemon zest & lemon juice and mix until combined.
In a separate bowl using a hand mixer with the whipping attachment, whip the egg whites until stiff peaks form.
In a small mixing bowl, whisk together egg yolks. Slowly add 1/2 of the scalded milk into the egg mixture to temper the eggs. Slowly add in the remaining 1/2 of the milk and whisk together. Add in the vanilla. Pout into the dry ingredients and stir gently with a spatula. Gently fold in the egg whites until the batter comes together. The batter will be very fluid – don't panic, this is how it should look!
Using a large ladle spoon, divide the batter evenly amongst the 6 ramekins. You want to fill them up close to the top, so don't worry about them spilling over. Fill the 9 x 14 inch rectangle pan with boiling water so that the water comes about halfway up the ramekins.
Place in the center of the oven and bake for 40-45 minutes or until the tops of the cake are a deep golden brown.
Remove from oven and place on a cooling rack to cool for 5 minutes. Remove the ramekins from the pan of boiling water and allow to cool for an additional 15 minutes before serving.
Serve warm or completely cooled, and top with whipping cream and your favourite fresh, seasonal berries.
Whipped Cream
In a medium sized mixing bowl, using an electric mixer with the whipping attachment, begin whipping your cream, sugar and vanilla on low speed and progress to high speed as the cream thickens. Whip until soft peaks form. Dollop whipping cream on top of the Lemon Cakes. Top with your favourite, fresh berries and enjoy <3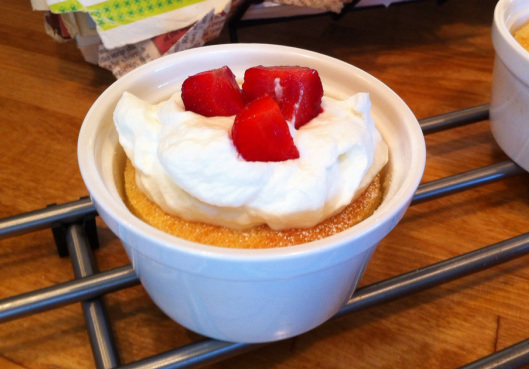 Look at how pretty these little cakes are! Okay, I may be a little bit biased because I LOVE lemon cakes and in my opinion the only thing better than a lemon cake, is a lemon cake paired with a nice thick lemon sauce and this cake delivers just that! By baking these little cakes delicately in a water bath, it keeps the cake nice and moist yet airy and creates a thick, sticky, lemon sauce at the bottom of the cake while its baking. Pairing them with a dollop of whipping cream and fresh berries just makes all the more irresistible. The sweetness of the fresh berries compliment the tartness of the lemon cake so well and the whipping cream just balances everything out and adds that extra little bit of richness.
This recipe makes 6 perfectly portioned little Lemon Sauce Pudding Cakes and they look absolutely adorable in these ramekins. This is definitely a decadent Summer dinner party worthy dessert and is sure to have your guests positively swooning for more of these cakes. It is such a simple recipe to make, but the end result is so complex because you have the light, fluffy cake atop of the rich, thick lemon sauce on the bottom and you can serve these cakes up just as they are or dress them up with just a simple dusting of icing sugar or whipping cream and berries or try topping them with a nice berry sauce…. you can do anything you want to these cakes and they will be divine! Serve them warm or completely cooled, either way they are delicious. (I personally like to let mine cool for about 15 minutes so that they are rich and warm when I dig in)
Thank you for joining me for the details of my Mother-Daughter Day! Long story short… we effectively managed to spend our Mother-Daughter time together by eating the day away (typical), and needless to say, we were both very full, yet happy women at the end of the day. Clearly I get my mantra of Bake.Share.Eat.Repeat from my mother – I wish everyday could be a Mother-Daughter Day.
I hope you enjoy this family recipe as much as I always do, I promise you its a keeper. Let me know how yours turned out and what kind of variations you came up with for your toppings!
KP