Happy New Year's Eve lovelies!
Are you all excited and ready for 2017? Do you usually make New Years resolutions? I have to be honest and say that I usually don't do this – mostly because I have never been very good at goal setting and I am even worse at actually sticking to my resolutions.
However, despite my terribly track record in the New Years resolution department, I love hearing all of the wonderful goals people set for themselves. I really admire the thought and dedication it takes to come up with them and of course to actually stick to them.
Hmm.. all of this resolution talk is making me want to set one for myself. So this year I think my resolution will be to eat more donuts … yes, now that seems like a resolution I can stick to 😀 Maybe not your traditional healthy resolution… but I feel like we could all use some more donuts in our lives. Are we on the same page here?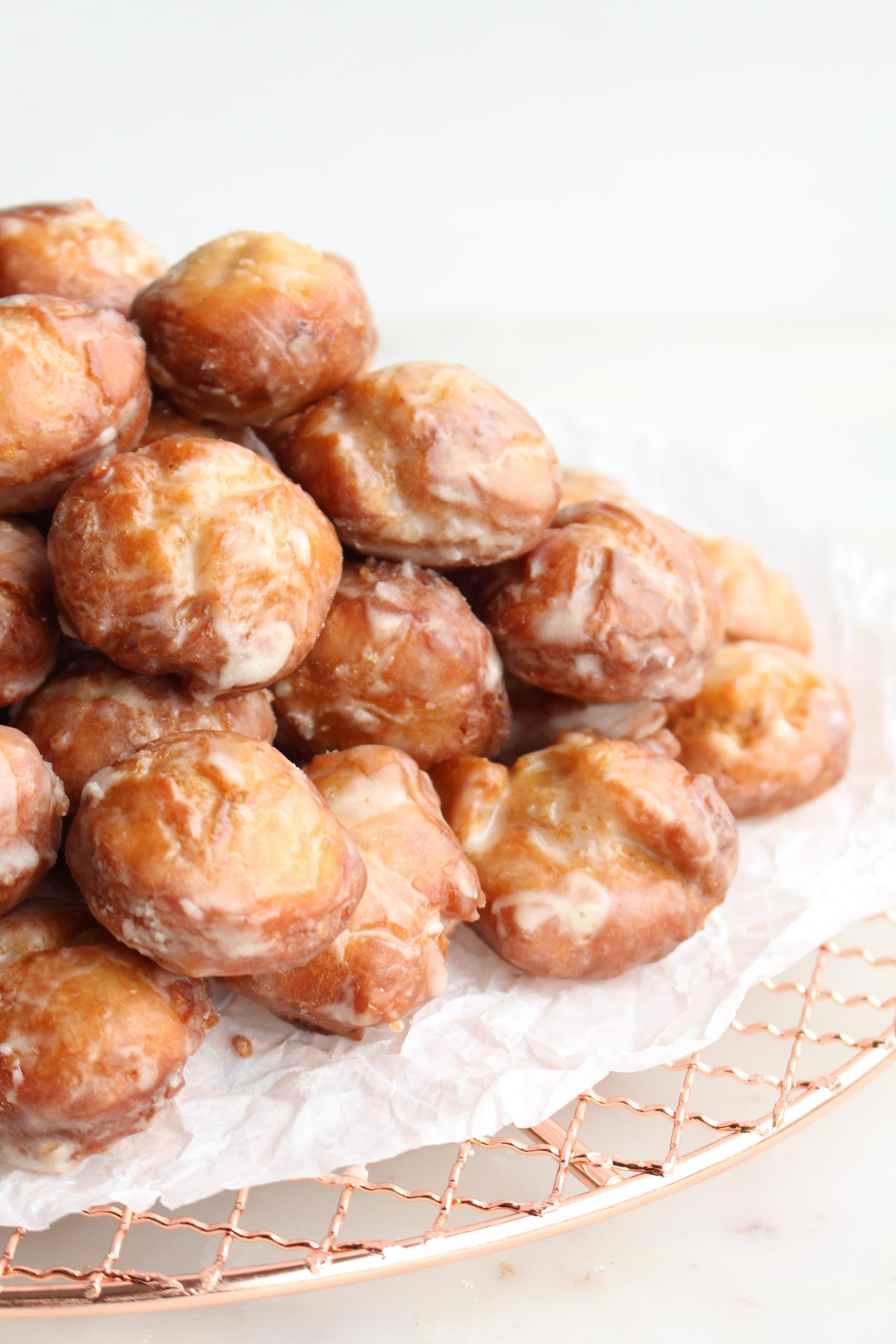 Specifically I think we could all use a little more of these Mulled Apple Cider Donut Holes.
I made them with homemade mulled apple cider that I made using spices from the coolest little box ever I recently discovered called Taste Box!  It's this great little box that comes every month with new delicious goodies inside and this month mine included the most amazing mulling spices! I honestly had no idea that such a convenient little packet of spices even existed so I was overjoyed when they showed up right at my door!
This months box was called "The Crowd Pleaser" and was filled with goodies to inspire you to entertain your guests for the holidays which got me thinking immediately about how I could use them to bake up some fun bite sized sweet treats for friends and family. All of the ingredients paired so well together and had a serious holiday appetizer theme that I loved!
Oh and if you are looking for a last minute gift for someone (or yourself) this holiday season – I would highly recommend Taste Boxes 3 month or 1-year subscription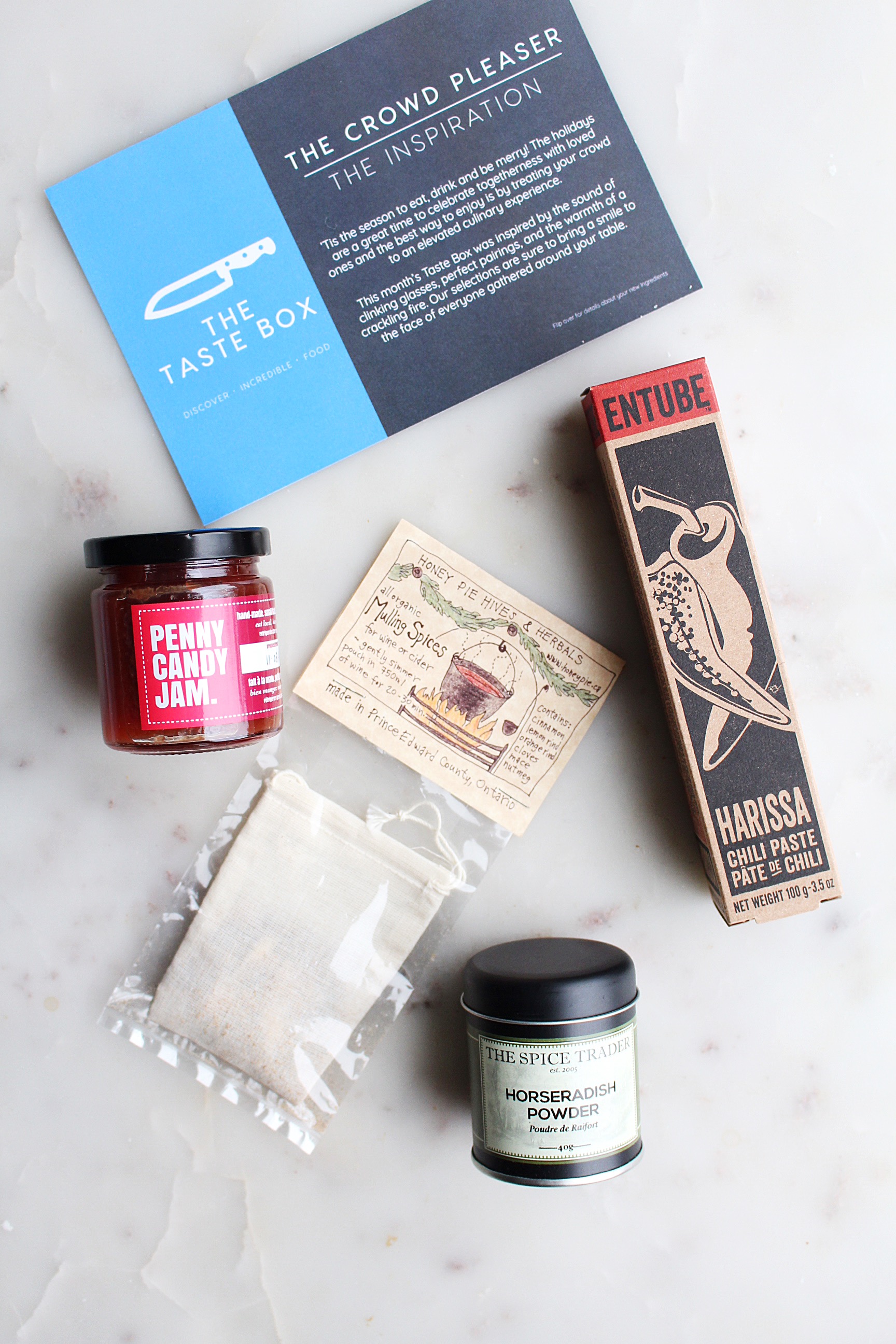 The second I opened up the mulling spices, I just knew I had to create something delicious with them. Although idea of mulling them with wine to share with family on New Years Eve seemed like a wonderful idea, I have to admit that I am not much of a wine drinker.
I am however absolutely in love with spiced apple cider and immediately jumped at the opportunity to make homemade mulled apple cider with my little bag of goodies. I could have honestly drank the whole pot of homemade mulled apple cider right then and there, but I knew I could create something even more delicious with it if I used it in baking. And because my mind is pretty much always on donuts, I decided Mulled Apple Cider Donut Holes were in order.

These little nuggets of apple cider goodness are my latest obsession & if you are in need of a last minute New Years Eve Party dessert – these would make the perfect little bite for your guests to munch on!
So here is the recipe lovelies & I hope you enjoy! This is my last post of 2016! Ahh! Wishing you all a beautiful eve and the most wonderful 2017!
-KP xoxo

Mulled Apple Cider Donut Holes 
Makes: about 50 donut holes
Things you need…
Sour Cream Cake Donuts
3 1/2 cups all purpose flour
1 tbsp baking powder
1/2 tsp baking soda
3/4 tsp cinnamon
1/2 tsp nutmeg
pinch of salt
1 cup granulated sugar
2 eggs
1/3 cup butter, melted
1 tsp vanilla
1 tsp orange zest
1/2 cup sour cream
1/2 cup mulled apple cider
Canola oil for frying
Mulled Apple Cider Glaze
3 1/2 cups icing sugar
1 tbsp maple syrup
1 tbsp corn syrup
1/2 tsp vanilla
1/2 cup mulled apple cider
How to make…
Mulled Apple Cider
Add 750 ml of apple cider to a medium sauce pan. Add in mulling spices and bring to gentle boil. Cook for 20-30 minutes. Remove from heat and strain out mulling spices. Allow to cool completely.
Mulled Apple Cider Donuts
In a large mixing bowl, whisk together flour, baking powder, baking soda, cinnamon, nutmeg and salt; make a well in the center and set aside.
In a medium mixing bowl using an electric mixer, cream together eggs, sugar, vanilla and orange zest until pale and thick. Slowly add in melted butter and beat until combined. In a liquid measuring cup mix together the sour cream and mulled apple cider. Add half of the sour cream mixture in and beat to combine; add the remaining sour cream and beat until smooth and completely combined.
Pour wet ingredients into the well of the dry ingredients and use a spatula to gently fold the wet ingredients into the dry until just combined.
Spoon dough out onto a large piece of plastic wrap, and wrap up tight. Refrigerate the donut dough for at least one hour or over night.
When you are ready to cook your donuts, heat a heavy bottomed pot of about 2 inches of oil over medium heat to 350 degrees, no hotter and no lower.
While your oil is heating up, lightly flour a cool work surface and turn your donut dough out. Dust the top with flour and roll your dough to about 1/2 inch thickness. Using a 1 or 2 in round cookie cutter, cut your donut holes.
**Note: You will most likely have some scraps, I usually just cut these into more little donut holes rather than re-rolling them. 
Once your oil is heated, gently place 5-10 donuts at a time into the oil to cook. Once your donuts float nicely to the top, allow them to cook for about 1 more minute before flipping and frying for an additional one minute on the other side. You can always look to see the colour before flipping to check that your donuts are a nice light golden brown before flipping them.
Once cooked, use a slotted spoon and allow the donus to drip off any excess oil into the pot. Place the cooked donuts onto a wire rack with some paper towel underneath to cool and drip off anymore excess oil. They will be extremely hot, so please take care not to burn yourself.
Allow to cool for a few minutes before dipping in the glaze.
Mulled Apple Cider Glaze
Add your icing sugar, vanilla, maple syrup, corn syrup and mulled apple cider to a large mixing bowl. Whisk all ingredients together until smooth. If your glaze is too thick, add in your additional apple cider or water 1 tbsp at a time. You want the glaze to be a pour-able consistency but not too runny.
Once your donut holes have cooled for about 15 minutes, toss the donut holes into the bowl and use a spatula to toss them and evenly coat them all in the glaze. Pour the donuts out onto a wire rack (with parchment underneath for the excess glaze to drip off onto).
Allow the donut holes to sit for about 10 minutes so the glaze can set up a bit before serving…. if you can possibly wait that long that is 🙂