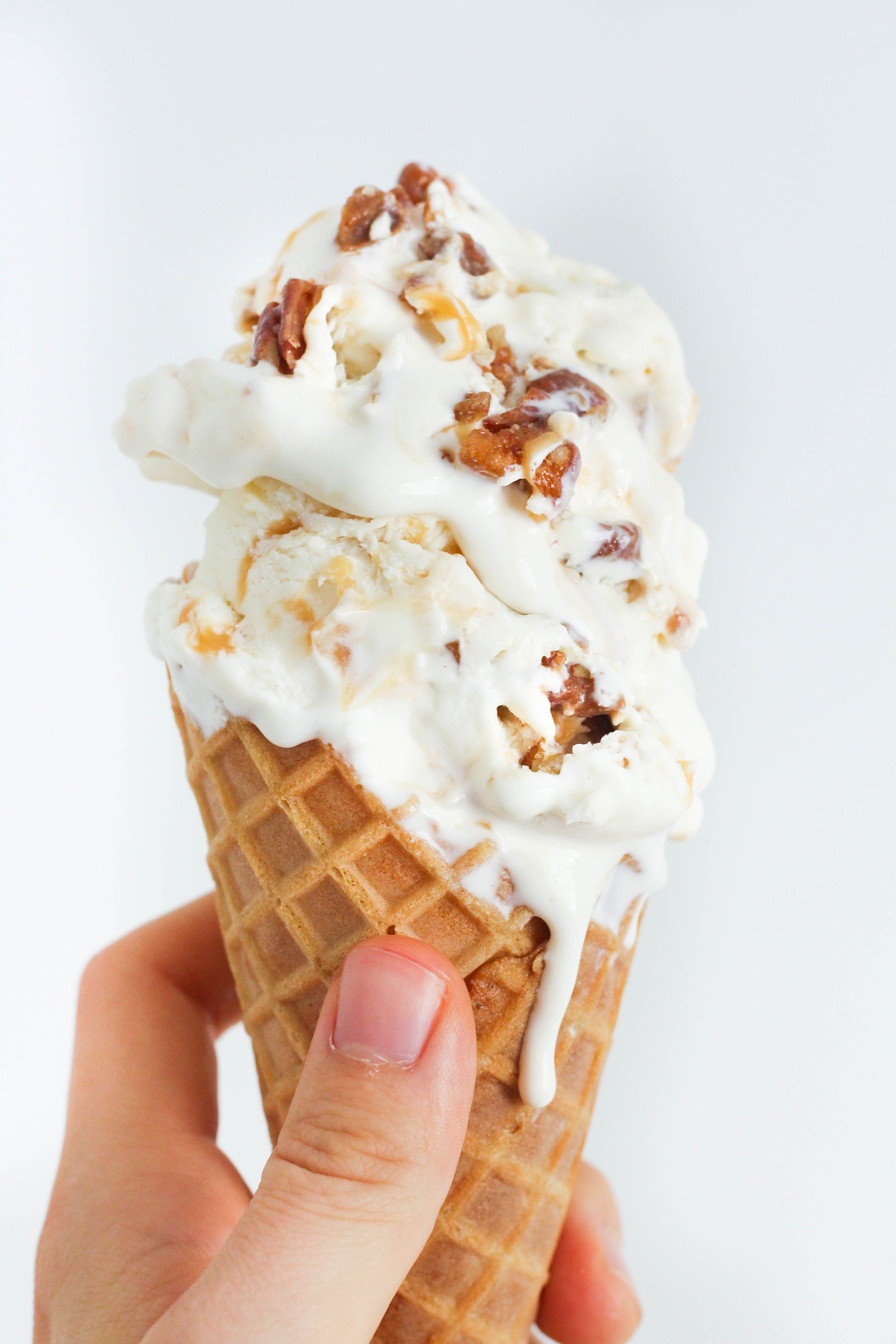 Okay guys… I don't know if you have noticed, but I am going through a bit of a homemade ice cream faze right now… oh you did notice? I guess it's a bit obvious considering every second post of mine lately has been ice cream and most of my insta stories are me showing you my latest ice cream escapades…
Seriously it's a problem. I swear my diet has become 90% ice cream over the past week, and I may need some serious help…
But for now, we are just going to ignore that elephant in the room (my ice cream addiction) because I made yet another batch of ice cream the other day, and it was just too damn good not to share!
Shop this post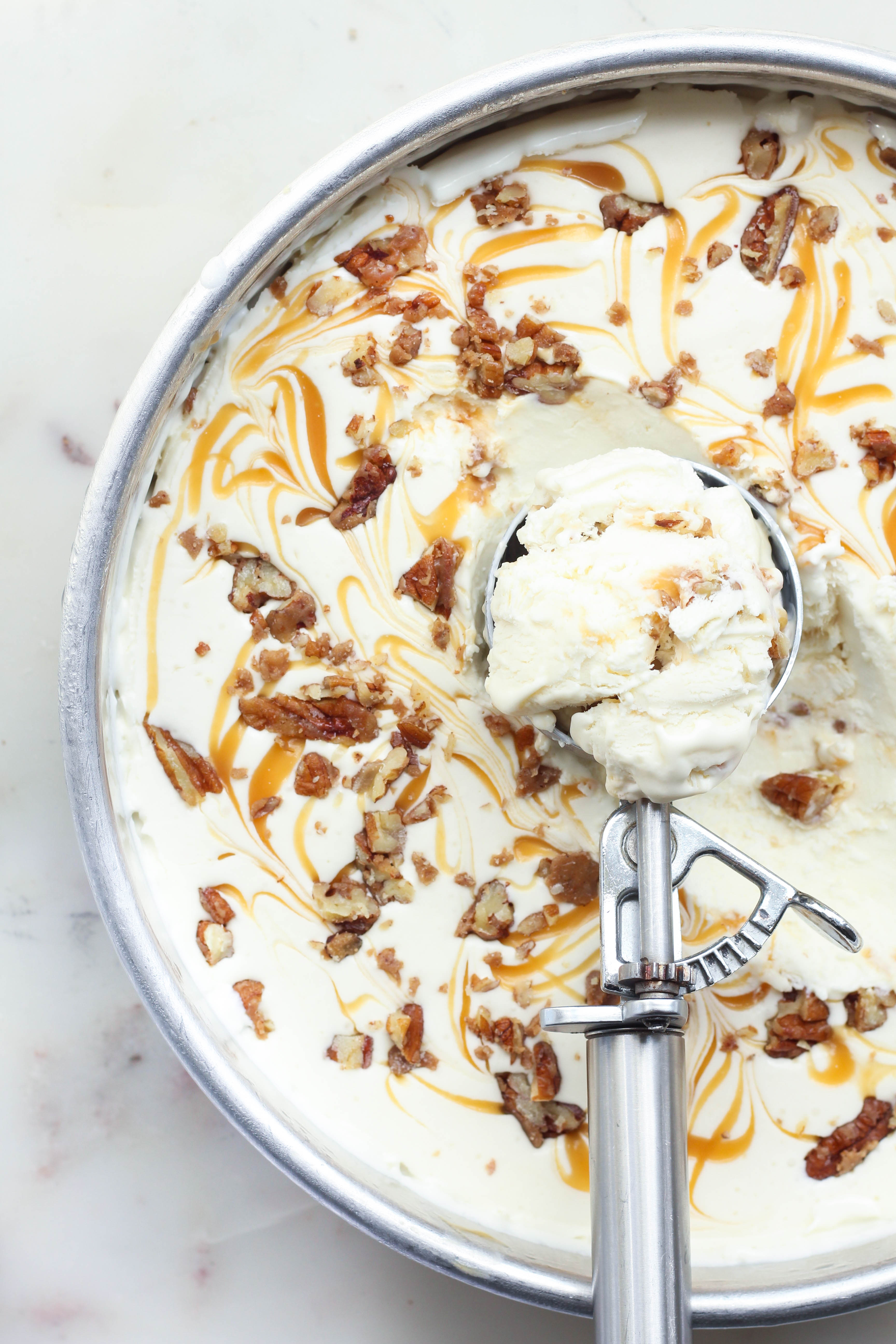 I love ice cream (in case that wasn't already clear). And right now I am seriously loving no-churn ice cream. Recently my ice cream maker broke… (I won't go int too much detail, because it's still too painful to talk about)… and because I am too cheap to replace it, I decided to give no-churn ice creams a try and I am totally hooked!
If you haven't tried a no-churn ice cream recipe yet, you absolutely need to. It's sooo simple to make – like you can literally have it in the freezer in 15 minutes – and basically all you need is one good base recipe, and you can customize it however you want! Keep it simple with vanilla; or step it up with fresh strawberry puree; or a shot of espresso; mix in some crushed oreos; or what about some chunks of leftover brownie and hot fudge sauce… umm yes!
Last week I made this Raspberry Crisp Ice Cream, and it was so good, that I couldn't wait to try some different add ins.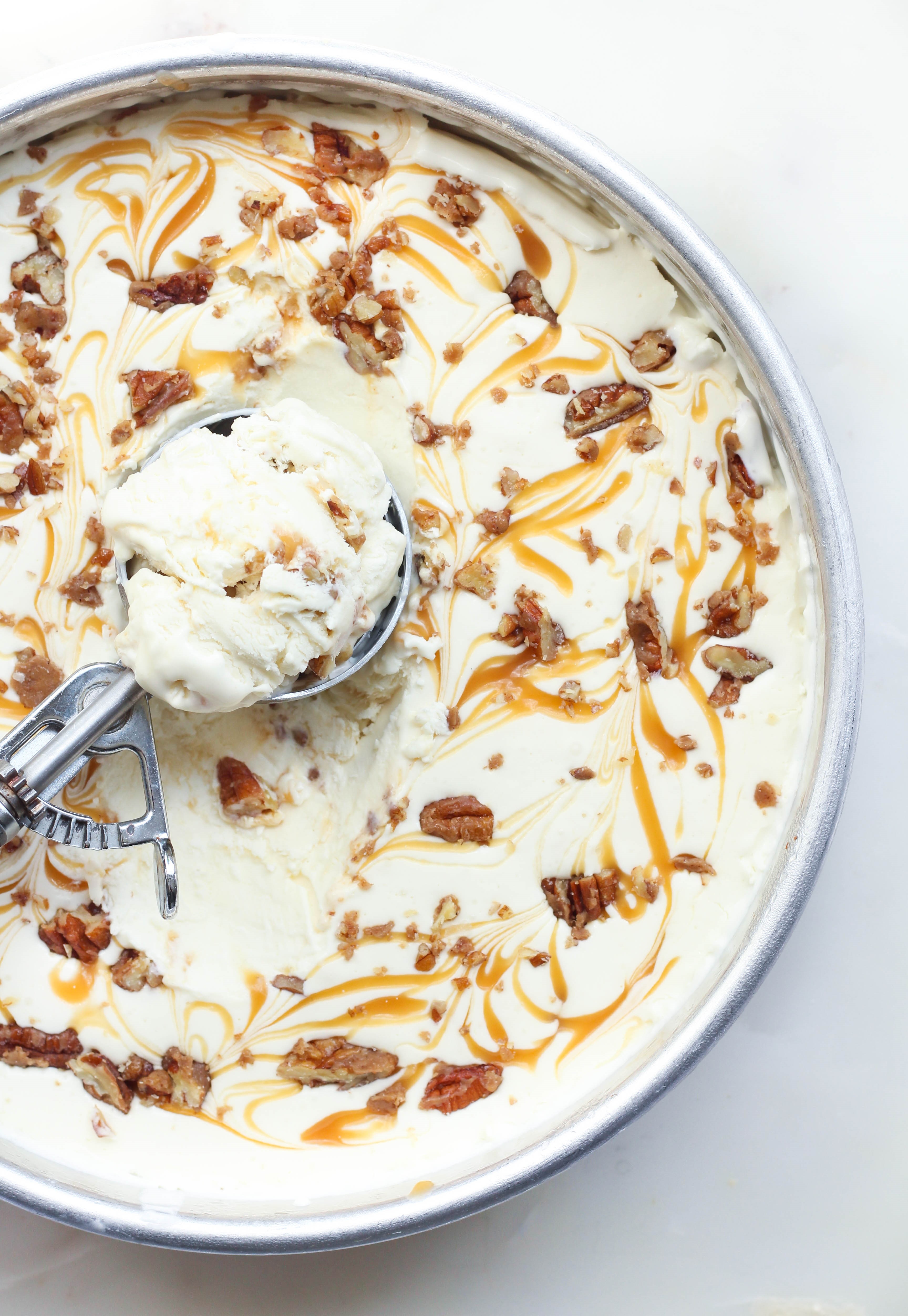 I recently paid a visit to Mo's General Store in North Vancouver – side note for all my Vancouverites, this place is amazing and you need to check it out – where I found the most delicious locally made butterscotch sauce. After tasting it I immediately decided that this stuff was meant to be swirled in with vanilla ice cream… obviously.
And since I am a gal who loves her some candied pecans, this No Churn Butterscotch Pecan Ripple Ice Cream was born, and basically my life will never be the same…
This time I swapped the cream cheese for some full fat greek yogurt (because this was all I had in my fridge / I was too lazy to run to the store) and it turned out to be a delicious swap! The greek yogurt added a creamy tang to the ice cream that works so well with the sweet butterscotch; and as for those crunchy candied pecans… well I think that they just speak for themselves.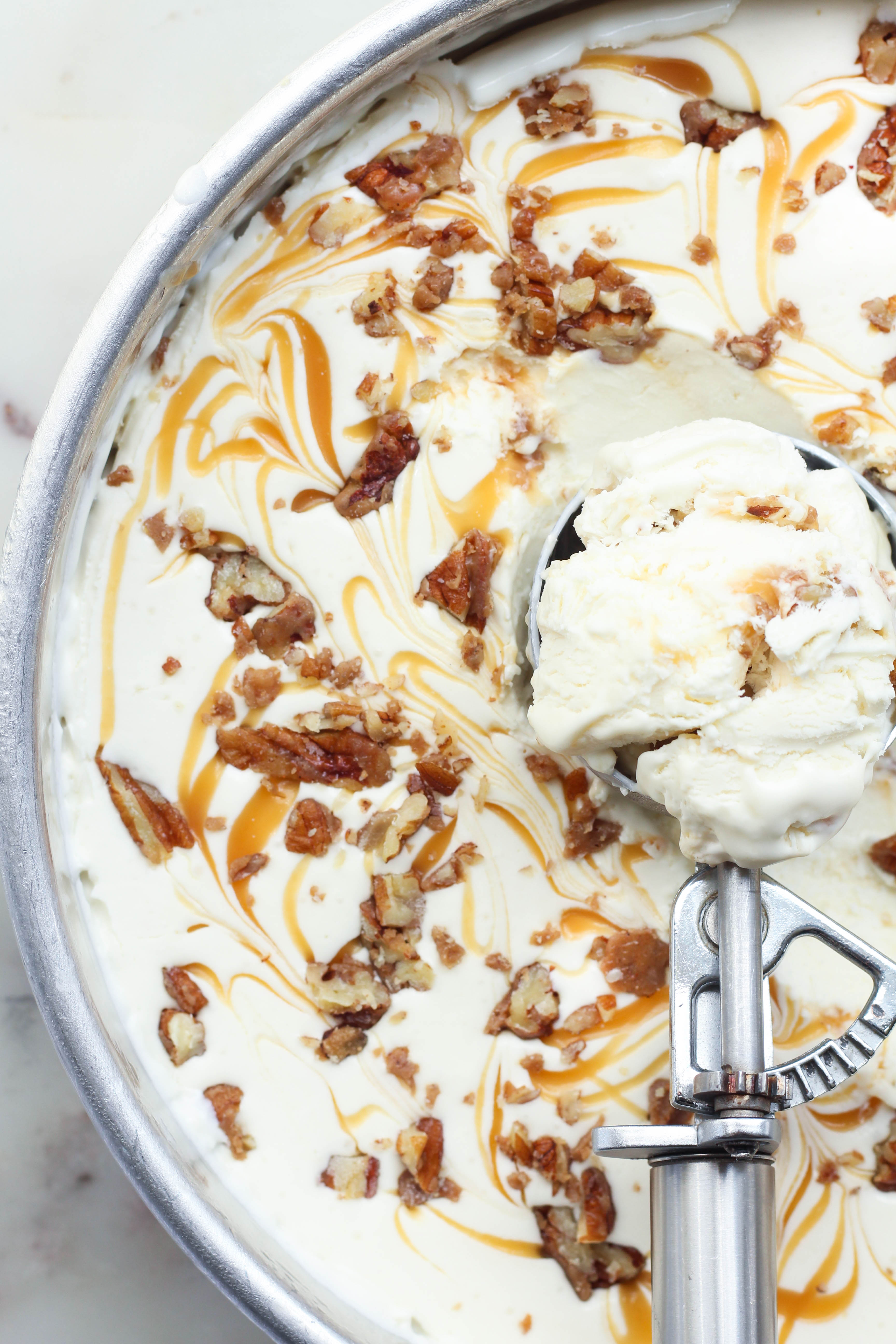 This is the kind of ice cream you just want to eat straight from the tub while standing up at your kitchen counter, you know what I mean? No bowl or fancy seating necessary – At least that's how I like to eat it. The other day Cole asked me why I wasn't sitting down to eat a bowl of this ice cream and I said "It just tastes better this way…"  and I swear it does. Who else agrees that ice cream just tastes better straight from the tub???
No matter how you eat this ice cream; straight from the tub, in a bowl or in a waffle cone – it's going to be delicious. So here is the recipe lovelies & I hope you enjoy! P.S. I hope you guys like ice cream, because I have more recipes coming 😀
Happy ice cream making!
KP xoxo
No Churn Butterscotch Pecan Ripple Ice Cream
Things you need…
Quick Candied Pecans
1 cup pecans
1/4 cup brown sugar
1 tbsp butter
1/4 tsp salt
1/4 tsp cinnamon
No Churn Ice Cream
1 14 oz can sweetened condensed milk
1/2 tbsp vanilla extract
1/4 tsp salt
3/4 cup plain greek yogurt, full fat
2 1/2 cups heavy whipping cream
Butterscotch sauce, about 2/3 cup
How to make…
Candied Pecans
In a saucepan, melt butter, brown sugar and salt over medium high heat. Add pecans and toss to coat. Continue stirring the pecans while they toast over medium high heat until toasted and caramelized – about 4-5 minutes. Keep a close eye on them and keep stirring to avoid burning the sugar.
Once caramelized, remove from heat and scoop them out onto a piece of parchment paper. Spread them out and let them cool completely to room temperature. They will harden as they cool. Once cooled, chop them up and set aside.
No Churn Ice Cream
Set a deep 10 inch cake pan or standard loaf pan in the freezer.
In a large bowl, beat the whipping cream and vanilla  on high and whip until stiff peaks form; about 3-4 minutes.
In a medium bowl, whisk together the condensed milk, greek yogurt and salt to thoroughly combine. Add about 3/4 cup of the whipped cream to the the condensed milk mixture and fold it together until smooth. Add the rest of the whipped cream and fold it together until combined and no streaks of whipped cream remain.
Pour 1/2 of the mixture into your chilled 10 inch cake pan (alternatively you could use a loaf pan). Set the pan and the remaining ice cream mixture in your freezer for 15 minutes to set slightly. Once set remove and begin assembling your ice cream.
Dollop about 1/3 of a cup of the butterscotch sauce over the ice cream in the pan. Use a spoon to spread it evenly over the top. Sprinkle with 1/2 of your chopped candied pecans. Dollop the rest of your ice cream mixture on top and use a spoon to smooth. Dollop the remaining butterscotch across the top of the ice cream and use a knife or the back of your spoon to create the pretty swirls. Sprinkle with remaining candied pecans.
Cover with plastic wrap and set in the freezer for 5-6 hours before serving.