Over the past couple weeks I have been on a quest; a Doughnut quest if you will…
I have been whipping up enough doughnuts to feed a small army, all in an effort to make the softest, fluffiest homemade yeast doughnuts possible, and I think I have finally done it. So all my fellow doughnut lovers unite for this recipe, because it is a winner!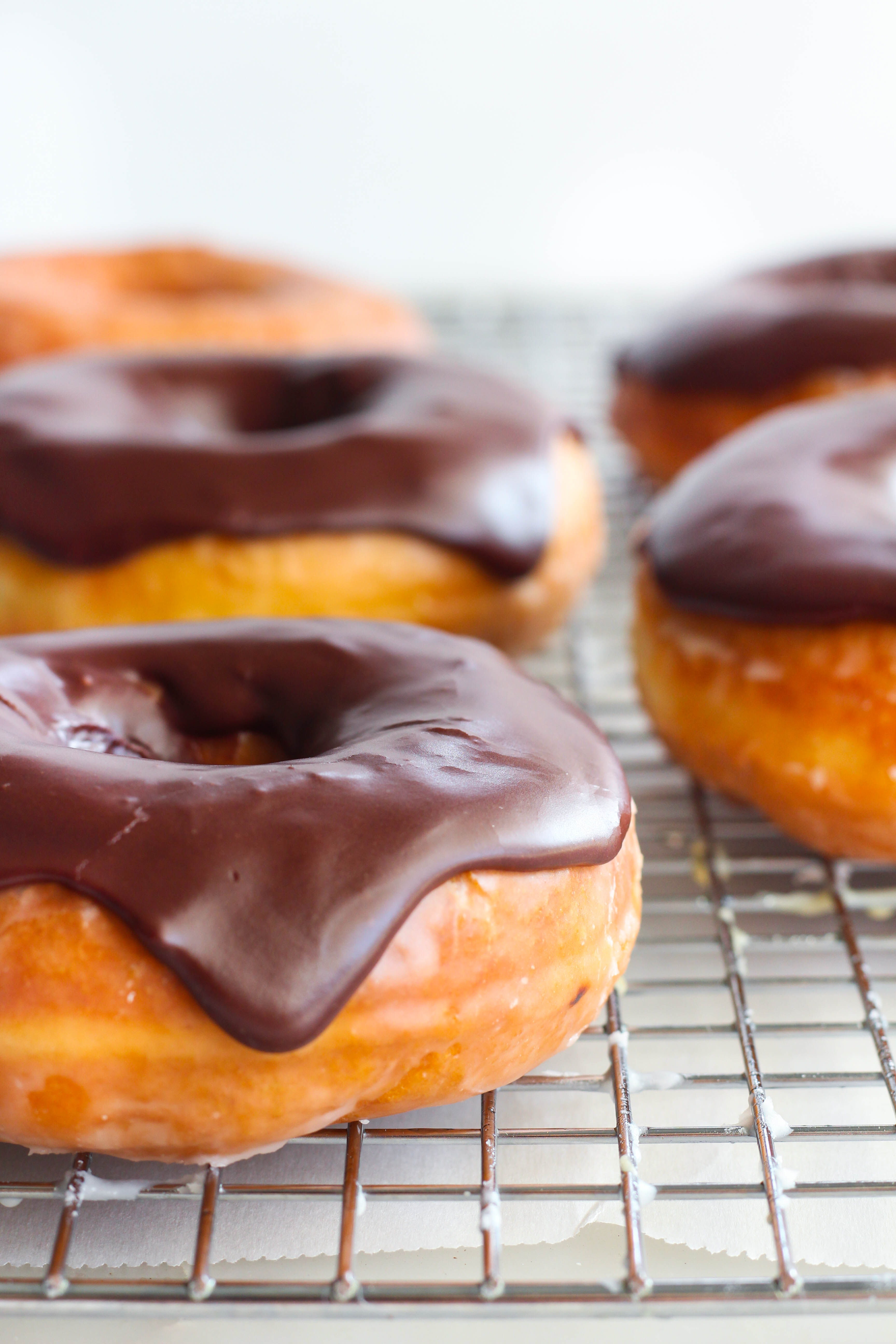 These doughnuts are seriously huge (by design) and soooo fluffy. Like I can't even stress how amazingly fluffy they are enough. You just have to try these doughnuts.
And yes; I doused all of the doughnuts in not just one but two glazes, and it was probably the best decision I have ever made. Each and every doughnut took a little bath in a simple vanilla glaze, before being dunked in this thick, glossy classic chocolate glaze… You need these in your life.
Seriously, don't even question/wonder/ask about the calories in these doughnuts; just make a batch, and live your best life like a boss.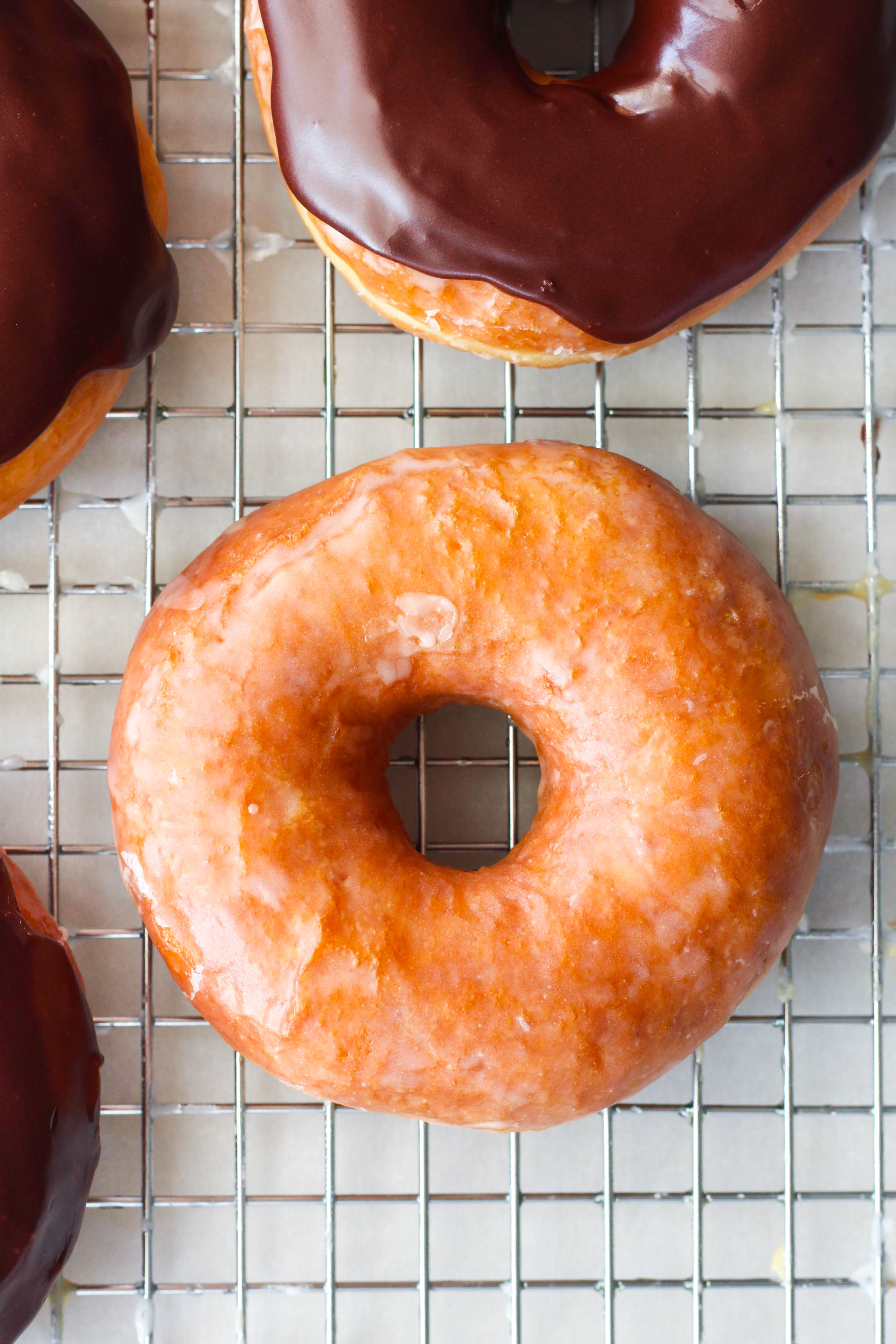 So less talking, and more doughnut making. Here is the recipe friends and I hope you enjoy!
Happy baking!
KP xoxo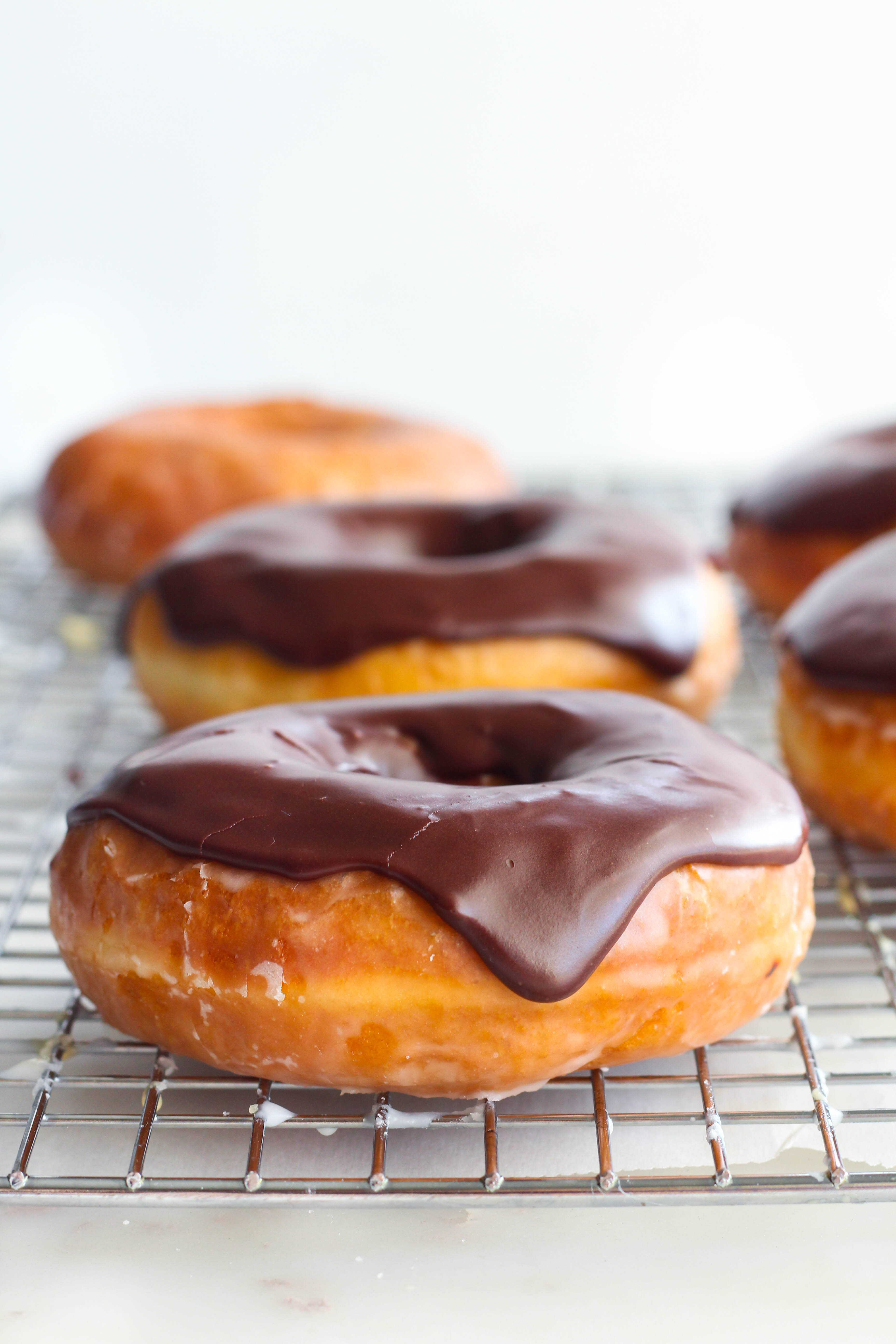 Perfect Yeast Doughnuts
Recipe adapted from Leite's Culinaria
Things you need…
Doughnut Dough
3 pckgs active dry yeast (not quick rising)
2 tbsp honey
1 cup whole milk, warmed
1 egg, room temp
1/4 cup butter, melted
1 tsp vanilla
1/8 tsp cinnamon
1/8 tsp nutmeg
1/2 tsp salt
2 1/4 – 2 1/2 cups bread flour
Canola oil for frying
Vanilla Glaze
1 1/2 cups icing sugar
2-3 tbsp water
1 tsp vanilla
Chocolate Glaze
1 1/2 cups icing sugar
4 tbsp cocoa powder
3-4 tbsp water
1 tsp vanilla
How to make…
Doughnuts
In the bowl of a stand mixer, combine 2 packages of yeast with 1 tbsp of the sugar, 3/4 cup of the warm milk and 3/4 cups of the bread flour. Whisk everything together until it forms a thick paste. Cover with plastic wrap and set in a warm spot to rise for 30 minutes.
After the 30 minutes are up, place your bowl back on the mixer and attach the paddle attachment. Add the remaining yeast, milk, egg, butter, egg and vanilla. Beat that on medium speed until everything is well combined. Remove the paddle attachment and replace with the dough hook and start adding the remaining flour 1/4 cup at a time until the dough starts to pull away from the edges of the bowl. Turn the mixer to medium high and allow it to work the dough for about 5 minutes or until the dough is smooth and elastic. If the dough starts to stick to the bottom of the bowl, just add in a touch more flour until it starts to full away again (about 1 tbsp at a time)
Turn the dough out of the mixer and shape into a ball. Place the dough into a greased bowl, cover with plastic wrap and set in the fridge to rest for at least 1 hour or overnight up to 12 hours.
Once your dough has rested, start heating up your canola oil to 350F Degrees in a large pot – you want about 2 inches of oil in the bottom.
Punch down your doughnut dough and turn it out onto a lightly floured work surface. Roll out to 3/4 inch thickness and use a doughnut cutter to make your cuts. Place the doughnuts onto a couple parchment lined baking sheets, leaving at least 1 inch around all sides. Cut any scraps into doughnut holes.
Cover the doughnuts with plastic wrap and set in a warm place to rise for about 20-25 minutes or until they have doubled in size.
Once your doughnuts have risen, drop 2-3 (depending on the size of your pot) into your hot oil. Cook on each side for about 1 minute or until golden brown. Remove from the oil with a slotted spoon and set on a cooling rack. Repeat this process with the remaining doughnuts and allow them to cool for about 10 minutes before you start glazing.
Vanilla Glaze
In one bowl whisk together the icing sugar, vanilla and 2 tbsp of water until smooth. If your glaze is too thick, add another tbsp of water. Note: You want this one to be fairly thin in consistency if you plan on also glazing your doughnuts with the chocolate glaze as well; however if you just want to glaze them with vanilla, I would make the glaze a bit thicker.
Dip the top and bottom of each doughnut in the vanilla glaze and use your finger to remove any excess. Place back on the cooling rack and allow the glaze to set for 10 minutes before dunking in the chocolate.
Chocolate Glaze
In a bowl, whisk together the icing sugar, cocoa powder, vanilla and 2 tbsp of water until smooth. If your glaze is too thick, add in more water 1/2 tbsp at a time until a very thick glaze forms. You still want it to be pourable, but very thick.
Gently dip the top half of each doughnut in the chocolate glaze and use your finger to remove any excess. Set back on the cooling rack to set for another 10 minutes before serving.
Enjoy!