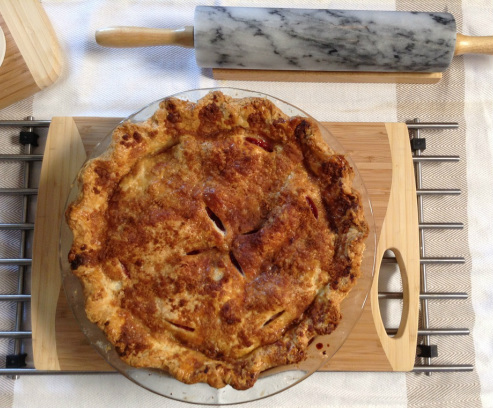 For some people, Summer is a time for hitting the beach; for others, Summer is a time for lazy vacations; for me, while I enjoy the latter, Summer is most importantly a time for Pie! Oh yes! Now you may find this hard to believe, (probably not,) but has been absolutely no shortage of pie in my house this Summer. In fact, the number of pies that I have managed to bake this Summer is definitely bordering on insane – but come on, how could I possibly pass up the opportunity to bake with some of the Summers finest and freshest local fruits??? The answer to that questions is simple – I couldn't and I most certainly did not.
Let's start from the beginning…
My Summer of pie kicked off early this year at the beginning of June with the arrival of strawberry season where I kept it simple with a classic Strawberry Rhubarb Pie. Now believe me when I say that while it is nearly impossible for me to single out one pie flavour as being my all-time favourite, but I think that if I had to choose, Strawberry Rhubarb would definitely be my number one. There is just something about that flavour combination that is absolutely irresistible – the sweetness of the strawberries with the tang of the rhubarb and that oh so gooey texture… it is heaven.
Next up was the arrival of blueberries to my farmers market and along with all the other blueberry baked goods I have been posting about this summer, I managed to bake up a classic and sinfully delicious Blueberry Pie. Now, blueberry pies can be extremely tricky because it is hard to get the filling to that perfect, lusciously juicy yet thick consistency. Sadly, it is common to have a blueberry filling that is much too fluid and ends up running out of your pie once you cut into it. Anybody who has experienced this knows that this is the ultimate worst thing to happen after you have spent so much time slaving over your precious Blueberry Pie. Don't feel bad – I would be a complete liar if I said that this hasn't happened to me before because it definitely has, and suffice to say it was a very sad day. However, this year I managed to put together the best Blueberry Pie I have ever had and I am so happy to announce that I have finally nailed down the perfect recipe to a no fail Blueberry Pie! This recipe was tremendous but sadly there was no time for pictures because the pie literally disappeared from the pie plate at the speed of light – so unfortunately we will have to postpone the sharing of this recipe 🙁
As the Summer moved along, next up were the sweet, sour and oh so beautiful Raspberries! Mmmm…. Not only do I just love to eat Raspberries straight up from the carton because of their delectable tartness, but when these babies are baked into a pie (or any other baked good for that matter) with butter and sugar…… game over – They are just down-right irresistible! Am I right?
And as for the month of August, which we are fully engulfed in right now. Normally Cole and I are up in Kelowna right in the thick of Peach season, so on our way back home we stock up on a trunk load of fresh Okanagan fruit goodness. However, this year we will not be up there until the very end of August and the thought of missing the Okanagan peach season was too much for me to bear. Thus, Cole and I made a trip up to Keremeos over the August long weekend just for the sole purpose of getting some fresh Okanagan peaches – that's right we made an 8 hour round trip just for some peaches and oh my goodness was it worth it!
I'm telling you, Okanagan peaches simply cannot be passed up. So basically a plethora of fresh Peaches, Cherries and Nectarines are literally staring me in the face as we speak, just begging for me to bake them into some form of pie, galette or crisp. Don't worry, I have big plans for these peaches this weekend so be sure to stay tuned for that deliciousness in the coming weeks –  but for right now… let's go back to this Raspberry Apple Pie!
The great thing about Summer pie baking, is that is presents you with not only so many options for single berry pies (Blueberry, Strawberry, Peach… etc,) but it also gives you the opportunity to play with endless different berry combinations that suite your fancy! Trying out new pie flavours is one of my favourite things to do in the Summer, so when I found fresh cartons of Raspberries next to the apples at Langley Farm Market a couple weeks ago, everything became clear in the world. Raspberries and Apples just seemed like an absolute match made in Pie Heaven. (That's right… Pie Heaven – I strongly hope that this exists.)
Needless to say, I wasted no time picking up 2 cartons of fresh Raspberries – (one for the pie, and one for me to eat while baking the pie, obviously.) I then gathered up a nice selection of Granny Smith, Gala and Golden Delicious Apples and rushed home to bake up an irresistible Raspberry-Apple Pie for a Summer BBQ at Cole's Aunts house.
And ohhhh myyyy, this pie… it is definitely a winner! So look no further for the recipe, because it is simply too good to proceed without giving it to you!
However, if pies seem like a daunting dessert option for you and you're unsure about attempting this one for fear of your pie not turning out, scroll down past the recipe for some great tips that will not only ensure an easy pie making experience but will help you to make that perfect, flaky pie crust along with the quintessential thick gooey filling every time! I promise you, once you have these tricks under your hat, you will actually be able to use the seemingly ridiculous phrase of "Easy as Pie" with complete and utter confidence! That's right – so keep scrolling so you can become a pie expert 🙂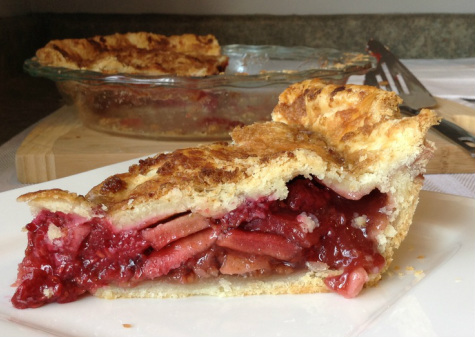 Raspberry – Apple Pie
Things you need… 
Flaky Pie Crust
3 1/2 cups flour
1 tsp salt
1 tbsp sugar
1 cup cold butter, cubed
3 tbsp vegetable oil
2 tsp lemon juice
1/4 cup cold water
Raspberry Apple Filling
4 cups sliced apples
2 cups fresh raspberries
1/3 plus 2tbsp cup brown sugar
1/2 sugar
1/2 tsp cinnamon
1/8 tsp nutmeg
2  tbsp tapioca
1 tbsp lemon juice
1 tsp vanilla
2 tbsp large rolled oats
2 tbsp unsalted butter
Egg Wash / Topping
1 egg + 2 tbsp water, beaten together
2 tbsp brown sugar
2 tbsp granulated sugar
How to make… 
Raspberry Apple Filling
In a medium saucepan over medium-low heat, cook 2 cups of the sliced apples with 2 tbsp of the brown sugar until the apples begin to soften and some juice cooks out; this should take about 10 minutes. Remove the apple slices from the juice with a slotted spoon or strainer and add the apple slices back to the rest of the uncooked apples; set aside to cool until you are ready to prepare the rest of the filling.

Flaky Pie Crust
In a large mixing bowl, whisk together flour, sugar and salt until evenly combined, Using a pastry cutter, cut in vegetable oil; next, cut in the the cold cubed butter until it is well blended and the butter bits are about the size of peas.
Next, mix the lemon juice and the cold water together and drizzle over the flour mixture; use a fork to stir the water with the flour mixture until ragged dough forms. Turn dough out of the bowl, preferably onto a cool surface, and shape the dough into 2 disks. Wrap each disk with plastic wrap and refrigerate for at least two hours before rolling. Remove dough from fridge 10 minutes before you start rolling as this will make it easier to roll.
**You can also make this dough a day ahead, just be sure to remove your dough from the fridge 30 minutes before you roll it.**
Assembly
Preheat your oven to 375 degrees.
Using a rolling pin, gently roll your first dough disk on a cool, lightly floured surface. Rotate your dough gently every so often to ensure an even circular shape. Roll to about 1/4 inch thickness. Using your rolling pin, fold half of the dough over top of the rolling pin and use it to help you transfer your dough to your pie plate.
Sprinkle the bottom of the pie shell with the rolled oats – this will help to absorb any excess juices at the bottom of your pie and prevent the dreaded soggy bottom pie crust.
Repeat the rolling process with your second dough disk.
Once you have rolled out your top pie dough, prepare the rest of your raspberry-apple filling.
In a large mixing bowl, mix together the apples, raspberries, sugar, brown sugar, lemon juice, vanilla, cinnamon, nutmeg and tapioca. Pour filling into your pie plate over the bottom pie shell on top of the oats.
Dock the top of the filling with chunks of the remaining 2 tbsp of unsalted butter.
Place the second pie shell over top of your filling and gently press the edges of your crust together. Using a knife, cut off any excess dough around the edges of the pie plate. If you wish to do a fluted edge (similar to what I did with my pie) use your thumb and forefinger to flute the edges.
Brush the top of the pie with the egg wash and then sprinkle with the sugar mixture. Using a knife, cut 4-6 slits in the top of your pie to allow steam to escape while it bakes.
Bake in the lower third of your oven. Bake for 10 minutes at 375 degrees; After the ten minutes is up, lower your oven temperature to 350 degrees and cook for an additional 40-50 minutes or until the crust is golden brown and the filling is bubbling up through your slits. Be sure to check on your pie regularly to make sure the crust is cooking evenly. Depending on your oven you may find that the crust browns much quicker than the center of the pie and you will want to foil the outer edges to make sure that the crusts don't burn.
Allow the pie to cool for at least 1 and a half hours before serving. Serve warm with ice cream or completely cooled with a hefty helping of freshly whipped cream! Mmmmmm….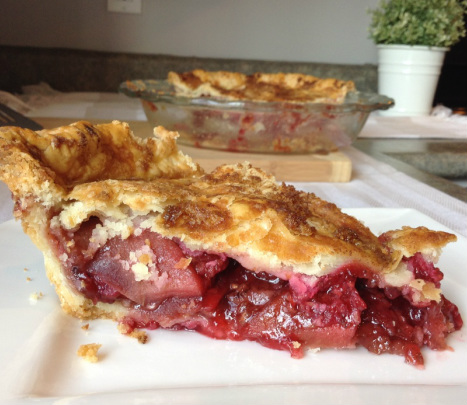 So now that you have an ultimate Raspberry-Apple pie recipe, it's time for me to share some of the fruit pie baking tips that I have acquired over the years! Crust & filling are the only two components to your pie, and they both require a great deal of attention to detail if you want to create a perfect and harmonious pie!
Tips for a flaky pie crust
1. Make sure you use COLD butter! – Use cold butter to ensure that you have some nice pea sized chunks in your dough. the butter should not be fully incorporated into the flour – You want those nice buttery chunks because they will help create that flaky, buttery texture.
2. Lemon juice or apple cider vinegar – This is an absolute MUST. There is something about the acidity in both of these ingredients that works with the flour and the butter to you are trying to achieve that quintessential flaky pie crust. If you use a couple teaspoons of one of these ingredients in your dough, I guarantee you will get a flaky crust. I typically use lemon juice in Pie dough that will be used in fruit or sweet pies and the apple cider vinegar in pie dough that will be used for more savoury pies such as a Chicken Pot Pie.
3. Do not over-moisten or over-work your pie dough – This is probably the most important tip I can give to anybody who has struggled numerous times with trying to get that desired flaky pie crust. Overworking your dough is probably the most common mistake people make, and that is because it is just so easy to do.
Firstly,I often hear people say that they add much more water to their pie dough than what the recipe calls for because they think that their dough is too dry – try not to do this! When you start to bring the dough together with a fork, it will seem a bit dry. The best thing to do it to then just bring the dough together gently with your hands. You will notice that when you do this it will come together and seem much less dry.
However, be careful not to overwork the dough with your hands – you should still be able to see little chunks of butter throughout your dough. Even if you think your dough is too dry, chances are it isn't and once you actually shape it into a disk, refrigerate it and roll it out you will find the consistency is good. The most important thing to remember is that if you want a flaky pie crust, your dough itself should be somewhat flaky – very moist dough that is overly combined and rubbery in texture will not leave you with a flaky crust.
4. Allow ample time for your dough to rest in the fridge – This process will work to re-chill your butter and allow the gluten in your flour to relax again, which will help to contribute to a nice flaky pie.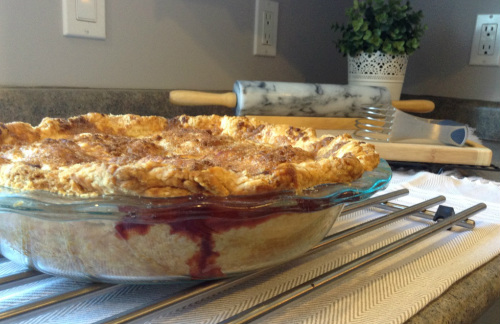 Tips for the perfect, juicy & thick filling:
1. Cornstarch or tapioca – using a couple tablespoons of one of these little ingredients will make all the difference when it comes to thickening your pie filling.
2. Cook out some of the juices from  a portion of your fruit mixture – by taking about half of the fruit for your filling and cooking it down with some sugar for a few minutes over medium heat, you will coax out some of the excess juices that can contribute to a runny pie filling. I have found that this process also helps to create a nice jam like consistency and when you pair this with the remainder of the uncooked fruit, it creates the perfect filling.
3. Don't prepare your filling too early – mixing your berries and sugar together more than a few minutes before you assemble your pie may seem like a good idea because it's almost like marinating your fruit in sugary goodness; however, this can lead to a soggy bottom pie crust (which is no fun.) Mixing your berries and sugar will  coax the juices out of your fruit and you will end up with a lot of excess juice sitting on your raw pie dough as it bakes. I have achieved the best filling results with my pies by only mixing the filling together right before I assemble my pie.
4. Adequate cooling – if you are like me and you like to eat your pie nice and warm with a healthy scoop of vanilla ice cream, please take special note of this final tip! Allow adequate time for your pie to cool!
Now, I know it is sweet, sweet torture, but you must let your pie cool for at least an hour and a half before you serve it! If you prefer your pie warm, don't be afraid that letting it cool for an hour will make it cold when you go to eat it, because trust me – it will still be plenty  warm even after an hour has passed. This just allows for the filling to set enough so that when you cut into that perfect pie, the filling doesn't all drain out of the remaining pie. There is nothing worse than having a pie shell that has been drained of all its beautiful filling – don't let this pie disaster happen to you!
Just think of me while you are impatiently waiting for your pie to cool because trust me – I feel you pain! Waiting for my pies to cool is legitimately one of the hardest things for me to accomplish successfully – seriously it borders on the impossible. I cannot even count the number of times that I creep into my kitchen just the smell the pie, touch the crust to see how warm it is or just plain hover and stare at it while it is cooling. Yes, when it comes to pie, I might as well be a child staring through a glass window with my face and hands pressed up against the glass. There is no denying that this is absolute TORTURE, but it is definitely worth it in the end to have that perfectly set filling.
Alright everybody! Now you have the tips and tricks to go along with this absolutely irresistible Raspberry -Apple Pie recipe so you are good to go! Making pies can definitely be tricky, but once you master these simple tricks, the prospect of making a pie will no longer be daunting! So what are you waiting for??? Get baking one of these pies!
As always I would love to hear how it turns out and if you have any questions at all about the pie making process, please feel free to leave a comment or e-mail me!
Happy Pie Baking!
KP xoxo