Confession; I am no pro when it comes to frozen dessert photography. Honestly whenever I set out to photograph a tub of homemade ice cream or popsicles I'm lucky if I end up with a couple barely usable photos.
I always start my frozen dessert shoots off with so many hopes and dreams of what my photos will look like; however by the end of these shoots those high hopes and dreams are usually long gone and all that usually remains is a sticky, melted mess, which I will undoubtedly eat (despite it's melted state) in an attempt to drown my photography sorrows. True story.
So this time, in the interest of not consuming an entire batch of popsicles to myself, I kept the photography for this one pretty simple, and as such; I will keep this post sweet & simple. Because let's face it, the sooner I'm done here, the sooner you can be making these Raspberry Cheesecake Popsicles amiright?
Shop this post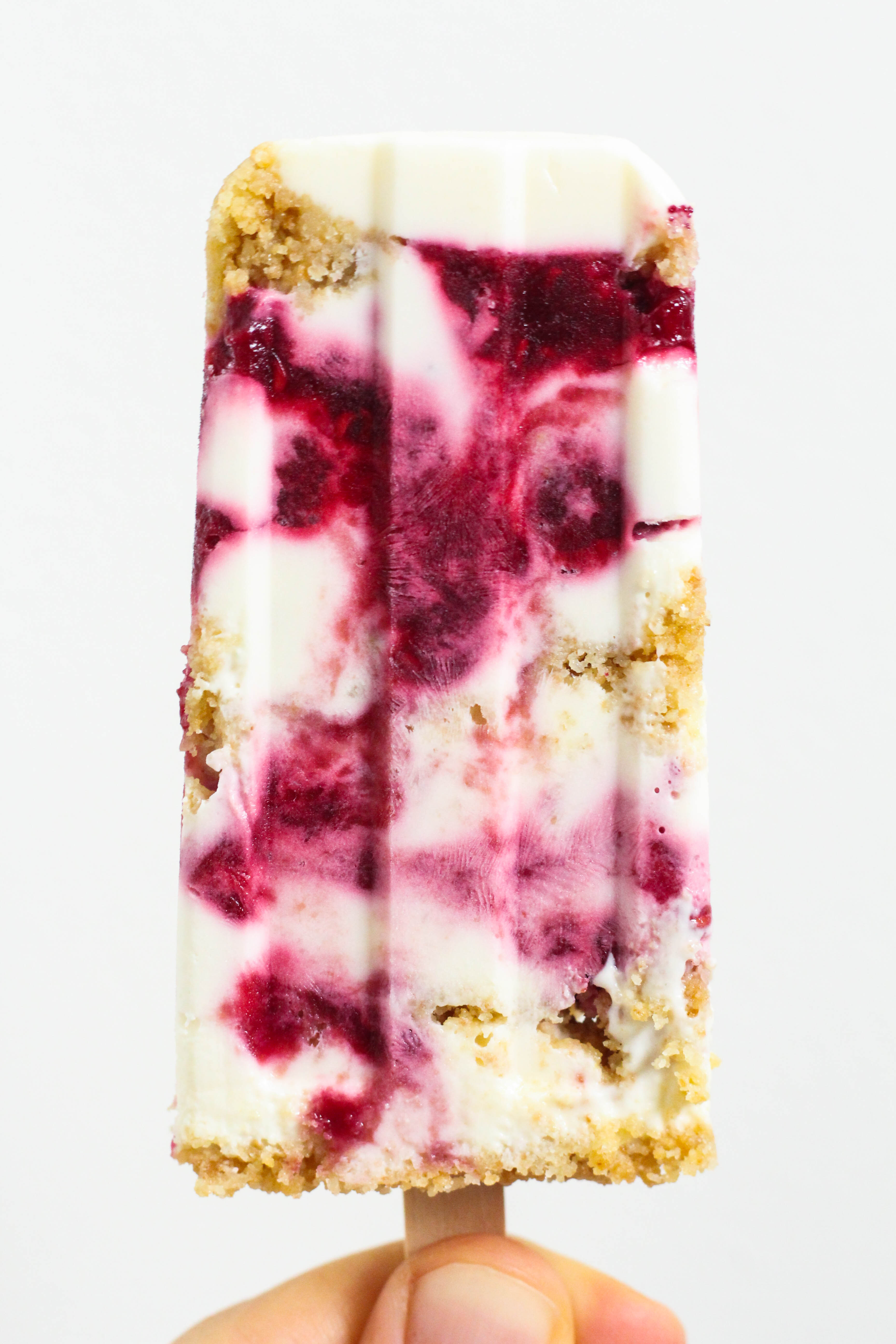 These were seriously SO easy to whip up, and are the perfect little dessert to keep cool with all summer long. You could totally use this ice cream base and then just swap out what you want to use for your fruit swirl. Try using a fresh peach puree or blueberry jam or cherry puree or even lemon curd would be divine!
I would love to see your popsicle creations, so if you try this recipe out, don't forget to tag me!
Happy Popsicle making!
KP xoxo
Raspberry Cheesecake Popsicles
Makes 8 popsicles
Things you need…
Popsicles
4 oz cream cheese
1/2 cup plain greek yogurt
1/2 cup whipping cream
1 tsp vanilla extract
1 tbsp lemon juice
1/2 cup icing sugar
raspberry jam, I used East Van Jam (or any flavour of jam you like)
Almond Graham Cracker Crumble
1/4 cup almond meal
1/4 cup graham cracker crumbs
1 tbsp brown sugar
1 tbsp butter, melted
How to make…
Almond Graham Cracker Crumble
Combine all ingredients in a small bowl, and mix together with your fingers until a crumbly mixture forms. Set aside.
Popsicles
In a medium bowl, cream together cream cheese, and icing sugar with an electric mixer fitted with the whip attachment until smooth and there are no lumps. Add in Greek yogurt and blend until smooth. Mix in lemon juice, vanilla and whipping cream and beat on high  for 3-4 minutes.
Spoon the ice cream mixture into your popsicle molds so they are about about 1/3 full. Spoon 1/2-1 tsp of raspberry jam on top, and then sprinkle about 1 tsp of the graham cracker crumble over top. Next use a skewer to gently swirl the jam / crumble into the ice cream mixture a bit and repeat this process one more time. Top each mold off with one final layer of ice cream and insert the popsicle sticks in the center. Finally sprinkle the tops with more crumble and gently press the crumble into the layer of ice cream.
Set mold in the freezer to freeze completely – about 5-6 hours. Remove from the fridge 5 minutes before you want to enjoy.