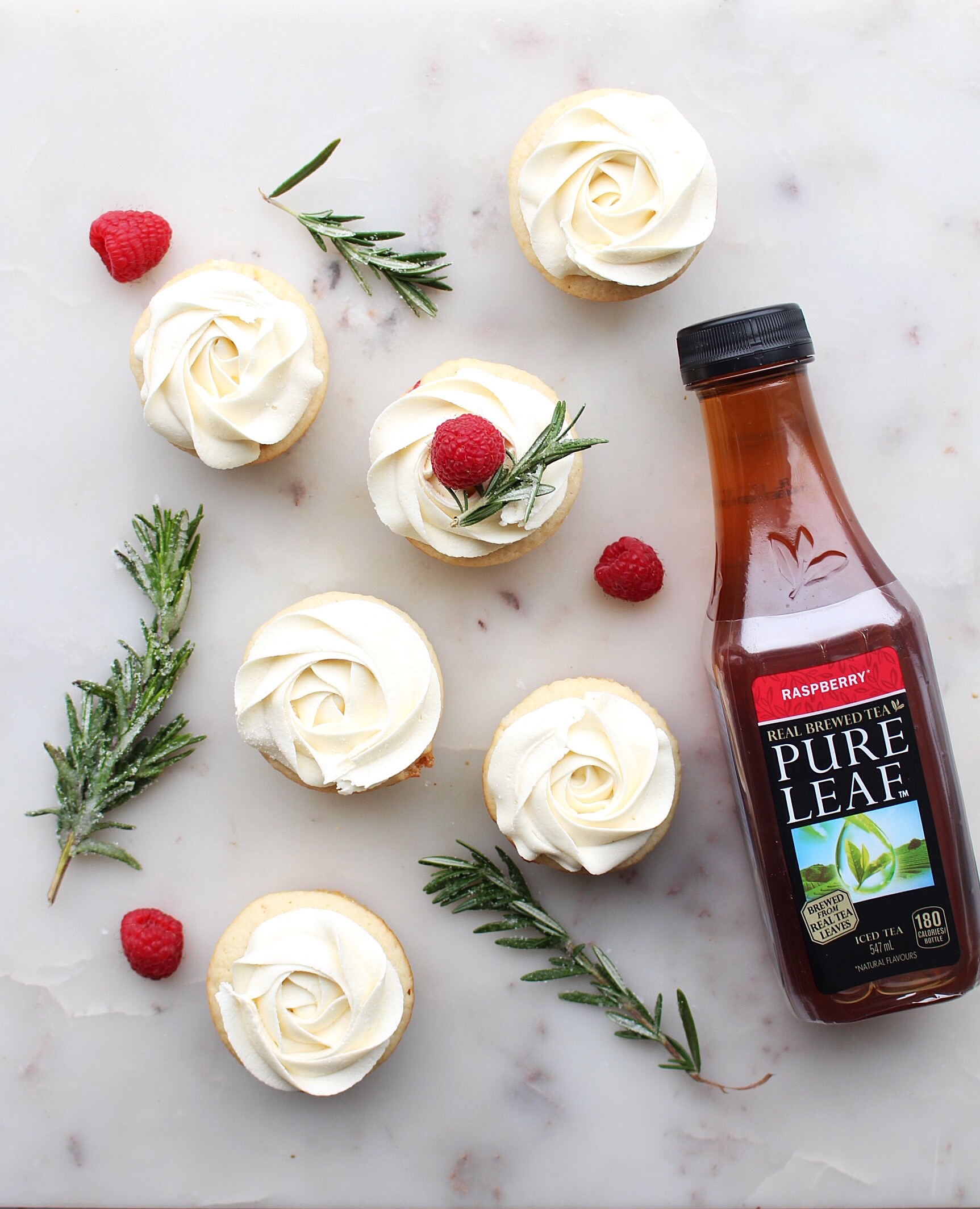 Hello friends! I hope you are all enjoying the holiday season & all of the delicious homemade cooking and baking that comes along with it!
As I have mentioned before, holiday baking is one of the biggest joys in my life. I just love baking with all of the warm spices and vibrant colours that come with the season.
So naturally when Pure Leaf reached out to me about teaming up to re-create one of their recipes for the holiday season, I could not have been more excited. I immediately knew my recipe would have to include my favourite Pure Leaf Raspberry Iced Tea! Then because in my mind white chocolate and raspberry are pretty much a match made in flavour heaven; these Raspberry Tea Cupcakes with White Chocolate Frosting were a recipe choice that was nothing short of a dream come true.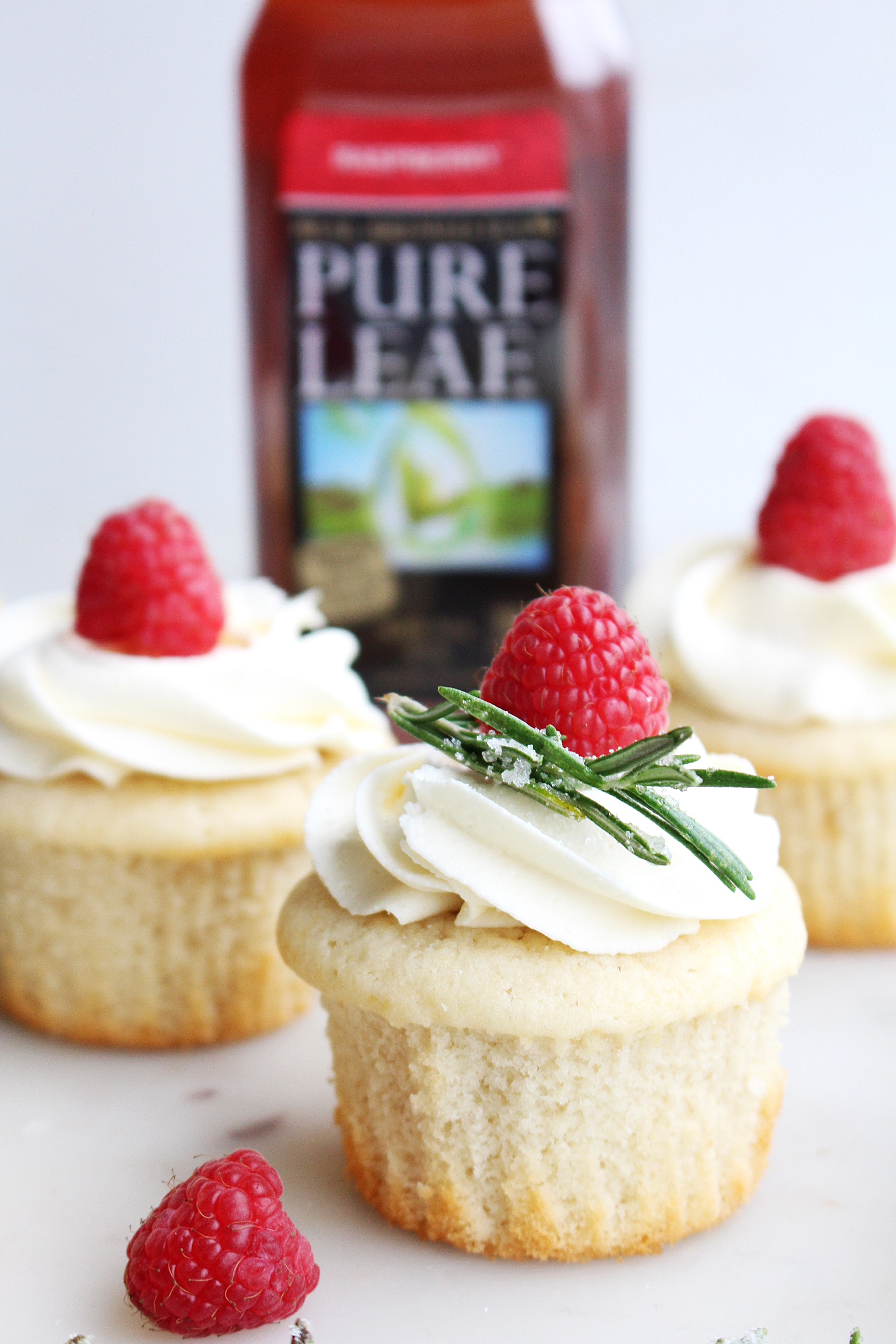 Last week Cole had a company Christmas party and his boss asked me if I would be willing to whip up a few homemade goodies to serve at the party as an extra special treat to the team before the holidays. I was of course delighted (as I always am at the thought of baking cornucopias amounts of baked goods for hungry patrons) and I started planning my festive treat menu right quick!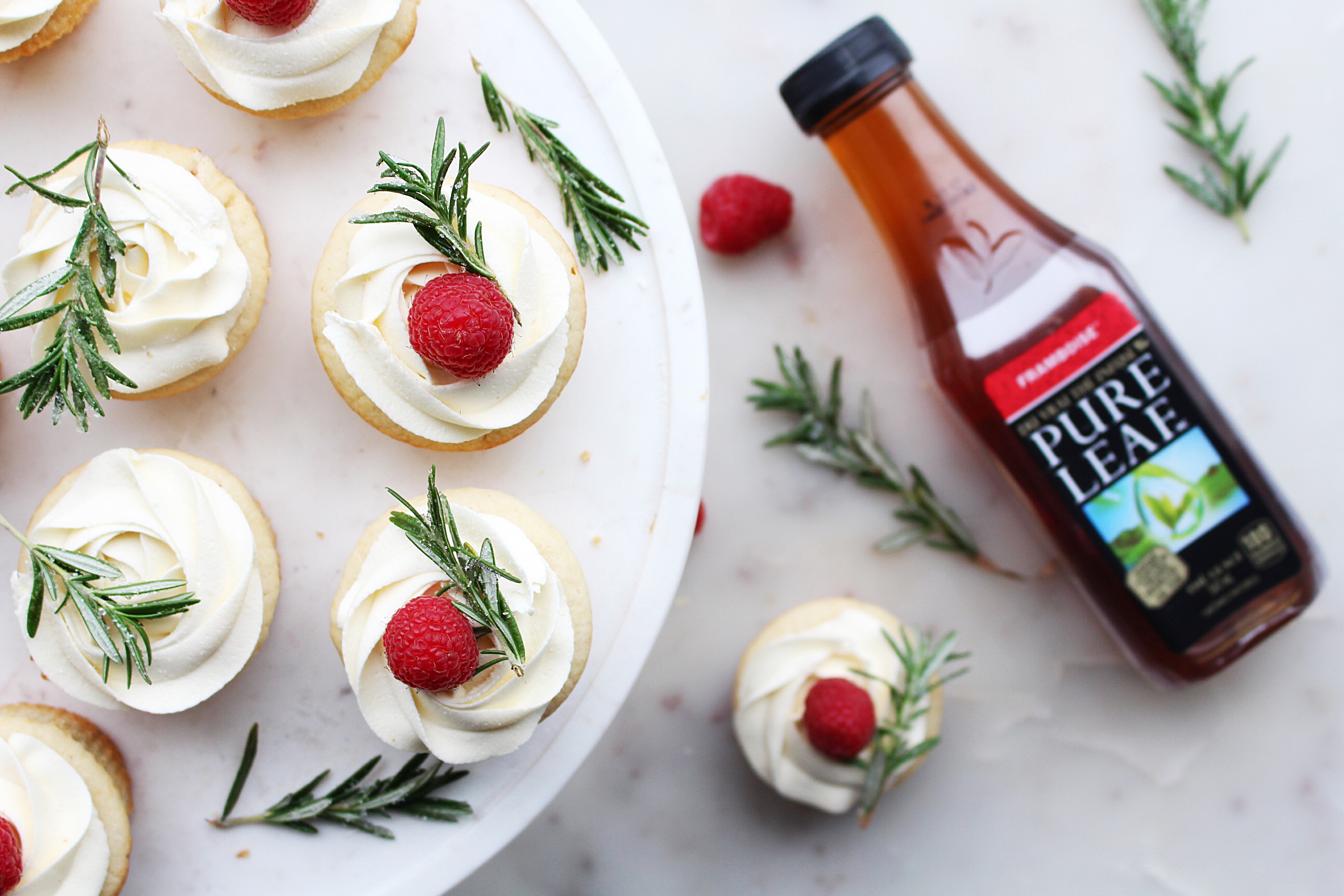 I knew immediately that these cupcakes would be the perfect holiday inspired treat. Especially w/ a little help from some added holiday adornment through the use of a few vibrant fresh raspberries & some snowy rosemary sprigs. Once I was done decorating them, they had festive written all over them! Seriously, these cupcakes were so darn pretty that I almost didn't want to eat them – I could have just stared at them all day.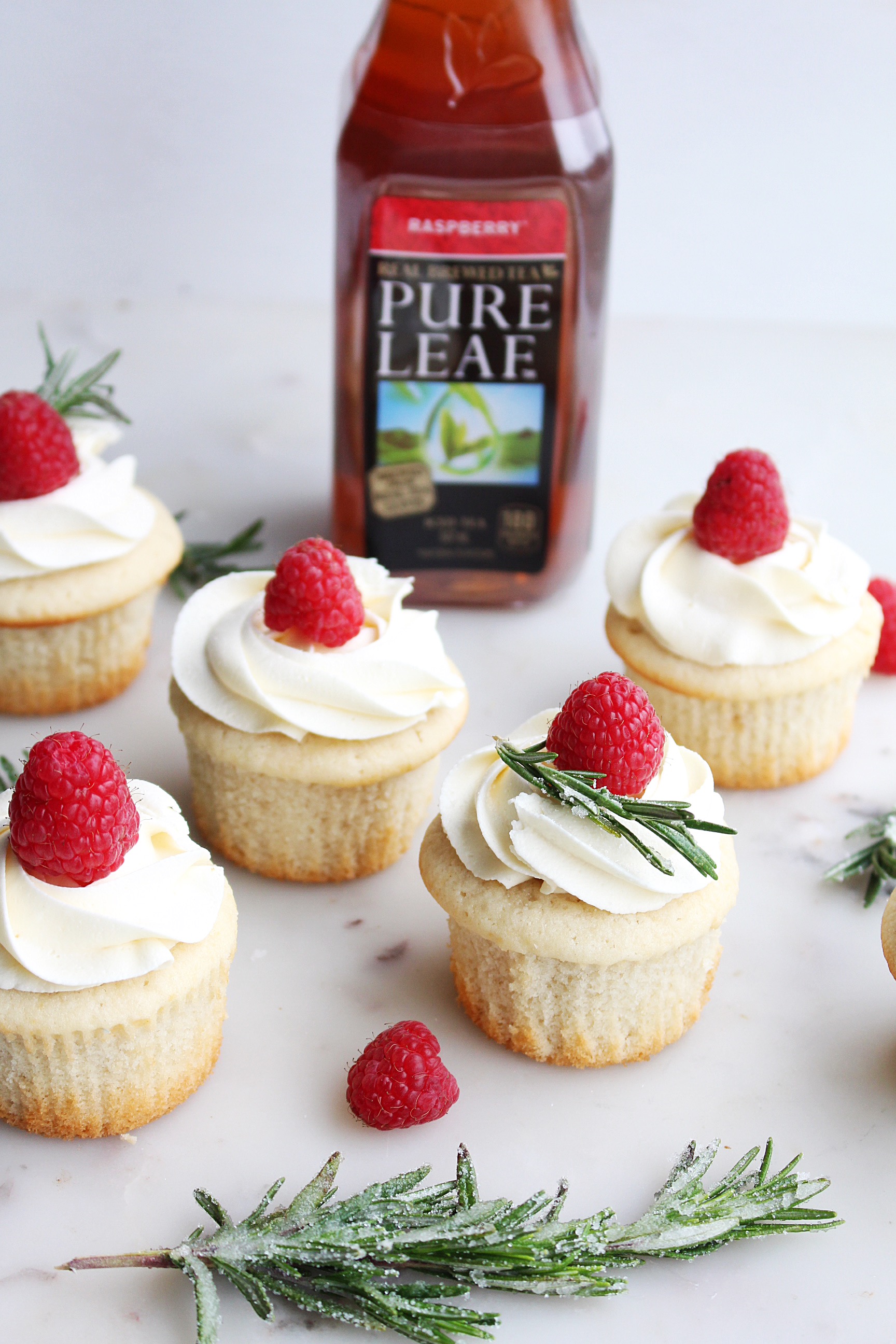 But needless to say these little beauties were a huge hit at the Christmas party & they disappeared from the dessert table in minutes! They were the perfect little sweet bite for people to enjoy while they mingled. Not to mention they were just downright delicious. The Pure Leaf Raspberry Iced Tea added incredible flavour to the cupcakes and paired amazingly with the white chocolate frosting. I can't wait to make another batch!
So without further adieu, here is the recipe for these gorgeous cupcakes & I hope you get the chance to bake a batch and enjoy them with family and friends this holiday season! Talk soon lovelies <3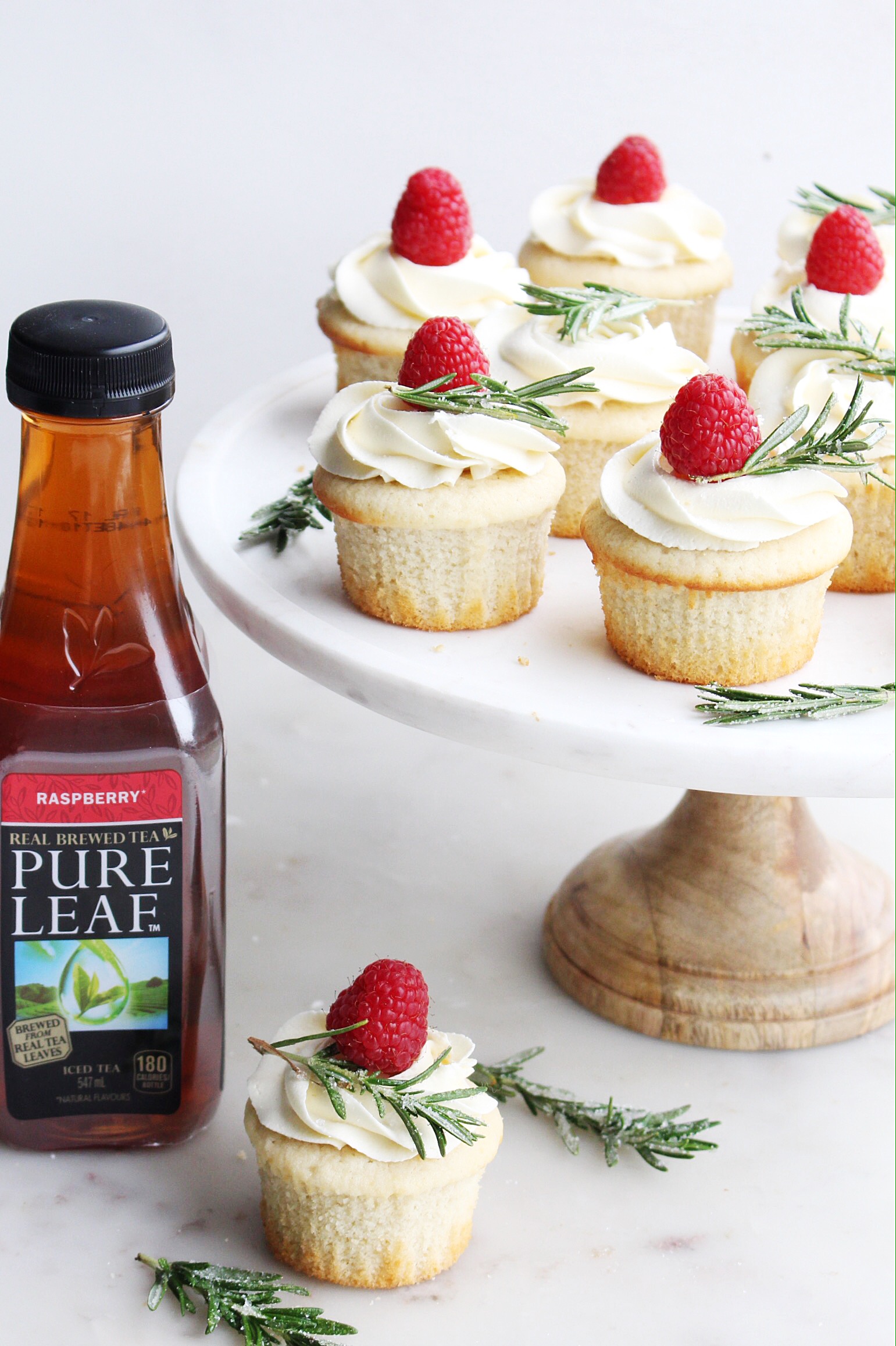 Mini Raspberry Tea Cupcakes with White Chocolate Frosting
Recipe adapted from Bite me More
How to make…
Raspberry Cupcakes
3½ cups flour
3 tsp baking powder
1 tsp kosher salt
1 cup butter, room temperature
2 cups sugar
4 egg whites
1 egg
1 tsp vanilla extract
1 cup whole milk
½ cup PURE LEAF Raspberry Iced Tea
½ cup raspberry jam
White Chocolate Frosting
½ cup butter, room temperature
2½ cups icing sugar
6 oz. white chocolate, melted
2 tbsp whole milk
Seedless raspberry jam, to drizzle
White chocolate curls, for garnish
How to make…
For the cupcakes
Preheat oven to 350ºF. Line 24 muffin cups with cupcake liners and coat lightly with non-stick cooking spray.
In a small bowl, combine flour, baking powder and salt. Set aside. Using an electric mixer, cream butter and sugar on medium speed until light and fluffy. Beat in egg whites and full egg one at a time, until well combined. Mix in vanilla extract. On low speed, alternate adding flour mixture with the milk and raspberry iced tea, beginning and ending with the flour. Mix just until combined. Fill cupcake holders halfway with cupcake batter. Place 1 teaspoon of raspberry jam in the middle of the batter and top each cupcake with more batter, filling tin ¾ full. Bake 20-22 minutes, until slightly golden and cooked through. Cool completely before frosting.
For the white chocolate frosting
Using an electric mixer, cream together butter and icing sugar on low speed until well combined. Add melted white chocolate and milk, mixing until smooth and desired spreading consistency. Frost cooled cupcakes using a rose piping tip and decorate with fresh raspberries and sugared rosemary stems.
For the Sugared Rosemary Sprigs
Dip the sprigs in water and sprinkle generously with granulated sugar. Set on parchment to dry for about 30 minutes to an hour.
*This post is sponsored by Pure Leaf, and all opinions are my own.