You guys… these Pecan Clusters have been a looonnngggg time coming.
I swear I have been wanting to try and make a homemade version of these bad boys for the past two months. I bought all of the ingredients, I wrote out a practice recipe, and yet they still somehow didn't happen until just yesterday. Every Monday for the past 8 weeks I would tell myself… "this will be the week I make the pecan clusters…" and then week after week I would amaze myself with my skills in procrastination.

So after months of preparation, I finally managed to make them. And all I have to say about them is this…
They were well worth the wait.

You guys, these caramelly, chocolatey, sweet and salty clusters are seriously EVERYTHING.
Now, it could be argued that my strong feelings for these little guys can be attributed to the fact that I have been craving and anticipating them for literally weeks on end… but on the other hand… I think the fact of the matter is that they are just downright amazing.
Words cannot do justice. They just have to be experienced. You must make these. Like, right now…
Now, I did take these clusters to the next level with a homemade caramel sauce – however, if making homemade caramel sounds like the most terrifying thing in the world to you, you could always use wrapped caramel candies. You would just have to melt them and spoon the melted caramel over the pecans instead of using the homemade.
That being said – this caramel sauce is pretty fool proof and if you really want to experience the true bliss of these clusters, you should definitely give it a try. You can do it! Virtual fist pumps!
Also this may very well be my last post before Christmas, so if I don't see you guys before then, I wish you and your family the happiest of holidays and a wonderful New Year.
P.S. I hope your holidays include these clusters 😀
Happy baking!
KP xoxo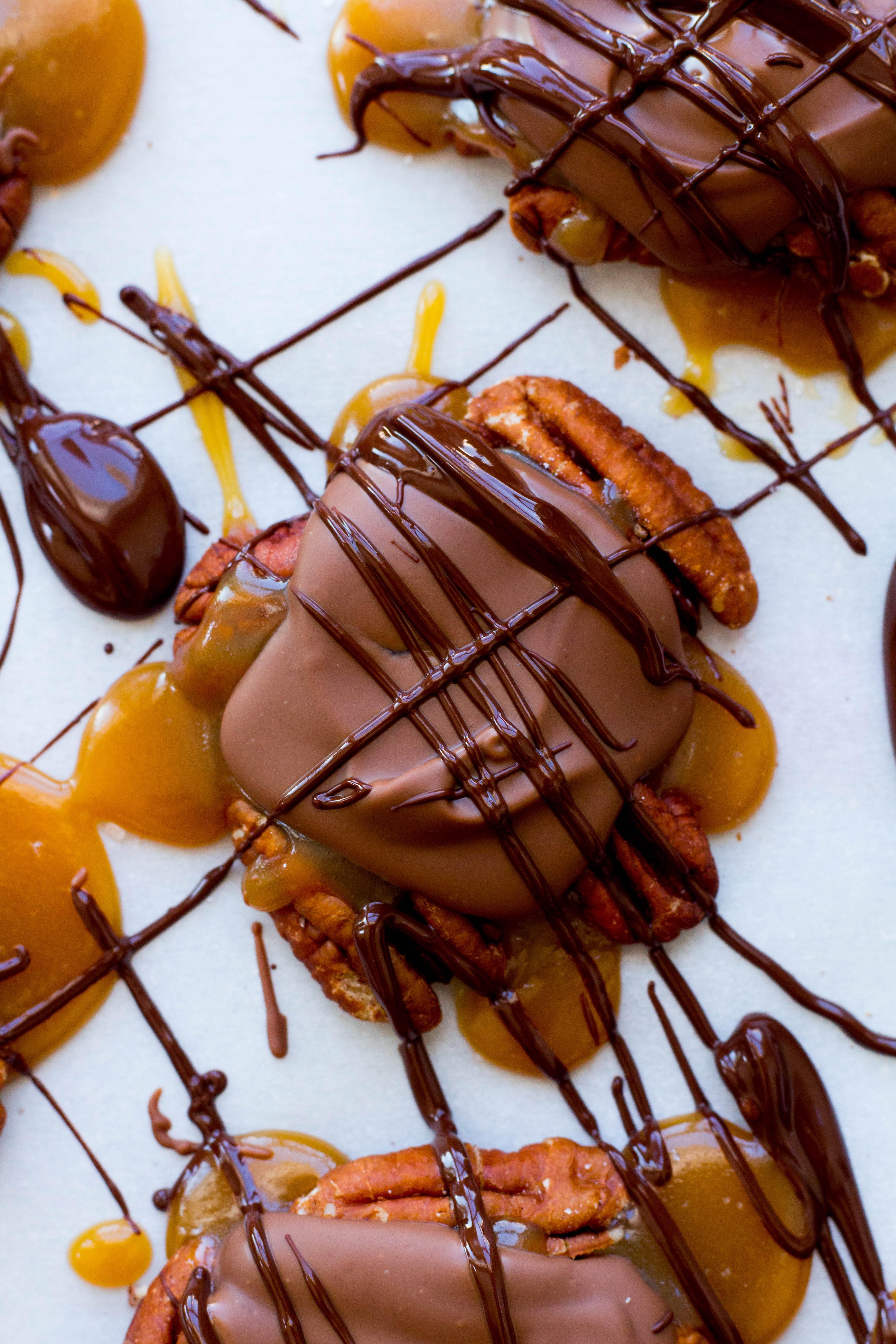 Salted Caramel & Double Chocolate Toasted Pecan Clusters
Things you need…
Homemade Caramel
1 cup brown sugar
1 cup whipping cream
1/3 cup golden corn syrup
1/4 cup butter
1/8 tsp salt
Clusters
2 cups pecans
1 cup good quality milk chocolate, finely chopped (I used lindt chocolate)
1/2 cup good quality dark chocolate, finely chopped (I used lindt chocolate)
prepared caramel
flaky sea salt
How to make…
Homemade Caramel
In a sauce pan over medium-high heat, stir together brown sugar, whipping cream, corn syrup and butter. Bring to a rolling boil over medium-high heat and allow to caramelize, stirring occasionally, until a candy thermometer reads 244F degrees, or until it reaches the "firm ball stage" – this should take about 5-10 minutes.
Note: If you don't have a candy thermometer, the easiest way to tell if your caramel is done is to take a small amount and drop it into a glass of ice water. When the caramel clumps together and squishes in between your fingers like a "firm ball" it is ready.
Remove your caramel from the heat, stir in salt, and pour into a 2 cup liquid measuring cup. Set aside to cool slightly for 20 minutes or so.
Meanwhile, preheat your oven to 350F degrees. Spread pecans onto a parchment lined baking sheet and bake for 6-9 minutes.  Keep a close eye on them so that they don't burn, and you will know they are ready when they are fragrant. Remove from the oven and allow to cool.
Assembly
Line two baking sheets with parchment paper. Arrange the cooled, toasted pecans out on the parchment in clusters of 3-4 pieces – depending on how large you would like your clusters.
Once your caramel has cooled – it should be thick, but still spoonable. Dollop about 1/2 tbsp of caramel on top of the pecan clusters. Allow the caramel to set for 30 minutes – or set them in the fridge for 10-15 minutes to speed up the process.
Once your caramel has set, melt your milk chocolate. Spoon about 1/2 tsp of the milk chocolate over top of the caramel, and use the back of the spoon to smooth it out a bit. Allow the chocolate to set for 30 minutes – or set them in the fridge for 10-15 minutes to speed up the process.
Once your milk chocolate has set, melt your dark chocolate and drizzle it over tops of each cluster. Sprinkle the tops with flaky sea salt (if desired). Allow the dark chocolate to set  – this should only take 15 minutes or so.
Store in a cool place or in the refrigerator & enjoy as you please!