I realized the other day that somehow I managed to go the entire summer without s'mores-ifying anything. So because I was pretty sure that's a major faux-pas in the food blogging universe – but mostly because I love myself, and  I just really wanted chocolate cookies with a borderline excessive amount of chocolate, marshmallows, pretzels and sea salt in them – I decided to bake up a batch of these monsters. #selflove
PS. "s'mores-ifying" is not a word at all, but considering there isn't a proper verb in the English language for the popular act of turning regular baked goods into delicious s'mores concoctions, I decided I would make one up myself…
Shop this post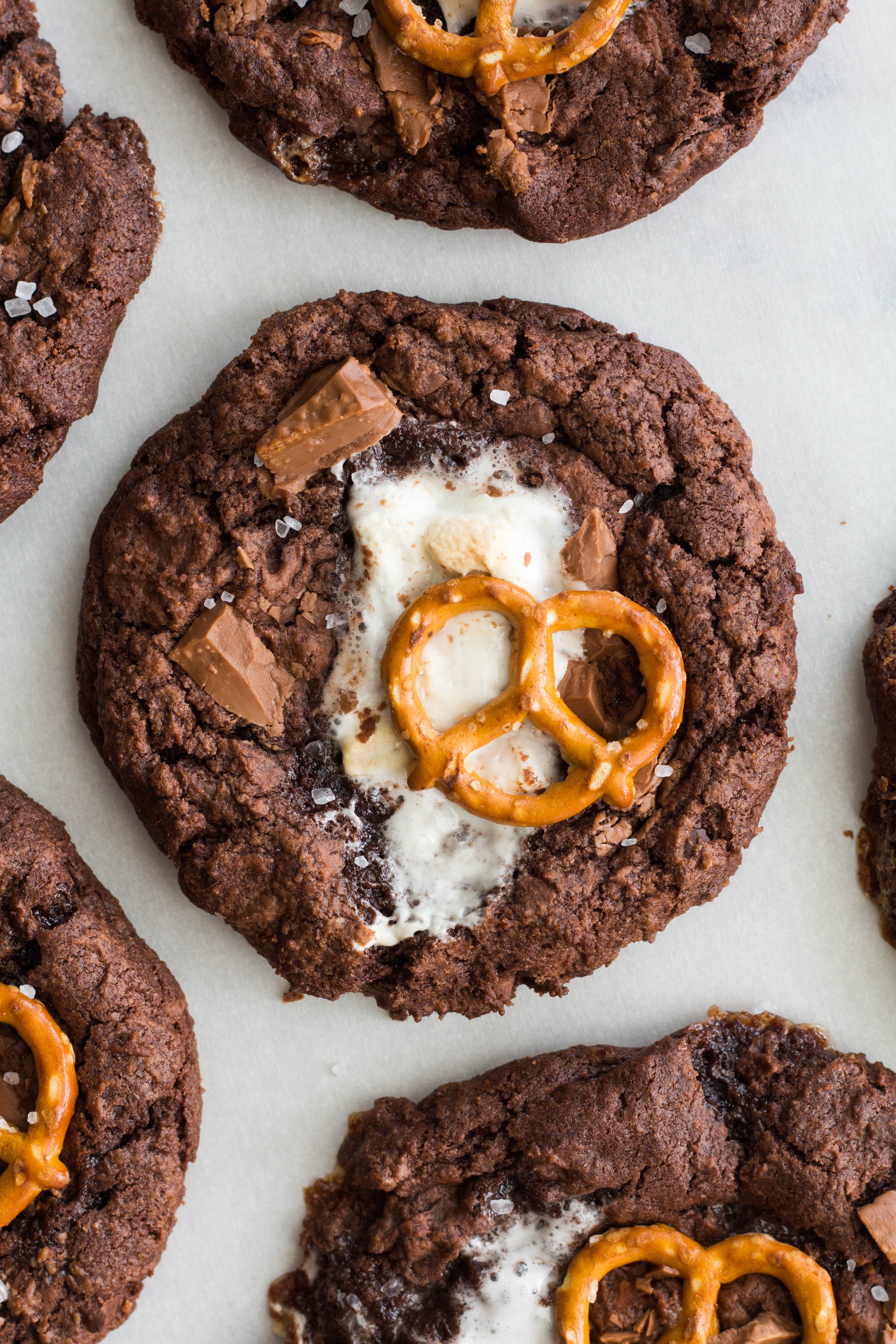 I'm not gonna lie to you guys… I had a bit of a love affair with the look of these cookies. Like to the point where I wasn't even sure If I could bring myself to eat one, because I just wanted to stare at them all the live long day. The sight of that chocolate cookie crackle, combined with the melty chocolate chunks, ooey, gooey toasted marshmallow, crunchy pretzels, and flaky sea salt was enough to make a girl (namely me) go weak in the knees.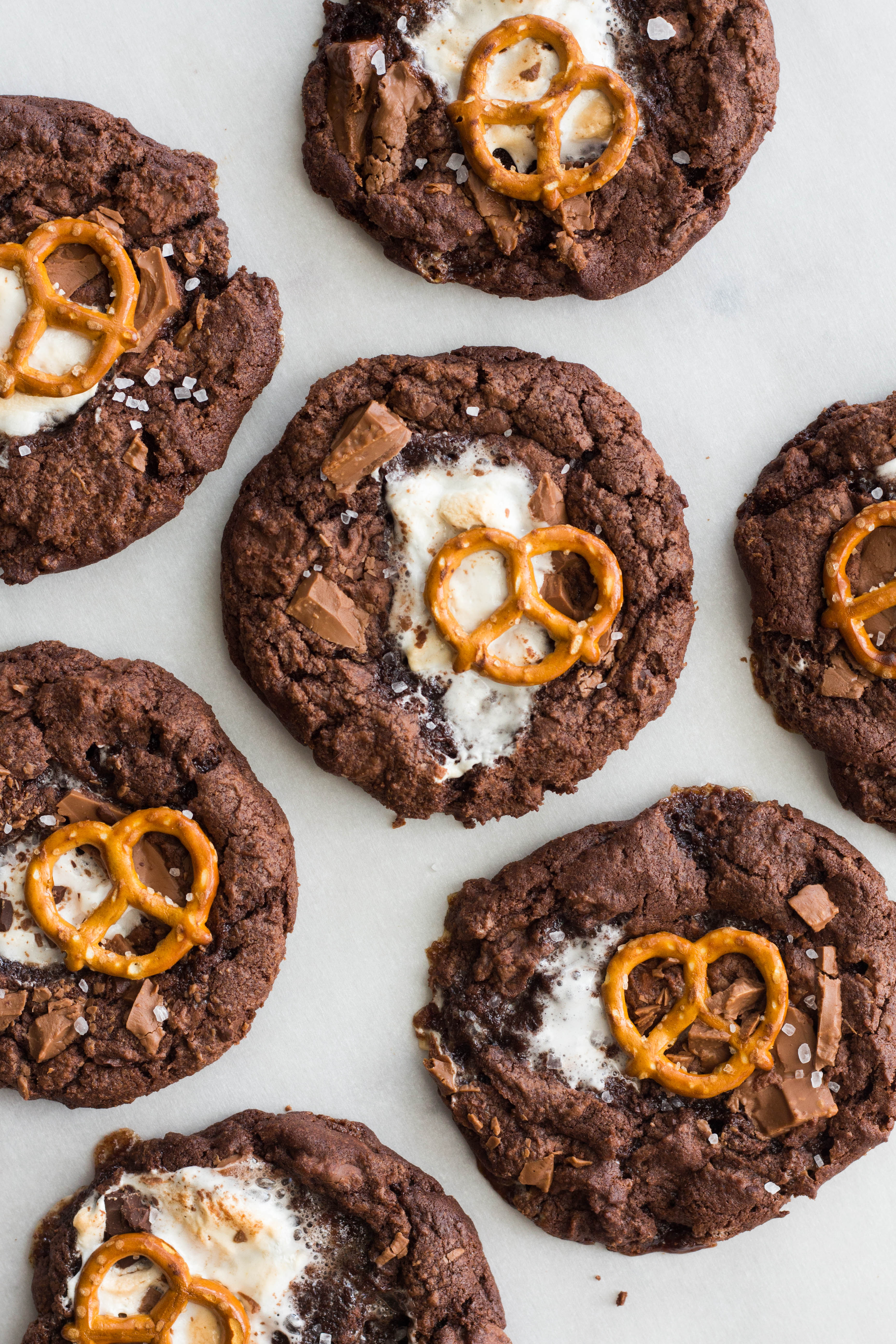 However, my abstinence from eating these cookies lasted all of about ten minutes before I was ripping into them like I was the cookie monster after a week without cookies.
These cookies were everything I dreamed they would be. Chewy. Chocolatey. Fudgy. Sweet. Salty… literally EVERYTHING. So do yourself a favour and pick up a bag of marshmallows so you can make these cookies STAT. And if you do make them, be sure to tag me if you post them to instagram because you beauties always make my day when you do that <3 <3
Happy baking!
KP xoxo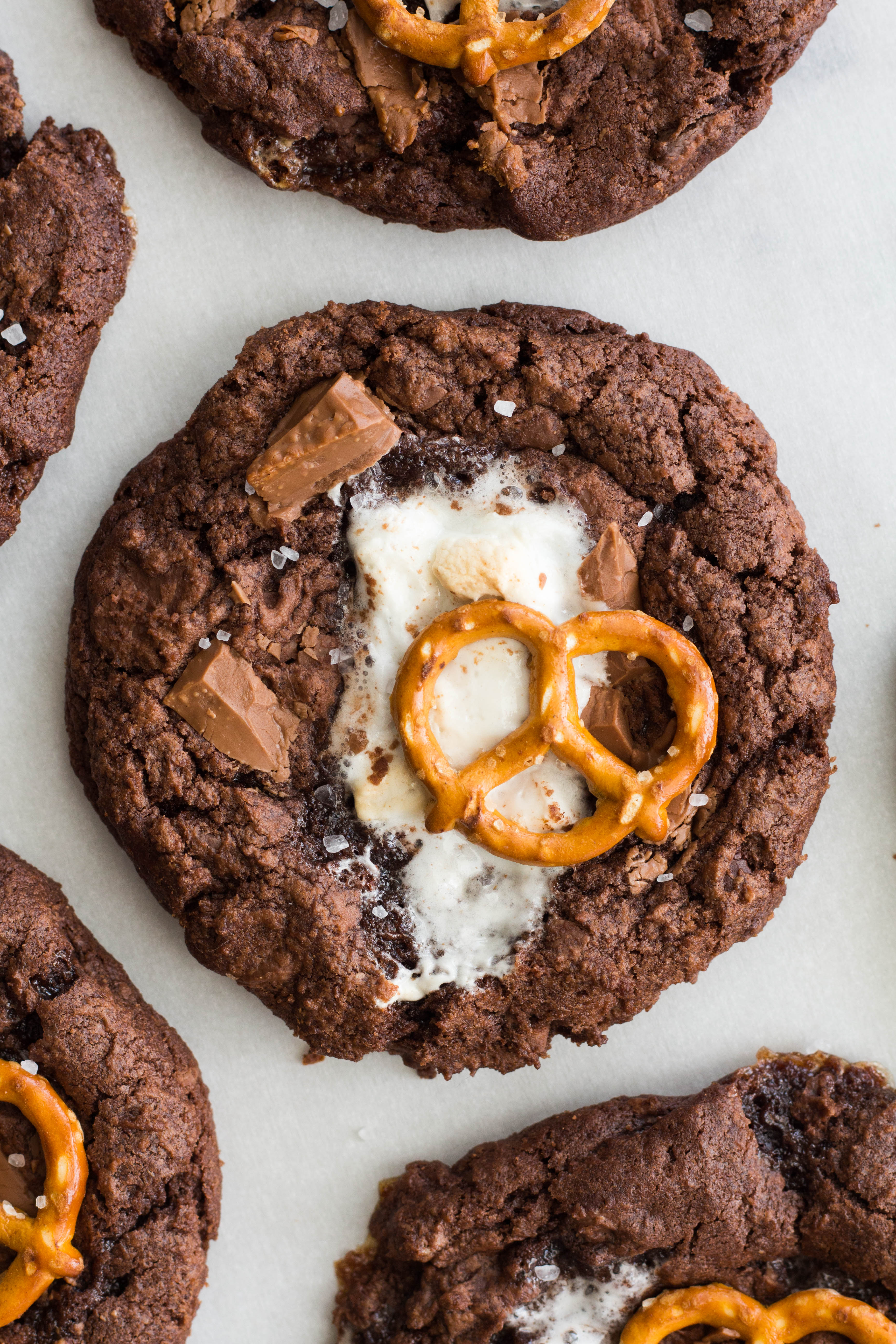 Salted Double Chocolate Marshmallow Pretzel Cookies
Makes 18 large cookies
Things you need…
1 cup butter, softened
1 cup brown sugar
1/2 cup granulated sugar
2 eggs
1 1/2 tsp vanilla
1 tsp espresso powder (optional – I just find this enhances the flavour of the chocolate)
1/2 cup cocoa powder
2 cups all purpose flour
1 tsp cornstarch (this ensures a nice chewy cookie)
1 tsp baking soda
1/2 tsp salt
1 cup good quality milk chocolate, chopped (you could sub in milk chocolate chips)
1 cup good quality semi sweet chocolate, chopped (could sub in semi sweet chocolate chips)
1 cup mini marshmallows
18 pretzels
sea salt for sprinkling (optional)
How to make…
Line a baking sheet with parchment paper.
In the bowl of a stand mixer fitted with the paddle attachment, beat together the softened butter, brown sugar and granulated sugar until pale and fluffy – about 3-4 minutes; be sure to scrape down the sides of your bowl every minute or so.
Next add in your eggs and vanilla; beat until fluffy – about 2-3 minutes, again scraping down the bowl every minute or so.
In a separate bowl, whisk together flour, cocoa powder, baking soda, salt and cornstarch until combined. Add half of the dry ingredients to the wet and beat on low until just combined. Scrape down the sides of your bowl and add the second half of the dry ingredients; Beat on low until combined. Scrape down the sides of your bowl again and add in your chocolate chips and marshmallows. Beat on low until evenly distributed throughout the batter. Scrape down the sides of your bowl and remove any excess batter from the paddle attachment.
Use a large cookie scoop to scoop out 18 equally sized cookies onto one of your prepared baking sheets. Cover with plastic wrap and allow your dough to sit in the refrigerator overnight.
Once your dough has chilled, you can either bake off all the dough at once, or feel free to bake off just as many as are desired and save the other dough balls for another day by placing them in a freezer safe bag, and putting them in the freezer for up to 4 months. I do this all the time with my cookie dough so that I can just bake off a few at a time and they are always super fresh.
When you are ready to bake your cookies, preheat your oven to 350F degrees. Distribute your cookie dough balls between three parchment lined baking sheets – 6 cookies per sheet, leaving a couple of inches between each cookie as they will spread.
Sprinkle the tops with a few flakes of sea salt and top with one pretzel each (or more if you want). Place in the oven 1 sheet at a time and bake for 11-13 minutes or until the edges are set, and the tops are crackling. ***Note if you are baking your cookies from frozen, they will need a but more oven time, probably more like 12-15 minutes.
Remove from oven and allow to cool for at least five minutes before digging in. Enjoy!