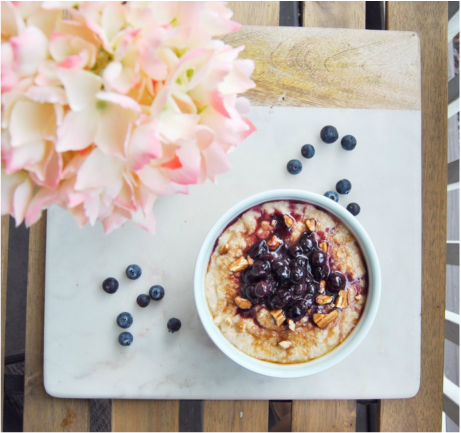 Happy Friday lovelies! We are heading into an amazingly gorgeous weekend of sun and temperatures that might even spike into the low thirties and I am so pumped to get outside and enjoy the weather! So if you are on the same page as me and have some big weekend plans to take advantage of the weather and get active – make sure you start your busy weekend mornings off right with a healthy and delicious breakyfast! It is the most important meal of the day after-all 😉
This past weekend we had a little bit of a break from the Haney Farmers Market, because as of right now I have only registered myself to be in two per month. Even though I love spending my Saturdays at the market selling our baked goodies to hungry patrons, it was definitely nice to take a little bit of a breather and have some free time to spend with Cole. So with a weekend free of any obligations or commitments, and a weather forecast of nothing but sunny skies and temperatures in the high twenties, we were stoked to get outside for some much needed weekend adventures!
One of our favourite things to do once the weather starts to get nice is to go for challenging hikes in some of our favourite Vancouver spots or to new places we have yet to explore. This weekend we were presented with what seemed to be the perfect opportunity to get our hike on, so we wasted no time planning a day trip up to Squamish to hike up the Stawamus Chief. Over the years the Chief has always been one of our favourite hikes, not only because is it a great fitness challenge, but more importantly it is an absolutely gorgeous trail, with an incredible view once to get to the top.
There really is nothing like getting a good old fashioned butt-kicking from hiking the cheif to kick off the start of our hiking season! The thing I love so much about the chief is that no matter how unimpressed we may be as we hike up the seemingly never ending stairs or as we awkwardly scale chains on the rock face – the stunning views once you get to the top always makes all of the profuse sweating, heavy breathing and seriously intense quad burning totally worth it.
So before Cole and I embark on a serious calorie burning hike like the chief, (which is essentially like stepping onto a stair master that is on steroids,) I always make sure that we eat a really good breakfast. By good breakfast I mean one that is full of protein, carbohydrates and healthy fats to keep us good and energized as we get our butt's seriously handed to us by that mountain. As much as I would like to eat a stack of pancakes on a Sunday morning – I'm afraid the nutritional value in pancakes, butter and maple syrup doesn't exactly hold up for this kind of activity.
Thus, my favourite way to get all these healthy ingredients into my body in one fell swoop, (while still eating a breakfast that is tasty), is to eat a nice big bowl of oatmeal for breakfast. Mmm, yes I am a girl who loves her oats – Cole on the other hand… well let's just say he is less inclined to eat a bowl of oatmeal, unless it is chock full of other yummy ingredients. So in an effort to get him onto the oatmeal train before our big hike, I decided to prepare some Spiced Oatmeal and topped it off with some seriously delicious Caramelized Blueberries, and a few Toasted Pecans. All I had to do was mention Caramelized Blueberries and Cole was all in – because I mean really…. who wouldn't be up for some Caramelized Blueberries?
From start to finish, this oatmeal is chock full of ingredients that are not only incredibly healthy, but that are also just down right delicious. The oats, chia seeds and pecans are packin' serious doses of much needed protein, while the dried cranberries and blueberries bring natural sugars, carbohydrate,s and anti-oxidents into the mix. As for the caramelization on the blueberries… well that's just plain delicious, and as such requires no further explanation 😀
If you are an oatmeal lover much like myself, you will love this recipe; If you are not an oatmeal lover, much like my man Cole – this recipe will have you converted. The great thing about this recipe is that you can modify it to suite your own preferences. For instance, I used mostly oat bran as opposed to going the traditional route and using large flaked rolled oats, because personally I prefer the texture and flavour that oat bran has once it is cooked. That being said, you could just replace the oat bran with oats if you prefer. Similarly, I used Almond milk in this recipe, not only because it cuts the calories in half when compared to milk, but I also think that the nutty flavour that comes from the almond milk pairs perfectly with the oats and toasted pecans.
I loved this recipe and I will definitely be making it again and again – here is it 😀
Spiced Oatmeal with Caramelized Blueberries & Toasted Pecans
Makes: 2-4  Servings

Things you need…
Caramelized Blueberries
1 cup blueberries
1/2 cup sugar sugar
tbsp water
1/2 tbsp butter
1 tbsp fresh orange juice
Creamy Spiced Oatmeal
1/2 cup Oat bran
1/2 cup Quick Oats
1/2 cup Rolled Oats
1 tbsp chia seeds
1/4 cup dried cranberries (optional)
2 cups Almond milk 
1/2 cup Water
2 tbsp Maple Syrup
1 tbsp Butter
1/2 tsp Vanilla
1 tsp Cinnamon
1/8 tsp Ginger
1/8 tsp Nutmeg
1/8 tsp Salt
1/4 cup toasted pecans to serve (optional)
Caramelized Blueberries to serve

How to make…
Caramelized Blueberries
In a medium saucepan over medium-high heat, whisk together sugar and water to dissolve. Allow the sugar to boil and just as it starts to change to a light amber colour, add in your blueberries. Allow the blueberries and sugar to caramelize for another two minutes or until the sugar has become an amber colour. Remove the sauce pan from the heat and gently stir in the butter and fresh orange juice. Set aside until read to serve.
Spiced Oatmeal
In a medium saucepan over medium heat, stir together oat bran, quick oats, large flake rolled oats, chia seeds,  dried cranberries, almond milk, water, maple syrup, salt and butter. Bring the mixture to a boil and then reduce heat to a simmer and stir the oatmeal until the oats are cooked and the mixture is nice and thick. Remove from heat and stir in vanilla, cinnamon, ginger and nutmeg.
To Serve
Portion oatmeal into bowls, sprinkle with brown sugar, top with a large spoonful of caramelized blueberries and a sprinkling of toasted pecans.  **Serve with additional almond milk and brown sugar if desired.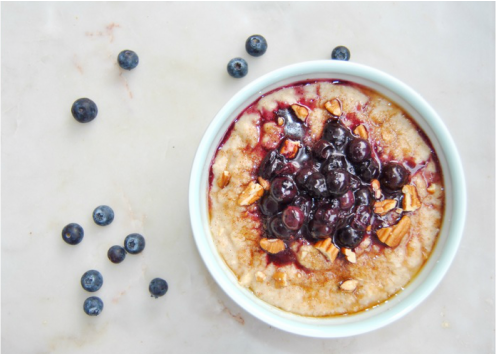 I know it looks like a lot of ingredients, but trust me this recipe comes together in under 5 minutes and you can have it on the table, cooked and ready to eat in 15. No muss, no fuss; just nutritious and delicious. So the next time you are looking for a super energizing and healthy breakfast, give this recipe a try.
This recipe made enough oatmeal for Cole and I to each have one very large serving to ourselves; however, the recipe is definitely large enough to make 4 smaller portions if needed. I am just a hungry bear when I wake up in the morning, so a small portion usually doesn't cut it for me when it comes to breakfast time, and I wanted to make sure I was good and fed before we started our hike.
I would love to hear how you personalize this recipe for your family, so please let me know how your oatmeal turns out.
Happy Hiking!
KP xoxo