**This post was done in collaboration with Tree Island Yogurt, but all opinions and stories are 100% my own.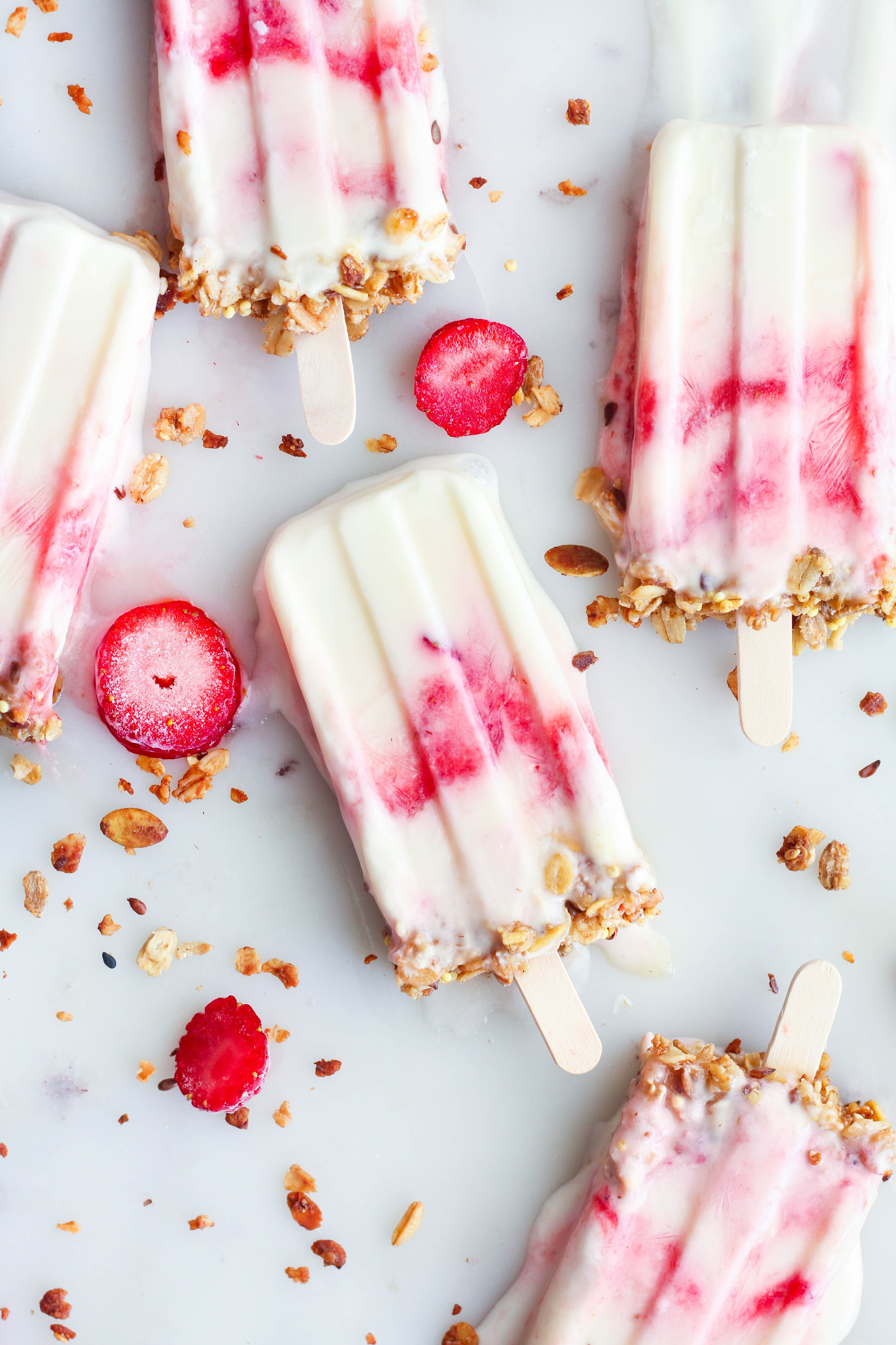 Happy Friday friends!
There are so many reasons to be excited today!
We are heading into the Canada Day Long Weekend to celebrate 150 years
The weather is supposed to be absolutely gorgeous all weekend long
My freezer is stocked with delicious Strawberry Yogurt Popsicles
I mean honestly what more could a girl ask for!?
Shop this post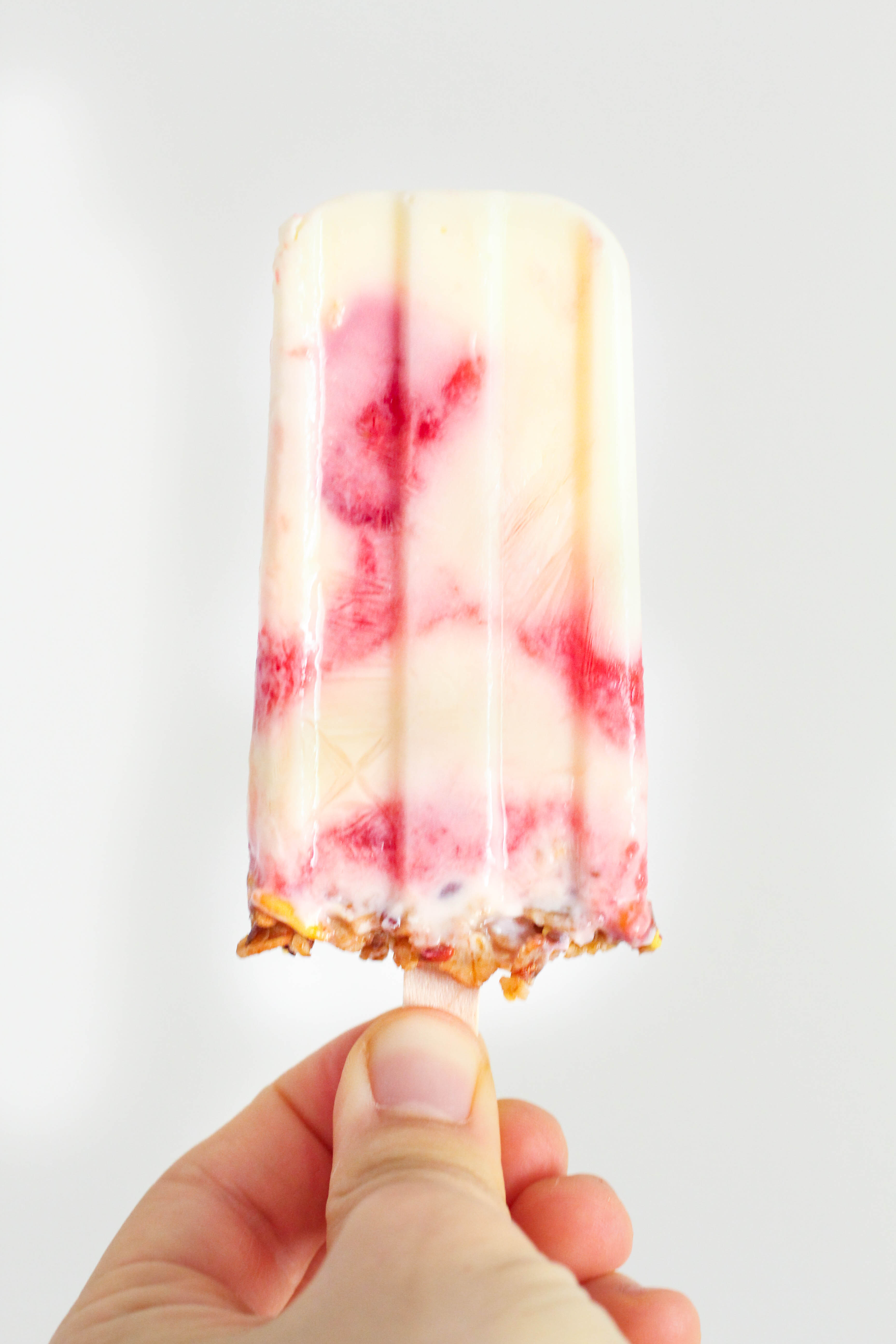 As we get ready to celebrate Canada's birthday this weekend, I can't help but think how perfect it is that today I am able to share a recipe that makes use of an incredible local Canadian product, made right here in BC, that has recently rocked my world when it comes to one of my favourite snacks; Yogurt.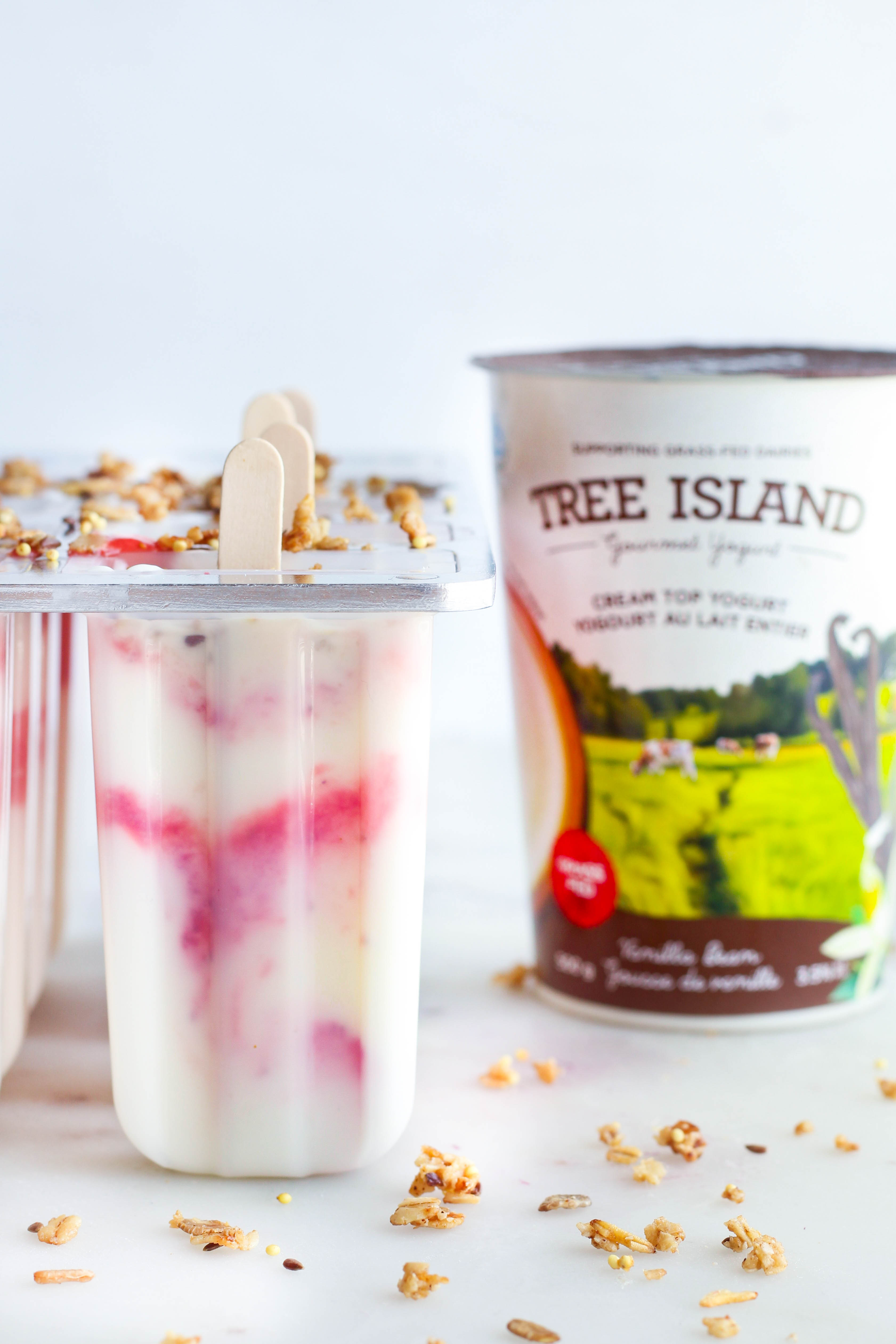 A couple months ago I was browsing through my local market and I came across a product in the dairy section that I hadn't seen before; Tree Island Yogurt.  Right away I was drawn to their delicious flavours, and as I began to read the company story and mission, I knew I had to give it a try. And because I couldn't bring myself to decide on just one flavour, I scooped up four varieties and wasted no time breaking into each of them for a taste when I got home.
One bite and I swear I was hooked. I had never tasted a yogurt so fresh, creamy and delicious. At this point, I have fallen so deeply in love with this yogurt that it is truly hard to imagine ever going back to any other brand.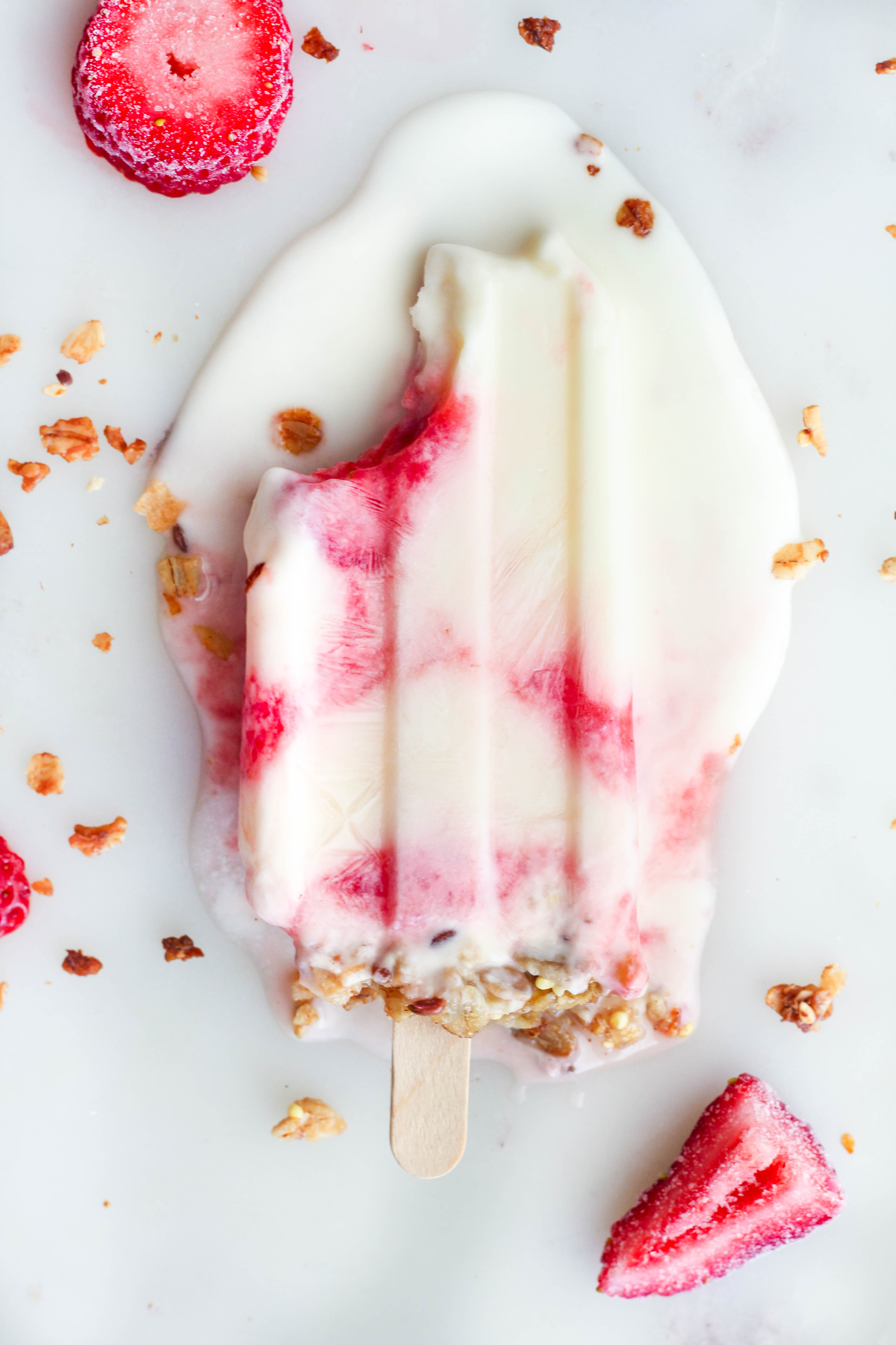 So why do I love it so much? There are so many reasons, but for starters, the taste; Trust me, once you taste Tree Island Yogurt you will understand what I am talking about. Another reason I love it, is because it is made from 100% fresh Grass Fed BC Whole Milk with no antibiotics, thickeners, skim milk powders, or growth hormones. So the result is unbelievably creamy yogurt, made with love from ingredients you can feel good about, and that support local farmers. How amazing is that?
It's so exciting to have the opportunity to work with exceptional local individuals and brands, who are truly going the extra mile nourish our community healthy, sustainable and delicious products.
The proof is in the pudding with this brand, and if you are a BC local, I highly recommend giving it a try if you haven't already. When it comes to snacking, my personal favorite Tree Island Yogurt flavours have to be the Orange Blossom Cardamom, Coconut Lime and Chai Latte Greek Yogurts, but I also love to use their plain greek yogurt in baking, and in this case their Vanilla Bean yogurt made for some delicious popsicles
These popsicles are so simple to make – you can literally have them ready for the freezer in five minutes. Not to mention they are a super healthy treat that will help you beat the heat this summer long.
Here is the recipe lovelies and I hope you enjoy!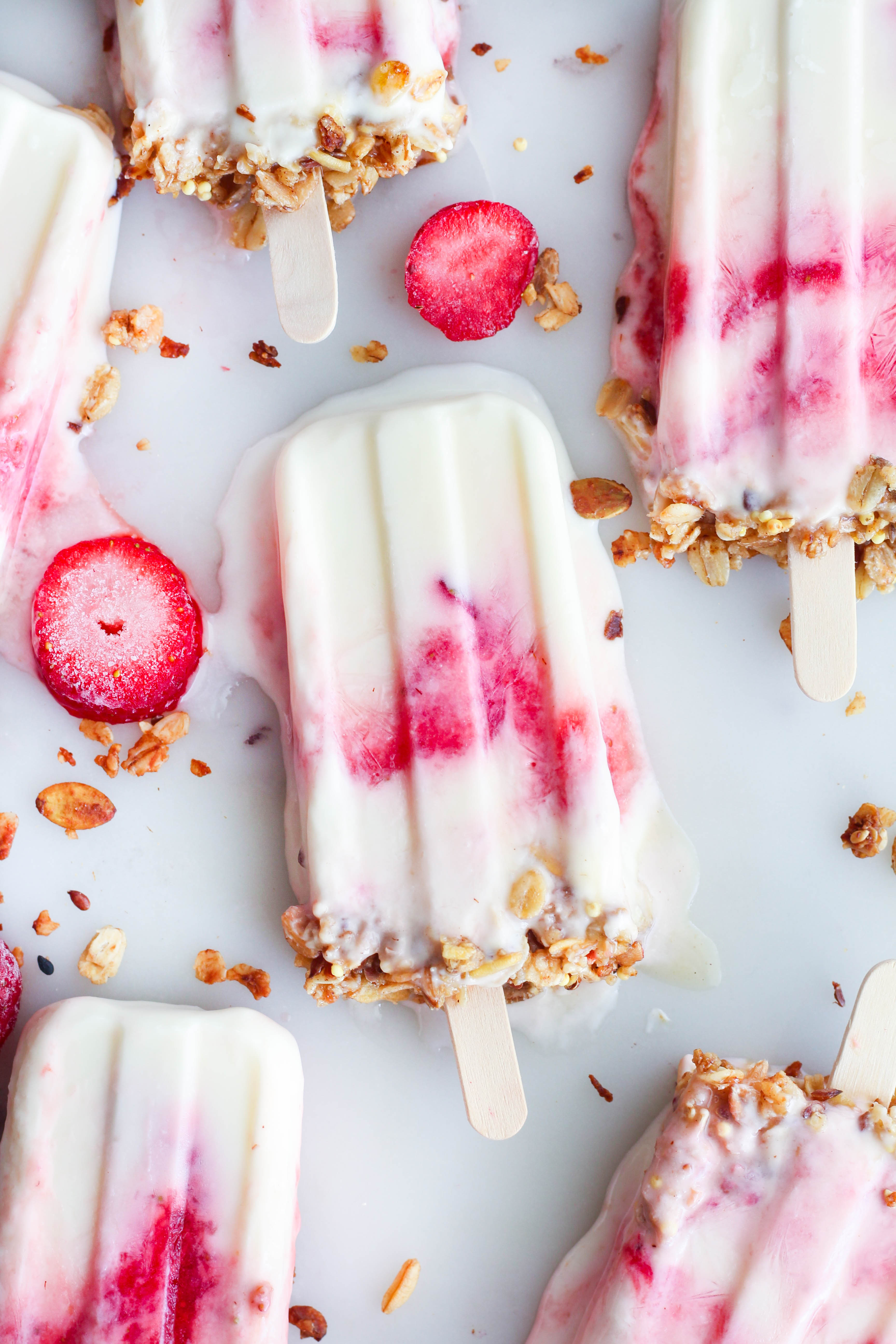 Strawberry Swirled Vanilla Bean Yogurt Popsicle's
Makes 8 Popsicles
Things you need…
Popsicle's
1 package Tree Island Vanilla Bean Yogurt (about 2 cups)
3/4 cup Strawberries
1/2 – 1  tbsp maple syrup (optional)
1/2 cup granola, store bought or homemade (recipe below)
Quick Stove Top Granola
1/2 cup rolled oats
1 tbsp maple syrup
1 tbsp butter
1/4 cup slivered almonds
1/4 tsp cinnamon
How to make… 
Quick Stove Top Granola
Make your granola first. Melt together butter and maple syrup over medium heat. Add oats and almonds and toss to coat. Toast in the pan for about 5 minutes or until golden. Stir in cinnamon and remove from heat. Pour granola out onto a sheet of parchment paper and allow to cool completely. Granola will get crunchy as it cools.
Popsicle's
In a food processor or high powered blender, add the strawberries and maple syrup. Blend until smooth; Set aside.
Pour the vanilla yogurt into popsicle molds filling 1/3 of the way full. Spoon in about 1 tsp of the strawberry puree on top of the yogurt and use a skewer to swirl into the yogurt a little bit. Repeat this process once more so you have 2 layers of yogurt and 2 layers of jam.
Top off with a final layer of the yogurt  and stick popsicle sticks into each of the moulds. Sprinkle the tops with cooled granola. Set popsicles in the freezer for 6 hours or overnight.
Remove from fridge 5 minutes before serving and enjoy!