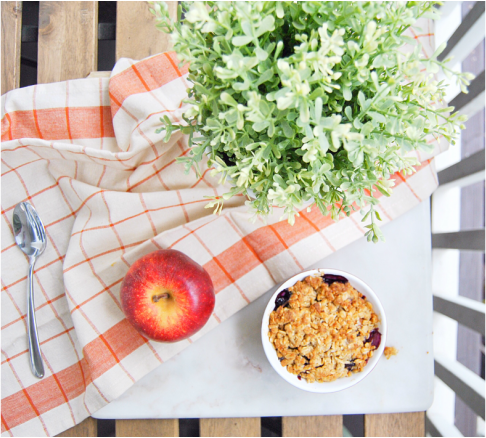 How many of you out there, who like me, are of the opinion that a day isn't complete unless it ends with a little bit of dessert? I don't know about you, but I can't seem to help myself when it comes to my dessert cravings after I have finished my dinner. It doesn't have to be a fancy dessert – just that little something sweet to satisfy my need for sugar before the day is through.
Like I said before,  my desserts do not need to be fancy – In fact, most nights I am perfectly content with calling a bowl of freshly sliced strawberries or a spoonful of chocolate almond butter my dessert for the evening. However, there are definitely days when I crave something a little bit more decadent for my weeknight dessert. My cravings for something a little bit more complex in the dessert department usually come at the end of a very long work day or as was the case yesterday… at the end of a very longgggg Monday. Yes, Mondays – I think you know what I mean…
So after Cole and I had finished eating a very healthy dinner of grilled chicken breast with broccoli & kale salads, I felt like we were extremely deserving of a delicious dessert to reward our healthy couple behaviour :p So while Cole was out in the garage working on his truck and various other man tasks, I was scanning through my pantry and fridge for some inspiration for the perfect surprise weeknight dessert for two.
Because I hadn't exactly followed through on my plans to go grocery shopping over the weekend my ingredient stock was a little low. I was fresh out of eggs and the only ingredients I had (besides dijon mustard and lots of carrots) was about 1/4 cup of butter and a few blueberries from a previous baking endevour. My first thought – I can work with this 😀 Immediately my mind got stuck on the idea of a fresh, warm blueberry crumble for Cole and I to share with a scoop of vanilla ice cream while sitting on the couch watching Lost on Netflix (because we are currently obsessed with that show.)