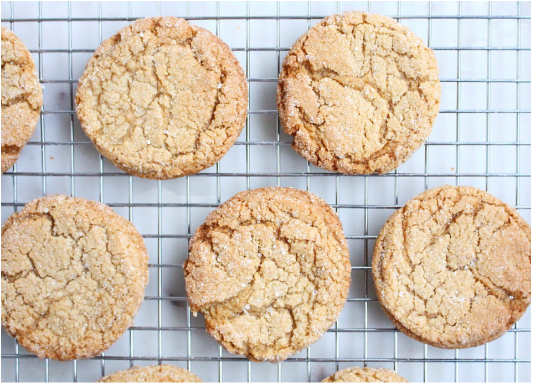 Happy Friday eve peeps!
Is that a thing – Friday eve? If not it really should be because hot damn – I get so excited on Thursday nights! Just knowing that there is just one more day until the weekend gets me positively giddy. Especially when you have one of those weeks where you are just hit with so many different things you think your head might be on the verge of exploding. Such was the case for me this week so forgive me if you find my excitement for Thursday evenings to be a little bit odd, because I'm feeling a little bit loopy after this week.
But not to worry lovelies because even when we have crazy weeks, we will always have the comforts of cookies to ease our troubled minds. There really is just something so special and comforting about a batch of warm, homemade cookies sitting on the kitchen counter isn't there? The sight of homemade cookies just floods me with memories of my childhood, and coming home to the smell of freshly baked cookies on a chilly fall evening after school and having my mum greet us with a plate of chewy cookies and warm cups of hot chocolate.
Today was one of our famously wet and dreary days here in Vancouver – so after a very wet, long drive home, I was feeling like freshly baked cookies and a cup of piping hot chocolate would be just what the doctor ordered. So I wasted absolutely no time, dropping my wet clothes and hopping into the kitchen to whip up a batch of one of my favourite cookie recipes of all time – these Brown Sugar and Spice Cookies.
This is such a simple, simple recipe to whip up! It seriously takes no time at all before you have these beauties baking in the oven, and then it's just a matter of waiting ten minutes for them to bake up into golden brown, chewy, crackly topped, cookie perfection.
These cookies will take you no more than 10 minutes to mix up, yet despite how easy they are to make – they are seriously delicious. This is my go-to recipe when I want to bake a batch of cookies that I am sure that everybody will love. They are so flavourful from the brown sugar, with a perfect hint of spice and  they are super chewy on the inside while still having a crisp exterior. AKA – cookie perfection.
Not to mention their crackly tops make them totally irresistible so not only do they make for a delicious snack, but they are also the perfect cookie to package up and give to your friends as a little homemade gift this holiday season.  This is definitely a recipe to have on hand for all of your holiday baking needs – so here it is lovelies!