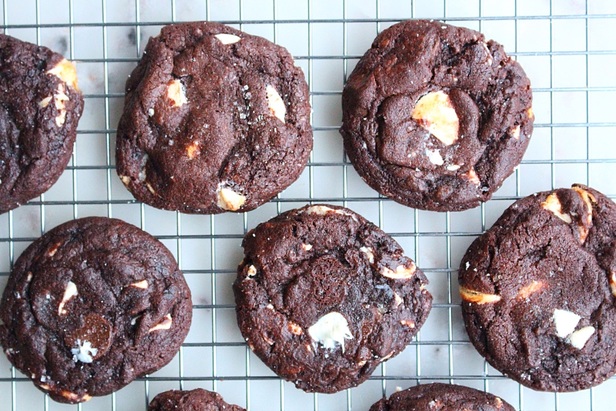 Cookies…. I mean honestly what can I say about them? They are classic, they are simple to make, they are ooey, gooey bites of deliciousness – Put simply, they are perfection in the palm of your hand.
Now although I can honestly say that I have never met a cookie I didn't like, I do have to say that not all cookies are created equal. I will be the first to admit that I have had myself many homemade cookie recipe failures over the years of cookie trials in my quest to create the perfect recipe. You know the recipe I'm talking about right? That elusive homemade cookie recipe that we all search for? The recipe, that will never fail to create the perfect cookie every time?
Now everyone's definition of the "perfect" cookie will vary based on opinion – but for me, the definition of the "perfect cookie" isas follows:
"The Perfect Cookie" One that is slightly crisp on the outside, while still being oh so gooey and chewy on the inside, with a lovely crinkly top, and lots of flavour. 
So if the above description matches with your definition of what the "perfect cookie" should be, then my recipe for these Double Chocolate Coffee Addict Cookies is the one for you. ​
These cookies mean some serious business and I feel like the only way to convey just how amazing they are is to describe them as like the perfect love child of a brownie and a chocolate chip cookie… mhmmm.
These cookies have the most amazingly fudgy texture on the inside, with a light, crisp exterior. The addition of a hint of espresso powder to the mix, heightens the flavour of the chocolate to a whole new level, and the blend of milk chocolate, dark chocolate and white chocolate chunks just takes these cookies to a whole new level of delicious.