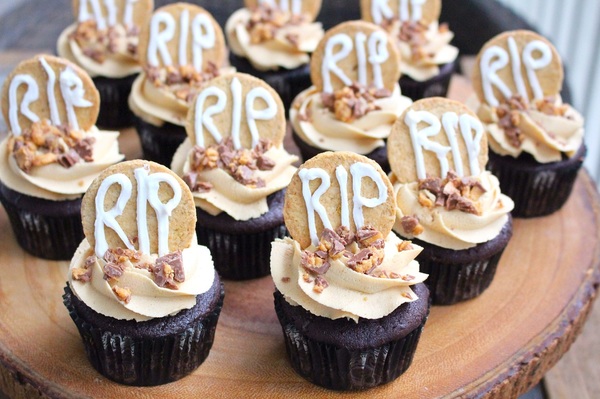 Happy Halloween eve lovelies!
I hope you are all enjoying your Friday evening and that you have mega awesome plans for the Halloween weekend!
I made these cupcakes for a birthday order today and I just had to bang out this recipe post for you because they were just too darn cute not to – especially because Halloween is tomorrow and these would make the perfect Halloween dessert addition to any upcoming Halloween events you might have happening this weekend.
Cole and I will be starting off the weekend at the Farmers Market tomorrow, serving up some Halloween themed goodies and then on Sunday we have a whole lot of nothing planned. That's right – nothing! haha. It's supposed to be a pretty rainy Vancouver weekend, so we both agreed that we would love nothing more than to snuggle up at home with Katniss and watch creepy movies on Netflix in honour of Halloween. Not going to lie, I am pretty stoked about this 😀
So what are these spookly little cupcake beauties anyway? Well let's just say they were inspired by a couple of my favourite Halloween treats…. Snickers, and Reeses peanut butter cups – mhhmmmm. I could eat those little bundles of chocolatey, caramely, peanut buttery joy allllll day long.