Happy December!
Holy smokes it's December guys… can you believe it!? I swear just yesterday it was October and now here we are approaching mid-December, and it feels like it's been forever since I've been around these parts to share a recipe with you lovely people.
Of course it most likely feels like "forever", because it has been a long time since I shared a recipe with you guys. It's been one of those months where I just bake everything on a whim, without writing anything down, all the while thinking to myself "yes of course I will remember this recipe…" And then being sadly disappointed when my memory fails me two weeks later. Note to self: MUST WRITE ALL RECIPES DOWN AS I MAKE THEM.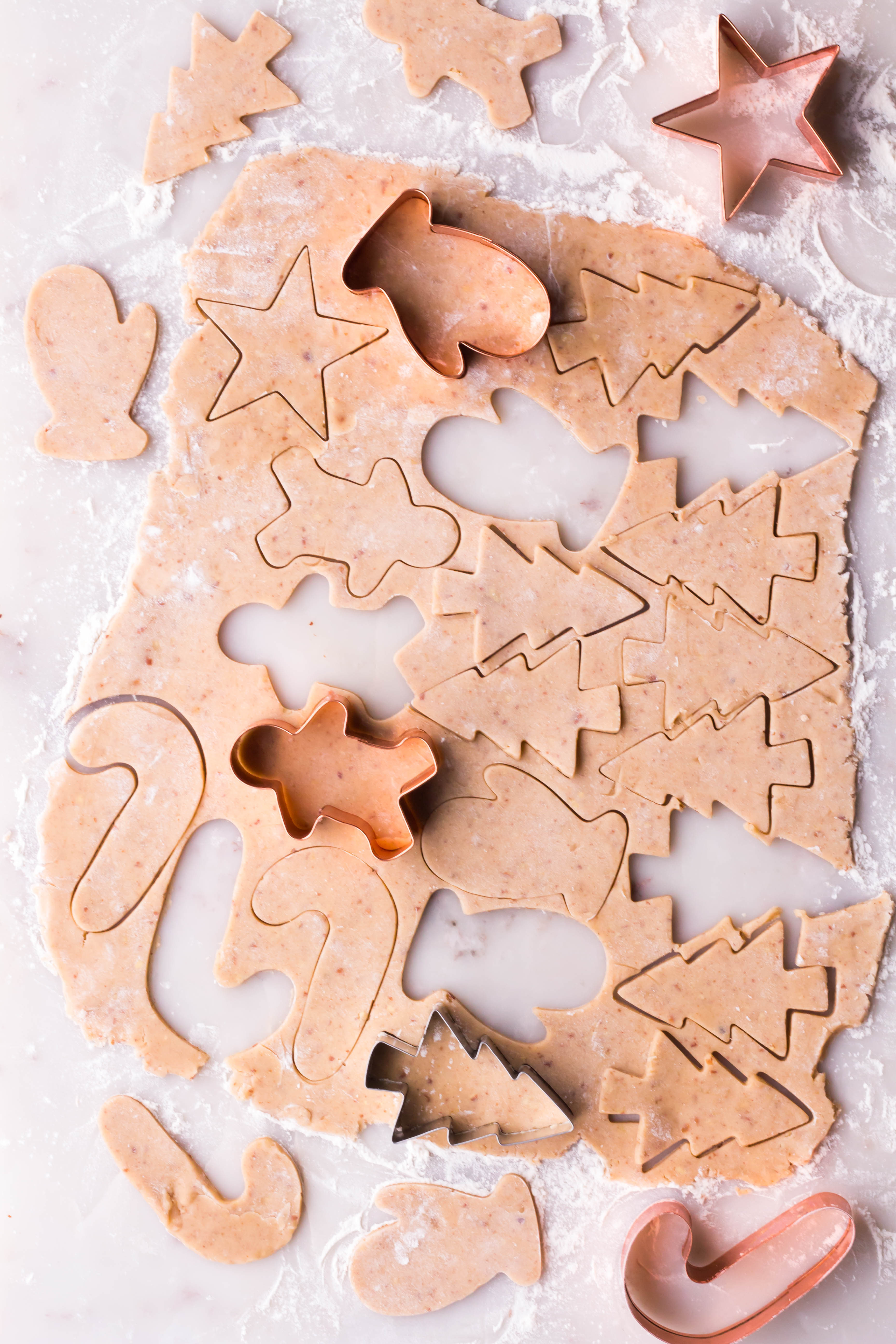 Anyways, I have been telling myself for weeks that I need to get a holiday recipe up on the site you you guys, and have yet to accomplish a blog post in any form. So when my friends at Albion Fit asked me to create a recipe to get people into the holiday spirit, I finally had a kick in the butt to stop procrastinating and wasted no time baking up a batch of my absolute favourite sugar cookies!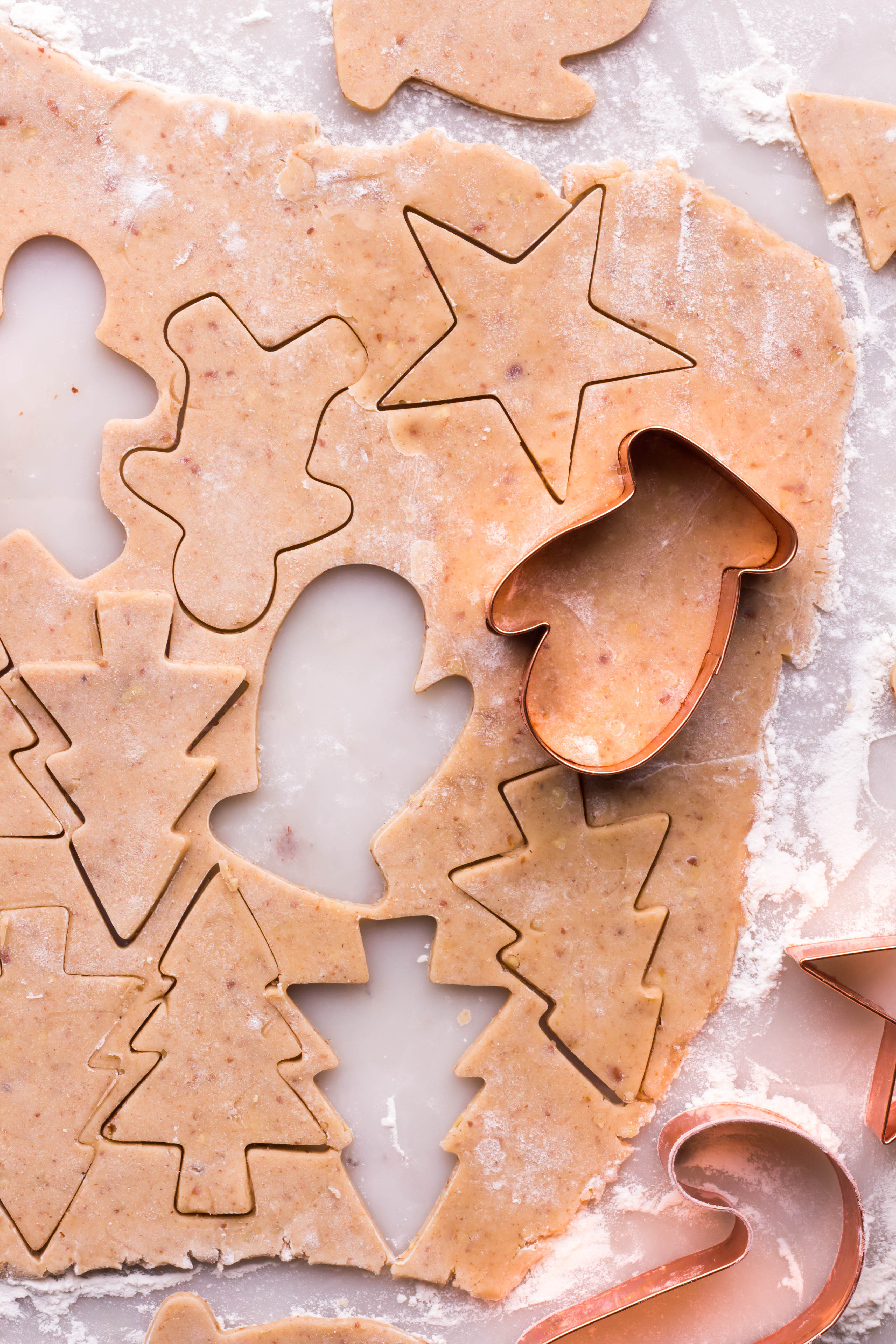 These cookies are not just your average sugar cookie. They are packed with flavour of warm toasty pecans, caramelly brown sugar and just a hint of spice. Not to mention they are incredibly soft, and are frosted with my favourite kind of icing in the world… Cream Cheese Frosting. Yaaaassss!
You just have to make these happen this holiday season.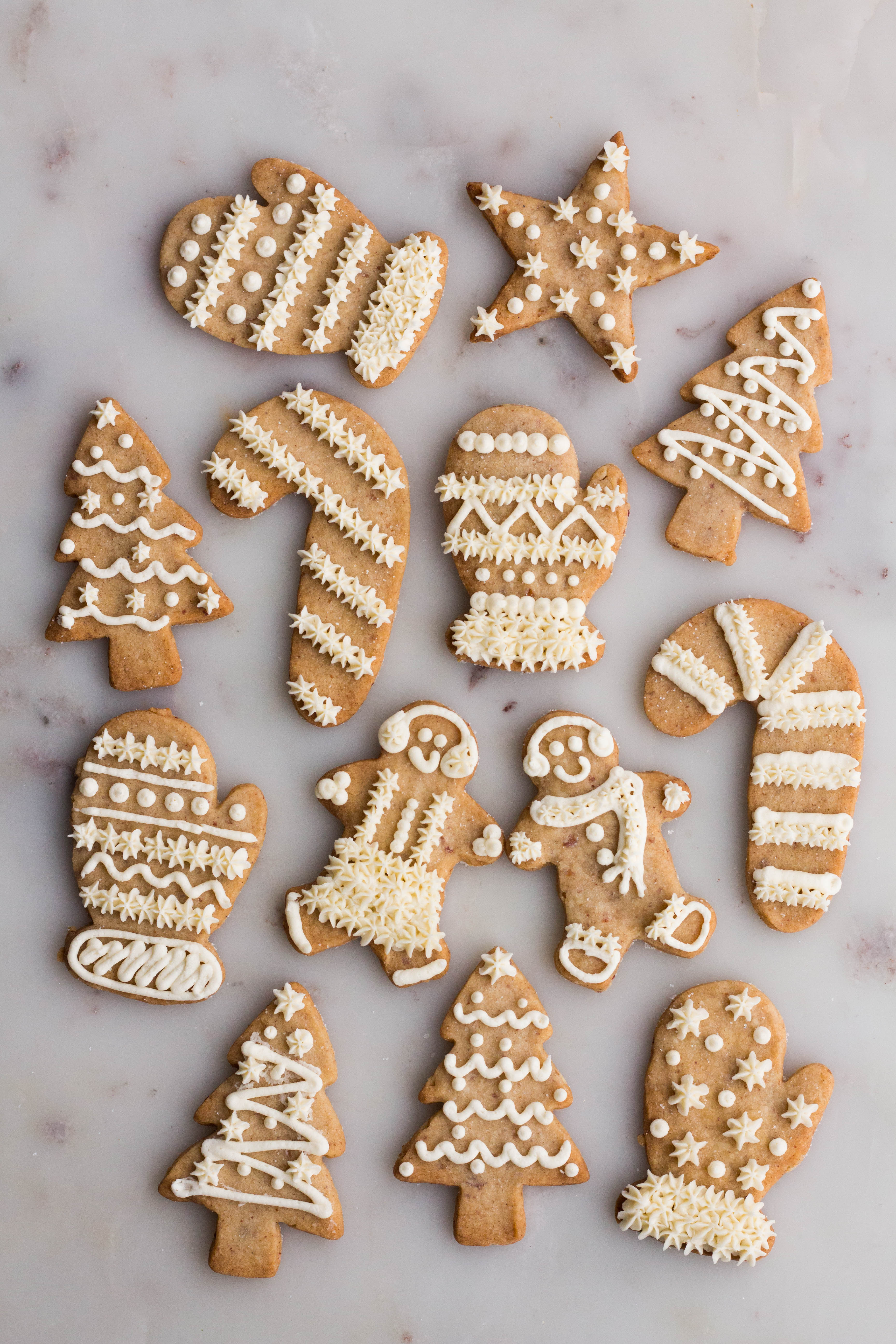 Oh and if you happen to be searching for the perfect holiday gift to give your mom, sister, girlfriend or daughter – you have to check out the Albion Fit collection.
They have everything from cute everyday seasonal pieces, to swimwear, to work out gear, to my absolutely new favourite in their collection… pajamas!
In case your curious here are a few of the pieces I have ordered and absolutely adored in a little holiday gift guide:
Navy Jetsetters – check em' out here
Oatmeal Rugby Shirt – check it out here
Snowflake Slumber Leggings – check em' out here
Ice Pink Slumber Henley – check it out here
Oatmeal Lounger Shorts – check em out here
The Waikiki One Piece Swimsuit – check it out here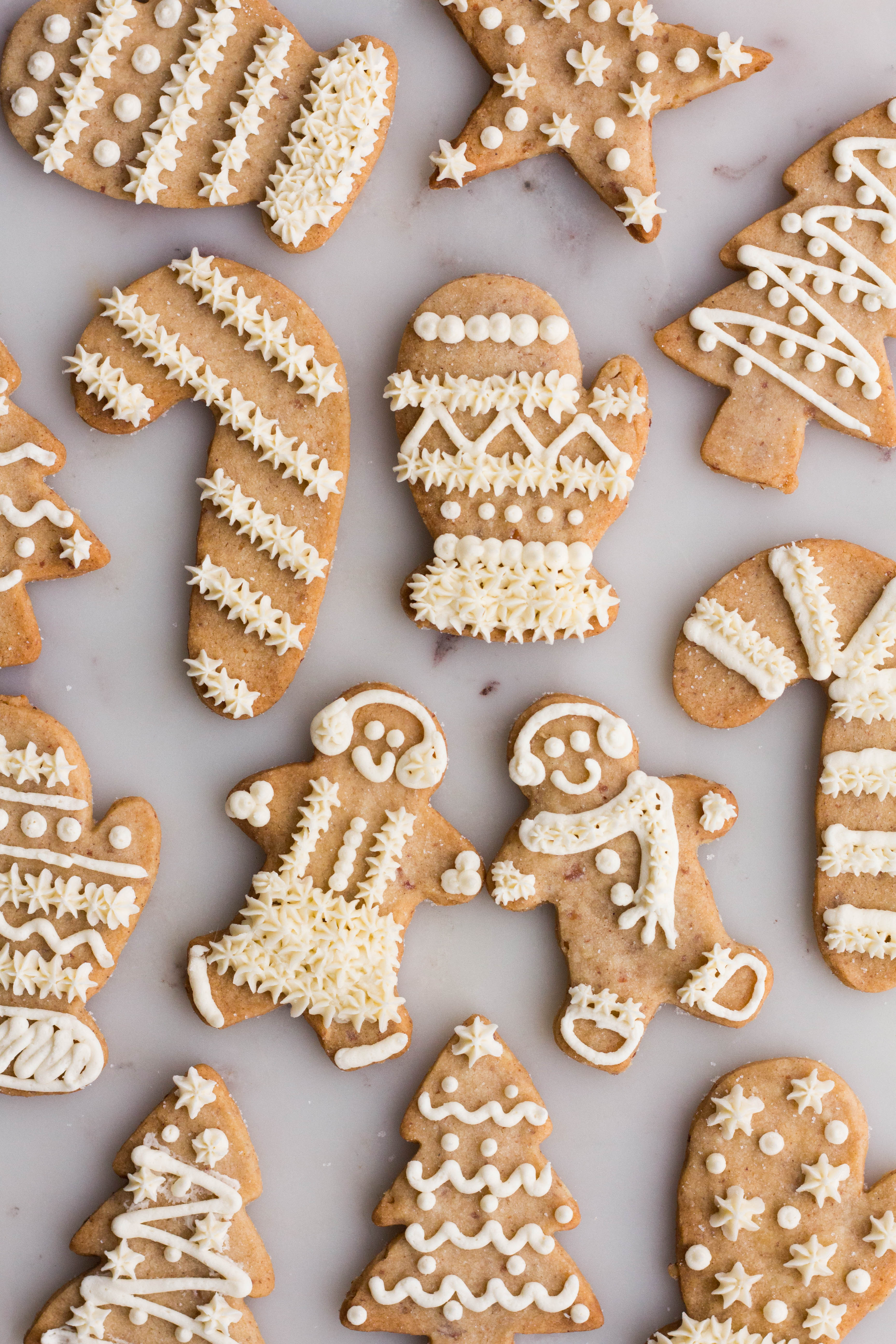 So make yourself a back of these sugar cookies, warm up a mug of hot cocoa and enjoy the deliciousness while finishing up some last minute online holiday shopping. (Or you could always just pick up a little something or yourself… because duh, you're awesome and you totally deserve it :D)
Happy baking and I hope you enjoy these cookies <3
KP xoxo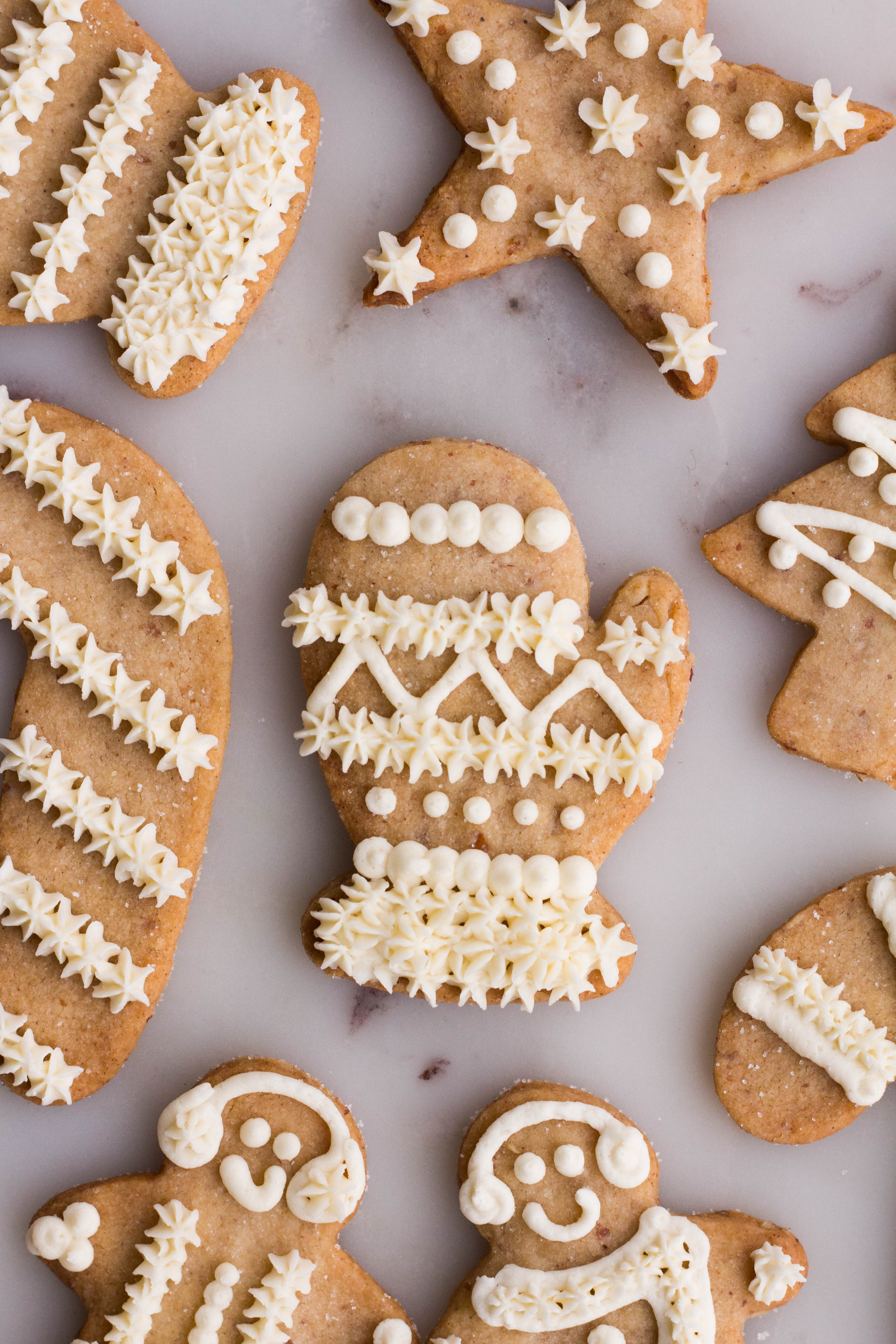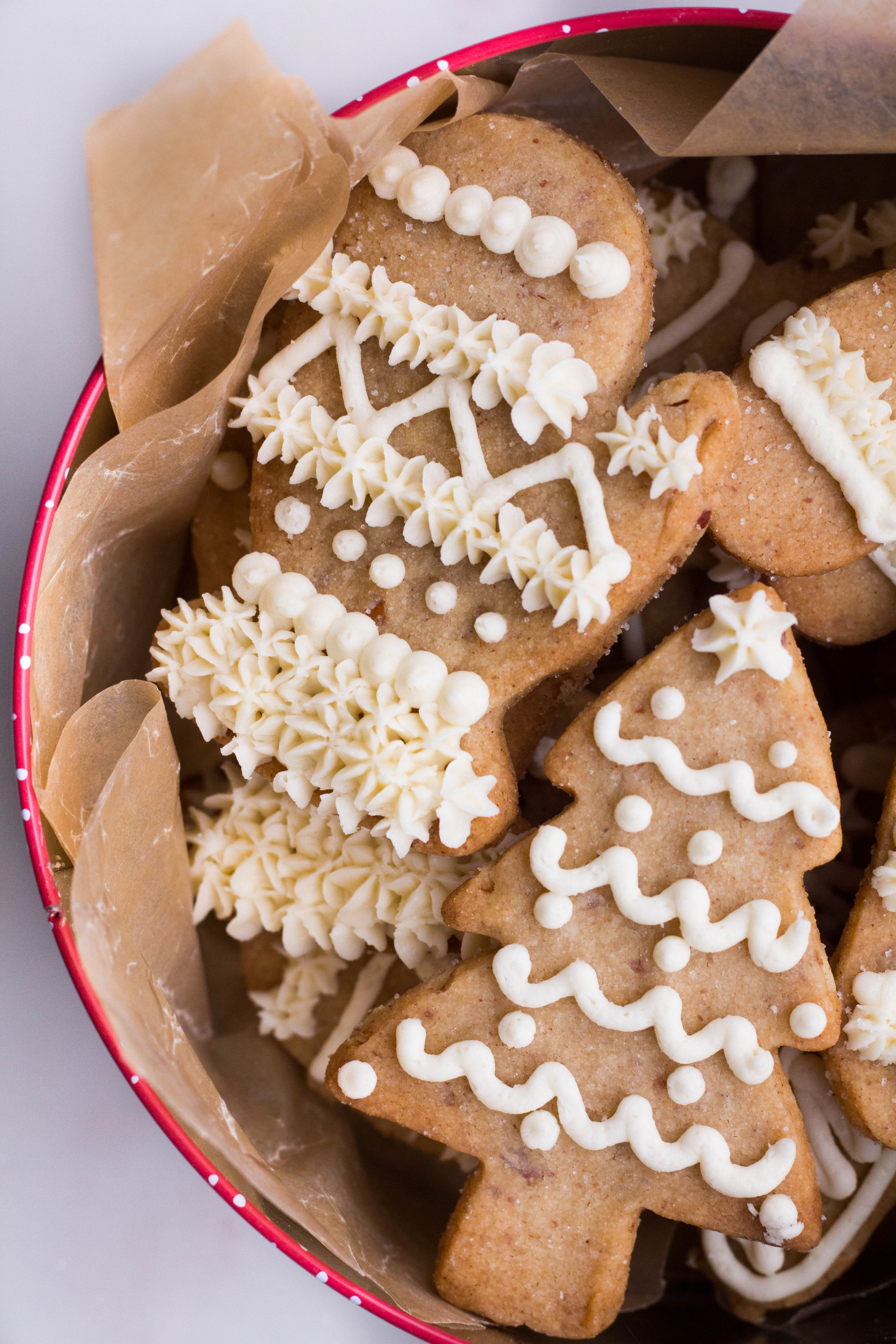 Toasted Pecan Brown Sugar Cookies with Cream Cheese Frosting
Things you need…
1 1/2 cups unsalted butter, softened
1/2 cup brown sugar
3/4 cup powdered sugar
2 tbsp pure vanilla extract
2 3/4 cups all purpose flour
1 cup ground toasted pecans
1 1/2 baking powder
1 tsp cinnamon
Pinch of nutmeg
Pinch of ginger
1 tsp Salt
Cream Cheese Frosting
1/4  cup butter, softened
1/2  package (4oz) of cream cheese, softened
3-4 cups powdered sugar
2 tsp pure vanilla extract
How to make… 
In the bowl of a stand mixer, cream together butter and sugars until pale and fluffy, scraping down the sides of the bowl a few times for about 5 minutes. Add vanilla extract and beat until combined.
In a small bowl, whisk together flour, toasted pecans, baking powder, cinnamon, nutmeg and salt. Add dry ingredients to the bowl of the stand mixer and beat on low until the mixture starts to come together; increase speed to medium and beat until all the flour is worked into the dough.
Remove dough from the bowl and divide it into two parts. Wrap the two dough balls in plastic wrap and form into two disks. Set in the refrigerator for at least 1 hour or overnight.
When you are ready to roll your cookies, remove the dough from the fridge, set it on the counter to to come to room temperature for 30 minutes.
Lightly flour your work surface and the disc of dough on both sides. Use a rolling pin to roll the dough to about ¼ inch thickness.
Line a couple baking sheets with parchment paper and preheat your oven to 350F degrees.
Now use your desired cookie cutters to cut out the shapes. Place the cookie cut outs onto your prepared baking sheets as you go.
Tip: If you find you cut outs are sticking to the cookie cutters, give yourself a little pile of flour off to the side and stick your cookie cutters into the flour before you work your way to cutting out the dough.
Arrange your cookie cut outs so there is about 1 inch of space between each, tightly wrap your pans with plastic wrap and set them in the fridge for 30 minutes before baking. (This is not 100% necessary, but it will just help to ensure your cookie cut outs have nice clean edges when they bake)
Once your cookie cut outs have chilled, place the racks in the center rack of your oven and bake for 8-9 minutes or until you see the edges of the cookies are just starting to go golden brown.
Remove from the oven and allow to cool completely before frosting.
*** Make ahead tip: Because this recipe makes a large batch of cookies, once you have cut them all out, you could set half of them on a parchment lined baking sheet, tightly wrap with plastic wrap and set in the freezer to bake off on a different day.
Cream Cheese Frosting
In the bowl of a stand mixer, beat together butter and cream cheese until smooth and there are no lumps. Add in 2 cups of the powdered sugar and beat on low until the powdered sugar is completely worked in. Add in vanilla and another cup of icing sugar; beat on low for one minute and then turn mixer to high and beat for 4-5 minutes until fluffy.
If you find that your frosting is a bit too soft, add in another ½ cup of powdered sugar and beat until fluffy. If you find that your frosting is too stiff, just add in 1-2 tbsp of milk, and beat until smooth.
If you wish to add festive food colouring to your icing, simply divide your icing into a few different bowls and add a couple drops of desired colour to each bowl and mix with a spoon until combined.
Spoon icing into a piping bag fitted with desired piping tip. (I used two bags; one fitted with a small round piping tip and a small star tip.)
Now have some fun piping festive  decorations onto your cookies and enjoy eating them!